The blogosphere has been abuzz about the newest premium travel card to hit the market – the Venture X. And while it certainly sounds like a great card, the Capital One Venture X isn't for me.
Honestly, I've largely been ignoring the Capital One Venture X card. That's why I haven't written about it until now. Sure, you can get outsized value from the card, and its $395 annual fee is much lower than the Sapphire Reserve's $550 or the Amex Platinum's $695. But is it really worth it? As these things usually go, that's going to largely depend on you and your own habits. Let's discuss.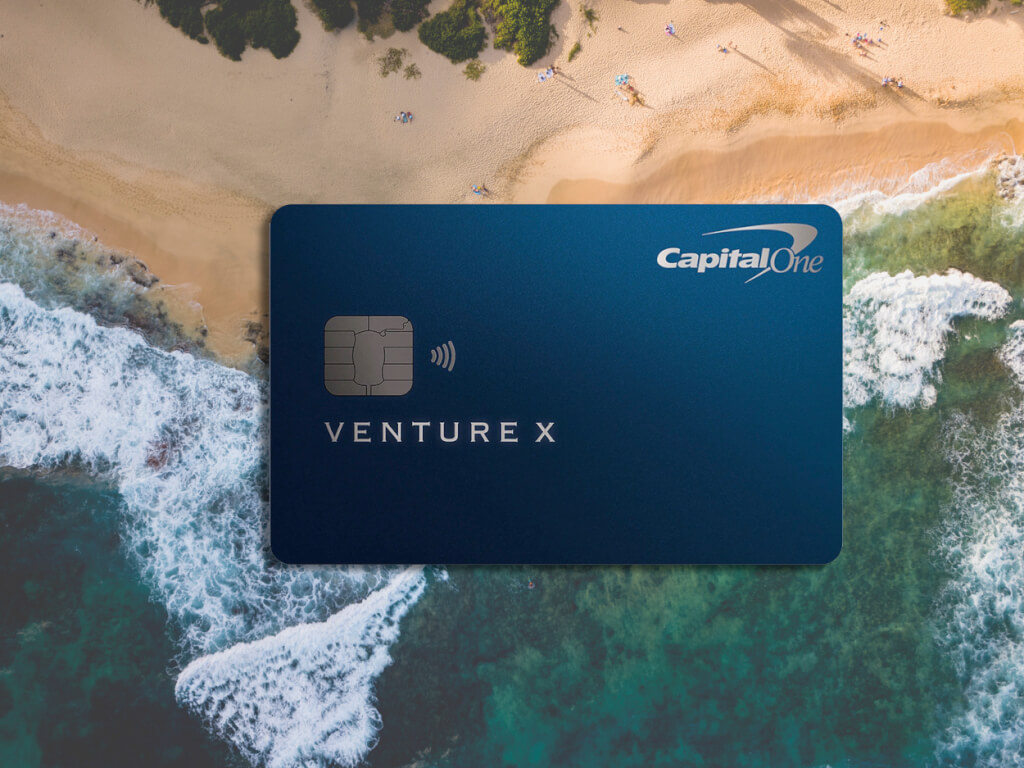 The Capital One Venture X Isn't For Me
Now, frequent readers may jump to conclusions about my decision. After all, I've been canceling cards whose annual fees I can't justify. To date, these include the Amex Platinum, the Marriott Bonvoy Amex, and the Amex Gold. I've also downgraded my Amex EveryDay Preferred to the free version, changed my Disney Premier card to a Freedom Unlimited, and downgraded my Citi AAdvantage Platinum World Mastercard to a MileageUp. But, I've also kept my Sapphire Reserve, Alaska Air Mileageplan Visa, Marriott Bonvoy Premier, Hilton Surpass, and Hilton Aspire (for now), among others. So it's not like I don't see value in premium cards, so long as they work for me and my needs.
That said, let's talk about Capital One Venture X's value.
Value
At $395, the Venture X's annual fee slots between the Amex Gold and Sapphire Reserve. And like those two cards, you do get annual credits. In this case, you get a $300 travel credit along with 10,000 anniversary miles (worth a stated $100), Priority Pass membership, access to Capital one lounges, Hertz President's Circle elite status, cellphone coverage, primary rental car coverage, TSA Precheck/Global Entry credit, and more. But, assuming many of you are like me, then many of these credits or features are duplicates. After all, the Sapphire Reserve, Amex Platinum, the Amex Gold, and a few other cards all come with Priority Pass Membership. Most ultra-premium travel cards also come with TSA Precheck/Global Entry credit. Primary rental car coverage can also be had with the Sapphire Reserve, Preferred, and select other premium cards from Chase.
As far as the Hertz President's Circle status is concerned, the usefulness of that greatly depends on how often you rent with them. I basically never do since, every time I look, no matter how far out or close-in I am to my rental dates, Hertz is always more expensive than the competition. So, for me? That's useless. The cellphone coverage is also basically useless since we autopay Verizon via ACH – they knock a sizeable amount off our bill for doing so.
That leaves the travel credit and the 10,000 anniversary miles. Those miles are a great thing to have and will never devalue the way hotel and airline miles do. But that's just a value of $100 per year, bringing the net annual fee to $295.
Travel Credit
So what about the $300 annual travel credit, then? Well, that travel credit is valid only if you book through Capital One Travel. That in itself isn't a bad thing. But, consider this. If you want to use that credit to pay for your hotel stay, then you'll most likely have to forego your elite benefits and credits. That's already the case with other credit card travel portals. So if you plan on using this credit primarily for hotels and are loyal one Hilton, Hyatt, IHG, or Marriott, this won't do you any good. True, you can use the credit for airfare and car rentals too, but the fact about hotel loyalt program rules are an issue here.
For my travel habits, that likely still won't work for me. I primarily travel with Alaska, Hawaiian, and Southwest. All Alaska flights go onto my Alaska card because of the free checked bag benefit. For Southwest, they're a Chase transfer partner, so why wouldn't I double-dip and book via Chase's travel portal instead? Same with Hawaiian, since they're an Amex transfer partner. So, really, that only leaves car rentals as an option for me. But am I willing to open another credit card and pay another annual fee to save $300 per year on rental cars? Eh, no thanks
Earning Power
The Venture X earns 10x miles on hotels and rental cars booked through Capital One Travel, 5x miles on flights booked the same way, and 2x miles on all other purchases. That's decent earnings, but its also kind of similar to the Sapphire Reserve. 10x points on hotels and car rentals booked through Chase Travel, 10x points on Chase Dining purchases, 10x points on Lyft rides through March 2022, 10x points on select Peleton equipment purchases, 5x points for flights booked through Chase Travel, 3x points on travel, 3x points on dining, and 1x points on everything else. Remember, Chase's definition of travel includes things like parking, so that makes that category very broad. And, yeah, things like the Peleton earnings are very meh, but the point is, the earning structures are quite similar. Only, the boost earnings on dining serves me well.
Sure, overall the Venture X will earn a little more than the Sapphire Reserve when you use the two in the same fashion. But, what it comes down to is how useful are the points to you.
The Capital One Venture X Isn't For Me, Final Thoughts
Overall, the Venture X is a good card. I'm not denying that. And it's even better if you can take advantage of the 100,000 points after $10,000 spend in 6 months signup bonus along with the $200 vacation rental credit. That said, it isn't for me and isn't going to be for everyone. My travel habits certainly do not justify getting the card, especially since I'll usually only use the credits for car rentals. What's more, Capital One points don't do much good most of the time either. As I've said time and again, I don't do much in the way of big aspirational redemptions. So having the ability to transfer points to programs such as Southwest Rapid Rewards, Marriott Bonvoy, and World of Hyatt means more to me right now. And that's why Chase Ultimate Rewards remains my program of choice, at least for now. Membership Rewards also remains relevant to me too, though it's more efficient to earn Hilton points directly through Hilton's cards rather than transferring from Membership Rewards.
Anyway, what do you guys think about the Venture X? Do you love it? Or are you *meh* about it? Let me know!