Last updated on December 3rd, 2022 at 12:04 pm
Hilo is Hawaii's hidden foodie secret. While there are more obvious choices, such as Moon & Turtle – I really gotta get there one of these days – there are other, hidden options. The one I wanted to try the most and got to try this past September is the FoodxJitsu omakase set.
Hilo may not be home to the swankiest restaurants in Hawaii, nor do they even have spots with prix fixe menus – aside from Na'au Hilo. But Hilo is home to a burgeoning cottage foodie scene. One of the first that I ever discovered was FoodxJitsu, run by a super-talented guy named Daysen. And let me tell you, his sushi is a big reason why I wanted to spend some time in Hilo.
How to Order FoodxJitsu
Like so many of Hawaii's popular cottage businesses, you need to place an order with FoodxJitsu via his Instagram page. Specifically, you need to pay attention to Dayson's stories to see when dates open up. When they do, you'll need to DM him to make your request. The menu includes a chirashi bowl, Omakase (15 pieces), Shatei Omakase (15 pieces x 2), Oyabun Omakase (15 pieces x 4), and Gokudo Omakase (88 pieces).
Speaking of ingredients, Dayson doesn't mess around. He uses the best quality stuff available, primarily from Japan, but sources locally when he can. And when Dayson does get ahold of local fish, you can expect something unique that you've never had before and will likely never see again. That makes his craft sushi more unique than what you'd find at Sushi Sho Waikiki.
Our FoodxJitsu Omakase Set
We picked up our FoodxJitsu omakase set from Dayson's home after checking out of the Hilton Waikoloa Village and driving back over to Hilo. After retrieving our amazing platter, we headed over to Liliuokalani Gardens to enjoy our sushi.
I wish I could tell you what all 15 pieces of sushi were, but I can't remember. What I can tell you is that there was otoro with caviar, otoro with uni, chuu-toro with ankimo, chuu-toro with wasabi, Hokkaido scallop with yuzu kosho, Ora King Salmon with shiso and tomato, a torched white fish with truffle salt, seared akami with garlic, taku-toro with shiso, and uni rice topped with ikura, caviar, chive, and more uni.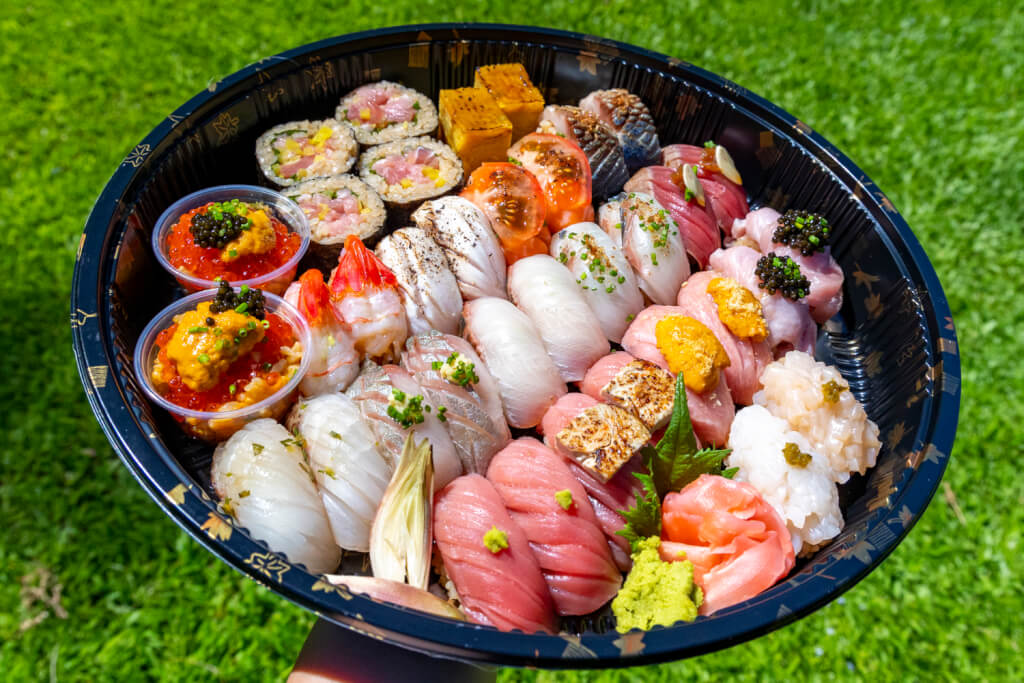 Though I can't name all of the fish Dayson used for our omakase platter, I can tell you that everything was of impeccable quality. Each piece of fish was incredibly smooth, buttery, and full of flavor. I kid you not when I say that the quality of the fish that went into this platter was as good or even better than what we experienced at Sushi Sho.
While I loved every single piece of our FoodxJitsu omakase platter, the piece that really got my attention was the salmon. The rich, buttery salmon paired with the juicy, umami-packed tomato and the herbaceous shiso was a mind-blowing combination. Each ingredient played off one another to both heighten and balance one another out. I'm not usually much of a salmon sushi person, but this was insanely delicious. Even Mrs. Island Miler liked it, and she doesn't care for salmon.
Final Thoughts
Earlier, I compared Dayson's sushi to that of Keiji Nakazawa's Sushi Sho, and I stand by that comparison. Sushi Sho is an Edomae sushi spot that ages their fish and prides itself on serving the best quality, in-season stuff they can find. To me, FoodxJitsu is on that same level, though this isn't Edomae-style. That's the primary difference – style. Otherwise, both are of incredible quality, and I really do think that Dayson's quality may even be slightly higher. His knifework is certainly comparable, too, as is his care of his ingredients. Personally, I'd much rather get Dayson's to-go platter or chirashi over Sushi Sho's.
So if you ever find yourself in Hilo and have an opportunity to give FoodxJitsu sushi a try, I encourage you to do so. It really is worth planning a trip around. Unfortunately, Dayson may stop making these incredible omakase platters at the end of this year. So, if you can, get an order in now. I sure wish I could!
Big Island 2022 Trip Report