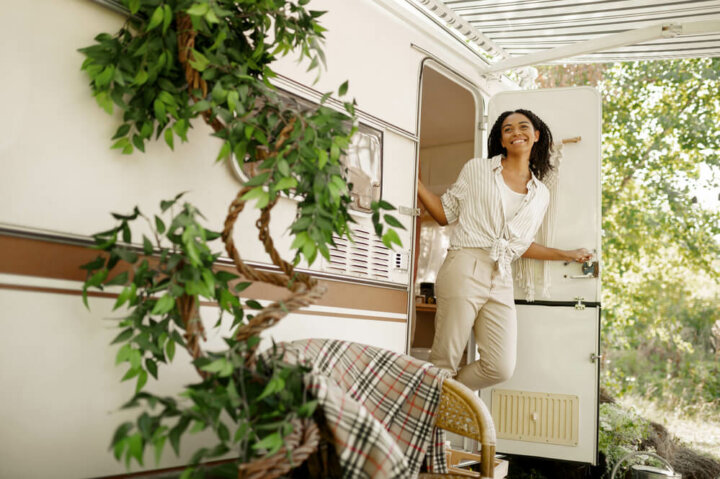 All of our reviews are based on exhaustive research, industry experience and whenever possible, hands-on testing. When you make a purchase using one of our chosen links we'll get a small percentage of the proceeds. This supports the site and keeps Jeffsetter running. You can read more here.
If you want to hit the road solo, you may be looking for some of the best Class B RVs for one person. Thankfully, there's always plenty of space on board a campervan if it's just you and you alone doing the traveling! But what should you consider in a Class B RV that's made for just one person?
In this article, we will go over some of the reasons why you might want to choose a Class B RV if it's just you traveling, as well as all of the things you should consider before making a final purchase. Ultimately, we will give you 12 of the best Class B RVs for one person currently available on the market today so that you can shop around.
Let's get started and discuss everything you should know before you start shopping. However, if you are only interested in checking out our 12 top picks for campervans made exclusively for one person, then use our table of contents to navigate to all of your possible choices!
Why Choose a Class B RV for One Person?
There are a number of reasons why you might be interested in purchasing a Class B RV built for one person. But what might some of those reasons be? Let's take a closer look at some possible pros when it comes to class B RVs:
Fewer utility needs compared to other RVs

. If there's only you on board your RV, why get something larger than a Class B? One of the main reasons to go with a camper van over any other style of RV is the fact that it has fewer utility needs overall. You won't need as much electricity to power your air conditioner or Utility Systems, and the smaller holding tanks are perfect for camping off-grid. This is especially true if there is only you camping, as you can maximize your minimalist utility needs!

Compact frame means it's easier to drive. It's never fun learning how to drive an RV by yourself, but choosing a Class B RV makes that job easier on you. Driving around a campervan is much easier than towing a travel trailer or driving a larger Class A motorhome. You can likely do this without much help and adapt easily to driving one on your own, which is a definite perk for those of you who only plan on traveling solo.
A surprising amount of space and storage solutions.

Even though it's just you on board your Class B RV, that doesn't mean you don't want plenty of storage and living space. Thankfully, Class B RVs already have this in mind, equipped with exterior and interior storage compartments no matter the RV make and model. You can find even more specific storage solutions depending on the brand name you are considering, including roof or rear racks for gear, and additional storage beneath bedroom areas. It all depends on what you're looking for, but there's definitely a Class B out there for you!

Many Class B RVs have boondocking features, standard. If you haven't yet considered whether or not you want to boondock, now is the perfect time to do so. Boondocking is also known as dry camping, and it's the act of camping off-grid or without utility hookups. Many Class B campervans are designed for this, and they have built-in solar capabilities as well as other great boondocking amenities. While this isn't true for every Class B campervan that you come across, it's definitely something to keep in mind as you shop.
You can still tow with some Class B RVs. If you aren't interested in driving your Class B RV around while you explore the day today, the good news is that you can likely tow your residential vehicle behind your van. Many Class B RVs have a decent towing capacity, giving you the option to bring a boat or car with you on your journeys. Always check the specific towing capacities on whatever RV you're considering, as you should never tow more than what your RV can handle. However, having the option to bring your regular vehicle with you may give you more peace of mind while on the road.
Well-built and easy to maintain rigs

. No matter how long you plan on keeping your RV, it's nice to have a well-built and easy to maintain option. Class B RVs are notoriously sturdy and last a long time, often not needing as much maintenance as other RV types or styles. You'll still need to do your due diligence in terms of how to best care for your Class B campervan, but knowing that there's less maintenance overall may be a relief to those of you traveling alone.
What to Consider in a Class B RV for One Person?
From the layouts to whether or not you want a gasoline or diesel fuel engine, there are many things to consider before purchasing a Class B RV for one person. Let's check out some of those considerations now.
Layout or Floor Plan
Choosing your RV's layout or floor plan is one of the most important steps that you need to take before purchasing a vehicle. While you likely don't have as many specific RV needs as a family of three, you should still keep in mind the type of interior that you are hoping for.
For example, are you hoping for a proper dry bathroom on board your RV, or would you like a spacious kitchen instead? Do you want a bed area that is convertible, or are you more interested in having a designated living space?
No matter what you want, there is a Class B RV out there for you. I highly recommend going to your local RV dealership or distributor to tour or take a closer look at any makes and models you're interested in. Getting a feel for the space in person is often way more valuable than just looking at images on the internet!
Length and Height
All Class B RVs are fairly easy to drive, given their compact size. However, are you seeking something that is a bit larger or smaller, respectively? Knowing the length and height that you prefer before you start shopping for an RV is a good idea.
If you are worried about the interior height of your Class B RV, you may want to check out some options that are ideal for tall campers. For the most part, however, most Class B RVs range in length from 17 feet all the way to 25 feet. The interior height is something to look at more specifically, especially if it is something you are concerned about.
Luxury Features
If you are purchasing a Class B RV just for yourself, you may be curious about what sort of luxury features are available to you. Most RV manufacturers categorize their RVs in two different ways: standard RVs or luxury RV models.
Luxury RVs typically appear more upscale in terms of their interior design, and you will likely notice that they have more bespoke features compared to standard RVs. This could include tile backsplash in the bathroom and kitchen, stainless steel appliances and fixtures, and so much more.
For the most part, luxury RVs also include a number of additional features included in the standard purchase price. While this only raises the price, it might be something you're interested in pursuing, especially if you aren't sure just how many amenities you want. A luxury rig typically has more already built in, so you don't have to worry about it!
However, if you hadn't already guessed, luxury RVs always cost more than standard ones. This may lead to you considering a different option, but if you have the budget for it, a luxury RV might just tick all of your boxes!
Boondocking Features
Class B RVs are made for boondocking, meaning the act of camping off-grid, that's why you can take your Class B RV just about anywhere, especially compared to a larger Class A motorhome or a travel trailer. That's why many people choose to boondock in their campervans, going wherever the road may take them.
Some popular boondocking features include solar panels, larger holding tanks, additional house batteries, and all-wheel drive capabilities. You may have your own amenities in mind, but just know that most campervans are built for some level of boondocking!
Kitchen Amenities
Just because you're going camping by yourself doesn't mean you don't deserve to cook up a delicious meal when you get there! Choosing a Class B RV with a number of fantastic kitchen amenities may be something you are interested in.
Since you don't necessarily have to worry about additional sleeping arrangements for leaving more space in the living area or bathroom, you may want to find a campervan that has a lot of dedicated space in the kitchen. For the most part, Class B RVs do not spend too much precious real estate on the kitchen, but you may be seeking something different.
Do you want a larger refrigerator so that you can travel for longer periods of time, or are you hoping for a full range with an oven? Regardless of what you are seeking, there's a Class B RV out there for you, you just might want to consider your kitchen amenities first!
Gasoline or Diesel
There's a long-standing debate in the RV community as to whether gasoline or diesel fuel is better. While it all depends on your personal preference, it is a question that you should answer for yourself before you shop for a Class B RV. You can get campervans that utilize either gasoline or diesel fuel, depending on the model and manufacturer.
One of the benefits of choosing a gasoline-powered Class B RV is the fact that they usually have a lower initial purchase price. While gasoline fuel is more expensive and less efficient than diesel, this lower upfront cost may be something you're interested in.
On the flip side, diesel fuel engines are typically more efficient and cost you less in fuel overall. However, they are typically found on luxury RVs that have a much higher upfront cost. If you plan on driving your Class B RV around frequently, choosing a diesel engine may be right for you. However, a gasoline engine may suit you just fine if you only plan on camping on occasion.
Bathroom Style
Similarly to the gasoline or diesel fuel debate, you should decide whether or not you want a dry bath or a wet bath on board your RV. Most Class B RVs don't have enough square footage inside to merit a dry bathroom, but this isn't a hard and fast rule. You can still find campervans with dry baths, but they are definitely rare.
You may feel completely comfortable camping with a wet bathroom on board your rig, but if you are used to a more residential style bathroom, you may want to seek something better. It all depends on what your expectations are, and what you are used to!
Budget
In case you haven't already done the math, you should consider what your budget is before you start shopping for a Class B RV. The popularity and demand for Class B RVs have driven their price up, higher than most Class C RVs overall. However, that doesn't mean that these RVs are not affordable. You just need to be realistic about your expectations.
For example, the average Class B RV ranges anywhere from $100k to well over $400k, depending on the amenities and brand name that you go with. However, you may find options that are less than this, or perhaps you have a healthy budget that you can spend. Either way, the budget is something worth considering, before you fall in love with anything specific!
12 Best Class B RVs for One Person
Now that you know everything you need to know about class B RVs as a solo traveler, here's our list of 12 best Class B RVs for one person! Remember to keep your budget in mind, and enjoy the shopping!
Mercedes-Benz chassis and diesel engine
Fair price point for this chassis and amenities
Fantastic bathroom and sleeping area
May need some additions if you want to boondock
There are a number of reasons why the Pleasure-Way Ascent TS is our best overall pick. Starting at $162k, this Class B RV is easy to drive, fairly priced, versatile, and capable. Let's check out all of the features and great amenities on board this rig now.
First things first, this RV is built on a safe and reliable Mercedes-Benz chassis, and it is packed full of features to help you get to your destination safely. Plus, it has a diesel engine, which saves you money in the long run. Not only that, but you can choose from a variety of exterior paint colors and designs.
The interior design also gives you some choices in terms of upholstery and cabinetry colors, which give you plenty of opportunities to customize your RV. Speaking of the interior, this 19 foot long campervan has everything you need inside, including a fantastic wet bathroom and galley kitchen.
Speaking of the kitchen, you have a stainless steel sink, an induction cooktop that's perfect for one, plenty of storage including a hidden pantry cupboard, and a good size refrigerator. As you travel toward the rear of the rig, you will notice a sofa that transforms into a luxurious and large sleeping area whenever you need it.
While it comes pre-wired for solar and has Lithium-ion batteries inside, you don't get solar panels included standard. However, Pleasure-Way makes it easy to add these things on after the fact, including screen doors so that you can open up your campervan at the end of a long day.
All in all, this campervan is fuel efficient, easy to drive, and welcomes you home once you reach camp. The interior is warm and inviting, and you truly do have everything you need. Get ready to hit the road on a solo adventure in this RV!
Great price point for so much space
Thoughtful and contemporary interior design
Feels more like a residential home compared to other options
Gasoline engine may not be what you're looking for
If you want to live in your RV full time, you may be seeking something with slightly more space than the average Class B RV. Enter the Thor Gemini, which is affectionately labeled as a Class B+. This essentially means that it is slightly larger than other campervans, with a slide out that gives you more interior living space. Let's check it out now!
Starting at $147k and with two floor plans, this RV has a lot to offer the solo traveler hoping for full time RV living. No matter which floor plan you choose, you will have a fantastic dry bathroom, a spacious kitchen with a residential fridge, and a queen sized bed. While this bed is a conversion from either a couch or a Murphy bed position, you have memory foam to support you at the end of a long day.
Compared to other Class B options, stepping into the Thor Gemini feels like you've stepped into a residential apartment. It's incredibly spacious, and the interior design offers you a few different choices in terms of colors and fabrics. You can also choose the style of cabinet that you want, giving you more freedom to customize your new home to your heart's content.
While this RV is built on a Ford Transit chassis and has a gasoline engine, it still offers you a 5,000 pound towing capacity. This gives you the option to bring along another vehicle or boat with you, should you be comfortable with towing. While it may not have a diesel engine, this rig is fuel efficient and powerful, equipped with all-wheel drive.
The technology available inside of this RV is also fantastic, especially if you want to live in it full time. You have access to all of your tanks and utilities through a touchscreen control panel. This gives you exact percentages of how much water or propane you have left. This can be a relief to many full-time RVers, as it means you have less to worry about.
All in all, the Thor Gemini is fantastic for full-timers and weekend warriors alike, depending on the type of camper you want to be. While it may be slightly more difficult to drive compared to the average Class B van, it probably won't take you very long to adapt!
Compact and easy to drive
Great initial purchase price, especially with so many features
Plenty of storage for everything you need
Could be more boondock ready
Starting at $114k, the Solis Pocket from Winnebago continues to impress, year after year. Not only is it Winnebago's least expensive campervan, but it still packs a huge punch in terms of its amenities and thoughtful features. See if the Solis Pocket is right for you now!
One of the great things about this RV is the fact that it is equipped with plenty of insulation, making it ideal for four season camping. Plus, it comes equipped with two deep cycle batteries and a small amount of solar, all included in this budget-friendly purchase price.
The exterior of this RV can come equipped with additional storage racks on either the back or the roof. You also have the option to cook outdoors, with a flexible kitchen galley. So long as you raise the bed inside of the RV, you can access a unique countertop that flips out of the rig, giving you the option to prepare your meals inside or out.
Speaking of raising the bed, you have plenty of storage underneath your flexible sleeping area. You can keep your kayaks, bicycles, and additional supplies underneath where you sleep while you are on the road, and you also have an extremely unique dining and living setup.
The dining area can convert into multiple sitting or sleeping arrangements, which may be ideal if you ever want to bring a guest with you. You can set up a workstation here, or simply enjoy a nice relaxing couch sit. The seats can convert into at least four or five different configurations!
Another fantastic perk to the Solis Pocket is the fact that it has a removable propane tank. While you may prefer a Class B RV that doesn't have propane at all, it's nice to have an affordable fuel option with a removable and easy to manage propane tank.
However, you may end up spending more than you expect based on the amenities that aren't included in this basic model. You can make this Winnebago the RV of your dreams, but it may not cost as little money as you were expecting!
Stunning interior design
Fantastic residential bathroom
Loads of features included in the standard purchase price
High standard purchase price
Going from our top budget friendly choice to the Airstream Atlas may feel a bit like whiplash. This Class B+ starts at $289k, making it one of the most expensive options on our list, if not the most expensive. However, the bathroom on board this RV rivals many residential bathrooms. Let's take a look at all that Airstream has to offer now!
Even though the Atlas is larger than the average campervan, it is ideal for one person because of its floor plan. The kitchen is well-equipped, with a separate residential size refrigerator. You walk in and see a large sofa, perfect for relaxing at the end of a long day.
As you continue past storage cupboards and cabinets, you will reach the rear of the rig and the bathroom that awaits you. The Atlas dry bath spans the entire rear of the RV, and it is truly stunning. It has a lovely vanity, curved shower design, and the fixtures are not only practical but beautiful.
If you hadn't already guessed, your large queen bed is hidden within the sofa, even though the sofa reclines and has the option to prop up your feet during the day. This gives you a fantastic sleeping arrangement that doesn't take up too much space. The kitchen also has a countertop extension for those of you that enjoy cooking.
Airstream treats its customers right in terms of all of the features it includes in the standard purchase price. You'll get endless hot water, stainless steel appliances to match the aluminum exterior, and 400 watts of solar on the roof. This may not be the most compact RV to take off grid, but Airstream encourages you to give it a try!
As if all of this wasn't enough, there are dozens more features that are included in the standard purchase price. You also get to choose between three different interior design options, giving you a beautiful and customizable home. The only drawback to this rig? It has to be the price!
Completely convertible interior
Everything you need, including a wet bath
Fantastic four wheel drive capabilities and plenty of solar
May need to add an air conditioner and other amenities
Winner of RV Pro's best new model in 2022, the Pleasure-Way Rekon 4×4 is a fantastic RV for those of you seeking to get off grid. While it may not have a luxurious interior design, it's rugged, capable, and ready to take you wherever you want to go. Let's check out this boondocking beauty now.
The Rekon starts at $175k, but don't discount this campervan based on price alone. Built on a Mercedes-Benz chassis, you have a diesel engine, and every automotive safety feature you could imagine included standard. Plus, you obviously have 4 wheel drive, and Mercedes-Benz sets you up with the best in the business.
Climbing into this campervan gives you a rugged and durable interior, with easy to clean flooring and upholstery. You have a lofted bed with ample storage underneath, a small kitchen, and a large cabinet area that even holds a portable toilet. There is also a bathroom sink on board this rig though there is an indoor and outdoor shower, so keep that in mind as you shop.
You have a fantastic dual electric cooler to keep your food and drinks cool as you camp off-grid. Speaking of camping off-grid, you have multiple house batteries and 400 watts of solar power included standard. This is plenty for the average camper, especially if you were traveling solo.
This RV is built for four seasons as well as any lifestyle you choose. You can convert the sleeping area into a total gear garage for all of your creational goodies, or you can set up a workstation for the remote worker. Most Class B RVs aren't this ingenious in terms of all of the adjustments you can make and rearrange!
However, there are still a lot of amenities to be added, especially if you want to camp in the summertime. Air conditioning does not come standard on this RV, so be sure to add that should you want it. This will indeed make the initial purchase price higher, but if you are seeking something that is just as rugged as you are, the price may be worth it!
Plenty of storage solutions inside and out
Some boondocking features included standard
4 available floor plans on an easy to drive chassis
Does not come with a four-wheel drive
While the previous RV on this list had an incredibly spacious garage storage area, the Thor Sequence has plenty of storage solutions to offer the average camper. Starting at $134k, the Sequence suits a lot of RVers and may make a great starter Class B for some of you. Let's check it out.
While it doesn't have four wheel drive, this Class B gives you loads of storage in exchange. The primary utilities are safely stored where the four wheel drive shaft would normally be housed, giving you ample space within the rig to keep your belongings. But there isn't just storage located inside of this RV- you also have some outside!
The Sequence is a collaboration with Thule in many ways, considering the fact that a Thule rear storage rack and roof rack come standard. There's a roof ladder included as well, and you can easily access your air conditioner and solar system using it.
The interior of the Sequence is bright, modern, and simple. It still feels like home, especially when you take in the beautiful curved cabinetry and designated living areas. You can choose from four available floor plans, including a few with a large rear wet bath or a residential refrigerator.
Having so many options as well as boondocking features included standard may make this RV ideal for those of you who are still on the fence as to what you are looking for. You won't have to worry about not having enough space to bring everything you need on this RV, especially if you have the optional skyloft bed area installed on the roof.
Fair purchase price considering everything that's included
Plenty of safety features to help you drive and park
Pleasant and unique interior design
Gasoline fuel rather than diesel
Just under 21 feet in length, the Jayco Swift is a fantastic Class B campervan for those of you just beginning your RVing journey. You can get this RV at a starting purchase price of $145k, making it budget friendly and ideal in case you want to add optional features. Let's take a look at everything the Swift has to offer now!
Whether you love or hate the Jayco brand, they have paid attention to the interior design of this RV. They have given you more designated room where it counts, including in the kitchen and bathroom. You have two floor plans to choose from, and you may choose to adjust one of them to remove an extra row of seats, especially if you are traveling alone. This gives you even more living space.
Built on a Ram chassis, this is a gasoline-powered Class B RV. However, it's so nimble and lightweight that it likely gets decent gas mileage. With plenty of safety features including a self park feature that guides you into tight spots, you should have no trouble driving this RV. You also get a backup camera and many more safety features included standard.
The interior design of this RV is warm and bright, complete with custom Jayco cabinets and upholstery. You can choose from either a spacious rear bath floor plan or one with a bit more living area space. Either way, you have a convertible bed for the end of the night, after a long day on the road.
Jayco also treats its customers to complimentary solar, included in the initial purchase price. You also get two house batteries and much more included standard, whether you are ready to boondock or not. You always have the option, and the Swift can get you there easily!
Smooth and easy to drive RV
Everything you need inside, including plenty of storage
Solar panels and all terrain tires included standard
Not exactly reinventing the wheel
Luxurious and well-equipped, the Entegra Coach Launch is a fantastic option for those of you seeking a diesel engine and a bit more of a luxurious interior. While this will come at a price, you will enjoy a ridiculously smooth ride on this Mercedes-Benz chassis. Let's check out what else makes this RV special now.
There's only one available floor plan for this particular RV, but it has a spacious wet bathroom, a kitchen with a countertop extension, an attractive desk, and Lounge area, as well as a large rear bedroom. The bed lifts up to reveal plenty of storage underneath, perfect for kayaks and bicycles.
If that wasn't enough storage for you, you can utilize the double roof racks on board this RV, as well as the included ladder. You also have powerful LED lighting up top, to get you where you need to go in safety. Speaking of the roof, you have 200 watts of solar panels up top, included standard.
The kitchen cooktop is induction and portable, giving you the option to set it wherever you need it to be. You have a fairly small refrigerator, but it opens outward so that you can access your food from outside. This gives you the option to cook either inside or out, something that may interest you.
However, this Class B RV isn't exactly reinventing the wheel. The interior design is beautiful and luxurious, but there are more unique RVs on this list. Plus, with a higher price tag than others, you may want to look elsewhere. This isn't to say that the Launch doesn't have everything you need, but you may find something better elsewhere.
All wheel drive and raised chassis mean you can go anywhere
Functional and practical interior
Plenty of storage inside and out
High price point for a very niche rig
If the Launch looked a bit delicate to you, especially in terms of the all wheel drive capabilities, you definitely should check out the Storyteller Overland Beast MODE campervan. This RV brand is fairly new to our radar, but it has a lot to offer, including a transparent purchase price of $218k. Let's take a look at everything this includes.
You'd be surprised at just about everything this RV includes, including a Mercedes-Benz chassis with 360 degree cameras to help you park. You get 4 wheel drive with both high and low modes, a raised chassis so that you can traverse just about any terrain, and the tires to get you there. Plus, you have a power awning with dimmable LEDs and plenty more LEDs on the roof!
The interior design of this RV matches its exterior, in the fact that it is unique and customizable. You can sleep at least three people inside of this van, should you so choose, with a convertible seating area and a large rear bedroom. There is storage underneath the bed if you need it, and plenty of other storage throughout.
The wet bath has everything you need inside of it, and the galley kitchen offers you a number of different amenities. It has a countertop extension and a fridge that gives you access from both inside and out, giving you the freedom to choose where you cook.
However, given the fairly practical interior design, is this rig worth the price point? I suppose that's up to you, but many people would look elsewhere. On the other hand, if you truly plan on adventuring and using this rig to the best of its ability, the price point may be perfect for you!
Luxury interior design throughout
5 different floor plans to choose from, including different lengths and chassis
Everything you need included standard
May need more boondocking features not included
If you have been seeking an RV with more floor plan options, you should definitely check out the American Patriot from American Coach. This RV gives you five different floor plans to choose from, which is a miracle when it comes to Class B RV floor plans. Let's talk about why they are special now.
There are different lengths and chassis options available for this particular rig, giving you the choice between a Ford Transit van and a Mercedes-Benz chassis. This may affect the fuel type and efficiency, so make sure to check on this before falling in love.
When you walk onto this RV you will likely notice the spacious and bright interior. The furnishings are light and attractive, bringing a touch of luxury to every inch of the interior. And you have everything you need, no matter the floor plan, including a lounge area that becomes a bedroom, a kitchen, and a wet bath.
Besides the stunning interior design, you also have high tech features and some boondocking ability, though most of this will need to be added after the initial purchase price. You're pre-wired for solar if you want to figure out how to install it yourself, but American Coach will happily do it for you with their Lithium Freedom Package option.
Beautiful and sleek interior design
Mercedes-Benz chassis and four-wheel drive
Compact 19 foot frame means you can park anywhere
High price point
Starting at $200k, the Airstream Interstate 19 is fairly expensive, especially considering it is only 19 feet long. However, this gives you the ability to drive and camp anywhere, including city streets and regular parking spots. Let's check out what makes this RV so luxurious now.
Especially for the solo camper, the single floor plan available for the Interstate 19 is a fantastic and unique one. You have a full kitchen, a wet bath directly across from the RVs entrance, and a spacious rear lounge that converts into your bedroom.
You also have 4 wheel drive available for this Mercedes-Benz chassis and diesel engine rig, giving you some of the most luxurious solutions to Class B RVing included standard. Plus, the interior design is sleek, with silver and stainless steel accents surrounded by rich black leather and woodgrain wall texture.
However, given the high price points on this fairly simple RV, it may not wow you as much as you may expect. When you consider the fact that Airstream includes over 50 features in their standard purchase price, this may make this RV more affordable to you. However, it's all up to you and your budget!
3 floor plans to choose from
Plenty of safety features for this compact frame
Great kitchen and wet bath options
Not quite boondock ready, without additional purchases
With 3 floor plans to choose from and a fair initial purchase price, the Coachmen Beyond is our runner-up for our best overall RV choice. While it didn't quite beat out our best option, it still has a lot to offer you. Let's check it out now!
Built on a Ford Chassis with plenty of safety features included standard, this RV is incredibly easy to drive. You can take it wherever your heart wants, and easily park it using parking assistance features and backup cameras.
There's a kitchen and a wet bath on board, including a floor plan that gives you a large and spacious rear bathroom. The kitchen itself has a propane cooktop, though you can upgrade to an induction one at an additional cost. Speaking of upgrades, let's discuss those briefly now.
There's one solar panel included standard on this particular RV, though you may want to upgrade to the lithium-ion package offered by Coachmen. This gives you multiple house batteries to store your electricity, and you also have a generator included in this package.
While this will drive up the initial purchase price, it means that you can take your RV more places and on longer journeys off-grid. The interior design is light, bright, and contemporary, however, some people may find the interior lacking, but aren't you supposed to be spending more time outside when you camp anyway?!
Final Thoughts
Finding a Class B RV for one person is much easier than you might think, but there are a lot of things to consider if you want your future RV to tick out all your boxes!
Thankfully, there are plenty of options available on the market today that fit a solo traveler, especially those of you who want to live full-time in your campervan.
The list is long and you may need to take your time choosing from all of the possible styles and amenities available, but there's definitely a van out there for you!