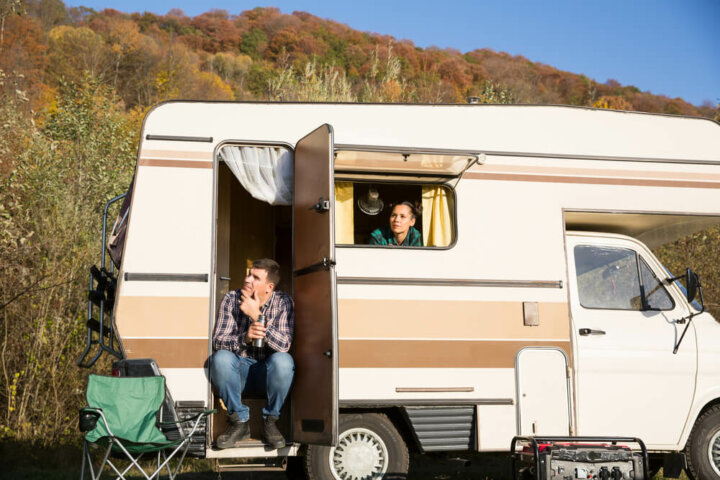 All of our reviews are based on exhaustive research, industry experience and whenever possible, hands-on testing. When you make a purchase using one of our chosen links we'll get a small percentage of the proceeds. This supports the site and keeps Jeffsetter running. You can read more here.
Your RV door is probably one of the most used parts of your rig, and it's not fun when RV owners face the problem of a door that's hard to close. Sometimes RV doors may need to be slammed shut or some may not even close at all, leading to frustration and potentially a drafty RV!
A faulty door is an issue that needs to be solved as soon as possible as it can lead to security risks, a lack of privacy, and even the potential for the door to open while driving.
So let's answer the popular question, why is my RV door hard to close?
There are several potential reasons your RV door may be hard to close, such as a rust build-up, the door being misaligned or damaged, a warped door frame, damaged hinges, or loose screws. Parking in an unlevel spot can also make it hard to both open and close your RV door.
Problems closing your RV door can be worrying, as it provides security for all of your belongings, and is also a key part of keeping you and your family safe. Understanding how to recognize, diagnose and solve problems when closing your RV door will ensure you have the confidence to relax and enjoy the rest of your time on the road.
So, let's look at the reasons your door is hard to close or doesn't close and what you can do about it!
Why Is My RV Door Hard To Close?
Your RV door may be hard to close due to several things, and it can be very frustrating to get to the bottom of the problem. If you are having trouble closing your door or keeping it closed, it is important to prioritize finding the cause of the issue, before things get worse and repairs get increasingly expensive.
Reason 1: Rust Build-Up
Rust forms on metal when moisture builds up on the surface over time, and this can happen on your RV door hinges and latch. When the moisture mixes with oxygen and isn't addressed quickly, rust may start to form which can weaken the structure of the metal, leading to a door that's hard to close.
If left for a long time, rust can cause holes, increasing the possibility of the hinge or latch becoming stiff or snapping when the door is used. Unfortunately, rust can spread very easily and quickly, causing other areas to become affected.
When left untreated for too long, rust can become bubbly and flake away, leading to rust flakes potentially making their way into the mechanism, wearing it down with each swing of the door.
Keeping an eye on the various hinges and metal components in your RV is a good idea, as you will be able to notice rust formation quickly, and treat the problem area.
Reason 2: Misaligned Door
It's easy to cause accidental damage to your RV door, especially if it has been forced open or closed, ripped open by strong winds, or affected by road vibrations. These can all lead to a misaligned door that might be hard to close or that won't close at all. Being gentle with your RV door and taking the time to both open and close it correctly will help avoid any misalignment.
Slamming your RV door or generally being a bit too rough when using it can cause the door to shift on the hinges, therefore not allowing it to not line up properly. This can allow air to get into your RV through the door, making it feel drafty and cold if temperatures are low.
Reason 3: Warped Doorframe
Not only can the door of your RV become misaligned, but the door frame can also become damaged or warped through regular use. When entering or exiting your RV, be mindful not to bump or knock into the door frame as this can eventually lead to warping.
Your RV door and frame should fit together perfectly, but if the frame warps and takes on a slightly different shape, you may have issues when attempting to close your door.
Not only can a warped doorframe prevent your RV door from functioning correctly, but it can also eventually aid in moisture build-up. If the weather is particularly wet and unpleasant, it can be helpful to dry off any rain that may have landed on the door frame, preventing the absorption of moisture.
Reason 4: Damaged Hinge
The hinges throughout your RV are also susceptible to wear and tear, so it's useful to keep an eye on their condition and replace any that are becoming rusty or weak. The hinges on your RV door can also get damaged and if one or more of the hinges is worn or broken, it can have a big effect on the way the door sits within the frame.
Door hinges are arguably one of the most important parts of a door, and without them, you wouldn't be able to swing it open or closed. Luckily, new door hinges can be fairly easy to change and can be purchased at many RV supply stores.
If you spot a hinge that's not in the best shape, it's wise to head to the store and get the problem sorted as soon as possible, as continuing to use a door with damaged hinges can lead to further issues.
Reason 5: Loose Screws
One of the common reasons your RV door may not be closing properly is loose screws. Ensuring the screws on your RV door components are tight is very important as they maintain secure closure, preventing uninvited guests or animals from entering your RV. T
aking a screwdriver and checking if the screws on your door are tight enough will help identify any that need replacing or simply tightening.It's vital not to tighten the screws too much, however, as this can lead to problems such as a stiff door, and could eventually cause issues due to the pressure the door will be under.
Taking your time to tighten any screws is wise as it will help keep you from rushing and tightening the screws too much. Once the loose screws have been fixed, you'll likely notice a reduction in noise and drafts, along with an RV door that's far easier and more reliable to use.
Reason 6: Unlevel Parking
Making sure your RV is parked on a level surface is essential in creating a comfortable set-up for your rig. Parking level also benefits your RV, as when your camper isn't parked level, anything in your freshwater, black, and gray water tanks will sit to one side, and your shower also likely won't drain properly.
When parked on an incline, it can also be difficult to close and open your RV door. Getting your RV level will not only reduce the likelihood of the door opening on its own, but you'll also find it much easier to close it.
Why Isn't My RV Door Closing?
It can be stressful when you are packed up and ready to go on an adventure and your RV door refuses to close. This is a common issue with RVs, so it's best to try not to panic and instead get to the bottom of the problem so you can continue your vacation without any hassle.
There are many potential reasons why your RV door isn't closing, and it's worth taking a look at all of the possible causes to find the appropriate solution.
1. The Strike Plate Is Out Of Alignment
A strike plate is a small metal rectangle attached to the RV door frame with a smaller rectangular-shaped hole that the door latch fits into and secures the door closed. Similar to hinges, the strike plate can also succumb to wear and tear, eventually stopping your RV door from closing properly.
Repeated use, loose screws, or damage can cause this strike plate to misalign, leaving the door latch with nowhere to go. To find out if the strike plate on your RV door is out of alignment, close the door slowly and try to see if the latch on the handle meets the strike plate.
If the latch touches the edges of the plate, then there is a misalignment and you will need to check the screws and tighten them if they are loose. Sometimes, you may need to remove the strike plate and reinstall it correctly if there is a lot of damage.
2. Misaligned Or Damaged Door
Significant damage or misalignment to your RV door can make it impossible to close completely. If something falls and strikes the door or the door is forcefully shut, it could become damaged and need repairing before it can be used like normal again.
Weather conditions can surprisingly have an impact on your RV door, and if there are high winds, your RV door could be whipped out of your hands before you know it!
It's wise to take care when using your RV door, and in windy conditions, you'll want to ensure you keep both hands firmly gripped on the door to prevent it from being caught in the wind and damaged.
Similarly, in summer it can be tempting to leave your RV door open, to allow fresh air to flow into your camper, but a sudden gust can swing the door and slam it closed. If you are leaving your RV door open, try to secure it down so it won't be affected by a sudden change in the wind.
3. Stuck Door Latch
The door latch needs to be well-lubricated to work correctly, as over time the door latch can become rusty, corroded, or worn due to use and weather elements. It's completely normal for your RV to show signs of wear and tear, but taking the time to treat every part of your RV with care, will help keep it in better condition for longer.
It's vital not to force the latch on your RV door if you come across a lot of resistance, as doing so could break the latch altogether.
There are many different types of lubricants on the market and using one can help loosen the latch on your door, without you needing to apply much force at all. When using lubricants, it's important to have plenty of airflow as often the lubricants can have a strong smell that's not the most pleasurable to breathe in.
4. Obstruction
Pulling up and parking your RV, is an amazing experience as your rig truly becomes a home away from home. However, when you're packing up and moving on to your next location, it can be easy to leave things in the way of your RV door
. To help avoid any damage coming to the door, be sure to double-check that nothing is blocking it before closing. Doing so will ensure that the door closes properly, preventing any potential problems that could be caused by an obstruction.
The video below is a fantastic watch if you are experiencing issues with your RV door and finding it hard to close. Within the video, there are several tips you can use for making your RV door easier to close, and how to prevent further problems in the future.
Although it can be frustrating having to dedicate time to fixing your RV door, the peace of mind a secure door will bring you makes all the effort worth it. Moving forward, remember to take care with your door, and take a closer look at the hinges, latch, and screws every now and again.
How Do I Make My RV Door Close Easier?
Making your RV door easier to close will depend on the diagnosis of the problem. You may only need to tighten a few screws or add some lubricant to solve the issue, but if the solution is more complicated, you can try to fix it yourself or contact a professional if you don't feel comfortable doing so.
Regularly encountering an RV door that's difficult to close can be frustrating and affect your RV experience, as you'll be facing an issue every time you want to leave or get back inside your RV.
Here are some simple steps you can take to help make your RV door close easier, and they are all worth exploring if you're having some issues with your door.
Step 1: RV Door Maintenance
Keeping your RV doors in good condition is an important part of your safety and peace of mind while out on the road. Getting familiar with your RV and learning the basics of how to maintain and regularly inspect your doors can help you proactively spot any possible problems and take the necessary steps to fix them.
With information and practice, you can make this essential task a part of your regular maintenance routine, and rest assured that you are always prepared for any unexpected issues.
Maintaining your RV well is key to keeping your rig healthy and happy on the road, and taking time once a month or so to thoroughly look over your RV is a great way to spot problems early before they worsen and create further damage.
Step 2: Be Gentle With RV Door
Taking care when opening and closing your RV door is essential for keeping it in good condition for a long time. Whenever possible, be sure to open and close it slowly, using only the necessary amount of force.
This can be tricky if you're traveling as a family with excited children, so it may be worth showing them how to correctly open and close the RV door, and turn it into a game of who can close it the gentlest!
It's also wise to keep mindful of strong winds or other obstacles that might prevent the door from closing correctly. With a bit of extra attention and care, you can prevent potential damage and keep your RV door in good shape moving forward.
Step 3: Lubricate Components
Taking care of your door components is an essential part of maintaining the functionality of your door. Rust can build up and cause the metal components to stick or move slowly, but luckily, there are great lubrication products on the market to help keep everything working smoothly.
To remove rust buildup from hinges, remove the hinge and scrape off as much as you can with steel wool or a wire brush. Once removed, the hinge should be properly cleaned with an anti-rust spray, or a mixture of vinegar and water might do the trick. When you have removed all the rust you can, polish the hinge with clean steel wool before applying a coating of lubricant.
Preventing your RV door's metal components from rust or corrosion is easy to keep on top of when included in your maintenance routine. Be sure to apply a thin layer of lubricant to all metal surfaces to help keep dirt, moisture, and debris away. To make sure your door stays in great condition, be sure to check your hinges and latch regularly and address any rust that builds up quickly.
Step 4: Keep RV Door Clean
In addition to maintaining proper lubrication of the door components, it is essential to keep the door and door frame clean. RV door seals are typically made from rubber and can attract dirt, mud, twigs, or other debris that can accumulate in the door seal and create air and water leaks.
To prevent any potential damage to the seal or the door, it's important to remove any obstructions and clean any dirt or grime from the seal. Regularly cleaning your RV door seal with mild soapy water or a purpose-made cleaner will help make this job easy, and doing so can help ensure a secure fit and a properly functioning door.
Closing Thoughts
Your RV door is an essential element of your home on the road, and when it's hard to close or won't close properly, it's best to solve the problem as quickly as possible.
With regular use, the RV door can suffer from wear and tear due to the miles of travel and the bumps, dirt, and gravel you may encounter, but luckily there are plenty of ways to fix your door and get it back working correctly.
A properly functioning RV door not only keeps you and your possessions secure but also helps to protect your RV from water damage and other unwanted visitors. With the right care and attention, you can ensure that your RV door is an effective barrier between you and the outside world.