Last updated on September 21st, 2023 at 11:47 am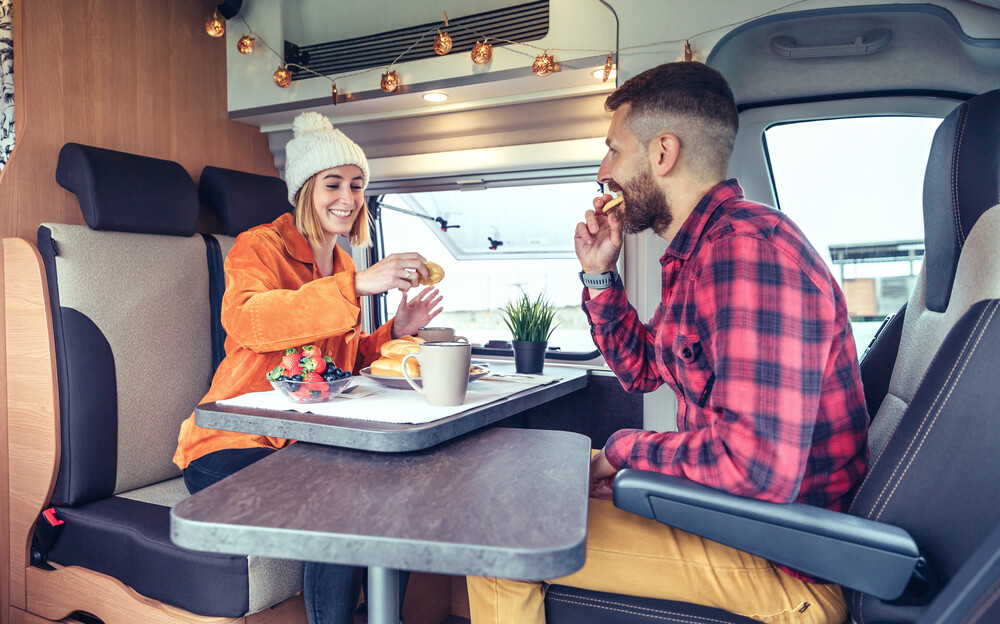 All of our reviews are based on exhaustive research, industry experience and whenever possible, hands-on testing. When you make a purchase using one of our chosen links we'll receive a small percentage of the proceeds. This supports the site and keeps Jeffsetter running. You can read more here.
Whether you're looking for a weekend getaway motorhome or want to make the leap to full-time living, people everywhere are looking for the best Class B RVs for couples. It's easy to understand why as their easy maneuvering and overall smaller size make them ideal for traveling the country. You can experience everything from the backroads of national parks to the busy energy of a big city in a comfy Class B RV.
But before making the jump, it's important to really consider what you and your partner want from a camper, as every inch of space in a Class B RV is valuable and somewhat costly real estate! Luckily the demand for Class B RVs is so high that there are hundreds of models with innovative designs out there to consider.
After doing some digging, you'll be able to find the rig that ticks all the boxes for you and your loved one. Below we're going to look at our 7 best Class B RVs for couples that will get you excited about life on the road! Before we get into the details, let's go over some of the key features worth considering when looking for your new RV!
What To Look For In A Class B RV For Couples?
Class B RVs have many advantages that make them great rigs for traveling pairs. They have easy handling which is ideal for newbies and also those who want to travel around frequently in the RV and not simply stop at the campground for several days at a time. Class B RVs are also easier to park and store.
This is great for weekend warriors who don't have to worry about a large parking space or an unsightly RV in the front driveway. Most Class Bs can be parked on the street like any other vehicle without running the risk of a zoning violation. While they aren't quite as spacious as even a lightweight toy hauler, these campers are still great for holding toys like bikes, kayaks, or skis!
Many can also handle towing with ease, such as a trailer for an ATV, but this is subject to specific RVs. Of course, all of these perks make for some pretty significant disadvantages, many of which will directly influence how comfortably two people can coexist in a Class B. Here are some of the top things to consider before purchasing a Class B RV!
Sleeping Area
In a camper, space is at a premium, and most Class B RVs feature convertible space in every aspect of their design. This means a bed might double as a table, seating, or storage which might not be the most comfortable situation. This can lead to an awkward mattress, additional storage for bedding and linens, and a significant setup/tear-down process every morning and night that may quickly become tedious!
Luckily, there are some really impressive design options, such as a Murphy Bed feature in certain models so no comfort is sacrificed. Thinking about sleeping styles is also worthwhile. If one person is a morning person and the other sleeps late, it's a good idea to purchase a rig with a walk-around bed and features in separate areas so no one gets disturbed.
How much space do you need while sleeping? Most Class B RVs feature a full-size bed, but that's a tight fit for two people! A restless night due to cramped quarters with your partner could really ruin an awesome weekend getaway or start to make you pretty irritable if you're a full-timer. Some people have found twin beds help with cohabitating, so an RV with a convertible twin to full mattress works well for them.
Bathroom
Bathrooms are tight in a Class B RV no matter what, but you might be shocked to see some of the impressive bathroom setups in a campervan. A full dry bath might be needed if you and your partner both need to utilize the bathroom at the same time. A wet bath may be okay as long as it's fully enclosed for privacy.
Some Class Bs use portable toilets and a minimal shower setup that's designed for just a quick rinse, but this isn't the most luxurious option. If you're going to be spending more time at a campground, having a full bathroom with plumbing may not be a huge priority as campgrounds often offer these amenities.
However, if you're a full-timer, having onboard plumbing with a toilet and shower is arguably much more important. Using hotels, rec centers, or campground services can add up to a costly overall spend quickly and requires far too much planning beforehand!
Storage
One of the biggest mistakes I made when moving into my RV full-time was underestimating how much stuff I had! The idea of doubling that for two people seems like a huge challenge, but the great thing about Class B RVs is their creative storage solutions. Most are compatible with a rooftop storage compartment and have a fair amount of overhead cabinetry and storage.
That being said, you and your partner will still need to take a hard look at what you need to have in your campervan. Things like clothing, bedding, electronics, toiletries, and food add up very quickly. If you're traveling with your pet, don't forget to factor in their supplies as well!
Water, Waste, And Power
A standard freshwater tank for a Class B RV is usually around 20-30 gallons. That's enough for me, but I live alone! Many of the RVs we're going to look at today have larger tanks and other inventive features, but factoring in the size and ability of your hot water heater, fresh water, and waste tanks is going to be imperative.
Although some Class Bs come with extra insulation to handle tougher temps, most can get very hot and cold! Though air conditioning and heat are pretty advanced in newer models, they can use a lot of power to manage and you're never going to achieve the perfect climate inside when the sun is blazing down outside. Don't skimp on the power system within your RV.
It's easy to dismiss some of the upgrades available for generators, solar panels for common appliances, or battery upgrades. These can make or break your RV experience, especially with two people! Repairs are costly and dealing with frozen waste tanks is something I wouldn't wish on my worst enemy.
7 Best Class B RVs For Couples
Now that we've talked through some of the most important aspects of co-living in a campervan, let's look at the 7 best Class B RVs for couples on the market today!
Interior Height: 6′ 8″
MSRP: $207,707
Exterior Length: 23′
Exterior Height: 10′ 6″
I love everything about the Winnebago Ekko, even its boxy design! Winnebago is well known for manufacturing impressive Class B RVs but this is a particularly unique model. Winnebago have created a camper that's on the larger side, with an unbelievable amount of interior space thanks to 6'8″ of headroom! This makes a huge difference for couples, as it alleviates the cramped feeling I sometimes feel when I'm inside a Class B RV.
The Ekko also has all the features I expect from Winnebago, such as a V6 gas engine that's AWD-ready, off-grid compatible, equipped with lithium-ion batteries, and solar panels to stay charged even when parked in the wild. It has all-season insulation throughout, interior water lines and tanks, dual-pane windows, and insulated exterior storage.
Traveling through all four seasons, I need a rig able to keep me and my partner warm and safe through cold weather, and the Ekko promises to do just that. Along with outstanding cold-weather features, I'm also pleased with the sleeping setup that's comfortable and practical. Winnebago has a twin bed with a flex bed system allowing me to combine the twins into a 60″ x 80″ queen-size mattress!
The Ekko also has an option pop-top sleeping area which is ideal for me as I love taking advantage of a cool morning breeze. Inside the bathroom is a pivoting wall to separate the shower from the toilet and sink. I love this exciting feature as it minimizes the space needed for the bathroom, and keeps all amenities available and dry even when the shower is in use with just a gentle push.
The big downside of the Ekko for me has got to be the cassette toilet. I'm not a lover of dumping and maintaining cassette toilets, as for full-timing, it's way too much hassle! The toilet has been built tastefully with waste hidden from view, with a panel access door from the exterior of the rig. It's easy to remove, empty, and replace, but not the most convenient option for a home on wheels.
Pros:
Lots of interior headroom
Built-in cookout system
Sizeable bathroom
Homely interior design
Cons:
Larger than other Class B RVs, requiring more storage space
Cassette toilet
Only 1 floorplan
Interior Height: 6′ 1″
MSRP: $243,268
Exterior Length: 24′ 3″
Exterior Height: 9′ 6″
The Coachmen Galleria is a popular motorhome for many reasons, but the luxury feel at a more affordable price is what makes it stand out to me! With a Mercedes 3.0L V6 diesel engine, I trust this rig to get me wherever I want to go, and the additional overhead storage space and comfortable seating mean both me and my partner can bring all of our belongings along for the ride and have space to relax too.
I love the long galley space in this rig as it means there's plenty of space for couples to walk around freely and not get in the way of each other. The interior is light and clean which also helps in making this Class B RV seem bigger than it is. Coachmen have put considerable thought into making the Galleria a couple-friendly camper, and with four different layout options, I know there's one both me and my partner will love.
The overhead cabinetry makes bringing everyone's belongings on vacation easy, and the cabinets are at a suitable height so they shouldn't be hit when sitting down or standing up from the sofa. Each layout has a wet bath which may not be the best news for all RVers – me included! I much prefer dry baths to wet baths so everything doesn't get soaked when it's shower time, but the wet bath in this Coachmen RV is spacious and functional.
For successful off-grid camping, I think opting for the Li3 lithium battery is a wise idea. The battery has an internal heater and Bluetooth management system, alongside a Xantrex XC Pro 3,000W inverter to help keep everything powered up for a cozy couple's night in. This isn't the most affordable Class B RV for couples, and adding extras will bump up the overall spend too, but it's a fantastic rig for luxury and comfort you and your partner will fall in love with.
Pros:
Sleek, luxurious feel
Durable Mercedes Sprinter van
3 interior decor options
Cons:
Only 2 exterior color options
Wet bath design
Longer than other Class B RVs
Interior Height: 6′
MSRP: $202,322
Exterior Length: 19′ 9″
Exterior Height: 9′ 6″
Antero is a small RV manufacturer based in Colorado that used to be called Summit Adventure Vans. I may be a little biased, as I'm a Colorado native, but Antero has a super creative approach to campervan design and it's definitely worth checking out the Antero Bamaga for off-grid adventures. All areas of the Bamaga are able to be customized, including the sleeping space, dining area, garage, and accessory mounts.
Upon first looking inside a Bamaga, the interior seems a little plain, but that's on purpose! These vans have a smart floor system with L-track insets allowing my partner and I to tie down additional seating, equipment, or outdoor gear as we please. I'm a sucker for a Mercedes, and this camper sure is a looker! The Bamaga is built on a Mercedes 4×4 chassis so I know I'm safe and secure on the road, no matter the terrain!
Antero Adventure Motors have manufactured a Class B RV that's the perfect balance of luxury and functionality. This rig may be on the smaller side for campervans, but thanks to an innovative Murphy bed setup, all of the interior space can be utilized to the max. To support electrical usage, there's a rooftop solar system equipped with 270W of solar that's connected to lithium-ion batteries, for an efficient power setup.
And it's no surprise that Antero adopted their name to reflect the off-road capabilities of these vans. Mt. Antero is the 10th highest mountain in Colorado and on it is Mt. Antero Road, a 9-mile long 4WD-only road taking adventurers all the way to the summit. This is enough to get my partner and I ready for a big trip, and I love that there will be a smart floor system so everything can stay secure during the bumpy ride.
Antero doesn't build a full bathroom in their vans, instead including a modular toilet that also doubles discreetly as a footstool. It can be tied down and moved around easily, but might not be the ideal option for conservative couples. The shower is also a little different from standard Class B rigs and is a simple nozzle head attached to the rear doors. The Bamaga is relatively small and doesn't have a big luxury bathroom for couples to enjoy. However, it promises to reach dream destinations other RVs wouldn't be able to get to.
Pros:
Innovative features
Off-road capability
Off-grid capability
Cons:
Lacks a full bathroom
Exterior shower only
Small
Interior Height: 6′ 2″
MSRP: $180,586
Exterior Length: 20′ 9″
Exterior Height: 9′ 5″
The Roadtek Zion is a great hybrid between a leisurely vacation-ready van and a rugged, off-road rig. Built on a Ram ProMaster 3500 chassis, this Class B RV has all the features to meet any traveling couple's needs. It's even made it onto our list of the best Class Bs for winter, so I know this rig is packed full of potential!
The bed option in the Zion gives great flexibility. It can be a side-facing power sofa that converts to either twin beds or a 74″x 76″ king-sized bed. I love the options this gives, as I'm not committed to one sleeping setup and can instead have a little fun with the layout. Being able to choose each night between a separate or shared bed can really help to take the edge off. Especially when I'm feeling a little claustrophobic and need more space on a hot summer night.
I'm not too impressed with the bathroom as it's a wet bath, however, it does have two swing-style doors which create a nice barrier for after a hot shower. This also results in a bit of extra room to dry off and get dressed which is hard to find in small rigs like Class B RVs! Lots of rigs have privacy shields for the front and rear windows, but they are an extra step I'm often annoyed by. When you're sharing your rig with another person, these little privacy features really make a big difference.
The Zion has a large amount of storage with overhead cabinets throughout and drawers under the bed. There's also a small wardrobe closet and a tall, narrow pull-out pantry for food and supplies. This expanse of storage allows for two people's belongings to be stored away neatly and for an abundance of food to be stored away for long off-grid trips!
Speaking of food, the kitchen is impressive for a Class B of this modest size. There's a 5 cu. ft. refrigerator, microwave, and a propane stove, though an induction burner is optional. These appliances are plenty for me to whip up our favorite meals without worrying about being cramped in the kitchen.
Power-wise, the Zion is a decent contender with others on this list. It has 330W of solar power, a 400 AMP lithium battery system, a 22L propane tank, a 16,000 BTU furnace, and an 11,000 BTU roof-mounted air conditioner. This rig can cope with a few days of off-grid living and will keep two people comfortable for weeks on end.
Pros:
Flexible sleeping arrangements
Off-grid capability
Attractive interior
Cons:
Not great in sub-zero temperatures due to poor insulation
Small gray and black water capacities
Interior Height: 6′ 2″
MSRP: $188,727
Exterior Length: 24′ 2″
Exterior Height: 9′ 8″
The Coach House Arriva V24 brings all the luxury of the Galleria or the Vienna in a compact, mobile design. Though it's a particularly long motorhome, it doesn't have a slide-out or the extra weight of some other models. Built on a Mercedes Sprinter chassis with a V6 diesel engine, the Arriva is reliable and powerful, and I trust it to take my partner and me on all the adventures we dream of!
Like the Zion, the Arriva has a flexible sleeping space with either twin beds or a fold-out king-size, memory foam mattress. It also features a full, bright, and spacious dry bath along the rear, and has lots of storage overhead, under the bed, and in the dry bath. It's considerations like this that make Coach House such a successful RV name, and they help keep the peace for couples who pack lots of belongings on vacation.
To keep cool in summer, there's a 15,000 BTU roof air conditioner, and for winter months, the 19,000 BTU LP gas furnace will keep this Class B toasty warm. The use of 2 lithium-ion batteries is a game-changer in my eyes, as it means the rig has a reliable power source to keep everything charged up.
A 31-gallon fresh water tank, on-demand hot water, 20-gallon grey water, and 13-gallon black water tanks are decent for two people and are comfortable for a few days of off-grid living, but not much more. This is a little disappointing, but nothing a quick pit stop at a campground or dump station can't fix!
Pros:
Spacious dry bath
Sleek design
Easy to drive and maneuver
Cons:
Solar isn't standard
Small black water capacity
Interior Height: 6′ 2″
MSRP: $163,800
Exterior Length: 20′ 11″
Exterior Height: 9′ 3″
There are a lot of mixed feelings about Jayco in the RV world. Many people love their Jayco RV, use it successfully for years, and never experience any huge issues. Other RVers, however, feel Jayco's construction has become cheap and all that's in the foreseeable future is costly repairs and problems. I'm a fan of this big RV name, and that's why the Jayco Swift takes our most affordable spot.
I see these rigs everywhere which is good news for purchasing a second-hand rig. The Jayco Swift is built on a Ram ProMaster 3500 chassis. Dodge Ram isn't the most common chassis for campervans, but they handle well, are easy to maintain, and are known to last! There are 3 floorplans to choose from, each one ideal for couples as space is prioritized alongside comfort, meaning everyone can relax and rest after a long day of traveling.
Storage is on par with other Class B RVs on our list, with overhead cabinets throughout, a full wardrobe in the bathroom, and under-bed storage. There's nothing more frustrating than a messy camper where nobody can find what they're looking for. Therefore, I love that Jayco have included well-thought-out storage options perfect for storing two people's things.
Although the kitchen isn't the biggest, it's equipped well with a 3.1 cu. ft refrigerator and a two-burner induction cooktop. A microwave also comes standard in the Swift so I can still cook up delicious meals to keep us powered up on long camping days in the forest. The Swift also has a 13,500 BTU air conditioner, 2, 12V AGM batteries, a 190W solar panel, and a 6-gallon propane tank making it a pretty decent off-grid option!
Pros:
Simple but effective design
Spacious layout
Choice of floorplan
Cons:
Mixed opinions about Jayco's reputation
Wet bath
Interior Height: 6′ 2″
MSRP: $200,681
Exterior Length: 19′ 5″
Exterior Height: 9′ 9″
It's no secret that I'm a fan of Airstream! I've loved the brand since I first set eyes on their Classic Travel Trailer as Airstream rigs ooze grace, luxury, and capability. The Airstream Interstate 19 is a fantastic stylish Class B RV for couples that will continue to support life on the road when the destination is reached and it's time to head into the rear of the camper.
It's impossible not to be blown away by the high-end finishes and luxury edge of the Interstate 19, and with a creative sleeping arrangement, there's plenty of room for two people on board. Comfortable seating can be found at the rear of the rig, equipped with seatbelts for any additional guests to keep safe during the ride. This seating is a power sofa, able to fully extend to a bed! I simply press a button and voila, a big, comfortable bed that's ample for two people to get a good night's rest.
The bedroom gets a big seal of approval from me, but I'm a little disappointed with the kitchen! It really is on the smaller side, but it has everything needed to whip up a meal such as a two-burner stovetop, sink, and a little countertop space. Opposite the sink is a refrigerator and slide-out pantry which help create the illusion of a bigger kitchen but I'd love to see a bit more going on in this section of the Interstate 19!
Although wet baths aren't my preferred style, the European-style bathroom in this Class B RV is sleek and efficient. Everything is designed to get wet from the shower which means no space needs to be compromised for a separate toilet and sink. I need to have adequate space to move around in a rig when there's more than one person on board, and this innovative thinking is what helped make Airstream one of the best-selling RV names out there.
There's only 1 floorplan for the Interstate 19 which limits options somewhat. However, this is a layout that not only works but allows couples to thrive in a humble-sized environment together. This rig is on the more expensive side of things, but for higher budgets, an Airstream motor is always worth a look.
Pros:
Modern aesthetic
Easy to drive
Luxurious
Innovative sleeping arrangement
Cons:
Only 1 floorplan option
Expensive
Final Thoughts
Setting out on adventures with your partner sounds romantic and fun, and being able to take your home along on the journey makes it all that much sweeter!
I hope you both found an RV on this list that checks every box you need for your adventure wagon. Remember to double-check that the bed, bathroom, storage, and tank capacities will meet all of you and your partner's needs, and then hit those open roads!