Last updated on April 20th, 2022 at 03:00 pm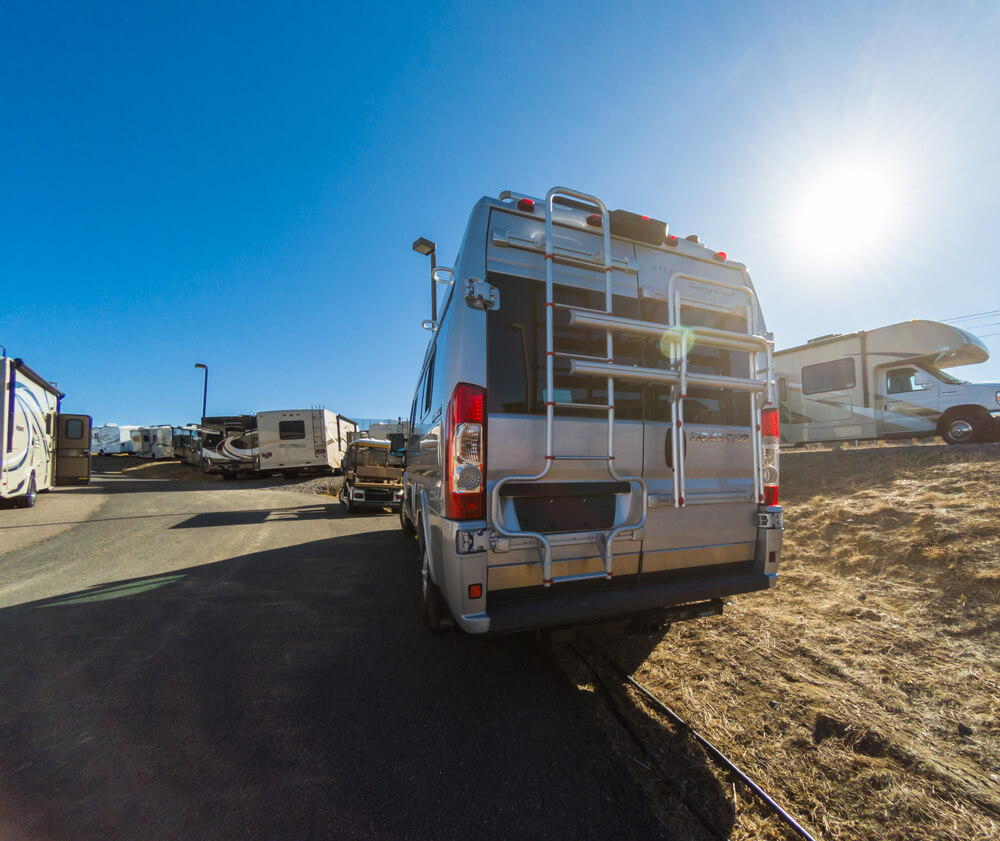 Finding a comfortable night's sleep in a Class B motorhome, or camper van, is no easy feat. We can't have all the luxuries we've come to expect from a Class A and the versatility of a camper van such as a full bathroom, ample living space, and the ability to roll out of bed and hit the road.
Oh wait, yes you can!
Always at the forefront of innovation and creative space solutions, Class B motorhomes have come far in recent years. No longer are the times of folding out couch cushions to make your bed or packing up all your sheets and blankets every morning.
A Murphy bed is a great option to avoid converted couches and uncomfortable RV beds.
We're going to look at 5 Class B RVs (along with a few B Plus options) that give you the best of both worlds.
Let's get started!
What is a Murphy Bed?
A Murphy bed, also known as a wall bed, hinges at one end to fold up into a vertical space, often into a cabinet or closet. They originally became popular in the early 1900s for space-saving purposes in small, high occupancy homes or apartments.
Murphy beds have become popular in RVs for all the same reasons- they are compact, comfortable, and easy to use.
A Murphy bed is a great way to get a good night's sleep on a comfortable bed, and avoid the added work of set-up and tear down.
Many RVs traditionally use fold-out beds incorporated into the seating or table components of the living space. Though this is efficient for floor space, the beds are often uncomfortable and required a fair amount of work every morning and night to get them set up and taken down. And then require storage of your bedding.
Some manufacturers will say they have a Murphy bed, when it's actually a folding couch or table. This means you'll have seams and creases in your mattress to work around. Many RVer's use additional padding, such as a memory foam topper, to add comfort. But that adds extra bedding you have to store. Iin a Class B, storage space is a commodity!
To make it on to this list, the bed has to have the ability to fold out of the way without having to strip the bedding or convert into seating.
We've featured the Atlas twice now, it's that nice. It made our list as the best Class B with a dry bath and as one of our favorite luxury Class B's. Heck, it even made the list of our all-time favorite Class B RVs for all of 2022.
What we love about the Atlas is its smart, home-like design. The lounge area, featuring a leather sofa with two reclining seats and a power slide-out is located right behind the cab which has swivel seats to turn towards the living space and expand the seating capacity.
There's a pop-up skylight and an entertainment cabinet with a 40" LED Smart TV that rises out of the cabinet with remote control.
The slide-out also features the Murphy bed, transforming the lounge area into a spacious sleeping area with a queen size memory foam mattress. The frame has springboards to help ensure an even, comfortable sleeping experience. A nice perk- the Murphy bed will still lower without the slide-out engaged.
While the slide-out and couch lowering features are both powered by the push of a button, to lower the Murphy bed, you do have to manually pull two hinges on each side of the bed. It's a little clunky until you get used to it, and it could be limiting if you have mobility restrictions. I find this disappointing for Airstream, as they usually do not compromise on accessibility and ease of use.
The full dry bath is featured at the back of the living space and the kitchen creates a nice break between the bath and lounge area, making the Atlas a very comfortable experience. Built on a Mercedes Benz Class B+ Chassis with solar panels, 2 lithium batteries, and an Onan diesel generator, the Atlas is a reliable and powerful motorhome. And its luxury features make it the best overall for this list.
A new Atlas starts at $276,106
Renegade has four floor plans in the Vienna family, two are Class B+, one of which has a Murphy bed, the 25VRML. Similar to the Atlas, it has a full dry bath in the rear of the RV and a slide-out lounge area plus Murphy bed.
The 25VRML positions the bedroom in the middle of the living space, with a dinette in the standard model behind the cab. You have the option to upgrade to theater seating instead of the dinette, as this sits directly across from the tv and is part of the slide-out.
No part of the Murphy bed is automated, so you do have to manually jack-knife the couch and pull the bed down. But the mechanics of it are smooth and require little physical strength, it's definitely smoother than the Atlas' bed release. It has a queen size mattress and a touch command-center next to the bed, so you can turn off the lights or adjust the a/c without getting up.
Overall the Renegade Vienna 25VRML is a really nice Class B+ with a Murphy bed. It has a similar layout and design as the Atlas but without the luxury pricetag.
A new 25VRML starts at $168,856
Winnebago gets major points for their creative definition of a Murphy bed. Whereas most Murphy beds will fold vertically up against a side wall- Winnebago has a power lift bed, so when not in use it stays against the ceiling. It only lowers halfway, allowing for ample storage underneath and an elevated sleeping platform, which is a fantastic way to utilize space!
The Revel calls this underneath storage area the gear garage, with heavy duty vinyl flooring that will hold up against any bike, snowboard, or mud drenched hiking gear. Being a Colorado native, I love the idea of skiing from my front door with the Revel and not worrying about where to put my wet skis and boots afterwards.
Winnebago is known for being ideal for off-grid living and the Revel 44E is no exception. Built with a Mercedes Benz turbo diesel engine, this 4×4 ready camper vans is durable and built to last. The Revel also features two 125-hour batteries, a hydronic heating system, and easy access to all your systems in the gear garage.
Winnebago doesn't compromise comfort, but it does take a different approach to aesthetics. Whereas the Atlas and the Vienna try to mimic home-like features, the Revel highlights the industrial feel of the RV, prioritizing durability over looks. Still, it's one of the smallest RVs you can find with a shower (along with a toilet of course) and thanks to its durable build it's also a great option for traveling with pets.
Which isn't to say it's not an attractive RV! But it's definitely not for everyone. If you are looking for an RV to take you off-grid for several days while you hike or bike up some mountains, you'll love the Revel. There's a reason this Class B made our list of the best Class Bs of 2022.
A new Revel starts at $202,401.
The Compass 23TW is a great choice for full-time living because it packs a full dry bath, a Murphy bed and spacious dining area into a Class B+ motorhome. The Compass is designed to really feel spacious with lots of full-width windows, 80 inches of interior headroom, mirrors along the rear wall, and light-colored decor.
The Murphy bed is part of the full slide-out and is a nice queen size, with access from both sides of the bed, great for two people! The mattress is stored folded, unlike the Atlas or Vienna, so that could cause some wear through the middle of the mattress over time. Also, the set-up is all manual, but its simple and smooth, easier than the Atlas.
The kitchen and dinette of the Compass are really comfortable and homelike, ideal for entertaining in the front end of the RV. They bedroom area has a privacy curtain and an ample storage, including a full wardrobe closet along the rear, as well as an additional tv.
The Compass has a gas engine and AWD capabilities. It does a great job of combining all the features you might look for in a motorhome giving you flexibility for off-grid or leisure living.
The Compass 23TW starts at $142,000.
The Galleria 24A does not technically have a Murphy bed. But similar to the Rebel from Winnebago, it has an elevated bed to allow for addition underneath storage. And it's such an interesting design, I had to include it.
The bed design of the Galleria is very unique. The fixed bed takes up 6 feet in the rear of the RV and has power incline seats as part of the design. It's similar to an adjustable base bed, allowing you to sleep or lounge on an incline.
This allows for you to keep your bed area made up throughout the day and requires almost no set-up or tear down. However there are seams in the cushioning and adding additional padding could interfere with the reclining components.
The underneath storage, accessible from the rear doors is ample and hidden, which is another nice feature in an RV. There's even an access door from the interior.
The Galleria 24A has a Mercedes Benz v6 engine and a 4×4 option. A new Galleria starts at $194,299.
Is a Murphy Bed Worth It?
Part of what I love about Class B motorhomes is that they are constantly evolving. New and exciting features come out every year and as the demand for camper vans continues, the skies the limit in regards to innovative living solutions.
But the downside is that options are still limited for some features, the Murphy bed included. And even as new options come out, it limits the used-RV market. That could be the biggest consideration for whether you want to get a RV with a Murphy bed.
Advantages to a Murphy bed:
A better night's sleep due to a standard mattress as opposed to converted cushions.

No need to keep all your bedding in your valuable storage areas.

A "close and go" lifestyle requiring less time to prep and break down your bed area every day.
Disadvantages to a Murphy bed:
Limited Class B models to choose from.

A Murphy bed can be a heavy addition to your RV, impacting your weight limits.

Most require manual lowering of the heavy, large bed which could be burdensome.

A Murphy bed isn't always a standard feature, so they can be more expensive.
Final Thoughts
I love my camper van, but when I dream of my next one it absolutely includes a Murphy bed! The home-like feel of an actual bed just can't be beat. But I also know many people who don't want to deal with the extra weight and clunky lowering of the frame. It really comes down to what your personal desires are for your motorhome. If you're not sleeping in your van that often, a Murphy bed may seem more burdensome than luxurious. If you live in your RV full-time, the bed may be the most important feature. Either way, I hope you found something exciting on this list of the Best Class B RVs with a Murphy Bed!