All of our reviews are based on exhaustive research, industry experience and whenever possible, hands-on testing. When you make a purchase using one of our chosen links we'll a small percentage of the proceeds. This supports the site and keeps Jeffsetter running. You can read more here.
Traveling with the whole family can make for a vacation of a lifetime. Bringing along the kids on a camping adventure can be a wonderful experience, but what do you do when your kids still need car seats?
Many RVs have enough space for a family of five, but does this include adequate and safe seats for your infants and toddlers? You may be feeling nervous about renting or purchasing an RV with your youngest family members in mind.
Thankfully, there are Class C RVs with car seats and young passengers as priorities- we've compiled a list of some of the best options on the market today. 
But what else should you consider before making your final decision?
Let's take a look and if you'd like to skip ahead and see our full list you can use the table of contents below: 
What to Look for in a Class C RV for Car Seats
If you are searching for a Class C RV for car seats, there might not be a clear picture painted for you on where you should begin. However, that's why I am here to tell you some of the main things you should consider before making your final purchase. Let's get started!
Seat Style
There are many rules for car seat safety for children in moving vehicles. The type of RV you purchase should be in line with these safety rules. While you may not know what to consider right away, your car seat style should influence the types of seats you look for in an RV.
Having the ability to securely latch your child in their car seat can be more difficult than you think in a Class C RV. While the front two seats are always well-equipped for two adults, the chairs may not be a great choice as they are technically the "front" seats of the moving vehicle.
So, finding an RV with proper backseat options for your car seat or booster seat is easier said than done. You may be dissatisfied with many RV bench seating options, or may find yourself struggling to find proper safety belts throughout.
You can always have your child in the passenger seat in the main, up front cab. These seats often have the most safety features involved and can be swiveled or moved and locked into whatever position you please.
However, make sure that the Class C rig you are considering has the ability to hold a rear-facing car seat (should your child be at that age), or even a booster seat should that be the safest seat in the RV.
Seatbelt Style
Speaking of various seat styles onboard a Class C rig, you should keep an eye out for various seatbelt styles onboard an RV as well. Some may just be lap belts; others may be incapable of adjusting for your child's car seat.
If an RV features bench seating while the rig is in motion, you may feel like there is not a secure enough option for your infant. On the other hand, some RVs may offer a solid and stable individual seat for your car seat or booster (or even your dog crate).
No matter what, there is no doubt in my mind that there's an RV out there for car seats and infants. After all, many families RV with the entire family involved, not just their bigger children! Finding an option that works for you may take time, but it is possible.
How Many Seats Available
Not only should you consider what seat works for your booster seat or car seat, you need to ensure that there are enough seats for everyone else. There are always two seats present on Class Cs, two captain chairs in the cab. But what other options are there?
There are always more seats inside of a Class C (but there's more seats than in any Class B RV), but you should ensure that there are seatbelts available for these seats, and for every non-infant person onboard your RV. 
Class Cs are not the biggest rigs available on the market, so you may find some seats lacking. Plus, some seats may only be positioned in slide outs, making some parents question the overall safety and stability of these seats.
However, most states don't require everyone to have a seatbelt in a Class C RV, making the idea of "seats" up for debate. If you are travelling with many small children, you may want each of them to have a proper seat and seatbelt. This is important to keep in mind.
Other Safety Features
If you are concerned for your child's safety while your RV is in motion, you may be wondering what other safety features are possible in a Class C RV. Whether you plan on boondocking and going off road, or simply want to take it easy, there are some things to keep in mind.
Are you looking for an RV with a backup cam or a security system? Maybe you are hoping to have locking cabinets to keep your kids out of certain areas. Some of these things can be installed after you have purchased your RV, while others can be added by the RV manufacturer.
A huge safety feature to consider before making your final purchase is whether or not you can turn off the passenger seat airbag. If you plan on installing your infant's car seat in the front cab passenger seat, having an airbag on is a huge no-no.
However, some Class Cs will have the option to adjust the airbags as needed, especially the passenger side one. Thinking ahead and considering what is safe for the whole family takes more time than you may have thought!
Layout and Room for Everyone
While a Class C may not be the largest RV on the market today, choosing a roomy and spacious option is easier than you may expect. Finding an RV with room for the whole family is possible- it may just take some time.
Class C RVs have many versatile layouts and floor plans, some RV manufacturers priding themselves on their countless design choices. Finding an RV with a spacious master suite or perhaps even a luxurious bathroom is possible.
Always remember that the above cab bunk area is designed for sleeping- this should help when you are considering how many beds you need. These cab bunks are perfect for a child or teen, and many have privacy screens so that they can have their own little sleeping area.
Some Class Cs will even have bunk beds, or master bedrooms with the ability to close the door. This can be useful if you plan on travelling with an infant or toddler- keeping the door closed while you sleep may help your other guests from being disturbed should your baby cry.
Good Brands of Class C RVs for Car Seats
If you are shopping for an RV for the first time, especially a Class C RV for car seats, you may be curious what some good brands may be. While shopping, always remember if you're looking for a gas or diesel RV- this will greatly affect your decision and brand choice.
Let's take a look at some of my top picks (all of which have families and safety in mind)!
Jayco
Jayco has been talked about among RVers for some time, especially RVers that bring the entire family with them. This brand seems to often focus on durability, advertising special sturdy RV frames. They use a lot of custom woodworking, and they make Class Cs to last a lifetime!
Coachmen
Coachmen is another classic RV brand with a focus on family-friendly layouts. They use their space wisely more often than not, and are a well-known brand. Their overall interior design may be simple, but it will be durable enough for kiddos at any age.
Winnebago
You've heard of Winnebago by now, right? Known for their affordability and overall customer service, Winnebago keeps wowing RVers with their innovations, usually for a good price. They know the importance of bringing the whole family along for the ride, including infants!
Forest River
Forest River is well regarded in the RV world, and has been for decades. They make a great variety of rigs, from fifth wheels to Class C's, so definitely keep them on your short list! They have many layouts, and countless RV brands under their iconic brand.
Thor
You may not have heard of Thor brand motorhomes yet, but they are popular! Known for being budget friendly like Winnebago, Thor is proving to be another reliable brand in the RV world. They make many family friendly rigs, including those with car seats in mind.
The Best Class C RVs for Car Seats
Now that you know some of the nitty gritty when it comes to shopping for a Class C that is perfect for your family, it's time to take a look at some of the best Class C RVs for car seats on the market today.
Keep in mind that some of these rigs may need to be toured in order to ensure you have the proper safety features for your child's car seat. I highly recommend contacting the RV's manufacturer, or taking the time to do a 360 degree online video tour of the rig, if possible.
Best Overall: Coachmen Freelander
The Coachmen Freelander is a very popular RV for families, including those of you with car seat needs, and you'll soon see why. With over 10 possible floor plans between the Freelander and the Freelander Premier, this Class C has enough layouts to please anyone.
The Freelander mantra is to provide more factory installed features than anyone else, unparalleled value, and reliable design and quality at an affordable price. The Freelander Class C Motorhome will win you over with its right balance of beauty, function, and value in a quality product that has led the industry in sales for over a decade.
In terms of the interior, this rig has U-shape and J-lounge dinettes which offer roomier seating and larger converted bed areas. All of these floorplans offer true residential sized queen or king beds in the master suite, which means that mom and dad don't have to sacrifice their comfort while on the road! And for any traveling chefs: most of these rigs come equipped with a large residential sized fridge.
There are even more perks to this rig, including larger fresh water tank capacities of around 50 gallons, optional tank heaters, and LED strip lighting both inside and outside along the awning. With multiple large access storage compartments, you will gain an average of 70 square feet of storage, no matter the floor plan you choose.
While the interior design is nothing special, having a reliable and well-built rig is sometimes all you need to have a great trip with your family. Plus, Coachmen offers so many floor plans so that you can really choose what works best for the whole family, including your car seat kiddo!
Most Spacious: Thor Four Winds

What makes the Thor Four Winds so special? Budget friendly with multiple floor plans, durable, capable of fitting a family of five and then some- these are just some of the reasons why the Four Winds model takes the cake! I see this rig everywhere, and it is pretty easy to understand why.
Fifteen different floor plans allow your family to find the Four Winds that fits your lifestyle and needs. Easy to drive and easy to love, you'll want to spend all of your vacations or even live full-time in this rig. The living amenities, available in select floor plans, include washer and dryer prep, bunk beds and seating options so that it's no problem for a family of five to be comfortable.
Every model has residential vinyl flooring that's easy to clean and great for those that travel with pets. You won't mind rainy days in this Class C RV, thanks to the entertainment, sleeping and decor options. Great seating options are a must-have, so you'll be pleased with how the Four Winds checks this box for every floor plan. Every Four Winds model has a cab-over bunk sleeping area, and some floor plans come with bunk beds.
Four Winds living arrangements range from jack-knife sofas, Murphy bed sofa conversions and theater seating. Each layout has a TV and a wireless phone charger with a USB plug at the dinette tabletop for your convenience. The whole family can gather around the Dream Dinette, laugh and tell stories about the best part of the day's adventure. Tell stories back and forth until your loved ones fall asleep, which is perfect as the dinette makes into a bed.
All in all, Thor has taken what families want and need out of an RV and boiled it down into an affordable and durable rig for years to come. You should have the safety features you need for a car seat, and enough space for everyone to boot!
Most Safety Features: Jayco Melbourne
You'll never go wrong with the purchase of a sturdy and reliable Jayco RV, which is why the Jayco Melbourne remains popular year after year. While it is on the more compact size, this rig may be the perfect fit for your small family.
Having a reliable diesel engine isn't where the perks stop. From two twin beds to walk around master suites, this compact Jayco will have a floor plan that suits many families. There's dinettes and different bathroom options, including ones with a separated shower and toilet. And the interior is nothing to scoff at; stylish and elegant, you will forget that you're camping!
Jayco installs stress-tested seatbelts in every designated seating location to ensure the safety of you and your children. Plus, Jayco has designed their overhead bunks to hold 750 lbs.- this is 250 lbs. more than any other RV. In a Jayco overhead bunk, two adults can comfortably rest and relax, or you can safely read a book to your kids at night.
Jayco is a fantastic brand for many reasons: warranty, resale, and advanced handling technologies. JRide, which offers a powerful blend of precise handling and renowned stability, is Jayco's special chassis addition not found on any other Class C. These important additions make your trip more comfortable without the need for expensive aftermarket upgrades. 
Jayco's warranty is the best in the RV business. The two-year limited warranty is twice as long as the industry standard, keeping you covered for two full camping seasons. Jayco knows the importance of having a rig that remains in your family as your children grow.
Best for the Adventurous Family: Winnebago Ekko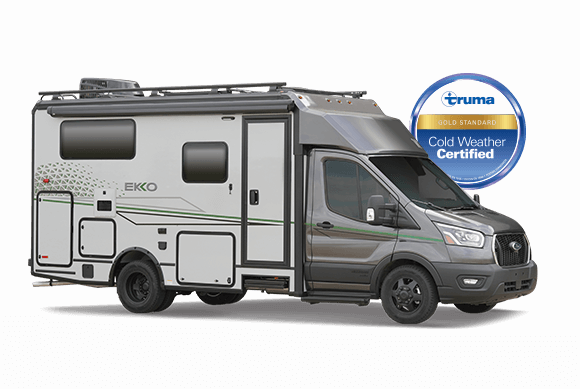 The Winnebago Ekko is far more than meets the eye, and is a Class B/Class C hybrid, for lack of a better term. They've reinvented the RV wheel yet again, and this Class C can take you anywhere- including you and your car seat.
Combining the efficiency of a camper van and the capacity of a Class C coach, the Ekko takes the phrase 'big things in small packages' to a whole new level. From the massive heated pass-through gear garage to the large living, sleeping, and cooking space, the Ekko is sure to become your favorite family adventure vehicle. 
The 3.5L EcoBoost V6 delivers 310 horsepower and 400 lb.-ft. of torque, while the 31-gallon fuel tank greatly extends the Ekko's range. Standard safety features include Adaptive Cruise Control, Lane-Keeping System, Pre-Collision Braking, Driver Alert and more, plus the Winnebago-added Blind Spot Monitoring system. 
Camp almost anywhere! Three solar panels that pump out 455-watts, a second alternator dedicated to charging the batteries while driving, and the standard lithium-ion batteries provide further energy independence. The 50-gallon freshwater tank plus proportionate waste tanks make extended stays possible.
A full galley equipped with energy-efficient appliances and a dry/wet bath with pivoting wall that separates the shower area will make families feel right at home anywhere. Guests on board? No problem, thanks to dinette seating with three-point seat belts and child seat tether anchors, not to mention the added sleeping capacity – and penthouse views – of the optional pop-top. This rig is a gem for boondockers!
Most Homey: Tiffin Wayfarer
While Tiffin may not have made our top brands list for Class C RVs, they have one fantastic Class C: the Tiffin Wayfarer. This stylish and well-built rig is perfect for an adventurous couple with an infant, especially if you are hoping to travel with all the comforts of home.
Designed inside and out with your every need in mind, this diesel Class C features a spacious interior, industry-standard safety features, and high-performance handling with its Mercedes-Benz chassis. Spontaneous adventures and exploring nature are what the Wayfarer is all about. That's why it's ingeniously engineered with ample storage room for all your gear to join you on your journey.
There are four stylish floor plans found on this 25 foot rig, from twin beds to murphy beds. You can find a layout that suits your situation best, and there are four elegant interior design choices to pick between as well. Your interior is safe behind Tiffin's one-piece, moisture resistant molded fiberglass roof cap.
Not only is this rig safe for the whole family- it's luxurious too. It has an instant hot water heater, two large house batteries, ducted heat and cooling, heated holding tanks, and a shower with a skylight. You can upgrade to handcrafted cabinetry, but that's not all the possible add on features available.
Tiffin offers the most warranties out of any of these brands for its Wayfarer, including an exclusive owner's club. The warranties cover the overall rig, paint delamination for three years, two separate chassis warranties, and one year of reliable roadside assistance. You and your whole family will feel safe and taken care of in your Tiffin!
Final Thoughts
Finding a Class C RV that has your infants and toddlers in mind may seem like a daunting task at first. However, with some research and some important answers to questions, you'll no doubt find a Class C that works perfectly for you and your family!