Last updated on April 4th, 2023 at 06:22 am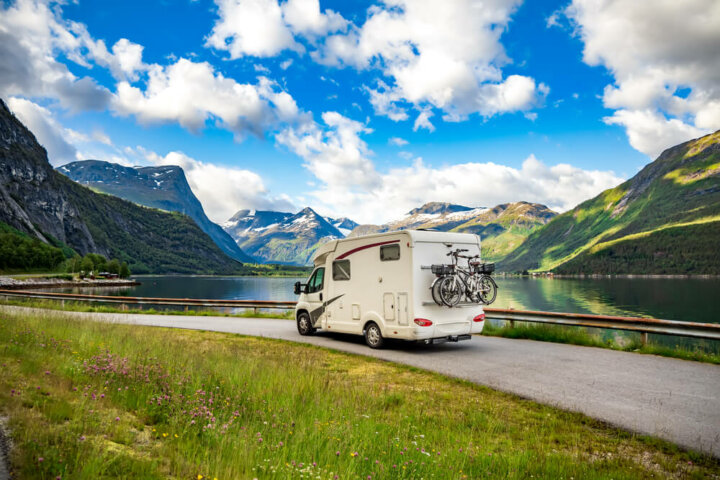 All of our reviews are based on exhaustive research, industry experience, and whenever possible, hands-on testing. When you make a purchase using one of our chosen links we'll get a small percentage of the proceeds. This supports the site and keeps Jeffsetter running. You can read more here.
Likely the most popular type of RV being manufactured nowadays, what are all of the pros and cons of Class B RVs? Also known as campervans, Class B motorhomes are the smallest type of drivable RV and have many benefits as well as downsides.
But what might these be and what should you know before you fall in love with one?
Among their numerous pros, class B RVs are easy to park and drive which makes them suitable for rough road conditions, and driving through cities and freeways. Additionally, they're perfect for boondocking and stealth camping. However, Class B RVs are very expensive, they offer limited floor plans, amenities, storage, and space to accommodate multiple people.
In this article, we will go over all of the pros and cons associated with Class B RVs so that you can make an informed decision. Not only will we address some factors to consider when it comes to driving an RV of this type, but we will also address what it's like to consider living in one full-time.
If you are considering van life, you're in the right place! Let's get started and talk all about the pros and cons of Class B RVs now.
Curious to see what all of the pros and cons are? Use our table of contents to check out everything that we are talking about, including some major downsides and benefits of Class B motorhomes.
The Pros and Cons of Class B RVs: Everything You Should Know
There has been an undeniable uptick in Class B RV ownership, particularly among young people longing to live life on the road. However, this doesn't mean that Class B RVs are perfect for everyone.
If you are considering an RV purchase of any type, particularly campervans, you're in the right place. Here are plenty of pros and cons to consider before jumping into van life!
Pro: Class B RVs Are Easy to Drive
Out of all RVs, including travel trailers and other towable options, Class B RVs are likely the easiest to drive without a doubt. This is because of their small size, standard van chassis options, and countless safety features. You are essentially driving an oversized van, something that most drivers can adapt to easily.
Given that Class B RVs are built like traditional vans, they also have countless safety features and options to choose from to make driving even easier. For example, most modern Class B RVs come equipped with lane assist options, backup cameras, airbags, and much more.
The same cannot be said with other motorhomes, so this may appeal to those of you seeking an easy transition from traditional driving into RV driving.
Con: Class B RVs Have Limited Storage Capacities
A nimble motorhome comes at a price, primarily when it comes to storage. Class B RVs are notoriously small, which may be something you are seeking. However, it's nice to say that you want to live tiny and a whole other thing to actually do it. Downsizing and figuring out solutions for storage capacities within a Class B RV can be extremely difficult.
While any modern Class B RV manufacturer understands this inherently and works to provide as much storage as possible, there's only so much you can do with a vehicle of this size. That's why a Class B RV can be extremely difficult when it comes to its storage, particularly if you plan on camping with multiple people.
Because Class B RVs have limited storage throughout! on many other RVs, you typically make a sacrifice in terms of the size of your kitchen or bathroom, or bedroom, not all three. But Class B RVs are small no matter what, with every inch counting and mattering. You may find that it is simply not enough room to keep all of your things, especially if you want to live in a van full-time.
Pro: Class B RVs Are Perfect for Boondocking
Committing to van life likely means you are interested in boondocking or camping off the grid. That's why most modern Class B RVs are built for this style of camping.
Rather than staying at a traditional campground or RV park, a Class B campervan allows you to camp away from hookups or utilities and truly get away from it all.
Boondocking is extremely popular nowadays, and a camper van is the best way to find a location that is both off the beaten path and disconnected from everyone else.
Class B RVs have off-grid capabilities, often included in their standard purchase prices, which may appeal to those of you seeking something that is ready to go off-grid immediately after you purchase it.
Plus, Class B RVs are small enough that they have fewer energy demands and a smaller footprint compared to all other RVs on the market. Not only will you save on your fuel expenses, but you will also likely use fewer utilities in terms of water, electricity, and more.
Con: Class B RVs Don't Sleep Very Many People
While the small size of a campervan appeals to many people for a number of reasons, the obvious drawback is that you can't sleep very many guests inside of one. The average sleeping space for a Class B RV is only two people, with some makes and models offering additional sleeping arrangements for up to four individuals at a maximum.
If you are hoping to sleep your family of five in a Class B RV, this might be exceedingly difficult. This is especially true if you are on a budget, only searching for a specific layout, or something else. You likely will have to make sacrifices elsewhere within the vehicle, and chances are high that you will be sleeping on top of one another!
Pro: Many Class B RVs Are Great for Rough Road Conditions
Depending on the specific model you choose, many Class B RVs are ideal in rough road conditions or during times of inclement weather.
The average Class B RV is capable of handling off-road conditions better than other motorhomes and especially travel trailers. You may even find a Class B RV with four-wheel or all-wheel drive.
This is especially true in campervans that are built for boondocking, as the manufacturers who make RVs like this want you to be able to go wherever your journey takes you.
With higher clearance options, all-terrain tires, and other features, Class B RVs are fantastic for roads of any style, paved or unpaved, winter driving conditions or otherwise!
Con: Some Class B RVs Are Very Expensive
If you want a Class B motorhome with all the bells and whistles, be prepared to pay a decent amount of money for one. While Class A motorhomes are often the most expensive of the drivable RVs, Class B RVs come with their own price tag, especially given the overall popularity of this type of RV.
For example, you may be able to find a Class B campervan under $90k, but the average cost of a brand new Class B motorhome is closer to $200k.
Again, this is for a top-of-the-line, brand-new RV with plenty of amenities so that you don't have to lift a finger in order to camp at your leisure. However, this is still a huge cost, especially when you consider the overall living space and square footage included in that price!
Pro: You Can Easily Build Out Your Own Campervan
If you are potentially interested in saving money on your campervan, there are plenty of options available on the market currently for you to build out your own.
Many do-it-yourself RVers choose to purchase an empty van and all of the components of an RV separately, allowing them the freedom and flexibility to craft the interior of their RV however they like.
The couple in this video did just that and their DIY van turned out amazing!
Not only will this save you some money, but it also allows you to customize your interior living space completely.
There aren't very many ways in which you can set up a campervan, but perhaps you have a certain vision in mind that other makes and models have not offered you. Plus, it might be easier and faster for you to buy an empty van and complete it on your own rather than wait for an RV manufacturer to finish your Class B given the demand of the market.
Con: Class B RVs Have Cramped Living Quarters
Just like it can be difficult to sleep multiple people inside of a Class B RV, it's also extremely difficult to simply hang out inside of one as well.
No matter what type of Class B RV you choose, space will always be at a premium. This includes space in your living room and kitchen, and it is unlikely that you will have larger than a double bed inside to sleep in.
Many people enjoy the notion of small living, especially if you only plan on doing it on the weekends or camping casually. However, living full-time in a Class B RV can prove difficult if you are choosing to do this with another person or people. It can be extremely difficult to find some alone time, especially if you can't go outside for whatever reason!
Pro: Choice of Fuel Type
Like other drivable RVs, you can choose your fuel option more often than not on a Class B RV. There are plenty of people who feel strongly about one particular fuel type over another, and you may be one of those people.
Choosing between diesel fuel or traditional gasoline fuel means weighing the pros and cons of both of these fuel types.
For example, many people note that diesel fuel is less expensive and more fuel efficient in the long run, whereas gasoline fuel typically results in a cheaper Class B RV purchase price.
Diesel Class B RVs are often more luxurious and therefore more expensive upfront, but it all depends on what you are looking for. The good news is, Class B RVs are the most fuel-efficient motorhome compared to Class A or Class C options!
Con: Not All Class B RVs Have Kitchens or Bathrooms
If you are hoping for a campervan that includes all of the standard amenities of traditional residential home living, you may need to search a bit harder than you initially expected. Depending on the make and model, some Class B RVs will not include kitchens, but especially bathrooms.
Typically, you'll be able to find a campervan with a small kitchen or a portable, outdoor kitchen option. However, bathrooms are often difficult to find onboard Class B RVs, especially if you are only shopping for the smallest and most compact of options.
Occasionally, a Class B RV will offer a portable toilet and an outdoor shower combination, but it is rare to find these amenities in one room. If you know you want a kitchen and bathroom onboard your Class B RV, there are certainly some options on the market for you.
However, you will almost always end up with a wet bath as opposed to a traditional dry bathroom. This essentially means that the entire bathroom is designed to get wet, which may not be something you are looking for or expecting.
Pro: Class B RVs Are Built for Stealth Camping
Boondocking is easier than ever in a brand-new Class B RV, and stealth camping is another option for those of you hoping to disconnect from traditional RV utilities.
Stealth camping is the act of camping without others knowing, typically in the middle of a large city or suburban area. Class B campervans allow you the ability to sleep, cook, and otherwise camp without anyone knowing!
This can be a huge plus for those of you hoping to live full-time in your Class B RV. It is certainly not unheard of for an RV owner to have difficulty finding a place to stay, particularly during busy tourist seasons.
Stealth camping allows you to camp anywhere you want, even in locations that may not legally permit overnight stays. We are certainly not advocating for law-breaking behavior, but sometimes needs must!
Con: No Space for a Living Room and Bedroom
While this may not be an issue for those of you using your campervan for casual camping opportunities, it is rare to find a campervan layout that offers you both a living room and a separate bedroom area.
If you live full-time in your Class B RV with another person, you may find that it is difficult to utilize your interior space if you both have different activities you would like to do.
For example, if you would like to take a nap but your partner would like to watch tv, there is no space to accomplish both of these things easily.
Often, Class B RVs utilize convertible furniture or sleeper sofas, which maximizes the interior living space. However, it does not allow you to do two activities at once, given that the living room sofa is also your bed!
Pro: Easily Maneuver Through Cities and Freeways
The most daunting aspect of RV ownership is the fact that you can't easily access locations that you may want to see or experience.
For example, taking a travel trailer through a downtown metropolitan area is nerve-racking and likely impossible for most people. However, having a Class B RV allows you to go anywhere that most other RVs can't.
If freedom on the road is a priority for you, choosing a campervan is a great option. This is likely the only RV option that will allow you complete and total control over your vehicle, no matter where you are driving. This includes busy cities and freeways, as you are essentially driving an oversized van. You can easily fit into most parking spots, while the same cannot be said for any other type of RV!
Con: Limited Towing Capacity for Toys or Another Vehicle
While some Class B motorhomes offer a decent towing capacity so that you can bring along another car or even a small trailer, this can be difficult to find. Plus, this may not be something you want to do in the first place.
One of the main benefits of a Class B campervan is the fact that you can easily drive and maneuver it, but towing something behind you will limit your mobility.
However, if you don't want to tow something, you need to keep in mind that your primary vehicle is also where you are camping. If you have already set up camp and are hooked up at your campsite, what do you do if you need to run into town?
Completely breaking down camp in order to drive into town may be inconvenient for many people, especially if an unexpected emergency or situation occurs.
Likewise, it can be extremely difficult to bring along ATVs, motorcycles, or other large recreational toys if you have a Class B RV.
Some options make this easier than others, but it may be more difficult to find campervans to accommodate your lifestyle if you have specific needs like this. A toy hauler or larger motorhome will make your life a bit easier!
Pro: Parking Is Never a Problem in a Class B RV
As previously discussed, maneuvering a Class B RV is easier than maneuvering any other type of RV. This is especially true when it comes to parking, particularly in locations such as grocery stores, gas stations, and other venues. A Class B campervan fits well into the average parking space, and you may even be able to easily parallel park on city streets.
If seeing and experiencing everywhere to the fullest is a high priority to you, a Class B RV will suit you well. This is truly the RV for those of you seeking freedom and mobility, as it is incredibly easy to park, drive, and find locations to accommodate your vehicle. This cannot be said for any other type of RV, so definitely consider this a huge pro!
Con: Floor Plan Options Are Minimal
Unless you have a brilliant layout idea that you plan on building out yourself, most Class B RVs have extremely limited floor plans. This is largely due to the fact that there is only so much interior living space on board the average campervan.
While most motorhome manufacturers have worked incredibly hard to create unique and practical interiors on their Class B RVs, there is truly only so much you can do.
This is especially true if you know you want a bed, kitchen, and wet bathroom on board your campervan. While you can pack a lot into a small space, there are only so many locations for these amenities to go.
If you consider all of your holding tanks, batteries, and other necessary RV components, most layouts are restricted to a fairly obvious footprint that you will likely pick up on across all makes and models of Class B RVs!
Final Thoughts
If freedom, mobility, and boondocking capabilities are all high on your list of priorities for a brand-new RV, a Class B motorhome may be the right choice for you.
However, if you plan on camping with a large group of people or know that you need more space to feel comfortable while you travel, a Class B campervan may feel too small.
Regardless, there are plenty of Class B RVs available on the market today, including options that allow you to outfit your own interior!
Choosing this type of RV means that you can hit the road easily, safely, and reach destinations that other RVs do not allow you to reach. So long as you aren't worried about square footage, van life may be right for you!