For dinner on our first night at the Las Alcobas Napa Valley, we decided to stay on property. So, we headed to the only restaurant at the hotel, Acacia House by Chris Cosentino.
Now, let me start this review off by saying that I have a lot of respect for Chef Cosentino. He seems like a great guy, and you gotta give him props for promoting the eating of less desirable animal parts. Being a hotel restaurant, though, I wasn't expecting Acacia House to be as adventurous. To say I went in with high expectations, though, is an understatement.
Location + Ambiance
Acacia House is in the "main building" at the Las Alcobas Napa Valley. It's the one right in the front, and immediately next to the valet stand. In fact, the main building itself is a historic home that's seen many uses over the years and is also called the Acacia House.
The Acacia House is a gorgeous, timeless space that is both timeless and modern all at once. Much like the rest of the property, though, the restaurant was mostly empty during our visit.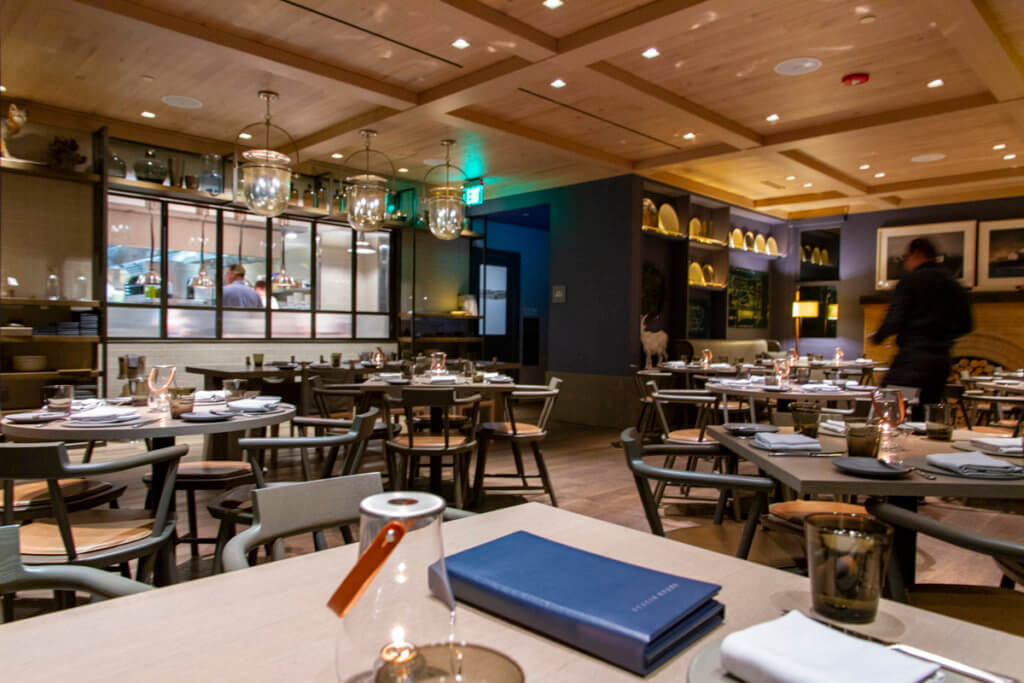 Service
While the Acacia House is an upscale restaurant at a luxury hotel, service during our visit was mediocre at best. It's not that anyone was rude, more like they were just going through the motions. Some of the servers, though, were great. It's too bad that the woman I assume was the manager made us feel like she couldn't be bothered with us, which was odd. To add insult to injury, despite having a reservation, the restaurant didn't notify us ahead of time that they were having issues with their liquor license. As a result, there wasn't much in the way of drinks available during our visit.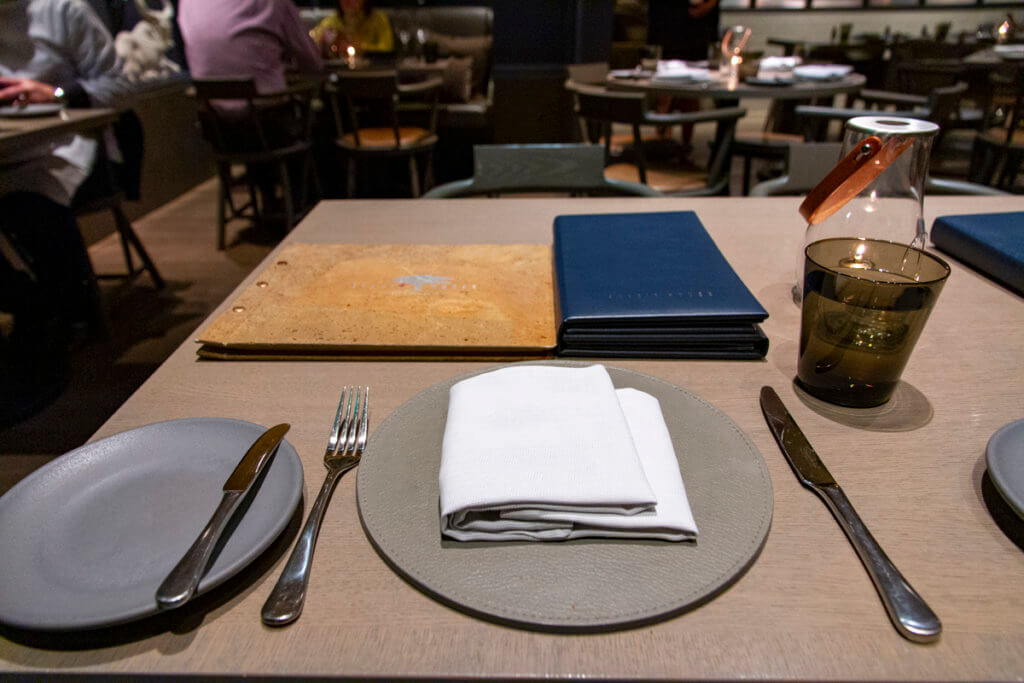 Starters
We decided to make our own tasting menu of sorts, which one of our servers suggested we do when we couldn't decide what to order. To kick things off, though, we were brought out a couple of cheese and chive goureges. A pleasant, savory small bite to whet the appetite.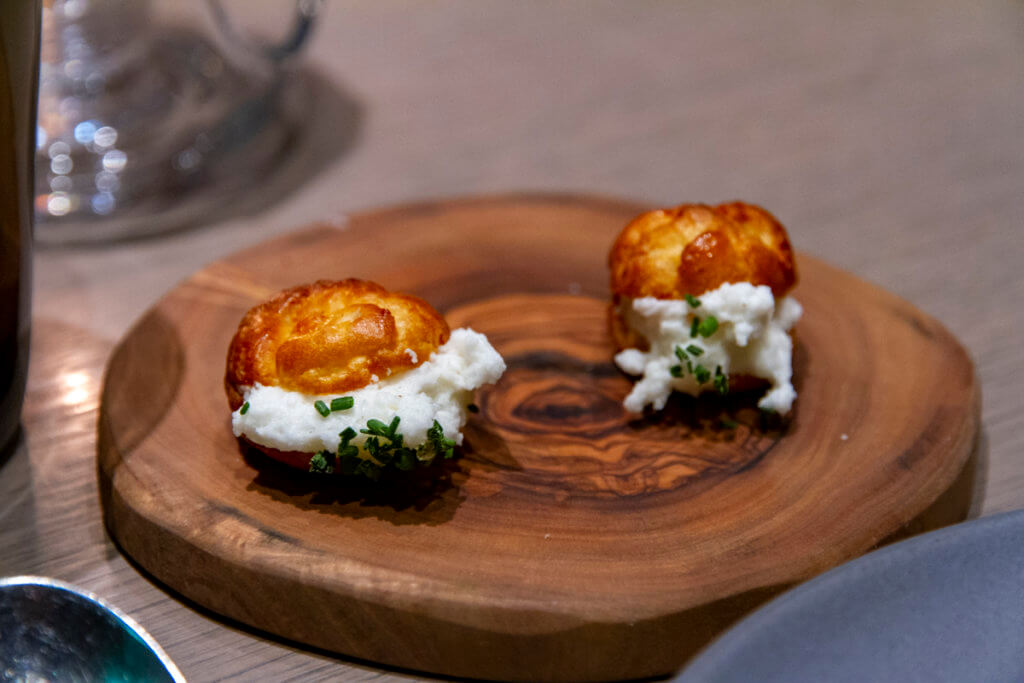 We were then presented with some pretty great house-baked bread with salted butter.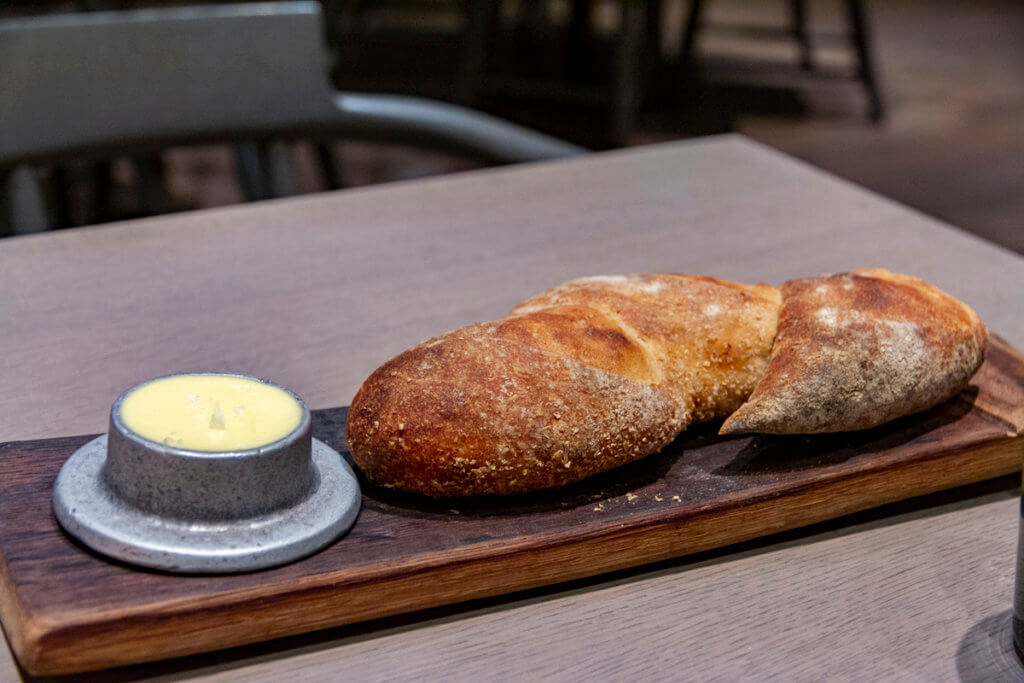 Then came the first item we actually ordered, which was the Chips & Dip off the snack menu. But these aren't just any chips and dip, they're house-made potato chips with a chive-french onion dip and salmon caviar. And while it looks plain, it certainly is not. The onion flavors are further enhanced with notes of citrus and fruity olive oil.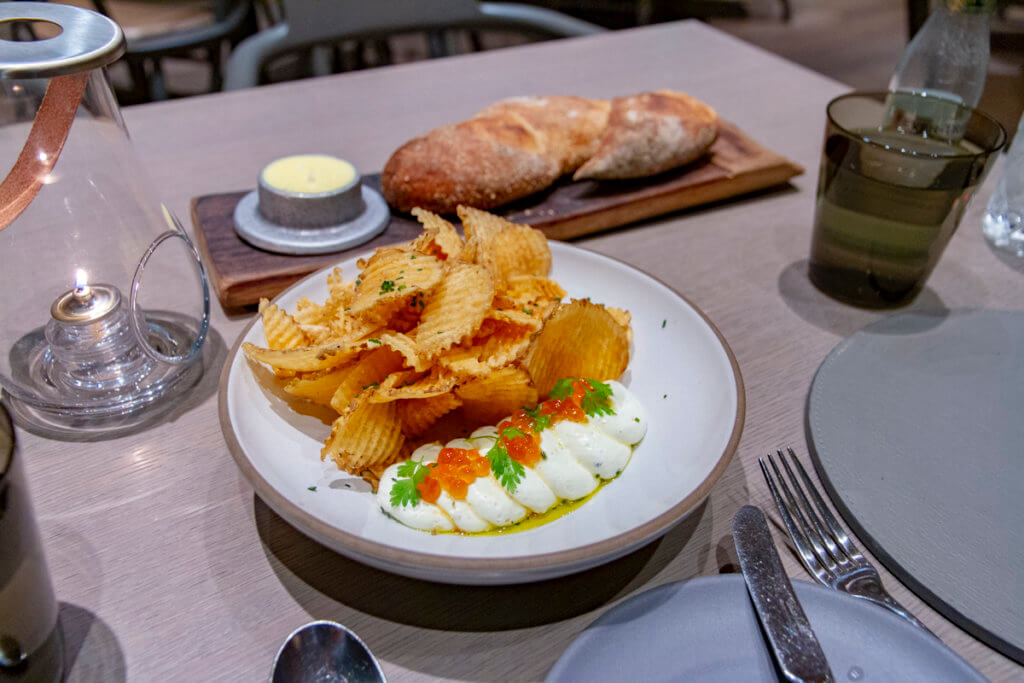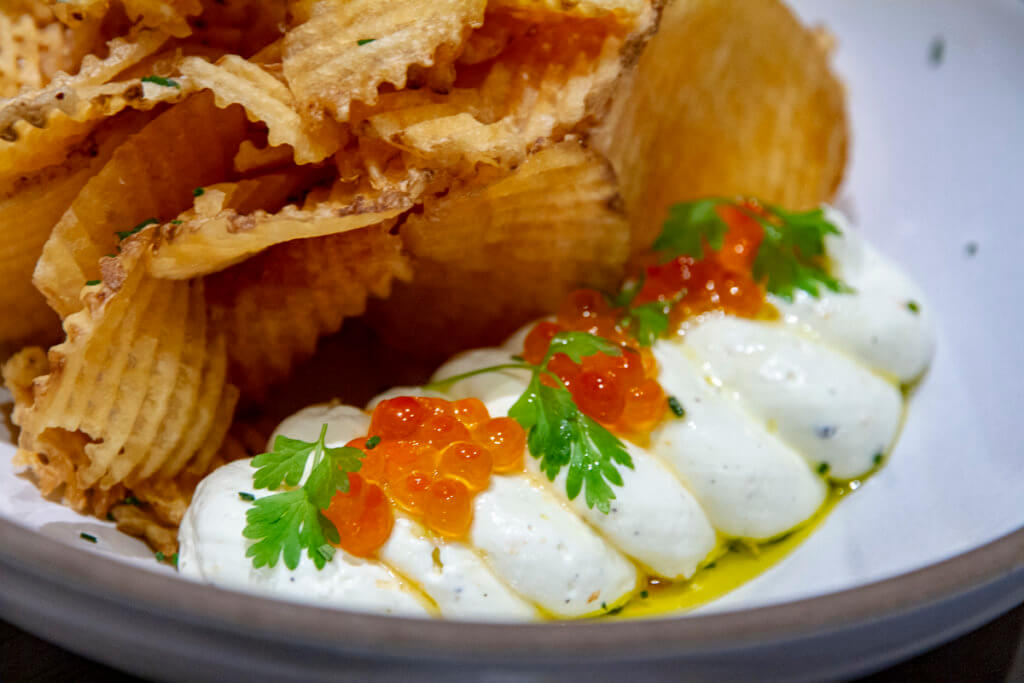 Pasta Course
Something that really caught my eye, both of our eyes, really, was a mushroom carbonara. Sounds odd, right? A vegetarian carbonara? But the pasta was delicious! And not wanting to fill ourselves up too much, one of our servers suggested we split the dish. Being that the dish includes an egg yolk I was a bit concerned. But guess what? Wasn't an issue at all! They gave us one each!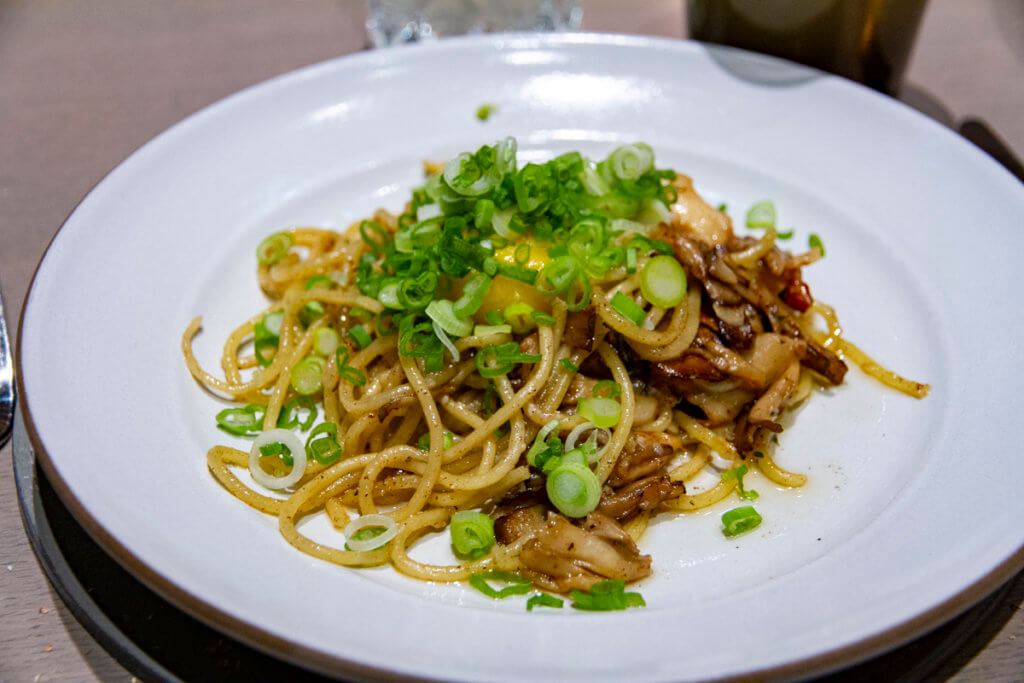 As for the taste, it was roasty with an intense salt hit. In fact, the mushrooms were almost too salty, but when eaten together with the pasta, creamy egg yolk, and green onions, the flavors worked incredibly well together. This carbonara was the highlight of the meal for me, hands down.
Entrees
For her main course, Mrs. Island Miler ordered the Halibut. This gorgeous piece of fish came beautifully seared accompanied by manila clams and a vegetable puree. It was a wonderful dish that would've been better if the fish were cooked to a medium instead of being well-done.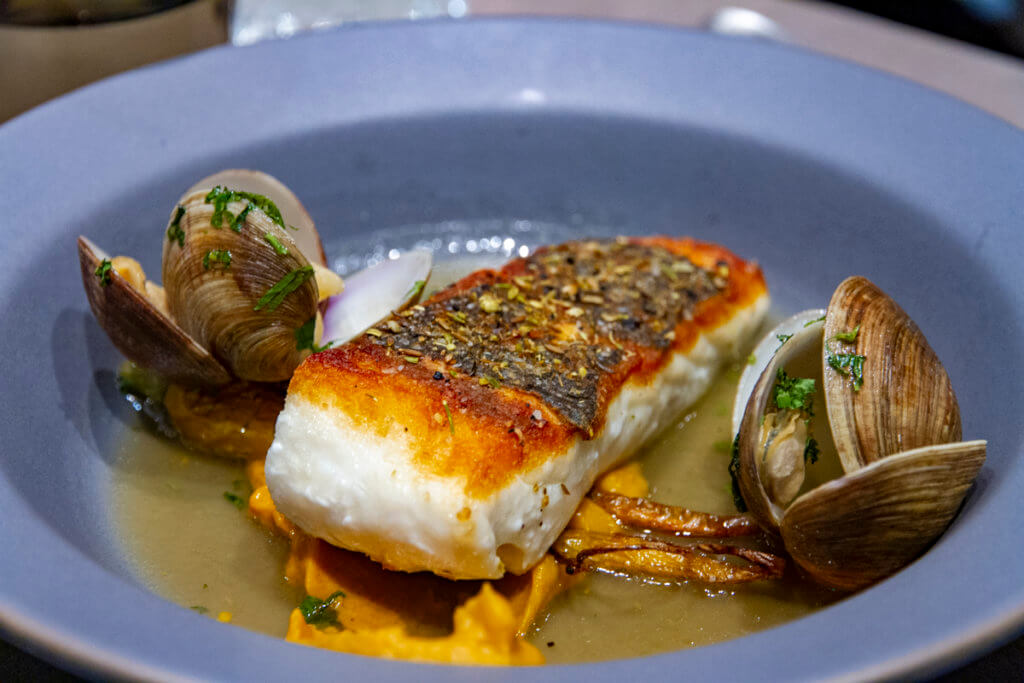 Me? I went with Acacia House's Iberico Pork Schnitzel, which came with watercress, shaved vegetables, and caviar dressing. Unfortunately, this was a very mediocre dish and wasn't worth the price premium at all. The pork didn't taste like anything special, flavors were muddied and muted, and the caviar was super low quality.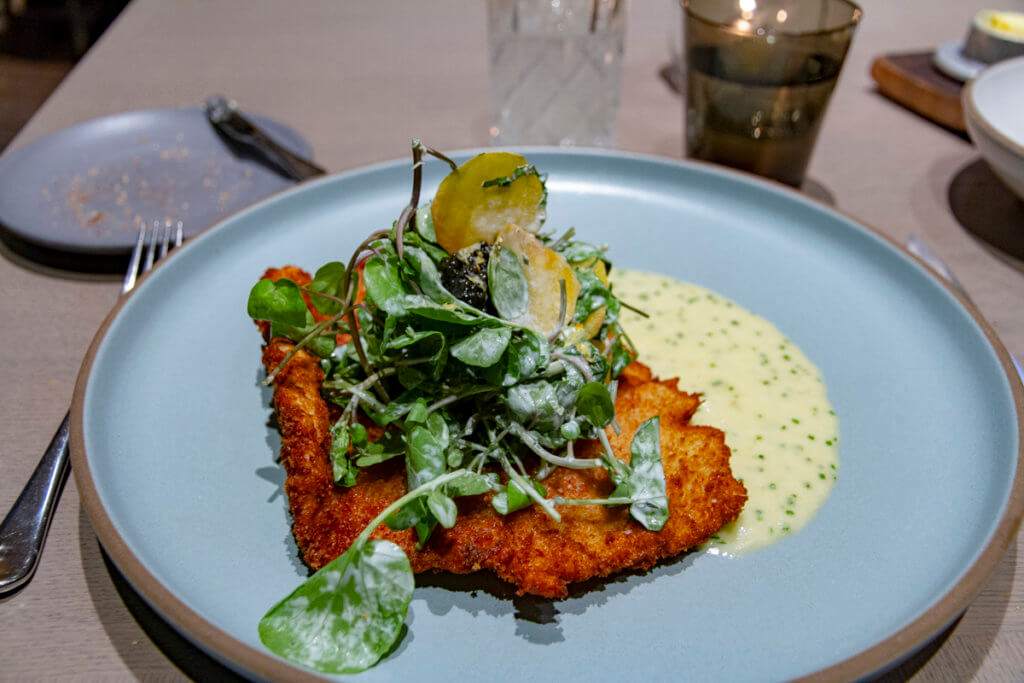 Desserts
Following my disappointing main, desserts were a much-needed redemption course. What they were exactly, I can't recall. But what I can tell you is that Mrs. Island Miler ordered the "Fruit" and I ordered the "Chocolate."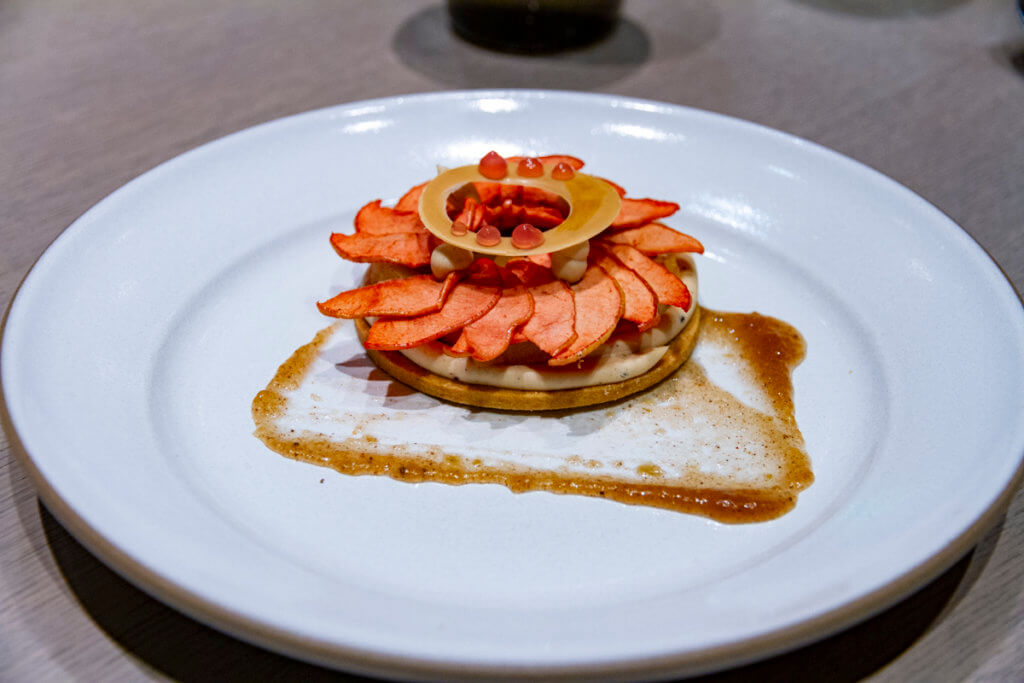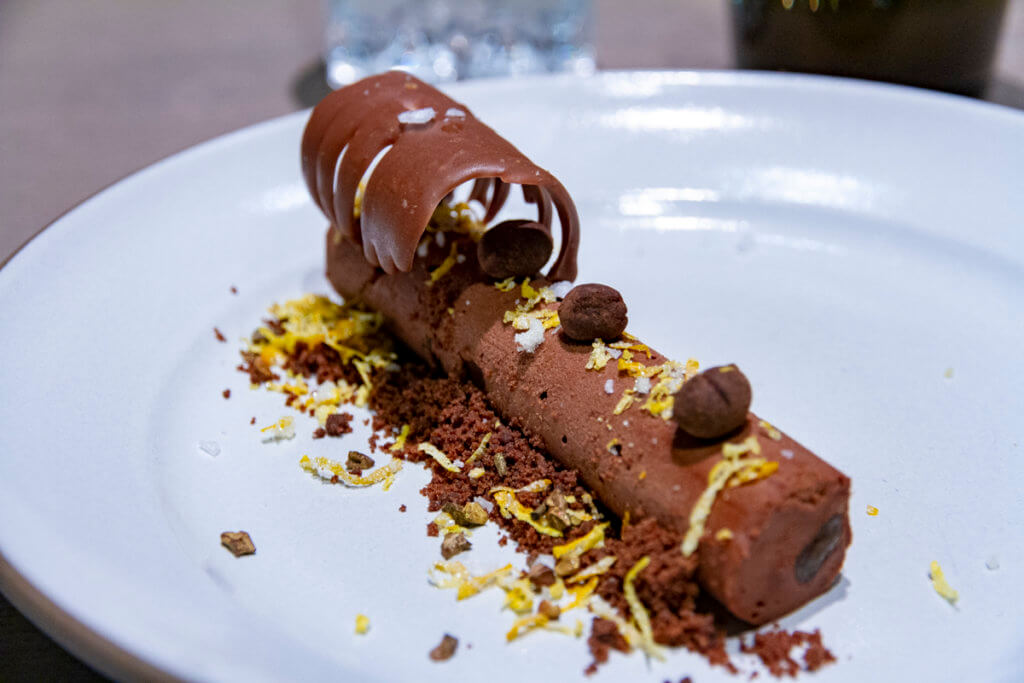 Both tasted as good as they look, with mine being a chocoholic's dream. My only complaint is that the raisins inside of my dessert caught me off guard. They did work pretty well with the dish, though they aren't really my kind of thing.
Acacia House by Chris Cosentino, Final Thoughts
The Acacia House is a tough restaurant to run. It has a celebrity chef pedigree and is in a luxury hotel in one of the most food and wine-centric locations in the world. So everything at a restaurant like Acacia House should be done to a higher standard than usual. But, unfortunately, this wasn't the case.
Service was, well, a mixed bag. And while there were some shining stars throughout our dinner, there were major disappointments too. So it's hard to justify dining here again when there are so many other great restaurants nearby. With that being said, though, I wouldn't rule out a return, especially when staying on property. And, as you'll see in my next post, the Mrs. and I thoroughly enjoyed our room service experience, which is, of course, supplied by the Acacia House.
A Gourmet Adventure Through Northern California
Acacia House by Chris Cosentino