Last updated on August 8th, 2023 at 05:58 pm
One of Honolulu's newest restaurants is also one of the most hotly anticipated amongst those in the know – Agaru by Chef Chris Kajioka. Agaru is Kajioka's first izakaya concept, and, as you'd expect, it's both familiar and different all at once.
When I learned of Chef Kajioka's plans to open his own izakaya, I knew I had to check it out. But then, I learned that Kajioka would be bringing Daysen – FoodxJitsu – over from the Big Island to run his sushi program! As you'll recall, I really enjoyed his omakase to-go platter made in his home in Hilo. His presence here, then, only made me want to check out Agaru even more!
Booking Agaru
Like so many hot new restaurants in Hawaii and beyond, Agaru utilizes Tock for its reservations platform. Unlike other spots, though, Agaru doesn't require a non-refundable deposit for smaller parties. However, those with five or more guests do need to put down $35 per person, which will be applied to your final tab. New dates and times become available on a rolling 60-day basis.
Agaru Location
Unlike Kajioka's other restaurants – Papa Kurt's & Miro – Agaru is in the heart of Waikiki. Specifically, it's at 355 Royal Hawaiian Avenue, sandwiched between grilled cheese shop Aloha Melt and massage shop Lana Kohola. Three hours of validated parking are available at the Waikiki Galleria Tower, though it's easy to walk to if you're staying in the area too. The Hyatt Centric Waikiki, Courtyard Waikiki, The Laylow, The Surfjack, the Sheraton Princess Kaiulani, and Waikiki Beachcomber, among others, are very nearby.
Service + Atmosphere
Kajioka's restaurants always have excellent service, even if it's just a casual takeout spot, and that's no different at Agaru. Everyone we encountered at Agaru was friendly, knowledgeable, professional, and genuine. In fact, you get the sense that everyone there enjoys what they do and is eager to help you get the most out of your experience there.
As far as the overall atmosphere, Agaru is a very lively restaurant. If you want a serene dining experience, this probably isn't the spot for you, though you'd definitely be missing out!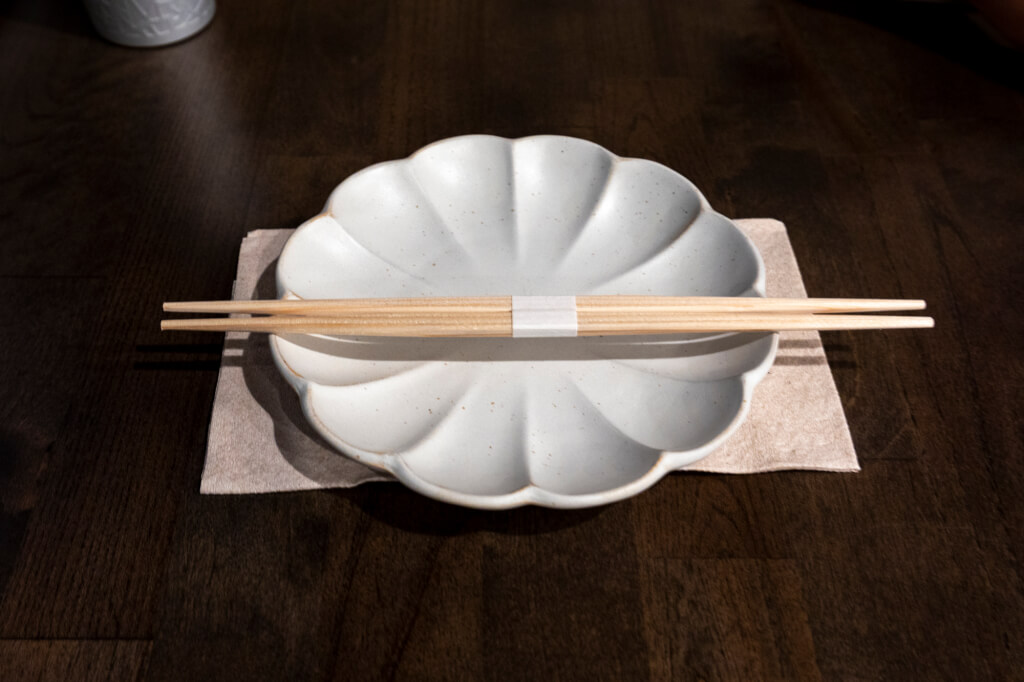 Agaru Menu
The menu at Agaru is divided into four distinct zones – sushi, prix-fixe izakaya, signature dishes, and sweets. Despite what their Tock page currently says, the izakaya menu doesn't have to be ordered by the entire table. In fact, our server encouraged us to order one izakaya set to enjoy family style and to order several other dishes to try more of the menu.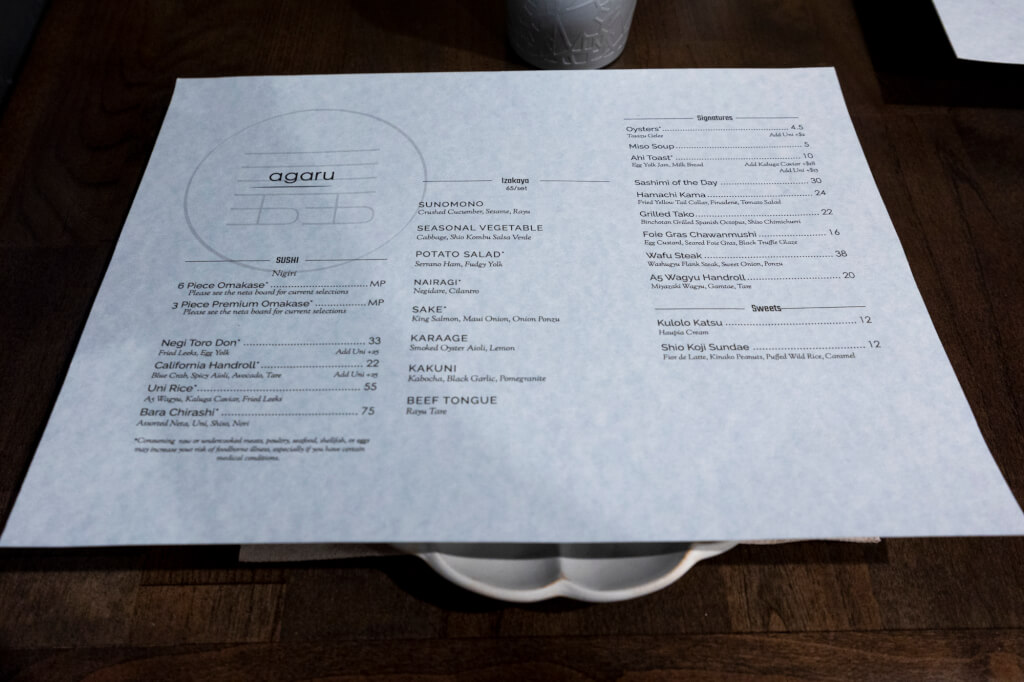 For those of you wanting to order sushi, you should locate the Neta Board nearest you, which is spread throughout the restaurant, to see what's on the sushi menu that day. The first six items on the Neta Board are what you'll get in the 6-Piece Omakase set, while the premium set during our visit featured the Akami, Chutoro, and Otoro.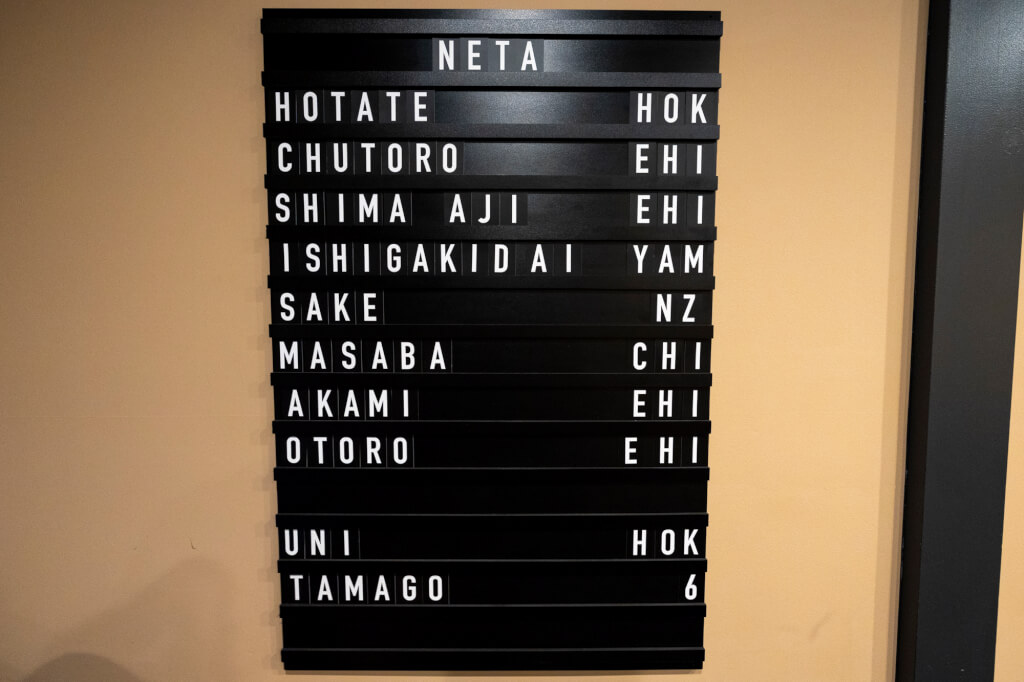 On the flip side of the food menu is Agaru's drink menu. There's a really great variety here, including sake, wine, sparkling wine, beer, highballs, and hards.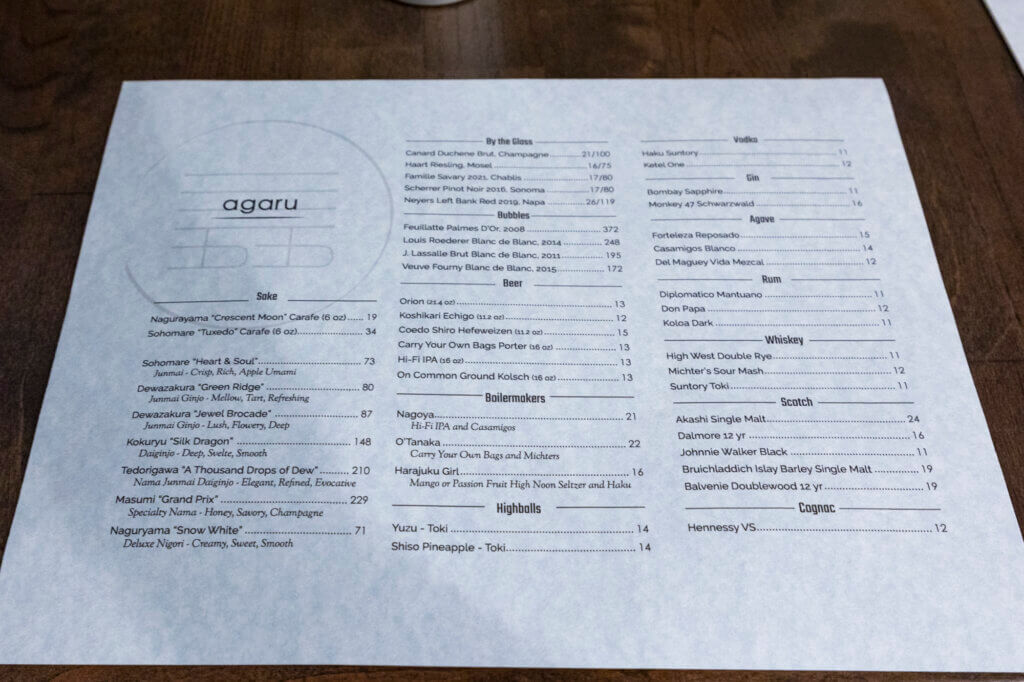 Agaru Food
So what did we order? A lot! Naturally, we started off with an izakaya set to get a feel for the place, which itself is quite a lot of food. But before that began arriving, my Yuzu-Toki Highball landed. The yuzu flavor is a bit light for my taste, but it was still good – especially for lovers of Suntory Toki.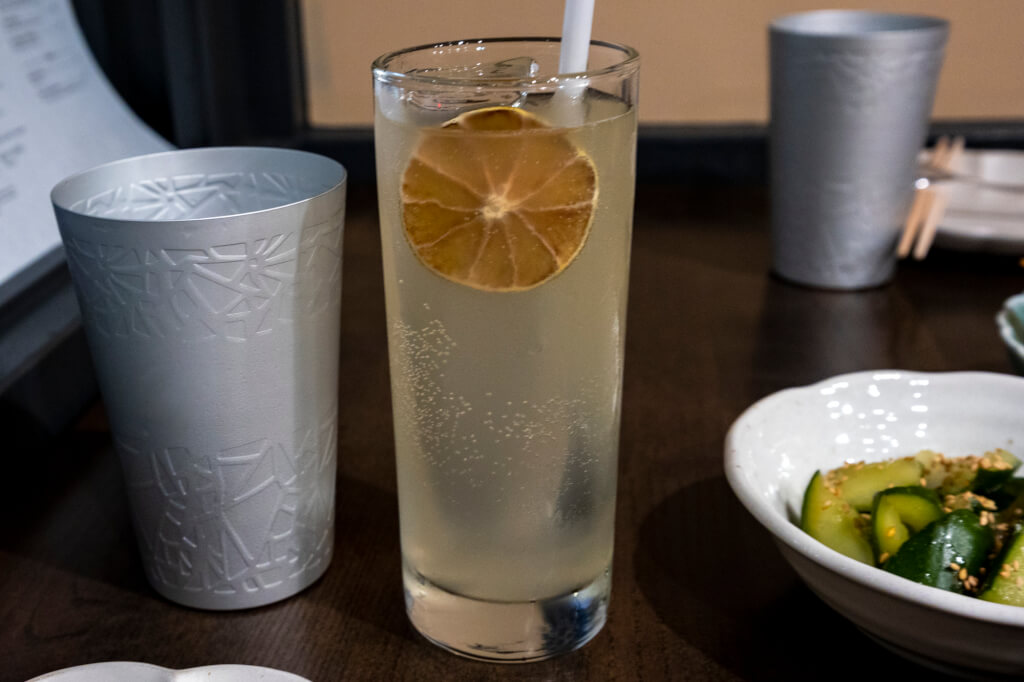 Next came all of our cold dishes – the Sunomono, Seasonal Vegetable, Potato Salad, Nairagi, and Sake. The Sunomono looks and tastes fairly traditional, except for the addition of rayu (chili toasted sesame oil), though its presence was very subtle. It's a nice, light, refreshing bite.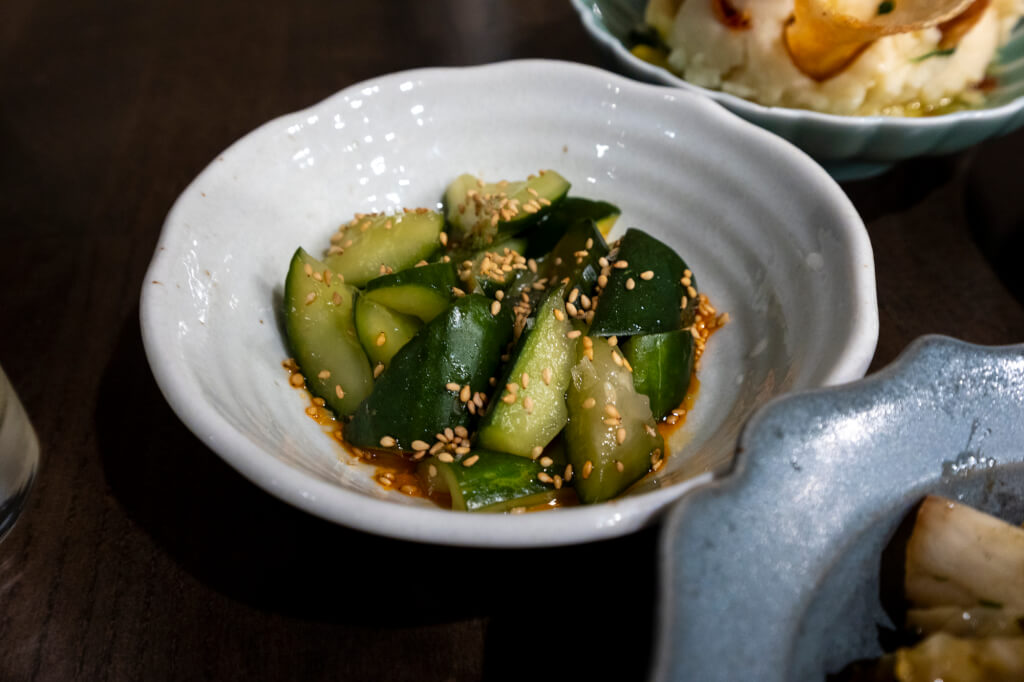 The Seasonal Vegetable consisted of charred cabbage, shio kombu, and salsa verde. This was my favorite dish of the night and reminded me of Kajioka's famous cabbage dish at his previous venture, Restaurant Senia. The overall flavor is hard to describe, but it's like cooked and charred cabbage with an intense umami punch and brown butter. Despite the prominent butter flavor, the dish remains very light. Kajioka is a cabbage magician!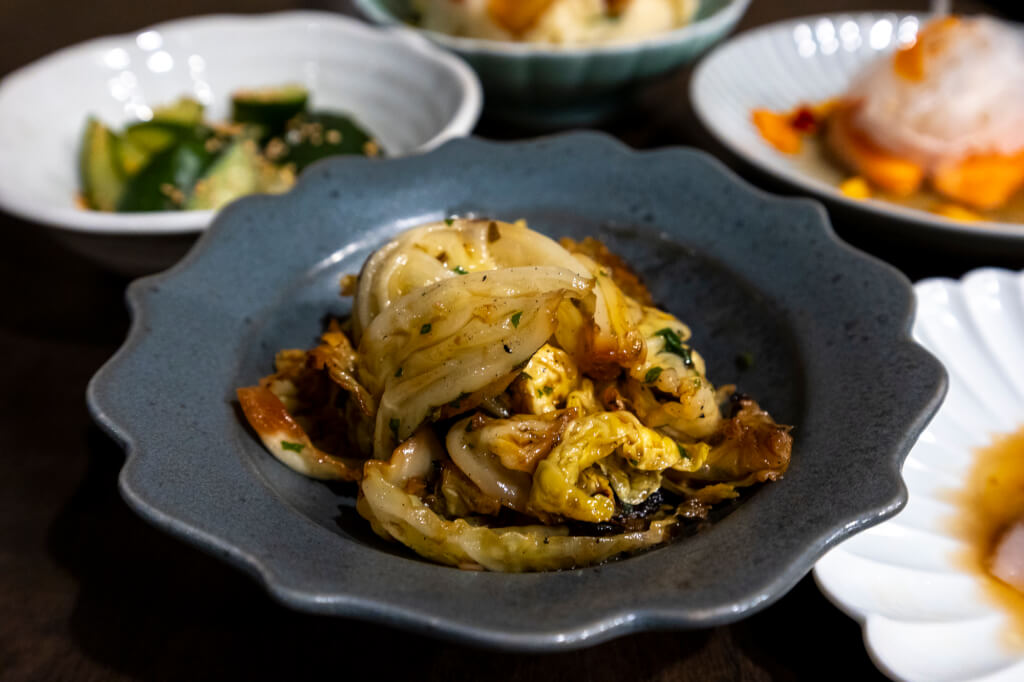 Potato Salad here is, unsurprisingly, Japanese style. That means it's studded with lightly pickled vegetables, which add some crunch and pops of brightness. Crispy potato chips add an airy crunch, while crisped Serrano ham adds a lovely layer of umami. A fudge egg yolk enhances the richness and ties everything together. Minced green onions add a nice vegetal freshness.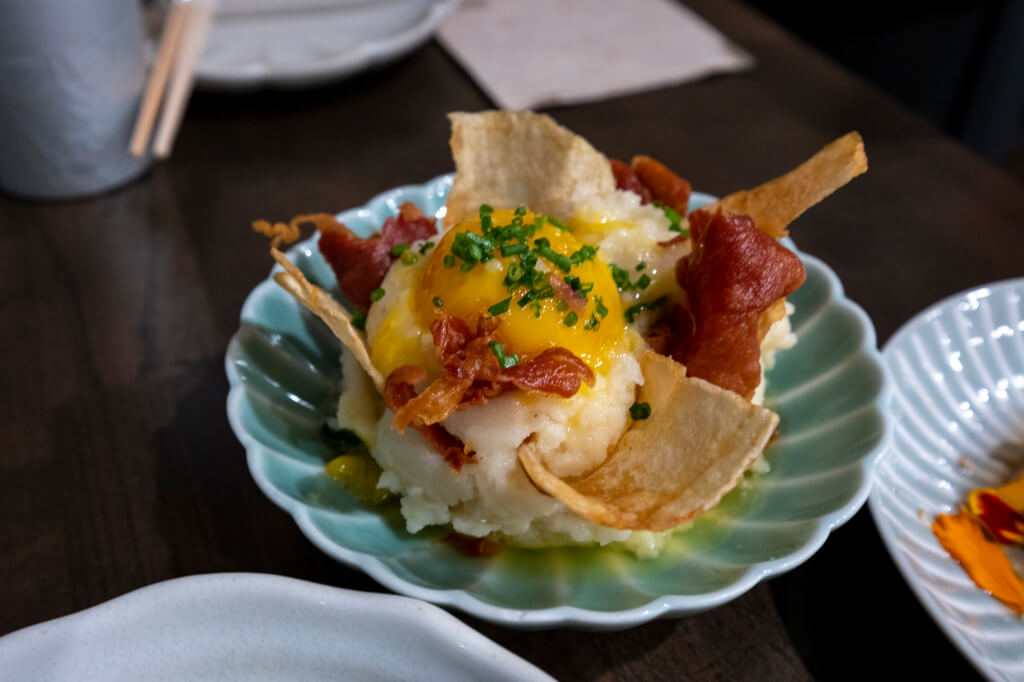 The Nairagi (stripped marlin) came in a pool of negidare (green onion sauce) and was adorned with micro cilantro. The fresh, fatty fish was enhanced by the oniony garlic sauce, with a bit of freshness from the cilantro.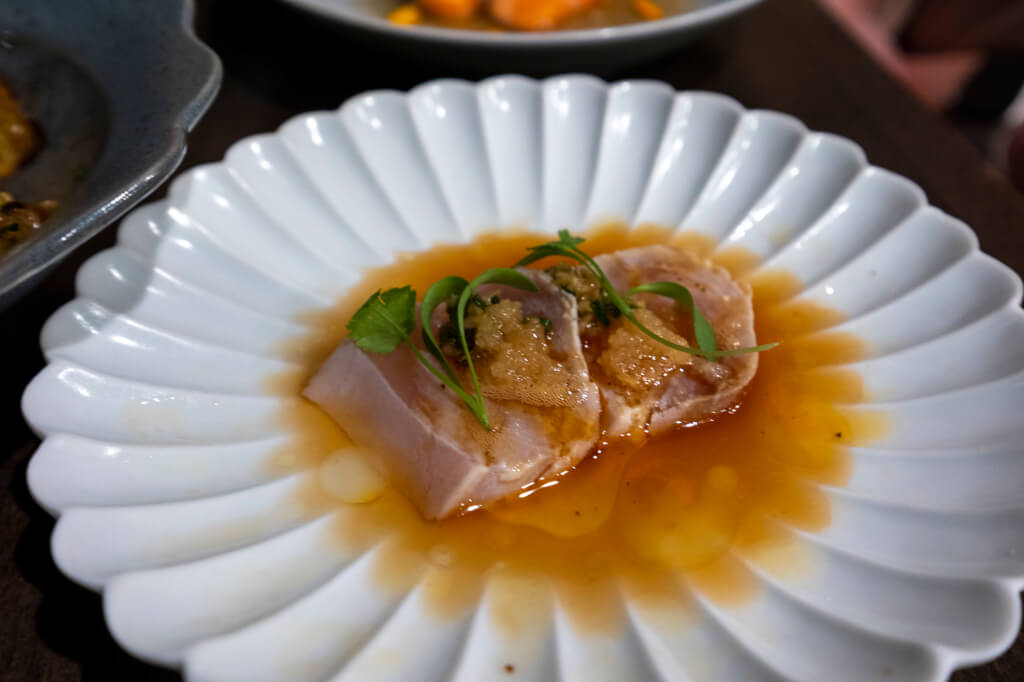 The Sake featured a deeply marbled salmon from Big Glory Bay in New Zealand in a pool of onion ponzu under a mountain of thinly shaved sweet Maui onions. The flavor profile was predominantly sweet onion, enhanced with salty ikura and nutty sesame seeds.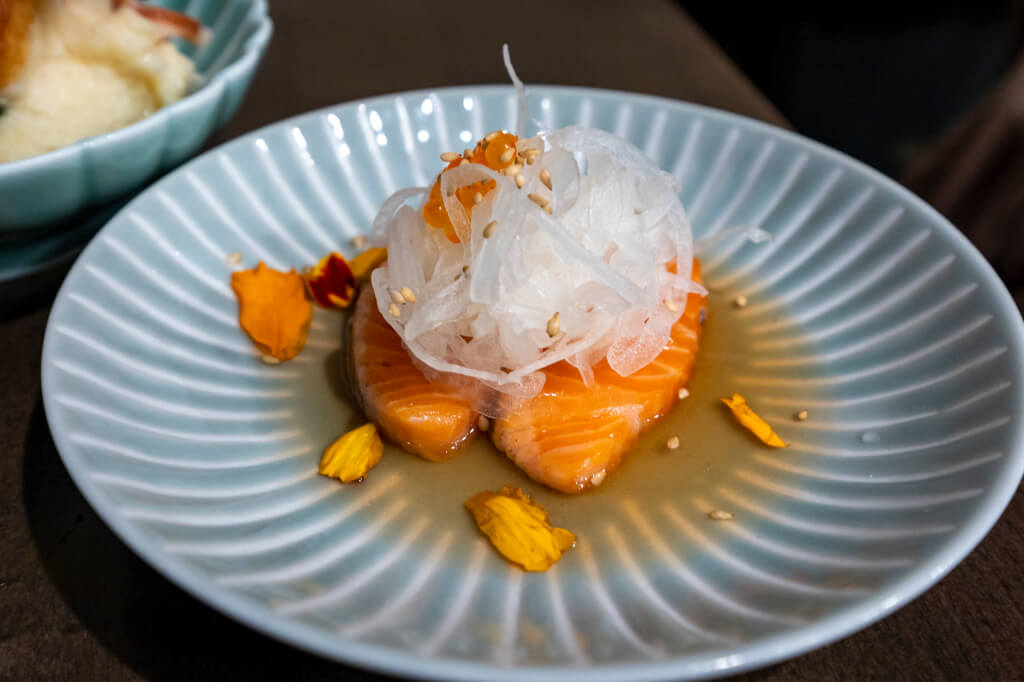 The first hot dish to arrive was the Karaage. Let me tell you, this is the best Karaage chicken I've ever had in my life. The chicken is very juicy, while the exterior is light, airy, and crispy. The accompanying smoked oyster aioli and a slice of lemon. After trying some of the chicken on its own, I dipped the rest in the oyster aioli and was surprised by the deeply smokey, umami-packed flavor it had! There was absolutely no fishiness to it at all. It was the best aioli I've ever had.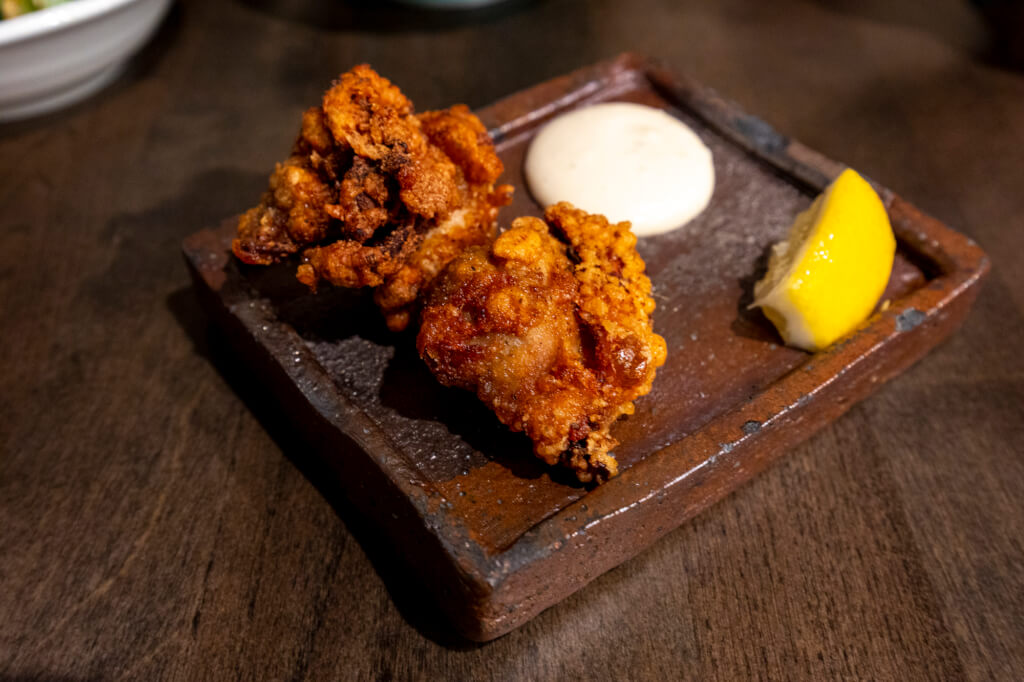 I love Kakuni, which is a Japanese braised pork belly dish. It's often a rich, unctuous dish, which was definitely the case here. However, Kajioka caramelizes the outside of his kakuni, which further enhances its flavor. The pork was incredibly soft, meaty, fatty, and juicy all at once. The seasoning was absolutely perfect for the amount of fat it had, while the accompanying kabocha, black garlic, pomegranate puree added an interesting sweet/tart/earthy/fruity counterpoint to it.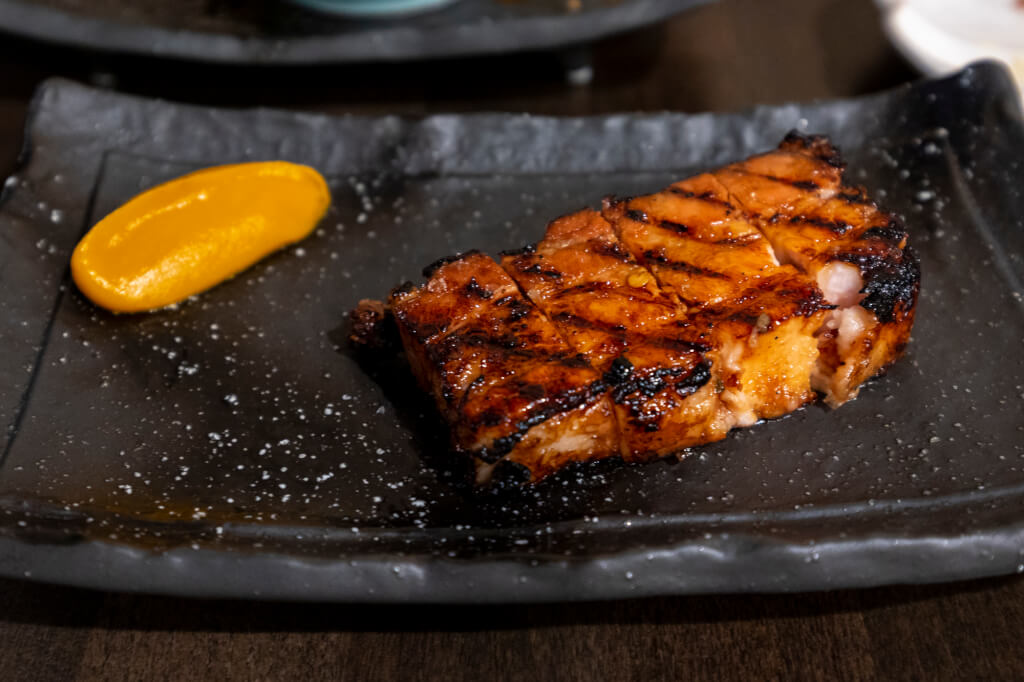 The final dish of the izakaya set is the beef tongue. Unfortunately, I couldn't partake in this one. However, Mrs. Island Miler said it was good. It was cooked a little more than we'd typically like, but it was nicely balanced – tender and not too fatty.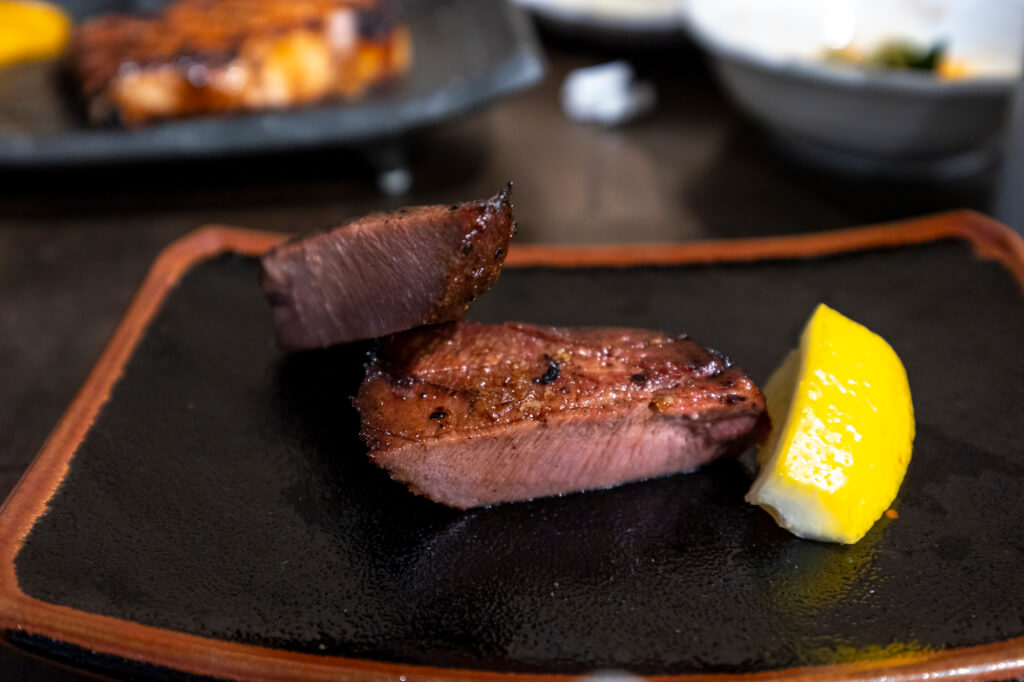 Our first signature item was the Grilled Tako. Featuring Binchotan grilled Spanish Octopus that's seasoned with shiso chimichurri, this is a unique preparation. The octopus is incredibly tender and meaty with a clean flavor. The chimichurri didn't have as much of a shiso flavor as I'd like and had a bit of a bite to it, but it was still delicious. The pea tendrils and snap peas added a lovely sweet, vegetal crunch.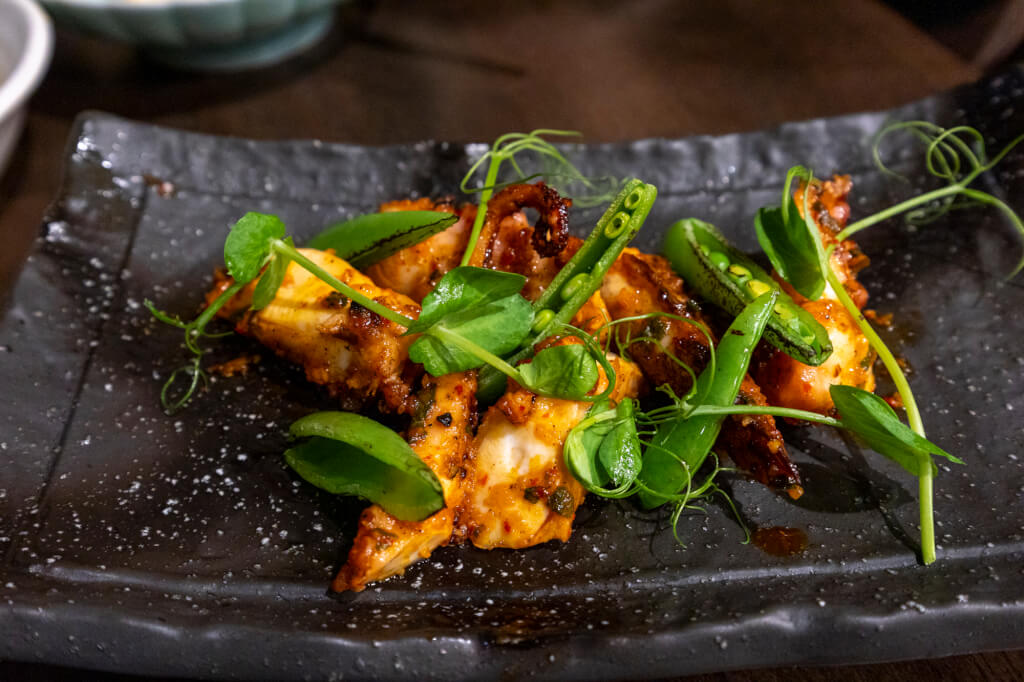 Originally, I had ordered the foie gras chawanmushi. Unfortunately, I was notified that it wasn't available. The staff apologized profusely for this, though I didn't feel it was a big deal. To replace the foie, we ended up getting the Ahi Toast with the uni and Kaluga caviar upgrade. This dish is incredibly luxurious, featuring grilled shokupan with egg yolk jam topped with minced toro, tongues of uni, and a generous portion of Kaluga caviar. The sweet, buttery shokupan has a light shoyu flavor, which enhances the clean, meaty toro, the sweet, creamy uni, and the salty caviar. So good!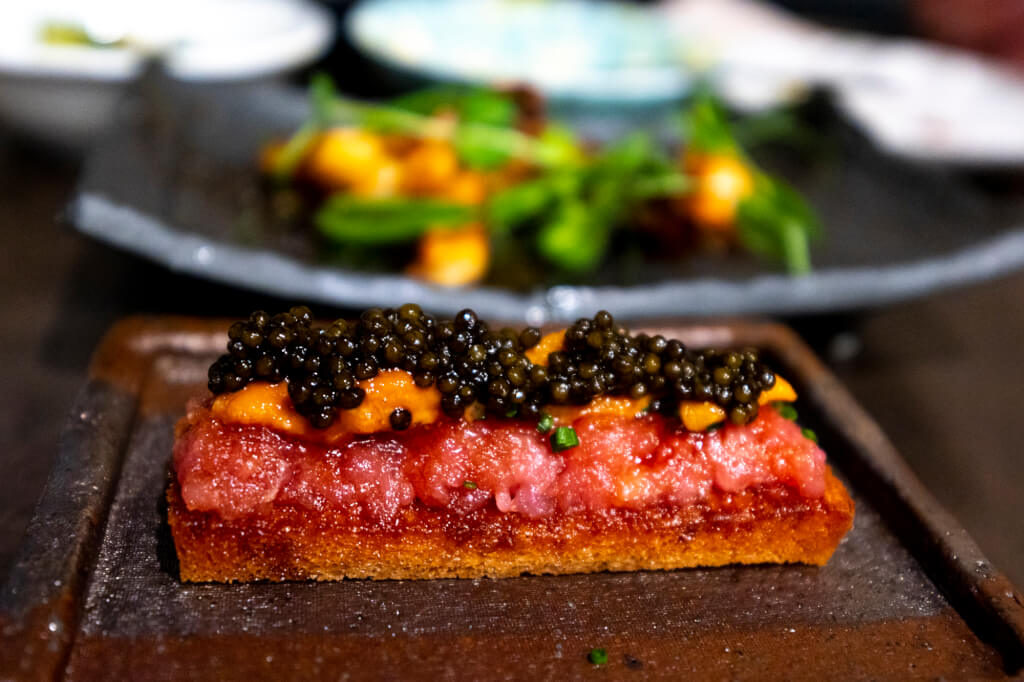 Of course, we couldn't come here and not get some of Daysen's incredible sushi and went with two 6-piece Omakase sets. That night, the set featured Hokkaido Hotate (scallop), Chutoro (medium-fat tuna belly), Shima Aji (striped horse mackerel), Ishigakidai (Spotted Kinfejaw), Sake (Big Glory Bay King Salmon), and Masaba (Mackerel).
Like the platter I got from him in Hilo, Daysen sends his sushi out pre-seasoned and ready to eat. That meant that the Hotate came out with citrus zest and a little salt. It was incredibly sweet, clean, and meaty, with a beautiful citrus component. The Chutoro came topped with slices of shoyu garlic with minced scallions, providing an unctuous, meaty, lightly garlicky experience.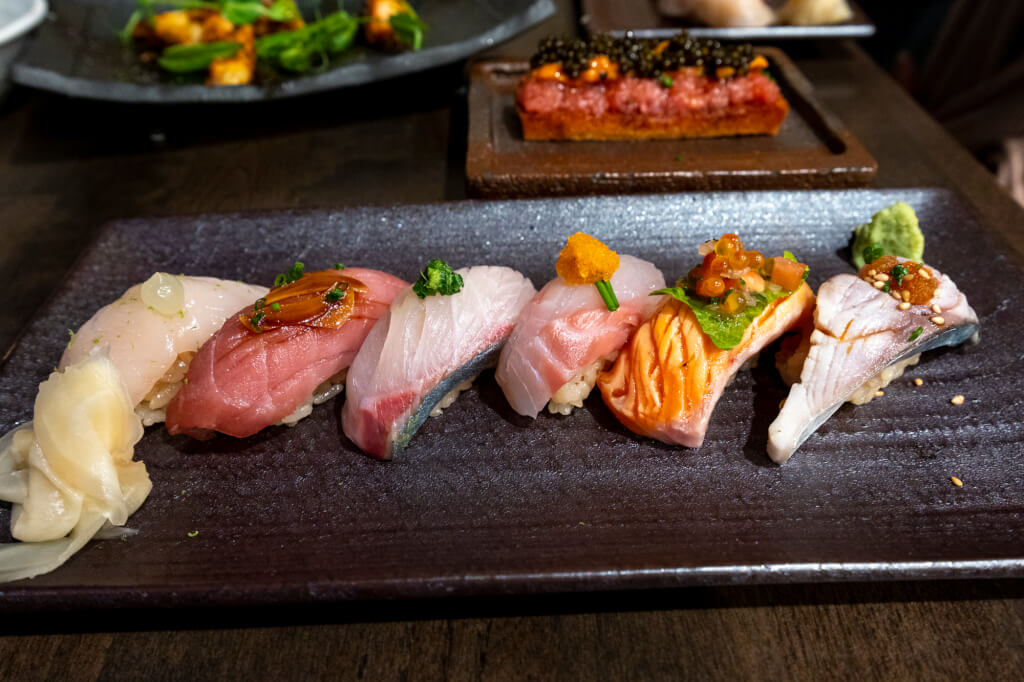 Next is the Shima Aji, which came topped with a bit of grated ginger and onion, which is a bit like cold ginger chicken, though the chicken is replaced here with a clean, buttery, tender slice of fish. The Ishigakidai, on the other hand, is clean and firm, which also had a lightly gingery flavor too.
The sake came lightly torched and topped with a bit of ikura, diced tomato, and leafy greens. This was similar to the salmon in our platter in Hilo, minus the shiso. The tomato helps to enhance the meaty qualities of the salmon, which is nice. The last piece is the Masaba, which was also lightly torched and tastes a bit like saba. I'm not a huge fan of saba, so that's not really my jam, but it was a nicely balanced piece of sushi.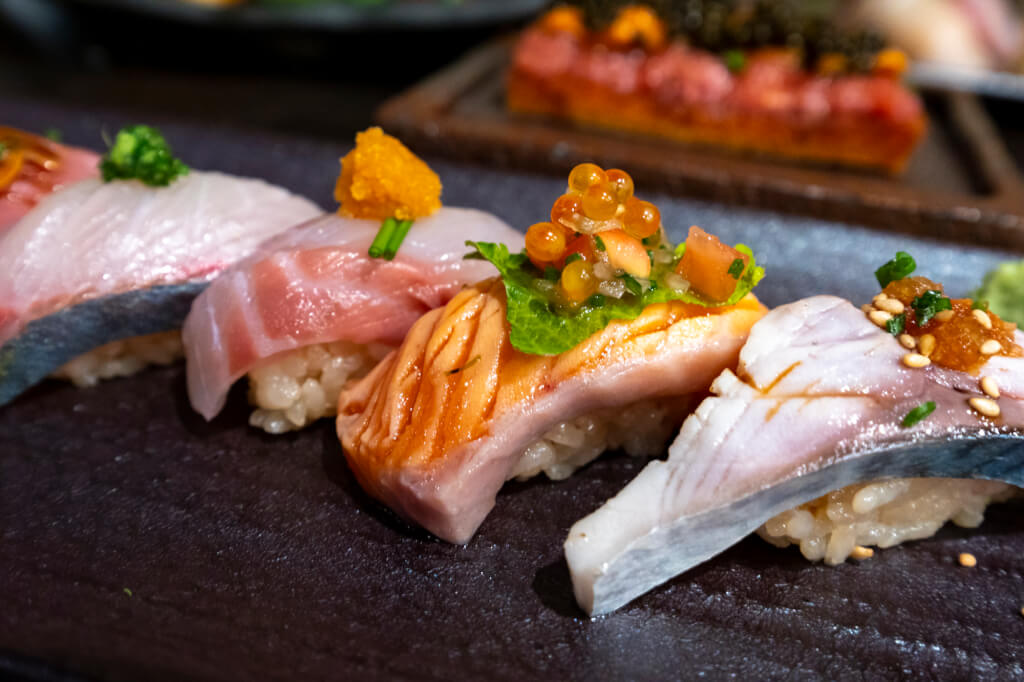 At this point, we were quite full. However, we couldn't leave Agaru without trying out their dessert. This time around, we opted for the Kulolo Katsu. Here, Kajioka coats Kulolo (taro and coconut) with panko and fries it like chicken katsu. Dusted with powdered sugar, it comes with a side of light, airy, and creamy Haupia Cream. Crispy on the outside, creamy on the inside, the dish has a nice coconut flavor but is a bit too sweet for my liking.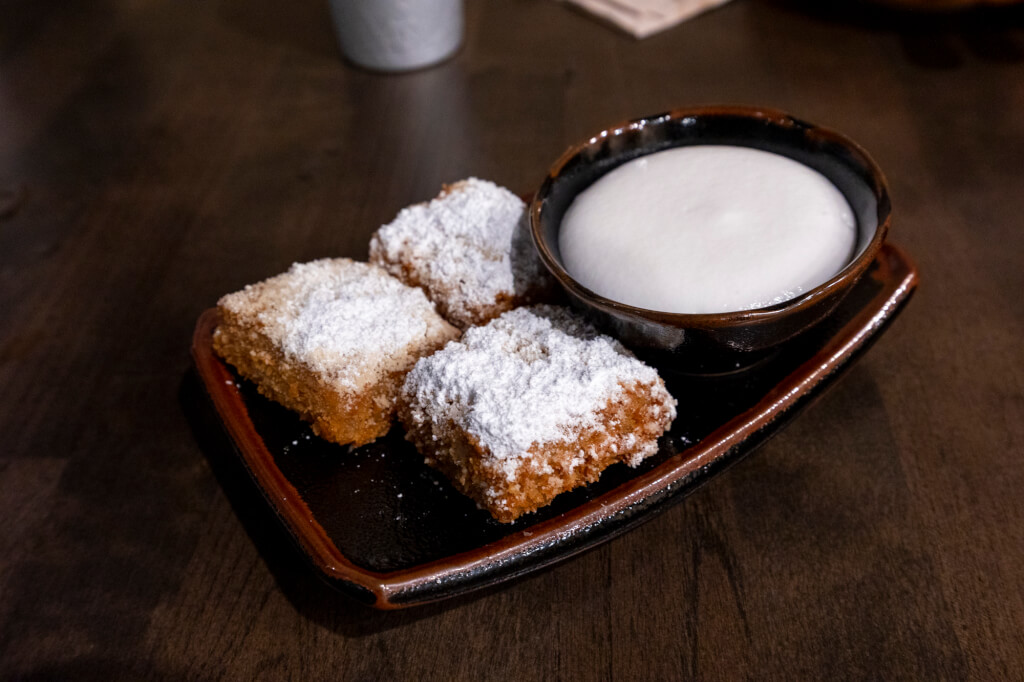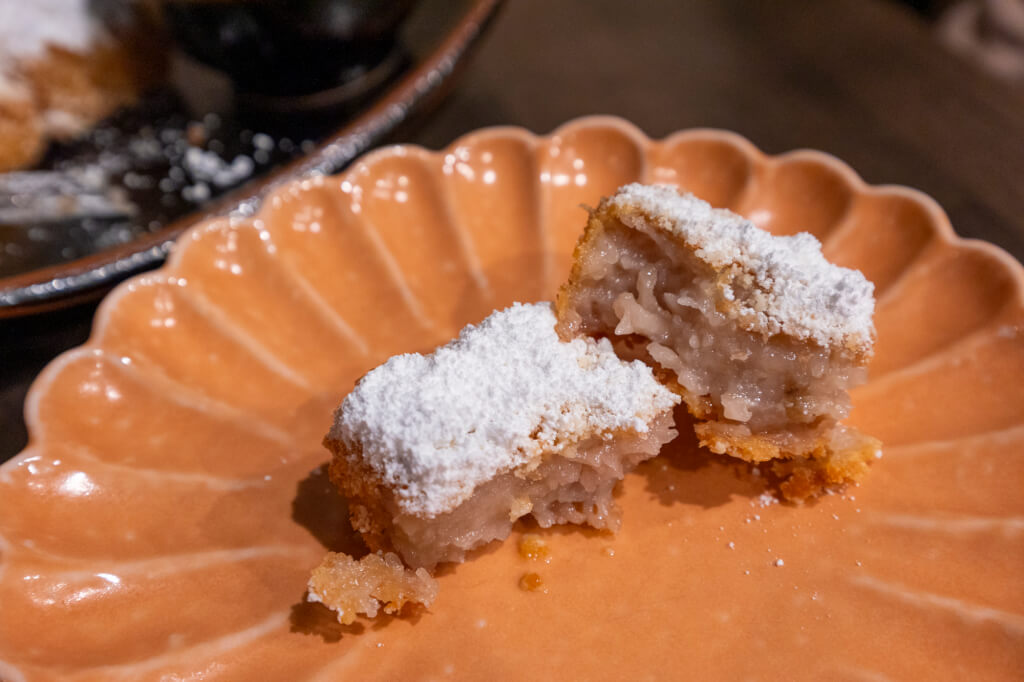 Final Thoughts
Overall, I'd say dinner at Agaru is a win. Sure, I didn't love everything, but I don't expect to always love everything. I certainly didn't love everything at places like The French Laundry, either. But the team here is doing great work, and I can't wait to see how the restaurant evolves over time. I will certainly be back at some point and highly encourage you all to give them a shot as well. A night here isn't going to come cheap – this meal clocked in at over $300 with tax and tip, but I think it was worth it. For what it's worth, that's still about what it costs for one person to dine at Sushi Sho. A completely different experience, I know, though I stand by my comparison.