My time in Las Vegas quickly came to a close. But before leaving Sin City for my next adventure, I decided to check out The Centurion Lounge Las Vegas. After all, my Centurion experiences were 50/50 good and bad so far.
Given the difficulties in picking up my Silvercar at the beginning fo the trip, I headed to the airport a bit earlier this time. Thankfully, though, things went pretty smoothly. And, before I knew it, I was checked in for the flight to my next destination.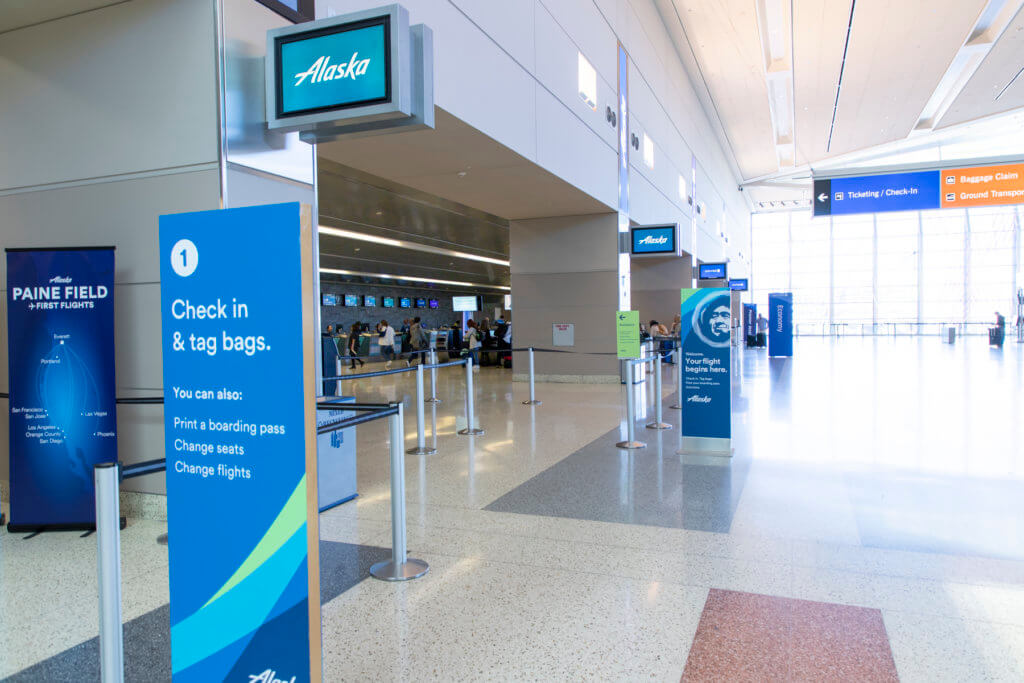 Location
The Centurion Lounge Las Vegas is in Concourse D of Terminal 3 at LAS. So while it's on the same side of the airport as Alaska Airlines, I did need to take the tram to get to Concourse D.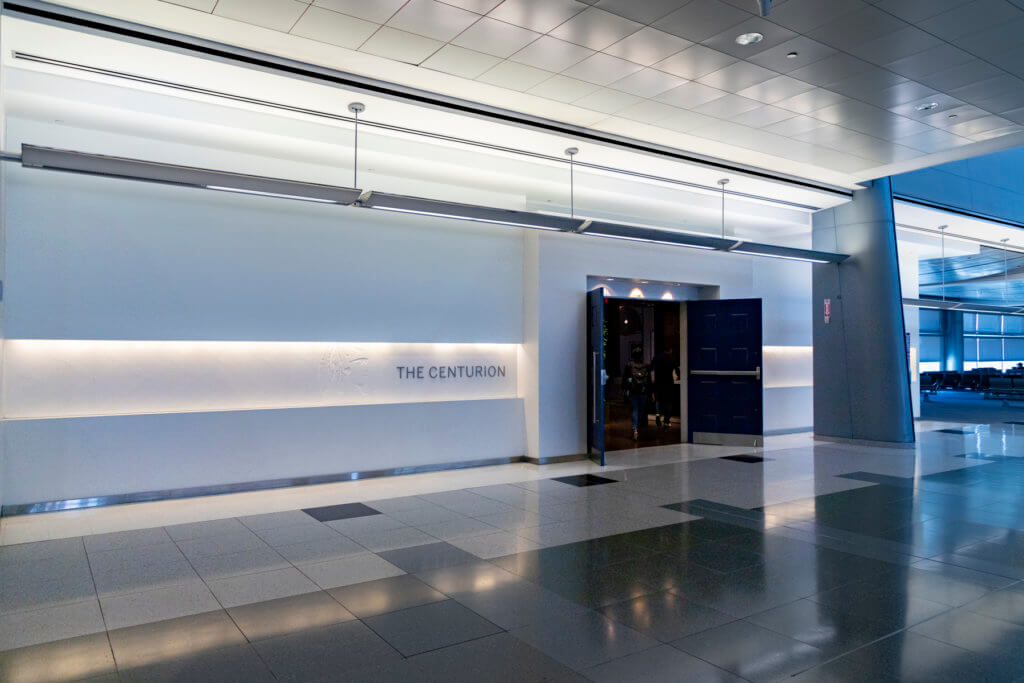 Specifically, the lounge is near Gate D1, so its not a far walk from the tram station.
Ambiance + Service
I don't have a lot to say about the service at The Centurion Lounge Las Vegas other than it was fairly mechanical. No one was rude, though no one was particularly friendly either.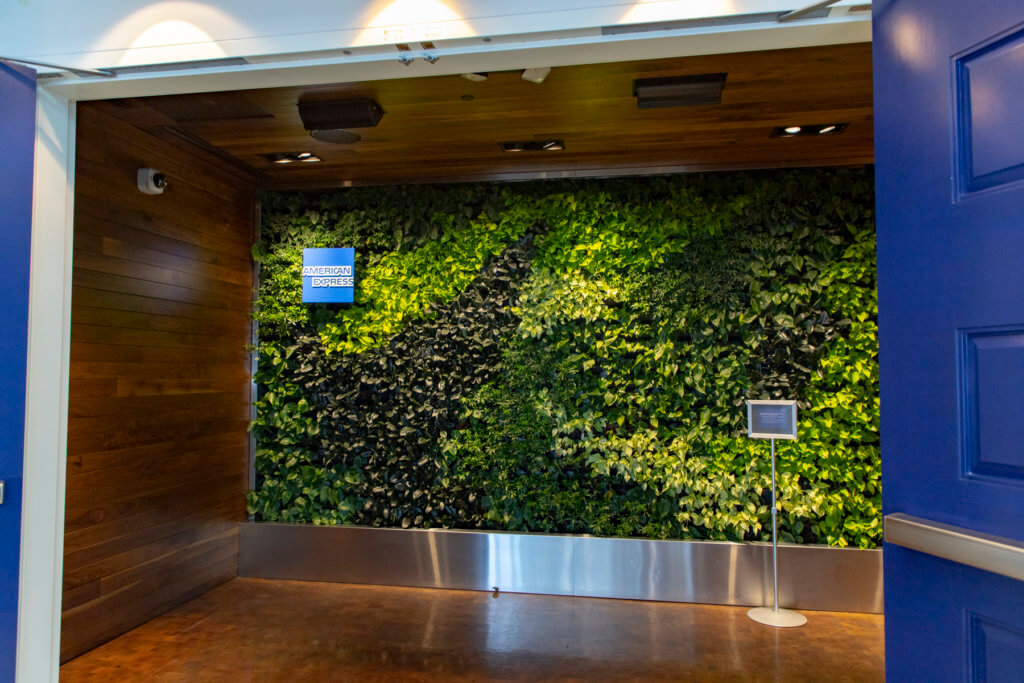 Despite how my pictures look, the lounge was kind of full when I arrived. I didn't have too much of a problem finding a seat, which was nice. As far as seating goes, the lounge has a long, window-lined corridor looking out over the apron. Here, you'll find quite a few tables and nooks at which to sit.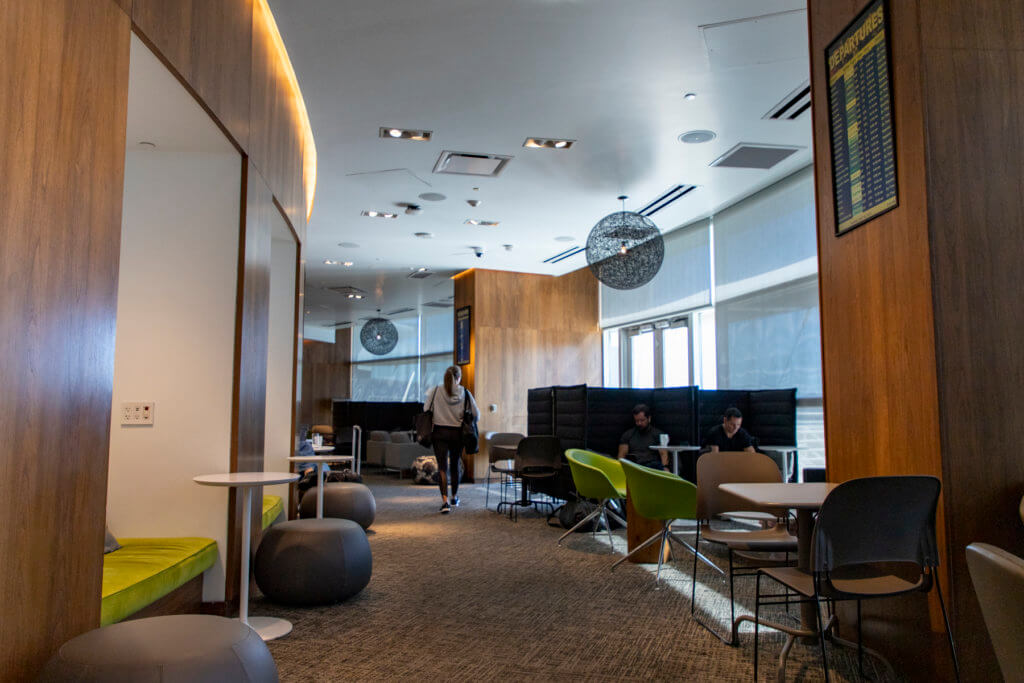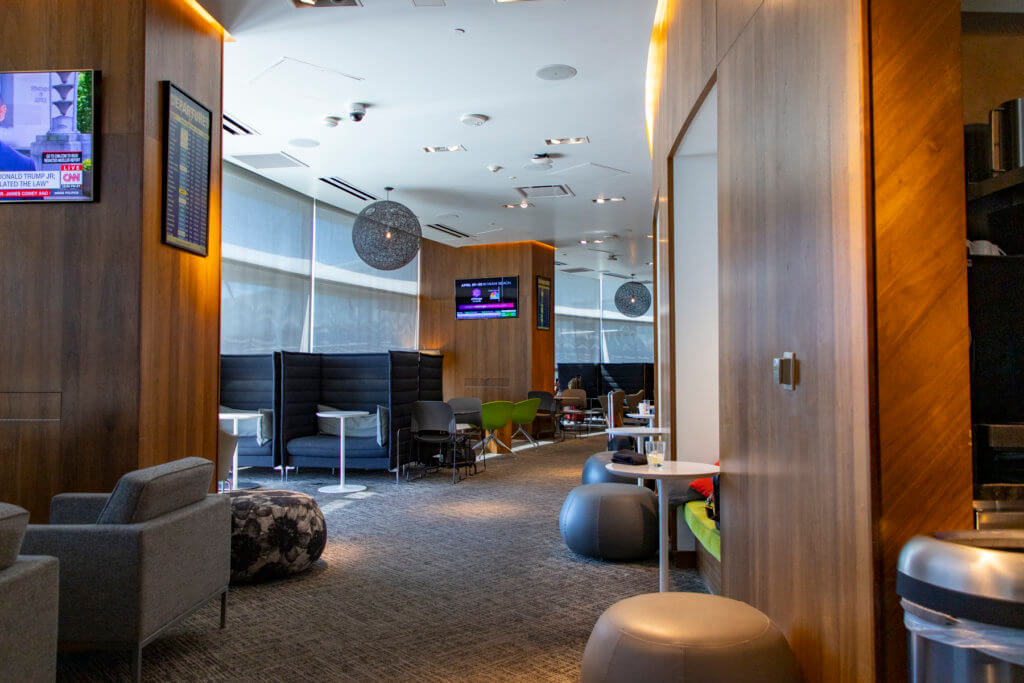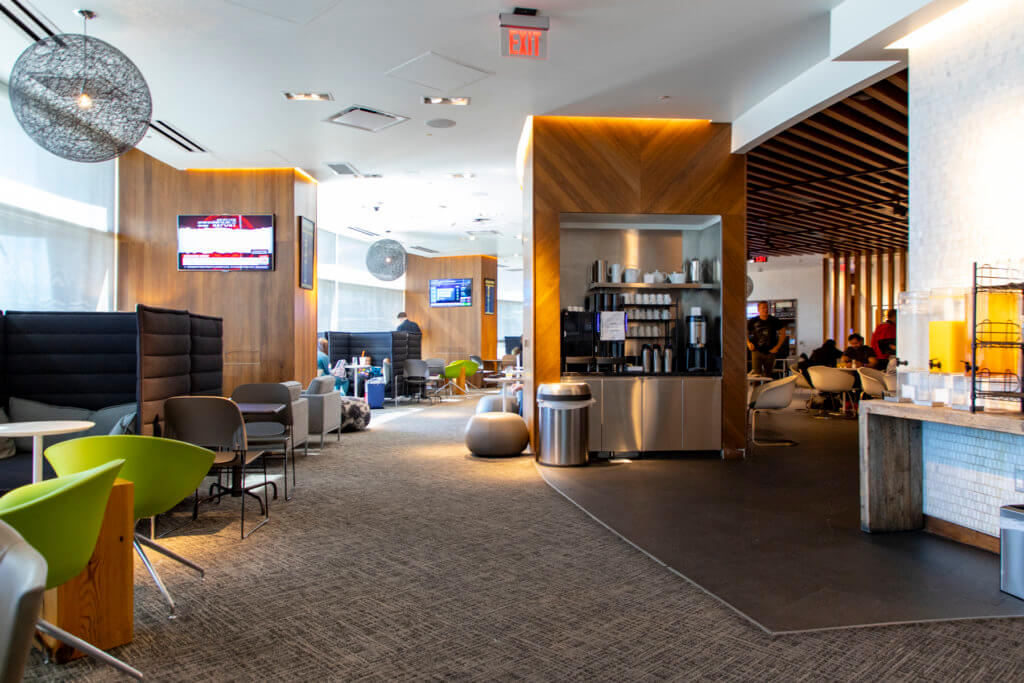 Then, near the bar and buffet is an area filled with four and two top tables.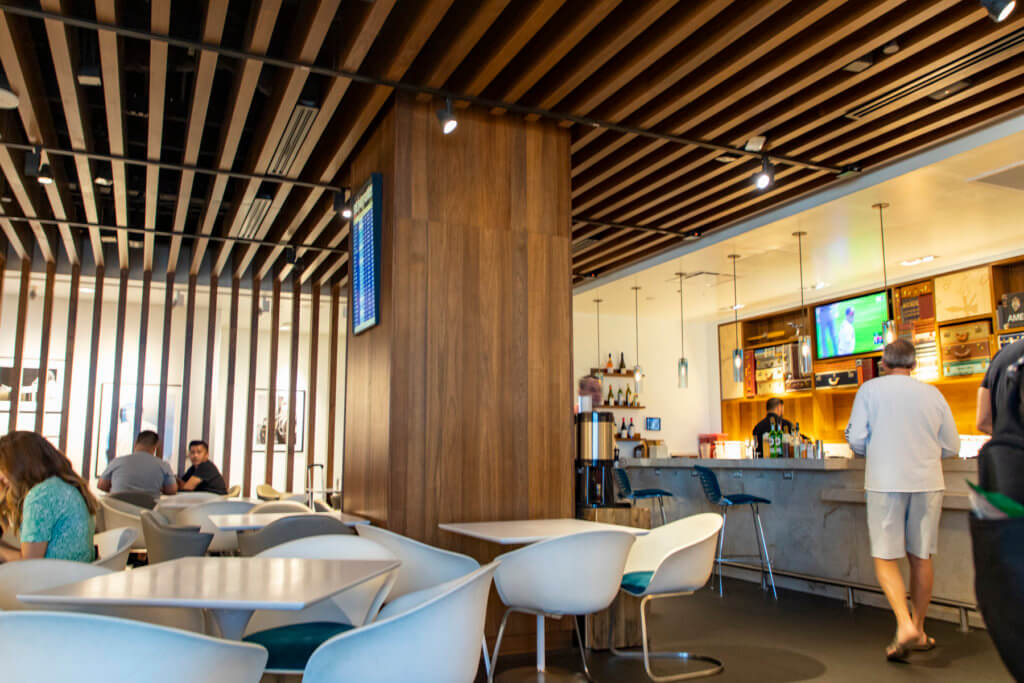 And, just beyond the bar are the restrooms.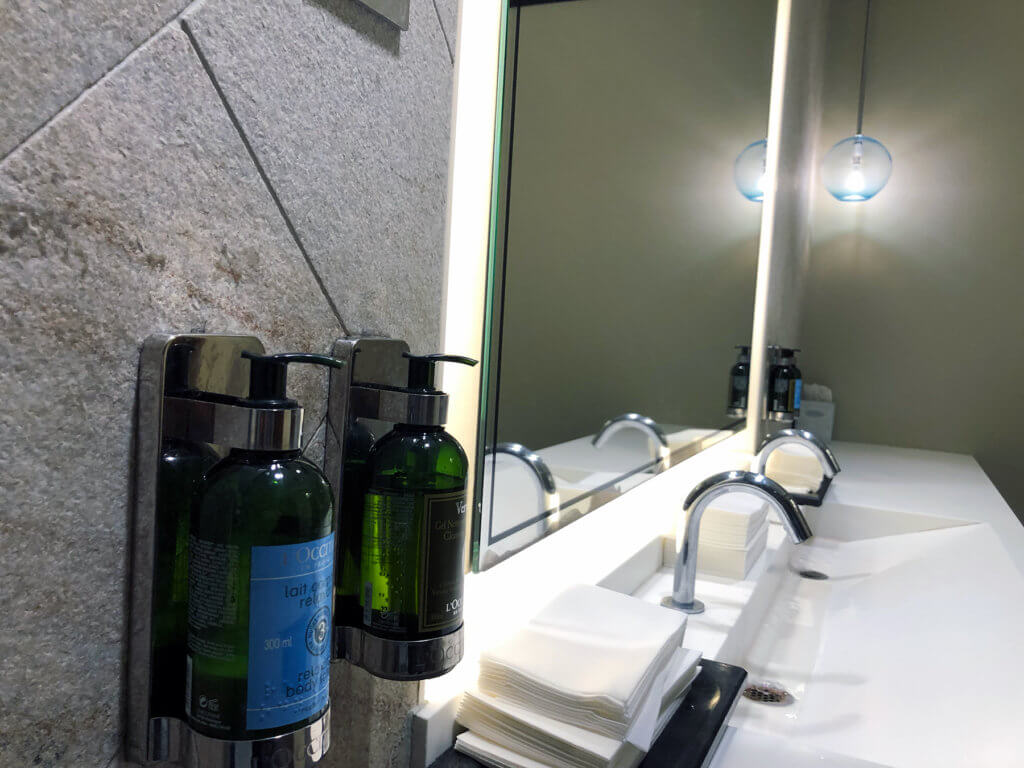 Noise levels in the lounge were moderate and not nearly as bad as in San Francisco. The lounge also wasn't as warm, but, again, it wasn't full either.
Food
Drinking with gastrointestinal issues probably isn't a good idea. So, I skipped the bar on this visit. But, I did check out the buffet to grab some breakfast.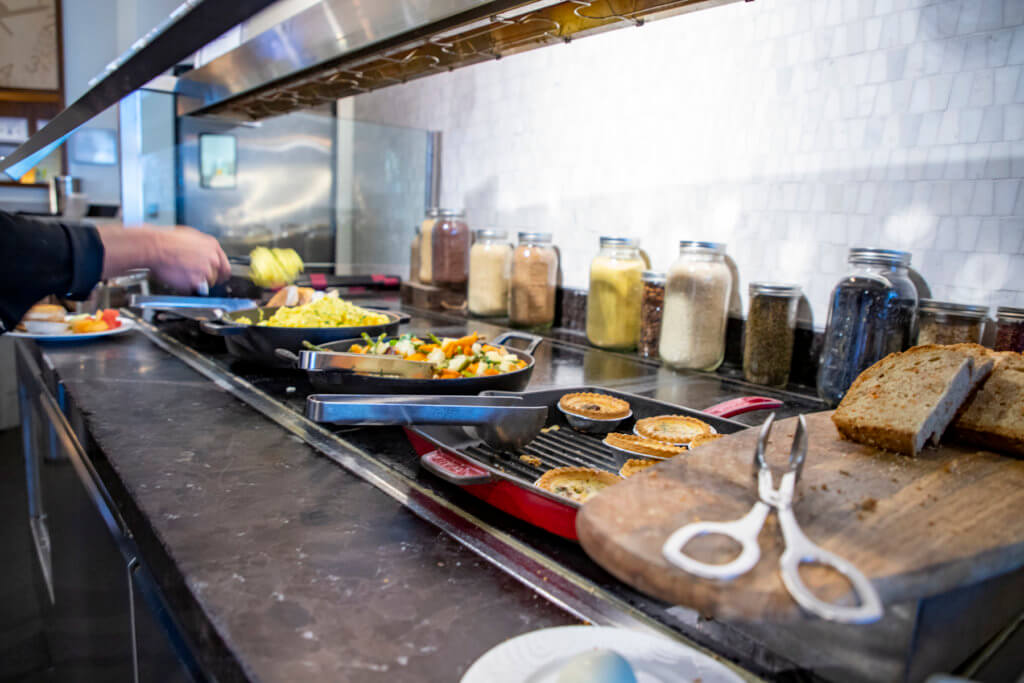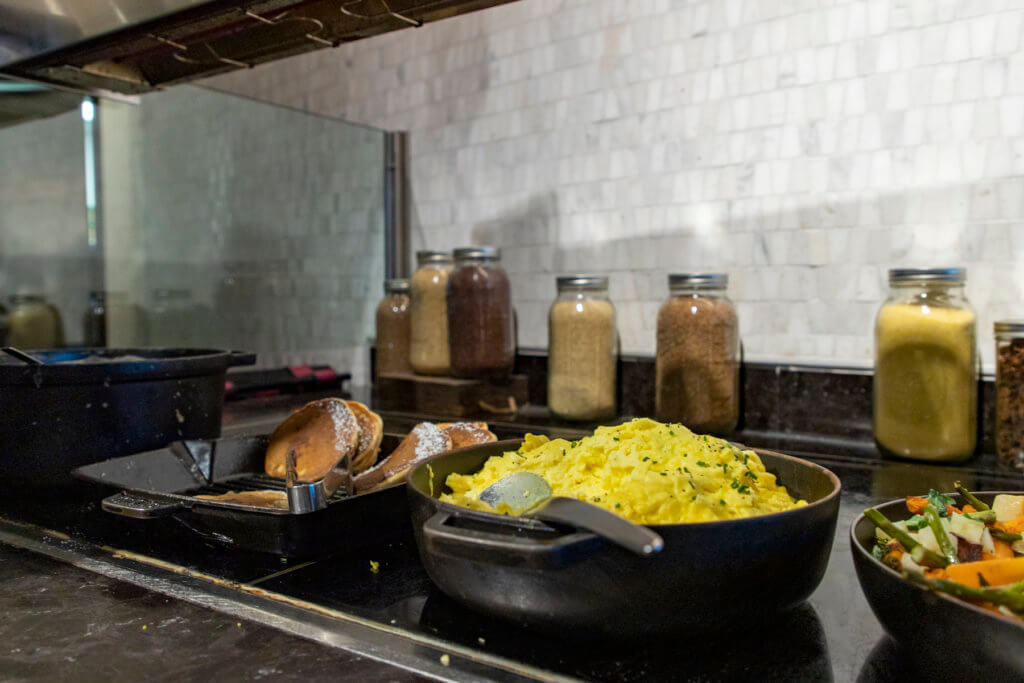 This Centurion Lounge has a better selection of stuff than the San Francisco location. The eggs, however, still looked not so great. I needed to continue to play things safe too, so I ended up grabbing a single Banana Chocolate Chip pancake and some fruit.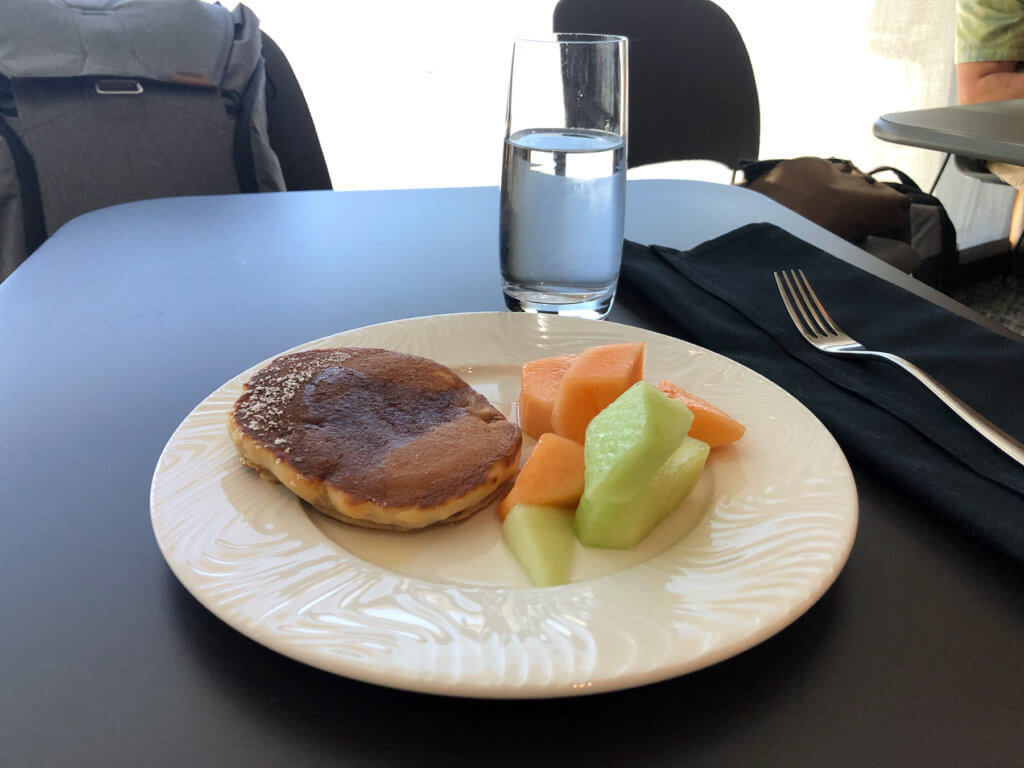 I'm not usually a pancake fan, and am especially not a fan of banana pancakes, but the ones in The Centurion Lounge Las Vegas are good! Not too heavy, not too chocolatey, they're just right.
Other Observations
Views from the lounge were ok. McCarran isn't all that nice of an airport anyway, so it wasn't a big loss to me that the shades were kept closed. Wifi speeds in the lounge were pretty decent too. So, after finishing my meager breakfast, I caught up on some work, did some blogging, and did some mindless web surfing.
The Centurion Lounge Las Vegas, Final Thoughts
Given that I find myself in Las Vegas at least once a year, I'm probably going to miss having access to this lounge the most. It's worlds better than the crappy The Club Lounge in Concourse E. But, paying $550 per year to keep access to this lounge isn't worth it. At least my second to last Centurion Lounge experience was an overall good one.
My Dismal Las Vegas Experience
The Centurion Lounge Las Vegas