Our second post-Zion National Park dinner was at The Bazaar Meat Las Vegas.
Following our first dinner at Katsuya, we headed back up to our room for a rest.  As I said in my last post, Katsuya was a bit of a letdown.  But we're Jose Andres fans, so we were optimistic heading into our second dinner.
Location + Ambiance
Like Katsuya, The Bazaar Meat Las Vegas is located at the SLS Las Vegas.  It too is located in the casino, but is tucked away in the back.  It's actually right around the corner from 800 Degree Pizza.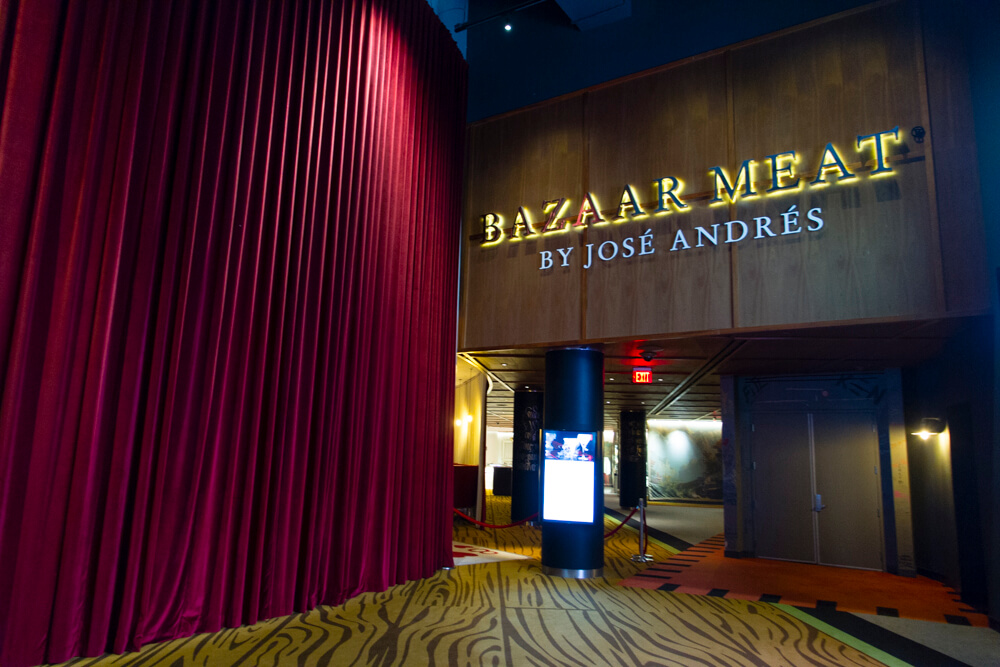 If you've ever been to any other of Jose Andres' Bazaar restaurants, you'll be familiar with the decor here.  What's different here, though, is the huge open kitchen that greets you when you walk in.  Immediately in front you'll find cases filled with giant cuts of beef.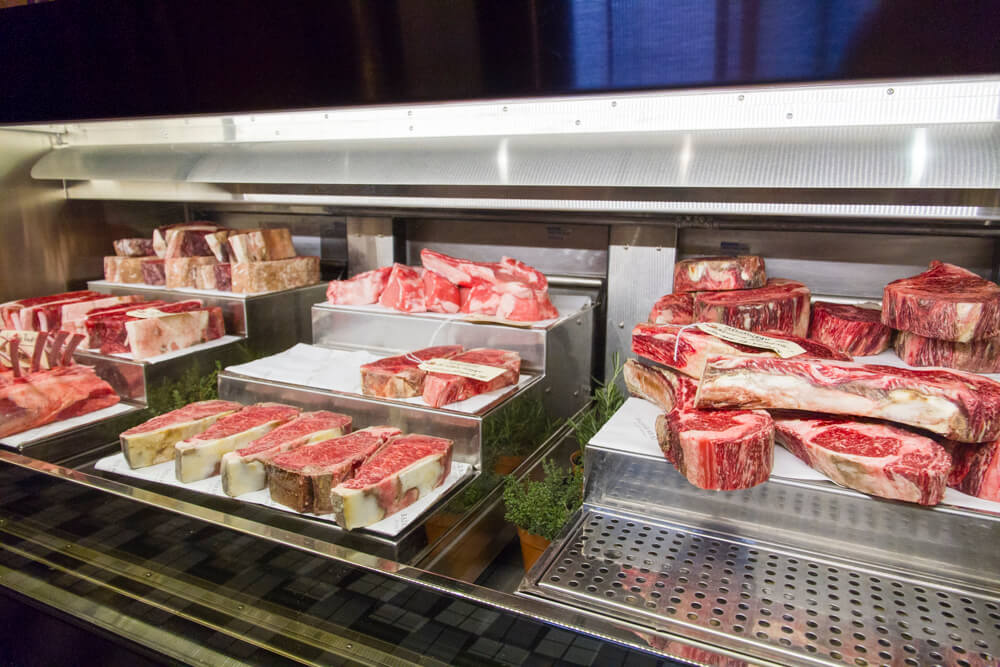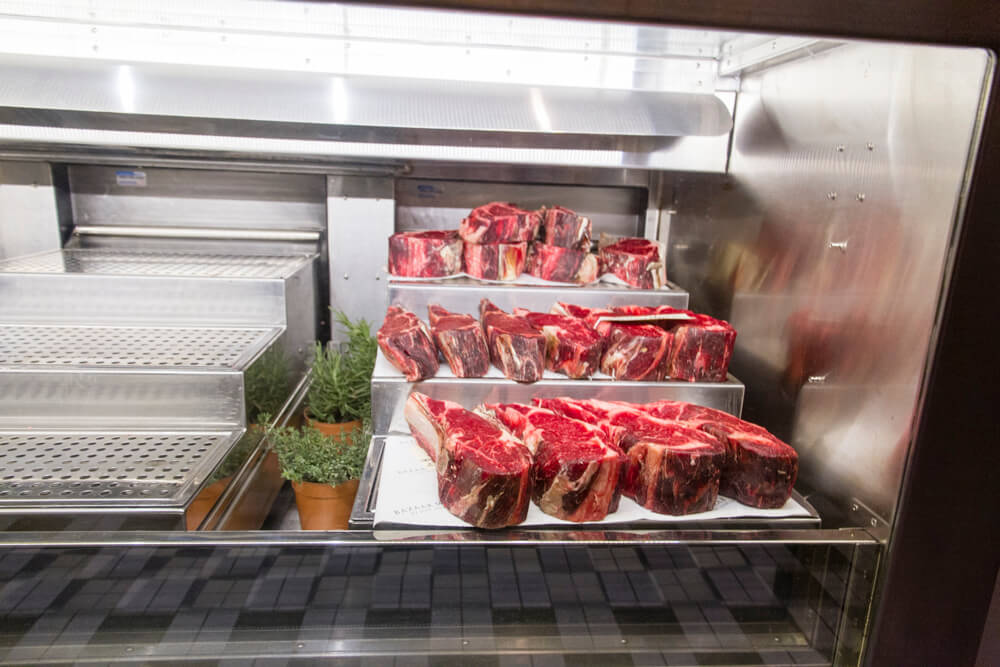 Immediately behind the meat cases is the centerpiece of the kitchen, which is the oakwood burning grill.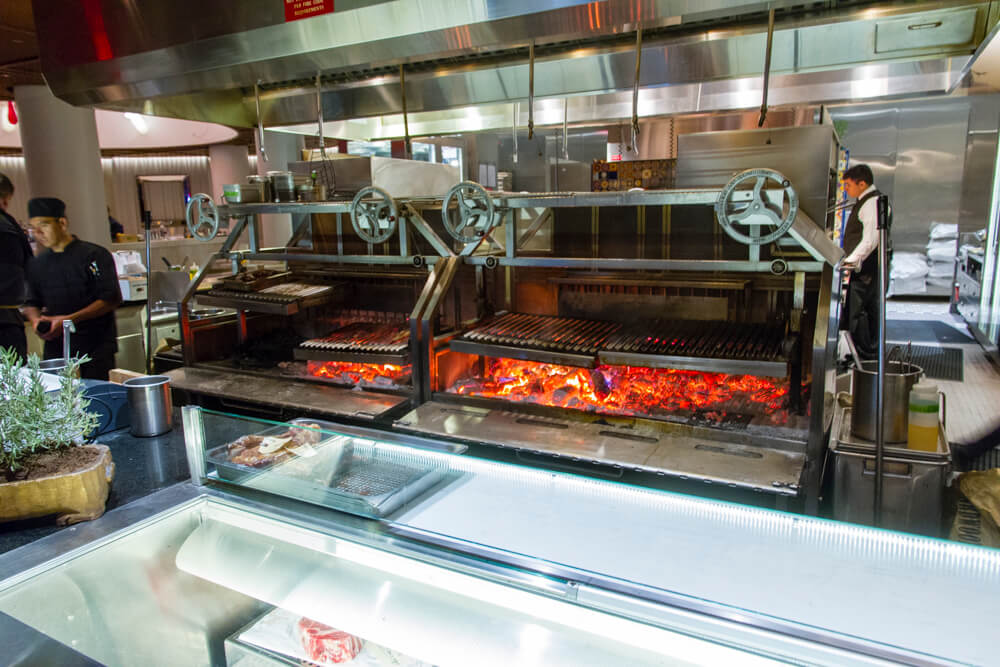 This wood burning grill is how your steaks will be cooked should you order one, which you definitely should.  And as cool it is, it's worth noting that it does give off smoke.  The smoke did linger quite a bit in the dining room while we were there, but not enough to be bothersome.  Needless to say, you may smell like smoke after your dinner, though.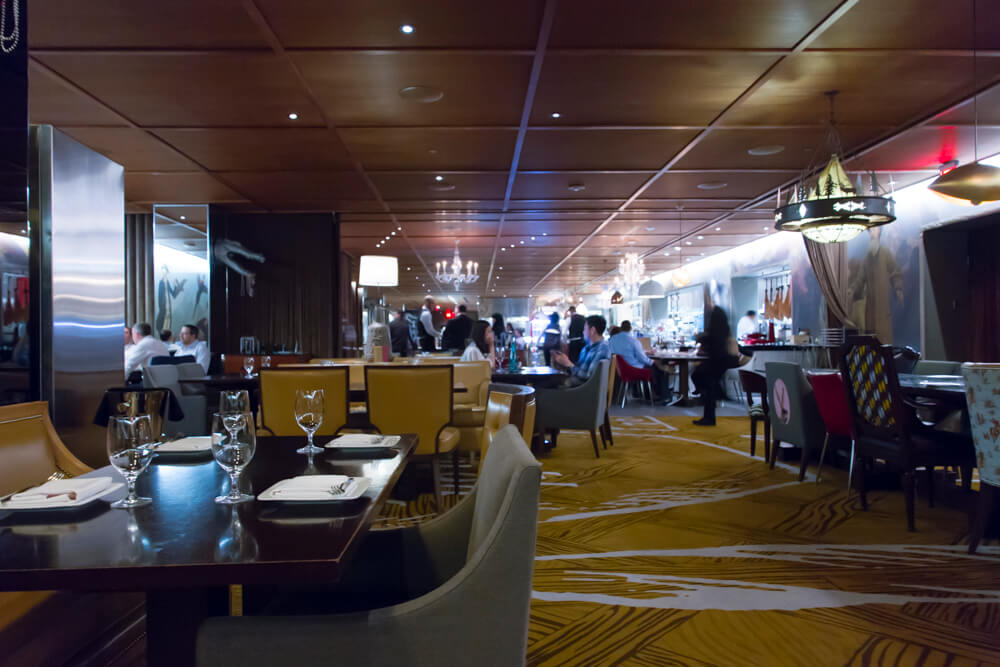 The rest of the restaurant, however, will be quite familiar if you been to any of Jose Andres' other Bazaar restaurants.  Needless to say, the decor is fairly eccentric, but not quite as over the top as the Bazaar Beverly Hills.  I suspect the reason for this is to make it feel like a cross between a traditional steakhouse and other Bazaar restaurants.
On the noise front, there were a lot of large parties at the Bazaar Meat while we were there.  Needless to say, the volume in the restaurant was quite high.  Not quite as bad as Momofuku, but almost.  An intimate dining experience this was not
Service
Unlike the night's other dining experience, the service at the Bazaar was very polished.  This was, as expected, since the service we experienced at The Bazaar Beverly Hills was also polished.  Our server was very professional and kept a good eye on us without being overbearing.  Better yet?  When asked for recommendations, he never tried to sell us the most expensive options.  He always recommended what he liked at any price and could quickly answer any question we threw at him.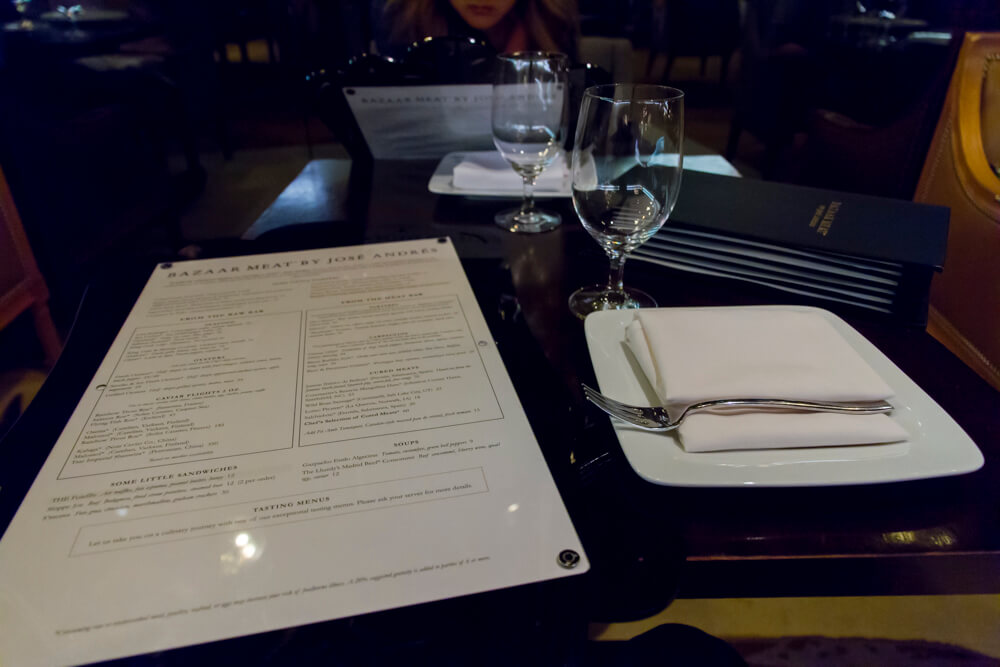 Starters
If you plan on dining at The Bazaar Meat, you should be prepared for a leisurely dinner.  If you order the steaks to share (which you should), it takes between 30 minutes and an hour to cook.  So, with that much time to wait, you should order some drinks and some small bites.  And of course we did!
First up was the Cotton Candy Foie Gras.  I've wanted to try this since it was debut when California's foie gras ban was lifted, but I was a little skeptical.  Thankfully, these small bites ended up being shockingly good.  You get a little sweet as the cotton candy hits your tongue, then that familiar richness of the foie, and some crunch from crispy amaranth.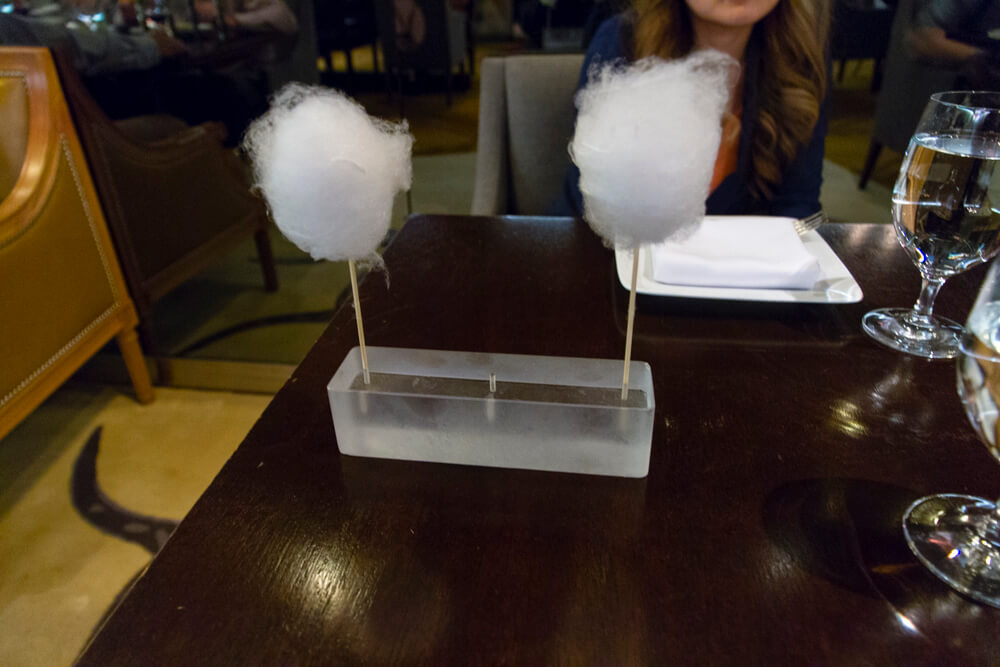 Mrs. Island Miler loves uni, so our second starter was a no brainer:  Fresh Sea Urchin.  Except, unlike Japanese style sea urchin, these plum little morsels arrived atop grilled pan de cristal.  And if that weren't enough, a think blanket of lardo is draped over the whole thing.  It was crunchy, smokey, airy, chewy, and cream, with flavors of the ocean and a slightly meatiness.  Perfect.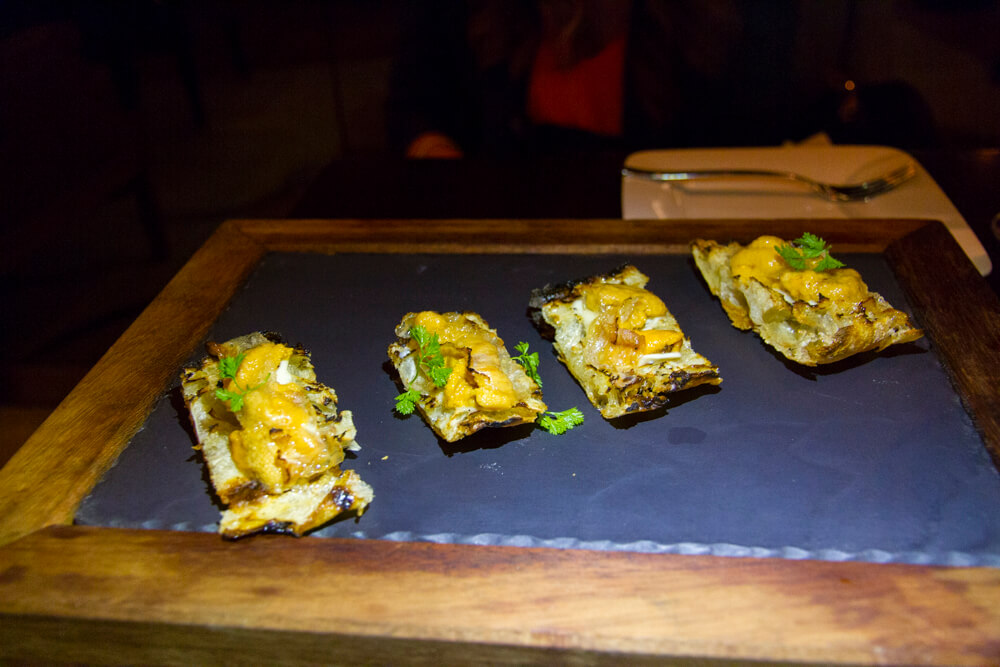 Our third and final starter was a must have anytime we visit any Bazaar restaurant: Bagels & Lox Cone.  Originally developed for Jose Andres minibar in D.C., it's a bagel chip shaped like a cone.  In it is a dill cream cheese, and it's topped with salmon roe.  It's a perfect, single bite that really does taste similar to great bagels & lox.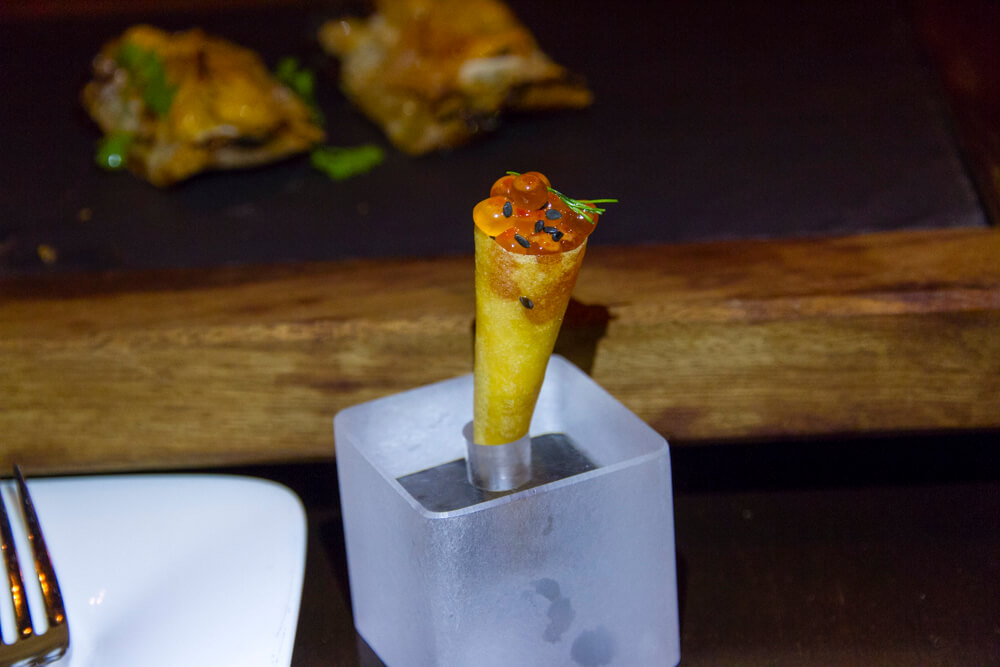 The Meat
At our server's recommendation, we opted for a Beef Rib Steak.  Specifically, we went for the Wagyu/Black Angus from Rosewood, Texas.  These steaks are priced by the pound, and for two they generally recommend a 1.5 to 2 pound cut.  I should note that these are bone-in steaks, so the weight does include the bone.  And they're pre-cut daily, so once they run out, they run out for that day.  The steaks are, of course, cooked over a oak-wood fire as I previously mentioned.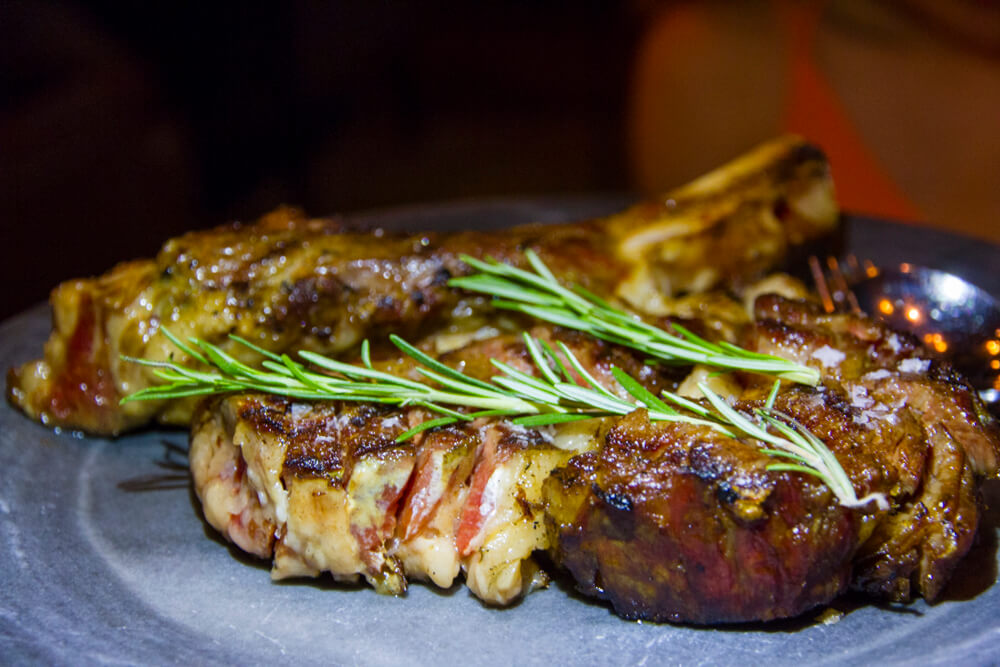 Would you take a look at that beautiful hunk of meat!  The steak arrives at your table cut off the bone and sliced on a giant plate.  Our server made sure we got all the pictures we wanted, and then plated it up for us.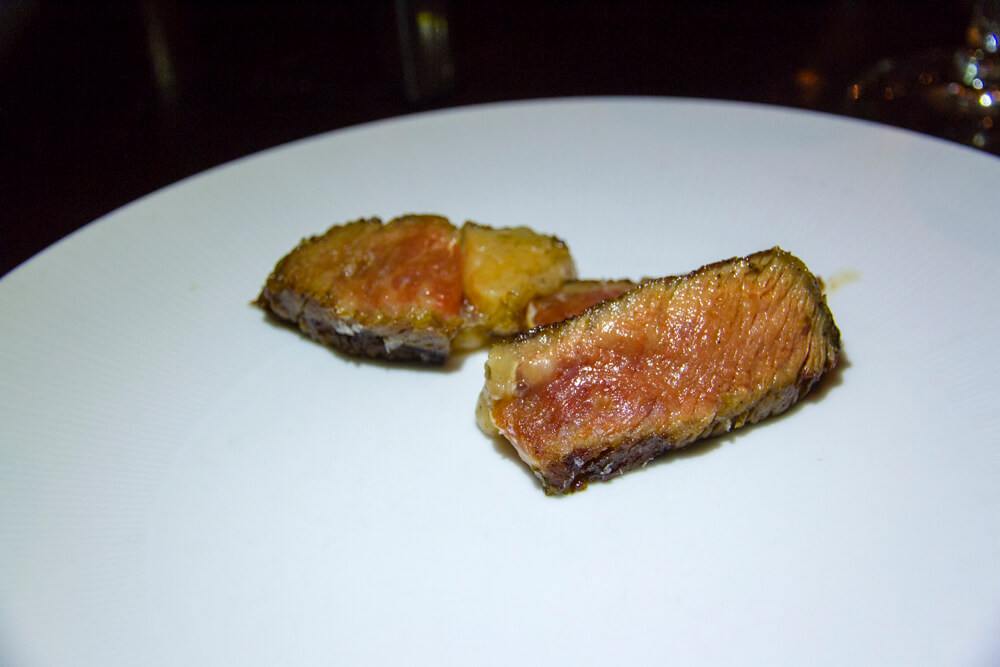 The first two bites were sublime.  Talk about perfection!  Our steak was, unsurprisingly, perfectly cooked to a medium-rare temperature.  The outside was smokey and slightly charred.  On the inside, the steak was melty with just the rite amount of bite and chew.
While the experience up till now has been different from a traditional steakhouse, some things are the same.  Your sides, for example, are all ala carte at Bazaar Meat.  This actually ended up being a good thing for us, as we wanted to keep things light.  And, of course, our server had recommendations here too.  We were torn on what to order, so he recommended the Setas al Ajillo.  Or, in english, button mushrooms cooked over the wood fire with garlic and nasturtium.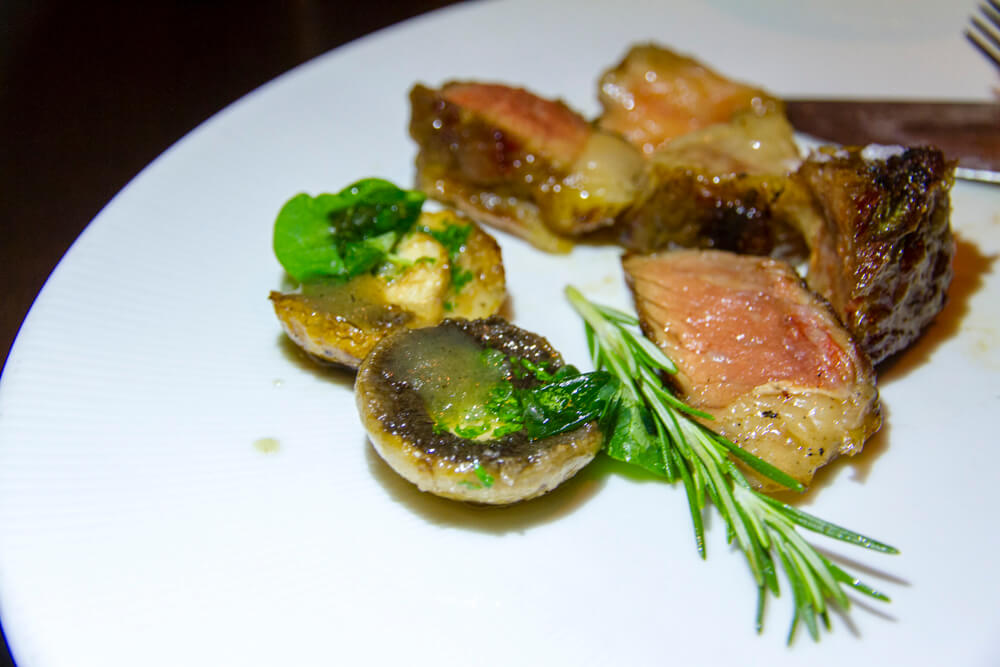 These fantastic little bites were very flavorful without being too garlicky.  Oh, and they paired nicely with the fattier portions of the steak.
Dessert
At the Bazaar in Beverly Hills, you walk over to a different part of the restaurant for dessert.  Here?  They wheel a dessert cart over to you.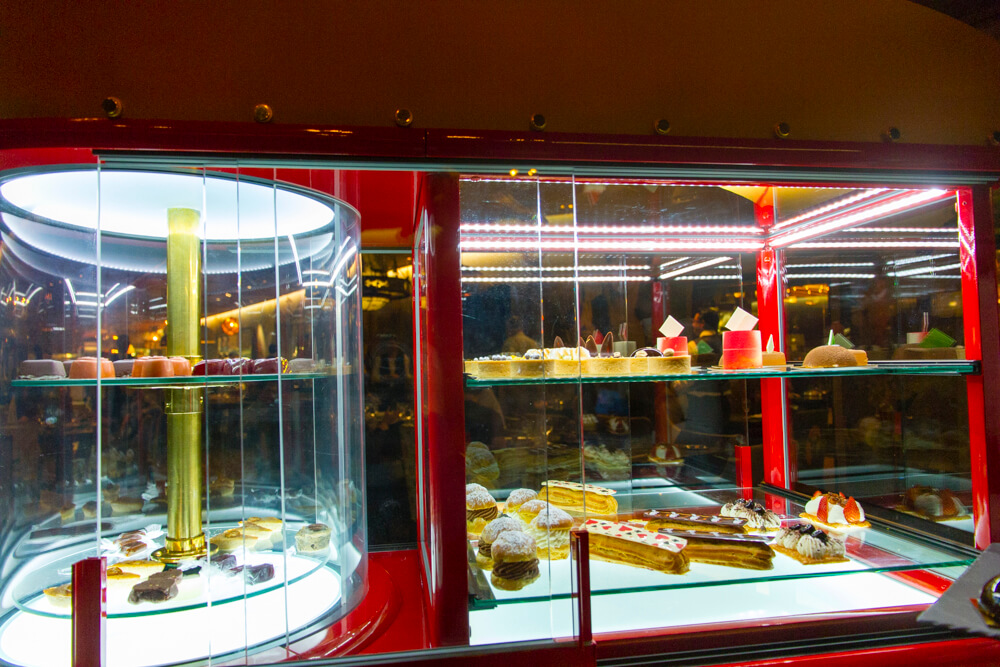 From here, you get to choose your desserts.  There are a variety of options including pastries, cakes, tarts, pralines, etc.  If I recall correctly, there are frozen treats too, but those must be ordered separately.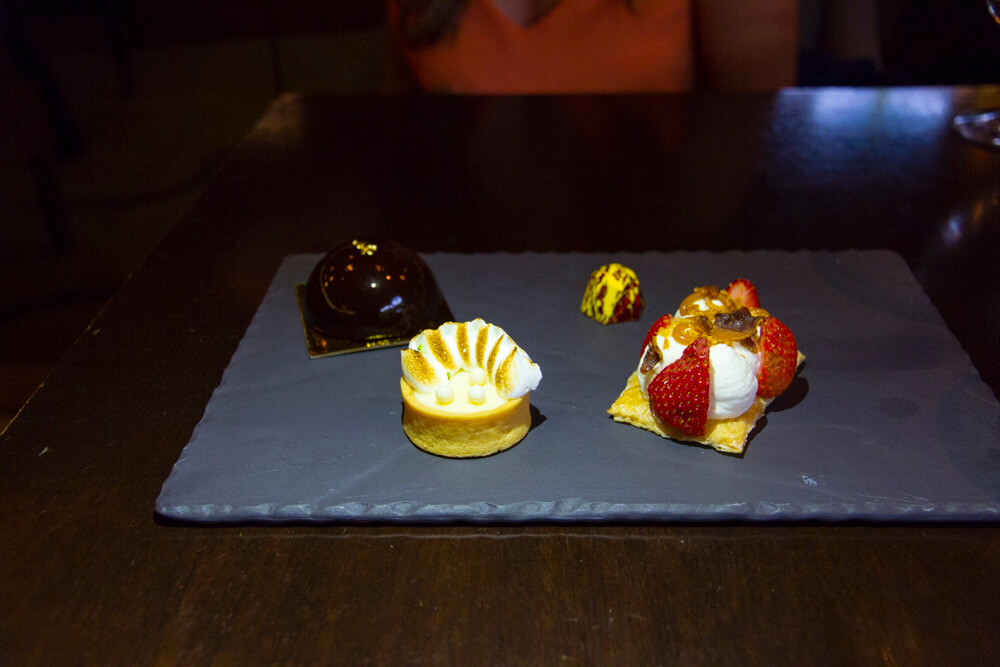 Above are the desserts we ordered.  I can't remember what they were, but I think it was a pop-rock truffle, a chocolate rum cake, a key lime tart, and a strawberry shortcake.  Being a chocolate person, I loved the cake.  The rum added to it but didn't take the cake over, and it wasn't too sweet.  The key lime tart was, well, tart and had a great lime flavor.  I don't remember the other two, but it's possible I didn't eat any because I was so full.
The Bazaar Meat Las Vegas Final Thoughts
At this point in the trip, the Bazaar Meat Las Vegas was probably my favorite restaurant yet.  Momofuku was really good, and I actually think the steak there was just as good as the Bazaar in its own way.  But, everything we ordered at the Bazaar was great, as was the service.  And while I liked Momofuku a lot, there were some *meh* parts of that experience.  That allowed the Bazaar Meat Las Vegas to edge them out in my ranking.  My only complaint about the restaurant?  I wish I had more salt on the meat, or that they'd provide salt to add to your own taste.
Would I recommend the Bazaar?  Definitely.  And there is more than just beef.  The restaurant does offer pork, lamb, chicken and seafood too.  Just be aware, most of the seafood portions are huge like the rib steaks.  A date restaurant this may not be, but they do accommodate couples well, and the food and service are great.  Just remember, it is a little noisy and it may be a little smokey. So if that doesn't bother you, go for it!
My First Las Vegas Adventure
Flights
Car Rental
Hotels
Dining
Bazaar Meats Las Vegas
Activities/Sights