Last updated on January 16th, 2017 at 06:58 pm
As I've said before, this trip to New York was the first for the wife, but not for me.  So while her goals were to see a lot of the must-see sights, my goal was to EAT.  Our first official meal in The City happened the night before at a Hawaiian restaurant I've wanted to try since they opened, Noreetuh.  But our next official meal in the restaurant came off of Anthony Bourdain's list, which is Chef Michael White's landmark restaurant Marea.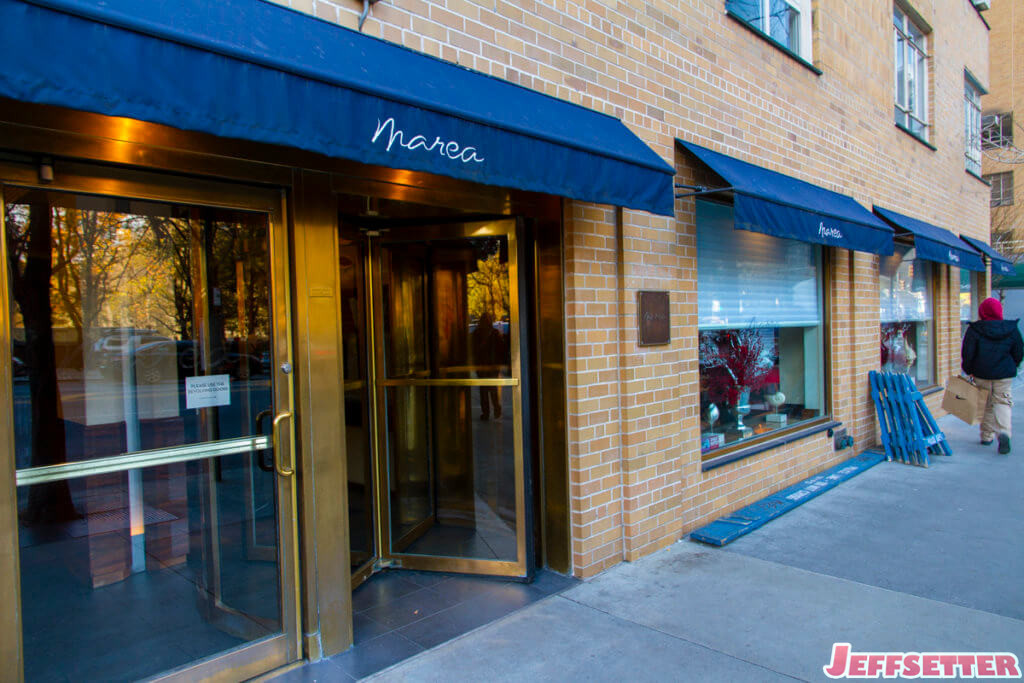 As much as I wanted to try Marea, I didn't have reservations to do so.  It ended up being one on the list that we'd visit if we could, and since we were in the area, I took the opportunity.  We walked in around 11am on a Saturday for lunch without a reservation, which seemed to confuse the host.  But after a minute or two, they check our coats and seated us in the main dining room.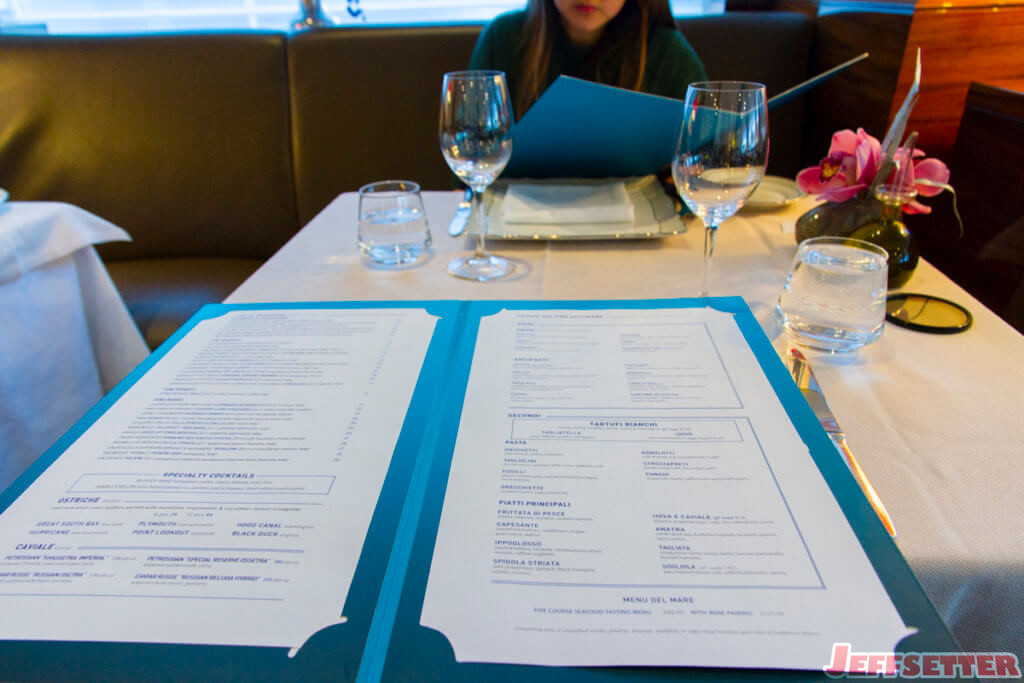 While the lunch menu is a little smaller than the dinner one, it also represents a much greater value.  Dinner at Marea is suggested as a 4-course menu for $102/person (with $22 crostini option), whereas lunch is suggested as a 2-course menu for $52/person.  Dessert is a $15 option at lunch.  Nice.
Primo
During lunch at Marea, you get a choice of Primo and Secondi.  For the Primo, you can select any one item from the Crudi or the Antipasti section of the menu.  The wife being the raw fish lover she is chose from the Crudi menu, opting for the Passera wish was julienned radishes wrapped in slivers of long island fluke.  It's then topped with sea urchin sugo and a micro mint leaf.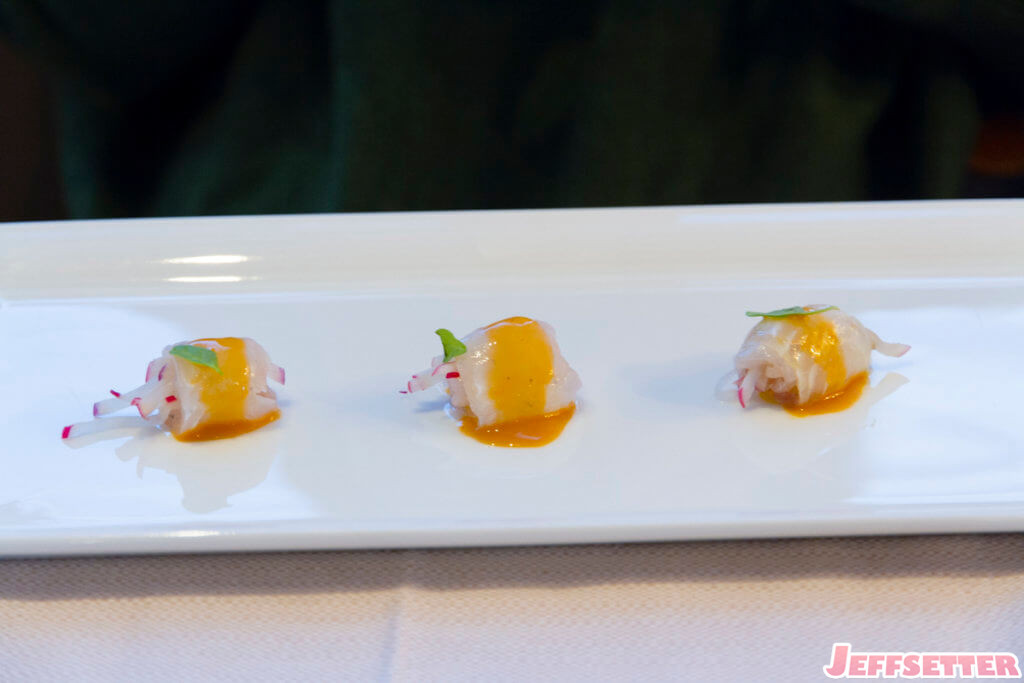 The wife loved this.  She said the flavors were very clean and fresh.  Just what you'd expect from Chef White.
For my Primo, I went for the signature Astice ($6 supplement).  This amazing dish is composed of a perfectly cooked Nova Scotia lobster with burrata cheese, eggplant, and basil.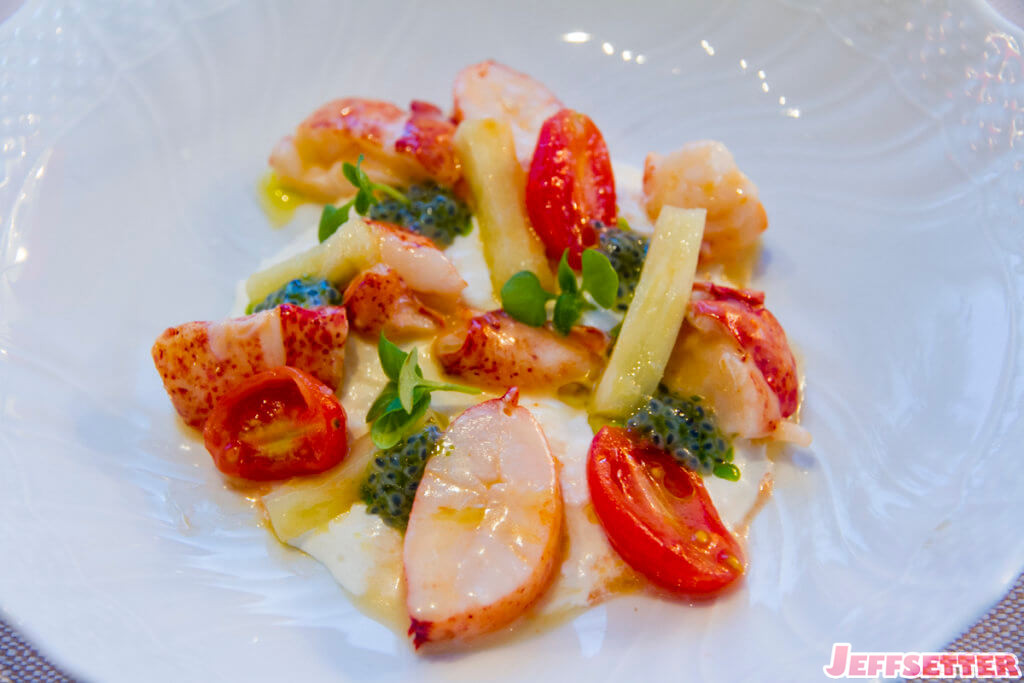 Actually, this thing is more like a insalata caprese on steroids!  The burrata is rich and creamy, which is cut by the fruity tomatoes and herbal basil seeds.  And while a big no-no of Italian cuisine, the lobster and the burrata paired perfectly together.  I'd order this dish again in a heartbeat.
Secondi
For her main course, the wife stuck with the sea urchin theme and went for the strozzapreti.  This dish is strozzapreti pasta with jumbo lump crab, sea urchin, and basil.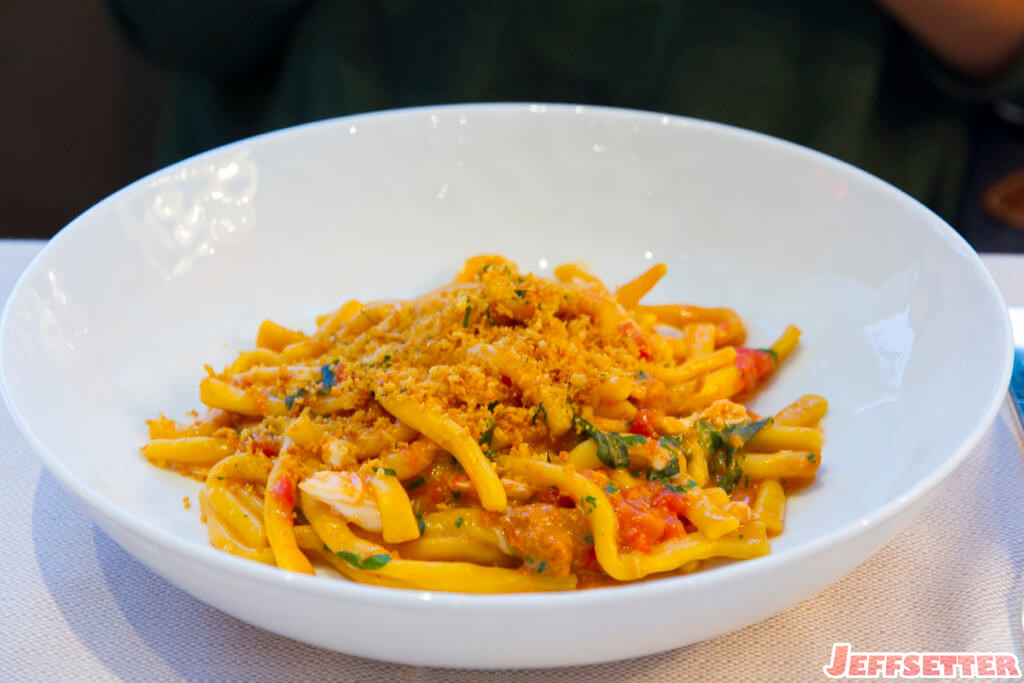 It didn't taste strongly of sea urchin, but it has a nicely balanced, oceanic flavor.  The toasted breadcrumbs on top added some nice textural contrast to this wonderfully toothsome pasta.
For my main, I chose the signature fusilli.  This house-made durum wheat spiral pasta is tossed with red wine braised octopus with bone marrow.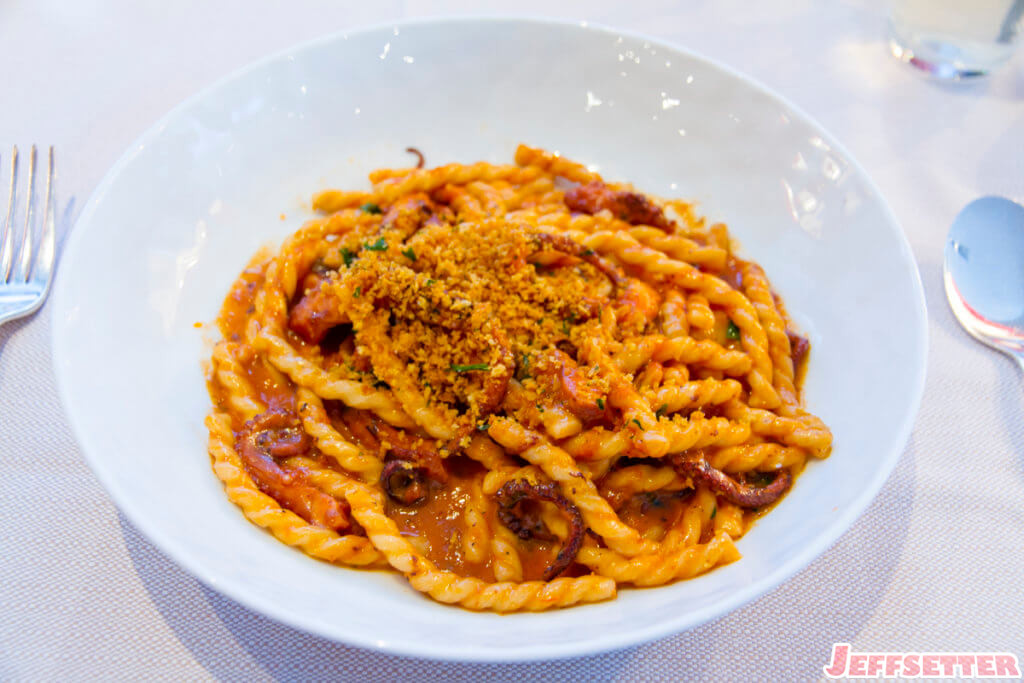 The pasta is, unsurprisingly, perfectly cooked, as was the octopus.  In fact, the octopus was really tender with just the right amount of chew.  The sauce itself is a tomato-red wine based sauce, enriched with bone marrow.  There are some nice bits of marrow in the pasta, but most of it melts into the sauce, adding that oh so wonderful unctuousness to it.  And like the strozzapreti, some toasted breadcrumbs added some nice textural contrast to the dish.
Dolce
While we were STUFFED, the dessert menu proved to be too tempting to pass up.  At a $15/person addition it isn't cheap, but isn't bad either.  For her dolce, the wife ordered a seasonal dish, the Zuppa Inglese.  This small morsel is composed of a white chocolate crema, pumpkin, cranberry, and brown butter gelato.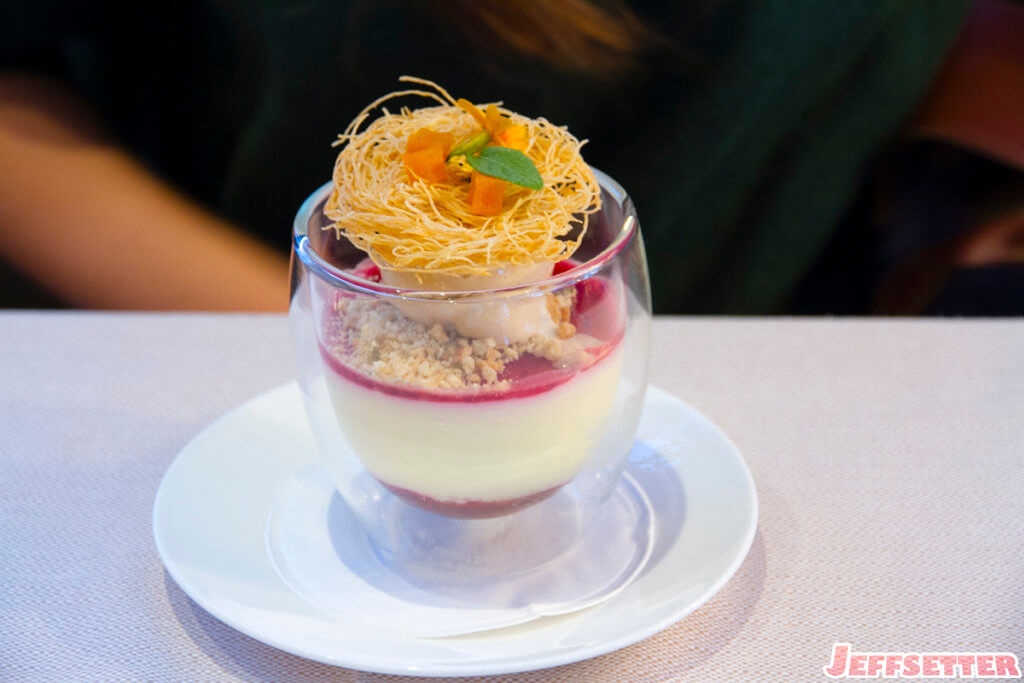 It's a beautiful little dish was full of fall flavors.  It sounds like it would be super sweet, but it's not.  So nicely balanced and refreshing.  Perfect really.
Me, I'm kind of a chocoholic, so I went with the Budino di Cioccolato.  This thing is a dark chocolate BOMB.  Composed of domori chocolate (mousse), chicory, and dark chocolate gelato.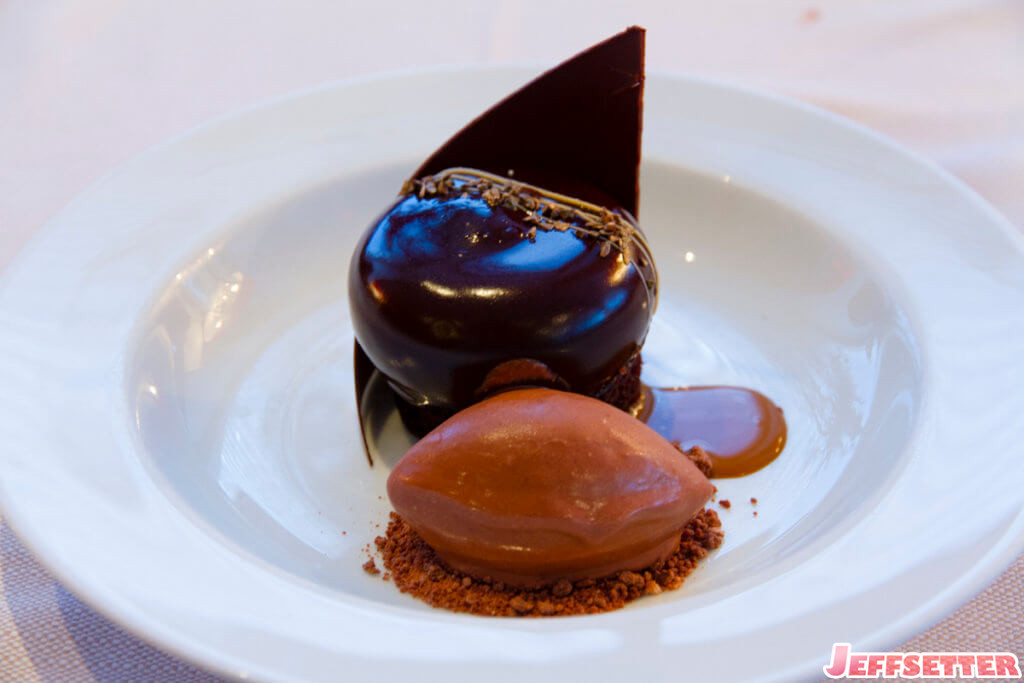 This dish wasn't overly sweet, but was very rich.  There was really a lot to like, especially with the crushed cocoa nibs providing wonderful textural contrast and a bit of bitterness.  But I was incredibly full at this point and had to give-up halfway through.  Unfortunately for me, that wasn't the last of it.  As our waiter brought our check, he also presented us with some petite-fours.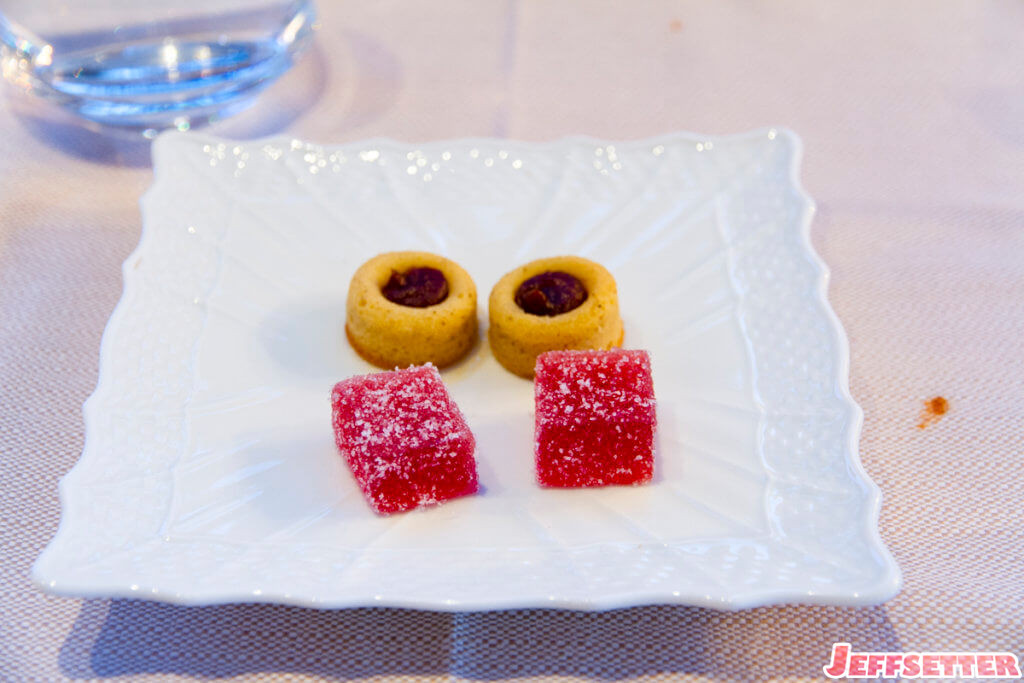 I don't remember exactly what they were, but they were delicious.  I struggle to eat even these tiny, bite-sized morsels though.
While Marea wasn't a planned dining experience, it's one I'm glad we did.  Besides the little hiccup in the beginning, service was flawless and the cuisine was fantastic.  I'd highly recommend Marea to anyone visiting New York, especially if you love Italian food and/or seafood.  It is definitely one of my favorite restaurants on the planet now, and one I'd definitely like to return to when in The City once again.
A Big Apple Holiday Adventure
Review: Michale White's Marea