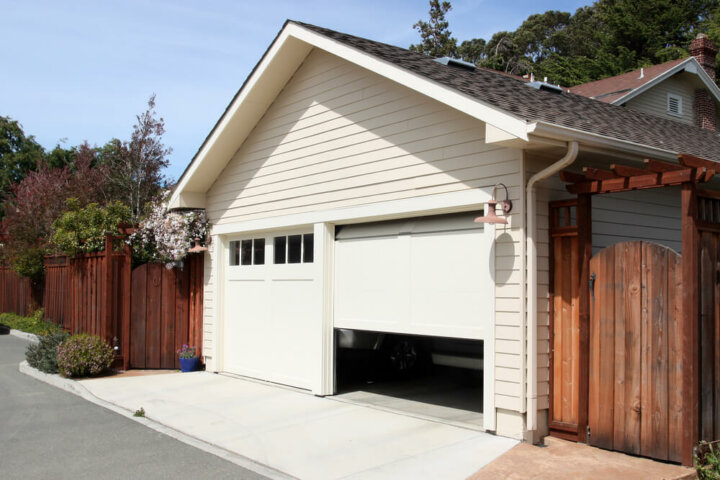 All of our reviews are based on exhaustive research, industry experience and whenever possible, hands-on testing. When you make a purchase using one of our chosen links we'll get a small percentage of the proceeds. This supports the site and keeps Jeffsetter running. You can read more here.
Once you get an RV, you run into the problem of how to store it properly when it's off-season or when you aren't using it. There is more than one option out there, but the safest one for your RV and the most convenient for you, in the long run, is to build a garage large enough for your RV.
It's expensive up front, but convenient and can offer better storage for your RV than a cover or paying for a parking spot.
So, how do you select the right RV garage and door?
An RV is typically too large to fit into a standard garage so you need an RV garage to properly store it. An RV garage door should be at least two feet wider and taller than the RV itself. Consider manually measuring your RV and hiring a professional to help you with building it.
This article will help you get a better understanding of what to look for in an RV garage, including the door and how to measure for a custom RV garage.
Can Your RV Fit In A Standard Garage?
There isn't one standard size of an RV, so there isn't one definitive answer to whether yours will fit inside your run-of-the-mill garage.
You should probably have a general idea of how well your RV would fit into a standard garage. The larger the RV you have, the less likely it is to fit. If you have a camper or a truck with a camper shell, then depending on the height of that shell, your might be able to fit into a standard garage.
I would recommend caution when parking your RV in a standard garage if you aren't sure that it will fit. The majority of garages that are not specifically outfitted for an RV will not be deep enough or tall enough to accommodate an RV. Driving your RV into a garage that isn't the right size can result in damage to your RV.
Your RV might fit into a standard garage height-wise, but if it doesn't length-wise and the back of your RV is hanging out, you aren't getting the protection you probably want out of the garage. If the door isn't tall enough for you to get in then you might end up scarping or crushing the top of your RV.
Take measurements of your RV and the garage before attempting to park it inside. That way you won't damage your garage or your RV by trying to force it inside.
This video shows how you may be able to store an RV in a garage that is slightly too small for your RV.
What Size Garage Do You Need for Your RV?
The size of the garage you need for your RV will depend on what kind of RV you have and its size.
Take into consideration future RVs you might purchase as well. If you are in a small, starter RV and plan to upgrade to something larger as your family grows or as you see fit, then plan for that larger size. You don't want to make an investment in an RV garage that won't suit your needs in the future.
Don't forget that you might need space to maneuver. If you are an experienced RV driver, then you may have the skills to slide into a small space. A less experienced driver might have difficulty getting into a garage that's only slightly larger than the RV they are driving. It's a good idea to keep that in mind when planning your RV garage.
You should also keep in mind that you may need to include a buffer on either side of the RV garage entrance depending on the angle you need to drive your RV into the garage.
While the specific dimensions of your RV garage are dependent on what kind of RV you have there are certain parameters to help you figure out what size you'll need. This includes taking into consideration the space you have, the space you'll need to maneuver your RV, and if you plan on getting a larger RV in the future.
Why Do You Need An RV Garage?
Storing your RV properly during the off seasons or when you are not using it is vital to maintaining it. Without proper storage, you can end up with serious damage that can cost a lot of money to fix if your RV is left sitting in the elements for too long.
Building an RV garage or modifying the garage you have to fit your RV isn't the only solution, but it is a great option to explore if you're serious about RVing. It's a convenient option that means you will always know that your RV is in a safe place when you're not using it, it's easier than having to cover your RV and more secure.
Not storing your RV properly can lead to extensive damage, especially in the winter. You can end up with critters making a home in your RV, doing damage to the electrical system, and the elements can do a number on your RV's exterior if it's not protected. We go in-depth on the risks of not winterizing and storing your RV properly in this article.
Standard Garage Dimensions
A standard garage is going to be large enough for a car, van, truck, or SUV, but not typically for an RV. Even a double garage or a large one might not fit your RV inside of it. If you have a small RV or a camper shell that sits on the bed of your truck then a standard garage might suit your needs just fine.
A single-car garage is usually between 7 feet and 8 feet tall and around 9 feet wide. A standard RV is usually around 9.5 feet tall, so it's not likely that your standard garage will fit your RV. The height of an RV is usually where you are going to run into troubles when it comes to getting it inside your garage if it hasn't been designed for an RV.
Average Dimensions Of An RV Garage & Door
You can narrow down the size of the RV garage that you need based on what type of RV you have. Keep in mind that these are averages and you should not make any purchases or plans based on these dimensions. You should manually measure your RV to find out how large your RV garage needs to be.
Class A
The largest type of RV is Class A. These are on average 35 feet long but can be longer than that by ten feet or more. They are also going to be the widest and tallest RV on the market.
On average, when you are looking at a Class A RV, it's going to be around 10 feet wide and between 11 and 12 feet tall.
That means the minimum size of your RV garage door would be 12 feet wide and 14 feet tall. Keep in mind that if you're not used to maneuvering your RV you might need to factor in some extra space for ease of driving.
Class B
The smallest motorhomes on the market are Class B RVs.
These motorhomes are best suited for solo travel or couples without the need for a lot of amenities. They are usually around 9 feet wide and 9 feet tall. They are also shorter than the other RVs on the road and are usually 15-20 feet in length, so they are easier to maneuver and park than the larger classes.
Class C
A Class C RV is about 11 feet tall and 10 feet wide. Similar to the size of a Class A motorhome, but not as big as that.
Check the dimensions of your RV, because antennae, mirror, and air conditioner units can affect the overall height and width of your RV.
Fifth Wheels
Fifth wheels are towable RVs and are about 11 feet wide and 10 to 12 feet high.
Since they are towable, parking them inside a garage can be difficult. You need to account for both the length of the car towing the RV, the RV itself, and the length of the hitch.
The door to the garage doesn't have to be huge, but the length might be substantial.
Travel Trailer
Like fifth wheels, travel trailers are towed by a car, so they will also require a substantial length garage to accommodate both the car and the trailer.
Travel trailers can come in smaller and larger sizes, so the size of the garage door that you need will be dependent on the size travel trailer you have. You will probably need at least ten feet of width and twelve feet of height.
Pop-Up Campers
Pop-up campers are very small and usually have very few amenities included. When they are opened they are about 10 feet tall, but they can be folded to almost half of that height. That means you can likely park your pop-up camper in a standard garage as long as you don't mind retracting it every time you want to store or park it.
How Tall & Wide Is The Average RV Garage Door?
Class A – 14′ tall by 12′ wide
Class B – 12′ tall by 8′ wide
Class C – 14′ tall by 12′ wide
Fifth Wheel – 14′ tall by 12′ wide
Travel-Trailer – 8′ – 9′ tall by 7′ to 14′ wide
Pop-Up Camper – 8′ – 9′ tall by 7′ to 14′ wide
Average RV Garage Depth And Width?
Class A – 16′ by 16′ and 25′ – 40′ deep
Class B – 12′ by 14′ and 30′ – 36′ deep
Class C – 16′ by 16′ and 28′ to 40′ deep
Fifth Wheel – 16′ by 16′ and 40′ to 56′ deep
Travel-Trailer – 12′ by 8′ to 14′ and 28′ to 48′ deep
Pop-Up Camper – 12′ by 8′ to 14′ and 28′ to 48′ deep
How To Measure For Your RV Garage
If you've decided to make the investment and upgrade your garage or build an RV garage you'll need to know how to measure for one.
Measure for yourself, but definitely bring in a professional to build your RV garage or to install new, larger doors, on your RV garage. This is not a project that I would call a DIY. I always recommend doing your research before bringing in a professional. If you know other people with RVs, they can be a great resource for recommendations.
Regardless of bringing in a professional, do some measurements for yourself so that you know what size you need and what to expect.
I'm a bit of a broken record at this point, but height is the most important thing to keep in mind when measuring for your RV garage. You should plan for a minimum height that is two feet taller than your RV.
Don't rely on looking up your RVs measurements online or in your manual. It might not give you an accurate representation of the height. Additional air conditioner units and the way it hitches to a tow vehicle can make a difference in how tall your RV is.
Make sure to measure your RV manually and add a couple of feet to the width and the height to make sure that your RV can actually fit into the opening.
If you can go with a standard RV garage size, then that is what I would recommend. It can get quite expensive if you decide to do a completely custom size, but that is an option if you have an odd-sized space or RV then you might need to go the custom route.
What Kind Of RV Garage Doors Are There?
There are six main types of garage doors on the market. They are sectional, roll-up, slide, side-hinges, tilt-up canopy, and tilt-up retractable.
The factors that will impact your choice among these types of doors are mainly where you live, your preferred style, and what will work best for your garage's construction.
The professional that you choose to work with will be able to help inform that decision. Ultimately, any style of a garage door can work as long as it is the correct dimensions.
Conclusion
At the end of the day, a garage for your RV is a wise investment to make, but it can feel like an intimidating process to start looking for one. You'll want to start by manually measuring your RV to see what size garage you need.
Once that's done, I recommend contacting a professional service to build out your garage. Do your research on who you hire and try to get personal recommendations from other RVers to make sure you're working with someone reputable.