Our Big Adventure
The Seaside Restaurant
As I said in my last post, Hawaii Volcanoes National Park, the wife and I decided to head out of the park for dinner.  We chose The Seaside Restaurant based on the recommendation of a couple of friends and the fact that they served a hard to find fish that I love.  I'm pretty sure I've been here long ago with my family too.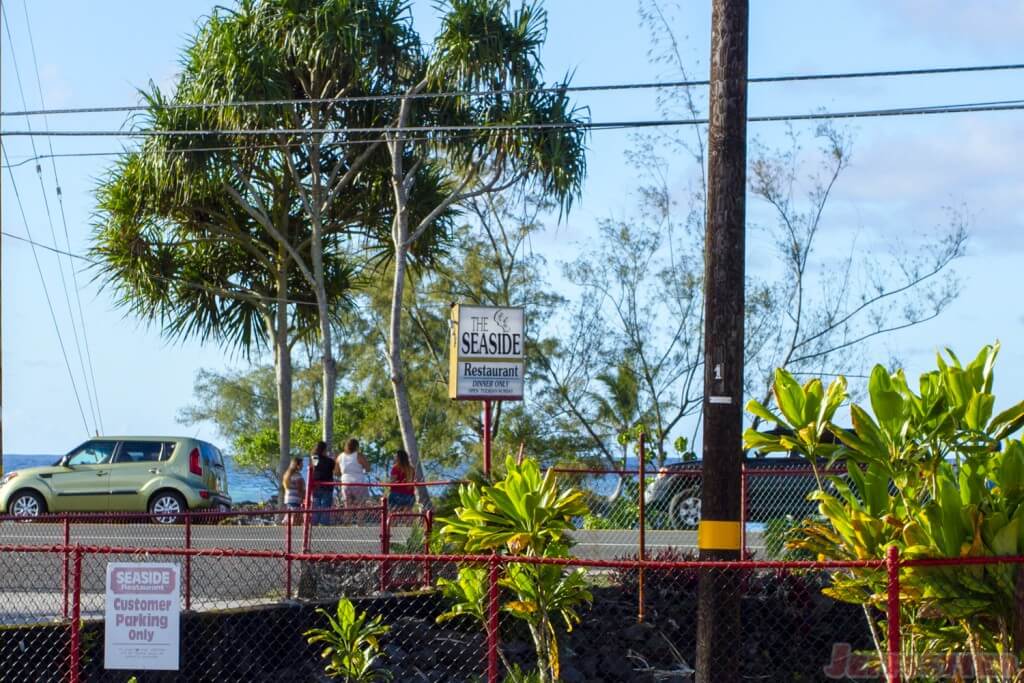 Located in Hilo near the airport, The Seaside Restaurant is about as close to fine dining as you're going to get on this side of the island.  It's kind of a local institution that's been around a long time, and serves the type of food not uncommon to these places.  What do I mean?  You'll see.
The restaurant itself looks like a house that's been turned into a restaurant.  The hallway to the host stand is really HOT, but the rest of the restaurant is fairly cool.  The restaurant is actually split up into different rooms, so even from the inside it kind of feels like you're in someone's house.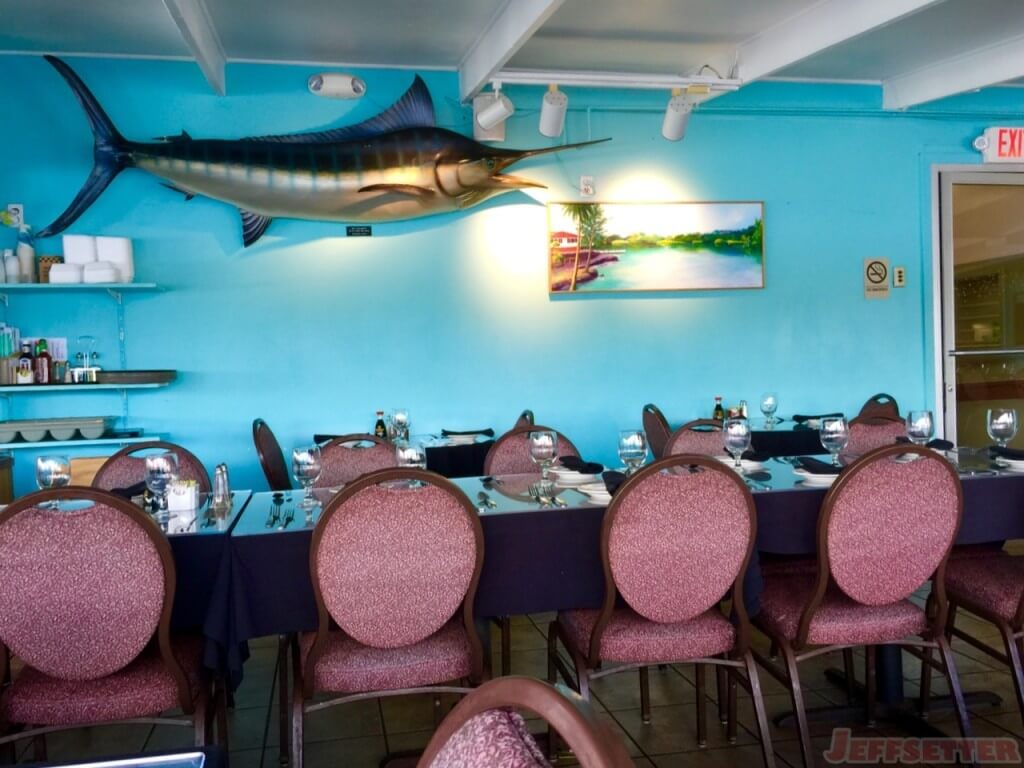 The tables, in the dining room we were sat anyway, had black table cloth covered in plexiglass, and pretty tired looking banquet chairs.  The wait staff was very friendly and helpful if not a little rough around the edges.  We were dressed in t-shirts and jeans, but they treated us no differently than the people in dress shirts and gowns, or polo shirts and golf shorts.  Our table was right next to the window with great views of the water.
The wife felt like eating sushi, so she ordered a shrimp tempura roll to start.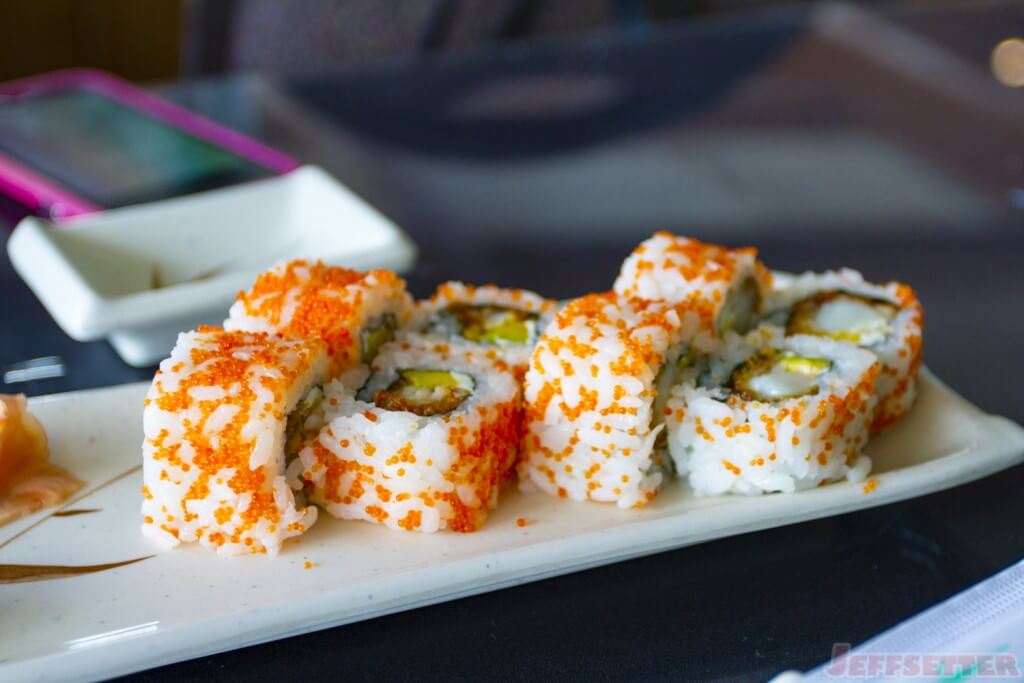 It was tasty; not too oily and almost no filler.  My only complaint was that it was a bit warm, which was weird to me, but that's my personal preference.
Our entrees came with a choice of soup or salad.  Soup of the day was a clam chowder, which the wife ordered, while I ordered a salad with the house dressing.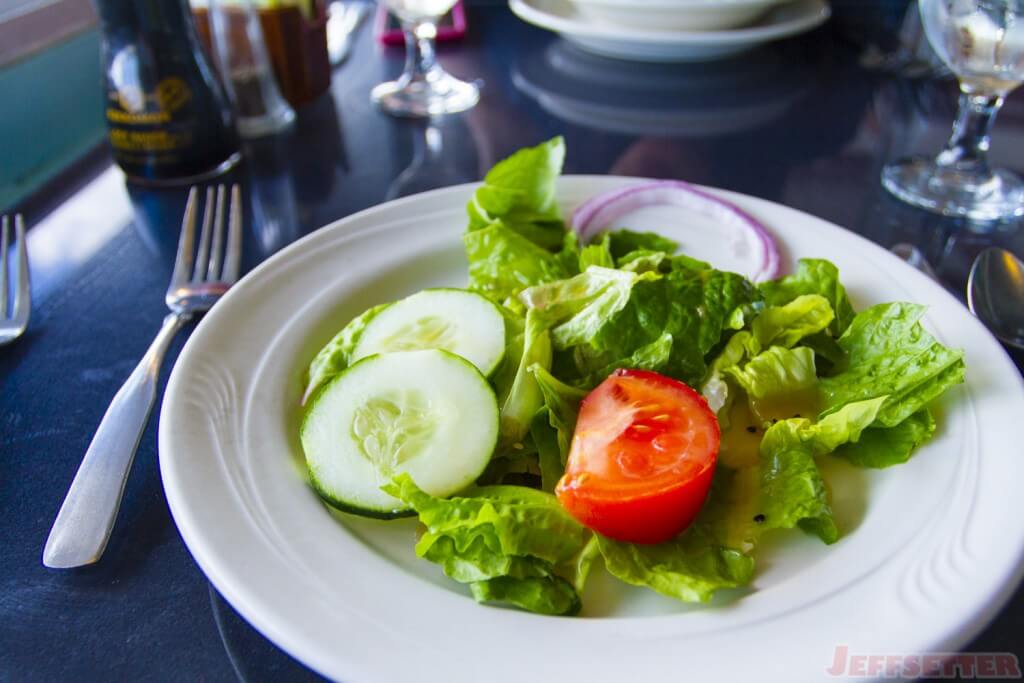 That salad was simple and fresh.  The house dressing tasted like store-bought sesame dressing with extras like garlic powder added in.  The soup?  Didn't take a picture of it because it looked, and according to the wife, tasted like canned soup.  And this is what I mean by old-school, local restaurant.  There used to be a restaurant on Maui called Chum's my grandparents used to take me to all the time and all of their sides used to be canned/frozen veggie mixes, canned soups, etc.  It isn't a bad thing at all, but if you aren't used to that, well…
Anyway, the full name of the restaurant is actually The Seaside Restaurant & Aqua Farm, so it's safe to assume that seafood would be a strength of the restaurant.  They do actually serve a couple of dishes out of the aqua farm portion, and on our visit it was the mullet.  Neither of us chose the mullet, however, and instead opted for other local fishes.  For her entree, the wife ordered the special of the night; Pan Seared Kona Kanpachi with a Lilikoi Butter Sauce.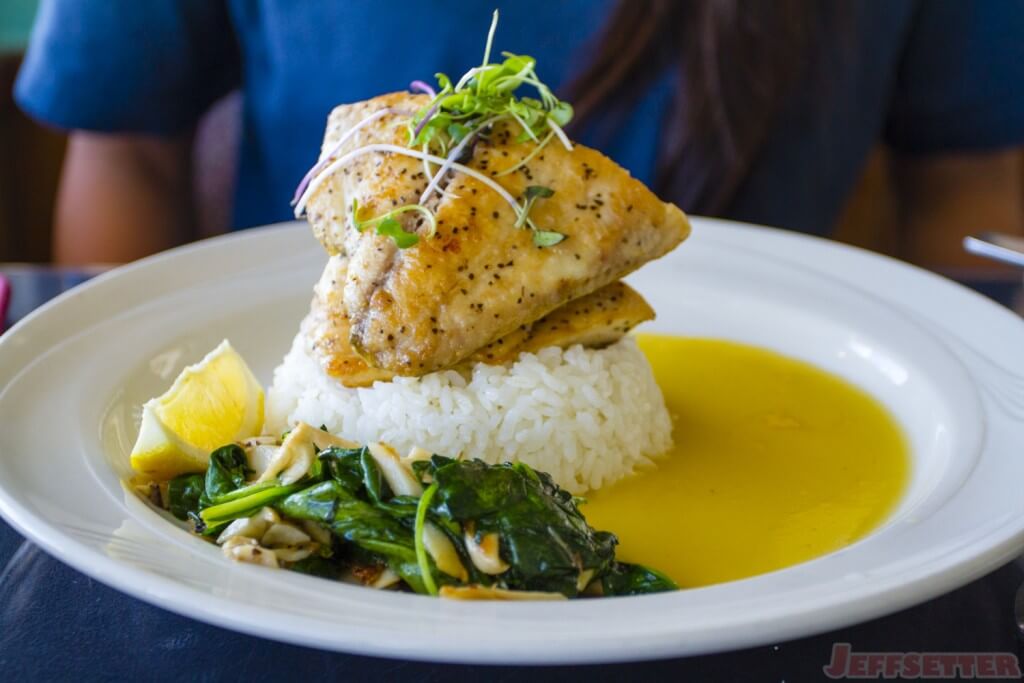 The wife was really happy with this dish.  The fish was really fresh and cooked perfectly, while the creamy, fruity, tart sauce paired nicely with the mildly flavored fish.
For my entree I ordered a favorite of mine, Fried Aholehole (Pacific Flagtail).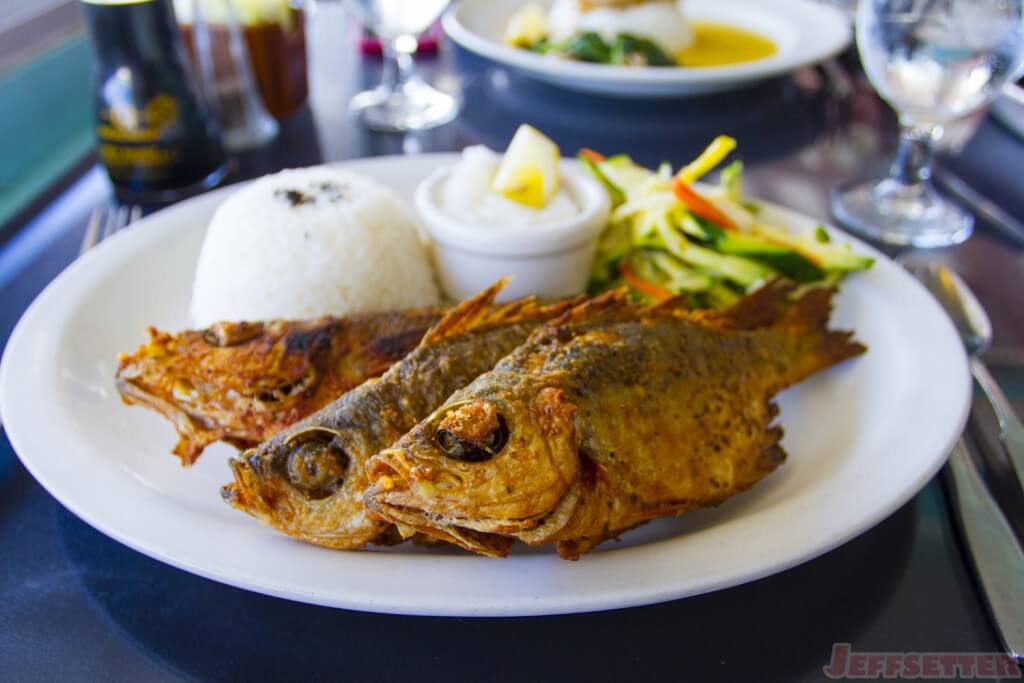 Aholehole is a local reef fish that my grandfather and I used to catch at Sharks Cove on Oahu's North Shore before it was turned into a nature conservation.  It's a tasty fish is best eaten exactly like this; panfried whole.  These were very nicely cooked, crispy and salty on the outside, moist and tender on the inside.  Heaven.  They're served by weight, so you could receive either two or three, depending on the size of the fish.
We were too full for dessert, so we passed.  Our total damage with tax and tip was somewhere around $100, which isn't cheap, but isn't that bad either.  We did, however, take a walk around the restaurant after dinner to check out more of the view.
After our walk, we headed back to the car and made our way back to Hawaii Volcanoes National Park for some night viewing.
If you're on the Hilo side of the island and looking for a place to eat, I'd definitely recommend checking out The Seaside, just know what you're getting yourself into and adjust your expectations accordingly.