If you could make a hobby out of tracking Elephants, I think that it would replace travel hacking as my preferred way to spend my time outside of work. I would start an elephant tracking hacking blog and write tips about how to find elephants faster, share how to get free safaris and even join a network of fellow elephant bloggers. Unfortunately, I don't see that happening anytime soon so I'll stick to travel.
Note from Jeffsetter: This post is part of a series of posts about my recent trip to South Africa. Posts include: South Africa Introduction, Westin Cape Town Review, Visiting Robben Island and More Adventures around Cape Town, Vuyani Safari Lodge Review, GoPro Flying, Safari Adventures 1 & 2, and Hyatt Regency Johannesburg Review.
First of all, thanks for sticking with me through this whole trip report. Your commitment to reading these stories helps me finish trip reports that seem to go drag on for weeks/months after the trip completes. In the event of this South Africa trip, we just did so many things AND I had such a good time that I want to preserve what happened on the blog. Plus, there are tons of photos that need to be published somewhere!
Let's wrap up the safari report by sharing what happened on our last night at the Vuyani lodge, during the evening and morning drives. The good news is we saved the best for last.
Drive #5: Monday Evening
After going on 4 game drives and seeing only 2 of the "big 5" animals of South Africa, it was feeling like we might leave the country without seeing all of the animals we hoped to see. Papa Jeffsetter and I were most concerned about seeing Elephants and Rhino's on our trip, so we kindly asked the guide if they could try their hardest to find us one of the two that evening.
As with the first two days on the drive, we had about 90 minutes of daylight to try and find elephants before darkness would set in and make tracking extremely difficult (and likely extremely dangerous as well), so we started trying to find signs of elephants.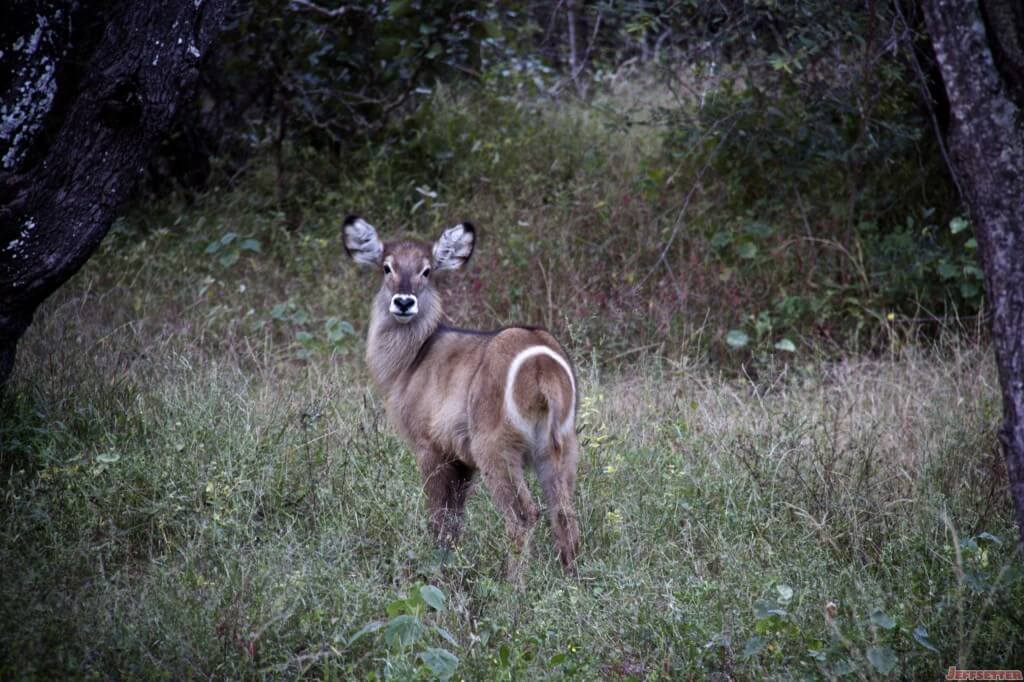 We drove through the park for around 30 minutes before picking up our first sign that elephants were in the area. Our tracker and guide both noticed the signs that elephants had been through the area within the past few hours. What were these signs? Hoof prints and trees that were recently damaged by gigantic beasts the size of elephants.
Once you see signs of elephants in the area, you start to try and determine the direction they were coming or going. Unfortunately for our group, they weren't following a straight line on the roads of the game reserve, but rather they were walking through the heavy bushes and trees at a diagonal direction from the roads where vehicles were allowed.
When elephants go off-roading you have two options: go off-roading to try and pick up the trail more closely, or go around in a big circle to the other side of the road where the elephants would come out if they continued in their direction. Neither is an exact science, but both of them are really fun.
We took the vehicle off road through a while as we squeezed through tight paths with all kinds of plant overgrowth on each side around us. Eventually we hit a dead end where the vehicle couldn't go through, so we had to go back to the road and take a more roundabout route.
Once we were back on the road, we started to make a crisscrossed pattern in the direction where elephants were heading to see if we could head them off. We just kept on missing them at each crossing – apparently these elephants were moving fast.
For a solid hour we criss crossed and zig zagged throughout the savanna to try and find elephants with no luck. It was getting dark, so we stopped the vehicle in a clearing to have our sundowner drinks and enjoy the sunset. I managed to snap a few photos of the sunset when a fellow safari guest noticed some shaking in the trees while he was "watering the bushes".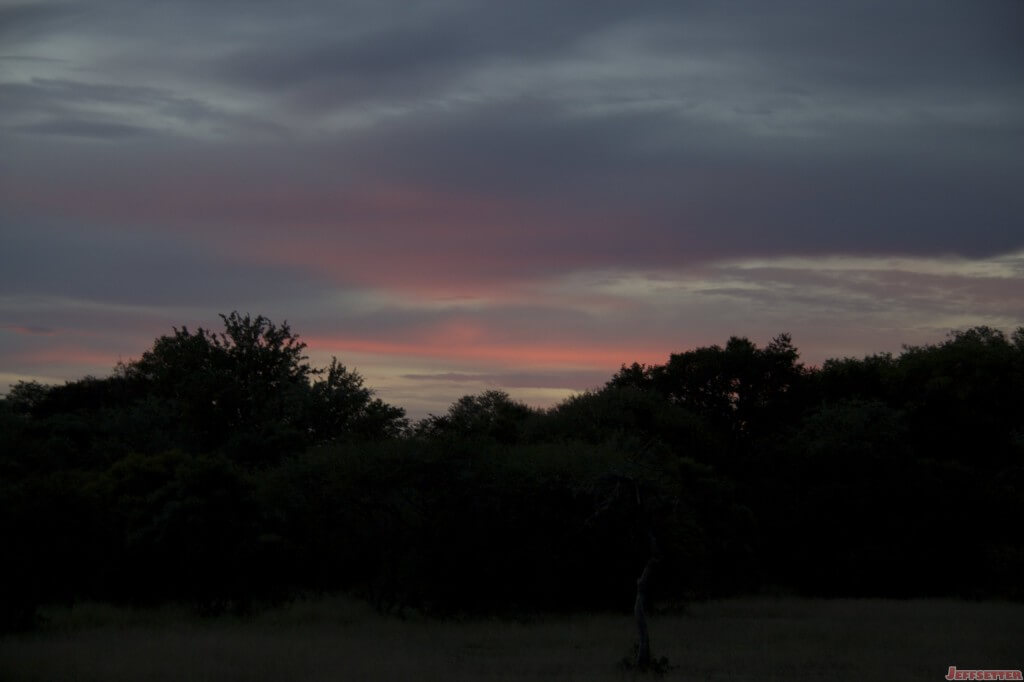 He came back hurriedly and told our safari driver that he saw something in the trees.
GET IN THE VEHICLE our driver said as he waited for an animal to appear.
Within minutes we were treated to something so beautiful it's hard to describe.
A bull elephant, larger than life and larger than our vehicle, walking steadily across a clearing within view of our vehicle.
We drove the vehicle closer as it walked further away from us and the entire group tried furiously to take photos and videos of the elephants in a very low light situation.
Our cameras wouldn't focus! There wasn't enough light! The elephant was moving too fast! This is where I am at best an amateur photographer. I had no idea how to get a good photo.
The best photo I was able to take is so blurry you can hardly tell it is an elephant.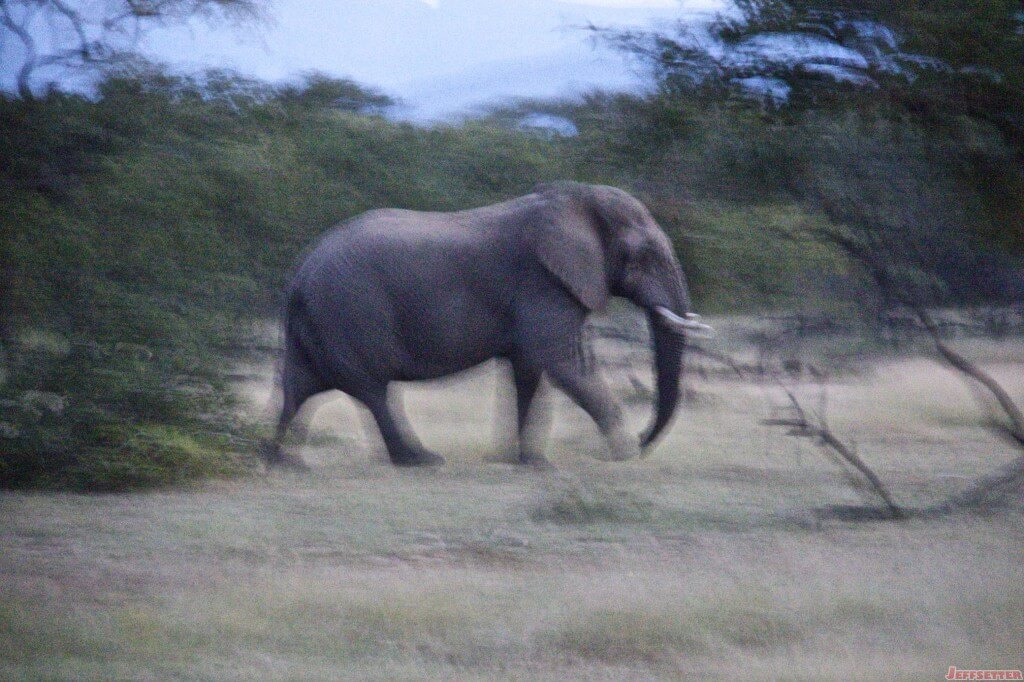 No big deal, of course – this is a memory that I wasn't going to soon forget. I would rather have the experience in my mind than a sharp photo.
Even better, Papa Jeffsetter had the foresight to record the event on his camcorder and to turn on the night vision feature. Here is the video he was able to get of the elephant:
After about 2 hours of tracking, we finally got to see our elephant, but that is not the best part.
The best part of the experience was that the elephant did not like us following him. He was just minding his own business walking through a clearing in the bush, and we were viewed as a threat.
What does an elephant do when they want to scare you off? They provide a demonstration of sheer force of course. In our case, the elephant took the lone tree in the clearing (probably a 10-20 year old tree) and ripped it out of the ground with its trunk, threw it down on the ground and kept on walking. It was the elephant equivalent of dropping the microphone in a rap battle. Don't mess with a bull elephant.
Of all of the things that we saw in Africa, that was the exclamation point at the end of it all!
While many people may have very similar experiences to ours if they visit Cape Town or go on safari, I'm not sure how many people will get to see an elephant take out an entire tree after being hot on their trail for several hours.
The rest of the evening drive was pretty quiet, but we didn't care – it was elephants we sought and elephants they delivered!
Drive #6: Tuesday Morning
With 5 drives and an elephant out of the way, our last drive was all about trying to find the trail of a Rhinoceros. Bright and early we drove faster than usual to try and find the Rhino trail as soon as the sun came up.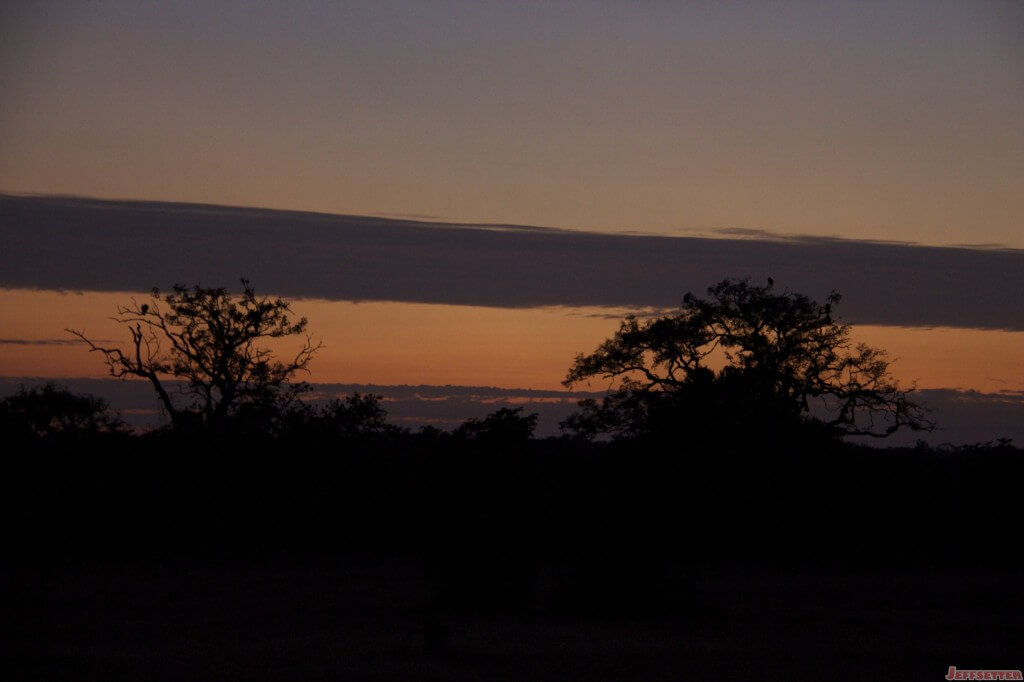 We did stop to take some pictures of Vultures on top of a tree and Zebras in a clearing, but other than that our eyes were only on the trail of the Rhino.
Our guide was so focused, in fact, that he didn't notice the incredible pink clouds in the sky behind us. I tried to take photos of this incredible morning sky, but the safari vehicle was too bumpy for my camera to get clear pictures. It took a solid 15-20 minutes of seeing this beautiful sky before we finally stopped long enough to get pictures. But once we did stop, I was able to snap-snap-snap some great pictures.
I experimented a bit with adjusting the exposure of the photo and that brought out an even more violent pink color from the sky. I could have spent all morning just photographing the sunrise – it was that beautiful.
But we were looking for Rhinos, so it was time to start the hunt again. We saw another Nyala and some Guineafowl, but no sign of Rhinos to this point.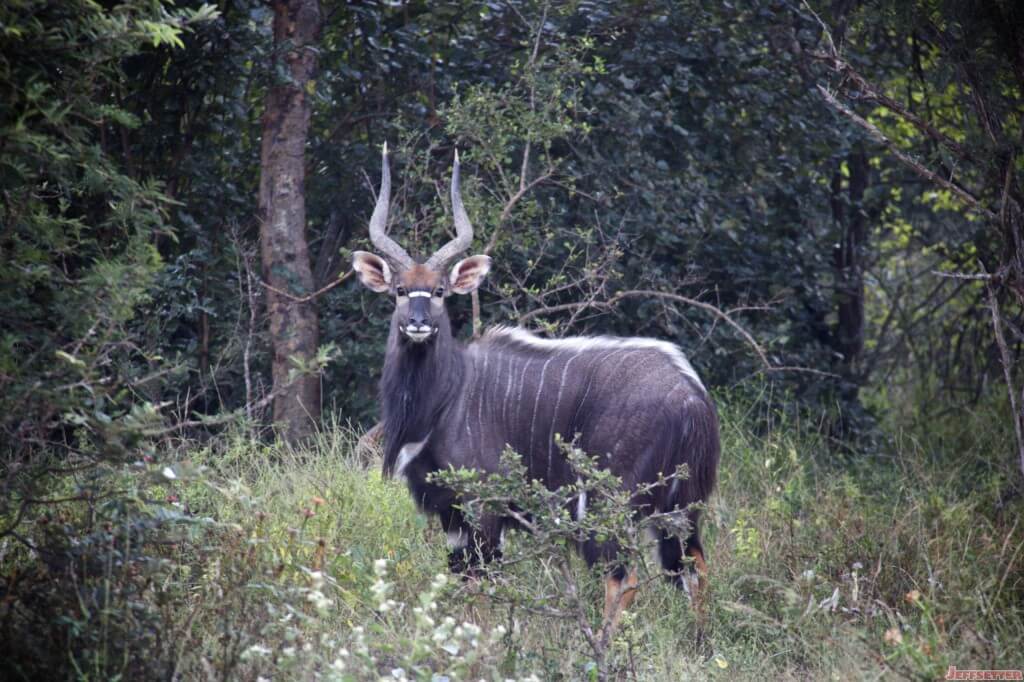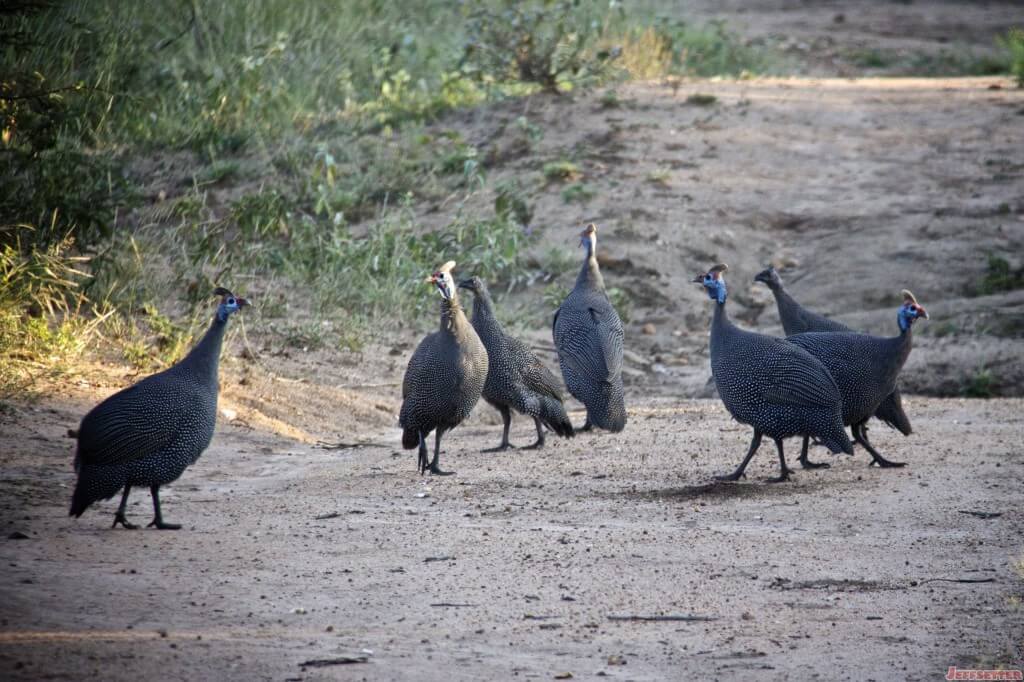 Finally, our tracker noticed Rhino tracks from the night before, so we started driving in the direction they were headed to try and find a stronger trail. We drove for about an hour, but the trail never got stronger.
It was beginning to look like a lost cause, so the guide took us to a lake to have our morning coffee. We stopped at the same lake as the first day, but this time there were no Hippos in sight. Instead, we just had a calm pond with steam on top of the water. These are photos that I may try to experiment with as an HDR shot as I get more comfortable with using those techniques.
After coffee, we never did quite get back on the trail of the Rhinoceros. Honestly, I'm just happy we saw as many animals as we did in a short amount of time.
Our last animal of the safari was an Eagle, a natural drone overlooking the savanna of South Africa.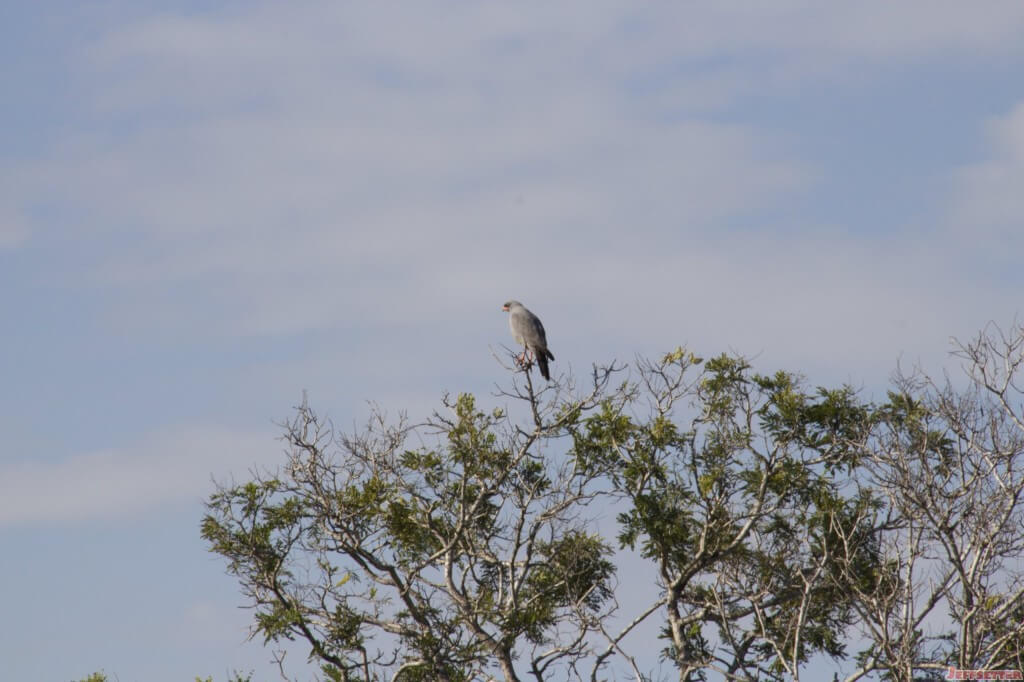 Overall Thoughts on the Safari Experience
There are few things I will wake up early for. A safari is now one of those things. Going on six game drives may seem like enough time to see every animal in the reserve, but it definitely was not the case for us. It would make more sense to stay for a full week in order to see everything.
Another option would have been to do a day-long trip to Kruger national park. A day long journey would have given us more opportunity to see animals than the 3 hour game drives to bookend the day.
I would definitely go on a safari again, but I might choose to go to another part of Africa to experience a different view and slightly different animals. Hopefully I will be able to write more on this in a future post.
If you are worried about your own safety or bugs or malaria or anything like that, I recommend doing a safari in South Africa, where many of these things were no concern to our group. We felt safe 100% of the time in our safari experience.