I've been buying Puna Chocolate for a couple of years now but have never been able to visit one of their physical locations until now. In the waning moments of our time on the Big Island, Mrs. Island Miler and I decided to pay the Puna Chocolate Hilo store a visit.
After enjoying our incredible FoodxJitsu omakase platter, Mrs. Island Miler and I needed to figure out what to do until we needed to head to the airport. After rummaging through Google Maps, I realized that Puna Chocolate had a shop nearby in downtown Hilo. Being that it was just five minutes away, we decided to stop by to buy a few last-minute items.
Puna Chocolate Hilo Store Location
The flagship Puna Chocolate Hilo store is located in the heart of downtown Hilo. Specifically, it's along Keawe Street a block north from the Hilo Farmer's Market and Kula Shave Ice. Unfortunately, parking in the area is street-only, though we had no issue finding some during our visit on a Sunday afternoon.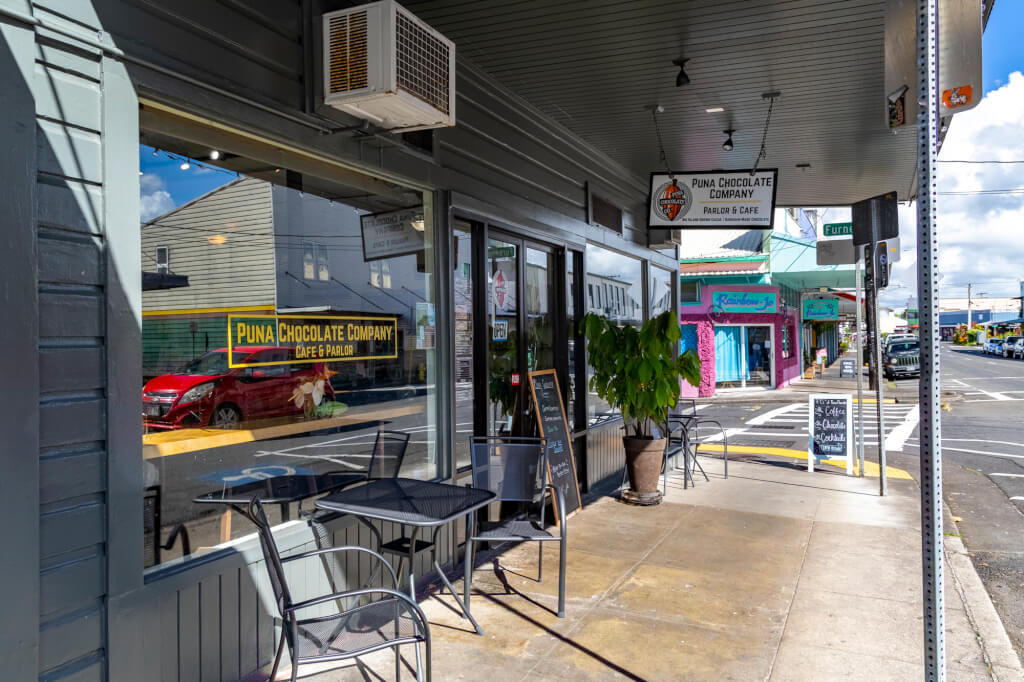 The Shop & Cafe
Inside the shop, you'll find everything you see on their online shop – well, mostly. You see, Puna Chocolate has locations in Hilo, Kona, and Illinois. There are a couple of exclusive items that are location-dependent, such as their turtles. In Hawaii, the turtles are made with macadamia nuts, while in Illinois, they're made with pecans. Otherwise, what you see here is mostly what you'll see online. That includes single-origin chocolate bars, flavored chocolates, other types of chocolate-based candies, a variety of their own macadamia nuts, a selection a Puna coffee, and a few nicknacks.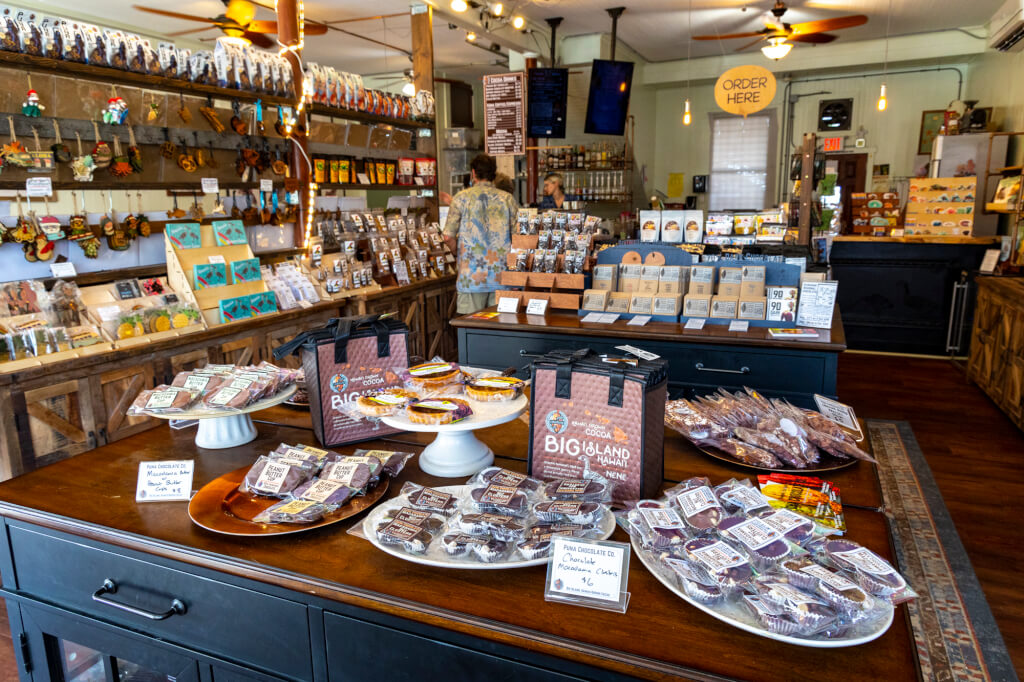 Behind all of the items is the cash registers and the cafe. Here, you can order a number of chocolate and coffee drinks, including Puna's frozen hot chocolate, which you can also buy in mix form.
I won't go into detail about their products here, as I've already reviewed severl of their single-origin bars in a previous post. That said, Puna Chocolates have a very unique flavor profile that, I believe, stems from the way they ferment their beans. Of course, the different bars have wildly different qualities based on which microclimates they're grown in.
We did buy a couple of bags of frozen hot chocolate mix and they're pretty good. While still sweet, they're not the same sugar overload you'll experience with others like the original.
Final Thoughts
If you love chocolate are in the area, I urge you to check out the Puna Chocolate Hilo store. Its an interesting place with a great variety of stuff to buy for yourself and as gifts. Of course, you can always order online and have your stuff shipped. Pay particular attention to their seasonal items. Their truffle bars are a particular favorite of mine!
Big Island 2022 Trip Report