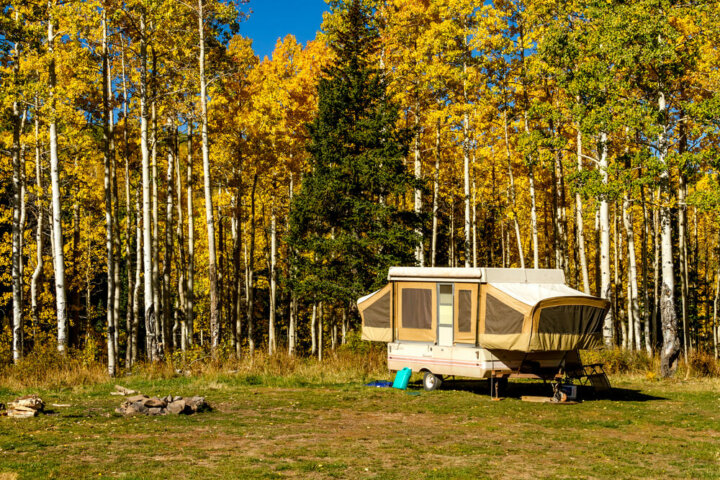 All of our reviews are based on exhaustive research, industry experience and whenever possible, hands-on testing. When you make a purchase using one of our chosen links we'll get a small percentage of the proceeds. This supports the site and keeps Jeffsetter running. You can read more here.
When it comes to finding an RV that suits your lifestyle, you may be surprised with what you find in the when pop-up camper category that is available on the market currently. Pop-up campers are unique for a number of reasons, but are they right for you, and what might some of the best options be for you to consider?
In this article, we will go over what exactly a pop-up camper is as well as what you should consider in a pop-up camper before purchasing one. Finally, we will even give you a list of some of the best options currently available on the market in case you are interested in checking them out in more detail.
If you are planning on purchasing a pop-up camper for your RV lifestyle, read on to learn about everything you should consider before making your final purchase. Only interested in checking out our expertly curated list of pop-up campers available in 2022? Use our table of contents to navigate to this list now!
What is a Pop-Up Camper?
A pop-up camper is a towable RV that can be collapsed and raised, depending on whether or not it is in use. There are tent pop-up trailers and hard-sided pop-ups too, but the main difference separating them from traditional travel trailers is the fact that they have the ability to take up less space when stored away.

Because of their moving components and the delicate parts involved, many RVers don't trust the long-term stability of pop-up campers. However, these rigs are incredibly affordable and they offer you enough protection from the elements to allow you to camp in more seasons and weather conditions than regular tent camping alone.
Another huge perk to pop-up trailers? They're lightweight and easy to tow, rarely weighing over 3,000 pounds. The average car can handle that, even simple sedans. This makes camping more accessible than ever, especially for those of you that aren't quite ready for the great outdoors!
Given their affordable price point and overall amenities, there are a number of reasons to consider a pop-up camper for your lifestyle. But is it exactly what you're looking for? Let's discuss everything that's involved when it comes to choosing a pop-up trailer now!
What to Consider in a Pop-Up Camper
From your floorplan to whether or not you have a bathroom onboard, here's everything you should consider before falling in love with a pop-up camper.
Length and Weight
Depending on your existing tow vehicle, the overall length and weight of your pop-up camper matter. Thankfully, no pop-up is going to be as large as a fifth wheel, but the weight is something that you should always keep in mind if you are purchasing a towable RV.
While length greatly affects your safety on the road, most pop-up trailers won't be longer than 20 feet. This is a safe and easy length to tow, especially when you consider the fact that pop-up trailers are flat and low to the ground when being towed.
However, weight ultimately affects your safety the most, and you should make sure to never tow beyond the weight limit of your tow vehicle. This can be incredibly dangerous both for everyone traveling as well as for the overall health of your tow vehicle. Thankfully, most pop-up campers weigh under 3000 pounds, so just keep this in mind as you shop.
Floor Plan and Layout
You would be surprised at just how many different floor plans and layouts there are available for pop-up campers. Given the fact that they collapse and inflate, there are plenty of options and opportunities to find something truly unique in the RV layout world.
While it might be difficult to figure out without already owning an RV, it is important to determine what floor plan layout you are looking for before you make your final purchase. Thankfully, most RV manufacturers offer comprehensive images and video tours so that you can find an RV that works well for you without seeing it in person.
When it comes to finding a pop-up camper that you like, there are countless floor plans and layouts to choose from. Something to keep in mind is that pop-up campers don't have quite as many amenities as the average travel trailer or motorhome, likely due to the fact that there are no solid walls on a pop-up trailer.
However, you can still find floor plans that sleep plenty of people, and there are even options with full kitchens and bathrooms. These types of RVs are more difficult to find, but they are indeed possible. You may just need to make sure that fully loaded pop-up campers don't weigh too much for your tow vehicle!
Number of Sleeping Arrangements Needed
Speaking of floor plans, you should make sure that you purchase a pop-up camper with an adequate number of sleeping arrangements. While you may have a varying amount of guests camping with you at any given time, you should have an average number of campers in mind before purchasing an RV.
Depending on the pop-up camper that you choose, some options have more designated sleeping areas than others. You may find that a pop-up camper resembling an open-concept tent is a better option for you than a trailer with designated sleeping areas, especially if these sleeping areas are simply Queen bedrooms.
If you are traveling with many single individuals, you may prefer something with a floor plan that allows you to sleep multiple people in their own beds. However, if you know that it is just you and a partner traveling primarily in your pop-up camper, this likely isn't something that you need to worry about.
Bathroom Type and Amenities
If you are anticipating a residential-style bathroom on board a pop-up camper, you may want to adjust your expectations. This is because most pop-up campers either don't have bathrooms on board or simply have a portable toilet and outdoor shower option on average. You may get lucky and find a more traditional style of bathroom, but these RVs rarely have traditional bathrooms onboard.
This isn't to say that you are completely out of luck in terms of your bathroom amenities. You can definitely find options with simple wet baths on board, which means that the entire bathroom area is designed to get wet. In addition, finding a pop-up camper with portable toilets is extremely easy, and this may be all you need to feel comfortable while camping.
If a proper bathroom is something that you desperately need on board an RV, you may want to consider a more traditional travel trailer rather than a pop-up camper. Another reason why most pop-up campers don't have traditional bathrooms is because of all of the weight limits involved. Between the holding tanks and the plumbing necessary, this tends to make RVs much heavier!
Boondocking Capabilities
Also known as dry camping, boondocking is your ability to camp off-grid, disconnected from traditional RV hookups and utilities. Pop-up campers are ideal for this type of setting, given the fact that they are lightweight to tow just about anywhere.
Some pop-up campers are made specifically for boondocking, with added solar power amenities and superior tires or chassis options. This allows you to bring your RV wherever your journey may take you, even if the road gets a little rough.
Many people enjoy pop-up campers while boondocking because it gives you the freedom to go where you want, but you still have more shelter than if you simply brought a tent along for the ride. If you are a true adventurer, you may want to keep an eye out for any pop-up campers that offer boondocking features!
Durability and Brand Name
When it comes to shopping for pop-up campers, choosing something that is durable and backed by a reliable brand name is a good idea. The reason why many people opt not to purchase pop-up campers is because of their materials, but most of these types of trailers get a bad rap.
Nowadays, pop-up campers are made of heavy-duty tents materials and much of the same stuff as travel trailers are made of. You can find pop-up campers that last decades if they are properly cared for and stored well. However, keeping an eye out for brand names that are reliable as well as durable is always a good idea.
If you are worried about the overall longevity of your RV, you may also want to keep an eye out for RV manufacturers that offer comprehensive warranty plans and programs. Should something go wrong with your new pop-up RV, having a warranty to back you up may be something you are interested in.
Four-Season Capabilities
Before you purchase a pop-up camper, you should know just how well it can handle all four seasons. Depending on what you go with, some trailers are truly built to handle both the heat of summertime and the frigid temperatures of winter. However, is this true for all pop-up campers?
At the end of the day, some pop-up campers are only built to be tents on wheels, with some overhead stability but not much in terms of creature comforts. Not every pop-up camper has a heater or an air conditioner, and the lack of insulated walls and maybe something that doesn't appeal to you.
However, at this price point, most pop-up campers go above and beyond in terms of what they can offer you. Despite most of your walls being made out of tent materials, you may find that your pop-up camper still has a heater and an air conditioner, and you may end up feeling far more comfortable than you ever imagined!
Interior Design and Style
Pop-up campers don't have too much to offer in terms of their style and design choices, especially when compared with other RVs. However, you may be seeking something with a bit more luxury and personal touch than the average pop-up trailer.
For example, a more rugged appearance may be what you are looking for, or perhaps you want beautiful laminate flooring inside of your pop-up trailer. Regardless of what you are looking for, just know that most pop-up trailers can't offer the same level of style as other RVs, given that there are no solid walls and rarely full amenities found within.
More often than not, the unique appearance of a pop-up camper is enough to draw the eye and gather attention. The way that pop-up campers collapse and inflate appeals to a number of people, and you may not be worried about the overall design choices involved!
Budget
The final consideration for you to think about before purchasing a pop-up camper has to be the price point or budget you can safely shop at. For the most part, pop-up campers are extremely affordable, ranging anywhere from under $10k to over $30k. When it comes to RV purchases, this is almost negligible.
Your budget may be directly affected by how often you plan on using your trailer. If you only plan on camping a couple of times a year, with your pop-up camper stored safely in your garage the rest of the time, you may not need to spend too much. But if you want to camp every month or more, choosing something that is a bit pricier may help with your durability.
However, choosing something at a fair price point that will also last you a decent amount of time can be more difficult than you think. Be sure to do your research and budget accordingly, as your pop-up camper will still be an investment!
The 9 Best Pop-Up Campers of 2022
If you are feeling confident in all of the things that you should consider before purchasing a pop-up camper, here is our list of 9 of the best options currently available. Whether you are an adventurous boondocker or simply looking for something on a budget, here are our best pop-up campers of 2022!
Multiple floor plans, including bathrooms
Outdoor or indoor kitchen options
Under 3,000 pounds
Not equipped for winter conditions
Forest River makes a number of reliable RVs, and the Rockwood is no exception. There are a few different versions of the Rockwood pop-up camper, but the tent version has everything you need at a lower price compared to the hard-side option. Let's take a look at everything it has to offer in more detail now!
One of the main reasons why the Rockwood tent takes our best overall spot is because of its customizable options. You can add a cassette toilet and shower, an air conditioner, solar panels, and much more. Plus, it has just about everything you need to enjoy a longer camping experience, included standard.
There's an outdoor kitchen on some models, and some floor plans even have an indoor kitchen with a gas grill. You have two large sleeping areas located at either end of the pop-up, and both double size mattresses are heated so that you can stay warm in most seasons.
In terms of your weights and measures, the Rockwood never reaches longer than 21 feet while towing, and weighs no more than 2600 pounds. While you should always make sure that your RV weight is an appropriate amount for your tow vehicle, it is unlikely that the Rockwood will be too heavy for your car.
There are different versions of the Rockwood as well, some with hard-sided walls and others that are built for more simple camping adventures. No matter which version you choose, this pop-up camper can tow or store recreational vehicles atop it while you move it, giving you additional storage solutions for your kayaks or bicycles.
All in all, this is a fantastic option at a fair price. If you are seeking something that is more four-season ready, you can always check out the hard-sided pop-up option available for the Rockwood. However, the tent version may end up being all that you need!
Extremely lightweight and easy to tow
Full interior kitchen as well as a bunk bed option
Hard-sided walls and roof
Very compact and may not suit the whole group
Under 13 feet long and 1300 pounds, the Aliner Ranger 10 is a great choice for those of you shopping on a budget, but still hoping for something that works for your small family. While this may surprise you, the Ranger 10 can still sleep up to four people inside, with a convertible bed area and bunk beds on the opposite wall. Let's take a look at it in more detail now.
There are two available floor plans for this camper, one that is made for families and another that works well for couples. The rear dinette converts into a large sleeping area and the front of the trailer is full of counter space for your interior kitchen. There's no bathroom on board this RV, but it is simply too small to handle one!
One of the main perks of this particular pop-up camper is the fact that it is an A-frame with hard sides. This means that you have more room above your head, giving you plenty of space to stand up and move around your RV, and you also have proper walls. This will keep your RV more temperature-controlled, no matter the season.
While you have an outdoor shower, there is no portable toilet on board this RV. However, you may be easily able to fit one in the available interior storage compartments. Speaking of storage, there's plenty for you inside, with the option to add rear gear holders if you need them for bicycles or kayaks.
However, this pop-up camper is extremely small and may not work for everyone. If you plan on traveling with a larger group, definitely find a larger option!
Plenty of sleeping arrangements for the whole family
Lightweight and easy to tow
Indoor kitchens on almost all floor plans
Interior design is very boring
If the Ranger 10 seems a little small for your needs, you should definitely check out the Coachmen Viking. This particular pop-up camper is great for those of you hoping to sleep a large group of people, as it has multiple queen-size beds as well as smaller twin beds throughout. Let's check it out now!
The Viking is available in a number of different floor plans, some of which are capable of sleeping up to 8 people. You also have a kitchen inside or out, depending on which layout you choose. While the largest Viking option broaches 3000 pounds, it is still compact and easy to store when not in use.
Aerodynamic and easy to drive, the Viking is designed to be simple and effective. You have tent pop-outs that allow you even more space for sleeping and lounging, and some options have outdoor showers as well as portable toilets. You can also get special off-roading or outdoorsy packages to further benefit your 4 season camping adventures.
Plus, most options have rooftop air conditioning units as well as heaters. The Viking also offers you some exterior rooftop storage so that you can still bring everything along without having to worry about fitting it inside of your collapsed RV.
The Coachman brand name may not be everyone's favorite, but it's definitely worth looking into if you want to sleep a number of people inside of a pop-up camper. Make sure that this option isn't too heavy for your tow vehicle, but it's definitely worth checking out!
Incredibly spacious interior design
Plenty of storage, inside and out
Fantastic off-grid and boondocking amenities
Only sleeps two people
Weighing only 2300 pounds, the OP Lite from Opus is a great choice for those of you with small tow vehicles but the desire to get out there. Not only is it incredibly lightweight, but it allows you to go off-grid, off-road, and stay out of sight for multiple days at a time. Let's take a look at everything this pop-up camper has to offer.
Opus specializes in adventurous trailers, most of which are pop-ups. This is one of their smallest models, only sleeping 2 people comfortably. However, this brand name offers multiple additions so that you can bring along more people as well as have extra room to lounge. You may not even need this, however, once you see how spacious the interior is on this pop-up!
These pop-up campers are unique in that they utilize inflation technology. This allows you to set up your entire tent at the click of a button, and everything only takes a minute and a half to get set up. You have an outdoor kitchen, a portable toilet, and a dedicated dining and sleeping area inside, with 8-foot ceilings to boot.
Plus, you have off-roading capabilities in the chassis, hitch, and tires. You also have propane, solar, and water tanks to give you a couple of days of off-grid camping without an issue. The price point may be high on this one, but it's definitely something to consider if you are adventurous and seeking something lightweight!
Great price point and stylish
Fantastic convertible interior
Plenty of storage while in motion
Doesn't have a kitchen or bathroom
Speaking of lightweight pop-up trailers, you should definitely check out the Sylvansport Go Camping trailer. This camper starts at $11k, making it budget-friendly as well. Plus, once collapsed, you can easily store this RV just about anywhere you can imagine. Let's check it out!
One of the coolest things about this particular pop-up camper is the fact that you can convert the interior to just about anything you need. You can have two twin beds, a designated dining area, or a large bed that spans the entire width of the trailer itself. While this particular RV won't have all the bells and whistles you might be looking for, it is camping at its finest and simplest.
This camper only weighs 840 pounds, something that is unheard of in the RV world. You also have the option to store things on the roof of the vehicle while it is in motion, and there's even an additional storage rack found beneath the tent compartment. This gives you room for everything as well as a lightweight frame to put it on.
If you are simply looking for a tent on wheels, this is the best option for you. It's easy to set up, store, and maintain, but it doesn't have any traditional RV amenities such as a bathroom or kitchen. You can also only sleep 4 people inside, but this might be just what you are looking for!
Under 2,000 lb and full of amenities
Complete kitchen and bathroom on board
Can sleep up to four people
You may be looking for more bells and whistles
If you are an adventurous couple hoping to camp for a long period of time, you should definitely check out the Aliner Expedition. Weighing under 2,000 pounds, but still complete with everything you need to camp in comfort, this option is perfect for couples and small families. Let's check it out in more detail.
This particular camper has a more traditional RV layout, with either a sofa bed or permanent size bed at the rear of the rig. Toward the front, you have a designated dining area that is also convertible in case you need to sleep more individuals inside. Plus, you have a fantastic kitchen with a refrigerator, as well as storage for your portable toilet.
The exterior of the Expedition is hard and capable of handling all four seasons, making it great for those of you who camp year-round. Plus, it is attractive and has an A-frame appearance, giving you plenty of interior height for those of you tall campers out there.
You even have the option to add an outdoor grill or cooking area, as well as an off-roading package. There are other boondocking features for you to consider as well, but this particular RV manufacturer may not be able to give you all the bells and whistles you need right away. Definitely, something to keep in mind, but this pop-up camper is memorable!
Fully formed travel trailer when set up
Designated dry bathroom and fully equipped kitchen
Lightweight and less than 18 ft long
Price point may be higher than average
If you are looking for a more traditional RV but on a pop-up frame, you should definitely take a look at the TrailManor 2518. This camper may cost a bit more than all of the other options on this list, but it fully resembles a regular travel trailer once it is set up. Let's take a closer look at it now.
Weighing 2600 pounds or under, this travel trailer meets pop-up is a great choice for those of you hoping to have a fully-realized interior design. Upon stepping into this camper, you'll notice that it has proper wardrobe storage, designated sleeping areas, and a spacious kitchen.
Given the hard sides available on this RV, you can camp in all four seasons. It has an air conditioner option as well as a heater, and you have the toilet and shower on board. This means that this pop-up camper is great for camping year-round, though you may need to take some care with it if you choose to go off-roading at all.
If having a designated dry bathroom wasn't enough, you also have the option to add solar panels, an awning, and exterior storage racks for your bicycles. However, the price point on this RV might be higher than you're hoping to spend on a pop-up. While it may likely fit in your home garage, definitely keep the price in mind!
Countless amenities, including AC and heater
Sleeps up to 6 people and inflates in 5 minutes
Tested to withstand four-season weather and road conditions
A bit heavier and more expensive than average
If you enjoyed our last Opus pop-up camper but want something with a bit more to offer, check out the OP 4. While it may be a bit expensive, this is the pop-up camper that has everything you need and is capable of going anywhere. Let's take a look at this rugged option now.
Opus tests its pop-up campers relentlessly, with air and rain tests as well as off-roading tests. They are tough as well as luxurious, with well-appointed interiors and plenty of space for everyone. In fact, this option sleeps up to six people, with a complete outdoor kitchen and a portable toilet, and an outdoor shower.
The amenities and features on board this RV are countless, with enough off-grid capabilities for multiple days at a time. You have exterior tent options so that you can expand your interior living space if the weather is good. Speaking of the weather, this RV has an air conditioner and a heater for four-season camping, no matter where you are.
You have plenty of exterior storage for bicycles and kayaks, and the entire rig weighs just over 3,000 pounds. While this may be a little heavy compared to other options on this list, this pop-up camper is truly made for the adventurer as well as a larger group of people hoping to get off-grid.
Hard sides mean you can camp all year long
Great kitchen and bathroom amenities
AC and heat options are available
Maybe a bit heavy compared to other options
Boasting itself as the best of both worlds, the Forest River Flagstaff hard-side camper is a great choice for those of you hoping for something that will get you through all year long, no matter the weather. Plus, this option still collapses and stores easily. Let's check out our runner-up for our best overall choice now.
Complete with a comprehensive kitchen and outdoor griddle and shower, you have almost all the amenities you could want onboard this hard pop-up. You also have a heater and an air conditioner, as well as the option to add solar should you need it.
The Flagstaff weighs less than 3,000 pounds, making it easy to tow. Plus, the entire RV collapses and is easily stored in your garage or home property. While it doesn't exactly look very fancy inside, it gives you everything you need to camp comfortably, and at a fair price too!
Final Thoughts
Choosing a pop-up camper that is lightweight and convenient might be easier after reading our comprehensive list. Whether you plan on camping frequently or simply want something that makes camping more comfortable, there is a pop-up camper out there for you to enjoy!