Our flight home from our Labor Day Weekend PNW Adventure was Alaska Air 103 Seattle to Honolulu. This was probably the most convoluted flight we've ever had with Alaska, though it was nowhere near as bad as what others had been experiencing last year.
We got to the airport early on our departure day for a couple of reasons: chaos and the extra two boxes we were lugging back with us. Unfortunately, SEATAC was a complete circus! To ease our logistics, I dropped Mrs. Island Miler off at the terminal before dropping off the car. However, the congestion at the airport was so bad that it took us 30 minutes to get from the ramp from I5 to the terminal. Then, it took me another 15 minutes to get the car back to the CONRAC.
Thankfully, I finished dropping off the car by 9:09 am and made it back to the terminal by 9:16 am – 2 hours ahead of our scheduled departure time. But things only got crazier from here.
Alaska Air 103 Check-In & Ground Experience
Inside the terminal was like a mosh pit. There were so many people everywhere that we ended up waiting in line for quite a while to get our bags tag – a necessity because Alaska discontinued their print-at-home service and because we now had four checked bags and boxes. The bag drop bag was equally long. By this point, we were rushing to get through security, make a bathroom stop, and get something small to eat, so I can't tell you how long it took us to get to our gate in the North Satellite. But we did have enough time to relax a little in the holding area.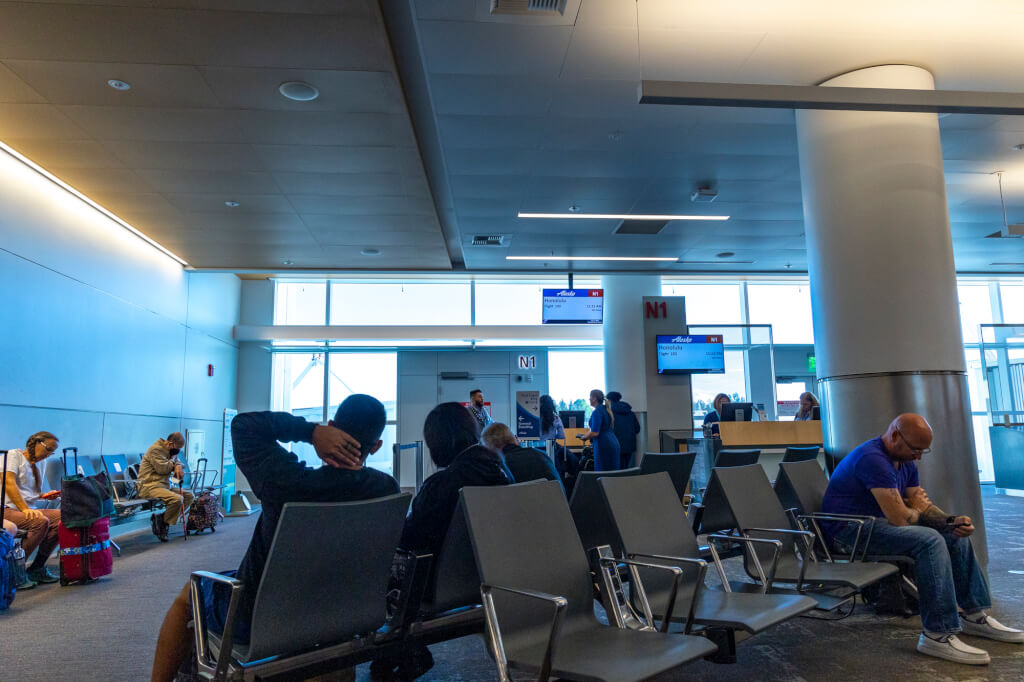 Our scheduled boarding time of 10:35 am came and went. Apparently, the flight before ours was stuck at the gate due to a maintenance issue. In the meantime, our inbound aircraft was holding somewhere, waiting for space to open. Eventually, I noticed in the app that our boarding time was updated to 11:20 am, and our gate changed to D2. Knowing we had to trek back to the central concourse, we picked up our bags and made our way to the tram.
As we walked away, ground crews made their formal announcement, spurring everyone else to do the same. Minutes after we arrived at D2, our gate changed again to D5. Luckily, that wasn't a significant change, though the holding area here is AWFUL. There are far too few seats for a Boeing 737-800! Even standing was difficult due to the lack of space. How on earth is this space used for anything but Horizon flights?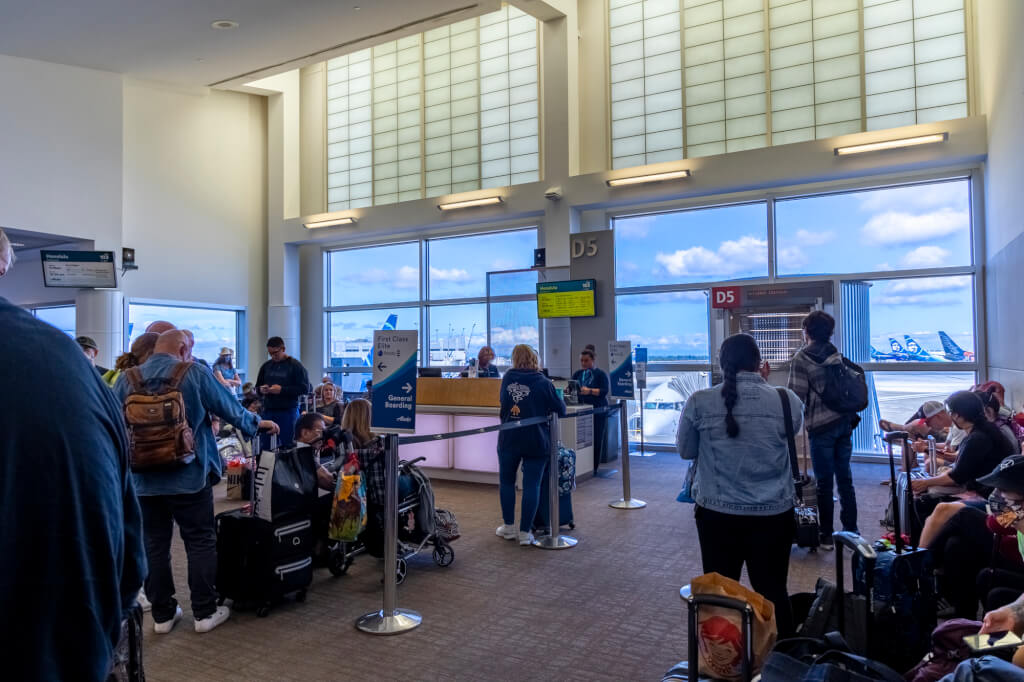 Anyway, our aircraft eventually pulled into the gate at 10:45 am. Naturally, they had to offload everyone from the earlier flight and re-provision before we were able to board.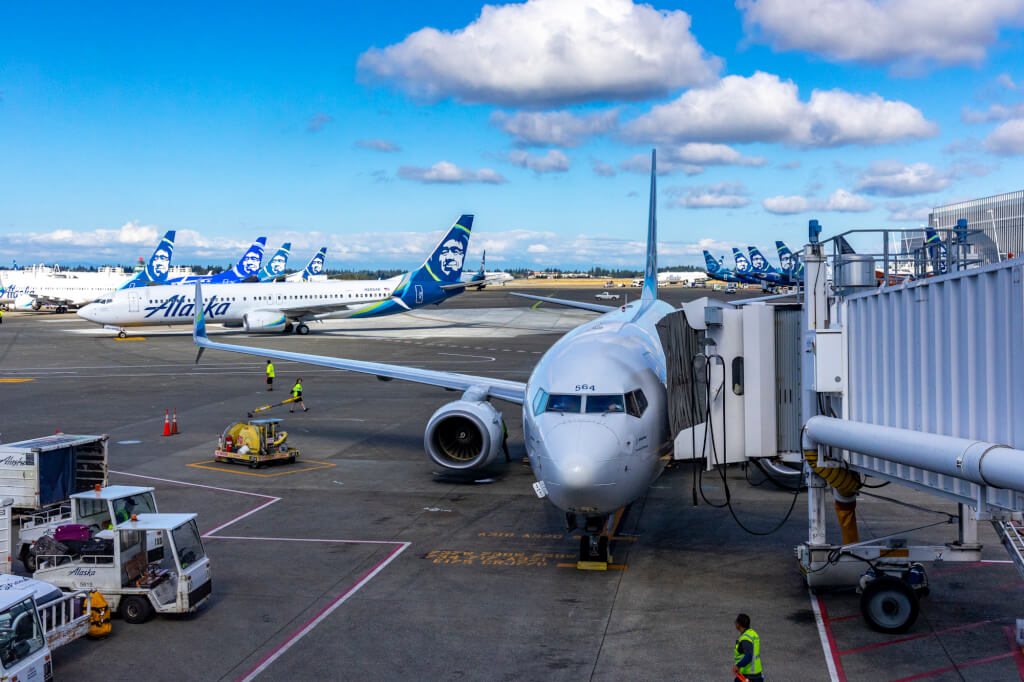 Alaska Air 103 Boarding
Miraculously, the preboarding call for Alaska Air 103 came at 11:09 am. However, three minutes later, gate agents announced that they had to stop the boarding process for a maintenance hold. 15 minutes later, they restarted boarding with first class passengers, followed by Group A at 11:29 am. Our group – B – was called a minute later.
Our 100% full flight loaded up quickly, but then at 11:51 am, our captain announced another 15 to 20-minute delay for refueling. Finally, at 12:27 pm, the cabin door was closed.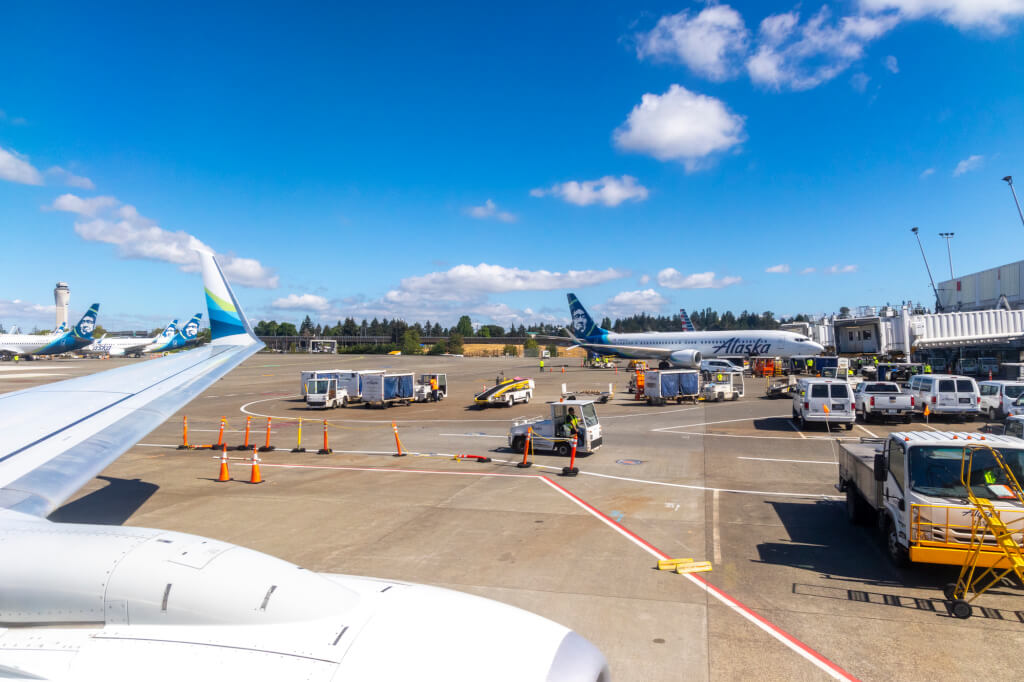 Alaska Air 103 Departure
Throughout all of this, the departure time for Alaska Air 103 slipped from 11:15 am to 11:45 am and finally to 12:30 pm. In reality, we ended up pushing back at 12:32 pm – a full hour and 17 minutes late. Our captain quoted a 5-hour and 36-minute flight time as we made our way to our departure runway.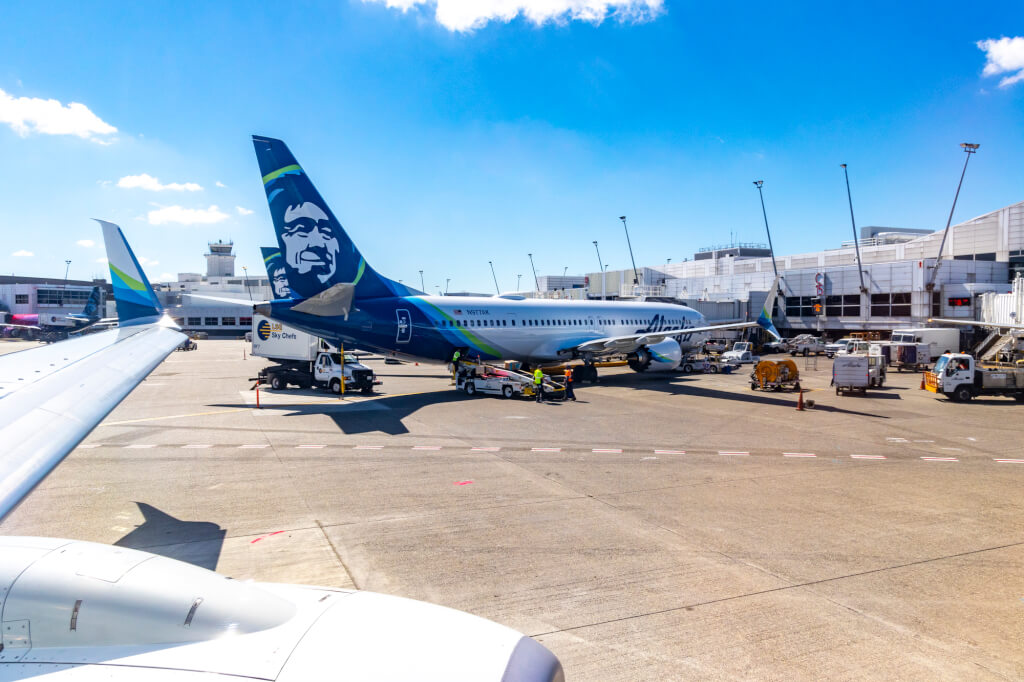 While I would've loved to check out the giant new walkway at SEATAC, we didn't have time to trek across the airport. However, I did get to see it as we taxiied. I also saw some of the last few Horizon Q400s on the ramp.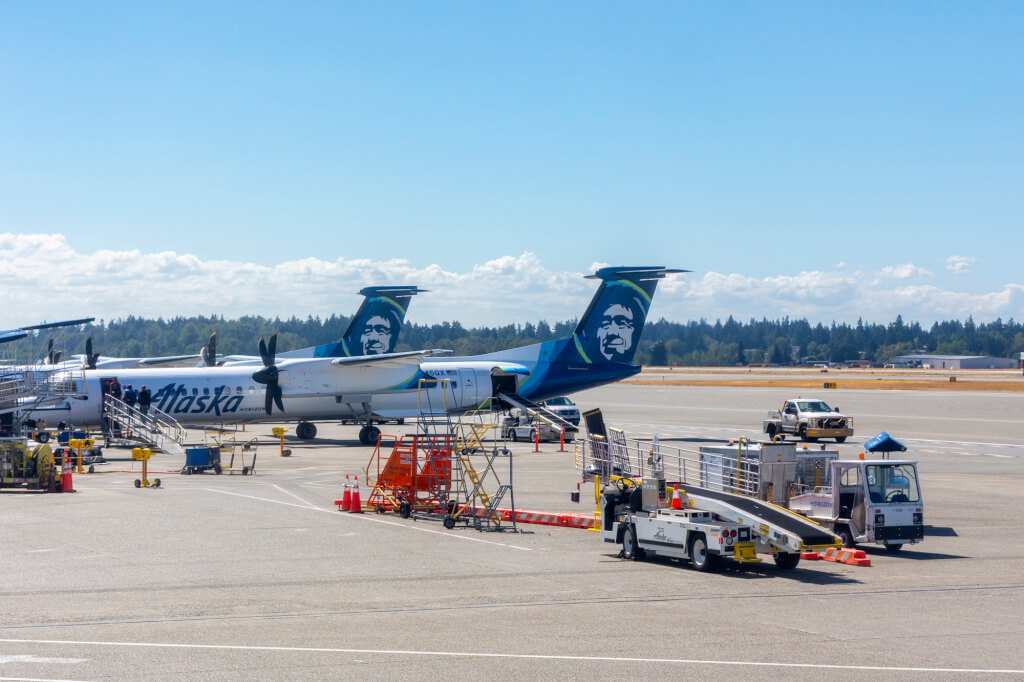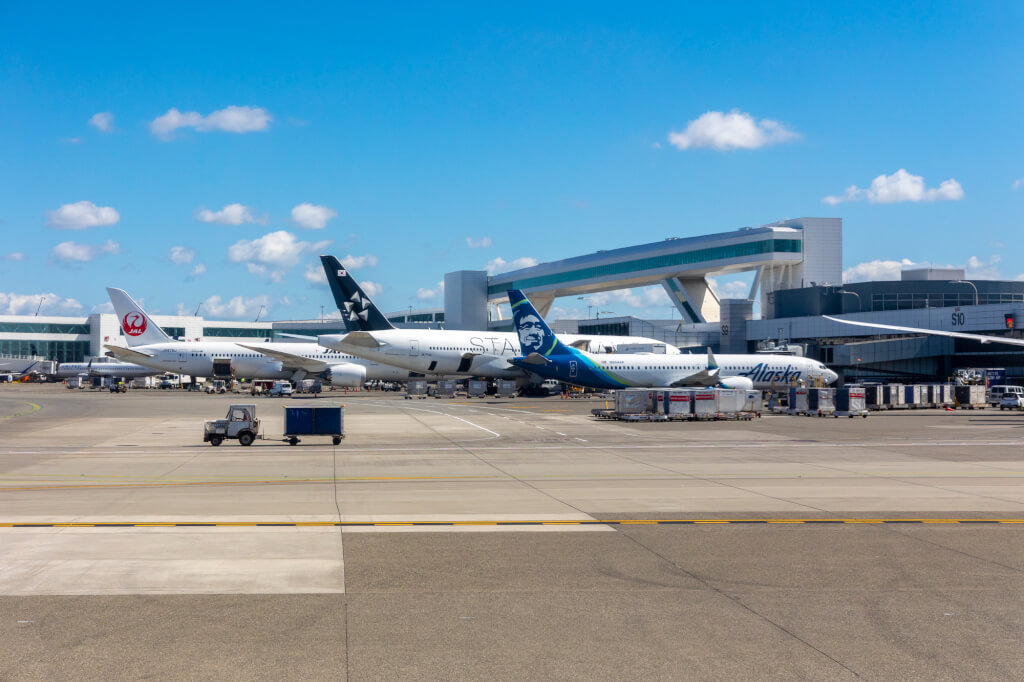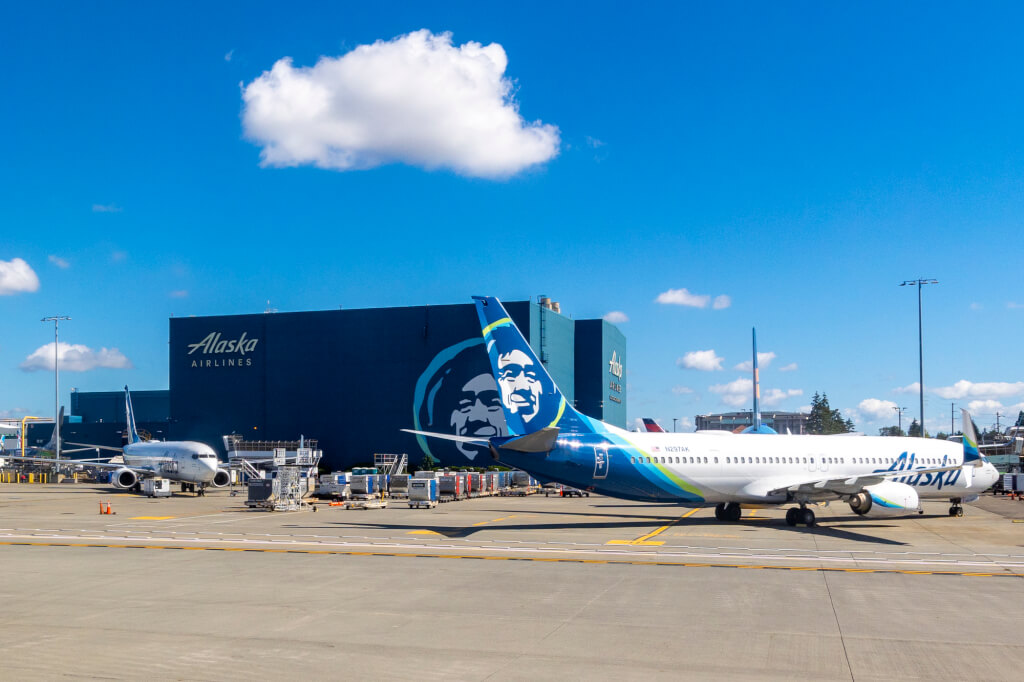 We arrived at SEATAC's runway 34R at 12:43 pm. Two minutes later, we began our takeoff roll and rocketed off into the sunny, beautiful PNW summer day.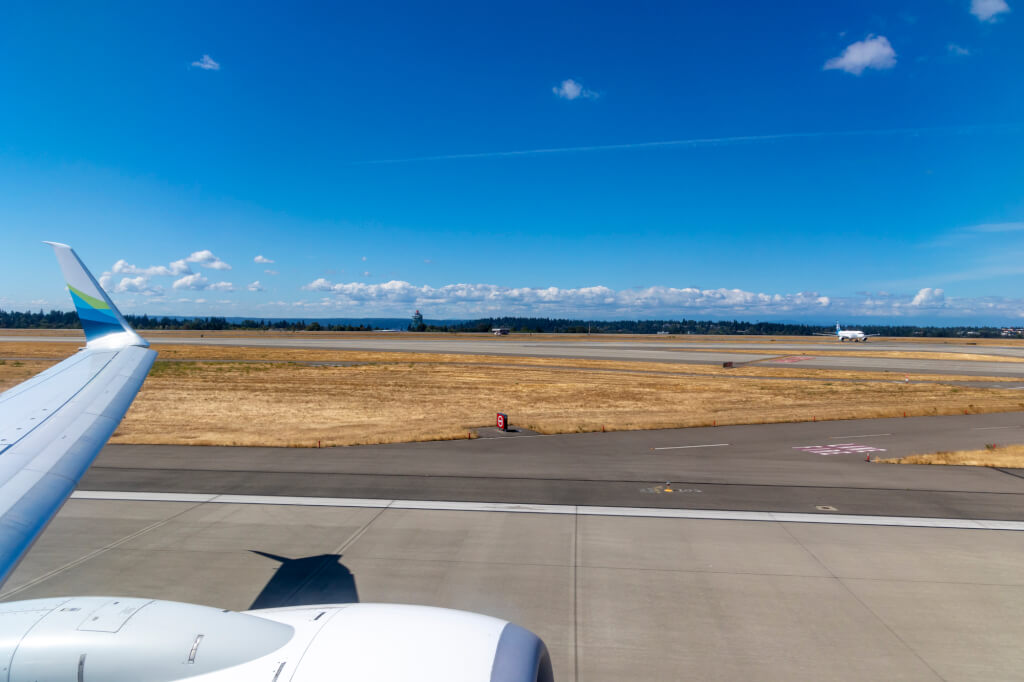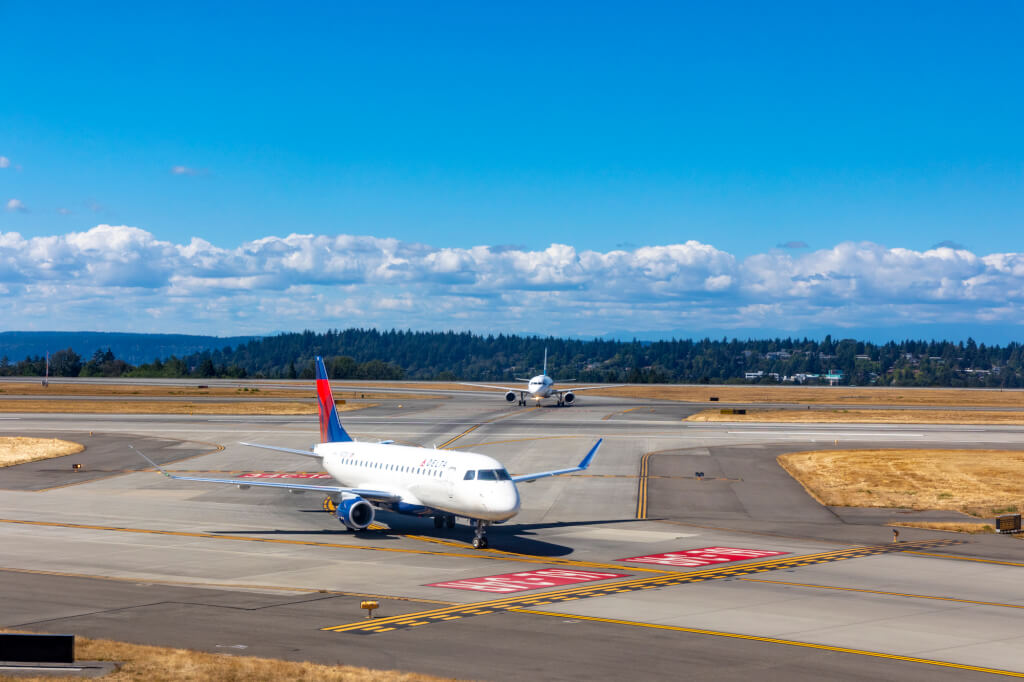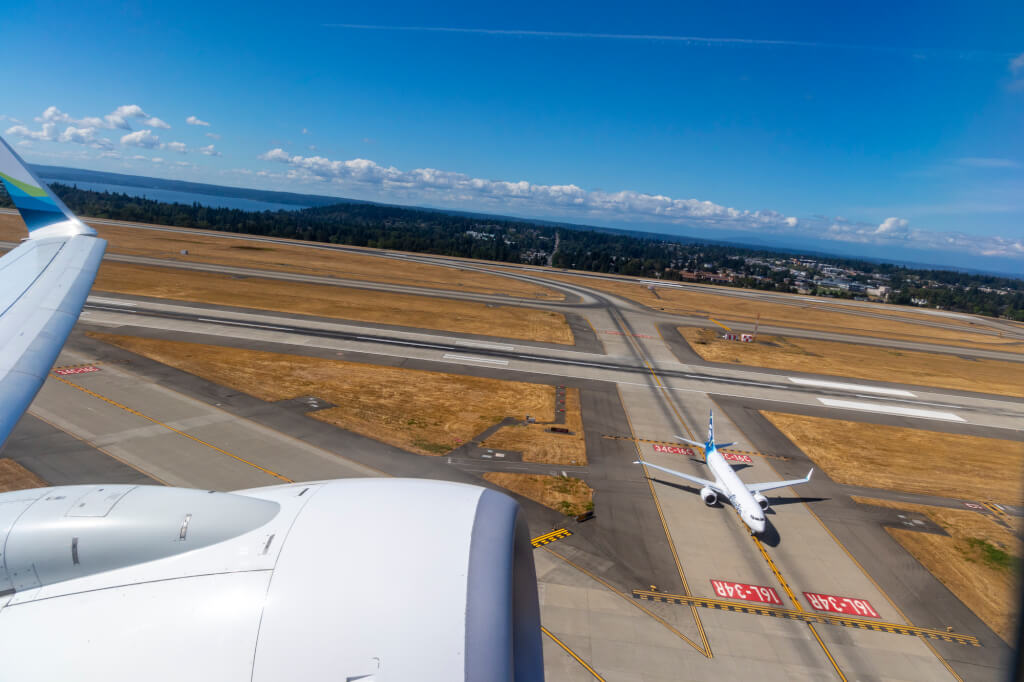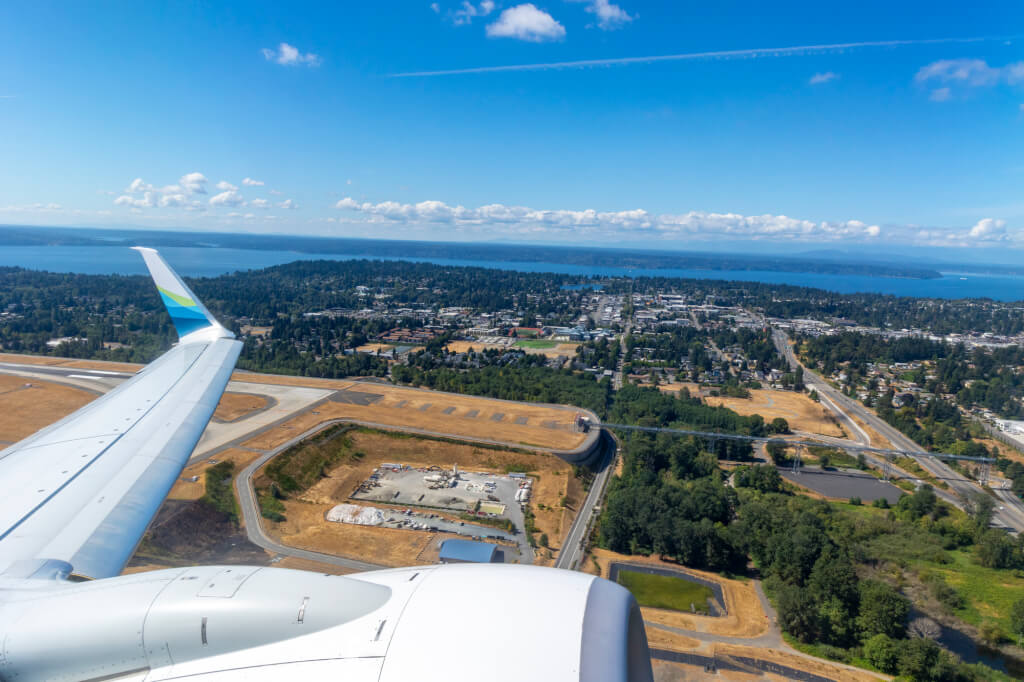 The views of Puget Sound, Seattle, Mount Rainier, and the Cascades beyond were just gorgeous. It's just too bad the harsh midday sun made photographing the beautiful scenery exceedingly difficult.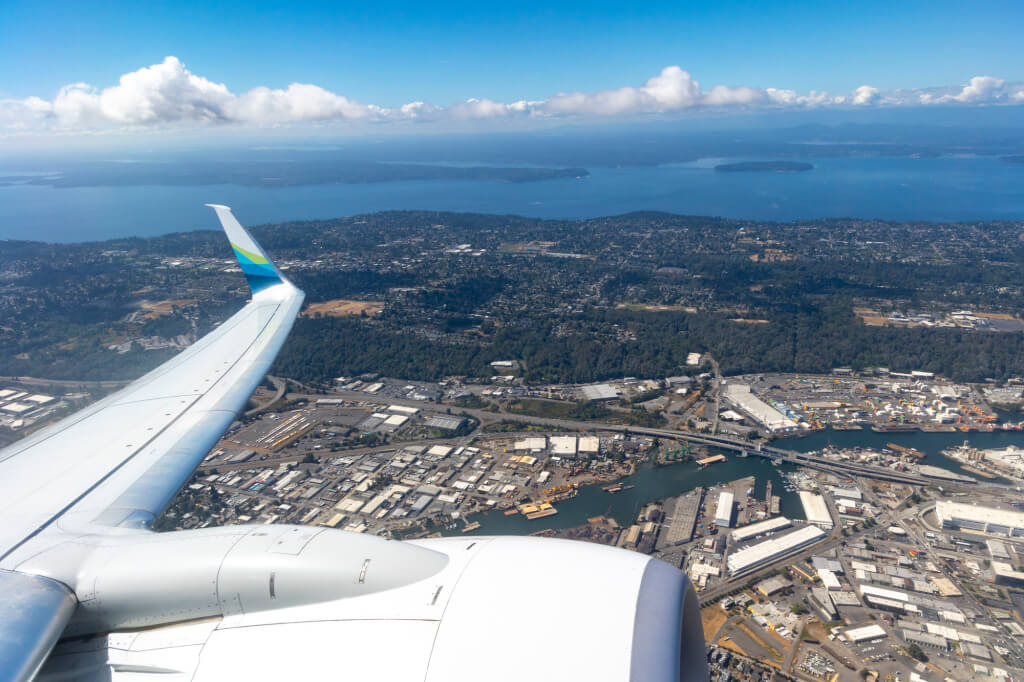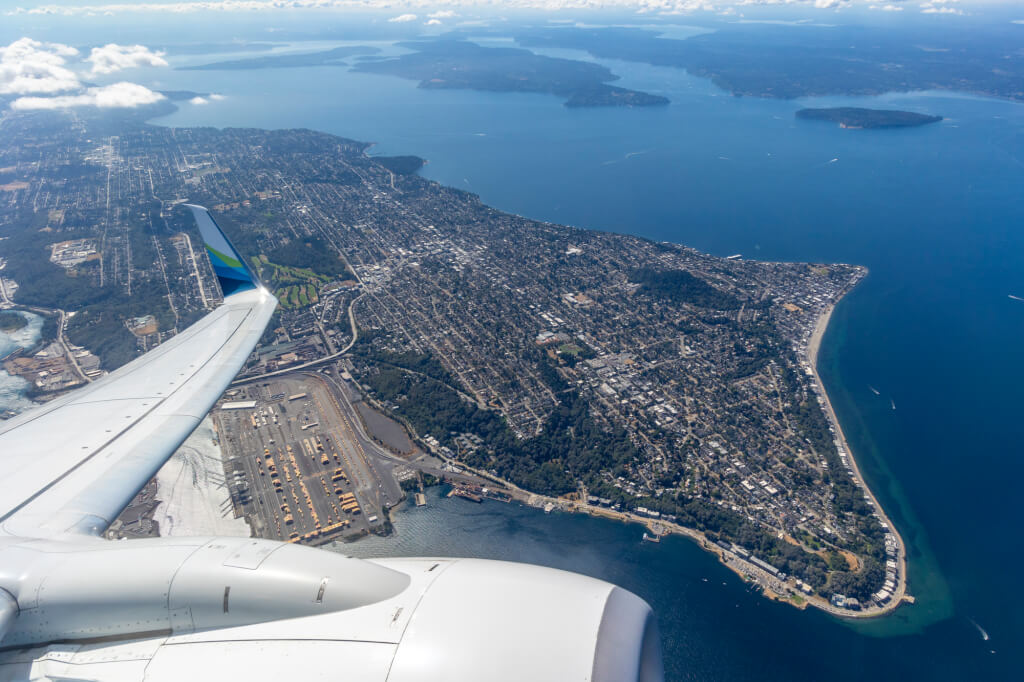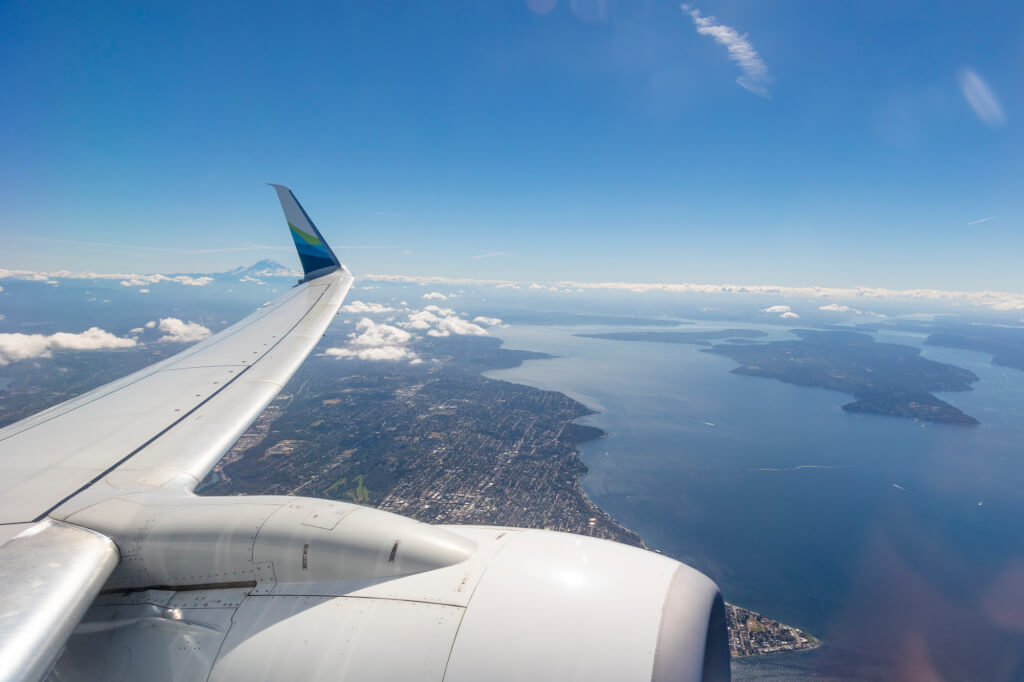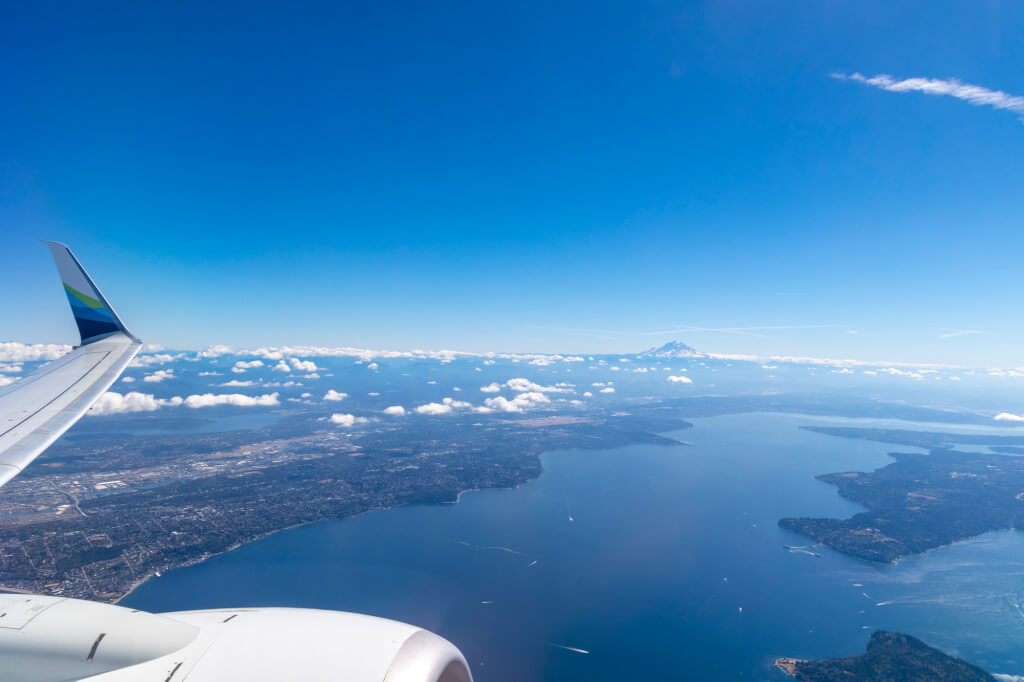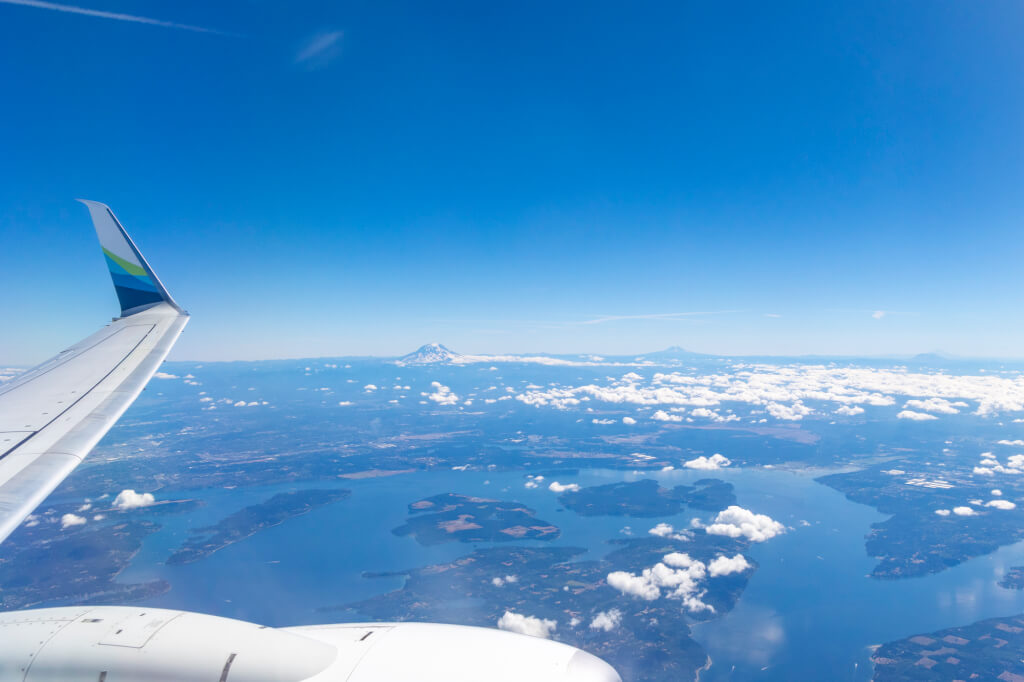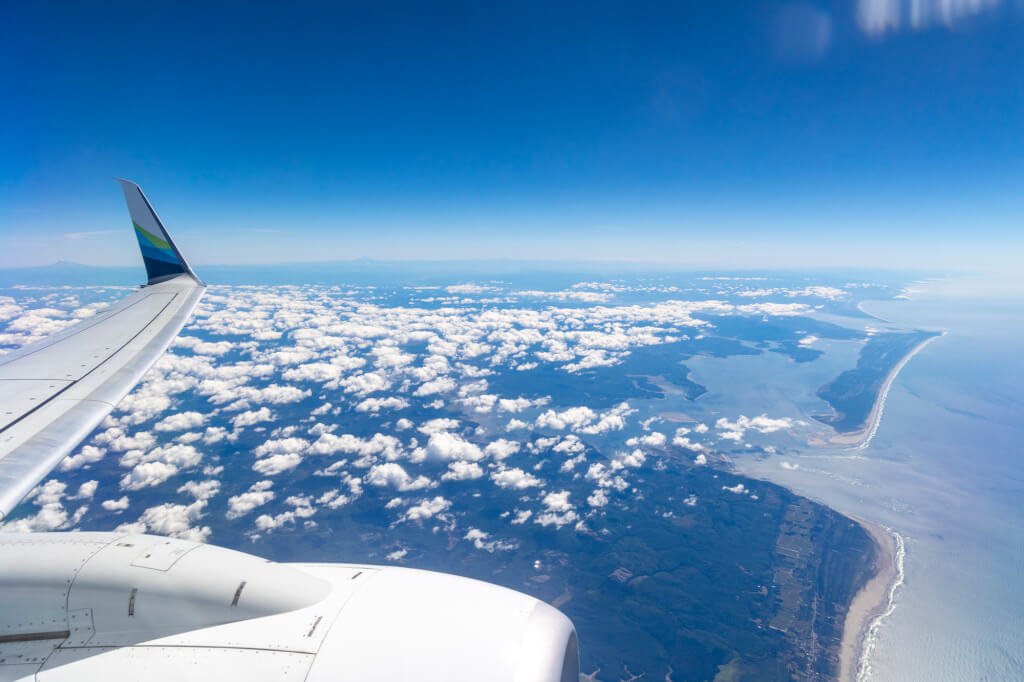 Alaska Air 103 Service
16 minutes after takeoff, flight attendants came around with preorders. Fourteen minutes later, they came back around, offering drinks and Biscoff cookies. I won't detail what I thought about the sandwich I ordered here – you can visit my dedicated post for it here. I will say, though, that I didn't care for the charcuterie board catered in Seattle. Strange, I know.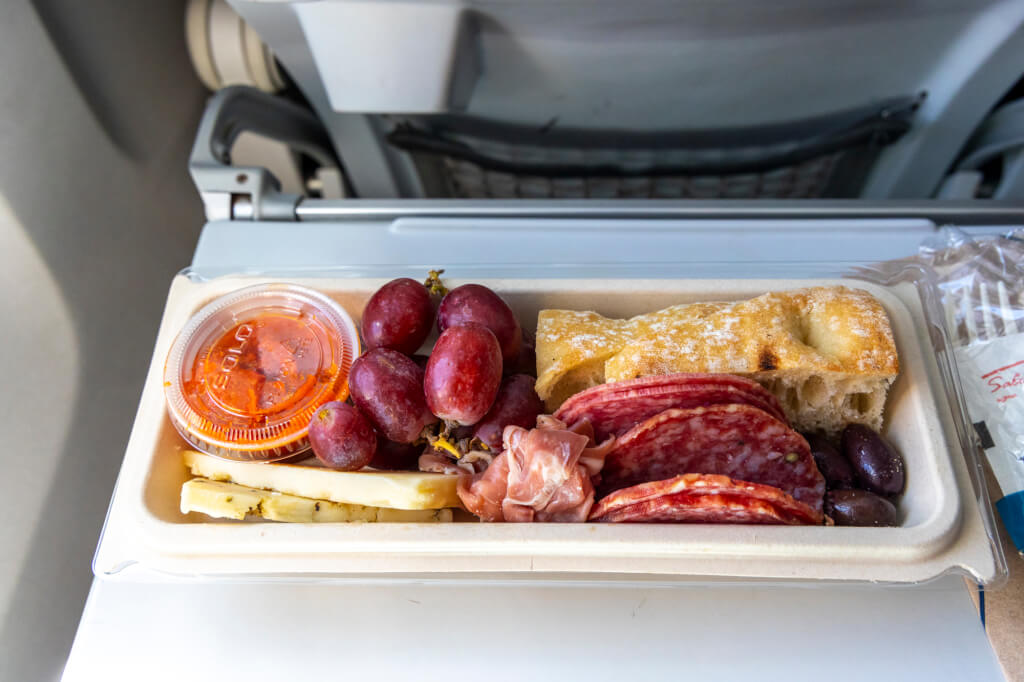 Crews came back around again at 4:04 pm with our second service – over two hours before our scheduled arrival time. This service was strictly for drinks. 34 minutes later, they distributed Ag forms and began collecting them several minutes later.
Alaska Air 103 Arrival
At 5:56 pm PT – 5 hours and 11 minutes after takeoff – we began our initial descent. As we drifted down, the eastern end of the main Hawaiian Islands came into view. Below is the west coast of Molokai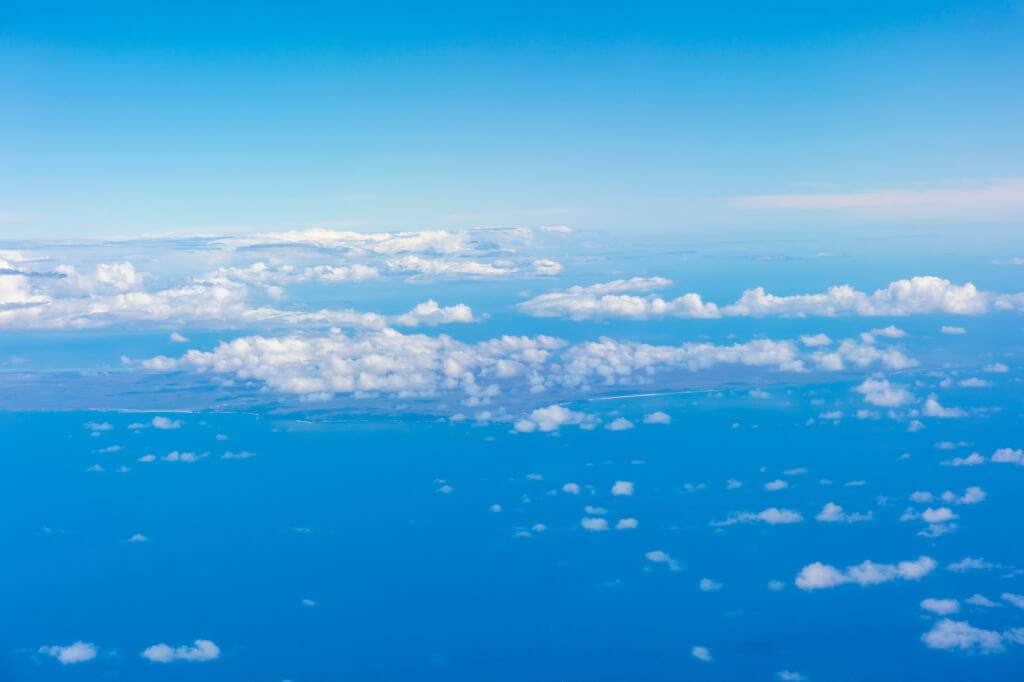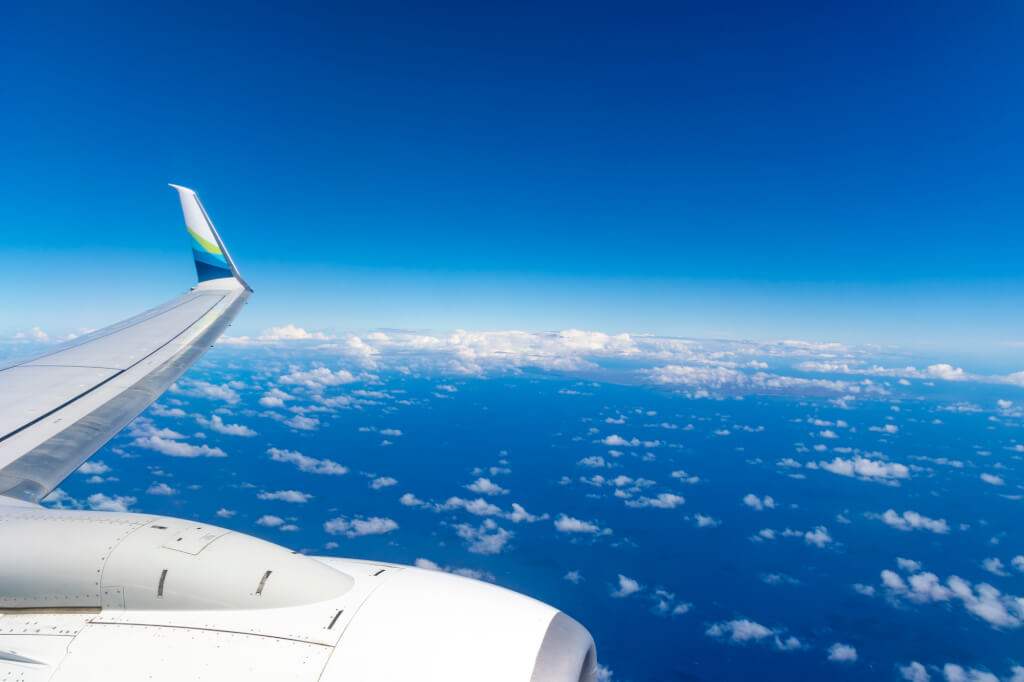 As we began our final descent, we made our way over the east coast of Oahu, over East Honolulu, then back out to sea to loop back around over Kapolei/Ko Olina.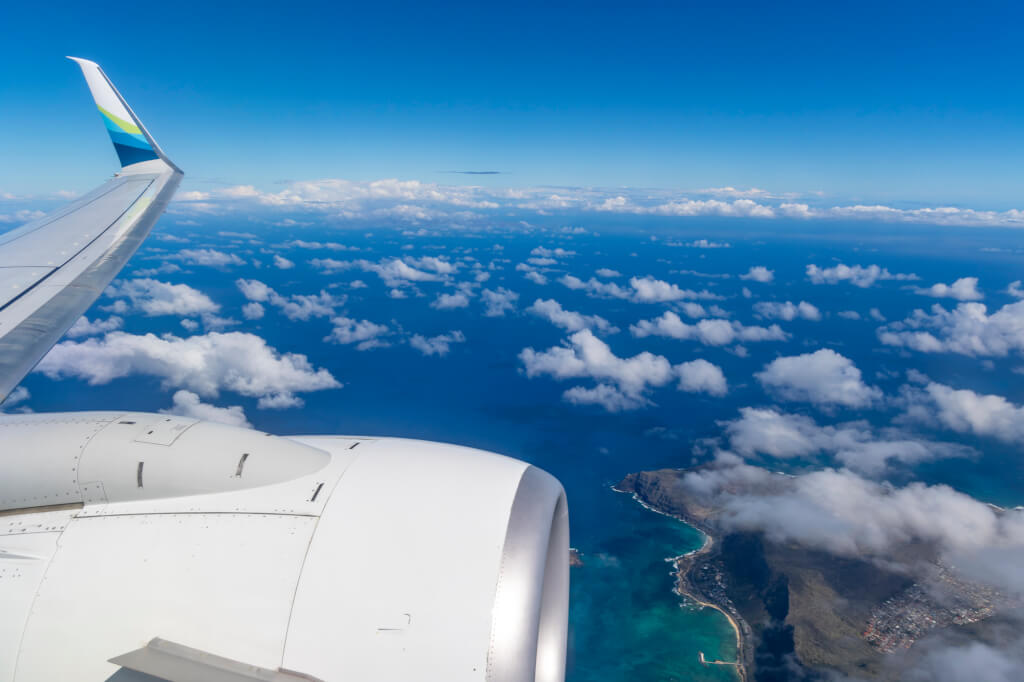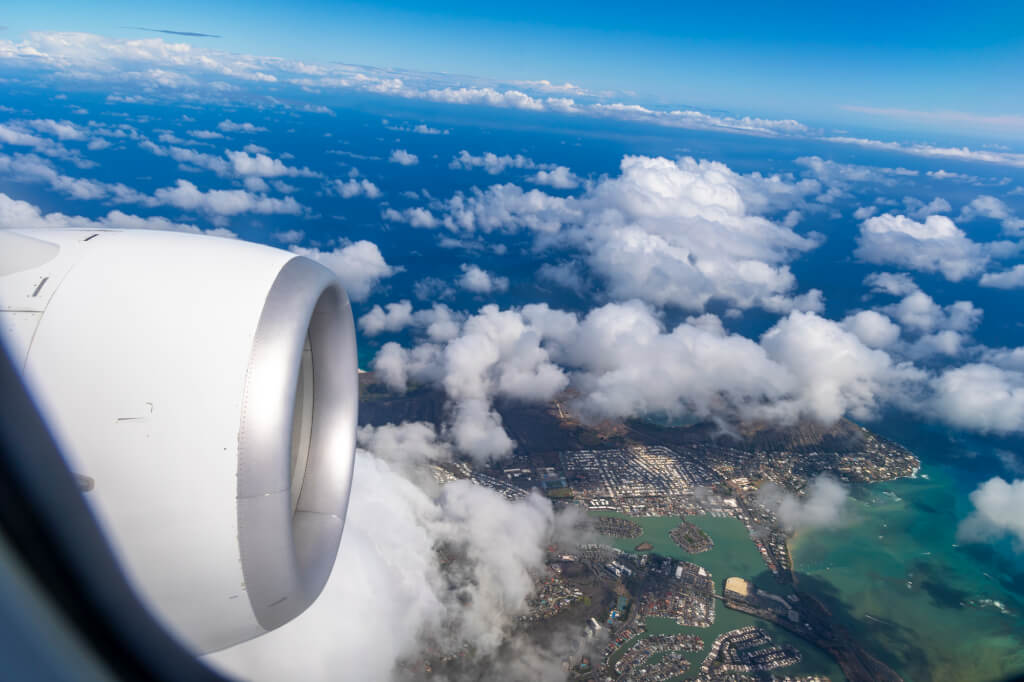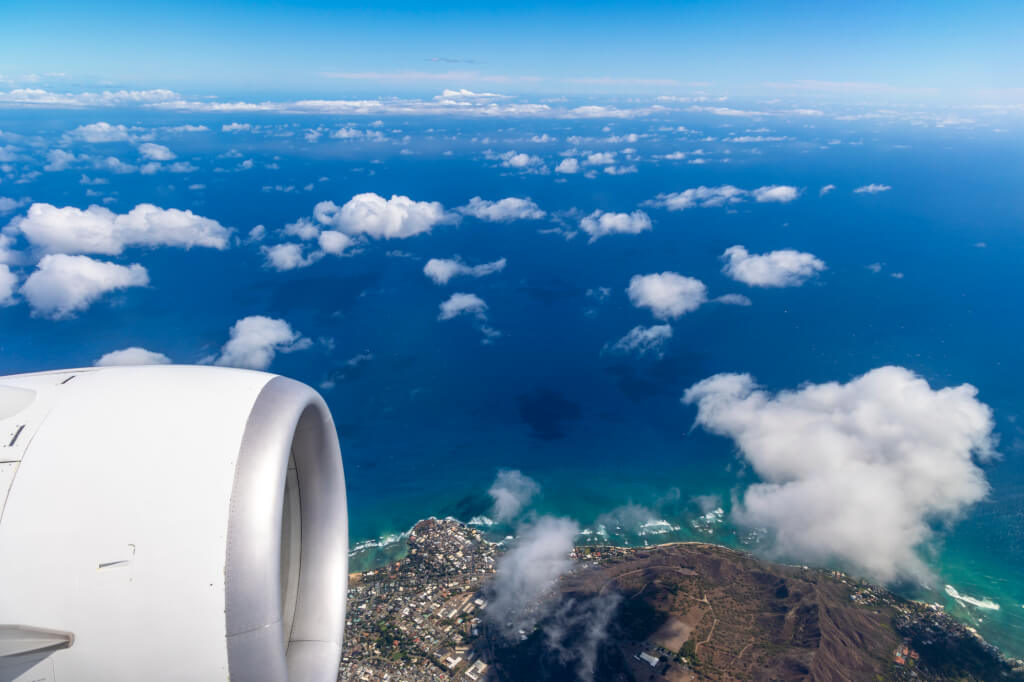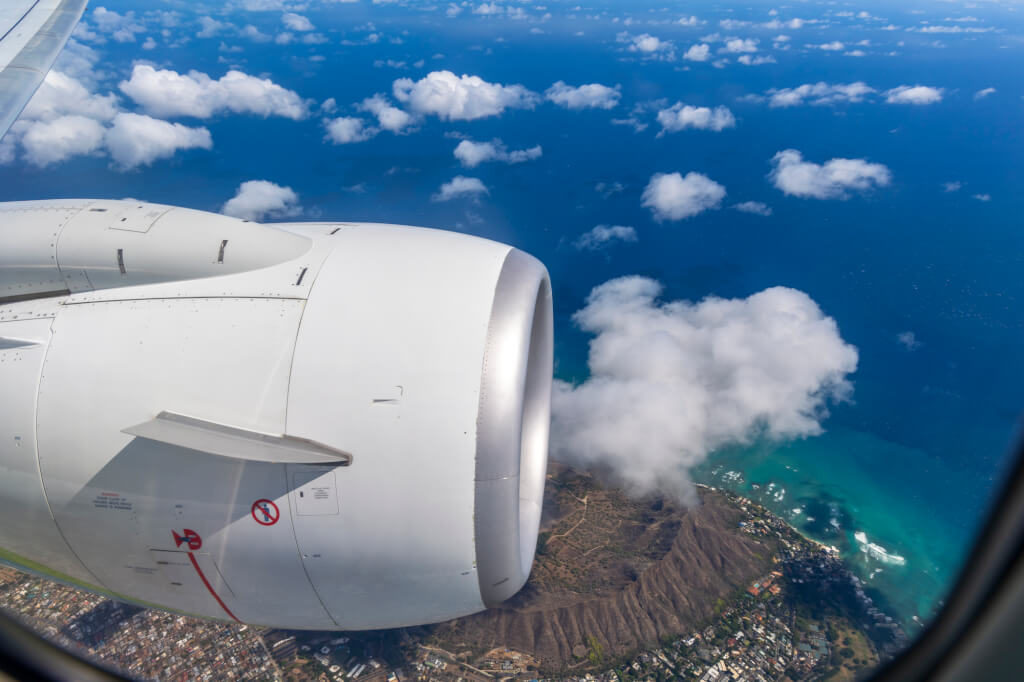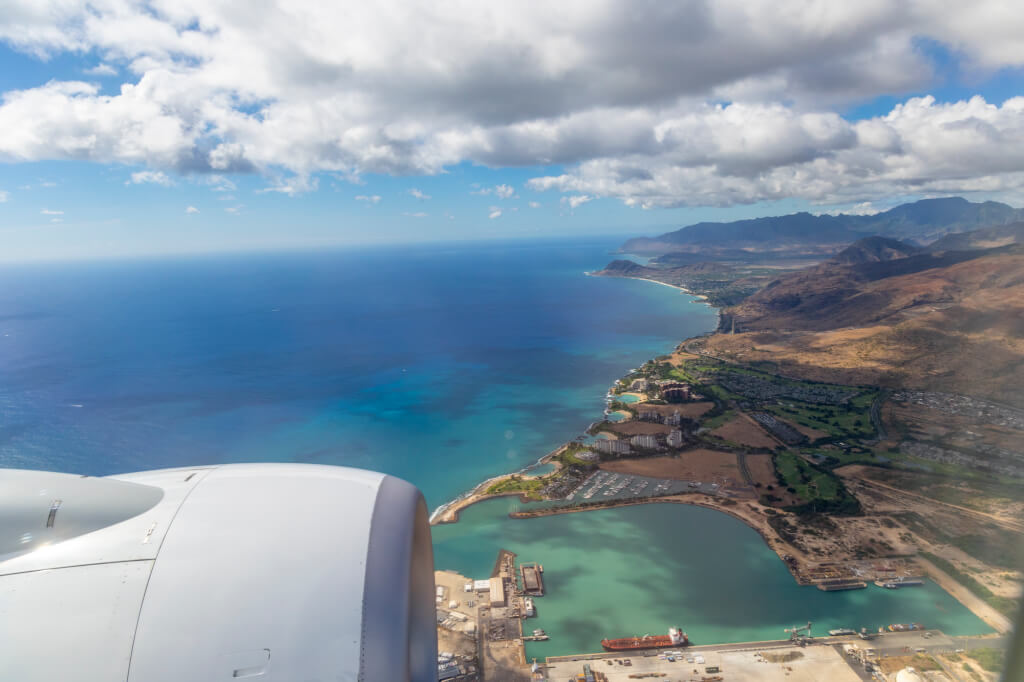 As we made our way back to the Daniel K. Inouye International Airport, we passed over the second city of Kapolei and the Hawaiian Railway Society's railyard in Ewa.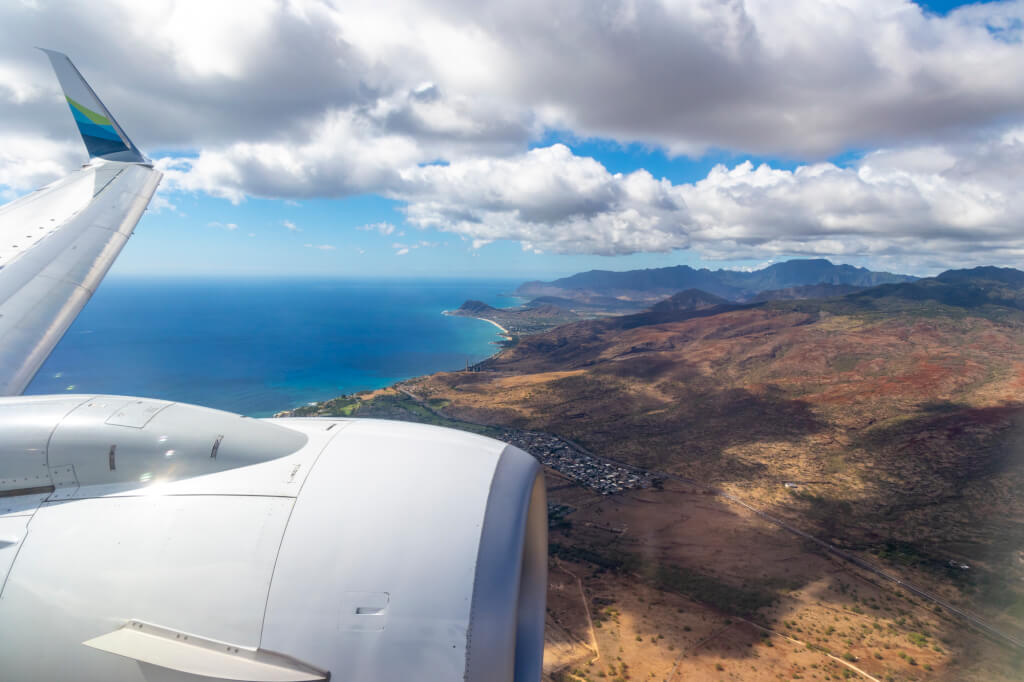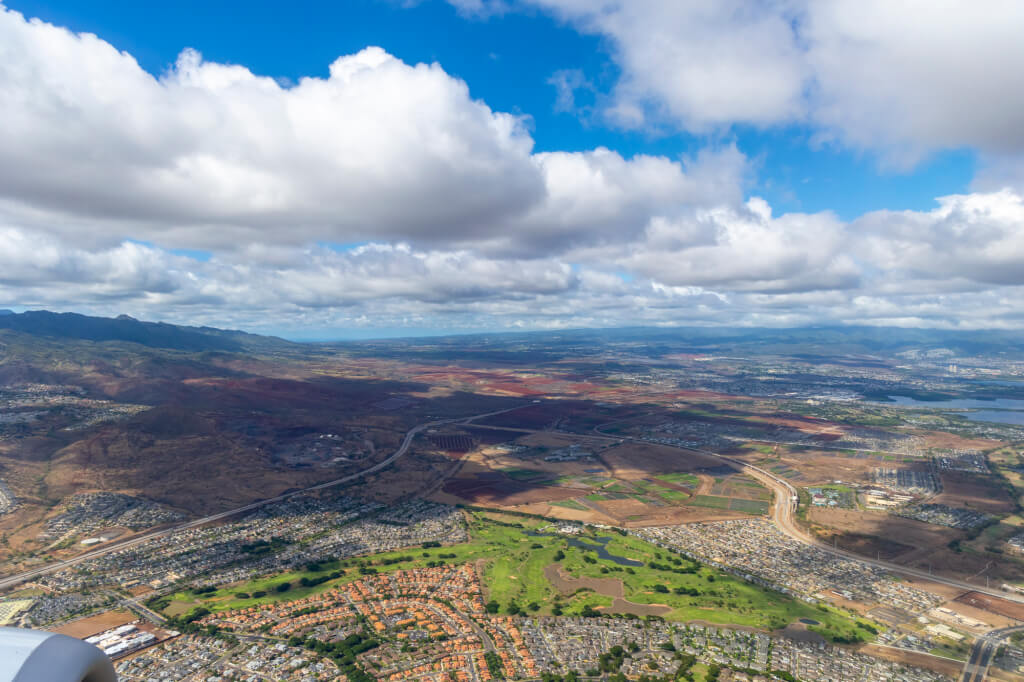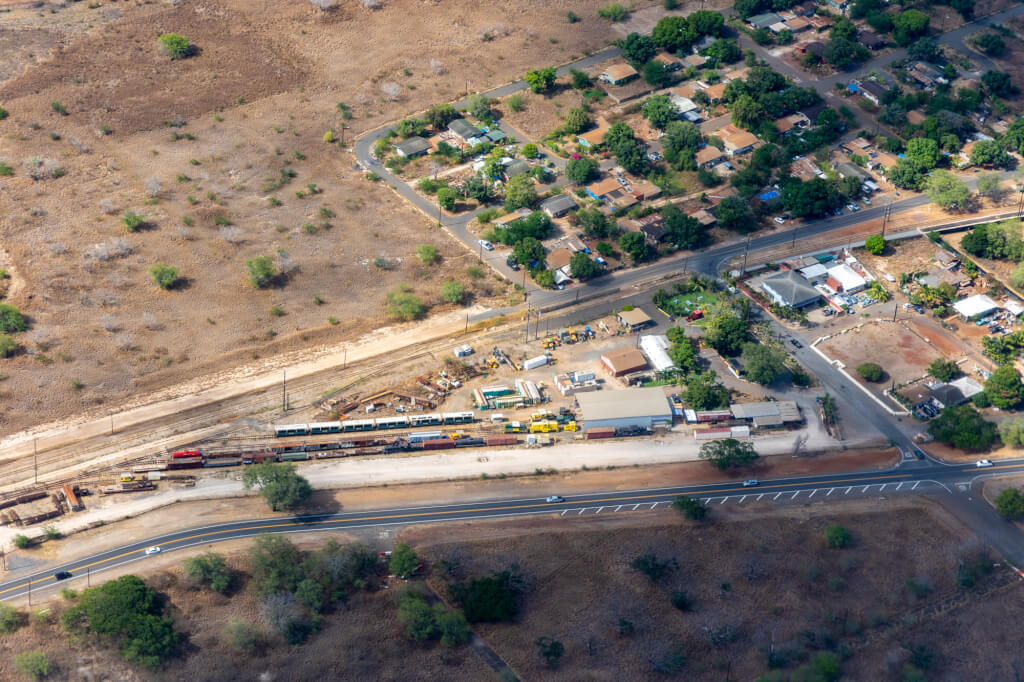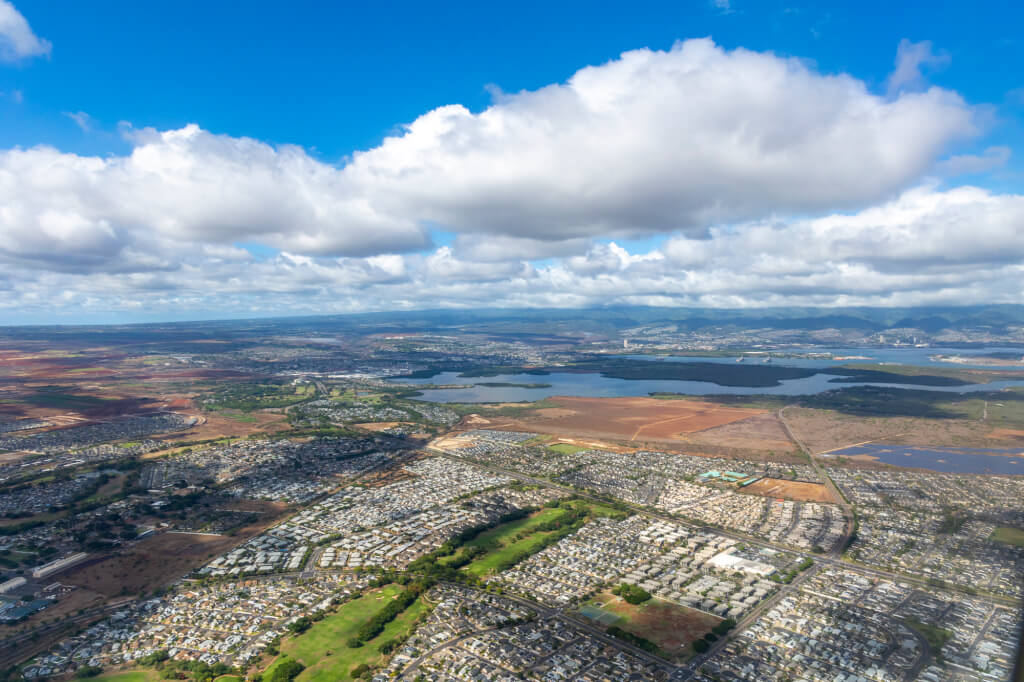 Then we made our way over Pearl Harbor and Hickam Air Force Base before finally touching down at 6:23 pm PT/3:23 pm HST – 5 hours and 38 minutes after taking off in Seattle.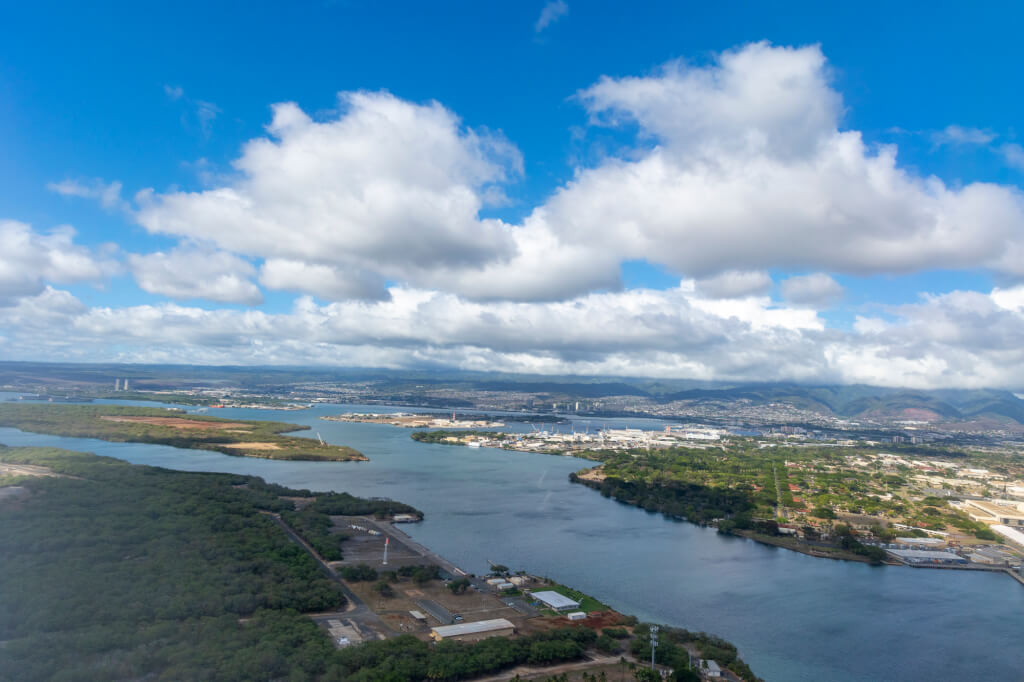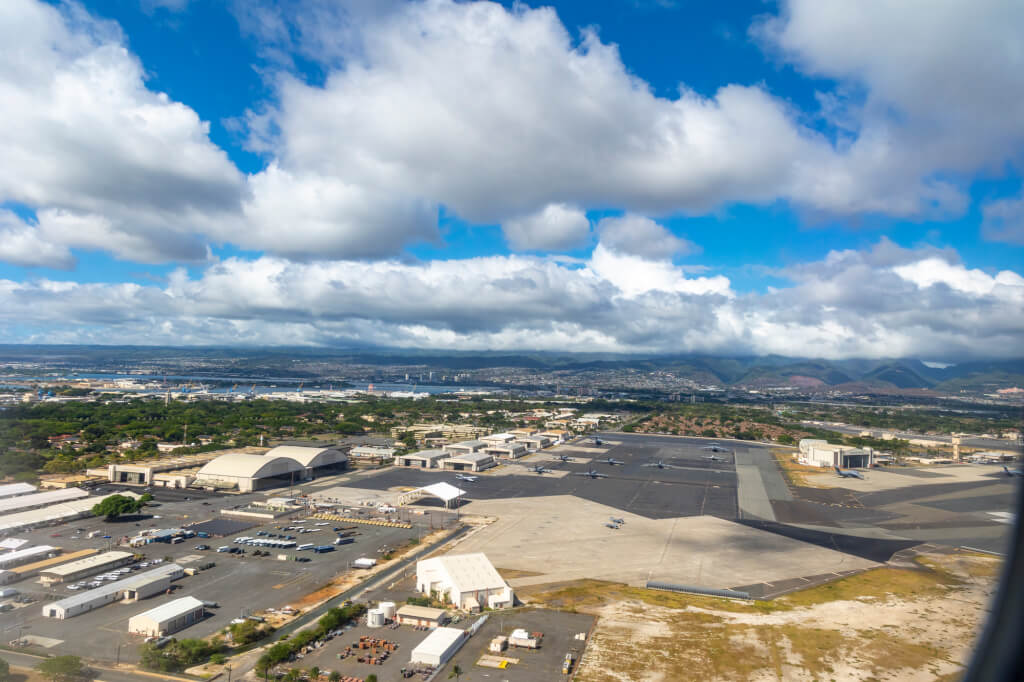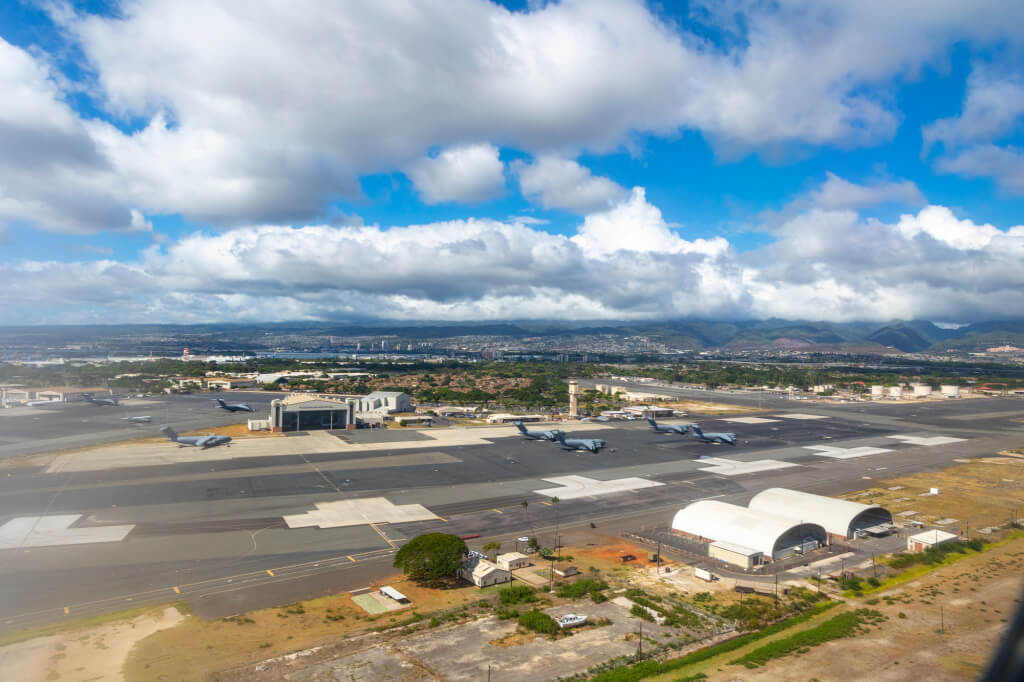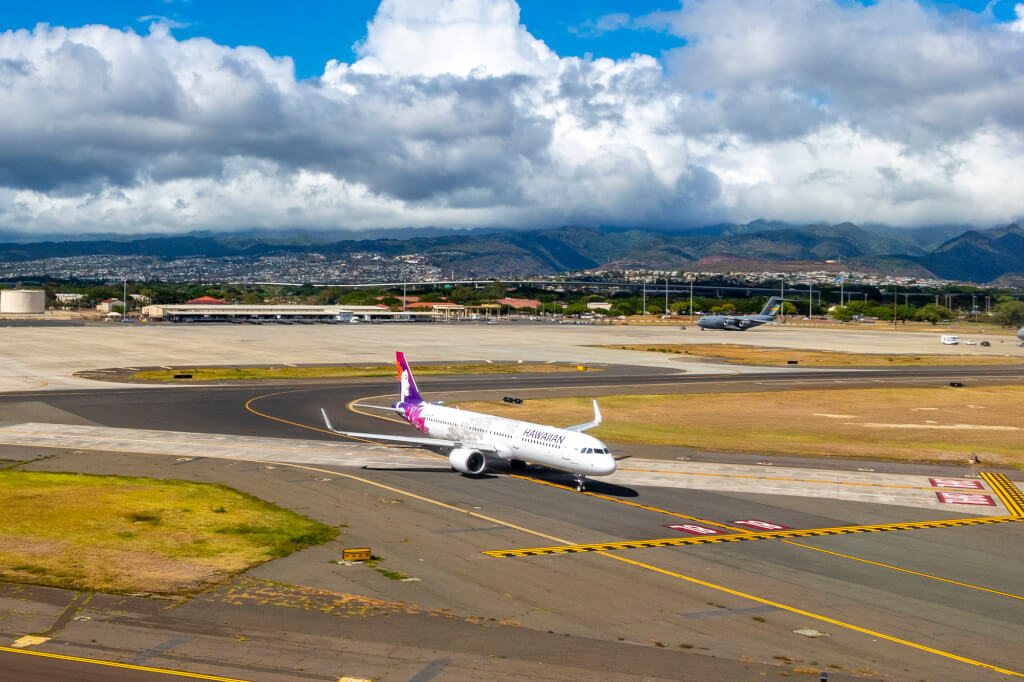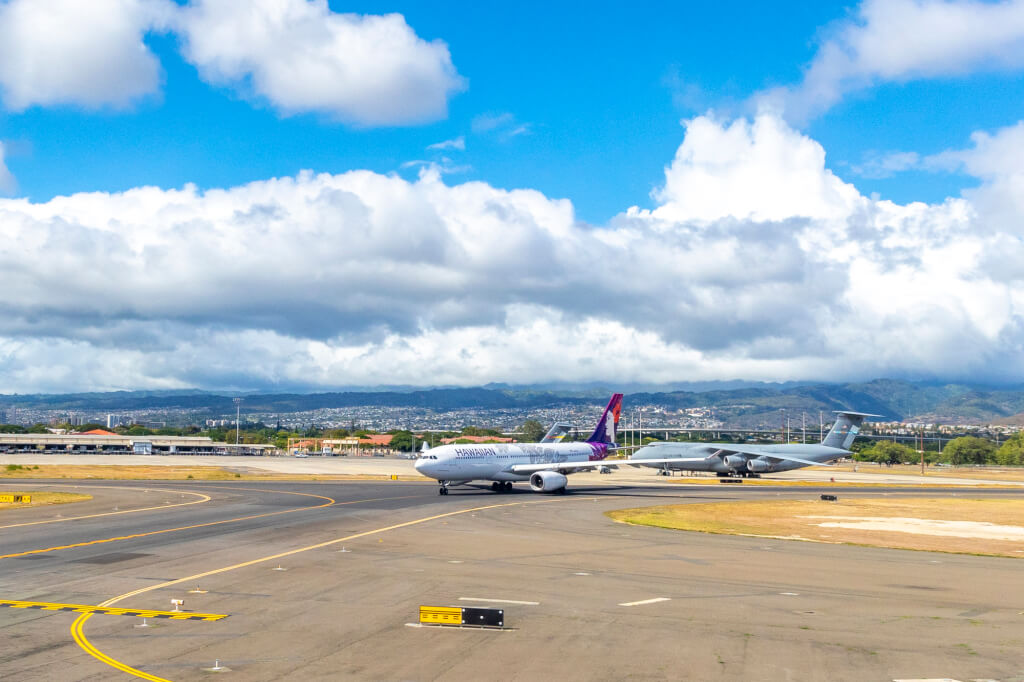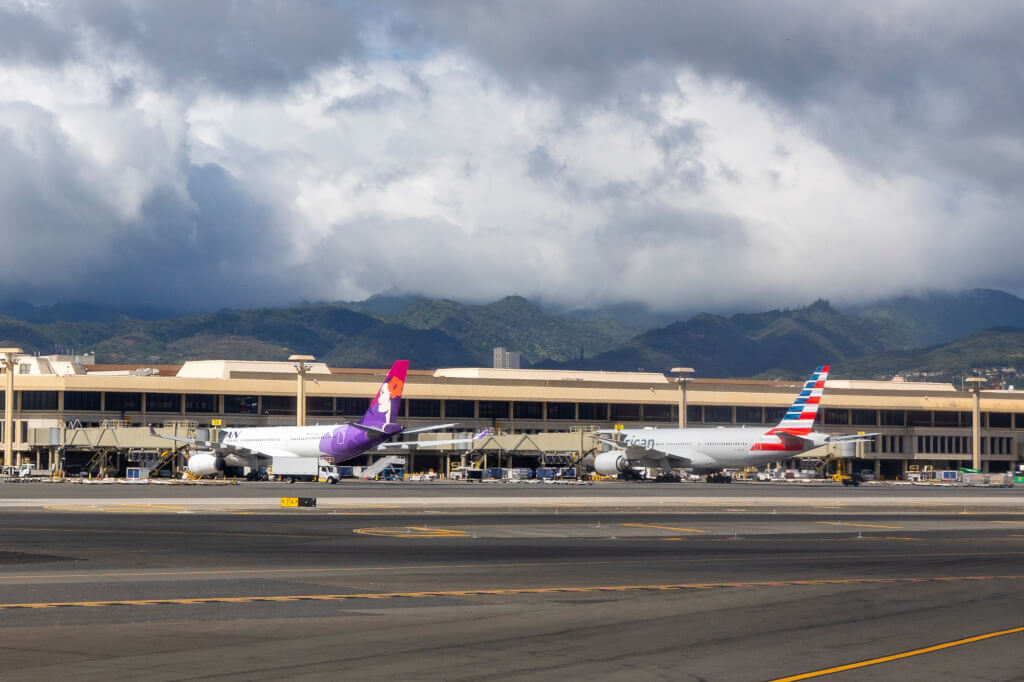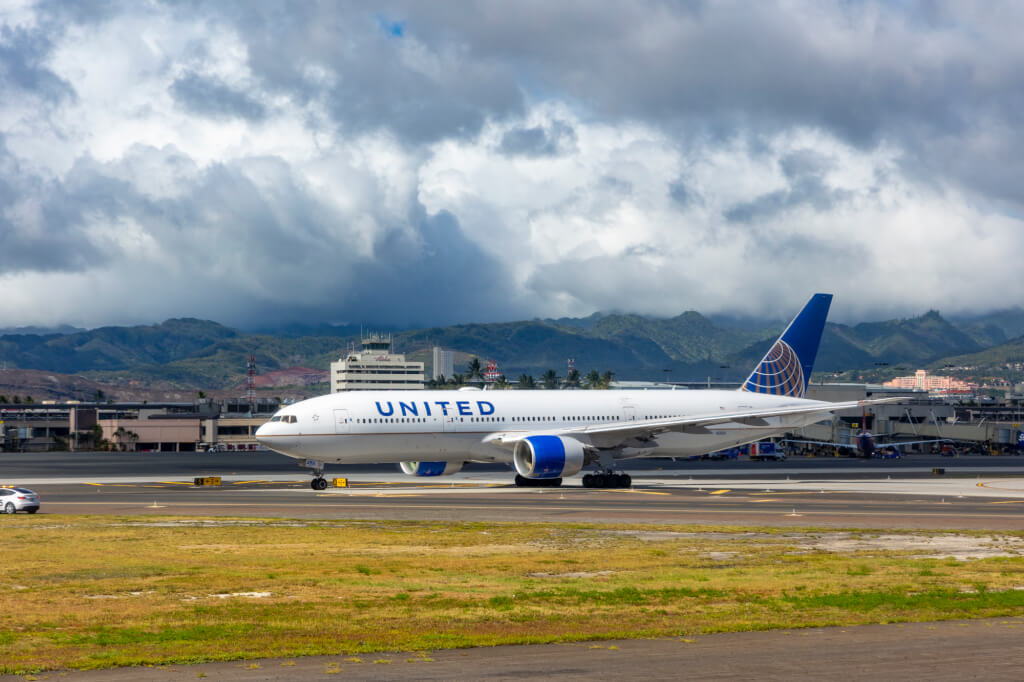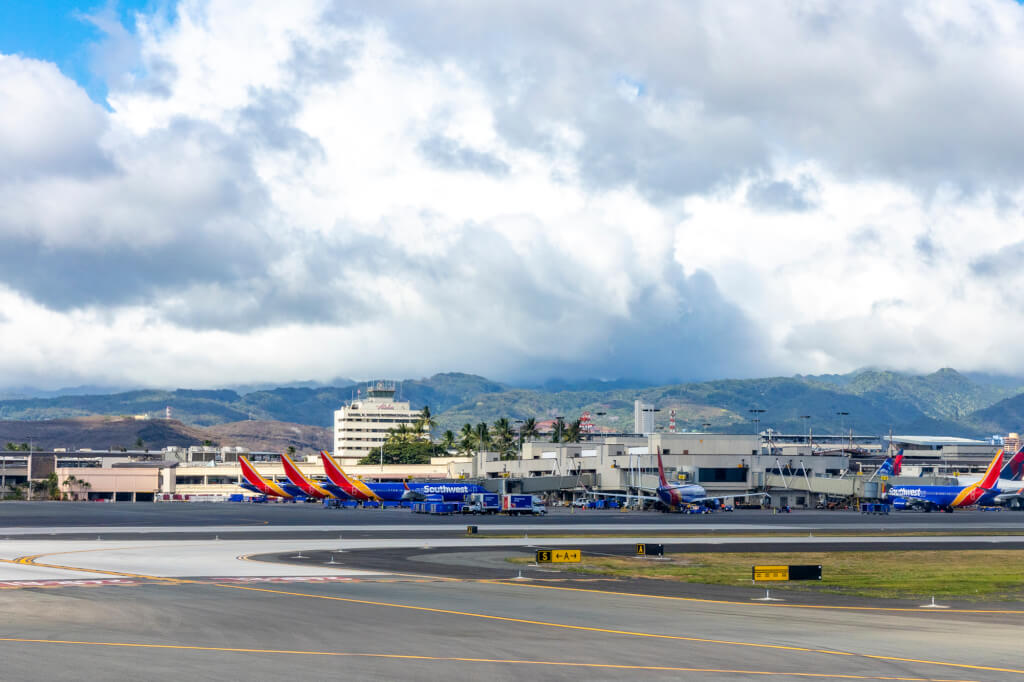 After a seven-minute taxi, we pulled into our gate at 3:27 pm – almost an hour behind our original arrival time, even though we departed two hours late. That just goes to show how ridiculous schedule padding has gotten! At any rate, two minutes later, the cabin door was opened, and we began filing out.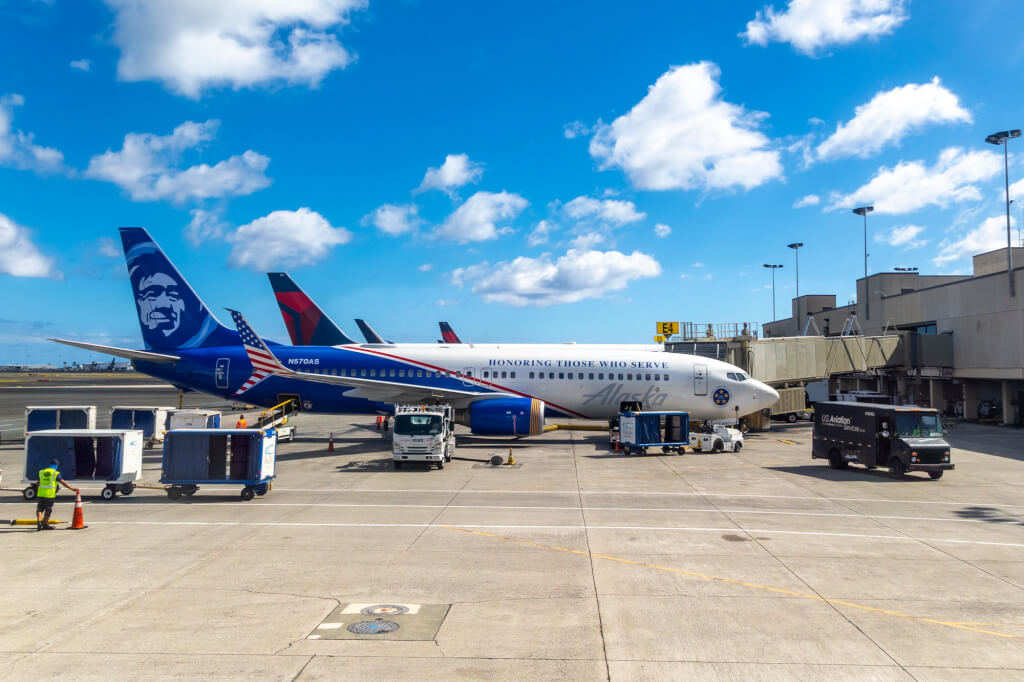 Bags started coming down the conveyor belts 10 minutes after the cabin door opened, and we retrieved both our bags and our two boxes about two minutes later.
Final Thoughts
My Alaska Air 103 experience was one of the most convoluted I've ever had and one of the first times I've had a significant delay with Alaska. Yet, I also realize that it wasn't bad at all – especially considering much worse many other travelers were over last summer. I mean, we even got our bags and boxes within the 20-minute timeframe, so I can't complain much. All I'll say is that I LOATHE D gates at SEA.
Labor Day 2022 PNW Adventure