After five nights in Vegas, it was time to head home.  And this time we'd be flying Hawaiian Airlines Extra Comfort LAS-HNL
My first Vegas adventure was a great experience.  But after 5 nights, it was time to head back home.  And for the journey home, we head back the same way we came, though with a little more space.
Check-In and Terminal
After my in-laws dropped their car off at the consolidated rental center, we boarded the bus back to the terminal.  We arrived about 2 hours prior to departure and the lines were LONG at Hawaiian's self-serve kiosks.  Eventually we got through, dropped our bags, and headed over to security.  Here again there were long lines, but thankfully the Pre-Check line was fairly short.  Unfortunately, the agents seemed to be searching every other bag coming through.  The culprit?  Half bottles of water people forgot in their bags.  This extended the security queue time quite a bit.  We were probably stuck there for about 20 minutes.
Once through, we headed down to the tram once again.  Just like our inbound flight, our outbound flight would also be departing from Concourse D.  The tram ride was fairly empty, but man was the gate area a circus!  I killed some time and took a walk around the terminal to do some spotting.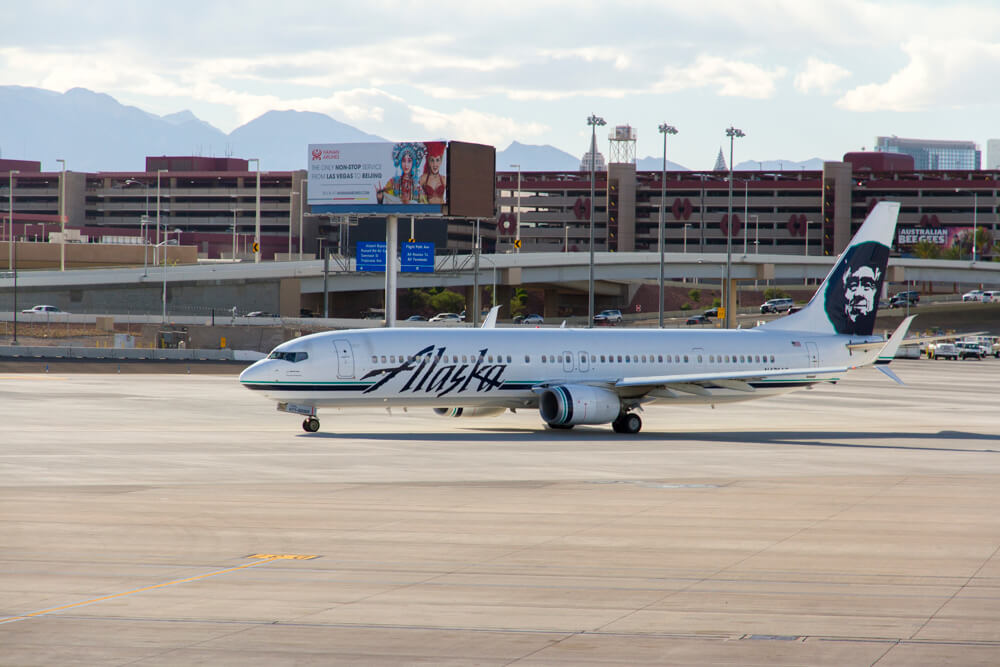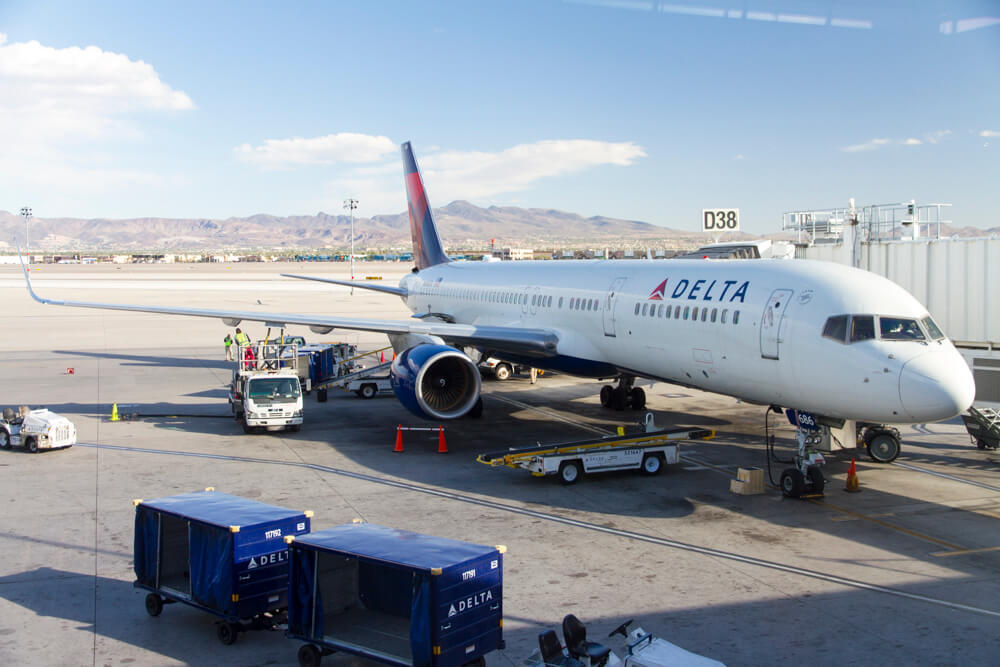 Honestly, though, there isn't much to see at this terminal.  Concourse D is primarily used by Air Canada, American, Delta, Hawaiian, Sun Country, and United.  The more interesting stuff is over at Terminal E, which serves most foreign carriers plus Alaska, JetBlue, and Virgin America.
Boarding + Extra Comfort Seats
Our flight, HA5, was scheduled to board at 5:30pm.  And unlike so many of my other experiences with Hawaiian, the boarding call was made precisely on schedule.  For this flight, our party had all upgraded to Extra Comfort seats, so we had Zone 2 boarding.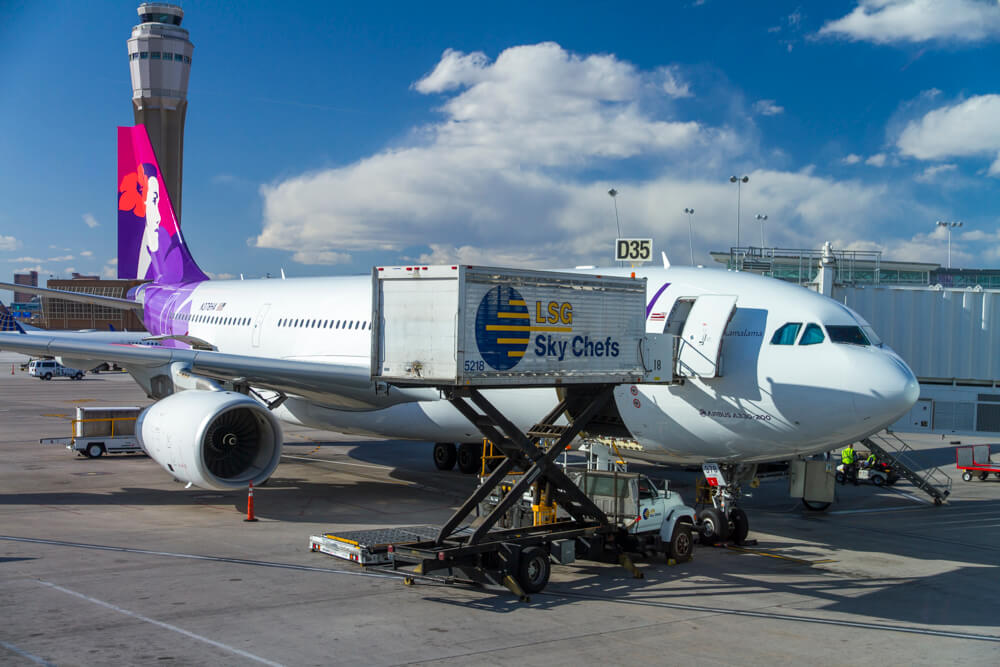 When our zone was called, we made our way down the jet bridge, through door L2, and turned left into the front Extra Comfort cabin.  This cabin, I should note, is only available on retrofitted aircraft identified as "version 2" on SeatGuru.  There are a total of 24 seats located immediately behind first class in a 2+4+2 configuration.   In addition to this cabin, there are another two rows of Extra Comfort seats spread throughout the aircraft; 1 immediately aft of doors 2, and another just after of doors 3.  We were sat in row 12, which is the middle row in the Extra Comfort Cabin.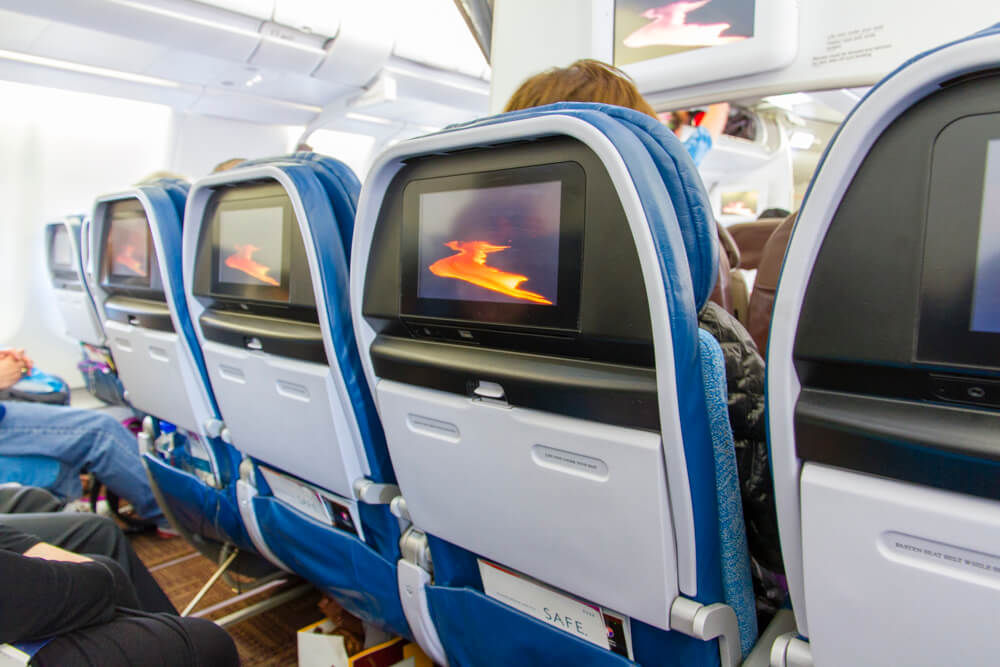 Hawaiian's Extra Comfort product is similar to most other domestic carriers' extra space options like American's Main Cabin Extra.  Though, with Hawaiian you get 36″ of pitch and 18″ of seat width, whereas standard economy seats feature of 31-32″ of pitch and 16.5 to 18″ of width.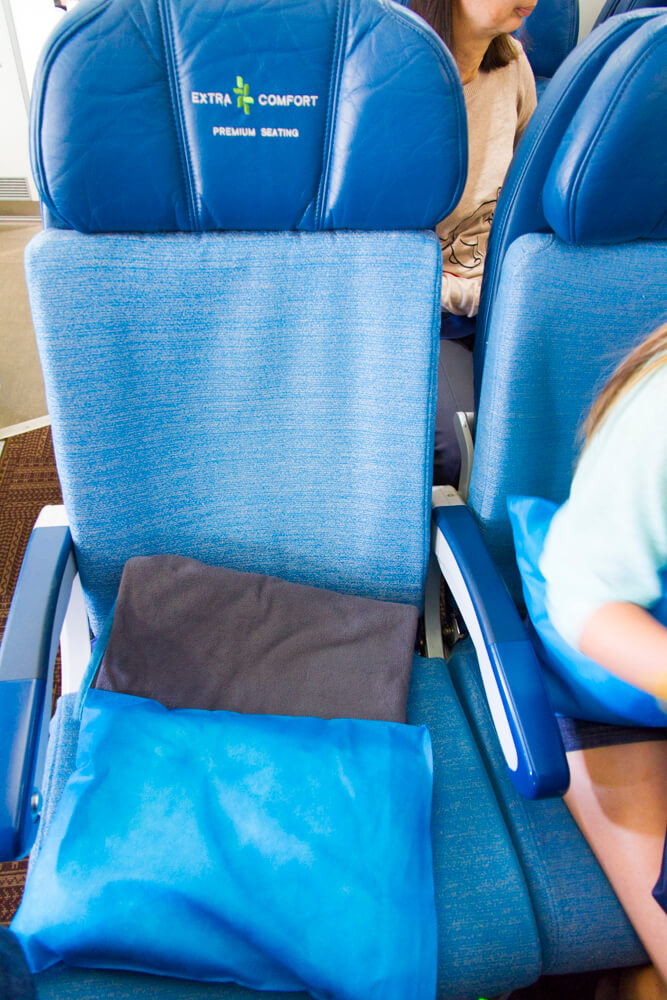 Hawaiian Extra Comfort passengers also receive the aforementioned priority Zone 2 boarding, a pillow, a blanket, Unlimited TV & More, and a 3-prong standard power outlet.  Aside from the extra perks, though, the seats are the same old slimline seats you'l fine throughout the economy cabin.  The extra legroom does help, though.
HA5 LAS-HNL
Despite a full flight, boarding wrapped up in about 37 minutes, allowing our crew to close the door at 6:07pm.  Our scheduled departure time was 6:15pm, but with boarding done early, we pushed back at 6:12pm.  And after a 15 minute taxi, we held at the runway for about a minute before the captain eased onto the throttles.  The captain quoted a flight time of 5 hours and 39 minutes, which would put us into Honolulu on-time.
Unfortunately, we were seated in the middle section, so there was no plane spotting opportunities while we were on the ground, nor could I get any scenic shots on the climb out.  But, since Hawaiian's Unlimited TV & More package came with our seats, I decided to go through the selections.  And there was actually a nice variety of stuff to watch, including locally made shows like PBS Hawaii's Family Ingredients (I highly recommend watching this show).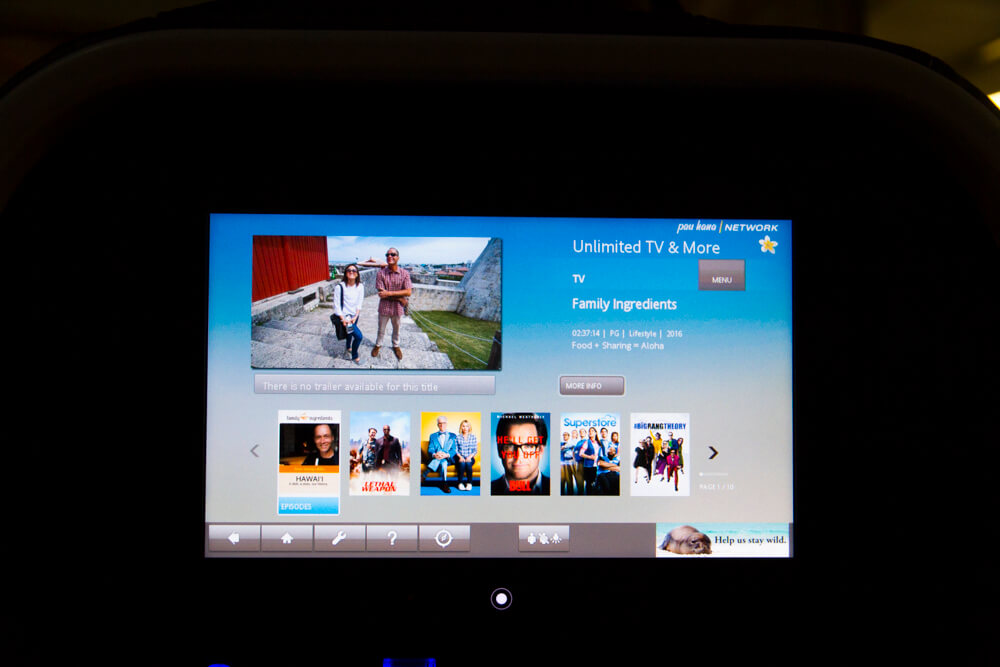 And while, yes, there was a lot of free stuff, the newer content carried additional fees.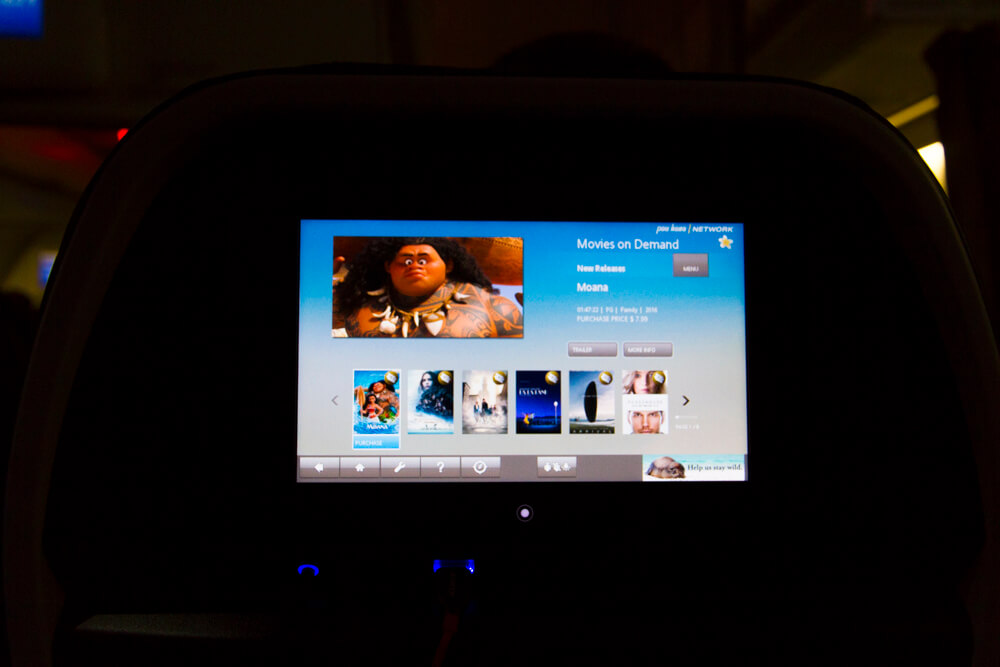 Moana, for example, cost $8 to watch.  That's right… $8!!  The Unlimited TV & More package, by the way, costs $5 when seated in economy.  So if you want to watch one of the new releases, perhaps don't purchase the Unlimited TV & More package… Just rent the movie instead.  Or better yet, download content on Netflix, Amazon Prime, iTunes, etc. instead.
Catering and Service
As was the case on our outbound flight, the crew on this flight was excellent.  They were also friendly and genuinely seemed to love what they do.  Granted, the flight crew seemed to really know a bunch of passengers too.  But unlike our outbound flight, this flight would have its meal later on.  So once we reached our initial cruising altitude, the flight crews came around with the usual for purchase premium snacks cart, and then came back around with some Pau Hana Snack Mix and beverages.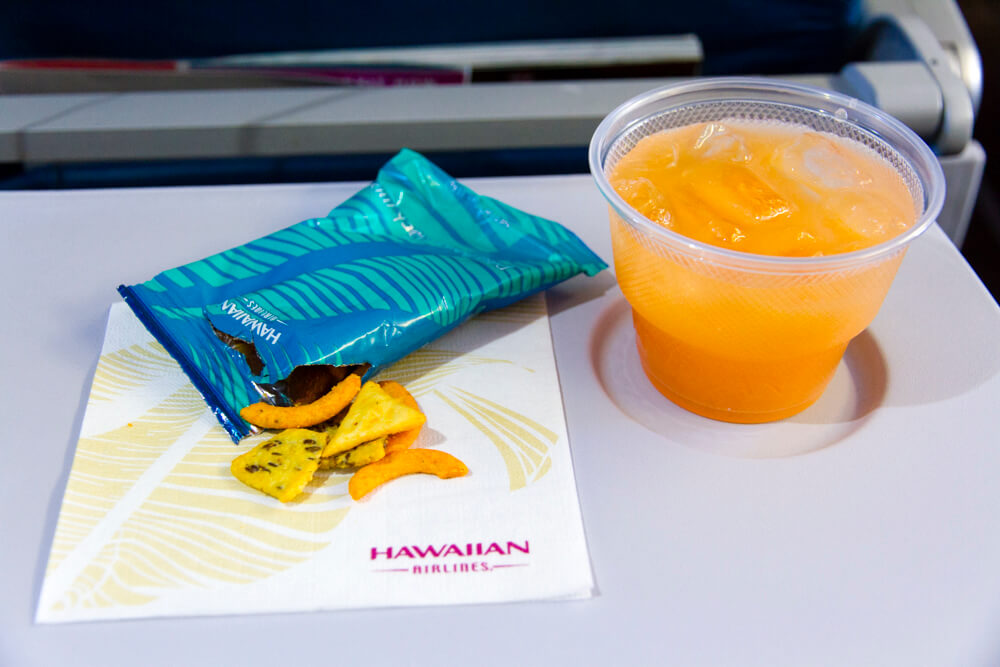 Then 2 hours after we had departed LAS, dinner service commenced.  And as is normally the case with Hawaiian, there are no choices for your meal.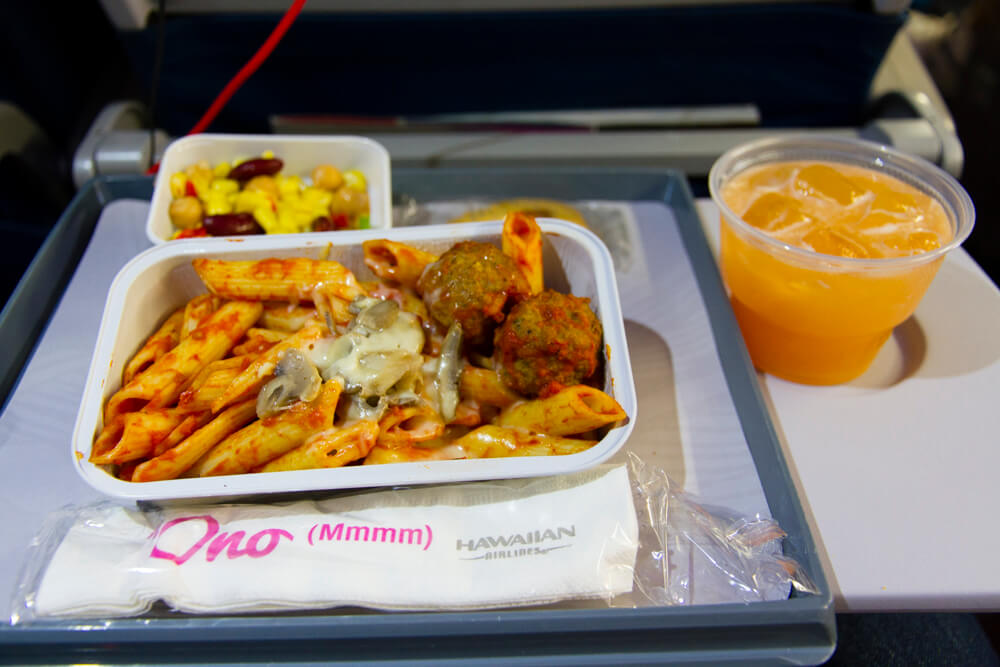 For that flight, the meal on offer was pasta with mushrooms, poultry meatballs, some weird corn + bean salad, and a cookie.  No green salad or fruit as is normally the case making this the skimpiest dinner/lunch service I've ever had on Hawaiian.  And their meals are already pretty small to begin with, though they are still free.  That being said, the two meatballs were pretty tasty, though the pasta couldn't have been more bland.  The salad?  I avoided it… I don't get along well with garbanzo beans, and I'm sure no one wants that kind of problem at 40,000ft!!
Arrival
Dinner wrapped up a little more than halfway through the flight.  And once the crew came around to collect all service items, the cabin lights were dimmed.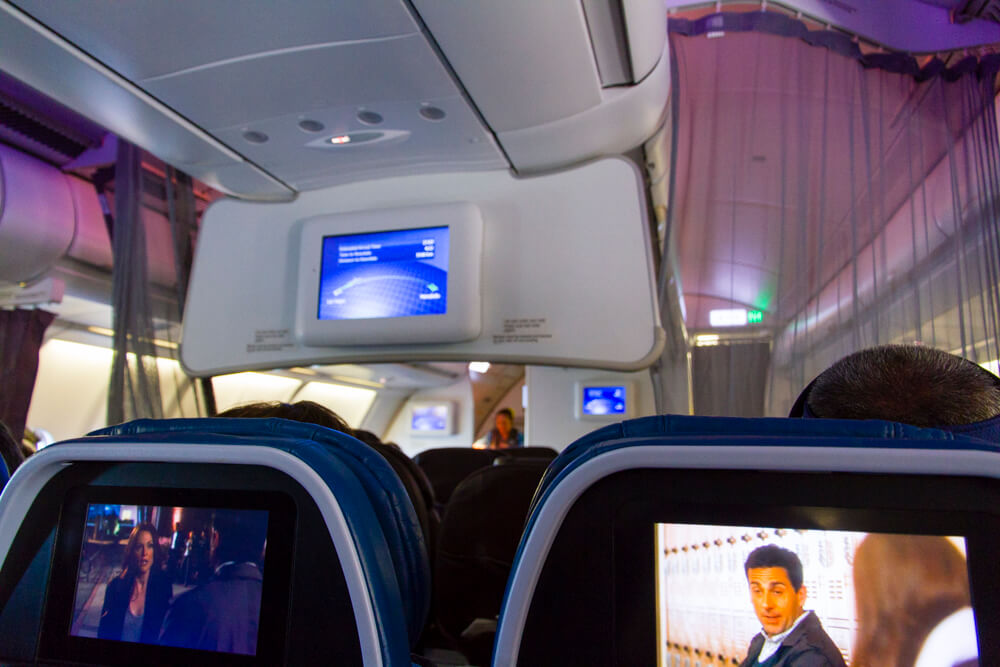 I settled in and decided to watch Crazy, Stupid, Love, which was actually pretty good.  And soon enough, we were on final approach into Honolulu.
We ended up landing on Honolulu International's runway 4R at 9:09 pm HST.  And after a 6 minute taxi, we arrived at our gate at 9:15pm, right on time.  As with our outbound flight, our gate was once again located at the Ewa Concourse.  This meant that upon deplaning, we had to head up to the terminal roof to catch HNL's infamous Wiki-Wiki bus.  From there we were driven over Inter-Island Terminal where we took a number of escalators down to Hawaiian's baggage claim.
Hawaiian Airlines Extra Comfort LAS-HNL Final Thoughts
Like out outbound flight, our flight home on Hawaiian was very different from our previous flights with the Airline.  The flight crews were so much friendly and personable than what I usually experience with Hawaiian and the on-time performance was actually pretty good.  But the flight was obscenely expensive, which is often the case on this route.  After all, as I've said in my HNL-LAS review, Hawaiian is the only regular airline serving this route.  The only other airlines that have direct flights between HNL and LAS are Allegiant and OAI, which is a charter for Vacations Hawaii.  So I've got my fingers crossed another airline will jump into their route in the not-too-distant-future… Perhaps Alaska?
My First Las Vegas Adventure
Flights
Hawaiian Airlines LAS-HNL
Car Rental
Hotels
Dining
Activities/Sights