Our final dinner in Las Vegas was one I had been waiting for for a while now: Jaleo Las Vegas.
Following our shopping and dining adventures around Summerlin, we returned to the Strip.  We then dropped our goods off at our hotel and jumped on the monorail to the Bellagio.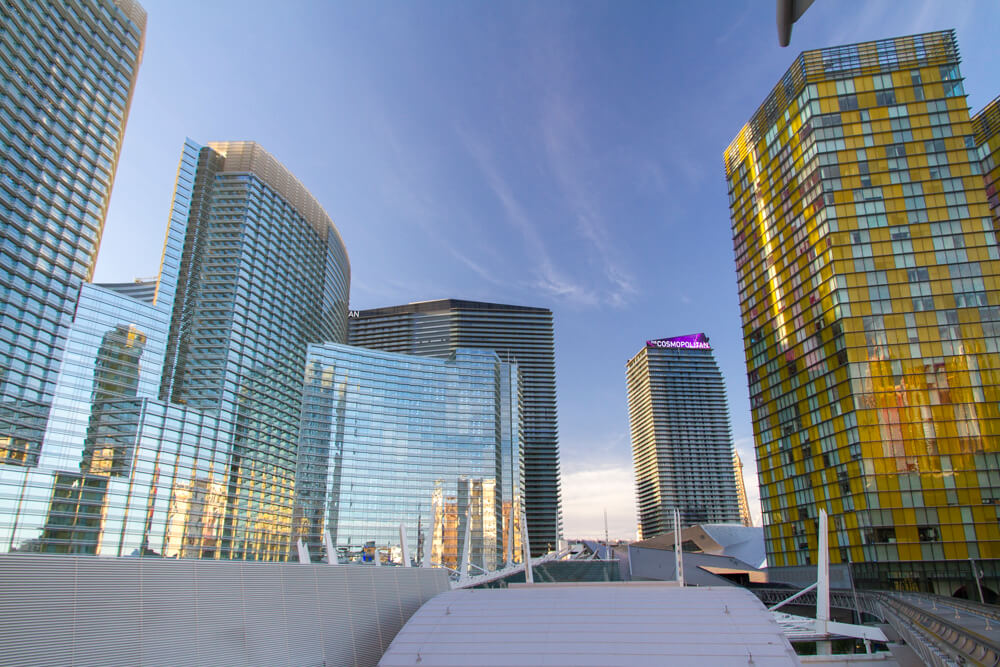 We went to check out the garden display, and this time around it had a Japanese theme… Which I didn't care for.  Oh well.  That wouldn't be the only let down we had at the Bellagio.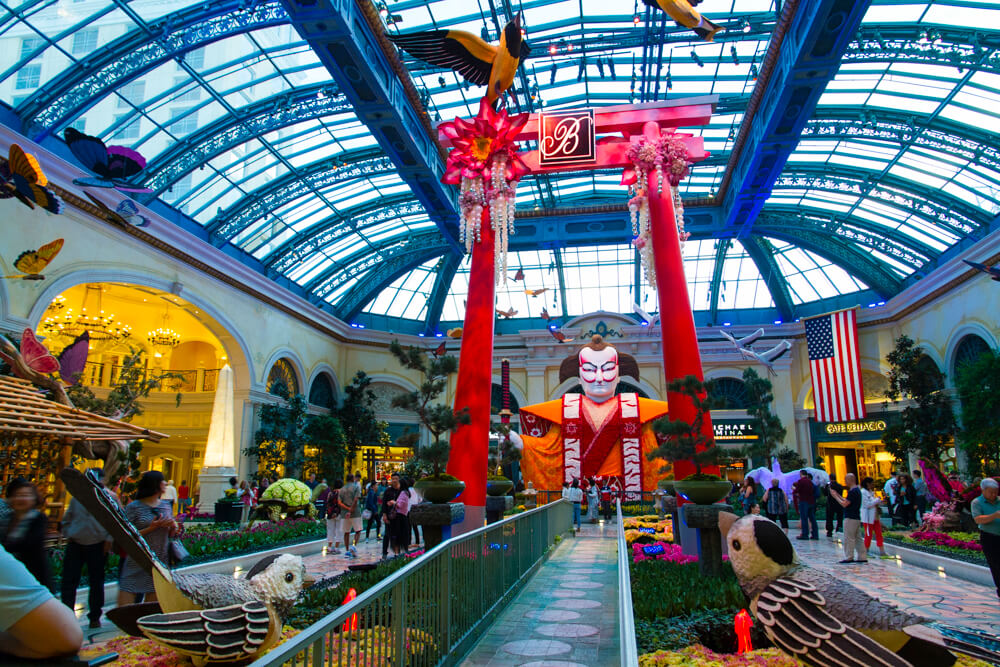 After walking around in the garden a bit, we headed to the lobby and checked out the Chihuly Glass chandeliers.  They look almost exactly like the ones at the museum in Seattle, just bigger.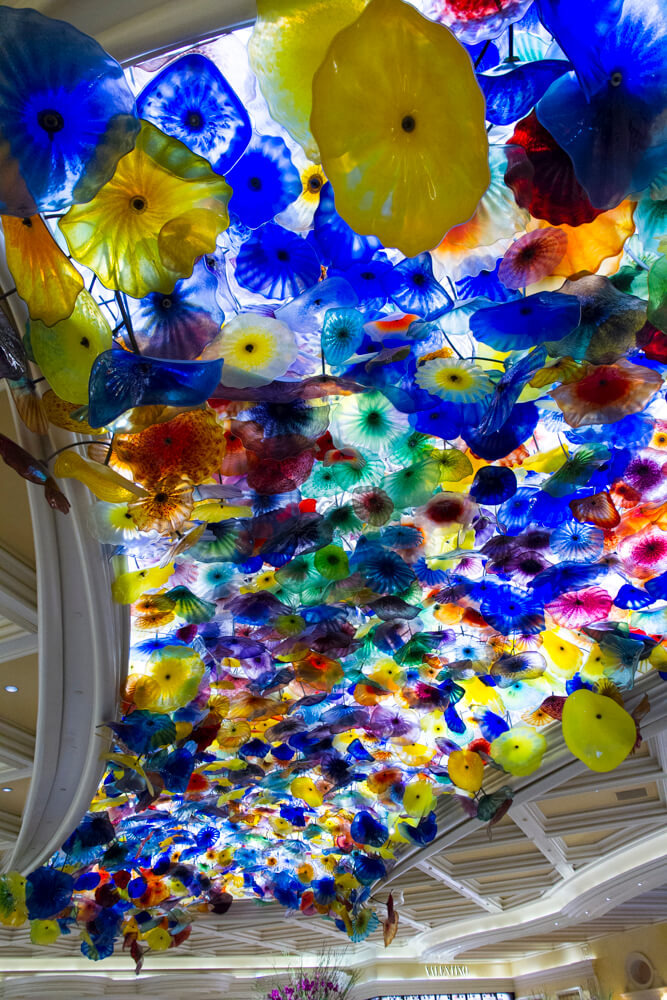 And from the lobby, we headed outside to catch the fountain show.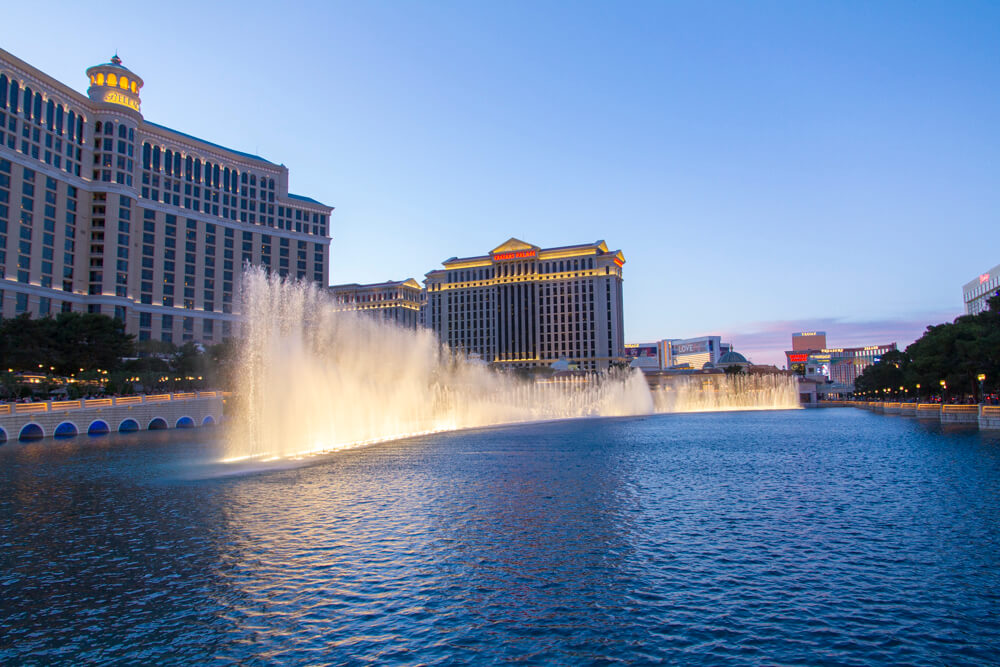 The theme of the show was "My Heart Goes On" and the display itself was really mellow.  There was no wow factor, and so this ended up being disappointment number two at the Bellagio.  Oh well, from there we turned right onto the strip and headed to the Cosmo for dinner.

Jaleo Las Vegas Location + Service
Jaleo Las Vegas is located two floors up from the casino floor, putting it the floor above Momofuku Las Vegas.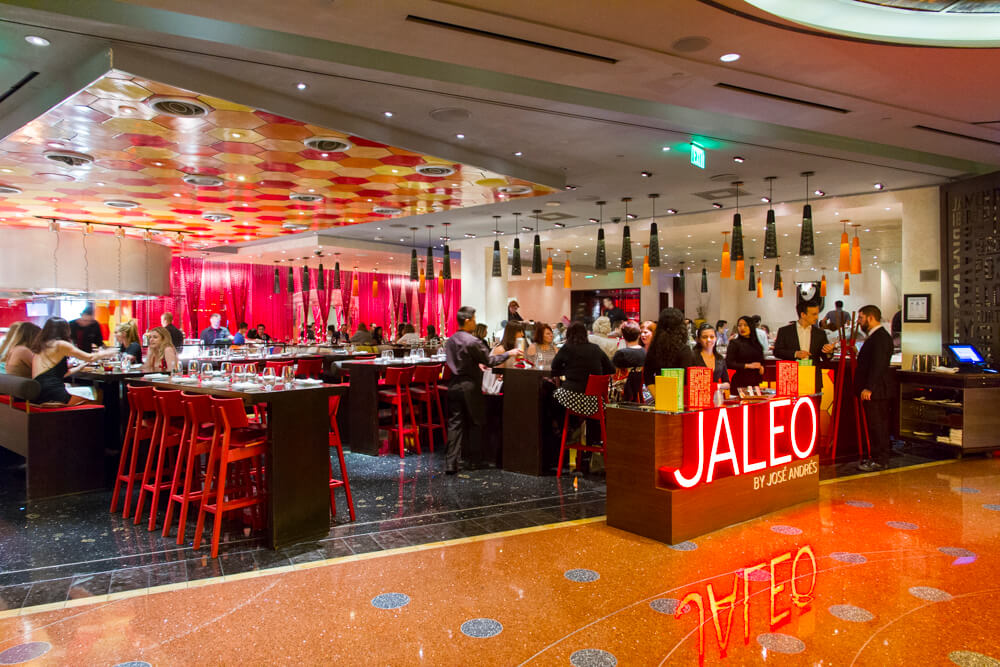 The restaurant has a really open concept with a mix of communal tables, smaller tables and booths.  And while some of the communal tables offer a better view of the wood-burning paella pit, it's not where I would have wanted to sit.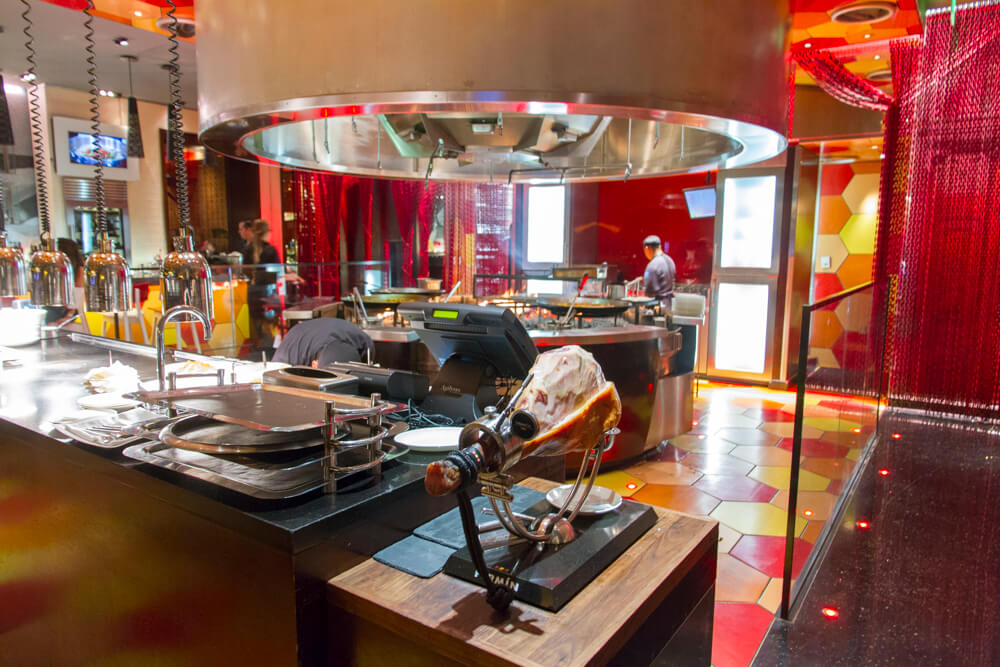 Luckily, once I check in, the host lead us to a nice booth in a quieter corner of the restaurant.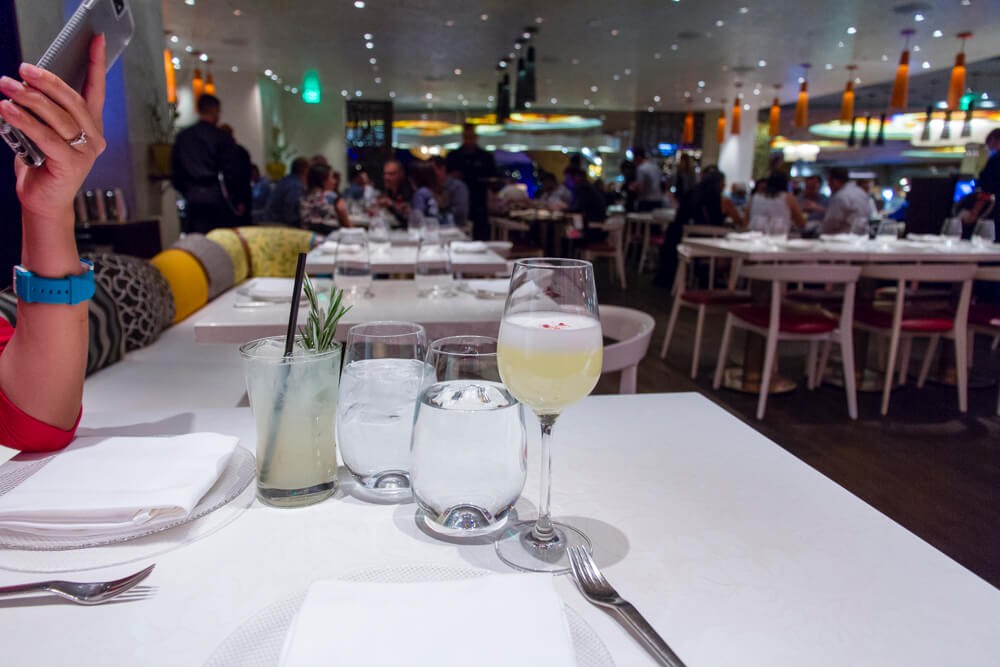 Like our experience at another Jose Andres restaurant this trip, the waitstaff were quite good at Jaleo too.  Our server in particular was very nice and knowledgeable.  That being said, while both restaurants are quite noisy, things just feel a little more chaotic at Jaleo in comparison to Bazaar Meats.  But, Jaleo is a much more casual concept and it's menu is tapas-style, rather than having traditional entrees, which likely contributed to this feeling.
The World's Best Ham
There's so many things we wanted to try on the menu, but tummy space and budgets have their limits.  So to start, I ordered us an ounce of Jamón Ibérico de Bellota, which comes with a side of etherial Pan de Cristal con Tomate.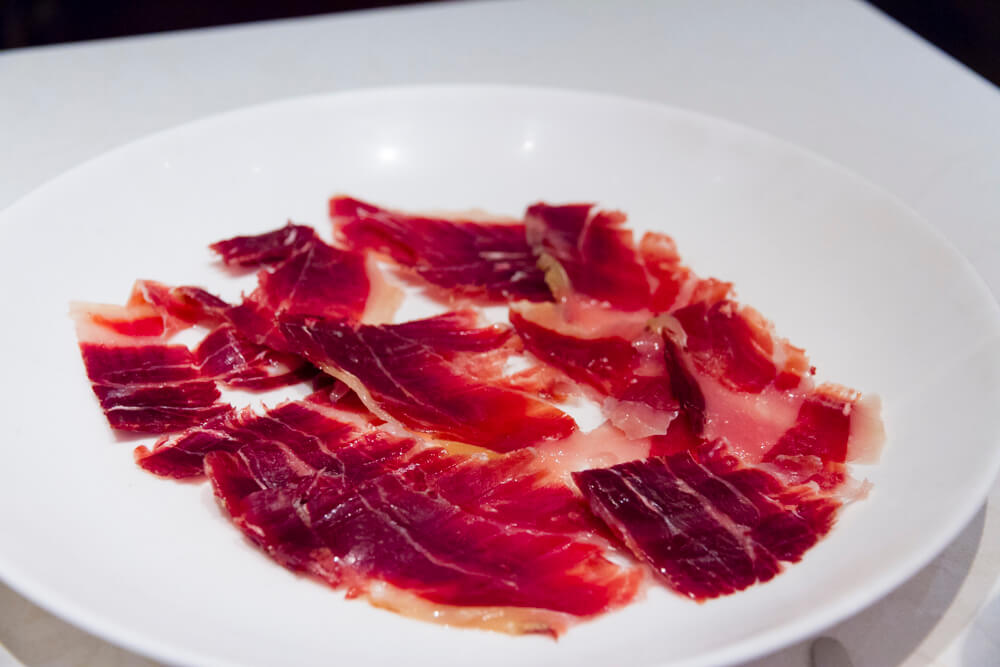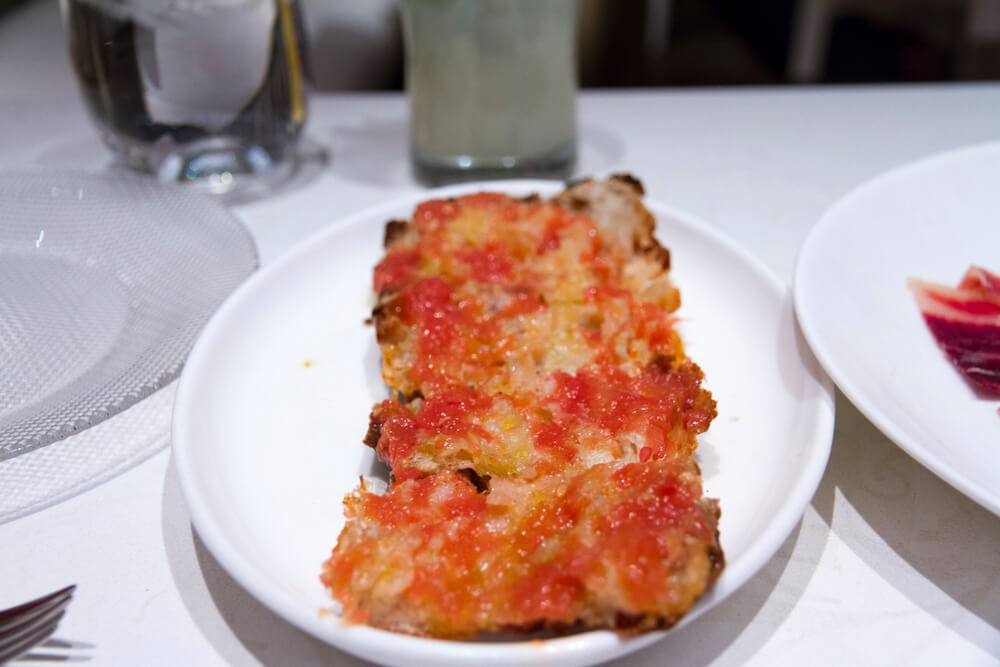 If you didn't already know, the Jamón Ibérico de Bellota is one of the most expensive hams in the world.  It is made from the acorn-fed, black Iberian hog from the region of Spain near the border with Portugal, and has been cured for 36 months .  The fat from the ham kind of coats your mouth, and has an intense meaty flavor with slight sweetness and funk, with a punch of salt.  It is offset wonderfully by the chewy, crispy, acidic, sweet, savory, yeasty, earthy Pan de Cristal.  I could eat both of these things all night.
Tapas
The Jamón Ibérico de Bellota is incredible, so we had to choose our following dishes wisely.  And so, our next dish was Aceitunas rellenas y aceitunas 'Ferran Adrià', also known as olives stuffed with anchovy + piquillo peppers served with Ferran Adria liquid olives.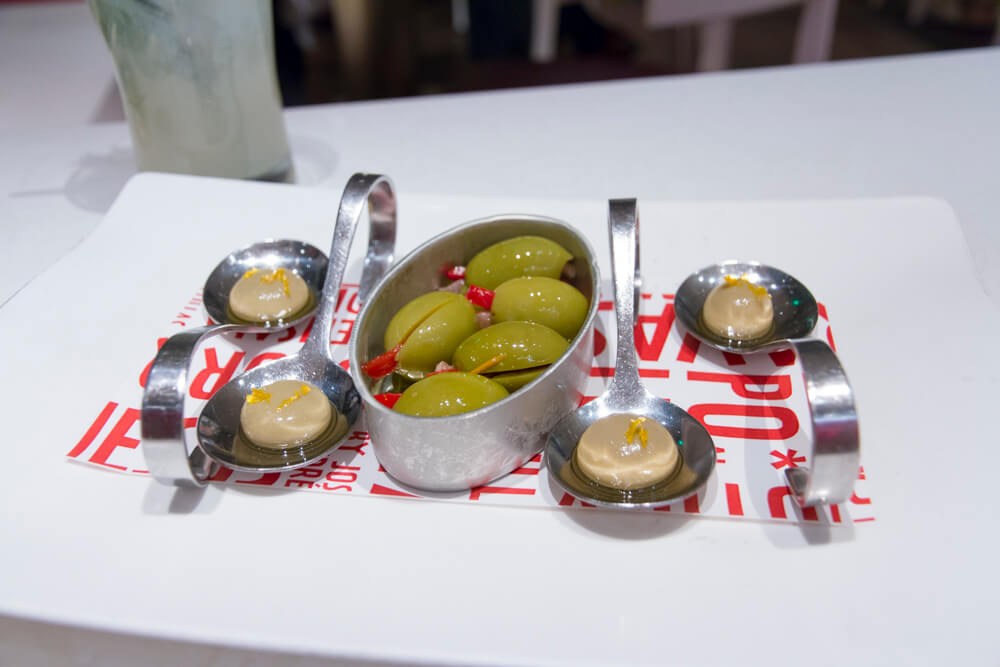 This dish was a nice traditional + modernist combination.  The briny olives were wonderful with the anchovy and sweet peppers, while the bitterness of the liquid olives were nicely offset by the citrus zest.
These were followed by, surprise surprise, Bagels & Lox cones ones again!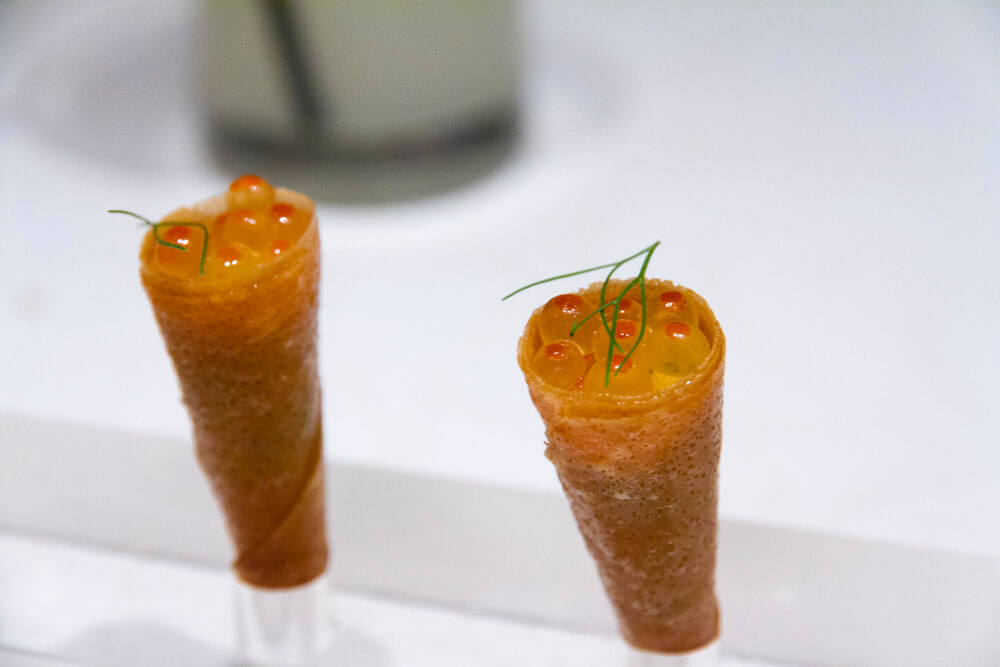 And then, we had Endibias con queso de cabra y naranjas, which are endives filled with goat cheese, oranges, and almonds.  I mean, you have to have some vegetables, right?  And while this dish wasn't exactly anything special, it served as a nice palette cleanser.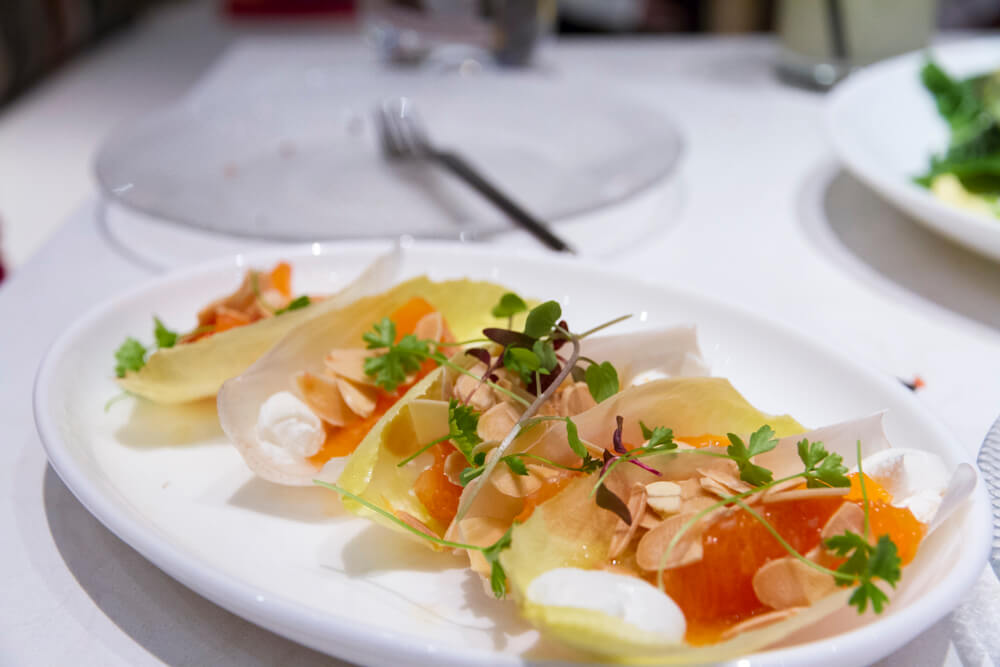 This was followed on by what was one of our top three dishes of the night: Taco de huevo con caviar, which is a fried egg topped with osetra caviar, butter soaked toast, and shaved truffle.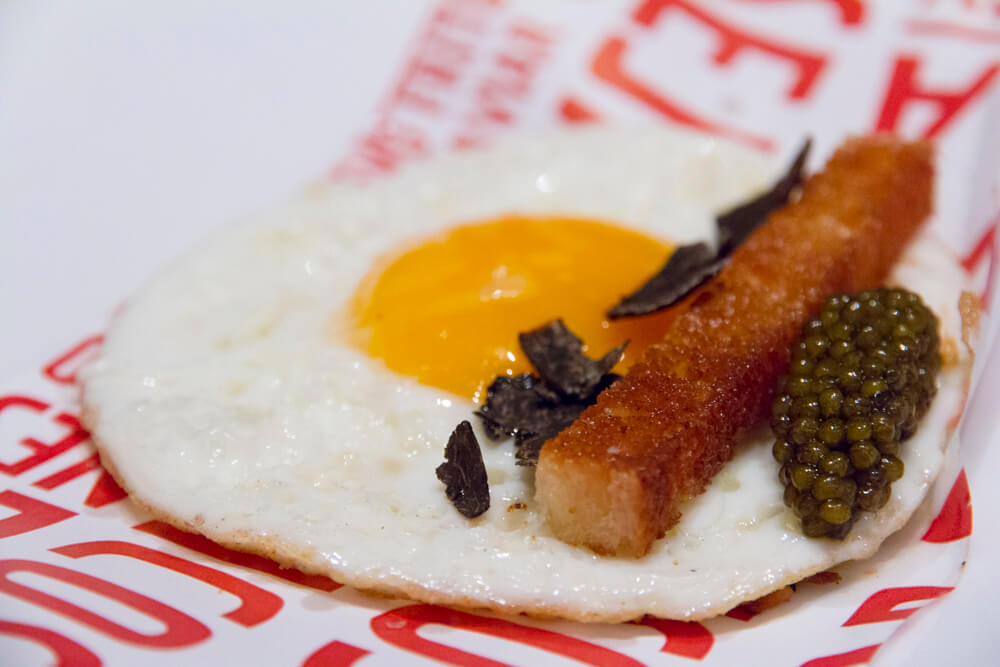 We initially ordered one intending to split this small, but heavy dish.  And while we did indeed split it, we loved this crazy, over-the-top dish so much that we ordered a second one.  Should've just done that from the start!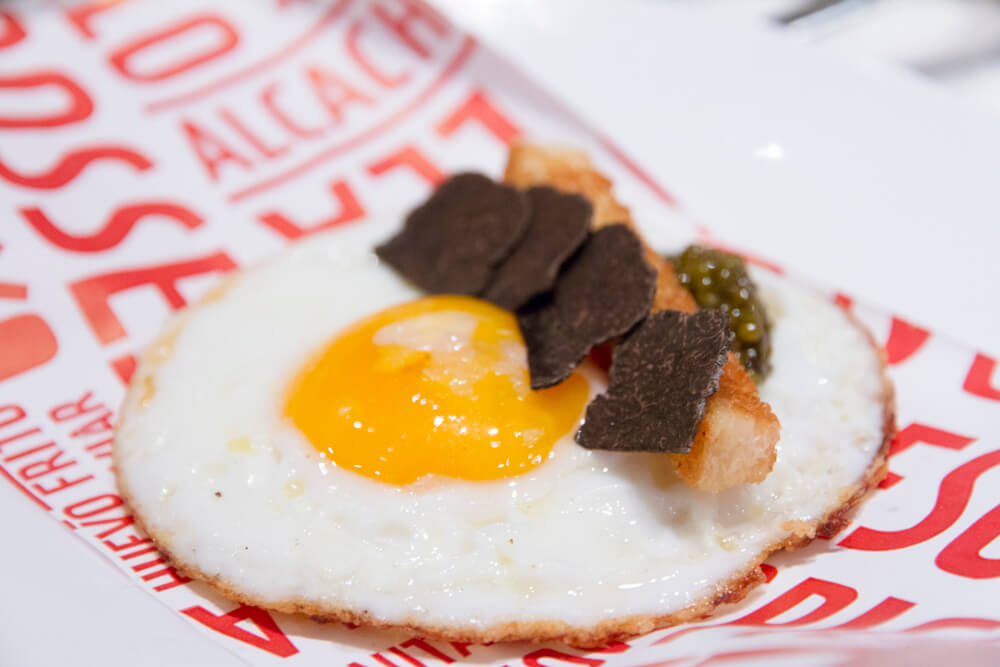 Paella
One of the main reasons you come to Jaleo is to have some authentic paella.  I've always kind of liked well made americanized versions of the stuff, but Jaleo's paella is on a whole different level.  Cooked traditionally over an open fire, only two versions are available per night.  On this occasion they had the chicken & mushroom paella, as well as the vegetable paella.  And I did eventually end up ordering both.
Pro tip: when ordering paella at Jaleo, put your order in early!  If you aren't able to get a serving from the current pan, it'll be about 45 minutes till the next batch is ready.
Our first paella of the evening was the chicken and mushroom version.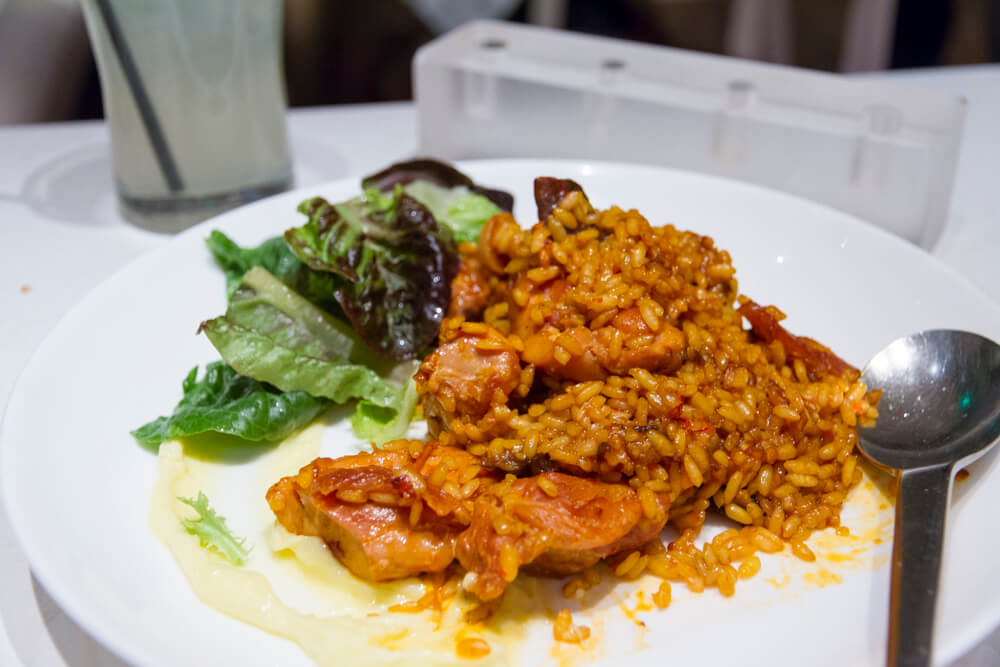 It looks and sounds very simple, but there was an incredible depth of flavor.  So meaty, earth, and smoke, with a slight twang from the tomato.  The rice was, of course, cooked perfectly, with a nice amount of bite and some almost crispy pieces.  It was, admittedly, a little oily, though, which didn't bother me at all.  Oh, and it was served with a smearing of garlic aioli and some greens, which helped to add another dimension altogether.  I would have eaten 2 more plates of this if I could!
And because I liked it so much, I decided to order the vegetable paella to see how it stacked up.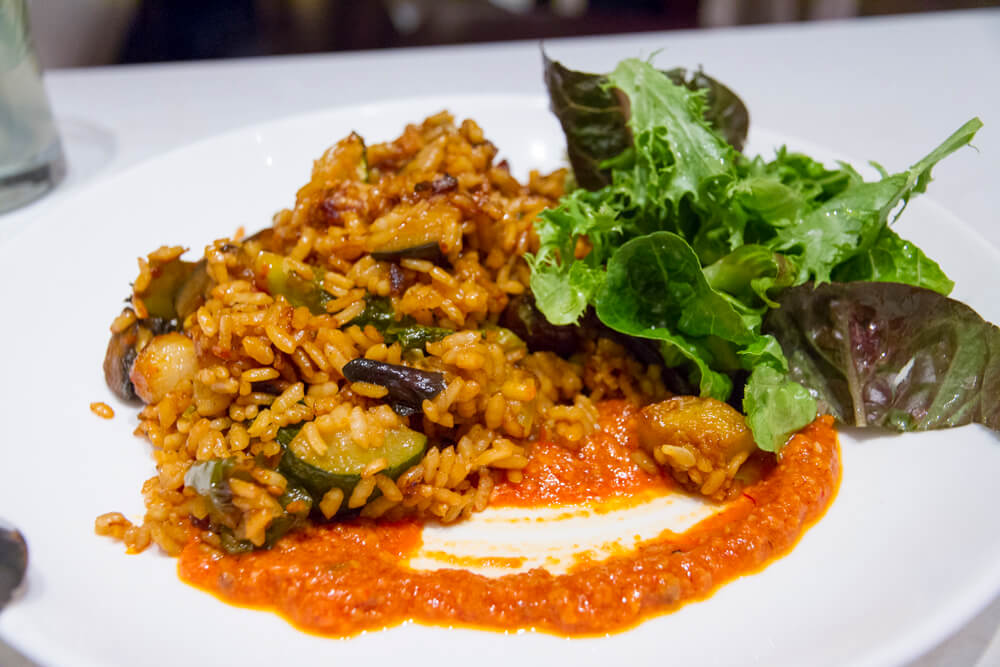 As you might imagine, this version was a bit lighter and definitely less oily than the chicken.  The dominant flavors were tomato and pimento, thanks in large part to the vibrant romesco sauce that accompanied it.  And while I thought the vegetable paella was good, to me it couldn't compare to the chicken version.  But this is just a matter of preference really, as the technique on both were perfect.
A Couple More Tapas
Mrs. Island Miler wanted something lighter when I ordered our second paella, so she ordered the Sopa de Ajo con Cangrejo, which is a cold almond and garlic soup with crab meat and grapes.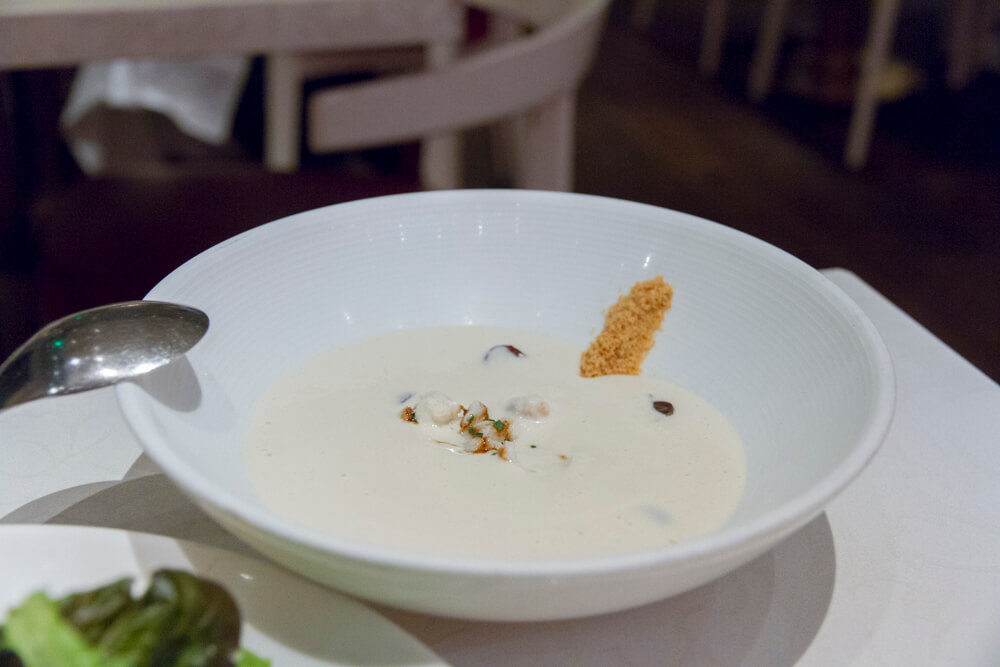 The dish sounds weird, but she really liked it.  I don't think I tried it as she had already said I was on my own for the paella and I was beginning to get full.
There was, however, one more dish on the way that we had ordered a little earlier.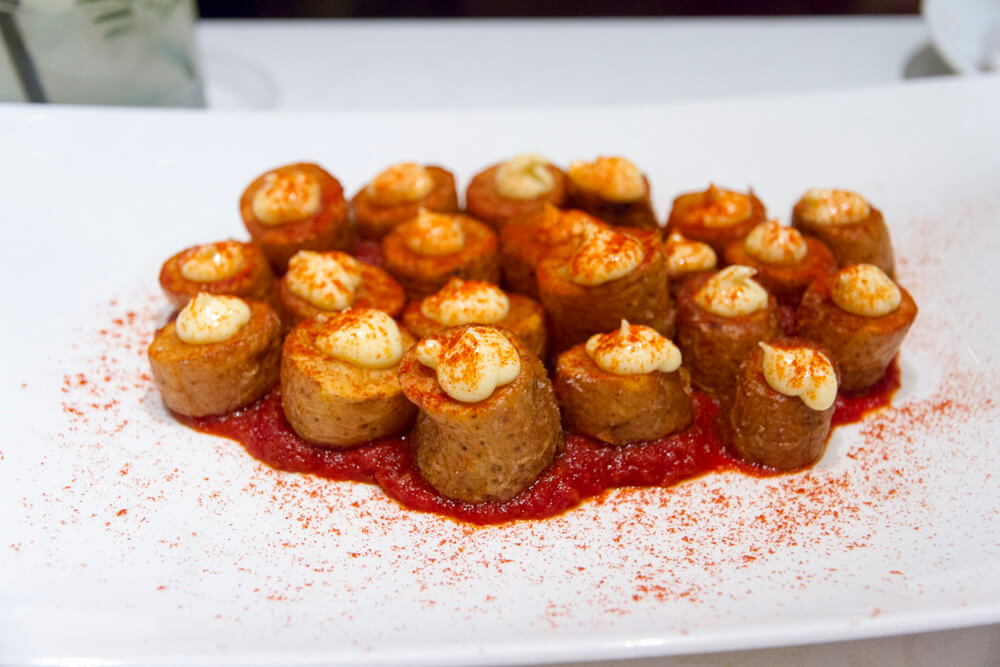 It was the Patatas Bravas, which are fried potatoes with a spicy tomato sauce and garlic aioli.  The menu says it's a Jaleo favorite, but neither of us liked it.  Perhaps it's because the potatoes weren't crispy or salted?
Jaleo Las Vegas Final Thoughts
Jaleo Las Vegas ended up being just the kind of place I hoped it would be.  A mix of excellent authentic and modern Spanish cuisine with good service in a casual atmosphere.  Is it inexpensive?  Hell no!  It was actually quite expensive.  But I thought the price was well worth the quality of the food and the overall experience.  We liked almost everything we ordered and it's not like they cut any corners either.  In fact, I can't wait to dine at a Jaleo restaurant again, hopefully soon.  And I wholeheartedly recommend it to anyone that wants a tasty, high-quality, casual meal with a lot of Spanish flavors and influence.
My First Las Vegas Adventure
Flights
Car Rental
Hotels
Dining
Jaleo Las Vegas
Activities/Sights