Southwest Airlines spent much of 2019 building and normalizing its Hawaii operations. This, however, has put immense pressure on Hawaii's largest airline. But Hawaiian Airlines is getting a reprieve, as Southwest slows its Hawaii growth.
Coming Growth
As I covered a couple of weeks ago, Southwest is adding a few new routes in January 2020. Those routes include:
Sacramento – Honolulu begins 01/19/20, once daily
Oakland – Kona begins 01/19/20 every Monday, Wednesday, Friday, Sunday
San Jose – Lihue begins 01/19/20 every Monday, Wednesday, Friday, Sunday
Oakland – Lihue begins 01/21/20 every Tuesday, Thursday, Saturday
San Jose – Kona begins 01/21/20 every Tuesday, Thursday, Saturday
Plus, they're completing their inter-island network with:
Honolulu – Lihue begins 01/19/20, 4x daily
Honolulu – Hilo begins 01/19/20, 4x daily
Kahului – Kona begins 01/19/20, 1x daily
That'll take Southwest's current inter-island daily departure count from 16 to 34. A far cry from the frequencies Hawaiian offers for sure, but not something Hawaiian can ignore. After all, according to the Honolulu Star-Advertiser, inter-island flying makes up 25% of Hawaiian's revenue. And, until earlier this year, Hawaiian had a virtual monopoly on intra-Hawaii travel.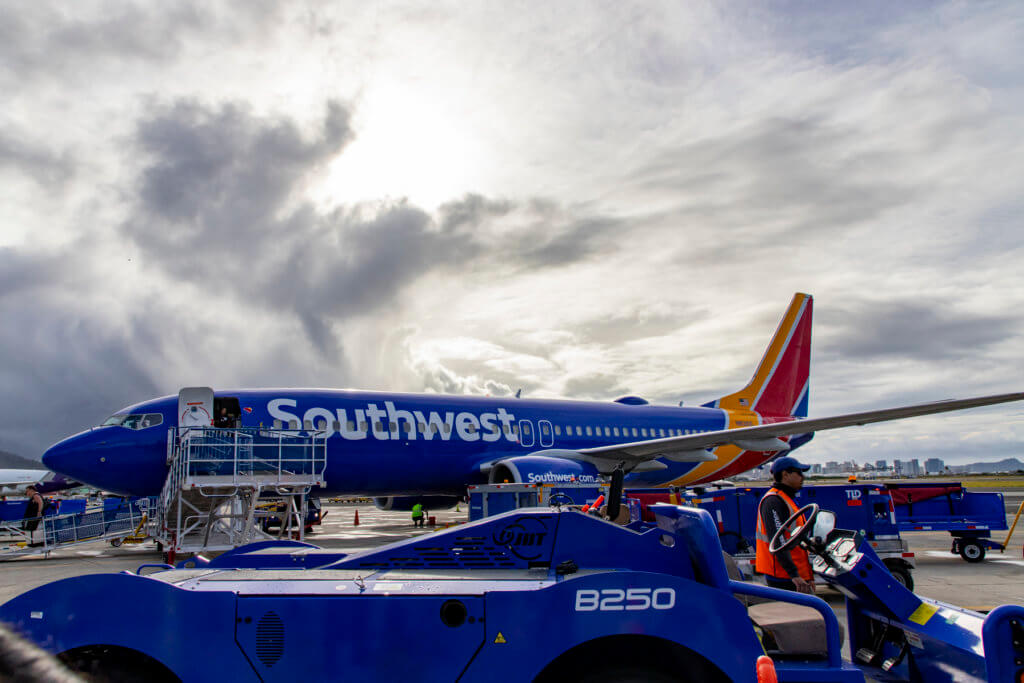 Hawaiian's Reprieve
At the International Aviation Forecast Summit in Las Vegas, Southwest's Chief Revenue Officer, Andrew Watterson, was quoted saying "[t]he majority of our inter-island expansion is behind us. We have a good inter-island network announced but not yet in full operation, and maturing that is a first priority."
Watterson goes on to say, "[w]e expect Hawaiian to have much more capacity than us. We've already shown with the flights we have today that we are able to fill them up just with the first source of demand. We don't have those other two yet. That gives us confidence we should fill our aircraft."
But let's be real, here. Southwest is FAR from over with Hawaii.
My Take
While Watterson's statements are all well and good, I think this is Southwest nicely saying we don't have enough aircraft to open the routes we want to. After all, Southwest has over 30 Boeing 737 MAXs sitting in the desert, which caused them to cancel 20,000 flights in the last quarter alone. Further, they likely want to see what the appetite of locals will normalize to.
Make no mistake; this lul in inter-island expansion is only temporary. Especially when you consider all the routes Southwest is rumored to be considering:
Hawaii – Los Angeles
Lihue – California
Kona – California
Hilo – California
Hawaii – Phoenix
Hawaii – Denver
Now, I don't think all of these flights will come to fruition. But, my bet is a vast majority will. And there's no way in hell Southwests lets any of its aircraft sit on the tarmac between any of those flights that do operate. So, logically speaking, more inter-island flights are inevitable. But, right now, everything is riding on the Boeing 737 MAX's return to service, and Southwest receiving its backlog of aircraft now on-hold. That and Southwest's commitment to finally offer red-eye service.
Hawaiian Airlines Gets a Reprieve, Final Thoughts
Now, before I get accused of "having it out for Hawaiian" let me say this: I don't want Hawaiian to fail. In fact, I want to see Hawaiian prosper. It's in the best interest of our state that Hawaiian remains a viable and robust airline. They are, after all, one of our largest employers. And I personally know many people that work for them or have spouses that work for them.
That said, I'm a when it comes to Hawaiian, I am a dissatisfied consumer. They've long charged monopolistic pricing on certain routes and, while loved by the travel blogosphere, don't offer all that great service. Alaska and Delta are two airlines that I think do better in passenger experience.
But let's put all of the above aside too. At the end of the day, my concern is Hawaiian is turning into another American. I'm not saying Ingram is like Parker, but his statements and actions thus far haven't been confidence-boosting. Especially in the face of increasing competition, not only from Southwest, United, and Alaska, but also ANA. Plus, Hawaiian continues to grapple with labor issues and an aging fleet of Boeing 717s, which are crucial to their intra-Hawaii operations.
I don't want to sound doomsday-y, but Hawaiian's future isn't so clear. The Airline really needs to get its shit together and fast.