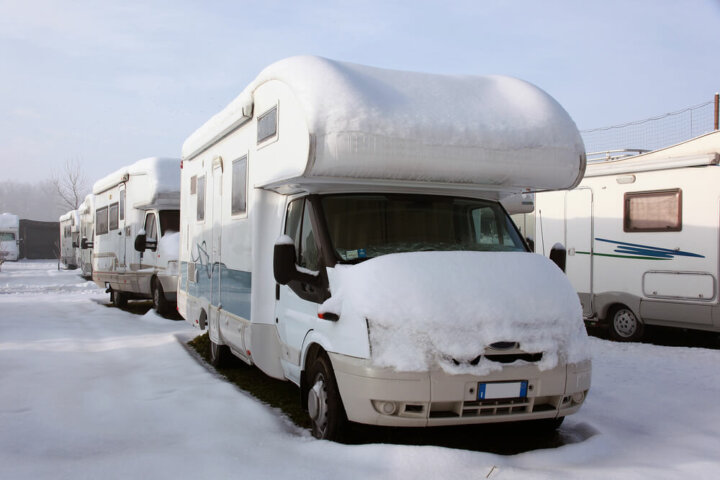 All of our reviews are based on exhaustive research, industry experience and whenever possible, hands-on testing. When you make a purchase using one of our chosen links we'll get a small percentage of the proceeds. This supports the site and keeps Jeffsetter running. You can read more here.
Winterizing your RV is an essential part of protecting your rig over winter, making sure it's ready to go when the next camping season begins. Although an RV is usually only winterized until spring comes around and temperatures increase, you may need to keep your RV in storage for a while longer.
Regardless of the method you chose for effectively winterizing your RV, you may be wondering:

How long can an RV stay winterized?
Many RVers have found their RV can stay winterized for as long as 2 or 3 years. The antifreeze in your system should remain effective for at least 2 years, but it's important to remember you can't use your RV and all its components fully until you've de-winterized your rig.
Winterizing an RV involves using either compressed air or RV-specific antifreeze through the plumbing system to prevent pipes from freezing, expanding, and bursting when sub-zero temperatures hit.
If your camper has remained not in use and was winterized a couple of seasons ago, you may be wondering if your RV is still protected effectively from the cold, or if you need to take any further precautions to help avoid winter damage.
So, let's dive deeper, and explore how long your RV can stay winterized, whether you even need to winterize your RV in the first place, how and when you should de-winterize your camper.
How Long Can An RV Stay Winterized?
An RV can remain winterized for at least 2 years, and many RVers have found their rigs have successfully stayed winterized for over 3 years without any problems.
If you live in a particularly cold climate and your rig is being stored curb-side, it may be useful to repeat the winterization process each winter season to ensure your RV and all its components are effectively protected.
Not winterizing your RV may lead to damage that can be both expensive and timely to repair, especially when it comes to your RV's plumbing system.
If water gets left in the water lines throughout your RV and temperatures plummet, they can freeze, leading to expansion and pipes bursting under the pressure. When the water returns back to its liquid state, it can pool inside the RV, eventually leading to mold growth if left to worsen.
RV antifreeze is very different from standard automotive antifreeze and is usually a bright pink color. If left in your water lines for an extensive amount of time, the pink color can eventually stain your pipes and be difficult to get rid of.
It's essential to still keep an eye on your RV and check on how it's doing when the cold weather hits. By taking a few minutes every now and again to check for signs of moisture or leaking, you can catch any issues and prevent them from getting any worse.
It's possible to use a stationary RV that has been winterized, as long as the plumbing system remains out of use. After blowing out all of the water in the lines using compressed air, or pumping antifreeze through the system, the faucets and shower can't be used.
Although RV-antifreeze is specifically designed to be used in your RV's plumbing system, it's not a good idea to come in contact with it unnecessarily.
If the antifreeze is drained from your system, the plumbing will no longer be protected from freezing temperatures, so it's probably best to use containers in the RV instead of your freshwater system whilst it's winterized.
Do You Need To Winterize An RV?
Winterizing an RV really is the best way to give your rig a good chance against harsh winter weather conditions. Winterizing your RV can take a considerable amount of time, but leaving your rig unprepared for rain, snow, ice, and high winds make it more susceptible to damage.
Repairs needed to fix burst water lines and leaks can cost a lot of money, so it's best to be safe rather than sorry and take the necessary precautions to winterize your RV.
1. Protects The RV Plumbing System
The main reason RVers winterize their campers over the winter period is to protect the plumbing system throughout the RV. As RVs are usually equipped with a kitchen and a toilet or shower area, RV plumbing can run through many areas of your RV.
If these lines are left unprotected from freezing temperatures, any of them can freeze and burst, potentially causing extensive damage in various places in your RV.
By either flushing your water lines with antifreeze or removing all the water from your RV plumbing with compressed air, you can greatly limit the chance of the pipes freezing.
It's important not to forget about winterizing your RV tankless water heater as it too needs protecting from the cold.
2. Prevents Leaks
Although clearing out any water from your plumbing is a big part of the winterization process, there are other aspects that are just as important. If you suspect your RV may have leaks in the seals, roof, or any other area, it's a wise idea to pressure test your entire RV to locate the leaks.
An RV won't be protected effectively if water can make its way inside, so taking the time to inspect your rig for leaks and fixing any you find is a crucial part of RV winterization.
3. Avoids Mold Growth
Winterizing your RV helps keep any moisture at bay, reducing the risk of mold growth drastically. Mold can be a nightmare in RVs as it can spread and worsen, causing areas to become damp, soft, and smelly.
Making sure your RV is watertight will help avoid mold growth, but if your RV is staying winterized for a long time, it's important to still check on it for leaks, as they can happen unexpectedly.
Along with saving in costs, winterizing your RV or travel trailer can help increase the lifespan of your rig as it won't have to experience the problems that come with a camper that's not winterized.
Even small leaks can eventually cause rot and mildew, especially in hidden areas, so my biggest piece of advice would be to take the time to winterize your RV correctly and save yourself from hassle and stress in the future.
How Do You De-Winterize An RV?
Knowing how to protect your RV in winter is essential, but when you can feel the warm rays of sun on your face and are getting ready for spring camping, you'll need to de-winterize your RV.

After introducing antifreeze into your RV's plumbing system, you'll need to thoroughly clean it out before you can safely use your RV and all its elements fully.
De-winterizing your RV is arguably just as important as the winterization process and knowing how to de-winterize effectively will lead to an RV that's ready to hit the road once again.
Just be sure to wait until temperatures have increased substantially from winter, as if temperatures drop, you'll need to repeat the winterization process again.
1. Remove The Antifreeze
Before you can go ahead and use your faucets and shower properly, you'll need to remove all traces of the antifreeze you pumped through your system last autumn or winter. Completing the RV de-winterization process at a campground can be useful as you'll need access to lots of clean water to flush your system fully.
Turning on the bypass valve on your water heater will help by allowing the antifreeze to flow out of your system. Connecting to a city outlet can make things a lot easier, and as long as there's drainage nearby, you can safely dispose of the antifreeze that runs out of your plumbing.
As antifreeze can be harmful to the environment, you'll need to dispose of it correctly in a suitable place where the environment won't be harmed. Antifreeze can be tempting to dogs and children due to its color and sweet taste, so be sure to store your antifreeze out of the way of pets and little ones.
2. Turn On The Faucets And Shower
The best way to drain the antifreeze out from your RV is by turning the faucets and shower on and letting the pink antifreeze flow out from the plumbing system.
You'll know when all of the antifreeze has left your water lines as the water coming out of the faucets and shower will be clear, and no longer a bright pink color.
3. Continue Flushing The Water System
The water heater in your RV will also need de-winterizing, so you'll need to take it out of bypass mode, or instead flush it through and replace the filter. It's a good idea to flush your system through a few times, as even small amounts of antifreeze in your RV plumbing may make the water in your camper taste a little odd.
It's possible to use compressed air instead of RV antifreeze to winterize your rig, and if you didn't use the pink stuff, you'll just need to sanitize your system. As the compressed air method of RV winterization doesn't involve the use of chemicals and is arguably more eco-friendly than using antifreeze, it's a popular method for many RVers.
There is such a variety of RVs on the market, and regardless of whether you have a travel trailer, Class B RV, or a truck camper, knowing how to de-winterize your rig is essential.
I find it helpful to keep both a winterization and de-winterization list handy for I need to complete each process. By writing everything down, I'm less likely to miss a step, and more likely to complete the job correctly.
The video below provides a fantastic breakdown of how to de-winterize your RV's plumbing system, as this is a part of the de-winterization process that can take a while, but needs to be done correctly for the best results.
Once you've completed the de-winterization process of your camper a few times, you'll start to feel far more confident in your abilities.
Try not to be hard on yourself if you're feeling overwhelmed about winterizing and de-winterizing your RV. Breaking things down one step at a time helps keep me grounded and avoids any overwhelming feelings about the task ahead.
When Should You De-Winterize An RV?
The de-winterization process can only begin when temperatures are high enough that your RV and its components aren't at risk of freezing or getting damaged.
If you've de-winterized your rig and temperatures suddenly drop, just make sure your holding tanks are empty and try to keep your RV warm to avoid the cold leaving its mark and creating problems.
Generally, from the months of April and May, temperatures rise enough to not drop back below zero. When temperatures increase and remain consistently above the freezing zone, you can be confident it's time to de-winterize and get your RV ready for traveling again.
The process of de-winterizing your camper can take a while, so it's important to set aside adequate time to complete the process effectively. It can even be a fun idea to get the whole family involved in getting your RV ready for family vacations and exploring again.
Closing Thoughts
As long as an RV is winterized effectively, it's possible to keep it winterized for 2 or maybe even 3 years. This may be slightly trickier if you live in a particularly cold climate, and if this is the case for you, I'd recommend completing a full winterization process each year to maximize your rig's protection.
It's essential that no matter how long your RV has been winterized, you take the correct measures to de-winterize it effectively. This will make your RV's plumbing safe for use again, so you can cook, clean, wash, and adventure into the future without an issue.