After our sugar-fueled morning at Ethel M's, we needed actual sustenance. So, we decided to head back to the Strip to check out one of the newest dining options in Vegas – Famous Foods Street Eats at Resort World LV. Though, my primary goal for our visit was just to check out Kuru Kuru Pa by the Aoki Brothers. 😉
Opening on June 24, 2021, Resort World Las Vegas is the newest resort on the Las Vegas strip. The last new resort to open was the Cosmopolitan back in 2010. However, unlike the Cosmo, Resort World is on the northern end of the Strip, just south of Circus Circus. That made getting there a bit of a haul from Ethel M's, which is in Henderson. But what's even more of a pain is the parking.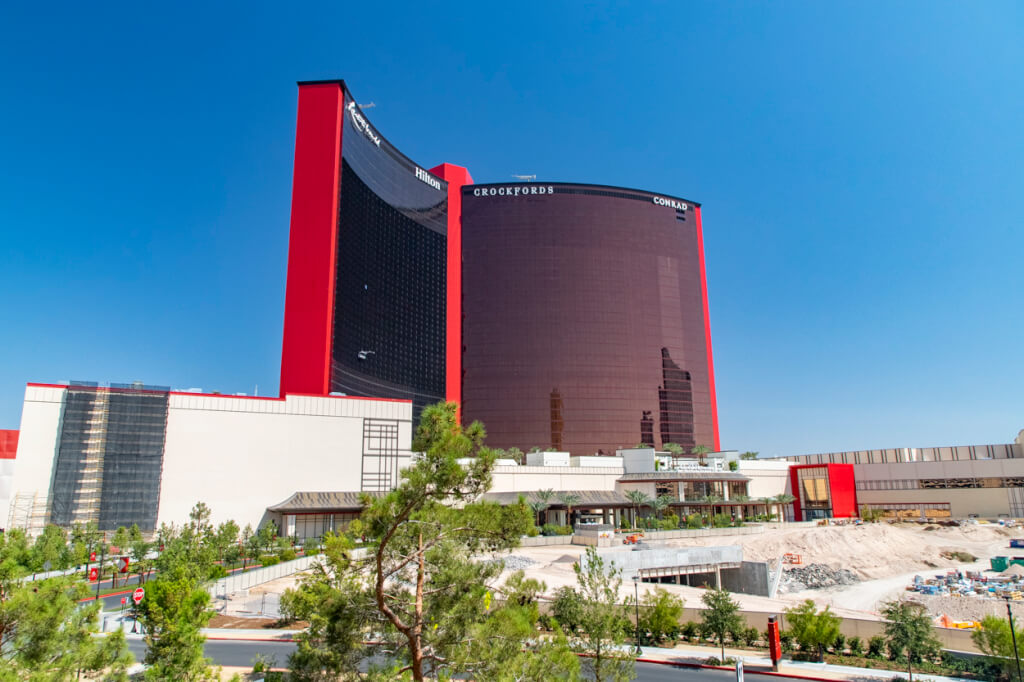 Self-parking at Resort World LV is complimentary. However, the parking structure isn't connected to the main tower at all. Rather, you need to take a 5-minute walk outside in the blazing hot sun to get from the garage to the main entrance. We did try to valet when we first got there, but none of the valets were interested in helping us.
Famous Foods Street Eats at Resort World LV
Once you get into the main building, finding Famous Foods Street Eats is really easy. In fact, the food "street" begins just to the right of the main entrance.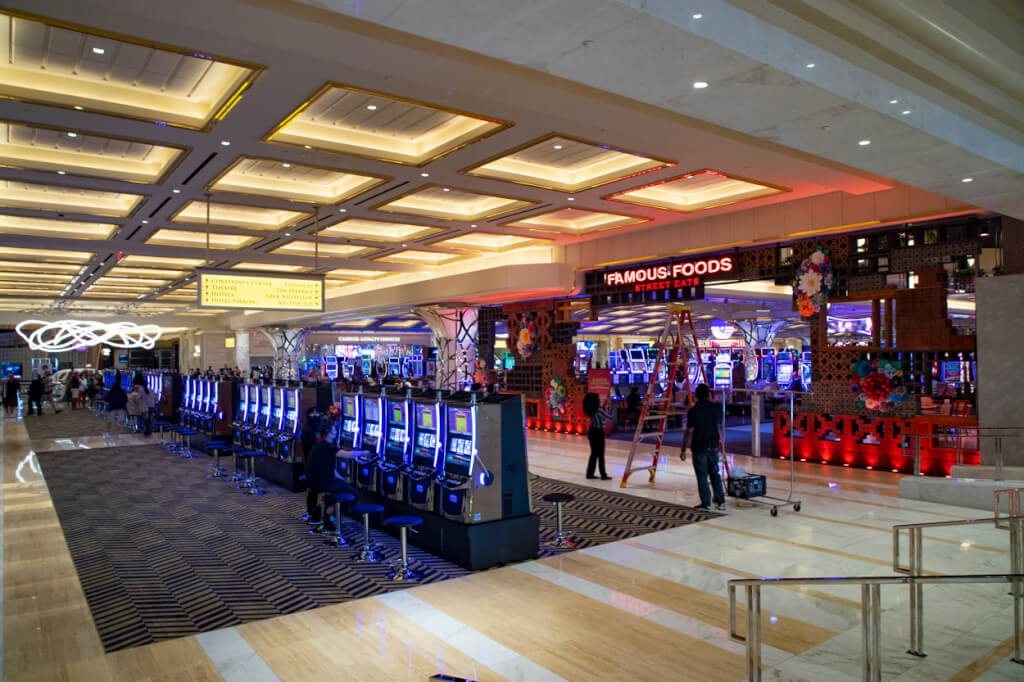 From there, you can make your way down the stylized indoor walkway to check out all 14 establishments within this unique take on a food hall. Currently, those 14 eateries include:
Ah Chun Shandong Dumpling
Blood Bros (Texas BBQ)
Boon Tong Kee (Chicken Rice)
Fuhu Shack (Peking Duck)
Geylang Claypot Rice
Googgle Man's Char Kuey Teow
Kuru Kuru Pa Yakitori
Mozz Bar by James Tree
Nori Bar (handrolls and sake)
Pepita's Kitchen (lechon)
Springleaf Prata Place (roti canai)
Streetbird (fried chicken)
Tens Suns Braised Beef
Sweet Eats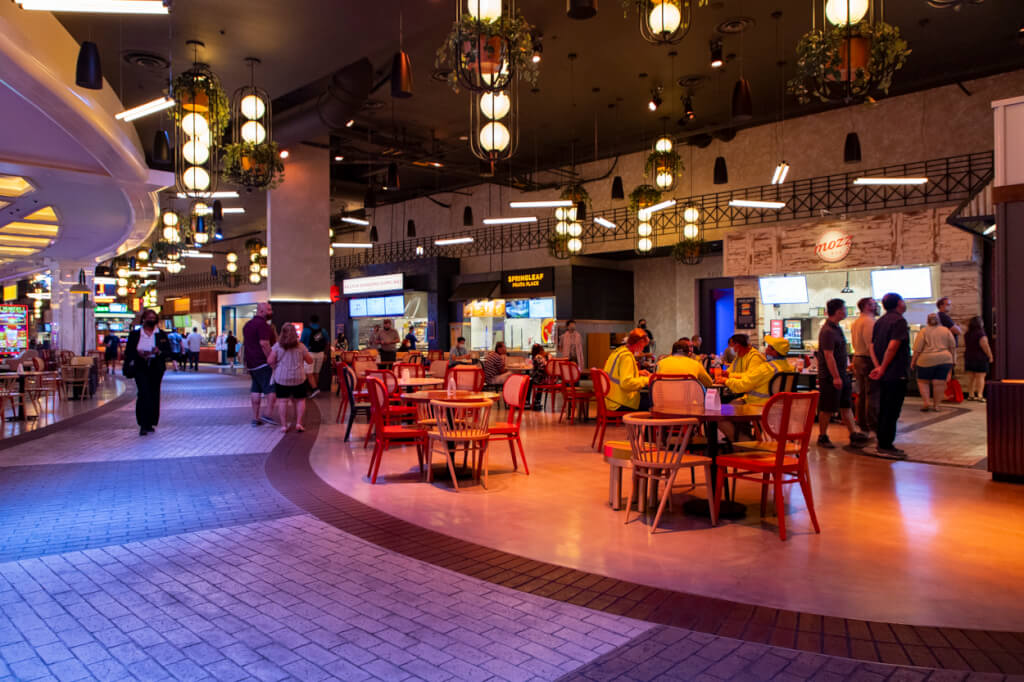 How to Order
The entire Resort World development emphasizes technology, and it's no difference here. As a result, you don't order your food at the individual stalls. Rather, you need to find one of the many kiosks placed throughout the space.
Here, you select the stall you want to and then add dishes to your cart. Conveniently, you can add dishes from one to all of the stalls to your cart and then pay for them all at once.
Once your order is ready, the system will send you a text message notifying you which stall you need to head to. For our visit, we decided to sample dishes from Kuru Kuru Pa, Ah Chun Shandong Dumplings, and Nori Bar.
Ah Chun Shandong Dumplings
Mrs. Island Miler and I love dumplings. So, we decided to get an order of Sheng Jian Bao ($10) from Ah Chun Shandong. The menu lists these as pork-filled pan-fried bao with pork bone broth. I assume that they meant these were Shanghai-style soup dumplings. However, that wasn't the case.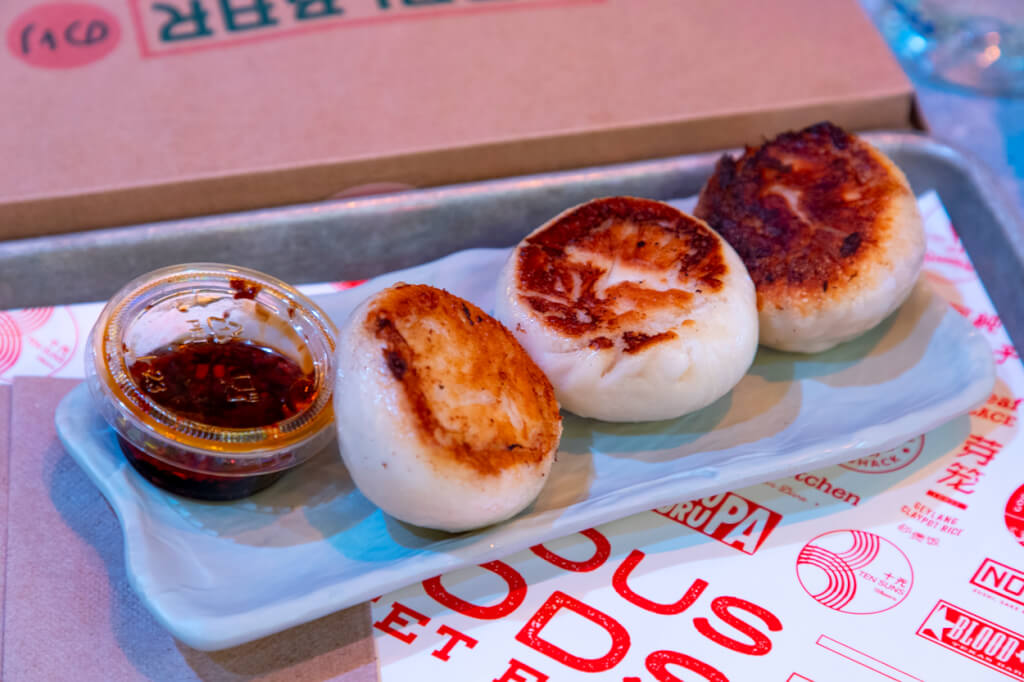 As you can see, one order comes with three dumplings. The bottoms of these nicely-sized dumplings are crispy and caramelized with soft, chewy tops. Unfortunately, the dumplings have no soup inside. While the pork filling is tasty, filled with ginger, scallions, and other aromatics, it's also rather dry. The chili vinegar helped a lot.
Nori Sushi
When we were perusing the menu, sushi sounded good to us, so we decided to try Nori Sushi. To keep things simple, we ordered the Lobster Handroll ($9).
I'm not sure what I was expecting, but the sushi from Nori was legitimately bad. I'm not sure if the filling was lobster or faux lobster, but all I could taste was mayo. The little shoyu tray that comes with it is metallic, which is cool, I guess. But I wouldn't order from here again.
Kuru Kuru Pa Yakitori
Our last order was our largest since we ordered the Kuru Kuru Pa signature Mama San Combo ($17). It also took the longest to make, so I ended up watching them grill up our order too.
So what's the Mama San Combo? It's all of the yakitori classics on their menu, including Organic Jidori Chicken Wing with Salt & Shichimi, Kurabota Pork Jowl with Tobanjan Sauce, Organic Jidori Chicken Heart with Wasabi Sarusa & Crunchy Garlic, and Furikake Onigiri. Oh, and I added a Chicken Thigh with Negi and Mama Aoki's Tare.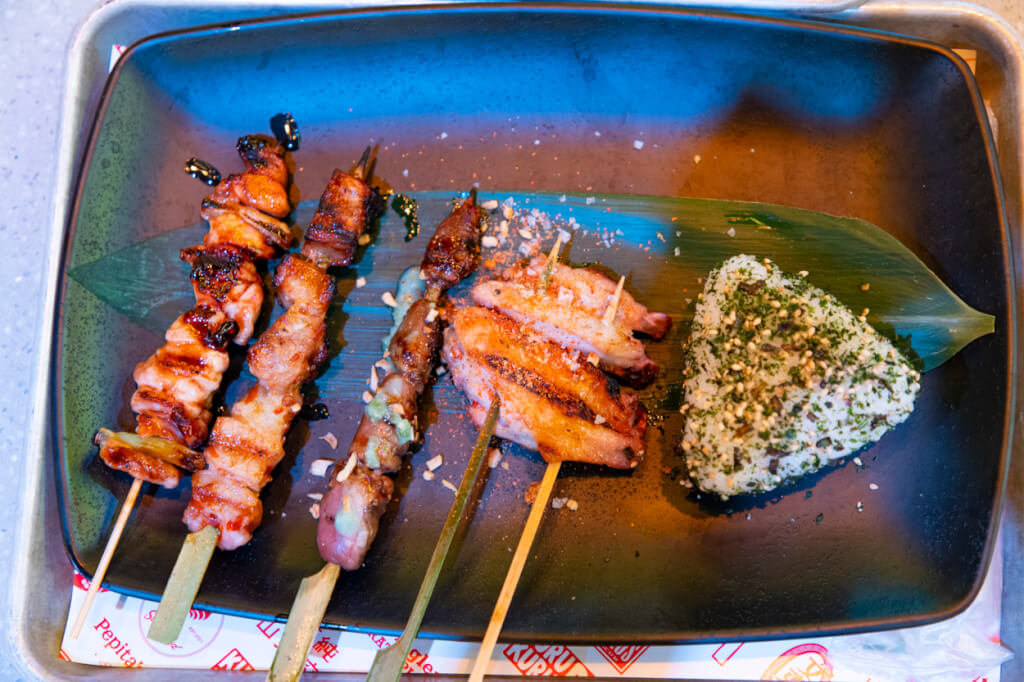 This was, without a doubt, the best set we had at Famous Foods! The chicken wings were my favorite of the lot, as they were juicy, flavorful, meaty, and crip all at once. The chicken hearts were surprisingly good, too, as they had a nice chew to them without being rubbery, while the wasabi adds a nice touch to it. The tare on the chicken thigh was fantastic for what's essentially a food court restaurant, while the chicken itself was succulent. I liked the pork jowl, too, though I thought it could use more salt, and I don't care for the sweet chili sauce.
The one item that didn't work for me was the onigiri. The rice was too soft for my liking and didn't remind me of any onigiri I've had in Hawaii or Japan.
Final Thoughts
Overall, two of the three stalls we visited weren't all that great. But Kuru Kuru Pa is definitely someplace I'd go back to. And there are other stalls at Famous Foods Street Eats that I'd like to visit too. I'm particularly interested in sampling Boon Tong Kee, Googgle Man's Char Kuey Teow, Pepita's Kitchen, and Streetbird. Oh, and, I charged our lunch to my Hilton Aspire card and the purchase ended up clearing as a Hilton purchase! Whatever you do, at Resort World, though, don't gamble here. Resort World has some of the highest slot machine bets I've ever seen – even higher than at CityCenter!
Have you been to Famous Foods Street Eats? What do you think?
Vegas + Irvine Trip Report