My family would occasionally stay at the Grand Wailea for quick weekend getaways in my younger years. I loved the place, thanks to the amazing pools! Knowing that Mrs. Island Miler had never been, however, I made it my goal last year to get her there. And it was (mostly) great!
The Grand Wailea is about as iconic and storied as a modern resort in Hawaii can be. Opened in 1991, the Grand Wailea is developer Takeshi Sekiguchi's vision of what the ultimate Hawaiian resort should be.
Sekiguchi didn't hold back either. At the time, the 40-acre Grand Wailea cost $650 million to build. In today's money, that's about $1.37 billion! That's A LOT of money no matter what way you look at it, but visiting the property, it's easy to see why. The standard rooms at the Grand Wailea clock in at a massive 640 sq/ft. You'll see an enormous fine art collection throughout the property, including numerous bronze statues.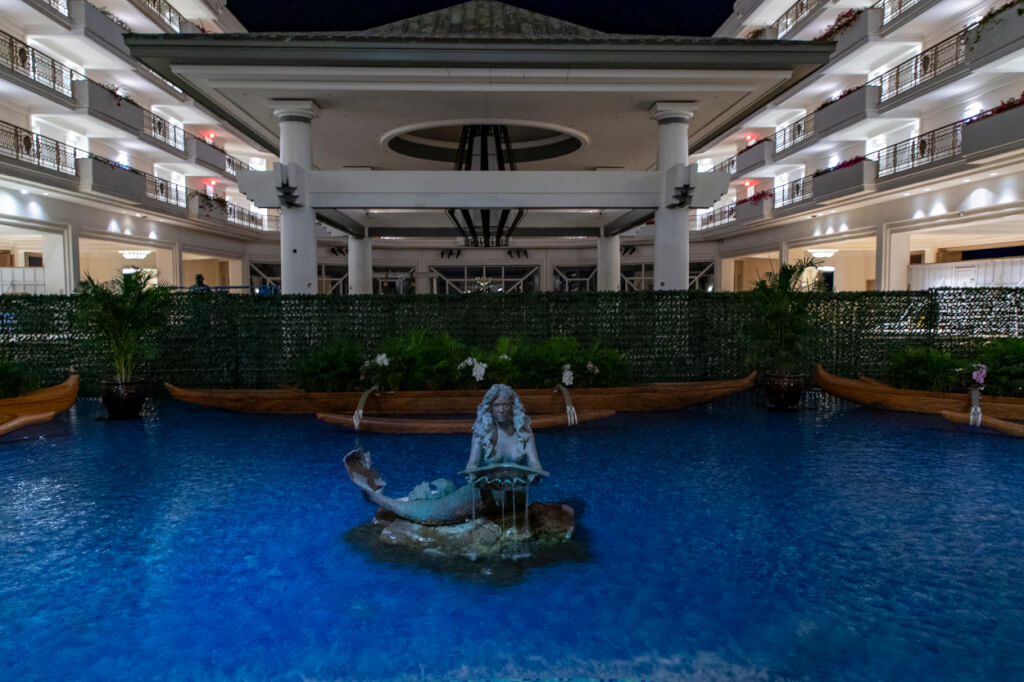 The Grand is even home to the largest spa in the state, several restaurants, a Koa wood-lined chapel, and a HUGE water park, including the only water elevator in the state! In fact, Mr. Sekiguchi ordered the construction of the water elevator to make the pool system easier to enjoy for his child, who uses a wheelchair.
Today, however, the Grand Wailea is part of the Hilton portfolio, operating under its flagship Waldorf Astoria brand. That's good for us since, provided you plan ahead, you can stay here on points!
Booking the Grand Wailea
Having gotten the Hilton Aspire card, I knew I wanted to use my free weekend night certificate at the Grand. That's a feat that's easier said than done. EVERYONE wants to use their certificate at this property. However, I lucked out and found availability for a weekend in November and booked one night with the certificate and another night for 95,000 points. That, by the way, is the absolute cheapest award redemption rate you'll find for the Grand Wailea and often requires you to book as soon as the booking window opens. That said, if you're flush with Hilton points or want to splurge on a suite, it's much easier to find award space. Just be prepared to pay 200,000+ points per night!
Grand Wailea Location
The Grand Wailea is located in the luxurious Wailea Resort on Maui's southern coast. The Grand Wailea is one of the more southerly properties within the resort, with only the Four Seasons, Fairmont Kea Lani, and Hotel Wailea coming after it. Slightly to the north, you'll find Hyatt's Destination Residences Wailea Beach Villas and Marriott's Wailea Beach Resort. Be careful when driving to the Grand Wailea, as its entrance is just after a sweeping turn in Wailea Alanui Drive. It's very easy to shoot past the resort, which I almost did during our initial arrival.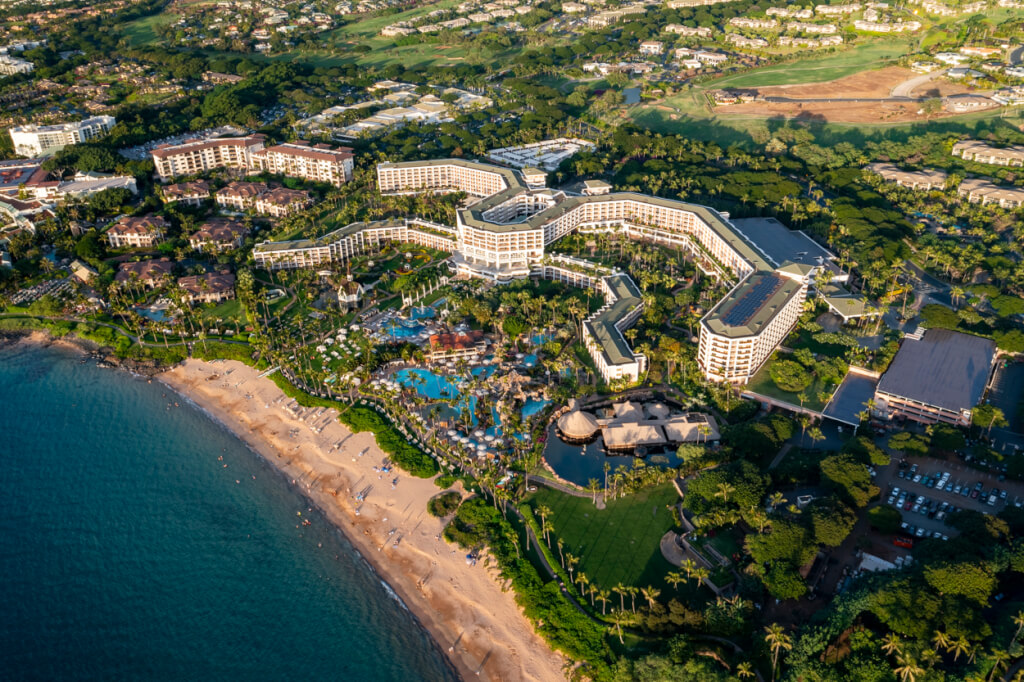 By the way, the Grand is a valet-only property. Parking is $65/night, which is STEEP even by Hawaii standards. However, while the porte-cochere was often quite busy, we never had to wait for more than a few minutes for our car. What's more, some of the valets remembered us and began "talking story" with us throughout our stay.
Check-In + Service
One of my biggest complaints about the Grand Wailea is the check-in process. This being a Waldorf Astoria property, you'd expect things to be a bit more classy. However, when we arrived around lunchtime, the front desk was a complete circus. Moreover, the property DOES NOT have separate elite check-in lines. So we queued up and waited about 15 minutes in the south Maui heat.
My complaint has nothing to do with the hardworking associates at the Grand, by the way. Literally, everyone we encountered was very warm and friendly. For example, the associate checking us in thanked me for being a Hilton Honors Diamond member, informed me that we had been upgraded, and explained virtually everything about the property to us. Knowing that we're from Oahu, she also chatted with us about our home island, and we began trading shopping and dining tips.
Grand Wailea Guestroom 1056
At Grand Wailea, the lobby is on the top level of the resort. The place is a damn maze, and, despite the detailed directions from the front desk associate, we got a little lost trying to get to our room. I doubt it would've been as difficult if most of the lobby wasn't a construction zone. However, we eventually made our way to an elevator towards the center of the main building and headed down to the second floor. Yeah, I don't get their numbering convention either.
For my upgrade, we received a one-category upgrade from a no view/parking lot view room to a garden view room. Aside from the view, though, all standard rooms outside of the Napua Tower are the same. Upon entering the room, our room had the bathroom to the left and a closet to the right.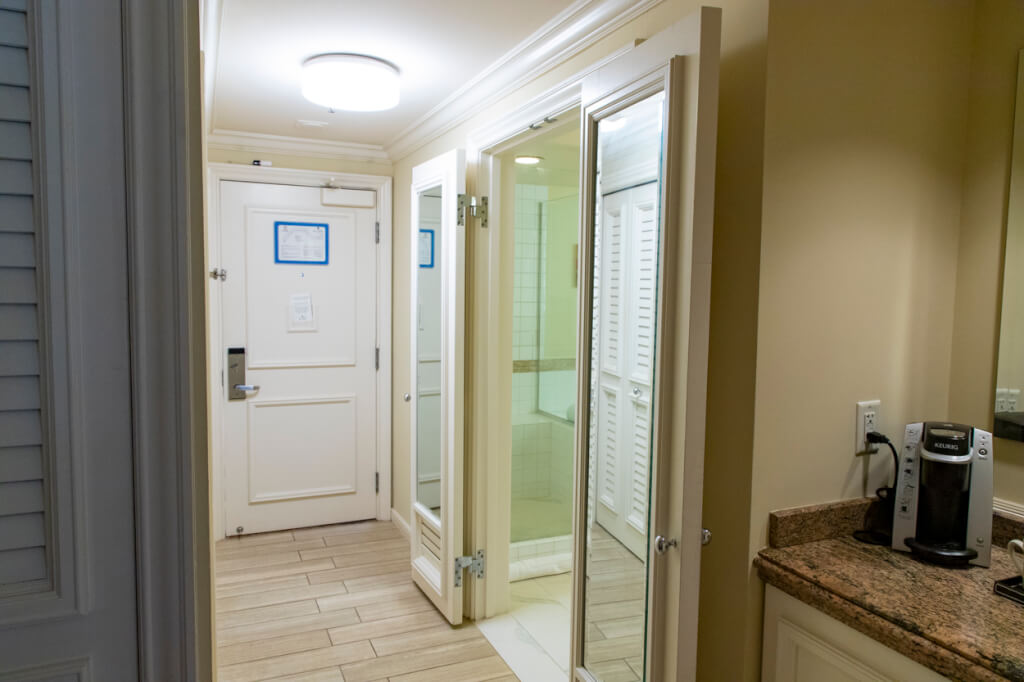 Grand Wailea Standard Room Bathroom
The bathrooms at the Grand Wailea are absolutely massive. Through a set of double doors, you're greeted by an expansive single vanity flanked by a water closet to the right and a separate shower stall and deep soaking tub to the left.
While the shower stall looks a bit small, it's one of the larger ones I've had in a while. Even better, the water temperature is excellent, and the pressure is good for drought-stricken Maui. The toilet is of an odd design, featuring a largely rectangular seat and bowl. I was disappointed that the Grand doesn't have bidet-style toilets, which is increasingly common at higher-end properties. What's more, as you can see, the bathroom looks fairly dated. The grout in the tub area and shower further emphasizes this as it's quite grody. In fact, that's probably my biggest complaint about the Grand – the guestrooms feel dated and tired. Updates are sorely needed, though the bones are still fantastic.
As far as toiletries go, this is something that hasn't changed at all over the decades. They still use their private label Spa Grande brand of products, which features a very nice coco mango scent!
Other amenities in the bathroom included a small repair kit and hairdryer.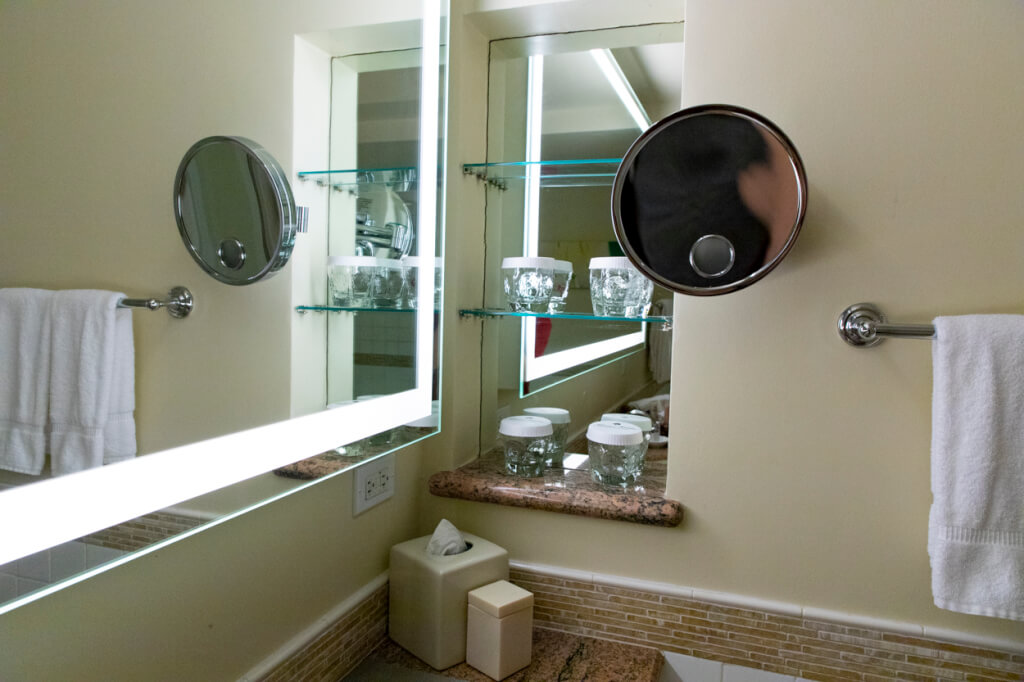 Closet
Across from the bathroom is the closet. Huge by modern standards (since, you know, many hotels don't even have them anymore 🙄), the closet where you'll find an amply-sized safe, iron, ironing board, Waldorf Astoria-branded slippers, and laundry service items.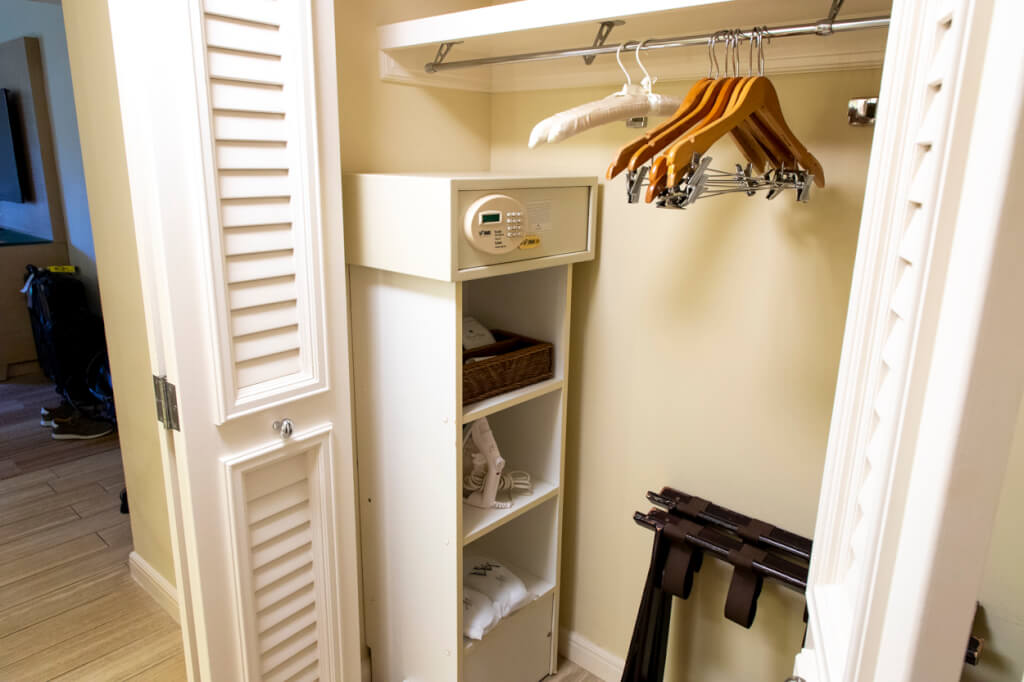 Bar
Just beyond the bathroom is a little nook containing a small bar area. Up top, you get a Keurig single-serve coffee maker, a few pods of coffee, sweetener, mugs, a bottle opener, some stemless wine glasses, and an ice bucket.
Down below is the mini-fridge, which comes stocked with two refillable aluminum water bottles. This is a far superior option to the awkward bag Marriott properties often hand out, and I love that they provide them to you pre-chilled! That's what I call attention to detail 😉.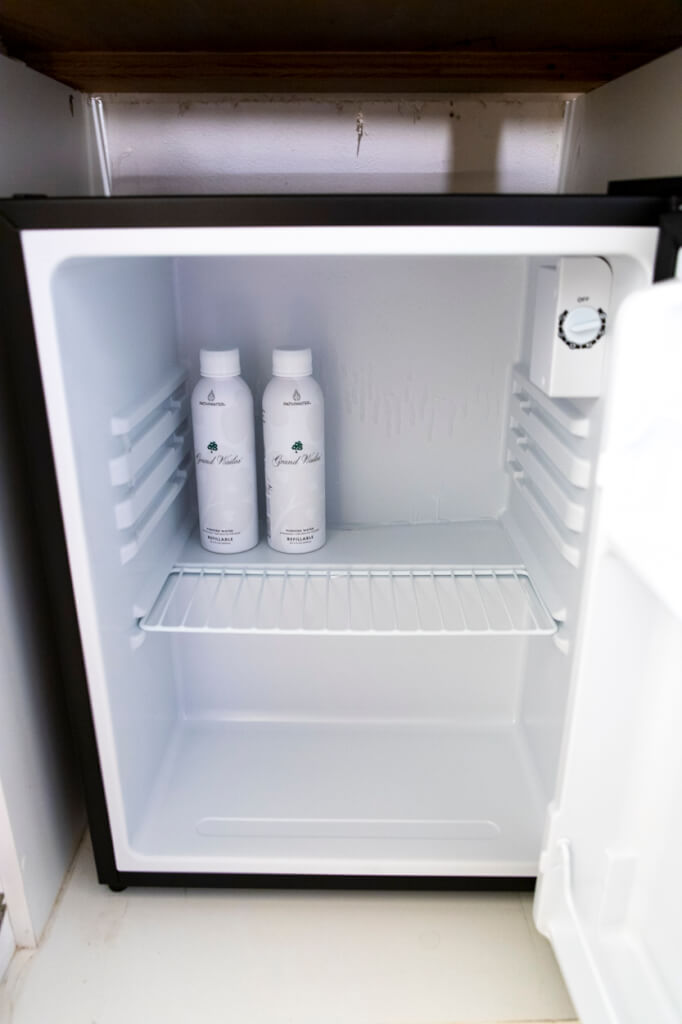 Main Living Area
Moving into the main living area, our king bed was pushed up against the wall separating the living area from the bathroom. This meant that the bed has you facing outwards towards the window, which I'm sure is nice if you have an ocean view. Across from the bed is a large dresser with a good-sized flat-screen TV mounted above it. Then, towards the window is a table/desk with two chairs, a loveseat, and a small coffee table.
On either side of the bed are built-in floating nightstands, one of which has a phone and the other a clock/radio. There are also lamps on either side and two standard electrical outlets that fold out from the headboard. The Grand even provides a pen and small notepad – a rarity in these post-2019 days.
On the nightstand, you'll also notice a couple of notes. I implore everyone visiting this property to heed the requests made in these notes. The availability of fresh water on Maui is a grave issue, while the effects of light pollution on wildlife, especially near the shoreline, is a growing concern. This is especially true for our native birds and the endangered honu.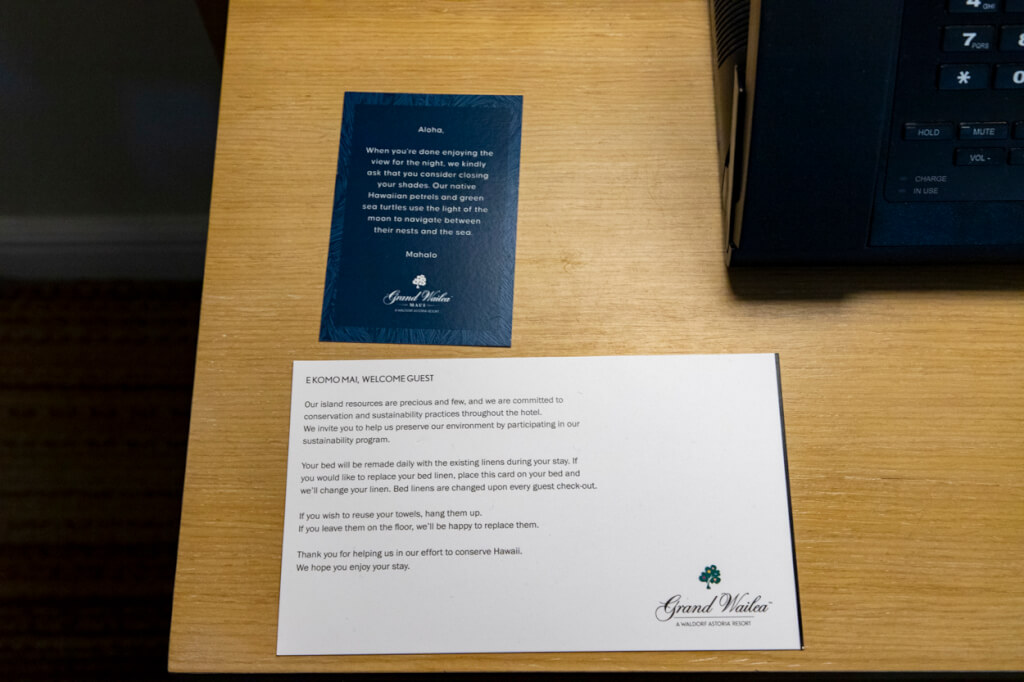 HVAC
Despite the Grand Wailea's age, the HVAC system works flawlessly. The system in our room was silent and was very effective at cooling our room. Of course, this also meant we could more readily hear noises coming from the corridor, though there weren't many people walking past our room. I found this interesting, as it seemed like the hotel was at or near capacity during our stay.
View
As I mentioned earlier, we were upgraded to a garden view room. And, well, from our balcony, all we could see were the manicured grounds and the building.
Grand Wailea Grounds
At 40 acres, the Grand Wailea is one of the largest resorts in Hawaii, both in total area and room count. Below is a top-down view of the entire property. We stayed in the wing to the left, near the massive pool system and signature Humuhumunukunukuapua'a restaurant. By the way, all of those pools on the left are interconnected with waterslides, including a white water rapid slide. And, yes, you can get from the large main pool to the top of the slide system using the water elevator here. Unfortunately, the elevator was closed during our visit, thanks to the pandemic. There is, however, a standalone tube slide which is one of the longest I've ever been on!.
In the center of the photo are the Grand Wailea's signature fountains, which end with a lovely cascade into the iconic adults-only Hibiscus Pool. Just above this are some cabanas and lounge chairs overlooking the beach. And to the right of that is the luau lawn along with the floating Koa wood- and Hawaiian stained glass-paneled chapel, gardens, and gazebo.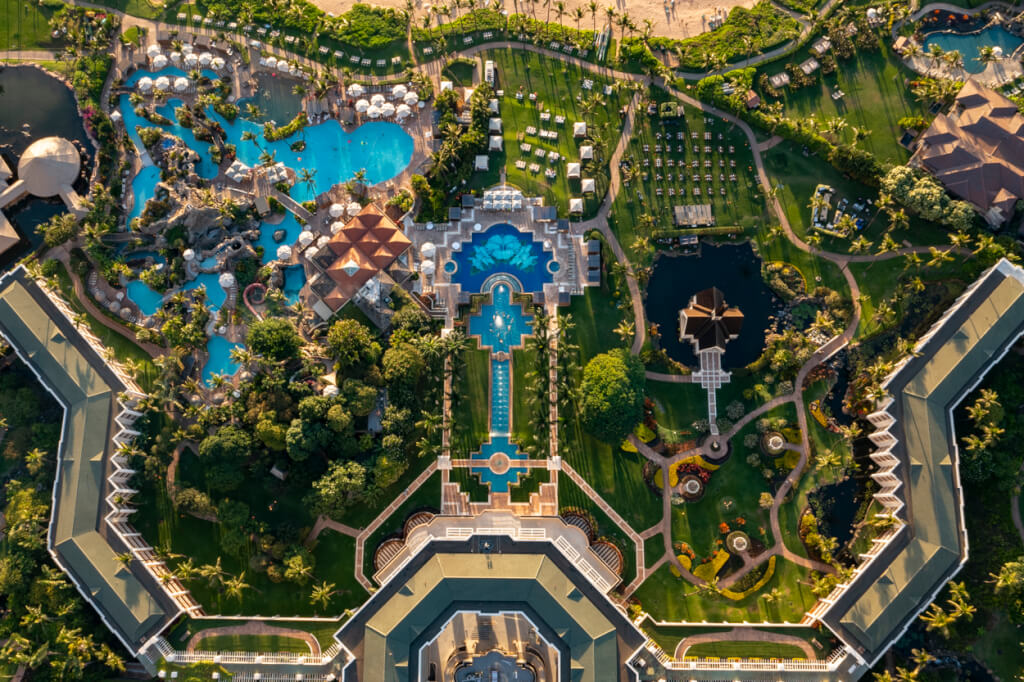 Here's a ground-level look at the fountains and the chapel.
The Grand Wailea Pools + Beach
Aside from being a stately luxury hotel with a massive spa (which was closed for renovations during our stay), the other draw here is, naturally, the pools. The fact that I remember playing in the pools here as a kid speaks to how much fun they are. Heck, adults seem to enjoy the slides just as much as the kids do! And there really is something for everyone here. Beyond the slides and adult pool I mentioned above, there's also a swim-up bar (closed due to the pandemic), a rope swing, and an artificial beach pool.
The large tube slide is a heck of a lot of fun, but there are a lot of rules in place to enjoy it. For one, they don't allow action cam use on that slide. Wearers of smartwatches must either leave them in their room or use a hotel-supplies soft fabric bracelet over them. You cannot put your watch in your pocket. If they catch you, they will turn you away. That said, this tube slide is probably my favorite in the state now. Sure, it's not as steep as the one at Aulani. However, you probably go just as fast, and it is MUCH longer.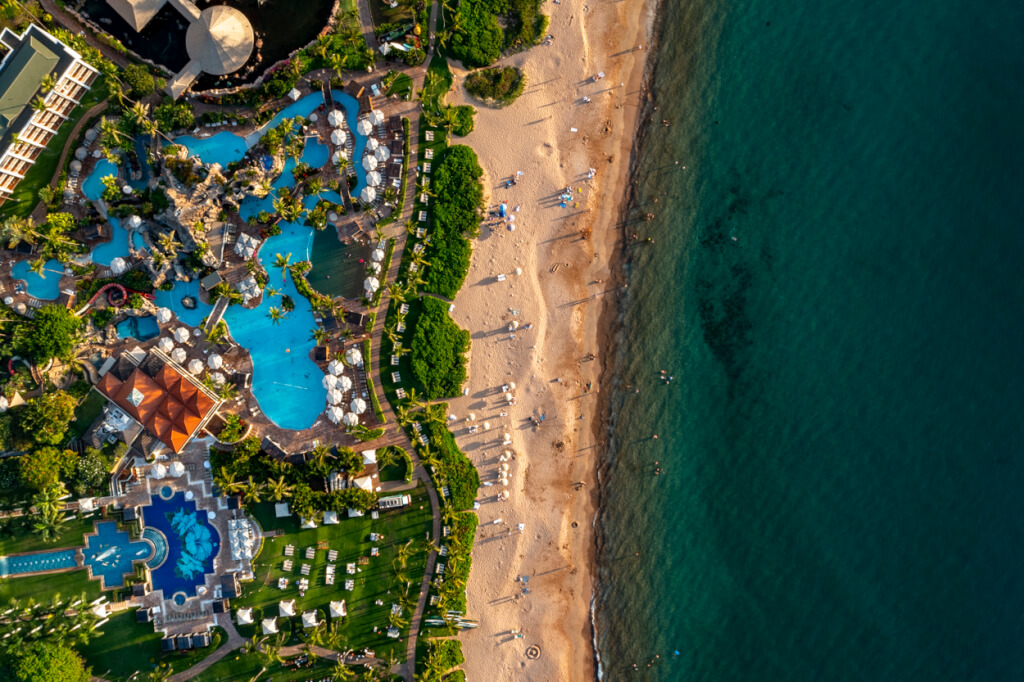 Honestly, I'm not sure if that slide was there when I was a kid – I'm guessing not. Back then, the slide that I liked the most was the white water rapids. Looks here, however, are deceiving. It sure as heck looks small and relatively benign, which it totally isn't. The slide isn't dangerous at all, but it does kind of fling you down and has a significant undertow at the bottom. The first time I went on it as a kid, I panicked until I figured out I could stand up just fine and went right back around.
Wailea Beach
If pools aren't your thing, the Grand Wailea does sit on an expansive portion of Wailea Beach. It's nicer, at least to me, than Mokapu Beach, which fronts the Andaz. However, it's important to keep an eye on the conditions here. Like the rest of Wailea, the waters can get pretty rough, which is probably why both the Grand and Andaz have artificial beaches within their pools. Sunset is prime time to be on the beach, in my opinion, thanks to the amazing views. Look to the south, and you can see Molokini dwarfed by Kaho'olawe. To the north, you have the majestic Mauna Kahalawai – West Maui Mountain.
Grand Wailea Dining
Despite its size, the Grand Wailea has somewhat limited but expanding dining options:
Humuhumunukunukuapua'a – signature breakfast/dinner
Bistro Molokini – Mediterranean lunch/dinner
Cafe Kula – to-go breakfast/lunch/dinner
In-Room Dining – breakfast/lunch, selections of Cafe Kula's menu
Aloha Trick Pony – food truck, breakfast/lunch/dinner
Wailea Surf Haus – beach bar
Grotto Bar – swim-up pool bar
Botero Lounge – lobby bar
Of all the options above, we only went to Humuhumu for dinner and breakfast – I'll cover this in a future post. As a child, I used to love the blintzes/crepes that Cafe Kula used to have, but they no longer serve those.
Wellness at Grand Wailea
For most of its history, the Grand Wailea was famous for its enormous spa – Spa Grande. However, Spa Grande has been downsized to a new concept called Mohalu by Spa Grande due to the pandemic. Mohalu is supposed to be more "intimate," meaning more pandemic-friendly, but we didn't go, so I can't say. I've never been to Spa Grande either.
The Grand Wailea does have a large fitness center, too, though it wasn't quite open when we went. They moved some of the machines outside, but that was about it. Not that we would've gone, anyway!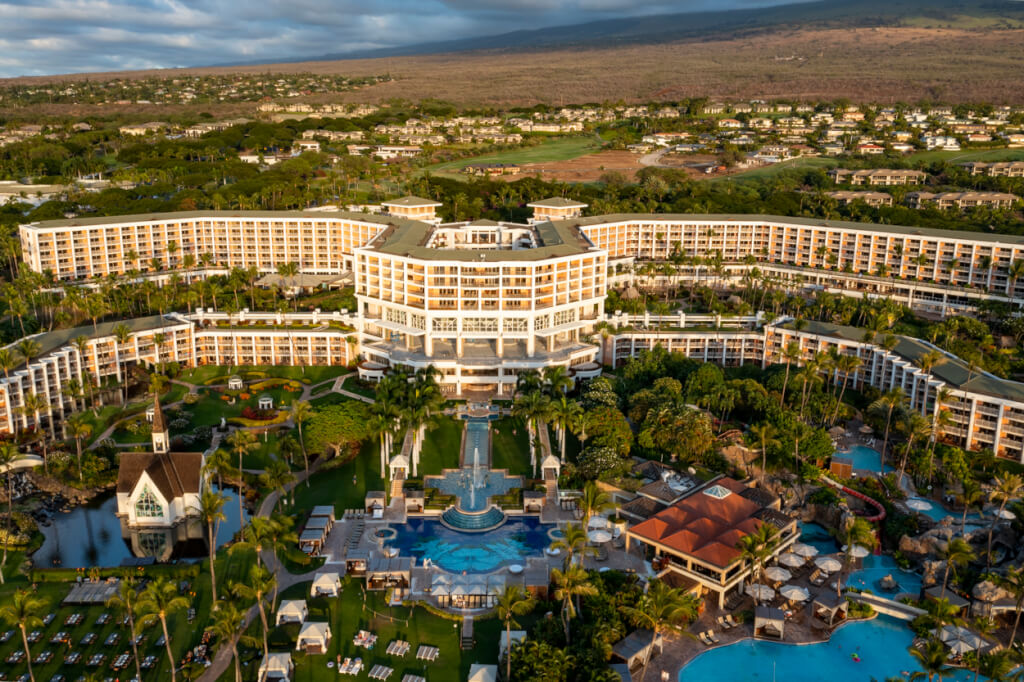 Resort Fee
The Grand Wailea is already an insanely expensive hotel. Add to that $65/night for parking, which makes it so much worse. However, the Grand does charge an absolutely ludicrous $50/night resort fee on top of everything else! Included with that fee are:
Access to beach yoga and outdoor fitness classes
Culturally immersive hula and ukulele lessons
Daily admission to our SCUBA clinics
Use of Beach Cruiser Bikes (based on availability)
Beach umbrellas on Wailea Beach (based on availability)
A one-time 45-minute photography session with Pacific Dream Photography (scheduled in advance)
Unlimited local, toll-free, and credit card calls (no access fee)
Complimentary WiFi
Two refillable bottles of PATH water in the guestroom, with water refill stations located throughout the resort
Access to daily SCUBA clinics
Yeah, ok. How many people can actually schedule that photography session? And how many people will take advantage of the introductory SCUBA lesson? Luckily, Hilton waives resort fees on award stays, so we didn't have to pay this ridiculous fee *coughMarriottcough*.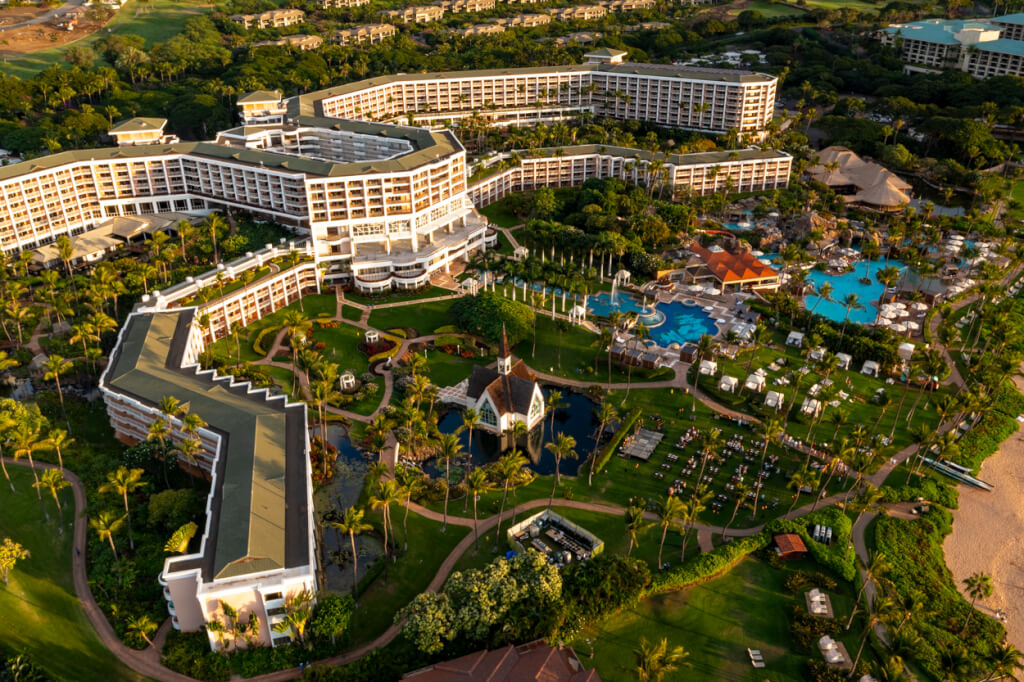 Grand Wailea Napua Tower
The Grand Wailea has an exclusive tower called the Napua Tower. Guests in this tower enjoy access to lounges with complimentary breakfast, drinks, and hors d'oeuvres. That's very similar to the Hokupa'a Tower at the Westin Maui and the Mailani Tower at the Royal Hawaiian. However, Hilton Honors members staying at the Grand Wailea can't get upgraded into the Napua Tower for free. Plus, they tend to be stingy with upgrades at Grand Wailea anyway, so I wouldn't expect one realistically. Still, though, with all of the fantastic eats Maui has to offer, I don't think the Napua Tower is something you'll miss if you're staying in a regular guest room. While it would've been nice – hell, I would've been happy with just an ocean view – we were quite content with what we got.
Final Thoughts
The Grand Wailea is certainly a unique property. Despite the decades that have gone by, it's also a property that I still enjoy just as much as I did as a kid. And that's what's so great about this place. The service is great, there are many fun things to do for everyone regardless of age, and it's a nice property. Sure, the rooms need a major update – especially at this price point – but the bones of the resort are still excellent. Honestly, if you've got the points or cash to burn, it's a property I wholeheartedly recommend. Just, you know, temper your expectations. Don't expect dedicated elite lines, and don't expect a room upgrade. If you go in knowing all of this, I'm sure you'll have an enjoyable stay here, too.
Grand Maui Adventure