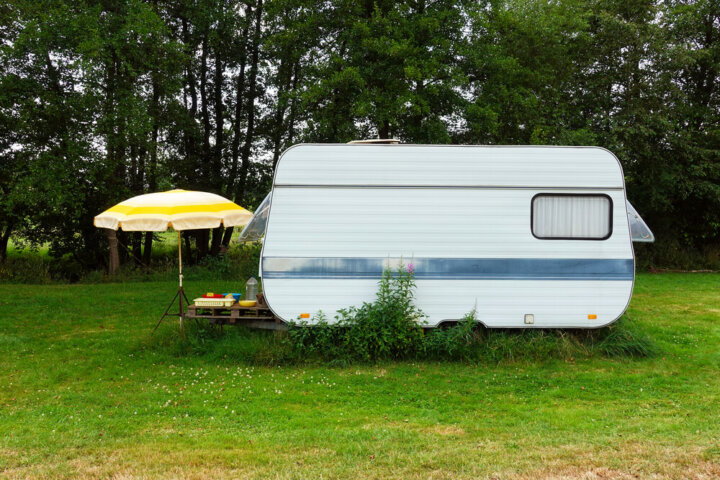 All of our reviews are based on exhaustive research, industry experience and whenever possible, hands-on testing. When you make a purchase using one of our chosen links we'll get a small percentage of the proceeds. This supports the site and keeps Jeffsetter running. You can read more here.
When it comes to finding an RV that is right for you, you may be curious whether or not a travel trailer under 2000 pounds works for you and your family. Is the style of RV right for you, and is something so lightweight going to be enough for you and your lifestyle?
If you don't know where to begin on your RV shopping quest, you are not alone. In this article, we will give you some expert advice and tips on why a travel trailer under 2000 pounds might work well for you, as well as what you should consider before making a final purchase.
By the end of this, you should have a good grasp of everything you should think about before making any type of RV purchase, particularly a travel trailer. Plus, we'll even give you a list of our 9 top choices for the best travel trailers under 2000 pounds, available on the market now. Let's get started and talk about lightweight travel trailers!
Only interested in checking out our expertly curated list of rigs? Use our table of contents to navigate to our 9 best travel trailers under 2000 pounds now!
Why Choose a Travel Trailer Under 2000 Pounds?
There are a number of reasons why you might want to choose a travel trailer that's under 2000 pounds. While it may not be obvious right away, here are our expert tips in terms of why you might want to lighten your RV load more than you expected!:
Fewer utilities to manage. Choosing a more compact RV may not work well if you have a large family, but travel trailers under 2000 pounds are ideal because they rarely have utilities that are difficult to manage. This includes your propane capacity, your electricity and batteries, and your holding tanks, both for fresh water and wastewater. This makes everything easier to keep track of, and you'll likely have plenty of everything, all in a compact package.
Less rig to maintain.

Similarly to having fewer utilities to manage, choosing a travel trailer under 2000 pounds means that you have less of an RV to maintain overall. One of the most important things about owning an RV that many people forget about is the fact that it needs fairly consistent maintenance. This includes resealing windows, and roofs, and generally maintaining your RV so that it is ready for winter. Having a smaller RV means that they're simply less to take care of overall!
Storage solutions abound.

There's no denying that an RV that's under 2000 pounds is smaller than the average RV. However, this means that most RV manufacturers take a lot of time and care when it comes to creating compact RV storage solutions. Many travel trailers in this size have fantastic storage solutions, both inside and out. The newer the RV, the more impressive it is in terms of what they are able to do so that you can bring everything you need along for the ride!
Easy to drive and park. You likely already thought of this, but one of the main reasons to purchase a lightweight RV is the fact that they are typically easy to drive and park. This is due to their compact size and lightweight frame design, making them much more relaxing to deal with compared to a larger travel trailer or fifth wheel. While all towable rigs need extra training and care to drive properly, a travel trailer that's under 2000 pounds shouldn't give you too much trouble in the long run.
Unique and creative design.

Just like the storage solutions on board a lightweight travel trailer will be unique and Innovative, the overall design of a lightweight travel trailer should also impress. Given the size of these RVs, some of the most unique designs happen within them. No matter what you're looking for, someone has likely already created it, and it's definitely fun to shop around!
Often more budget friendly.

You can find an RV that suits just about any budget, but lightweight travel trailers are often more budget-friendly compared to larger or more heavy-duty travel trailers. While the price range will vary depending on the features you choose and the manufacturer or brand, a travel trailer under 2000 pounds certainly costs less than a travel trailer over 5,000 pounds, more often than not! If you are shopping for an RV on a bit of a budget, choosing a lightweight option is a good choice.
As you can see, there are a number of reasons why choosing a travel trailer that's lightweight and easy to tow may suit your lifestyle best. However, if you are still wondering about all of the things that you should consider before purchasing an RV, read on to learn more!
What to Consider in a Travel Trailer Under 2000 Pounds
There are a number of things to consider before making an RV purchase, especially if you plan on purchasing a lightweight and compact travel trailer. But what might some of those considerations be? Let's take a look now!
Layout and Floor Plan
While it can be difficult to know exactly what type of layout or floor plan you want out of an RV, this is one of the first things you need to determine before making a purchase. Choosing a layout that doesn't work well for you, your family, and your lifestyle can be a deal-breaker.
You may be surprised just how many layouts and floor plans are available for travel trailers that are under 2000 pounds, but there are plenty to choose from. There are ones with bathrooms, ones with theater-like living rooms, and ones that give you the option to completely reinvent the interior whenever you please.
Do you want your RV door to be located at the rear or the front of the rig, and do you want a dedicated dry bathroom rather than a wet bathroom? It can be difficult to know all of the things you want or need out of an RV at first but do give it some thought before making your final purchase.
Bathroom
Speaking of bathrooms, knowing the style of bathroom you want on board your RV or travel trailer is very important to determine before you start shopping. Most RVs have a dedicated bathroom, but this gets a bit trickier if you are hoping to find a compact and lightweight RV.
For example, the bathroom tends to be the first thing to go inside of an RV if the manufacturer is trying to keep it under 2000 pounds. Not only will you not have a bathroom at all, but you may even have a smaller kitchen or dining area as well.
If you know for a fact you want a bathroom on board your lightweight travel trailer, this is something to prioritize. You may find that wet bathrooms, or bathrooms that can get entirely wet, are your only option. If you are hoping for a dedicated dry bathroom, with separation between all of your bathroom utilities, this may be harder to find.
Nothing is impossible with just how many travel trailers are on the market today, but just know that you should be realistic about what you are looking for and expecting!
Guests and Sleeping Arrangements
It may be difficult to bring the entire family with you inside of a 2000 pound RV, but knowing just how many guests and sleeping arrangements you need on average is important before you make a purchase. What might this look like, however, and how can you prepare for this situation?
The good news is, RV manufacturers know that people prefer to have plenty of sleeping arrangements for everyone, and they have worked hard to make this possible. Most travel trailers of any size and weight have a number of convertible furniture options, such as dining rooms and sleeper sofas.
However, a 2000 pound travel trailer can't bring everyone, based on size alone. You likely can't sleep more than five people inside of a travel trailer of this size, but you may also be surprised! Do your research and just make sure that there's enough space for everyone. You can also always bring a tent along with you and camp the old-fashioned way!
Length
Most 2000 pound RVs will not be particularly long, but length is something to consider before purchasing any type of travel trailer. The longer the rig, the more difficult it is to drive, park, and maneuver, whether you are driving down the highway or through a city.
The average lightweight RV will likely be under 25 feet in length, which is ideal if you are brand new to towing. Anything that is over 25 feet, especially if it's over 30 feet, becomes more and more difficult to drive, but it is rare to find a lightweight RV that is this large.
However, the smaller the RV, the less room there is for everyone and everything that you may want to bring with you. You may be able to find something that's lightweight as well as sizable, but keep this in mind so that your expectations are realistic.
Ability to Boondock
While you may not have thought about it yet, you should consider how capable you want your travel trailer to be in terms of boondocking. Also known as off-grid camping or dry camping, boondocking is the ability to camp without traditional RV hookups.
A compact travel trailer is ideal for boondocking for a number of reasons. It's small enough to tow everywhere you may want to go, and there isn't that much that is extraneous to take your electricity or other utilities.
However, not all RVs are built for boondocking, so you should make sure that you find a rig that works well for you. You may want to find something with additional batteries or solar panels, as well as lifted chassis or all-terrain tires to get you where you need to go.
The sky's the limit in terms of where you can boondock and how long you can go off-grid. But know that the best RVs for boondocking don't come cheap, and you'll be looking at a higher upfront cost for an RV that's boondock-capable!
Amenities and Luxury Finishes
Speaking of a higher upfront cost, you may want to consider all of the amenities you want onboard your RV, including luxury finishes and personal touches. Many RV manufacturers separate their rigs based on standard finishes or luxurious ones, and this leads to a number of differences between models.
Not only will a luxury RV feel more upgraded and special, but it will also come at a higher cost. You can always add amenities to your compact and lightweight RV that don't involve a luxurious interior, but even these additions will likely cost extra.
Some commonly upgraded amenities and luxury features include:
Upgraded windows, including frameless

Upgraded tires and chassis

Theater seating or couches

Automatic systems, such as leveling and jack stands

Larger refrigerators or kitchen appliances

Special touches, such as backsplashes and upgraded flooring
Again, these are only a few of the upgrades you may want for your travel trailer, but know that most of these things rarely come standard. You may want to make a list of your priorities and must-haves before shopping around.
Budget
The final consideration you should make before purchasing anything, especially an RV, is how much you can realistically spend. Thankfully, a compact travel trailer that's under 2000 pounds typically costs less than the average RV.
Depending on the manufacturer and the amenities that you choose, most lightweight travel trailers or campers cost anywhere from $15k-$60k. However, this is also a huge range of prices, and you may find something that is outside this margin as well. Do your research, make sure your budget is appropriate, and happy shopping!
9 Best Travel Trailers Under 2000 Pounds
Ready with your list of must-haves in your new RV? While there's a lot to consider, we're onto the fun part now: shopping. Let's go over our expertly curated list of 9 of the best travel trailers under 2000 pounds now!
Unique and attractive design
Durable fiberglass exterior
Vintage inspired interior
Make sure you don't go over your weight limit with additions
If you are looking for a travel trailer that's lightweight as well as durable and attractive, check out the Scamp line of travel trailers. While you may not be able to tow the largest or even the second largest option, depending on how much you bring with you, the 13-inch Scamp is under 2000 pounds and has everything you need inside of it. Let's check it out now!
The iconic exterior of a Scamp is what makes it special, given that it is white fiberglass. Not only is this fiberglass build attractive, lightweight, and unique, but it also means that your Scamp is built to last. These types of travel trailers are more resistant to leaks and cracks, making them a good investment.
Another huge attraction in terms of why buyers purchase Scamp travel trailers is the fact that they offer a number of customizable options. While this may make the initial purchase price change drastically, depending on how much you add, just about everything inside of a Scamp is customizable.
You can add as many appliances if you want, including air conditioning, and even the 13 foot long Scamp can fit a bathroom inside. However, make sure that these additions don't make you go over your 2000 pound weight limit, as this is far easier to do than you think!
In terms of interior design, there are two different Scamp options to choose from. The deluxe option gives you the option to have an all oak or all-birch interior, which may or may not add weight to your travel trailer. This is definitely something to check on as well, but the deluxe Scamp models are very attractive and vintage in their design.
While it's small and may or may not have a bathroom on board, depending on which model you choose, Scamps are built to last and are extremely reliable. They are all so easy to tow and drive, with their rounded frame giving you some level of aerodynamics. All in all, this is a great travel trailer to consider if you're looking for a more spacious option!
Very affordable price point
Durable frame can get you anywhere
Kitchen, AC, and awning additions make this RV special
No bathroom onboard
Starting at $14k, the Flyer Pursue from inTech is a great option for those of you who are adventurers on a budget. This travel trailer is unique in that it has a durable frame, perfect for journeying off-road, and you can sleep up to 3 people with a rooftop tent addition. Let's check it out!
While it may appear quite a bit smaller than the average travel trailer, the Flyer Pursue is highly customizable. Much like the Scamp, you can outfit this RV with everything you need to enjoy the great outdoors. Not only can you add a rooftop tent as an additional sleeping area, but you can also add a tent to the side, serving as a screened-in porch area.
The Flyer Pursue looks like a box on wheels, but inside opens up to reveal a large sleeping area and storage at either end of the RV. There's an outdoor kitchen addition too, with a cooktop and battery powered fridge. This section of the RV rolls in and out of a convenient storage drawer for compact travel capabilities.
Speaking of travel, inTech designed the Flyer series with adventurers in mind. There's solar prep onboard this RV, but it's also built stronger. The heavy duty frame is ready to tackle just about any road conditions and any weather scenario so that you don't have to sacrifice a camping trip.
You can get a rear bike rack as well as a roof rack for maximum storage possibilities. Plus, you have a couple of awning options to choose from to fully enclose your outdoor living area. While it may not seem like a traditional travel trailer, the Flyer Pursue has a lot to offer those of you hoping to camp on a budget!
Unique and great design, inside and out
Full kitchen and a portable toilet option
Outdoor shower and pop-top roof
High price point for this unique beauty
When I learned that the Cricket from Taxa Outdoors was family-friendly, I was shocked. Given that this is one of the most unique looking travel trailers on the market today, I didn't think they took the time to include multiple sleeping arrangements for the whole family. However, the Cricket can sleep a family of four, and look good doing it. Let's check it out now!
Only 15 feet long and less than 1800 pounds, the Cricket is ideal for those of you hoping to store your RV in your own garage. It easily fits into most storage locations, and you are likely able to tow this RV with the average vehicle.
Another surprising fact about this particular travel trailer is that it has a kitchen and portable toilet on board. While it doesn't have an indoor shower, there's an outdoor shower option, completing this travel trailer as a fully loaded option. This is rare in the lightweight travel trailer world, particularly if you are looking for something under 2000 pounds.
The Cricket is highly customizable and convertible, with a number of different sleeping arrangements that you can work with. The dining area is completely convertible, and you can even add an air conditioning unit to the back of the rig, where the large double bed is located.
Not only is the interior customizable and unique, but the exterior is too. The roof opens up to give you more interior headspace, and there are a number of useful features on the exterior of this fascinating RV.
You can also add a roof rack as well as a rear rack option so that you can bring everything you need with you. There's some amount of storage within the RV, but smaller families could always use more. However, at least you know this RV is lightweight enough to bring with you, no matter what vehicle you happen to own!
Lightest weight option on this list
Full kitchen and extra sleeping area possible
Boondock ready for up to seven days
No bathroom option
If you thought the Cricket was unique, you should definitely check out the TigerMoth. This particular model, also from Taxa Outdoors, is a great choice for those of you looking for something even smaller and more lightweight than the Cricket. While it has fewer features overall, the TigerMoth is still a great choice. Let's check it out!
Similarly to the Cricket, the TigerMoth is built on a heavy duty and powerful frame. Not only is this option smaller than the Cricket, but it's lighter weight too since the TigerMoth only weighs 1300 pounds, making it the most lightweight option on this list!
But why is it so lightweight? Well, the interior is only a bed, but the bed can convert into a seating area during the daytime. There's also the option to install a rooftop tent so that three people can sleep and camp in this RV. You can't bring your whole group of friends, but at least you can have an exclusive tent sleeping area to offer!
It may surprise you to hear, but this RV has loads of storage. Not only can you add exterior racks on the roof and the rear, but there are large storage hatches inside and out. Plus, you have under-bed storage inside, making the entire interior storable. While there's no bathroom, Taxa Outdoors didn't leave you hanging when it comes to a kitchen.
Similarly to the Flyer Pursue, you have a fantastic pull-out kitchen drawer located on the outside of your travel trailer. This kitchen has everything you need, including a prep space, making it perfect for the avid adventurer.
Speaking of adventuring, the TigerMoth has enough boondocking capabilities to camp off-grid for up to seven days. That's staggering and impressive, though you'll have to make your own bathroom arrangements beforehand!
Comfortable and Classy:

inTech Luna
Best kitchen option on this list
Unique shape and design
Comfortable heating with electric fireplace
No bathroom onboard
Another option from inTech, the Luna is a teardrop travel trailer with loads of classy options. Starting at $22k, the Luna has a bit more to offer than previous options on this list, though it still doesn't have a bathroom onboard. However, it weighs in at 1800 pounds and it has the best kitchen option on this list. Definitely worth checking out!
When I hear the words teardrop travel trailer, I always think of the way their kitchens are designed. The majority of teardrops have an exterior kitchen, one that is full of amenities given that it can span the entire rear of the rig. This is the case with the Luna, as the kitchen is welcoming, full of cupboard space, and allows you to cook up just about anything you can think of.
The interior design is also comfortable and unique in that it offers an electric fireplace as your heater, right beside an air conditioning unit. As you can no doubt guess based on these other listings, air conditioning options in lightweight travel trailers can be difficult to find. The Luna is insanely comfortable, with two dedicated seats and cup holders to serve as your dining area, while the rest of the space opens up and converts from a living room into a huge bed.
The kitchen isn't the only place with storage. You have overhead cabinetry inside of your rig, as well as unique built-in shelves. You should have plenty of room to bring everything you need to bring, especially if you add a roof rack, a rear rack, or maximize your kitchen storage.
The design of this RV is fantastic, with a large picture window at the front of the rig. You also have a fascinating shape to go along with it, but don't think that this rig isn't built to last based on how it looks. Its heavy duty fiberglass exterior and frame accompanied by all terrain tires and raised chassis make it ready to handle just about any adventure!
Kitchen and bathroom option complete this travel trailer
Attractive and unique vintage design, inside and out
Completely modular interior gives you plenty of options
Extremely high price point for this RV
While it starts just under $70k, the Traveler travel trailer built by Happier Camper is a great option for those of you looking for the entire package. Not only is this travel trailer special in that it is based on a vintage design, but it has a bathroom and kitchenette on board, giving you everything you need to hit the road in comfort. Let's check it out now.
Not only is this travel trailer capable of being towed by just about any vehicle, but it also has a completely modular interior living space. The dedicated kitchen and bathroom remain the same, but the entire living area can be rearranged as much as you like, using a series of blocks and bench options.
All of these living area furniture pieces are incredibly lightweight, and you can easily set up a living room, an office, or a sleeping area very quickly. Plus, the interior design of the Traveler is also something to mention, especially when paired with the vintage exterior.
We've seen a lot of customizable trailers on this list, but this option may take the cake. While it may be the most expensive option on the list as well, the Traveler is completely customizable for eco-friendly customers. You can adjust the bathroom to your liking, and you can even add a variety of boondocking features so that you can camp off-grid in your compact RV.
With an 1800 pound dry weight, this RV not only has all of the features you haven't seen in any other options on this list, but it is also extremely lightweight. This is in part due to the honeycomb technology utilized in the walls and floors of this RV, making a durable but light as a feather frame and interior.
When you consider the higher cost of this RV, it's good to note that the Traveler is built out of fiberglass. This sturdy material is perfect for long-lasting RVs, as it resists wear and tear, moisture, and more. However, if you don't have the upfront cost, this RV may be out of reach!
Toy hauler floor plan gives you plenty of space
Outdoor kitchen and awning for enjoying nature
Roof top tent option for another sleeping arrangement
No bathroom on board
While the Forest River No Boundaries only has a single floor plan that is under 2,000 pounds, it is still a contender on this list given the fact that it is technically a toy hauler. This means that the back of this RV opens up so that you can roll out your ATVs, motorcycles, and more. Let's check out what else this RV has to offer now!
Forest River designed this RV with adventures in mind, similarly to the TigerMoth and the Cricket. You can add an additional rooftop tent so that you can sleep more people on board this RV, as there's only a single queen bed otherwise. However, you have plenty of space to bring whatever recreational toys you want, something that you may have been missing with other options on this list.
While the inside is fairly simplistic, you have a sofa that converts into your bed, plenty of storage in the form of overhead cabinetry, and a kitchen on the outside. There's no bathroom on board this RV, so that is something to keep in mind. It's likely to keep this RV at a fair weight, but it is still unfortunate that it doesn't have one.
In case you hadn't noticed that there's a theme with lightweight travel trailers, the kitchen is located on the exterior of this RV. It is found in a convenient rollout drawer, complete with a cooler so that you can pack all of the food you want to bring with you. There's also an awning on the outside of this RV to keep you dry, should you choose to cook in inclement weather.
The clearance on this travel trailer is fantastic, and it comes with all terrain tires so that you can take it wherever you need to go. You also have a cold weather package included in the initial purchase price, so you won't have to worry about being cold no matter the season you choose to camp!
All in all, the No Boundaries have a lot to offer. However, if you are looking for something with a bathroom, I suggest checking out other options on this list. You may also find a No Boundaries floor plan that has a bathroom, but is slightly over a 2000 pound weight limit!
Adorable vintage look, inside and out
Compact, aerodynamic, and easy to drive
Huge kitchen located off the rear of the rig
No bathroom and potentially expensive
If you plan on camping with your significant other or partner, you should check out the Retro travel trailer from Riverside RV. While this option may feel like a blast from the past given its strikingly vintage interior design and exterior, this travel trailer has everything you and a loved one need to hit the road in style.
While the smallest option may not have a bathroom, it falls under 2,000 pounds, making it lightweight and easy to tow. The interior is full of storage as well as a large sofa that pulls out into a bed, taking up the entirety of the compact RV. There's a kitchen located on the outside, at the rear of the rig, similar to the Luna.
One of the best parts of this rig is the fact that you can customize the exterior paint job in a number of different colors. There are roughly a dozen options, depending on how ostentatious you want to get. You and your partner might have fun customizing the exterior of your RV, perhaps choosing something to match your tow vehicle!
The kitchen is full of storage, and it has a refrigerator and stovetop so that you can cook outside. While this may not be ideal, and there is no bathroom on board, this travel trailer is great for those of you hoping to camp a few times a year in style. Definitely make sure the cost and the amenities work for you and your lifestyle, however!
Less than 1,600 lb and 13 ft in length
Great kitchen and comfortable sleeping area
Jayco brand name offers good warranties
No bathroom, and may be difficult to find
While it may only be available through certain RV dealerships, the Jayco Hummingbird is a fantastic option for those of you seeking a familiar brand name for its reliability, all while maintaining a 2000 pound and under the weight limit. Let's check it out now!
The smallest Hummingbird floor plan is less than 1600 pounds, and barely 13 feet in length. This makes it similar to the Retro as well as the Luna, offering you a rear kitchen located outside of the RV. While this may not be ideal, this lightweight option can't be beat for a number of reasons.
Many people speak for the Jayco brand name for its durability and customer support. I highly recommend reading our full review of this brand to make sure that it is right for you, but Jayco takes its time with its safety inspections and the way it builds its rigs in the first place.
The Hummingbird is a great choice for those of you hoping for something that's less complicated than other options on this list. The interior is simply a bed with a few shelves, giving you plenty of storage to bring everything you need to bring. And the exterior kitchen also has everything so that you can cook up a great meal at camp.
If you can find one of these options, the price should also be right, given its compact nature and lightweight frame. While it could have more amenities to offer you, this travel trailer has everything you need to camp in comfort, making it a great choice!
Final Thoughts
Finding a travel trailer that's under 2000 pounds and ticks all of your boxes might be easier than you first expected after reading our article.
Hopefully, one of our 9 lightweight RVs matched your lifestyle perfectly, but know that there are countless great options out there! Happy camping!