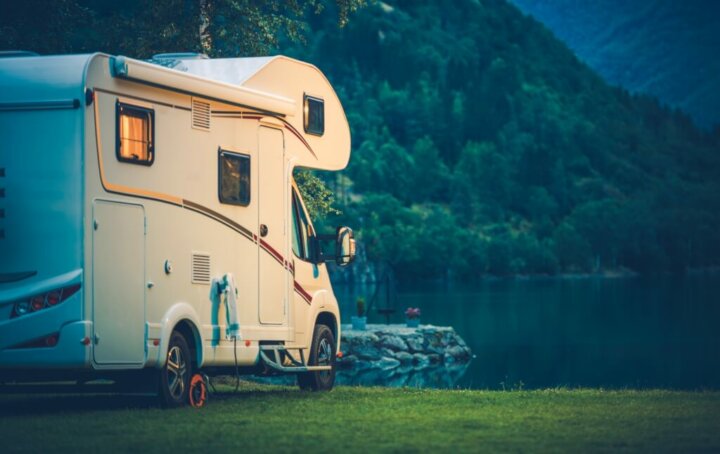 All of our reviews are based on exhaustive research, industry experience and whenever possible, hands-on testing. When you make a purchase using one of our chosen links we'll get a small percentage of the proceeds. This supports the site and keeps Jeffsetter running. You can read more here.
It can be overwhelming to know what RV works best for you, especially if you are on the hunt for some of the best built RVs on the market today.
How can you learn what to look for in a well-built rig, and how can you choose something that works well for you and your family?
In this article, we will address some of the things you should look for in a well-built RV, including materials and some insider tips that you may not be aware of yet. We will also give you some of the best built RV brands available on the market today, in case you are seeking an option for your next camping adventure.
Buying an RV that is well built is a fantastic and achievable goal, especially with this article in mind. Let's get started and go over some of the information you should know about the best built RVs of 2022.
Only interested in seeing some of the brands we recommend under the category of well-built rigs? Click here to jump ahead and check out our 8 top picks for some of the best built RV brands on the market today.
What Makes an RV Well-Built?
Identifying a well-built RV is half the battle when it comes to purchasing one. What brands are reliable, and what materials you should be looking for in order to determine whether or not an RV is well built?
There are a number of things that you should pay attention to in terms of what makes an RV durable and reliable. Here are a few things to pay attention to.
Pay attention to brand loyalty.

There's a reason that long-time RV owners stick with the same brand, year after year. Brand loyalty is something to pay particular attention to if you are searching for a well-built RV, as many old pros will not change from their favorite Brands unless there is an even better option out there.
Research what materials are used.

Some RVs are simply built better than others, whether it be the manufacturer paying special attention to the build quality, or, more likely, it is the materials that are used in the RV production that make or break a quality RV.
Pay attention to resale value.

Resale value and brand loyalty go hand-in-hand, often influencing the other. If you notice that many used RVs of a particular brand have a higher price point than you expect, it is likely that this is a well-built RV, built to last. Resale value is also particularly important to pay attention to if you yourself plan on selling your well-built RV in the future.
Layouts and storage go hand in hand with quality. You may think that having a convenient layout with plenty of storage is just something that happens in every RV make and model. However, convenience goes alongside quality when it comes to RVs. It essentially means that the RV manufacturer is paying attention and knows exactly what the average RVer needs, both in a convenient layout and also in an RV that can withstand years of travel and camping.
High-end appliances and hardware mean it is built better.

Most RV manufacturers do not put high-quality hardware, finishes, and appliances inside of an RV that is poorly built. If it is manufactured with cheaper materials, it is likely not as well built as RVs that are made with high-end appliances and other quality items.
We have only just scratched the surface in terms of what you should consider before purchasing an RV that is well-built, so let's continue and discuss some other key information as to what makes a best built RV!
What to Consider in a Best Built RV?
Brand loyalty and paying attention to resale value is one thing to consider out of a best built RV. But what else should you keep an eye out for? Let's go over what to consider in a well-built RV brand now!
Materials Used
Choosing an RV that is built with high-quality materials is a good place to start. You may not know exactly what those materials are when you begin your RV journey, but we are here to tell you that there are some things to keep an eye out for as you shop. Some of the best materials to pay attention to include:
Aluminum. There's a reason that you notice aluminum RVs, particularly travel trailers, on the road frequently. Not only is aluminum lightweight and easy to work with, but it is also durable and easy to maintain. So long as your RV is built well in the beginning, you should have no trouble maintaining an aluminum RV, and most RVs that are made from aluminum choose to utilize it throughout the rig. This includes the roof, support beams, walls, and much more.
Azdel. While some RV owners either love or hate this material, Azdel is something to pay attention to while you shop for a well-built RV. Originally manufactured in 2006, Azdel is lightweight and a high-quality building material used in new RVs. While it may be more expensive, Azdel resists moisture and mold, doesn't smell like most other RV materials, and maintains a lightweight construction so that you can keep your RV under your tow vehicle's maximum weight rating. It is extremely popular, but it isn't a miracle product that will save your RV if it springs a leak!
Fiberglass

. Many RV owners recognize the appeal of a fiberglass RV, given the fact that it is more affordable than the average aluminum rig. Fiberglass is also beneficial because most RV manufacturers utilize it in a single continuous piece, which essentially means that your RV is less likely to leak and has fewer seams to maintain. This is a huge plus to the average RVer, especially when you consider just how much maintenance you will need to perform on your rig if you want it to last! Additionally, fiberglass can be extremely lightweight, which means that your RV won't be too heavy.

Vinyl

. Having vinyl floors, walls, and ceilings can be a sign of quality materials, as vinyl is definitely something you should look out for as you shop. This material is flexible, water and wear-resistant, and easy to maintain. It moves as your rig moves and is more likely to last for the lifetime of your RV compared to other materials such as carpet or wood paneling.

Wood

. Speaking of wood, you may think that having any sort of wood inside of your RV is a bad thing. However, there are many different types of wood used in RV construction, and some are more durable than others. Many high-end and best built RVs include wood as part of the construction of their floors, walls, or ceilings. Plus, high-end wooden cabinetry is always a bonus!

Steel

. While it is heavier compared to aluminum, many long-time RVers prefer steel construction when it comes to the chassis and ceiling construction of their rigs. This is because steel is inherently stronger and longer-lasting, more capable of withstanding both the elements and any adverse road conditions. Again, it may not be present in the construction of lighter weight rigs, but steel is definitely a building material to consider.
Convenient Features
While the answer may surprise you, having convenient or practical features on board your RV is a sign of quality. There are many different amenities that are a sign of a well-built RV because convenient features are a sign that your RV manufacturer understands what it's like to live and camp inside of an RV.
You want your RV's manufacturer to fully understand what it's like to enjoy recreational vehicle camping to the fullest. There are no well-built RVs that don't also have a number of features to make your time inside of your rig easier!
For example, having plenty of storage, including a basement or pass-through storage underneath your big, is a good sign that your RV is well-built. Additionally, you may notice that your well-built RV has a number of convenience electronic upgrades, such as tank monitoring systems and automated services.
Even having a convenient layout is a good sign that you have one of the best built RVs on the market today! Trusting an RV manufacturer that doesn't quite understand what it's like to live inside of an RV isn't what you should be looking for in a well-built and convenient RV.
Layout and Storage Options
Speaking of a convenient layout, finding a well-built RV with plenty of storage and a layout that works best for you and your family is sometimes easier said than done. However, well-built RVs typically understand what it is that you are looking for in a rig, both inside and out!
Some of the best RV manufacturers in the business understand the desire for multiple unique layouts as well as storage options that suit a number of people. After all, many people would argue that you can't have a well-built RV that isn't convenient and suited for the number of guests that can sleep inside of whatever RV you are looking at.
One of the best things about choosing from among some of the best built RV brands out there today means that you can truly find exactly what you are looking for. You can find a layout with two bathrooms, a media room, or even two master bedrooms. And if you are interested in having enough storage for all of your additional outdoor gear, this is a common enough feature to find on high quality RVs.
Weights and Measures
You may be wondering what the overall measurements and weights of your rig mean in terms of its build quality. When it comes to the overall weight of your RV, many old pros would argue that the heavier the RV, the better made it is.
While many modern-day RV customers are seeking lightweight travel trailers and fifth wheels, other people are not interested in lightness. Getting an RV that is well-built typically means that it is made out of materials that are particularly heavy, or otherwise unable to be lightened in any way.
Some of these materials include steel and various plywood products, though aluminum is extraordinarily popular in a number of well-built RVs. If you aren't very worried about the overall sturdiness of your RV, finding an RV with aluminum or Azdel will help keep your rig lightweight as well as capable of working for years to come.
People would also argue that the larger the RV, the more luxurious and better built it is. However, as a full-timer living in a 19-foot travel trailer, I feel as if the smaller the rig, the less there is to maintain. There are a number of RV brands on our list of the best built RVs that only manufacture rigs that are under 30 feet, if not under 25 feet!
Not to say that all large RVs are poorly made, but the number of materials needed to build a sturdy and long-lasting structure can get expensive. In addition, distributing weight evenly across the entire length of a 40 to 50 foot RV can be difficult, so this is something to consider if you want your well-built RV to last a lifetime.
Longevity
Speaking of purchasing an RV to last a lifetime, longevity is definitely something to consider as you shop. While maintenance and upkeep are key to keeping your RV happy, you may want to take some time and observe just how many RV brands remain on the road today.
If you continually notice that one particular brand still has old RV models on the road and at campgrounds in our modern day, it may be a good sign that it is a well-built RV. For example, many people still drive or tow their old Airstream RVs, despite them being decades old!
My 19 ft travel trailer is from 1976, and, even though it needed a decent amount of repair, the bones continue to operate just as they did all the way back then. Because what's the point in buying a best built RV brand if it doesn't last you for generations to come?
Resale Value
Just as longevity helps you feel better in your RV purchase, you may want to consider the overall resale value of your rig, should the time come. Resale value is key in determining whether or not you have bought something worth selling, and it can be a good indicator as to what brands are popular and reliable.
Even if you don't plan on ever selling whatever RV you end up purchasing, looking at used RV brands for sale is a good idea. Not only will this help you understand just how much money you are likely to get for your RV should you ever happen to sell it, but it will also give you some insights as to what brands are capable of continuing down the road, year after year, owner after owner.
Paying attention to resale value also may help you feel better about the initial purchase price of your RV. If you find that, in a couple of years, RVing isn't for you, knowing that you purchased something of quality in the first place can make selling it even easier.
Ease of Maintenance
Any long-time RVer can tell you that maintenance is what makes or breaks a well-built RV. No matter how sturdy and reliable your RV is currently, it needs constant maintenance in order to extend its overall life, just like any other vehicle.
Most of our best built RV brands on this list offer a number of fantastic warranty options as well as ease of maintenance in terms of the RV systems on board your rig. Many RV manufacturers try to make your RV systems easy to access and easy to maintain so that your well-built RV remains well-built!
For all the big jobs, you should be able to send your RV to an RV repair shop and have it covered under warranty, at least for the first couple of years. After that point, it is important to keep in mind everything that you need to maintain, but most RV manufacturers make these steps clear, and easy, to encourage you to take care of your rig!
Realistic Budget
One of the most important things to keep in mind as you shop for some of the best built RVs on the market today is the fact that they will likely not be very budget-friendly. While there are always exceptions to the rule, most well-built RV brands charge more for their products to make up for the quality materials that they use.
Depending on the type of RV you are looking for, the overall cost may be higher than you were expecting. However, this price is valid for a number of reasons, when you consider the materials used, the warranties offered, and the longevity possible in a well-built rig!
The 8 Best Built RV Brands on the Market Today
Ready to learn about some of the best built RV brands available to you? Here are eight of our top picks, including the types of RVs they make and what you can expect from them. Let's get started!
There's a reason why Airstreams are so popular, and it isn't just for their aluminum aesthetic. Airstream travel trailers have been on the market since the 1960s, and some of those vintage models still run today. Let's talk about what makes Airstream travel trailers well-built now.
The fundamental build of an Airstream travel trailer is what makes it so special. Their uniquely curved aluminum bodies encase a number of high-quality materials, including quality plywood and fine furnishings.
According to the Airstream website, all of their travel trailers go through extensive testing and quality control procedures, often outdoing just about any other RV manufacturer working today. In addition, Airstream offers a number of different types of RVs at different prices.
The very build of these travel trailers ensures that they are aerodynamic and easy to drive. Not only that, but a number of Airstreams are very compact and small, making them ideal for smaller groups and couples. But they do have a number of larger models as well!
The lowest-priced Airstream begins at $41k, and it is known as the Basecamp. The Basecamp is an extremely unique travel trailer, built for boondocking and taking whatever your journeys happen to go. However, there are a number of other makes and models as well.
The original Airstream model that was manufactured all the way back in the 1960s and 70s is still available for you to purchase today. While it has gone through a few upgrades to make it sturdier and more aerodynamic, you can still feel the history in this well-built travel trailer. Airstream also has a few motorhome options and large travel trailer choices as well.
The absolute quality in the interior design of an Airstream is often what brings people to these types of rigs. They are gorgeous, both inside and out, but they do indeed come at a premium price when you consider just how popular they are. However, you will never go wrong with the resale value found in an Airstream!
Grand Design is known for its fifth wheel RVs, and they are among some of the best in the business. Not only are all of these fifth wheels uniquely designed and built for just about as many people as you can think of, but they also come well built and sturdy. Let's talk about them now.
While Grand Design only originated in 2012, this RV company is a true favorite for anyone who is shopping for a fifth wheel. While their prices are high, they truly offer some of the best fifth wheels in the business and advocate their products and quality construction.
This RV company was founded by people who have been in the RV business a long time, and they know exactly how to build fifth wheels so that they last a lifetime. They laminate every single insulated wall with aluminum material, and they even use residential style wooden beams and trusses to create a sturdy roofline.
We've already talked about just how important it is to have an RV with an adequate amount of storage and plenty of unique layouts to choose from, and Grand Design delivers on this in every make and model they have.
Grand Design truly advocates for its customers, saying that they don't build things the way every other RV manufacturer does, and for good reason. Just one example of that is their seamless, single piece roof, backed by a 12-year warranty. They also offer heavy-duty tires on all of their fifth wheels, also backed by a 5-year warranty.
While they also offer toy haulers and travel trailers, The Grand Design fifth wheels are truly stunning and popular. However, they can be extraordinarily heavy and not ideal for every tow vehicle, which is something to keep in mind as you shop. The extra weight only means that your RV is sturdy and built to last, after all!
Most Budget Friendly:

Winnebago
Not only does Winnebago offer makes and models of all different types of RVs, including motorhomes and travel trailers, but they also promise to their customers quality products and a household name. Winnebago has been around as long as Airstream has, and they are constantly innovating their products.
One of the best things about Winnebago is the fact that they have a few budget-friendly rigs in their lineup. The Minnie Winnie that we've talked about before is a fantastic example of an RV that suits a variety of people, with countless floor plans and layouts. You can choose exactly the setup you have been searching for, and it likely won't break the bank!
Similar to Airstream, the Winnebago name is synonymous with quality, family fun, and dedication to its customers. They have a fantastic Owners Club and plenty of resources for you should you choose to purchase a Winnebago, and their warranty options are also fantastic.
If you're ever on the fence about purchasing a Winnebago RV, they have a unique rental opportunity so that you can take any one of their makes and models for a spin or camping trip so that you can get a full picture of what Winnebago has to offer.
Another huge plus for the Winnebago name is the fact that they are constantly innovating. Not only do they have a number of off-grid RVs at a fair price, but they also have a Class B and a Class A that are built for accessibility. If you've always wanted to try RV living but haven't been able to find an accessible RV, Winnebago may be the brand that is right for you!
While Oliver travel trailers began in the early 2000s, there's no reason to question that their RVs are built to last a lifetime. This is what they advertise and what they strive for, and their travel trailers are unique in that they are built out of one solid fiberglass piece. There are a number of benefits to purchasing an RV like this. Let's talk about them now.
Starting at $65k for an 18-foot travel trailer, you may be wondering what exactly you are paying for. Yes, the price is high, but Oliver truly builds travel trailers that last a lifetime. They build their rigs using a unique double-walled fiberglass structure and a heavy-duty aluminum frame, making their rigs lightweight as well as durable.
However, another drawback to this company is the fact that they only make compact travel trailers. As someone living in a 19 foot travel trailer, an Oliver is truly a rig that I want to upgrade into, given the fact that they have fewer risks for leaks and remain within the tow limit of my vehicle.
Don't discount their small sizes as disappointing right off the bat, however. If you aren't hoping to sleep more than four to five people, an Oliver may work out well for you. This is especially true because this RV manufacturer is very open to customization options, including interior design and upholstery choices. You can truly customize an Oliver, given the fact that they only make so many travel trailers or RVs at a time.
Plus, you can expect your Oliver travel trailer to be easy to tow and maintain, given its materials and size. In addition, these rigs look beautiful while on the road, in a stunning white fiberglass show. Affectionately called Ollies, you may fall in love with these travel trailers just like I did!
Best Camper Option:

Lance RV
Who says you have to tow or drive your RV in order to have a good time? While Lance makes travel trailers, they are well known for their camper, built for being set up on the bed of your pickup truck. The simplicity of their design as well as the durability of the Lance name is what makes this brand special.
Claiming that they are America's most popular truck campers, Lance has been building their RVs since the 1960s. Most of their rigs are constructed with Azdel, making them lightweight as well as moisture-resistant, something that is inherently necessary for the design of any RV.
You can choose from almost 10 different truck camper layouts and sizes, and just about as many travel trailers as well. All of them offer classy and unique interior design, available in a few different colors and upholstery choices.
Lance is rated best in customer satisfaction having garnered a number of longtime customers, coming back year after year. These customers also bring in a number of recommendations, which keeps the Lance name alive and well. There's a reason people keep coming back to this brand, and it is definitely tied into the durability of these rigs.
You can view an in-depth diagram of how a Lance camper is made on their website, which means that this company truly wants to be clear in what it has to offer. They are transparent in what they used to manufacture their RVs, and they stand behind each and every one of their products.
Just like all of the other brands on this list, a Lance camper or travel trailer may cost more than you expect. However, given the high quality materials involved and the detail that the company chooses to undergo in order to create a quality product, you won't be disappointed in a Lance purchase!
If Lance and Oliver haven't sounded like ideal options for you, then you can always fall back on a mainstay in the RV industry, known as Forest River. Forest River offers countless RV options across every type of make and model, including fifth wheels, motorhomes, and travel trailers.
Founded in the late 1990s, Forest River was started with the concept in mind of building a better RV for the typical outdoor enthusiasts. Not only are their RVs fairly priced for what you are receiving, they consider construction and longevity over a number of other companies.
One of the primary reasons that Forest River is well known for its quality and better built RVs is the fact that they put their makes and models through a number of pre-sale tests. These are designed to ensure that you are receiving an RV that is built to last, as anything that fails these tests is promptly removed from the market.
Forest River offers a number of fantastic warranty options for just about any of their RVs, and their owners club is where they truly shine. The customers of Forest River are some of the best advocates for the company and the brand, and you can expect to speak to a number of friendly people, just like you!
However, if Forest River sounds too good to be true, there is something for you to consider to bring you back down to earth. Forest River is a huge company, with many other brand names under their company umbrella. Because of this, many people question Forest River's overall quality and think that they may have their quality stretched too thin in some respects. I highly recommend reading our full review of the Forest River brand here.
In the business for far longer than 50 years, Leisure Travel Vans are a great choice for those of you seeking a reliable Class B or C. These compact campers are not only beautiful, but they are innovative as well. They have a number of different layouts and floor plans, all starting at roughly $150k.
One of the main reasons that Leisure Travel Vans are some of the best built RVs on the market today is the fact that they choose to do everything in house. They have their own fiberglass molds, their own steel construction department, and much more. Plus, their interior design is stunning and functional.
The fact that they choose not to outsource anything means that they have complete control over the manufacturing process. This allows them to ensure that everything is well built, every step of the way. And, they make things easier on their customers in a number of ways, including powder-coated steel frames and easy-to-read and maintain electrical wires.
While they currently only offer two different makes and models, these are some of the most stunning campervans I've ever seen. With light wood paneling and a number of different upholstery options, you will feel like you are in a stunning and luxurious RV, both inside and out.
Given that they've been in business for some time, Leisure Travel Vans understands the desire for high-quality components and appliances.
They incorporate Dometic brand items throughout their rigs, from the air conditioner to the fridge. Not only do these high-quality components tie into the high-quality interior design, but they also offer you the reliability that lasts year after year, which is exactly what you are looking for in a best-built RV!
Best Class A:

Newmar
In the business for fifty years, Newmar is a fantastic luxury RV manufacturer, building some of the best Class As and Super Cs in the business today. While all of their offerings are not exactly budget-friendly, they are some of the most beautiful and best-built rigs in the RV world.
First off, most of these motorhomes are huge. This isn't a secret, and it does drive up the price of these RVs, but if you are looking for a large and in charge Class A, this is the brand for you. They build their RVs on a unique and one-of-a-kind chassis that can support the weight of these enormous interiors.
The founder of Newmar has also created one of the best types of slide-out systems in the RV industry. They are designed uniquely and work without much maintenance or trouble and offer you even more space inside of these huge RVs.
Another indicator of high-quality building is the fact that there are a number of details in Newmar RVs that are not found in any other manufacturing company. Plus, they put their RVs through a number of inspections that give you peace of mind should you choose to purchase one of these rigs.
Again, the price on any Newmar make and model is extraordinarily high and may make these RVs out of your budget. However, these heavy-duty RVs are truly built to last a lifetime, with fantastic warranty programs and a brand name that stands behind its products!
Final Thoughts
Now that you have an overview of what to look for in a well-built RV as well as some of our top recommended brands, hopefully, you are feeling confident in making a long-lasting and reliable RV purchase.
Given just how many options there are on the market today, it is very easy to feel overwhelmed. However, we are here to help, and any one of these many options is a great choice to consider for your upcoming RV excursion!