Last updated on February 17th, 2023 at 09:47 am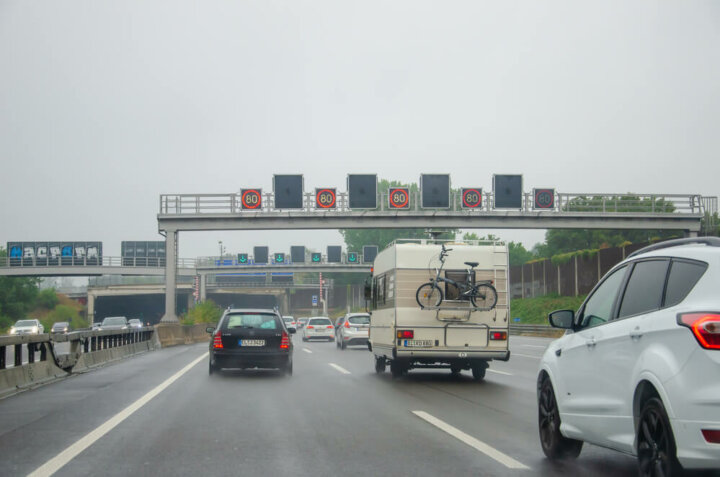 All of our reviews are based on exhaustive research, industry experience and whenever possible, hands-on testing. When you make a purchase using one of our chosen links we'll get a small percentage of the proceeds. This supports the site and keeps Jeffsetter running. You can read more here.
Traveling in high-occupancy vehicle (HOV) lanes is a great way to avoid some congestion with traffic and keep freeways moving at good speeds.
That being said, when you drive an RV, the rules you have to follow when traveling on freeways aren't the same as other vehicles. Plus, these rules vary from state to state, which only adds to the confusion.
So, are RVs allowed in HOV lanes?
The rules of the carpool lane vary from state and in some places, RVs are allowed in the carpool lane as long as they have the required number of passengers. However, there are some states where this is only legal if you are driving a motorhome and not a towable trailer.
Below, we'll take a closer look at who the carpool lane is for and break down whether or not it is legal to drive your RV, state by state. I'll also answer some other traffic questions about traveling with your RV or motorhome on the freeway.
What are HOV (Carpool) Lanes?
HOV lanes or carpool lanes are reserved areas on the freeway where people in high-occupancy vehicles drive. While the specifics can vary depending on where you are driving, in most cases there need to be at least two people in the vehicle.
Since HOV lanes are restricted to certain travelers, they generally aren't as congested. This is especially true during times of heavy traffic like a rush hour when people are most likely to be going to or going from work.
Carpool lanes were instituted as an incentive for people who choose to rideshare. Exhaust from vehicles is a major source of pollution and contributes to respiratory illnesses around the world. In big cities, it's estimated as much as 95% of pollution is caused by vehicle emissions.
The HOV lane is generally located on the far left of the freeway, next to all the unrestricted access lanes. It may run 24 hours a day, or it may only be active during peak traffic times. Usually, they are indicated with a sign on the freeway or white diamonds on the pavement in the lane.
Additionally, some HOV lanes are high-occupancy toll lanes. This means that vehicles with fewer passengers can still legally use the lane but they need to pay a toll to do so.
Are RVs Allowed in HOV Lanes?
The answer to whether RVs are allowed in HOV lanes really comes down to where you're traveling and if you have enough people in the RV to meet the qualifications for driving in the carpool lane.
Yes, in some states, RVs are allowed in HOV lanes. However, they have to be traveling at the posted speed limits and they cannot be towing anything.
In other states, it may be legal for motorhomes to drive in the carpool lane, but not RVs or travel trailers. Some states also don't allow oversized vehicles to drive in the HOV lane at all.
Which States Can You Legally Drive an RV in the HOV Lane?
When traveling on freeways, the roads are technically owned and operated by individual states. This means that the rules change from state to state.
Check out these handy charts on where it's legal (and illegal) to drive your RV in the HOV lanes. I've broken down the information the best I could according to the rules.
| | |
| --- | --- |
| Carpool Lane Rules for Motorhomes, RVs, and Travel Trailers | States That Follow Those Rules |
| All vehicles, including travel trailers, can use the HOV lane | Arizona, Kentucky, Nevada, North Carolina, Ohio, Oklahoma, Oregon, Pennsylvania, Tennessee, Texas, Utah, Vermont, Virginia, Washington, Wisconsin |
| Motorhomes can travel in the carpool lane, RVs and travel trailers cannot | Alaska, Arkansas, California, Deleware, Florida, Georgia, Hawaii, Idaho, Indiana, Iowa, Kansas, Maine, Michigan, New York |
| It's illegal for RVs, including motorhomes and travel trailers, to drive in the carpool lane | Alabama, Colorado, Connecticut, Illinois, Maryland, Massachusetts, Minnesota |
| No carpool lanes in the state | Mississippi, Missouri, Montana, Nebraska, New Hampshire, New Jersey, New Mexico, North Dakota, Rhode Island, South Carolina, South Dakota, Vermont, West Virginia, Wyoming |
Keep in mind that this is only allowed if you have the required number of riders. For most states, the qualification is at least two riders, though there may be times when you'll need 3-4 riders. This will always be posted on the freeway in these areas, so pay attention to road signs.
Something else that differs between states is whether or not children are counted toward the total number of riders. Most states allow you to count children and babies (as long as they aren't in the womb). However, the states of Alabama, California, and Colorado do not count children as passengers.
What Types of RVs Are Allowed in Carpool Lanes?
There are a lot of different types of RVs. Usually, Class A, Class B, or Class C RVs are considered motorhomes, while fifth-wheels, travel trailers, and other towable RVs are in a separate category. It's important to know what type you are driving since the rules of the road differ depending on the type of vehicle.
Usually, the distinguishing factor comes down to the number of axles and whether the RV or motorhome itself has a motor. Since motorhomes have their own motor, they are considered their own vehicle.
Certain types of RVs and travel trailers, on the other hand, are considered combination vehicles that cannot be driven in the HOV lane in some places. Some RVs also fall under the category of "trucks with more than 2 axels", which are not allowed to use the carpool lane.
You also might find there are restrictions based on the length of your vehicle. This could apply to the length of just your motorhome and anything it's towing, or the total length of your vehicle and your RV or travel trailer. The number varies from state to state and there are also restrictions on the width and height of RVs traveling on the freeway.
Can I Use the HOV Lane if My RV is Towing Something?
No, in most cases, you are not allowed to use the HOV lane if you are towing something. This is one of the reasons that certain types of RVs (the pull-along kind) and travel trailers are excluded from the fast lane.
In some cases, you are allowed to use a small pull-behind trailer for your gear. However, your license plate has to be visible and the trailer must have its own brake lights. Additionally, even if towing is allowed, triple-towing usually isn't.
Can RVs Use the Fast Lane?
This question is better answered by knowing how fast you can safely drive your RV. Even though speed limits on freeways vary, they generally range from 55-80 mph.
The purpose of the fast lane is to give people who are traveling faster an opportunity to pass those cars in front of them. You shouldn't stay in the fast lane for your entire trip.
That being said, it really depends on how fast you're actually traveling in your RV. For a lot of towable trailers, for example, you can't exceed 55-65 mph while you're driving depending on the state you're in.
| | |
| --- | --- |
| Towable Trailer Speed Limit | States |
| 55 | Alabama, Alaska, California, Connecticut, Delaware, Hawaii, Illinois, Maryland, Massachusetts, New Jersey, New York, Pennsylvania, Rhode Island, Virginia |
| 60 | Texas, Washington, Wyoming |
| 65 | Arizona, Arkansas, Colorado, Florida, Georgia, Idaho, Indiana, Idaho, Kansas, Kentucky, Louisiana, Maine, Michigan, Minnesota, Missouri, Montana, Nebraska, Nevada, New Hampshire, New Mexico, North Carolina, North Dakota, Ohio, Oklahoma, Oregon, South Carolina, South Dakota, Tennessee, Utah, Vermont, West Virginia, Wisconsin |
Since there aren't a lot of areas on the freeway restricted to 55mph, in most cases getting into the fast lane would require you to travel faster than the allowable speeds for towable RVs. Of course, you could use this lane to pass slow-moving traffic as long as it was done within the legal speed limit.
When you're driving a Class A, Class B, or Class C motorhome, however, the RV speed limit usually varies between 70-75 mph depending on the state. You could use the fast lane as long as you follow two rules.
First, you should never travel slower than the posted speed limit while in the fast lane. Second, you should always yield to faster cars trying to pass. It's also good practice to remember that the passing lane is for passing, not your entire trip.
What's the Best Lane to Drive in with an RV?
While you can take advantage of the HOV lane as long as you're comfortable traveling at the posted speeds and it's legal in the state you're traveling in, the best lane for driving with a motorhome, RV, or travel trailer is the right lane.
The right lane is generally designated for slow-moving or bulkier travelers. It's where you're most likely to see big semi trucks, box trucks, RVs, travel trailers, and anyone else who might be moving either at or below the posted speed limit.
That being said, there's no reason that you can't use the passing lane to move past vehicles slower than you before merging back into the right lane.
Not only is it the best choice for speed reasons, but with the right lane, you only have traffic on one side of you (with the exception of on-ramps). This means you're more likely to need your driver-side mirror while driving than having to angle your neck at a weird angle to see the mirror on the other side.
Of course, you should use the lane to the left of the right-most lane to pass other slow-moving vehicles. However, treat it as a passing lane and not as the lane you are traveling in.
Final Word
So, are RVs allowed in HOV lanes? It really depends on the state that you're traveling through. Even though traveling in a carpool lane when it's illegal probably won't result in more than a ticket, the whole hassle of paying an out-of-state ticket is something that should be avoided.
Over time, you'll get more familiar with traveling in your RV and freeway rules, especially in the states you travel to most. Hopefully, these handy charts help you a little with the states where you aren't as familiar with RV rules and speed limits. Happy traveling!