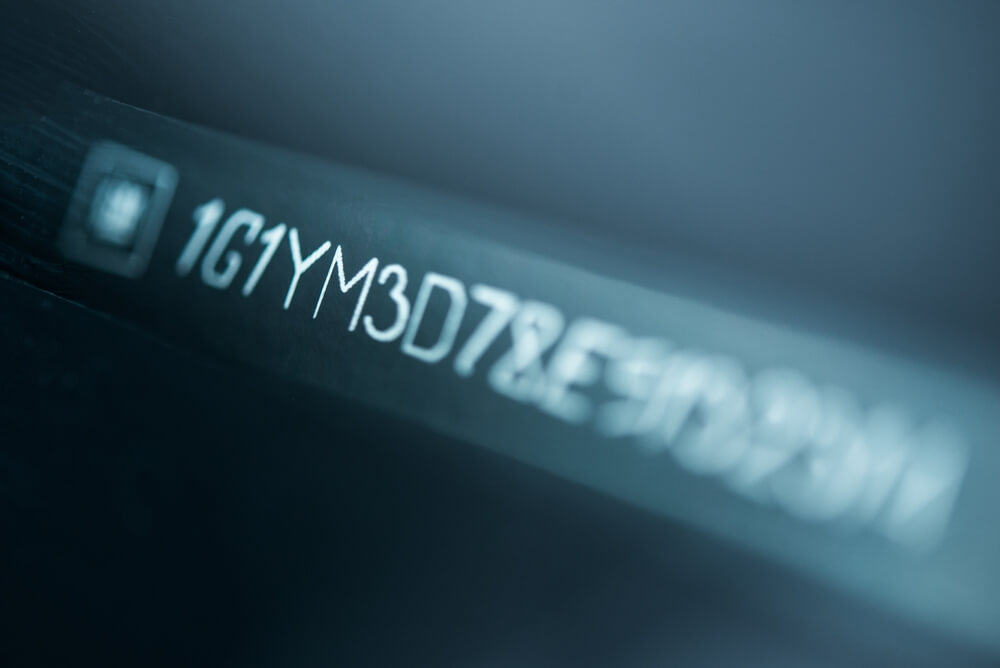 All of our reviews are based on exhaustive research, industry experience and whenever possible, hands-on testing. When you make a purchase using one of our chosen links we'll a small percentage of the proceeds. This supports the site and keeps Jeffsetter running. You can read more here.
Whether it's for insurance purposes, your own records, or researching the year of your travel trailer, you may be curious if your camper has its very own VIN number. Campers are like cars, so it would make sense that they have a VIN number too!
So, do campers have VIN numbers? Yes, they absolutely do! Campers and travel trailers have their very own specific VIN numbers, and no two are alike. They are important and mandatory for manufacturers to include.
But what exactly are VIN numbers, and why do campers have them? Moreover, where can you find your travel trailer's VIN number and what might you need it for? Let's dive in with some VIN number information.
 What are VIN Numbers?
First off, let's discuss what exactly a VIN number is. A VIN number stands for "Vehicle Identification Number" and it would follow that your camper is indeed a vehicle that needs identifying.
VIN numbers are important both for the manufacturer and the vehicle's owner to know. They are unique and individual numbers attached only to one camper, and it allows an owner or insurance company to look up the history of the camper.
This history can include information on the camper's odometer, what repairs it may have had in the past, an accident or collision history, and even if the title has been salvaged. The VIN number is key to recalling any and all of this information, which means it is very important, especially if you have just purchased a used RV!
VIN numbers are usually 17 characters long, and include both letters as well as numbers. You can read more below about what all of these different characters mean; they are not simply a random assortment of numbers and letters! 
Are VINs the Same as Serial Numbers?
It may sound like a VIN number is similar to a serial number in terms of its importance to you and your vehicle. While it may seem strange, these numbers are not the same. However, serial numbers can be found inside of your VIN number!
Vin numbers are made up of 17 characters and the final six of those characters make up your serial number. So you ultimately only need to keep track of your VIN number should you be looking for your serial number as well.
If you own a vintage rig like me, you may not have a VIN number. VIN numbers were not made mandatory until the year 1980. So my 1976 Fleetwood Terry just didn't make the cut!
However, I know my serial number for my camper, and this number counts as a vintage rig's VIN number since it is a unique enough identification number. Who knows how far back these records can go!
What Types of RVs Have VIN Numbers?
It may come as a surprise to you, but basically all RVs have VIN numbers. These numbers are necessary for any road approved vehicle, including RVs. So it would make sense that basically all types of RVs have VIN numbers, including:
Travel trailers

Teardrop trailers

Fifth wheel RVs

Class A motorhomes

Class B motorhomes

Class C motorhomes

Pop up tent trailers

And of course any other campers!
Most motorhomes end up with two serial numbers or VIN numbers, depending on the year and manufacturer. This is due to the frame often being built and warrantied through another company. This should not be a common issue with camper VIN numbers, however!
Why Should I Know My Camper's VIN Number?
Knowing your camper's VIN number is important, though it isn't necessary to keep it memorized. Chances are, your camper's VIN number is located on your vehicle's title, or somewhere on your rig, so that you will always have it in case you forget it!
Knowing your camper's VIN number is important should you wish to look up any past vehicle repairs or accidents. It is also necessary to know this number if you plan on insuring your RV, as well as getting your rig titled if for whatever reason the title is lost.
Your VIN will be a great record for any used camper, as it will record any standard maintenance as well as non standard. It will let you know if your RV has ever been stolen, or has suffered hail or fire damage. It can also be a great informational resource for checking out any recall information or warranty claims.
It is easy to look up any information that has been recorded using your VIN number. You can reach out to the DMV, your RV dealership (especially if you are buying a used RV from a dealer), as well as many websites. These sites are usually free, but some may charge a fee. However, you may receive a more in depth report if you choose to pay for it.
If you are unsure about making an RV purchase, knowing the VIN would be a good idea. Before you decide on an RV purchase, look up the VIN number and check for any unreported accidents or claims. Some dealers and private sellers may not tell you all of the important information about your camper, and it's always best to be prepared before buying a used RV!
If you don't know your camper's VIN, you may need to apply to get a brand new one from the DMV. This can involve some fees and complications if you are trying to take possession of a used rig, or even sell a used rig of your own.
That's why it is important to locate your VIN number before buying or selling any RVs. Let's go over some possible locations of your camper's VIN number.
Where is my Camper's VIN Number Located?
Since no two RVs are created equally, the location of your camper's VIN number can sometimes be as unique as the VIN number itself! Depending on the age, the overall wear and tear, and manufacturer of your rig, the number could be outside or inside.
Here are some of the most common places that your VIN number may be found:
On the tongue of the trailer.

This is one of the more common VIN number locations, especially for campers. However, wear and tear may make it difficult to see.

Under the propane tanks, along the camper's frame

. This is also a tricky spot for wear and tear, and your VIN number may be worn away.

Along the frame rail, away from the trailer tongue

. This is also a fairly unprotected spot for a VIN number to be, as many people repaint their camper frames and sun damage is common.

While it isn't convenient, your VIN could be

inside of a wheel well

. Hopefully this will mean that your VIN is protected, but it may be more difficult to get at and could be covered up by fixtures.

Inside your RV

, the VIN could be hiding in a kitchen or bathroom cabinet. This is a convenient place to keep a lot of key RV information, including the weight of your camper and other necessary towing information.

On an informational plaque somewhere on the outside of your rig

. This is where my serial number and important towing information is located for my vintage camper. While it does seem strange, the plaques have the information etched into metal, which means it is less easy to rub away than a sticker or label. However, it definitely shows its age given that it is on the outside of the rig.

In one of your outside storage boxes

. This isn't a bad choice for a location of a VIN number label. It will be protected from the elements and should hopefully be easy to see once you open the compartment door. It should be on the door itself or the walls surrounding.

On the frame of the main door

. This is close to where my vintage serial number is. It should be listed on an easy to see plaque or label. You may also wish to check near your hot water heater compartment door, should you have one.

While it may seem strange, a popular VIN number location is

under the kitchen sink

. This keeps the number safe from the elements, and it ensures you will remember where it is (once you find it, of course).

Inside a closet or heater compartment

. If you're running out of options, your best bet is to check any compartment you have inside of your camper, including any closet, cupboard, or heater location.
Let me know in the comments if you have any strange locations of VIN numbers! RVs try to make some things universally located, but for whatever reason, this necessary number often goes wherever the manufacturer wants it to. Just one of those things, I guess!
What Do All These Numbers and Letters Mean?
As I mentioned earlier, your VIN number has certain characters listed in a certain order. It is not simply a bunch of random letters and numbers squished together. Let's go over what each of these individual characters mean!
The World Manufacturer Index (WMI)

makes up the first three characters. The first symbol will tell where the vehicle was built and the second and third will make note of who the manufacturer is

Manufacturer Specification Data

is what follows. Characters four thru eight will illustrate the trailer's model series, engine (though your camper won't have one) and body type 

The U.S. Department of Transportation has what is called a

Check Digit

, which is an authenticity digit that affirms the VIN number is real. This will be in the ninth slot

Your tenth character will be how you figure out your rig's

Model Year

. However, since it is only one character's worth of content, you will have to look up your model year on another informational table

Wherever the vehicle was built will be listed as the eleventh character. It is essentially your

Manufacturer's Information

.

Finally, the final six characters make up the vehicle's

Serial Number

. For any rig dated before 1980, this may be the only number you have
While it isn't necessary to know what every individual VIN character means, you may find it interesting to look up all of these fun facts about your camper! 
I Have a Vintage Camper. What About My VIN Number?
I have personal experience dealing with a vintage camper's VIN number. Vintage campers are a labor of love, from beginning to end. This love even extends to DMV paperwork and making sure you can locate your camper's important numerical information!
If you own a camper that dates before the year 1980, you will not necessarily have a VIN number. You should, however, have a serial number, which is enough for the DMV to go off of. They will either create a VIN number for your vehicle's title with the serial number included, but sometimes just the serial number is enough.
It is of course ideal to purchase or sell a vintage camper with a vehicular title in hand. Your camper's VIN number or serial number will be found on this document so that you don't have to go searching for a serial number on your vintage rig.
However, this is of course an ideal world. Many vintage campers may be too old to have VIN or serial numbers, and wear and tear or modern modifications may hide any serial numbers from your sight! The older your rig, the trickier it gets.
However, you can always get a brand new VIN number from the DMV should you be unable to find any sort of numbers on your trailer. On some vintage rigs, it is common to lose the serial number to the wear and tear of time. You may know exactly where the number is, but it could be rubbed away or so worn that it is illegible!
The DMV can work with you to get proper identification numbers assigned to your camper. Just know that it may take some extra time and love, just like your vintage rig!
Conclusion
Having a VIN number is a necessary identification for all vehicles, including campers. Before you hit the road or even decide to purchase a used RV, knowing its VIN number should be at the top of your list. 
For your own safety and peace of mind, looking up the repair or accident records associated with your camper should be a necessity. And you can't do this without your camper's unique VIN number, after all!