Admittedly, I've been bashing on Hawaii's biggest carrier a lot lately. But, I've had good reason too. And a big part of their problem nowadays, in my opinion anyway, is that Hawaiian Airlines has an identity crisis.
How Do They Have an Identity Crisis?
To me, Hawaiian Air can't seem to figure out what its brand identity is. They claim to be a premium airline because of their in-flight offerings. However, many of their actions point towards being more of a low-cost carrier. I don't think Hawaiian knows truly what it wants to be. And that's a problem.
What is a Premium Airline?
When you think premium airline, I'm sure most immediately think of Singapore, ANA, etc. They're all Skytrax 5-star airlines and are know for their service. But, if we look at domestic carriers, things are a little different. Delta and JetBlue are probably the two best we have in the US, with both scoring 3 stars in Skytrax's 2019 ratings, and coming in 40th and 41st, respectively, on the top 100 list for 2018.
Now, I've never flown JetBlue, but I can tell you that Delta is worthy of its ratings. Their staff, on the ground and in the air, tend to be among the better ones I've interacted with in the U.S. And while Delta doesn't offer free meals in the back, the buy aboard food is pretty damn good. Plus, seat-back in-flight entertainment is free on all (or most) mainline aircraft, there's a power outlet at every seat, WiFi is available onboard, they have a 20-minute baggage guarantee, Delta's app is actually useful, their lounges are great, their credit cards come with good benefits, and their flight crews do more in-flight.
Is Hawaiian a Premium Airline?
That's a Meal? More Like a Snack!
So, first up, let's talk about Hawaiian's claim to being a premium airline. Their reasoning for this is because they offer a complimentary meal to all passengers and an alcoholic beverage to all. Now, that's a nice gesture for sure, but the meal in the back of the plane sucks. As you'll recall, my opinion is that those sandwiches don't taste good and are more of a snack–size than an actual meal.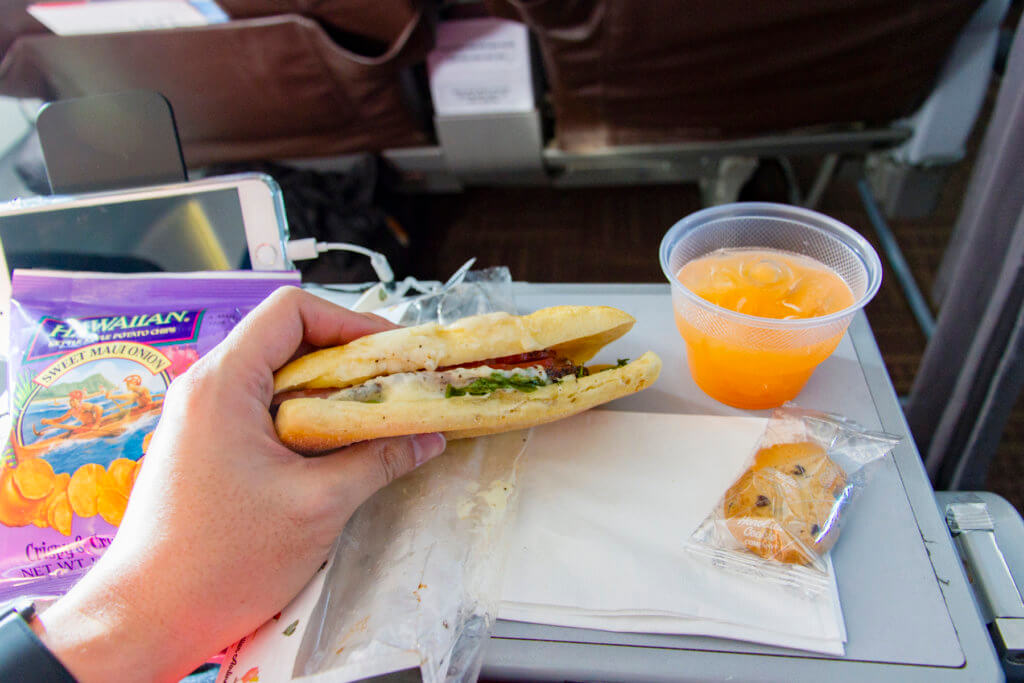 Underwhelming Lounges
Hawaiian also maintains lounges at most Hawaii airports, but there are two types. There's the Premier Club Lounges that are a complete zoo.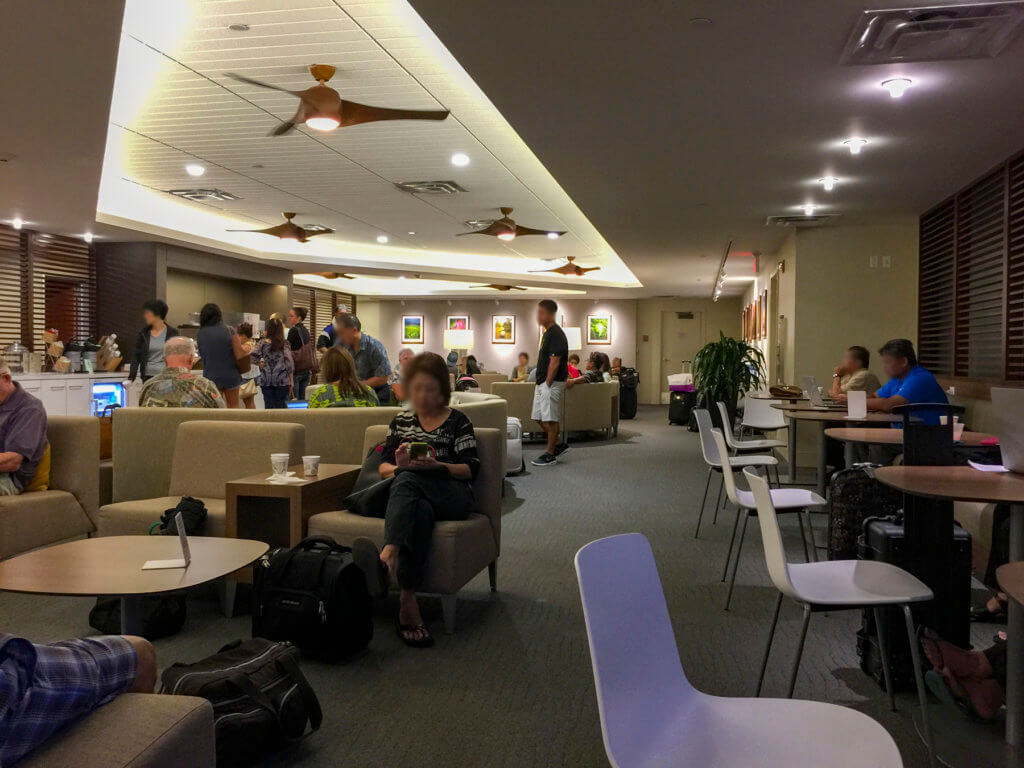 Then, there's the single international business class lounge, the Plumeria Lounge in Honolulu, that I've heard isn't all that great. And it's multiple people that have told me this too.
What's Going on With the In-Flight Entertainment
In regards to in-flight entertainment, Hawaiian Airlines does have a seatback system, and now it's even free to use! I recently go confirmation about this, but their announcement regarding this was vague as hell. Seatback systems, however, are only available on their wide-body jets; the A321neos don't offer this. Instead, like Alaska, you must bring your own device and stream. Whereas on Delta (and pre-merger American), all mainline aircraft had this.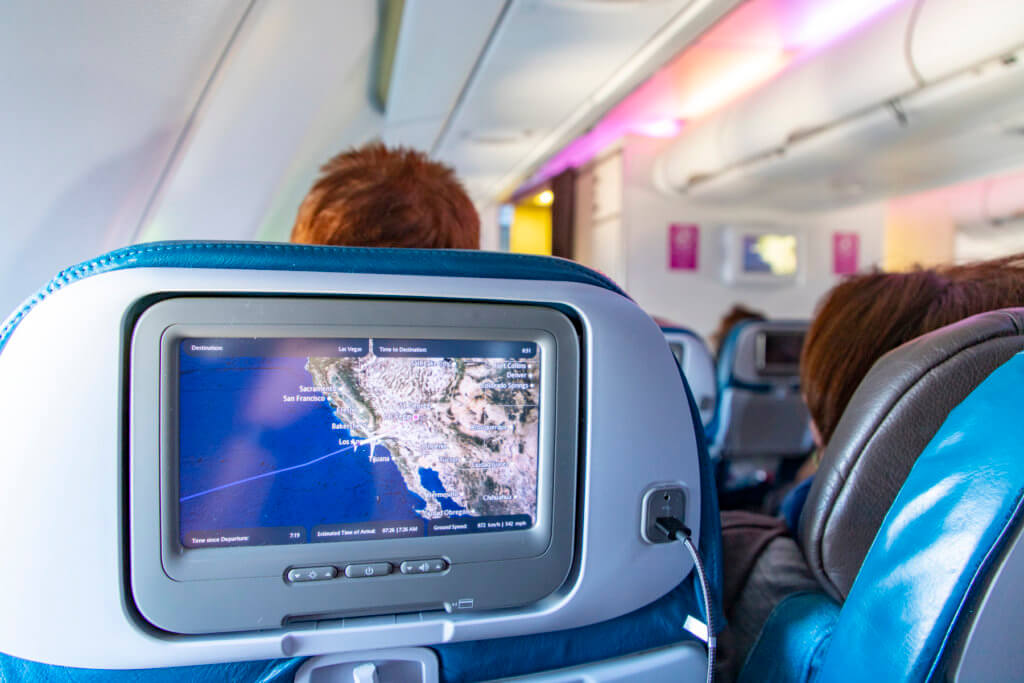 Premium Cabin
Finally, there's the issue of Hawaiian's premium cabins. Yes, they offer lie-flat seats on all widebody jets. But their current, unique design leaves a lot to be desired, from what I've heard. While, yes, the 2+2+2 does allow for all aisle access from clever positioning, the seats are quite narrow. And the IFE system is an iPad Pro that you mount on a flimsy stand that's hard to deploy and always breaks.
Skytrax Standings
Now, remember Delta and JetBlue's Skytrax ratings? Hawaiian isn't even rated. Smaller Pacific carrier Fiji is, though, and has a 4-star rating. However, Hawaiian does appear on the Top 100 list, but, they're ranked 83rd (Fiji is 43rd). Ouch.
Low-Cost Carrier?
Where's the Power?
Clearly, the elements of a premium carrier that Hawaiian has, they don't do well. Further, unlike American (slowly rolling out) and Alaska, Hawaiian doesn't offer a three-prong power outlet at every seat or isn't working to implement this. Instead, you get a single USB port that, let's face it, can barely charge an iPad. Oh, and Hawaiian doesn't offer WiFi because they're a leisure airline and doesn't think guests will value it. I don't buy that.
Waiting and Paying for Baggage
Hawaiian doesn't offer a baggage guarantee. In my experience, you're often waiting at least 40 minutes to get your bag. Plus, their crap credit card gives you a free checked bag only for the primary cardholder. American, Delta, and Alaska extends this benefit to 6 others on your itinerary. And while United isn't quite as generous, their $95/year card at least extends to benefit to a companion. And, don't forget, the Hawaiian Airlines World Elite Mastercard costs $99/year to keep now.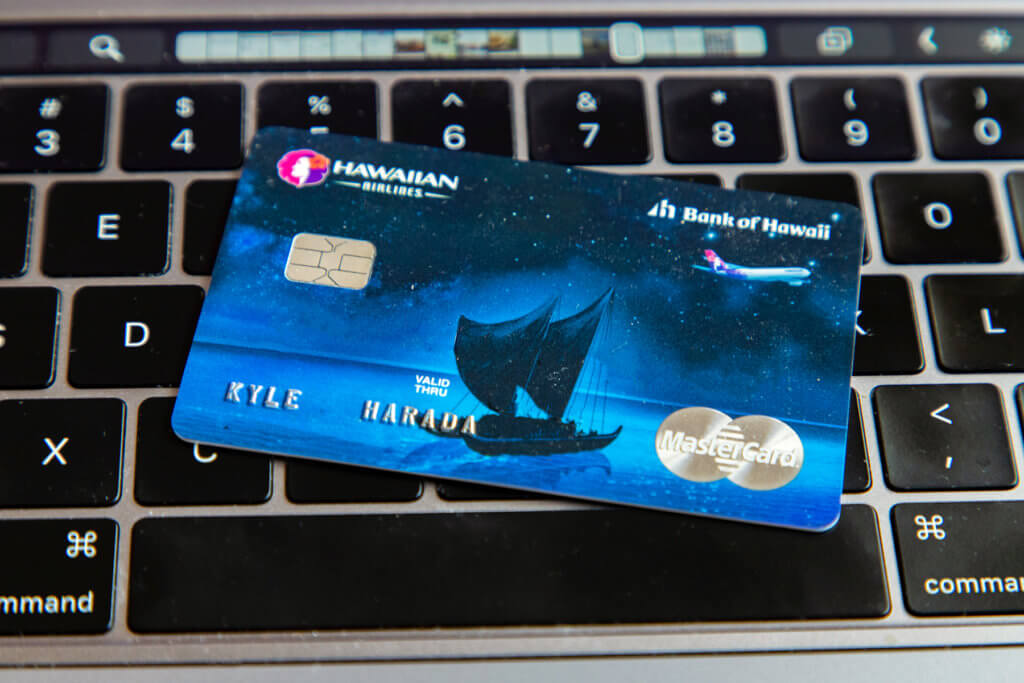 In-Flight Service
As far as service goes, I've had some great flight crews, and I've had some not-so-great crews. This is true of any airline, but Hawaiian tends to do things that don't make sense. For example, they don't prioritize keeping the lights out during redeye flights. And, in fact, they'll make unnecessary PA announcements mid-flight on these flights too. Oh, and if there's turbulence, don't expect beverage service. While Delta and Alaska will at least come around with water if the can't do cart service.
Technology and Support
Hawaiian's technology side is also a joke. Their new app, while slick, doesn't even let you book or modify a flight. SERIOUSLY. And when you call about an issue, if someone picks up, after the call, you might get transferred to a timeshare sales pitch. Also, don't use a gift card to book a flight you might need to cancel. One of two things will happen: 1) it'll take them 2-3 months to credit you back (and no one will answer your questions in the meantime), or 2) you simply won't get your credit back.
Rising Prices + Decreasing Value
Now, if Hawaiian truly were a premium carrier, they could charge more for their tickets, like Delta does. But I don't think Hawaiian can command a fare premium. I certainly wouldn't pay more to fly them over, say, Alaska. But Hawaiian is raising fares where it can.
Take, for example, Vegas. I'm probably going again next April, and the airfare towards the end of the month is about $840 roundtrip. WTF!?!

That's insanity! The same itinerary last year cost me somewhere around $700, which is still crazy high! What's more, Hawaiian even increased the cost of Extra Comfort by $9 per segment.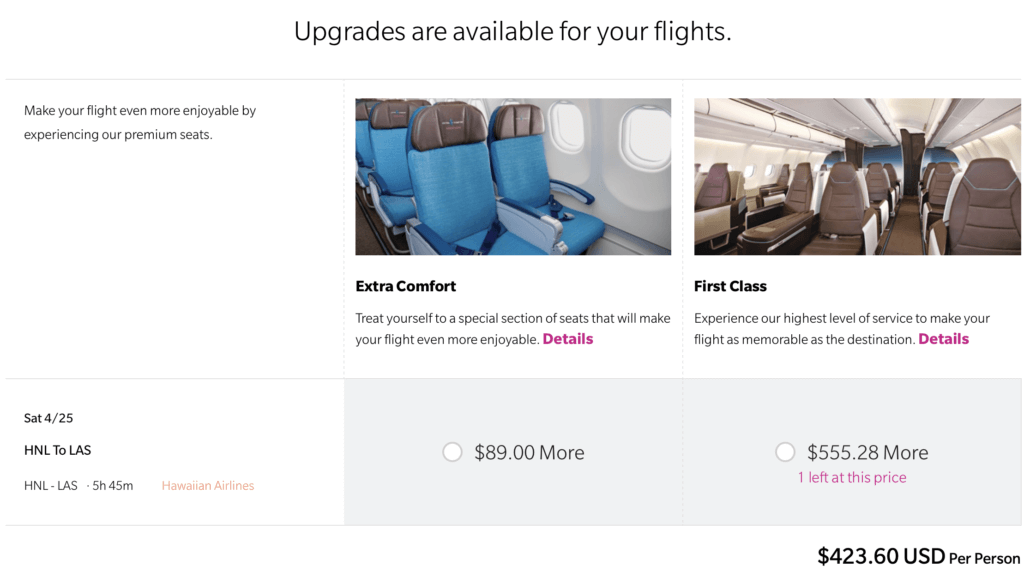 I had no idea they did this until my co-worker was booking a flight earlier this month. For reference, back in April, I paid $80.

And, remember, Hawaiian doesn't give you anything extra in Extra Comfort aside from the extra space, a power outlet, and Zone 2 boarding. Delta and Alaska, on the other hand, provide unlimited free booze, with Alaska's Premium Class costing only $11 more.
As far as decreasing value is concerned, this argument is centered around HawaiianMiles. You may recall that Hawaiian recently changed its award chart in a big (and negative) way. Don't remember? Let me give you a refresher.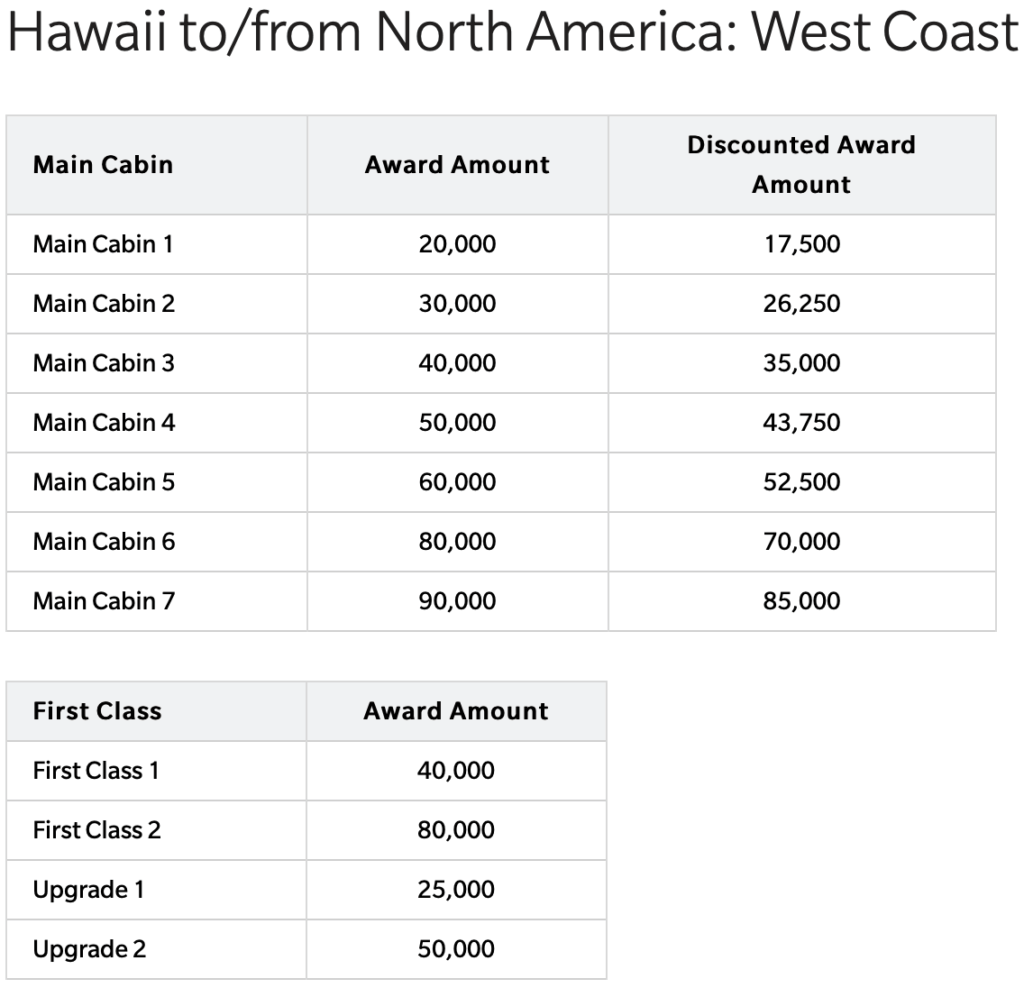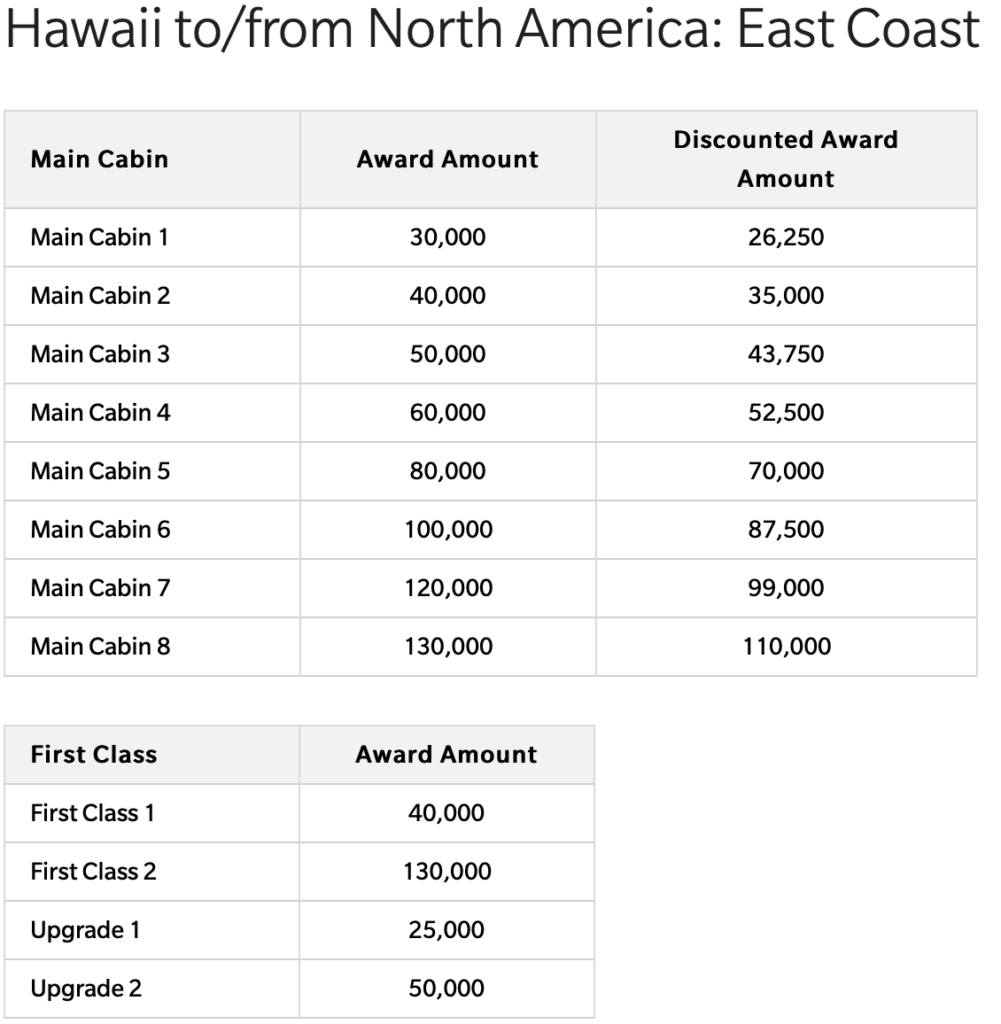 For those that don't have the Hawaiian Airlines World Elite Mastercard, roundtrip award flights to the West Coast in economy cost from 40,000 to 180,000 miles. Plus, East Coast awards have their own pricing ranging from 60,000 to 260,000 miles roundtrip in economy!! Neighbor Island awards are priced at 15,000 to 40,000 miles roundtrip. For reference, I recently paid 14,000 points roundtrip between Honolulu and Kona for both myself and Mrs. Island Miler.
So What's Hawaiian to Do?
You've probably read those complaints from me before. Especially if you read my post questioning if Hawaiian really is a premium airline or not from January. But the question is becoming a much more important one today, as was made evident by their recent earnings call and the increasing competitive pressure from both Southwest and ANA.
Now, to counter this competitive pressure, Hawaiian needs to decide if it wants to be a low-cost carrier or a premium airline. I don't think they can continue to straddle the two while claiming to be a premium carrier, as they have been.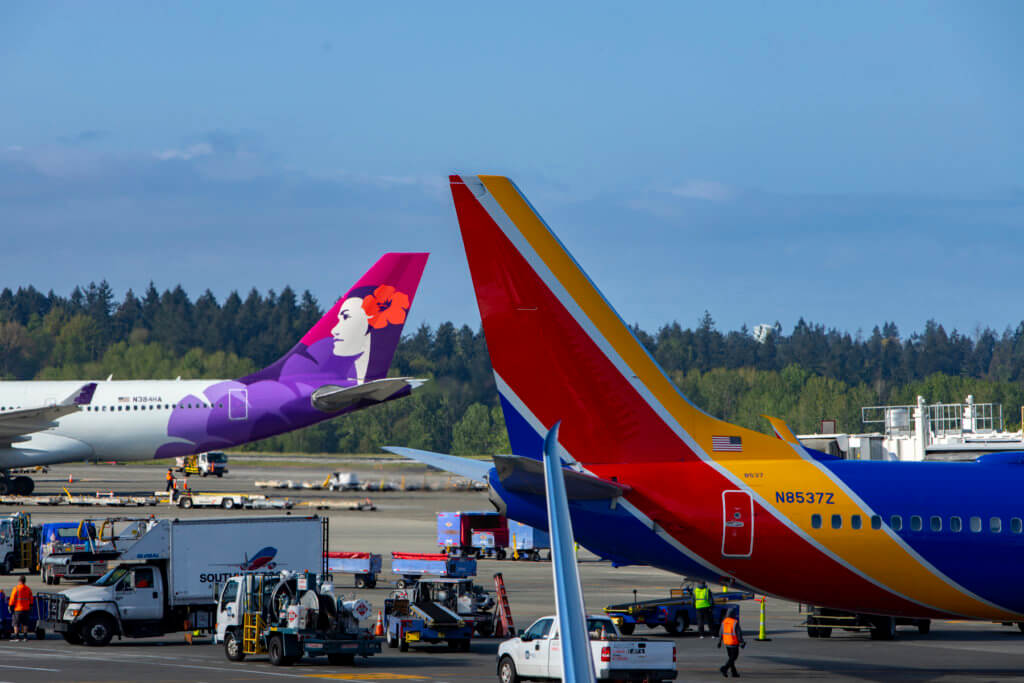 Going Premium
But, in order to become a true premium airline, I think they need to follow Delta's lead or follow Tom Horton-era American's lead, which isn't going to be cheap. That means installing seat-back entertainment across the entire medium and long-haul fleets. It means having power (via a regular ac outlet) at every seat, having service standards tailored to the flight (maximizing sleep on red eyes), offering a better first class experience, either improving their complimentary meal or going buy-on-board or giving people the choice of either, improving their lounges and further restricting access to them, make an app that does what an airline app should do, making satellite WiFi available, and improving customer service
To me, this course of action makes sense. Especially as Hawaiian expands its codeshare agreement with JetBlue and prepares to become a joint-venture partner with Japan Airlines. Further, Hawaiian codeshares and/or partners with other premium airlines like Korean Air, Virgin Atlantic, and Virgin Australia. However, Hawaiian should also work on growing their codeshare relationships in general, as the number of partners they have shrunk considerably in recent year.
Finally, Hawaiian needs to work on its operational reliability. Yeah, they're still number one for on-time performance in the U.S., but I think it's because they don't have to deal with the weather issues other carriers do. In my experience, 50% of my flights have been delayed. And, as much as I love the Boeing 717, their rapidly aging and neglected fleet isn't doing them any favors.
Going the Low-Cost Route
Alternatively, Hawaiian could try to compete with Southwest head-on. But, a lot needs to change here too in order to accomplish that. Bringing down costs while paying employees more (either way they should pay more) would be a great start to this. And this could be accomplished by eliminating complimentary meals or seatback IFE altogether. Also, better fleet planning in the future could help too. After all, while I'm glad Hawaiian ordered the 787, the A350 probably would've been a wiser choice due to commonality, operational performance, etc.
In fact, I think a low-cost route that would work for Hawaiianis the Alaska Air-type model. It's not quite Southwest level, as Alaska offers premium cabins, lounges, seat power, and WiFi, but also keeps costs at bay by charging for meals, doing streaming IFE only, operating two major aircraft types, etc. So why not? the hybrid LCC model clearly works. Oh, and their credit card and award system are both better than Hawaiian's.
Hawaiian Airlines Has an Identity Crisis, Final Thoughts
Maybe I'm over simplifying this argument a bit, but either way, Hawaiian Airlines does need to find itself. Pick a path, stick to it, and kick ass at it. You can't please both passengers that chose LCCs/ULCCs and those that pick premium airlines at the same time. Even with the advent of basic economy, as we know that'll only further increase their ticket prices anyway.
And despite my largely negative outlook on Hawaiian, as I've said before, I do want them to survive and thrive. I know MANY people that work for them and they're one of the largest employers in Hawaii. Plus, I love watching the Airline grow and evolve, even though I no longer fly them. But, I'd like to want to fly them again too. So, come on Hawaiian. Figure yourself out.