Last updated on April 4th, 2023 at 06:22 am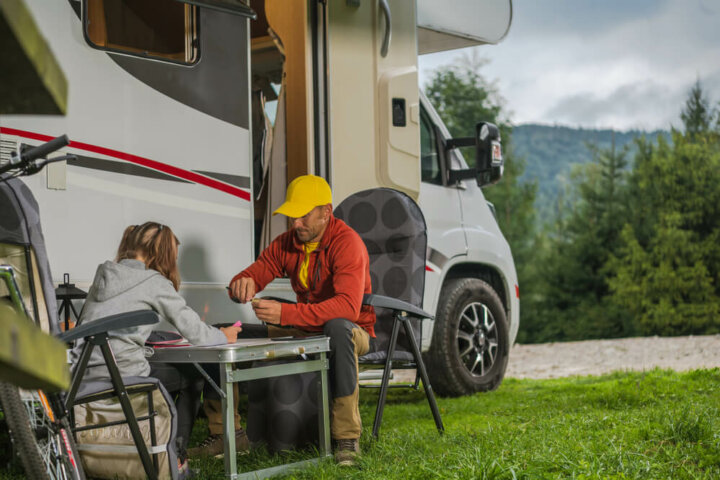 All of our reviews are based on exhaustive research, industry experience, and whenever possible, hands-on testing. When you make a purchase using one of our chosen links we'll get a small percentage of the proceeds. This supports the site and keeps Jeffsetter running. You can read more here.
Finding a Class C RV you can easily live in might be a simpler process than you originally expected. Compared to the two other types of motorhomes available, Class C RVs are a fantastic size when it comes to both maneuverability and RV living.
But what should you consider before purchasing a Class C RV to live in full-time?
In this article, we will address everything you should know about Class C RVs that you can easily live in, both from an RV manufacturer's perspective as well as from someone who currently lives in an RV full time. We will touch on some considerations as well as some potential models that may suit your lifestyle well. Let's get started now!
Only interested in checking out our list of the seven Best Class C RVs you can easily live in? Use our table of contents to navigate to this list and find a model that works well for you!
What to Look for in a Class C RV You Can Easily Live In
If you are only just considering what it's like to live in an RV full-time or for an extended vacation, there are a number of things to think about before taking on this challenge.
While Class C RVs tend to be a great option for people just beginning their full-time RV journey, there are still plenty of things to consider before purchasing a motorhome.
Let's talk about that now.
Layout and Floor Plan
There are a number of different layouts and floor plans to be found when it comes to the average Class C RV. While travel trailers still give you the most options when it comes to layouts and floor plans, Class C RVs have a number of innovative options to choose from as well.
When it comes to an RV that you can easily live in, layouts and floor plans should be the first thing that you consider. Having a layout that doesn't work for you can easily ruin an RV living experience, especially if you want to live in your rig full-time.
You may have certain features you know you want in a layout, such as bunk beds, twin beds, multiple slide-outs, an outdoor kitchen, or more. Many of these features can be added to a layout or floor plan, while other features will be something that you can't change.
That's why it's important to have a good idea as to what you are looking for before you fall in love with anything.
For example, knowing where you want your bedroom to be located is a good place to begin when it comes to choosing an RV layout. Likewise, the number of sleeping arrangements you need will be a huge deciding factor, as well as the type of bathroom you want.
There's definitely a layout that works well for your lifestyle, but it may take some time to find it!
Bathroom
As already mentioned, your bathroom is typically a non-negotiable option to consider in a Class C RV that you want to live in full-time. However, RV bathrooms come in different styles and layouts as well as functions, so this is definitely something to be aware of before you start shopping for one.
For example, RV bathrooms can be found as either wet bathrooms or dry bathrooms. Wet bathrooms, as their name implies, are designed as a one-room bathroom that can get entirely wet. Dry bathrooms have a separate shower area so that you can utilize your other amenities while the shower is in use, with more separation between the toilet, sink, and shower.
Depending on the size of the Class C motorhome that you are shopping for, you may find wet bathrooms as well as dry bathrooms. If you know you want a more traditional residential bathroom on board your class C motorhome, you should make sure that you shop for options with dry bathrooms.
Likewise, choosing a wet bathroom on board your Class C RV may mean that it feels less like a residential bathroom, but it may allow you a bit more storage or living area on board your RV. It all depends on what you are expecting and hoping for, but it's definitely something to consider before you start shopping!
Kitchen Amenities
Class C RVs typically have decent kitchen amenities, with more countertop space than you might expect on board a more compact RV. However, it all depends on the specific make and model you are looking for, as some RV manufacturers keep kitchens fairly basic and compact.
Choosing a Class C RV you can easily live in likely involves having a kitchen with a bit more space than average. I know I personally utilize my RV kitchen more than any other room in my house, so considering the layout and flow of your Class C RV kitchen is a good idea. From making coffee in the morning to dinner for multiple guests, your RV kitchen can handle a lot of your day-to-day living!
Something to consider if you want an RV you can easily live in is the size of your fridge as well as the storage solutions available in your kitchen.
Hopefully, you have plenty of cabinetry and cupboards to fill, but some RVs are more innovative about their kitchen storage than others. For example, you may find a Class C RV with a dedicated pantry, or perhaps they have dedicated more space to a full-size range or oven combination.
However, if you know that you prefer grilling while on the road rather than cooking indoors, you may want to prioritize an outdoor kitchen. There are Class C motorhomes with this option readily available, and it may appeal to you more compared to cooking in a smaller rig!
Bedroom Features
Do you know how many people you plan on sleeping inside of your Class C RV when you hit the road?
It's likely that you are only sleeping one to two people if you are living in your Class C RV full-time, but this may not be the case for everyone. If you know you need bedrooms or sleeping areas for yourself, your partner, and the kids, this greatly affects your layout and floor plan options.
This isn't to say you can't sleep the whole family inside of a Class C RV, but you should definitely keep an eye out for bunk bed floor plans and makes and models that support sleeping the number of people that you need.
Class C RVs are fantastic in that they offer a lofted bunk sleeping area above the driver's cabin, so it's incredibly easy to sleep three people inside!
You should also pay special attention to how the primary bedroom is set up. If you and your partner are planning on living full-time in your Class C motorhome, you should definitely ensure that the bedroom is to your liking.
For example, having the ability to walk around the bed isn't always an option, so prioritizing that in a floor plan is a good idea. You may also want wardrobe space in the primary bedroom if you want to easily live inside a Class C motorhome.
Some options include washers and dryers in the primary bedroom, and this could be a huge perk for those of you who want to live in your RV full-time.
Hitch or Towing Capacity
While motorhomes are a fantastic choice for those of you who are nervous about towing an RV with a truck or SUV, you may find that you end up towing something with your Class C RV anyway.
Choosing a classy RV that you can easily live in typically involves finding something with some level of towing capacity, as you will likely want to bring a residential car along with you.
When you think about arriving at camp, setting up your RV, and realizing that you still need things at the store, you may only have your Class C motorhome to drive back into town to pick up supplies.
This is incredibly inconvenient on a number of levels, and most people who own motorhomes also bring cars along with them. That's why knowing your overall towing capacity is very important when shopping for a Class C RV.
Thankfully, most makes and models of Class C RVs nowadays can tow a standard vehicle behind them, such as a sedan or small car. This towing capacity may also be valuable if you want to bring along any other recreational toys such as ATVs, scooters, and more.
Just keep in mind that you should always know how much things weigh and never exceed your RV's towing capacity!
Fuel Type
Class C RVs and all other types of motorhomes are typically available in two different types of fuel. You can get a Class C motorhome with either traditional gasoline fuel or diesel fuel.
There are opinions on which fuel type is better, so keep this in mind as you shop. You may already have your own preferences, as there are pros and cons to either gasoline or diesel fuel!
On the whole, diesel fuel motorhomes typically cost more upfront, but save RVers money in the long run based on the overall cost of diesel fuel compared to gasoline.
The fuel efficiency of diesel often makes this fuel type more appealing to RVers who live in their RVs long term but don't forget that these RVs cost more upfront.
If you know you have a more limited budget when it comes to the initial purchase of your Class C RV, a gasoline fuel type option should work for you just fine.
While you may fuel up a bit more often than diesel Class C RVs, most brand-new options are incredibly fuel efficient either way! Keep in mind that the larger your RV is, the more likely it is for it to be diesel.
All-Terrain or All-Weather Features
If you plan on living in your Class C RV full-time, you may want to consider purchasing an option that has all-terrain or all-weather features. Not every motorhome is equipped to be used year-round, especially if you want to take it to locations that are particularly cold or hot, depending on the time of year.
However, most RV manufacturers offer upgrade options or certain models that give you more all-weather or all-terrain features.
For example, some Class C RVs may have all-wheel drive as well as a raised chassis so that you can take your rig over terrain that is more rugged or potentially affected by inclement weather.
Likewise, it's fairly easy to find Class C RVs with extra insulation or additional features to help you take your RV anywhere you want, regardless of the season.
Freezing pipes and incredibly humid conditions can be dangerous for RV living, but there are definitely some RV manufacturers that have made accommodations for these elemental factors.
Keep in mind that any all-terrain or all-weather features may increase the price of your Class C motorhome. However, it's a small price to pay if it keeps your overall RV safer and more efficient, no matter the season and for decades to come!
Workspace Options
Are you looking for a Class C RV you can easily live in so that you can work and live in it full time? If so, you may want to find a Class C RV that has a more dedicated workspace area so that you can work from your home on wheels.
While it's rare to find an RV with a dedicated office, there are plenty of options that give you convertible tables and chairs, as well as some built-in desk areas should you choose to utilize your square footage in this way.
You can always build your own little workspace once you purchase your RV, but some RV manufacturers have this covered for you already!
Choosing an option with plenty of outlets and ports is a good idea, and likely in a location away from your bedroom or kitchen. No matter the type of work you do, it can be difficult to live in an RV full-time if you don't have a somewhat designated workspace!
Number of Slide-Outs
One of the easiest ways to add square footage to your RV without adding length is to pay attention to how many slide-outs a Class C motorhome might have.
Looking for a Class C RV you can easily live in may involve choosing an option that has multiple slide-outs, especially if this gives you additional interior living space where you need it most.
For example, some RV manufacturers build their Class C RVs with slide-outs on opposite sides so that you can add plenty of extra space to your kitchen or living areas. Likewise, the primary bedroom may slide out so that you can accommodate a queen or king-size bed.
There are plenty of Class C motorhome floor plans that keep this in mind, so it may be something you would like to shop for.
Remember that, the more slide-outs, the more maintenance you have to deal with. While slide-out maintenance isn't particularly difficult, it's important to remember that they will need maintenance.
There are plenty of components on board of Class C RV that will need consistent maintenance, so keep this in mind if you are planning on making the switch to full-time RV living!
Storage
No matter how much you downsize, storage will always be at a premium when you first make the switch from standard living to RV living. However, Class C RVs often accommodate this better than other makes and models or types of RVs, so you may find that you have more space than you initially expected.
Choosing a Class C motorhome with dedicated storage where you need it most may be a good idea when you are shopping for a particular floor plan.
For example, if you know you need plenty of exterior storage for your camping accessories, there are definitely better options on the market for you. However, if you prefer interior storage, this is something to prioritize as you shop.
You can always purchase additional storage solutions such as roof or rear bumper racks if you have things such as kayaks or bicycles. Likewise, you may find a Class C layout with a designated wardrobe in the primary bedroom.
Plus, all Class C RVs have a designated lofted area over the driver's compartment that can be used for either sleeping or storage, so hopefully you have plenty of options!
Boondocking Options
Just like you may want to choose a Class C RV that is perfect for all terrains or all seasons, you may also want to choose a Class C RV that is perfect for boondocking. Also known as off-grid camping or dry camping, boondocking refers to your RV's ability to remain disconnected from standard RV utilities, typically for multiple days at a time.
A lot of Class C RV manufacturers include boondocking features as standard features, though you may be seeking extra amenities to complete your off-grid motorhome.
Additional solar panels, generators, batteries, and even larger holding tanks may be something for you to consider if you want to camp off the grid for a decent amount of time.
Keep in mind that these extra features may cost a bit extra, so make sure that your budget can accommodate such things.
However, if you are brand new to RV living and simply want to test out what it might be like to boondock, many Class C RVs come equipped with a basic solar setup in the standard purchase price!
7 Class C RVs You Can Easily Live In Full Time

While touring Class C RVs in person is always a good idea when it comes to choosing an option you can easily live in, this list should give you some helpful information first.
Here are seven possible options when it comes to Class C RVs you can easily live in, and even live in them full-time!
Countless floor plans and chassis options to choose from
Dry bathrooms and spacious kitchens
Boondocking and AWD features are readily available
May cost more than you expected after adding features!
This particular Class C RV is special in that you can choose from almost 15 different floor plans, across three different chassis choices. The Forest River Forester is available in so many different options that you can truly make this RV what you want, from fuel type to the number of sleeping areas you have.
Let's take a closer look at this option now.
Nearly all of the floor plans available for the Forester have a walk-around queen-size bed. This makes it easy to live inside this RV full-time, especially with another person. Plus, every floor plan has a designated dry bathroom, making this transition easier as well.
The bedrooms are so spacious that nearly all options available also have designated wardrobe or closet storage. Plus, there's still enough room to fit an efficient kitchen, complete with full-size range and oven combinations as well as residential refrigerators.
Not only will the interior feel comfortable and easy to live in, but you also have plenty of customizable amenities to choose from. For example, you can have tank heaters installed so that you can camp year-round, or you can add additional solar panels or batteries to your RV.
It all depends on what you are looking for, but Forest River makes it easy to build something just for you!
Gorgeous and fully loaded, especially in the kitchen
High towing capacity and capable Ford chassis
Plenty of floor plans to suit any lifestyle
May be fairly expensive compared to other options
The Entegra Coach Odyssey is packed with features, including floor plans varying in length. Not only will this RV give you the best in just about any room, but it also has a fantastic kitchen option for just about every floor plan as well. Let's take a closer look at the kitchen as well as all other available amenities now.
There are seven available floor plans for the Odyssey, with some options including bunk beds, king-size beds, spacious bathrooms, and more.
Some floor plans have more than two slide-outs, while others offer you an electric fireplace and interior touches to help you feel more at home. It all depends on what you are looking for, but the Odyssey likely has it.
The kitchen is where this RV truly shines. Most floor plans offer you a two-compartment stainless steel sink, a full range and oven combination, residential refrigerators, and much more. When combined with an energy system capable of boondocking for multiple days, The Odyssey is luxurious as well as efficient.
Affordable price point for most families
Some boondocking features included
Sleeps up to 8 people, giving you plenty of storage
Interior design may be more durable than attractive
The smallest available floor plan for the Winnebago Spirit still sleeps up to five people, which makes this a great Class C RV for families. Starting at $144k, the price point on this particular RV is also fair, especially once you check out just how many features it has!
There are six available floor plans for the Winnebago Spirit, and every single one includes a bunk bed setup for either additional sleeping or storage solutions.
You have a capable galley kitchen complete with stainless steel sink and decent counter space. Plus, all bathrooms across all floor plans of the Spirit are dry bathrooms and some floor plans offer you more flexibility in this department than others.
While it won't have as many boondocking features as other Class C RVs on this list, the Spirit has solar panels and an additional battery included in the initial purchase price.
You also have a powered awning, a backup camera, and plenty of other features to make it easy for you to set up and relax once you reach camp with the whole family!
Plenty of floor plans and features to choose from
Mercedes-Benz chassis and diesel engine at a fair price
Storage both inside and out
Price may be too high once you add up all options
If you've been impressed by all of the floor plans available on our previous models, then you will also be impressed by the Coachmen Prism. This particular Class C RV offers at least nine floor plans to choose from, all of which include slide-outs and other options to give you more interior living space and storage.
Let's check it out.
There are three different models of the Prism, with varying features and price points. However, all three options are built on a Mercedes-Benz chassis and offer you a fuel-efficient diesel engine.
Plus, no matter your price point, the Prism is packed with plenty of storage solutions and gear-carrying options, including a roof or rear rack.
With electric fireplace options and washer and dryer hookups, this is a great Class C RV to consider living in full-time. The interior finishes are luxurious as well as comfortable, and you have plenty of room no matter how many guests you are traveling with!
Just make sure you know what amenities you are looking for, as this rig has plenty of them to offer.
Great chassis and diesel engine choice
Floor plans are comfortable and spacious, with 3 distinct options
Added insulation and heated holding tanks make it easy to camp year-round
May cost a bit more if you want to add plenty of features
Starting at $152k, the Melbourne is one of Jayco's most popular Class C RV options. This is largely due to the fact that it has plenty of floor plans to choose from, all on a Mercedes-Benz chassis with a diesel engine.
Plus the Melbourne is ideal for living in year-round, as it has plenty of insulation for Four Seasons living. let's take a closer look now.
Sleeping up to five people, the Melbourne only has three floor plans. however, each one is different and they all work well for a variety of lifestyles. It may just depend on where you want the bathroom to be located as well as whether or not you want a designated bedroom or a convertible living room sleeping area.
Heated holding tanks come standard as well as additional insulation. while you may need to add on some solar panels and an additional battery, the Melbourne comes equipped with a built-in gas generator.
Jayco always includes custom wood finishes and other materials to help all of their rigs feel more comfortable and cozy!
Four floor plans that can sleep up to 4 people
Luxurious finishes, inside and out
Decent towing capacity and flexible interior living
Doesn't include very many boondocking features standard
The Wayfarer is one of Tiffin's most popular models, and it's easy to see why. With luxurious finishes throughout and a capable chassis, the Wayfarer is extremely easy to live in, full-time or otherwise. Let's check out what makes it special now.
There are four floor plans available for the Wayfarer, all of which offer you different interior design choices as well as spacious kitchens. You can choose where your sleeping area and bathroom are located, with Murphy bed choices and separate dining areas across multiple floor plans.
There are luxurious finishes throughout, including pedestal sinks and built-in televisions. While most boondocking features don't come standard, you have the option to upgrade this Class C RV to be all-electric.
This may appeal to you if you plan on boondocking and need additional house batteries or solar panels to get the job done.
With an instant hot water heater and a 5000 lb towing capacity, the Wayfarer brings you plenty of creature comforts like your own home would. However, keep in mind that this RV may be over budget if you want to add additional amenities or make any upgrades.
Plenty of floor plans, all at a fair price point
Interior living is very customizable to suit your needs
Storage abounds, both inside and out
Add-ons may leave your budget thin
If you want a budget-friendly option with plenty of floor plans, look no further than the Four Winds by Thor. With a whopping 15 different choices at starting at $123k, it's easy to find an option that suits your budget and lifestyle.
You have an 8,000 lb towing capacity with this particular Class C RV. The available Ford chassis comes packed with safety features and durable construction, making it easy for you to reach your destination. Plus, every floor plan of this particular RV has plenty of exterior storage using Thor's unique MEGA-Storage solutions.
Depending on the floor plan you choose, you have plenty of space to sleep everyone as well as store all of their belongings.
Many floor plans offer you bunk beds, dual entry bathrooms, walk-around master suites, and much more. Plus, the kitchens are spacious and the dry bathroom options vary in size depending on what you are looking for.
There are plenty of other options available for you to upgrade should you have the budget for it. For example, you can get a tankless hot water heater, an additional air conditioner, heated holding tanks, an upgraded onboard generator, and multiple solar panels.
Thankfully, there are enough fantastic features available at the initial purchase price that you may not feel the need to upgrade right away!
Final Thoughts
Now that you know what to look for in a Class C RV you can easily live in, finding an option that works best for your lifestyle is your next step.
Regardless of how long you choose to live in your Class C RV full-time, there are plenty of options on the market to suit these needs.
Enjoy the process, and enjoy all that RV living has to offer!