Last updated on June 5th, 2023 at 08:47 am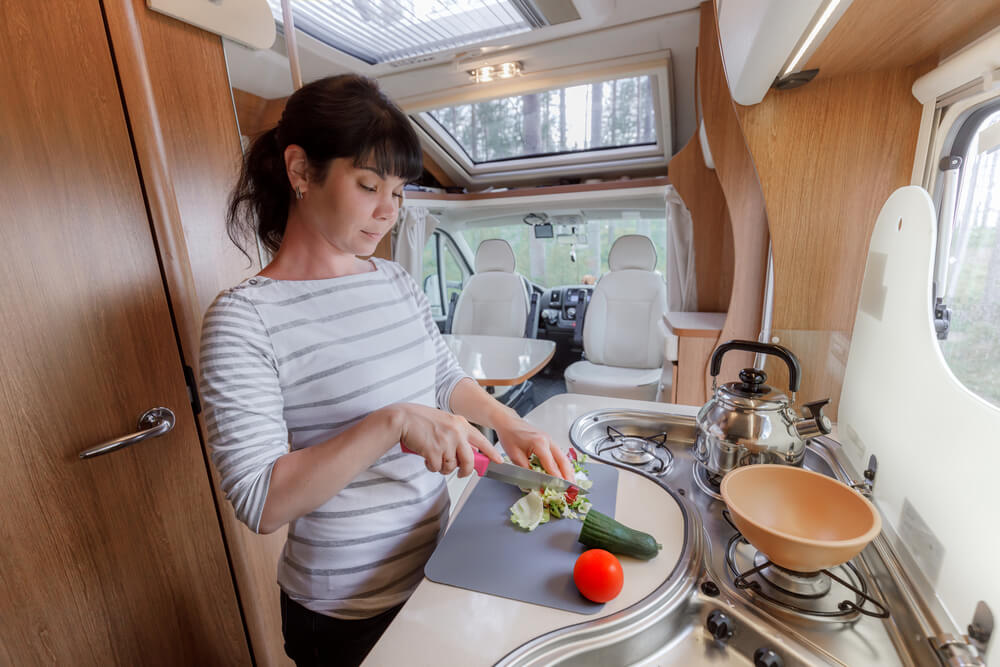 All of our reviews are based on exhaustive research, industry experience and whenever possible, hands-on testing. When you make a purchase using one of our chosen links we'll receive a small percentage of the proceeds. This supports the site and keeps Jeffsetter running. You can read more here.
Having a dedicated set of dishes for your RV can be a good idea, no matter how often you plan on camping. Placing your standard set of fine china inside of a moving vehicle is not the best idea, so how can you find some of the best dishes for your RV?
We've compiled a list of some of the best dishes for your RV or motorhome, as well as a handy buyer's guide so that you can make an informed decision.
We'll cover everything you should think about before diving into an RV dish purchase along with our favorite picks that will work for just about any RVer. But if you want to skip ahead and just see some of our favorites you can check out our top three here:
What To Consider In Dishes For Your RV?
Bringing in a standard set of dishes into your RV may not be the best idea. After all, the average travel trailer is known for shaking and rocking around at the slightest motion. The last thing you want is broken dishes inside your RV!
Here's what you should consider in some of the best dishes for RV camping.
Durability
The number one consideration you should think about before making your final dinnerware purchase is how durable your new dish set is. RVs are moving homes, so it is safe to assume that the average ceramic mug won't make it through a trip up the highway.
While most RV cabinets are sturdy and usually include some locking mechanism to keep your home goods safe while in motion, having a durable set of dishes is never a bad idea. This is especially true if you are traveling with your entire family of five.
Kids and pets are always a bit more clumsy than we expect, especially if you consider the excitement that a camping trip can bring. Having a durable set of dishes is a good idea not only to prevent unnecessary breakage but also to avoid using flimsy paper or plastic products.
Style Or Aesthetic
Just because you're camping in an RV doesn't mean you have to give up your own personal sense of style or aesthetic. While we can all acknowledge how ugly RVs are, both inside and out, that doesn't mean your dishes have to reflect this.
Thankfully, our list of products contains many different styles, colors, and unique patterns of dishware and dinnerware. You can have durable, affordable, and stylish dishes in your RV, no matter where you plan on camping or traveling too.
Amount Of Dishes Needed
Another consideration to think about before making your final purchase is the number of dishes you will need for the average camping trip. If it is just you going on a solo adventure, you don't need a very big set of dishes.
The same can be said if it is just you traveling with your partner as a couple in your brand-new travel trailer. However, if you were traveling with the whole family or a large group of friends, you may want to consider a much larger set of dishes than you normally would.
This can affect your overall budget, as well as your RV kitchen storage. However, the last thing you want is to run out of plates at your campground cookout with all of your friends. Make sure you have enough dinnerware for everyone!
Budget
While RV dishware shouldn't ever break the bank, it is important to keep your budget in mind while shopping. Depending on how many dishes you need and if you want cutlery or silverware included, the amount that you spend on RV dishes may surprise you.
The average set of RV dinnerware costs roughly $40, though prices range anywhere from $20 to over $100. Given that this is a secondary set of dinnerware and you likely won't use it when you aren't camping, setting a reasonable budget is a good idea.
How Easy They Are To Clean
Unless you live in your RV full-time, you are likely camping as part of a vacation or restful time. You don't want to spend the majority of your time cleaning dishes! Finding a set of RV dinnerware that is easy to clean is always a good idea.
If you have just spent the day using your new RV propane grill to cook food for everybody, you don't want to spend the rest of your day handwashing dishes. Since most RVs don't have dishwashers, you should choose dinnerware that rinses easily and can withstand multiple uses.
Material Used
The material used on your new RV dish set matters for many reasons. The materials will influence the dinnerware's overall durability, ease of cleaning, and weight. This is also why you shouldn't use your standard porcelain dishes inside your RV.
Some ideal RV dish materials include bamboo, plastic, wheat fiber, enamel, or melamine. These are all considered unbreakable materials. Therefore, you should feel comfortable using them in a campground or moving vehicle setting.
Weight
While your RV dinnerware on its own won't add very much weight to your rig, paying attention to how much weight you bring along with you overall matters. All RVs have weight limits, and your tow vehicle no doubt will appreciate you lightening the load.
Thankfully, most shatterproof or unbreakable dishware is made of lightweight materials. However, if you are looking for a more traditional set of dinnerware, you may want to consider how heavy it is before you bring it on board.
How Much Space They Take Up
RV storage is always at a premium, whether you are a weekend warrior or a full-timer. You should consider how much space your RV dishware takes up, as you will likely not have enough cabinet space for everything.
Some camping cookware is designed to collapse or otherwise be easy to store. This could be a good choice for those of you camping in a small travel trailer or van conversion. However, if you know you need dishes for a large party, don't worry about how much space it takes up.
Can I Use My Dishes From Home In My RV?
There's no rule that says you can't use your dishes from your home kitchen in your RV. However, most home dinnerware is not built for life on the road. It will chip and break easily, and then you won't have dishes to use at home!
Many campers and RVers prefer having a separate set of dishes to use whenever they leave the house. Choosing a set that is more durable and less breakable and your home porcelain dish sets is always a good idea.
Having a separate set of dishes that just stays in your RV cupboard can also save you time when you are packing up your cargo and luggage for a trip. The last thing you want to do is forget to pack your dishes!
13 Best Dishes For Your RV
Ready to discover some of the best dishes for your RV? Read on to find a dinnerware set that's right for you!
Best Overall: VILAO Unbreakable Dinnerware
These dishes from VILAO are the perfect RV dinnerware set for many reasons. They come in a variety of fashionable colors, they are eco-friendly and lightweight, and they won't break the bank at their budget-friendly price point. Let's learn more about them now.
VILAO makes its dishes out of eco-friendly and sustainable wheat fiber, which means this dish set is unbreakable as well as good for the environment. I like to reduce my impact on the planet as much as possible so this is a big bonus for me, and I can even use them inside and outside for ultimate convenience.
Not only does this set include cups, bowls, and plates- it includes cutlery too. I can have a full set of dishes for up to four people in a variety of colours which is what me and my partner need. The colors are on trend and include cream, pink, green, and blue tint, which I love as these dishes bring a pop of color to any RV.
These dishes weigh roughly three pounds and stack, which means they will easily fit in most RV cabinetry and various storage solutions. Plus, given their unbreakable and lightweight nature, these dishes are suitable to bring along on many camping trips in the future.
If you want to bring these dishes inside, they are dishwasher-safe for even easier cleaning. Plus, you can use them in the microwave and freezer as well. What stands out most to me is the compact size and lightweight feel.
You can read the reviews for yourself on Amazon by clicking here.
Best On A Budget: US Acrylic Newport Plastic Plate
Affordability is a big one in my books, as RVing costs a substantial amount and I like to save money wherever I can! That's why this 12-piece set from US Acrylic stands out to me as a fantastic budget-friendly option. The dinnerware set is lightweight and simple, containing four plates, four bowls, and four cups, all made out of plastic, at an extremely budget-friendly price.
Despite being budget-friendly and plastic, these dishes are durable. They were the perfect addition to our picnics and beach barbeques, where we enjoyed meals in nature, besides our home on wheels.
This RV dinnerware set also comes in a variety of colors too. With four different options, I like that I could choose a color that fits my style best, between classy grey, berry red, ocean blue, or bright teal!
These dishes are top rack dishwasher and microwave safe, which is a bonus as it means I can use them in the microwave in my trailer. They are also easy to clean, which is vital for me, as I don't want to waste time scrubbing endlessly at dishes in the sink!
One thing to consider about this plastic set is its overall durability. They are pretty strong, but you may find that they may not hold up the constant use for full-timers, depending on how often they are used. However, given their price point and lightweight feel (only two pounds!), it though this dish set was still worth it. b
You can read more reviews and decide for yourself by checking them out on Amazon here.
Best For Full-Timers: American Atelier Square Dinnerware Set
Just because I live full-time in my RV, it doesn't mean I have to sacrifice my dishware, as I personally prefer to use quality dishes. That's why this set from American Atelier is ideal, as it is made of heavy-duty stoneware. It is durable, classy, and makes me feel as though I'm fine dining every night.
A 16-piece set, these dinnerware pieces include four large plates, four small plates, four bowls, and four mugs. This set is also available in a variety of colors, including all white, grey and white, pink and white, and blue and white, bringing a fun edge to an overall traditional set.
Stoneware is known to yield a much stronger piece of dinnerware, which is ideal for full-timers on the road. While this set isn't going to be unbreakable, it should be able to resist chipping and maintain the feel of a quality dish while traveling in an RV.
These dishes are microwave and dishwasher-safe, capable of withstanding high heat given their thick materials. They are also nonporous and capable of resisting both scratches and stains. I'm an RVer who loves to cook and present their food, so this attractive set is an absolute treat in my eyes.
Again, the main caveat on these is their durability- they are not entirely shatterproof, so I'd still advise airing on the side of caution and keeping this set packed away securely during drives. However, having dishes like this while living in your RV full-time can be a great choice and raise sunset dinners on the beach to the next level.
Read about them for yourself on Amazon by clicking here.
Easiest To Clean: MARJOY Melamine Dinnerware Set
If you haven't heard of melamine yet, you will after reading this list. This dish set from MARJOY includes dishes made from the plastic alternative 'melamine' which is known for its durability and strength. It's the perfect compromise for RVers not wanting flimsy plastic dishes but also can't risk breaking ceramic ones either.
This dish set is a 12-piece and includes 4 large plates, 4 small plates, and 4 bowls. It doesn't include mugs or cutlery, but this isn't an issue for me as I seem to always have enough mugs and cutlery lying around!
This MARJOY melamine set also comes in an attractive white and black marble pattern, making it stylish and attractive. Easy cleaning is a must for me, so the high gloss finish on this set makes cleaning a breeze.
These dishes are perfect for indoor or outdoor use, as they are shatterproof, stain-resistant, scratch resistant, and lightweight enough to carry around. They don't take up much space at all in my RV, which is ideal since my rig is small.
The main drawback of this set for me is that it's not microwave safe. This is important to consider, should you have a microwave oven onboard your RV or motorhome. This dish set is also only top rack dishwasher safe too, so keep that in mind before diving into a purchase!
Decide if these suit your style by checking them out on Amazon here.
Most Compact: STANSPORT Deluxe 24-Piece Enamel Tableware Set
I've mentioned previously that my rig is on the smaller side, and that means I need a set of RV dishes that are both compact and complete. That's why I think this STANSPORT deluxe 24-piece tableware set deserves a place on our list. The set includes four plates, four bowls, four mugs, and four of each piece of cutlery I think any RV will need.
One of the best parts about this set, besides its compact sizing? It's made from quality camp enamel, making it durable and unbreakable – two things I look for when purchasing new additions for my rig. Enamelware has long been used in campground and cookout settings for its strength and classy look, and although it may not be to everyone's taste, I think it's got a cool, retro look.
Speaking of classy, this set comes in an attractive blue or green shade to suit your style. It also has beautiful stainless steel edging and those classic enamelware spots, making each piece a work of art as well as practical, so they are truly a joy to use.
This set is also ideal for transporting, as it weighs only 5 pounds. It's always so easy to bring this set along with me for camping or RVing, and I don't need to worry about bringing anything else along. Plus, it can handle hot food straight from the campfire!
The biggest thing to keep in mind before you buy is that you can't microwave this particular set, but it is dishwasher safe which can make clean-up easier.
You can read more reviews for this product on Amazon by clicking here.
Most Stylish: Craft and Kin Melamine Dinnerware Set
RVs are unique rigs, and I like to bring things into my camper that are as rustic and quirky as my home on wheels! That's where this 12-piece set from Craft and Kin comes into play. These dishes are made out of melamine, which means they are lightweight, durable, and basically unbreakable, whilst still being attractive.
Not only does this dish set include four large plates, four small plates, and four bowls, but it also comes in three unique patterns and colors. These patterns include wood grain, tropical leaves, and a nice bezel-edged blue, so I can opt for the design that suits the interior of my RV the best.
Having the option for unique patterns in an unbreakable dish can make a huge difference to many RVers like me who are still looking for touches of home. Often, RVs can be plain and boring, but this dish set proves you can bring style and color to any RV.
The plates and bowls are a good size, and they are all BPA-free, which is a big plus for me, as I want to keep chemicals to a minimum wherever possible. The wood grain set weighs roughly seven pounds, which is a bit heavier than I would expect, but I actually like how stable and sturdy these dishes feel.
They are top-rack dishwasher safe, but given their melamine material, they are not safe in the microwave. This could be unfortunate if you like to microwave meals, but I find that it's a good idea to have a dedicated microwave-safe plate and alternative dishware that's a bit nicer for serving my fancy meals.
You can read the reviews and decide for yourself by checking these dishes out on Amazon here.
Best For Indoor/Outdoor Use: Cinsa 16 Piece Enameled Dinnerware
Nothing beats convenience when it comes to RVing, and that's why I love anything that can be used both indoors and outdoors. That's why this 16-piece set from Cinsa is a great option worth considering. With four large plates, small plates, bowls, and mugs, I have everything I need for a camping trip, even if the whole family shows up!
Speaking of plates, some of the plates in this set are quite large which could be a positive for some but a downside for others. They are more similar to platters rather than serving plates, so this is something to keep in mind when purchasing this set. The large plates may not fit well in some RV cabinetry, like mine for example, but I think they are a quirky addition that makes share plates a lot easier!
However, these enamel dishes are durable, easy to clean, and look great next to a fire. They are in a striking royal blue shade and are perfect for cookouts as well as picnics. I enjoy knowing I can store these in my RV without worrying about them breaking while I'm driving onwards to a new location, but again the large plates can be somewhat difficult to store.

Given the size of the set, it weighs a little over 10 pounds. However, this isn't very heavy in the grand scheme of dishware. The enamel makes it scratch and corrosion-resistant, and this set is top-rack dishwasher safe, so there are plenty of upsides to outweigh the negatives!
Given that this enamel is set on top of steel, these dishes shouldn't be used in the microwave. They are best used for barbecues and cooking, not reheating meals. However, this set has a lot to offer, given that it stacks easily and is durable enough for RV living.
You can read more reviews and check out this product on Amazon by clicking here.
Best Set With Silverware: FOODLE Wheat Straw Dinnerware Set
This set of dishes from FOODLE is a runner-up for the best overall sets. Much like the best overall set, it's made from eco-friendly wheat straw. This makes it durable, lightweight, and easy to clean, all whilst having a minimal effect on the environment.
This set is perfect for a family of four, complete with four plates, four bowls, four mugs, and 4 complete cutlery sets. It comes packaged in an easy-to-transport box, making it ideal for packing up and bringing with me on camping trips, as talked about in the video below:
While it isn't the most stylish, the beige look of these dishes is classy and understated. The innovative materials make every single piece of this dish set unbreakable, which is a huge perk as I often travel on bumpy tracks and dirt roads.
Every single piece of this set is microwave, dishwasher, and freezer safe. I like that I'm able to reheat these as well as serve fresh food on them as it means there's less for me to worry about in the kitchen.
They won't melt and are sturdy enough for any barbecue or cookout food. The set also only weighs roughly two pounds, making it lightweight and compact for any RV kitchen. If you are looking for a complete and unbreakable set of dishes for your RV, these are worth checking out.
You can read the reviews for yourself on Amazon by clicking here.
Best Plastic Set: shopwithgreen Plastic Square Dinnerware Set
It's unsurprising that plastic has been used for a while now for RV dishware, and as it's typically lightweight and effortless to clean, it's easy to see why. This plastic dinnerwear set from shopwithgreen is complete with four bowls, four large plates, four small plates, and four mugs, this set is unbreakable and ready to go into any RV kitchen.
Don't worry if the idea of a plastic set isn't an appealing one, as this set is a little different. The unique square shape makes these dishes stand out, and they are available in interesting colors such as deep emerald and turquoise.
Each one of these dishes is BPA-free and safe to use in both the microwave and dishwasher, which is a game-changer, as it means I don't have to worry about which dishes in my cabinet can be used where! They are made from food-safe plastic and can also be used in the freezer too. The only downside is that since these plates are plastic, it may not be wise to leave them in a hot area as they might melt.
You can decide for yourself by checking them out on Amazon here.
Best Ceramic Set: Amazon Basics 18-Piece Kitchen Dinnerware Set
I can often find myself feeling tired of looking at lightweight, cheap dishes, and that's why I like this set for six people, courtesy of Amazon Basics. It's made from durable porcelain, in a nice classy white color, which makes it perfect for just about any RV interior design.
The set is unique in that it's larger than all the other products listed so far. It has six dinner plates, six smaller plates, and six bowls, making it perfect for the entire family. Plus, given their simple but classy look, any dish will look delicious served on them.
The overall size of these dishes is ideal for cabinets, dishwashers, and microwaves. I'm also grateful that they don't get very hot when used in the microwave, making them ideal for my RV kitchen. Given that they are a product of Amazon, they are affordable as well. I would love this set even more if it came with mugs, but unfortunately, it doesn't!
If you're looking to feed a larger group, don't want to use paper plates, and don't need additional mugs, this is a great option to check out.
You can read the reviews and decide for yourself by going on Amazon and clicking here.
Lightest Weight: Gufaith 12 Pcs Melamine Dinnerware Set
These dishes come with a caveat for earning the lightest weight category. While they are not technically the lightest-weight dishes on this list, they are the lightest weight with a bit more style and functionality than the previously listed items. This is important in my book as I like my RV and its interior to be functional AND attractive.
This set from Gufaith is perfect for stylish and luxury RVs, and since it's made from durable melamine, it's lightweight functional, and affordable. However, the best part about these dishes for me, has got to be the color combinations. They are finished in an attractive terracotta, blue, gray, and white finish, respectively. The edges are a different color than the main bulk of the dishware, making it a modern and classy dish set choice.
This set is 12 pieces, complete with four larger plates, four smaller plates, and four bowls. It weighs roughly seven pounds total, making it not the lightest weight as I said, but still lighter than many other options on this list. I like to use lots of turmeric in my cooking where possible for its anti-inflammatory effects, but I often worry it might stain my dishes!
I don't have to worry about this with these dishes, though, as they don't stain, even with brightly colored foods! Plus, they are unbreakable and easy to clean, both by hand and in the dishwasher. But as with many others on this list, they're best kept out of the microwave.
You can decide if you like these colors on Amazon by clicking here.
Best Chip Resistant Set:

Corelle Vitrelle 18-Piece Service for 6 Dinnerware Set
I expect anything new I buy for my RV to last me for a good while, that's exactly what's promised with this Corelle Vitrelle 18-Piece Dinnerware Set. These plates have a classic finish and are either modestly patterned or a crisp white color, so I know they won't clash with anything in my RV, and will in fact brighten things up a little!
Crafted in New York, it feels good to support a product created here in the US, and since Corelle has been in the dishware game since the 1970s, I know I'm getting a high-quality set at an affordable price. The plates and bowls are made from triple-layer-strong glass, whilst also being durable, lightweight, easy to move around, and compact.
Although these are made from glass which may at first not seem the most appropriate option for RVing, I find this dish set quite robust, and the triple layer really helps strengthen the entire set.
I've used plastic plates and cutlery before, but I've always found myself wanting something a little more luxurious and hardy, so this set ticks the box for me.
Corelle prides itself on creating dishes with longevity at the forefront, and though these plates are chip resistant, it's best to avoid dropping them from a height, as the glass material may shatter and could be dangerous.
Treat this set with as much love as your rig, and you'll have classic dinnerware for all the social RVing events you've got planned for summer, just remember to stay cool in your rig!
You can see the latest price on Amazon by clicking here.
Best Funky Set:

Camp Casual (CC-001) 12-Piece Dish Set
Many accessories for RVs can be pretty standard, coming in basic colors and without much personality. I prefer to find unique, bright accessories for my rig, after all, I've spent long enough painting the outside and want the inside to look just as good! That's why this Camp Casual 12-Piece Dish Set is worth a look to bring some life and vibrancy to the interior of any rig.
The designs are funky, and made from melamine, I feel confident that these dishes can withstand regular use in my rig. I've said before about how much I like the retro, quirky aesthetic, and this set doesn't disappoint. Camp Casual is a family company, and since I like to buy from small, local businesses where possible, I'm happy to support this company.
I like that this set is top-shelf dishwasher safe since when I'm staying with friends or family, I can whack them in the dishwasher to scrub up clean! They aren't microwave safe, though, although this doesn't bother me too much as I prefer to cook outside and avoid using the microwave in my rig too much.
Overall, this Camp Casual set ticks the box in terms of durability, and aesthetics, but isn't the best option for RVers wanting a set they can use in the microwave.
You can read reviews and see today's price on Amazon by clicking here.
Final Thoughts
Choosing a durable and lightweight dish set for your RV is easier than ever before. You can find something stylish and affordable that fits in your RV cupboard with room to spare.
It's all about discovering exactly what you want from an RV dishware set, so you can buy the one you'll want to use for all the adventures yet to come.
Start planning your meals now!