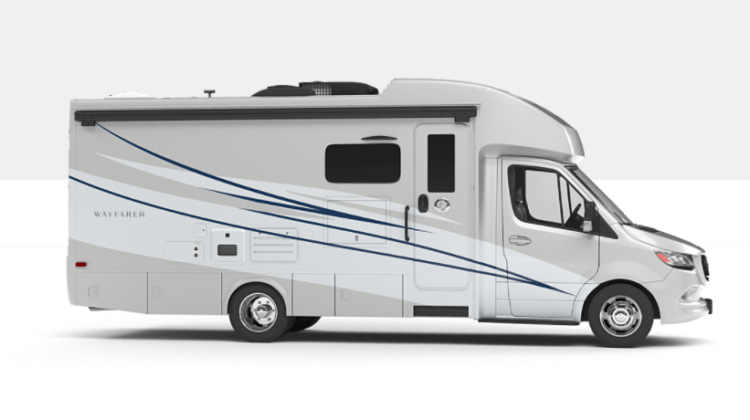 All of our reviews are based on exhaustive research, industry experience and whenever possible, hands-on testing. When you make a purchase using one of our chosen links we'll a small percentage of the proceeds. This supports the site and keeps Jeffsetter running. You can read more here.
While you may have heard of Tiffin as a reliable RV company, some of you may not know anything about this luxury RV manufacturer. If you are looking for more information regarding Tiffin RV reviews, you're in the right place. What does Tiffin have to offer you as an RV consumer, and what are customers saying about the quality of their RVs?
In this article, we will address everything you need to know about Tiffin, including what customers have to say about their rigs and customer service. We will discuss a variety of negative and positive reviews associated with this company and brand. We will also go over some of their top RVs so that you can get a full understanding of this company before making a final purchase.
Let's get started and go over everything you need to know about Tiffin and Tiffin RV reviews now!
Tiffin RV Company Overview
The Tiffin name did not begin in RV manufacturing. In fact, it began as a general store, furniture store, and hardware store in Alabama before transforming into the RV manufacturing company we know and love today. Tiffin began making and manufacturing RVs in 1972, when RVs were all the rage and new manufacturing techniques were being used to make motorhomes in particular.
Speaking of motorhomes, Tiffin only manufactures motorhomes and motor coaches rather than travel trailers and fifth wheels. However, this isn't to say that they don't have a lot to offer as a company and strive to create a motorhome that lasts for a lifetime.
Up until 2020, Tiffin was an entirely family owned and operated company. However, they recently partnered with Thor and have joined their umbrella corporation of other RV manufacturers and brands. Many Tiffin customers that have been loyal to the brand for generations are nervous about this switch, but both the current CEO of Tiffin as well as the CEO of Thor Industries are confident and excited about this partnership.
Let's talk about the different kinds of RVs that Tiffin currently offers, as well as what customers have to say about Tiffin in general.
What Kinds of RVs Does Tiffin Offer?
Since its inception in the 1970s, Tiffin only offers motorhomes, including Class A buses, Class B camper vans, and Class C motorhomes. Their selection is limited and luxurious in terms of its finishings and special features. Let's discuss all of their makes and models in detail now.
List of Tiffin Class A Motorhomes
Tiffin offers 7 Class A motorhomes, ranging in lengths and features. These rigs include:
Allegro Breeze (31-33 feet long)

Allegro RED 340 (35-39 feet long)

Allegro RED 360 (35-39 feet long)

Allegro Bus (37-45 feet long)

Open Road Allegro (34-38 feet long)

Phaeton (37-45 feet long)

Zephyr (45 feet long)
Tiffin's very first RV was named Allegro, and you can no doubt find some of the vintage rigs even today! While the company has grown far beyond a simple gasoline motorhome outfitted in wood trim, they still keep the Allegro name in the family.
List of Tiffin Class B Motorhomes
Tiffin currently offers one Class B motorhome. It is an upcoming debut, known as the Cahaba, and it is available on a compact 19 foot chassis. This van is completely ready for just about any adventure that you can imagine, complete with full wet bath and comprehensive LEDs on the exterior. But more about the Cahaba later!
List of Tiffin Class C Motorhomes
There are currently two Class C motorhomes offered by Tiffin. Those motorhomes include:
Wayfarer (25 feet long)

Allegro Bay (39 feet)
The Wayfarer is one of Tiffin's most popular RVs, and for good reason. It has a lot to offer in terms of size and space, and isn't as large as all of Tiffin's Class A coaches. In addition, the Allegro Bay is a diesel Super C motorhome, which means it has ample towing power as well as plenty of space for the whole family.
Given the fact that Tiffin only has this limited amount of RVs available under their company name, you may be thinking that that is already a negative point. However, many loyal RV customers of Tiffin enjoy that they have yet to bite off more than they can chew. Many RV manufacturers produce a dizzying number of models and floor plans, and immediately stop producing any model that doesn't sell right off the bat.
This is something that Tiffin doesn't practice, especially when you consider the fact that the Allegro has been around since the company's inception. Many would argue that Tiffin has established a certain level of brand loyalty and reliability by offering fewer options and sticking with floor plans and models that appeal to their customers. However, let's discuss what customers have to say about Tiffin beyond what they think about the models offered.
What Do Customers Have to Say About Tiffin?
Curious to hear what customers have to say about Tiffin? Now it's time to go over all of the Tiffin RV reviews we could find, including what customers have to say about the brand as a whole. We will also discuss Tiffin in great detail, including five different points of customer reviews and mentions. Let's get started now!
Positive Reviews
For the most part, Tiffin has a large number of extremely positive reviews. Many customers, both new and old to the brand, admire Tiffin for their dedication to quality builds as well as conveniently organized rigs. Their RVs often earn top marks and gain positive reviews because of their livability and layouts.
Tiffin consistently considers how their RVs can be set up to better suit a variety of lifestyles, whether you are a weekend warrior or plan on sleeping full-time in your RV. There's always plenty of storage space as well as bed arrangements, and Tiffin makes most of their motorhomes using a reliable diesel engine rather than gasoline, helping customers save more money in the long run.
Purchasing a Tiffin RV feels like a more bespoke option compared to many other RV manufacturers. There's a certain level of luxury and personal touch that comes with each rig, and Tiffin's warranty options want you to feel as if you can own your rig for years to come. However, there are some caveats to their warranty plans that we will talk about in a moment.
Not only does Tiffin offer a luxurious and unique RV, no matter the model and floor plan, they also offer fantastic customer service. Many customers mention that they have called the main Tiffin line and spoken to the owner of Tiffin, Bob Tiffin. While their recent partnership with Thor may change this fact, it is still amazing to hear it was possible at all.
Speaking of Bob Tiffin, many customers mention that he has personally paid for or otherwise shipped RV parts for free in the past. While this may not be a standard practice and is certainly rare in this day and age, this is just one example of Tiffin and their efforts to always put their customers first as a family-owned company.
The quality of a Tiffin RV is rarely ever in question. If there are issues with the rig in the first place, Tiffin makes an effort to right their wrongs by sending you new parts or honoring your warranty. However, are there negative reviews surrounding the Tiffin RV company? Let's talk about those now.
Negative Reviews
As with any product or company name, there are always negative reviews to consider, and Tiffin has a few of them. The primary negative review associated with Tiffin and their RVs surrounds their warranty plan and the ability to receive parts and service in a timely fashion. Let's talk more about what this means now.
Throughout the lifetime and history of Tiffin RVs, there are a number of customers and dissatisfied consumers when it comes time to get a repair through the company. Given that Tiffin values quality and its products highly, you can only get your Tiffin RV serviced at select locations and still honor your warranty plan.
That being said, these service locations often don't have availability or book up fast compared to a variety of other RV repair shops. You may find that it is extremely difficult to order parts and service for your Tiffin RV, especially if you have trips planned or upcoming excursions in the works.
Many RV customers who own Tiffin RVs complain that their brand new rigs often have a lot of issues when first driven off the lot. This is obviously not something that any RV manufacturer wants or strives for, though having issues right off the bat is something that frequently occurs, no matter the RV manufacturer or model of RV that you purchased.
Most of the repairs that RV reviews mention are simple and easy to fix. However, it only makes sense to want these repairs performed by Tiffin and under the warranty plan to save you money as a customer. It may just take time for these repairs to happen, and many customers expressed dissatisfaction regarding this process, especially for customers dealing with a brand new RV.
With all of this in mind, let's discuss one more thing that you should consider before taking a look at any Tiffin RV reviews.
Things to Consider
The entire world of RVing is changed because of the Covid-19 pandemic. Travelers, particularly in North America, desperately sought entertainment and opportunities to get away. But what could you do with a pandemic raging and travel options limited? Enter the latest RV craze and an era where supply simply can't keep up with demand.
While this isn't an excuse for any RV manufacturer to cut corners, companies like Tiffin and ones as large as Jayco struggled to keep up with new RV customers swarming the market. The number of companies that had delays or were unable to produce any new RVs at all was huge, and supply issues continue in the RV world to this day.
Many negative reviews for RVs, Tiffin included, have emerged in the recent past. This is likely due to the fact that RVs are being built faster than ever, and many companies might be cutting corners in an effort to get RVs out of the door. The same can also be said for Tiffin, though they maintain fairly positive reviews overall, no matter the year.
Again, this isn't an excuse for RV companies to build sub par products. However, it could be an explanation as to why this is happening. The world decided that RVing was the only way to travel, and the amount of people that still think that continues to this day! Tiffin is just one of many RV manufacturers trying to keep up with the demand of its consumers.
Tiffin 5 Factor Review
When it comes to learning everything you want to know about Tiffin and their customer reviews, you're in the right place. Here is our five factor review covering everything you need to know about Tiffin and what customers think about them. Let's get started and discuss a number of vital topics now!
Tiffin RV Reviews: Build Quality
One of the reasons that Tiffin has high reviews is that their RVs are consistently made and built with quality materials and construction. Not only can you expect a more luxurious finish inside of your RV, but you can expect these fixtures and furnishings to last a long time. Let's discuss some of these things in more detail now.
Many components are built by Tiffin craftsmen, which guarantees quality, consistency, and easy replacement. They also offer single piece fiberglass slide outs so that you can expect these units to work efficiently for a long time, as well as resist leaking or other damage to their tracks. The roof is also a single piece of fiberglass to prevent leaks and strengthen the overall ceiling of your RV.
But this isn't where the build quality ends in terms of Tiffin RV reviews. The design and build of these rigs continues to impress its customers, with elements that are hidden as well as elements that are not. For example, Tiffin builds all of their RVs with more efficient wiring technology to avoid excess wires in the walls of your RV. They also have a quiet and easy to operate thermostat and climate system.
Another element that Tiffin incorporates into its build quality is the PowerGlide Chassis. The chassis on a variety of Tiffin models is custom built to fit the body of the rig, and it works in tandem with the coach body to create a smoother and more stable ride. The PowerGlide carries a Tiffin-backed limited warranty for three years or 50,000 miles against defects in materials and workmanship.
Knowing that Tiffin only does motorhomes and that those motorhomes are built atop a reliable and above-industry standard chassis may bring you more peace of mind when you consider what motorhome you want to have for your own camping adventures. However, there are a few negative things to mention in terms of the build quality of Tiffin.
Like many other RV manufacturers affected by the Covid-19 pandemic, Tiffin has a few recent complaints from their customers regarding build quality. Most of the issues happen within the first few months of ownership, and they appear to be relatively simple fixes. However, getting your RV into the shop for these warranty honoring repairs can be extremely difficult at this point in time.
That isn't all that we need to discuss. Let's talk about more Tiffin reviews now.
Tiffin RV Reviews: Customer Service and Warranties
You've no doubt already guessed that the majority of the negative Tiffin RV reviews surround the customer service and warranty options provided by the company. This isn't to say that Tiffin doesn't have fantastic customer service and reliable warranty options. It's simply that the company has a lot going on in terms of their partnerships with Thor, and they may not have all of the staff that they need to address their growing customer base.
Upon first glance, many customers are impressed by the three separate warranty options provided by Tiffin for their rigs. There are likely even more warranties included with the purchase of a brand new Tiffin motor coach, when you consider all of the appliance and other item warranties that you can sign up for.
For example, Tiffin offers a 10 year construction warranty, a 5 year delamination warranty, and a 1 year limited warranty on everything else. However, most of these warranties also only last for 50,000 miles, so this is something to consider. This may also explain one of the reasons why Tiffin is overwhelmed with warranty requests and repair requests, given the short timeline in which you must make these repairs in order for the warranty to be honored.
Tiffin frequently received high marks for its customer service, though many recent customers complain that it is difficult to get anyone to answer the phone. This is also likely explained by the Covid-19 pandemic and the limited number of workers versus the larger amount of new customers flooding many RV companies.
Apparently, there was a point in time where Bob Tiffin himself would answer the phones and take care of customer service complaints on his own time. This is obviously not feasible in this day and age, and many negative reviews surrounding Tiffin's customer service may be from customers used to this sort of service and personal touch.
Tiffin RV Reviews: Layouts and Design Elements
One of the things that Tiffany frequently earns a positive review for are their layouts and design elements. Very few customers can deny that Tiffin builds a stylish and unique rig compared to the variety of other RVs and motorhomes on the market today. Let's discuss some of those layout choices and design elements in more detail now.
It doesn't particularly matter what model or layout you are considering. Tiffin ensures that all of their rigs have a unique and homey interior design. Not only are the interiors comfortable, they are luxurious and high quality compared to many other RV interior designs. For the most part, having low expectations is a good idea when looking at RV Interiors, as they often do not impress. Tiffin is an exception to this rule.
Not only does Tiffin offer multiple interior design swatches and color options for each one of their rigs, they also have thoughtful design and layout choices. You can find storage in a variety of locations that you would not expect, and Tiffin takes the time to remove or install modular furniture where you may want more space. They are particularly adept at utilizing high traffic areas and creating kitchens that are worth cooking in.
One of the more unique design elements that you can get with certain models and layouts is that Tiffin offers different looks to their ceilings. Not only can you choose between two different colors and wooden finishes, you can choose between different lighting inlay options and ceiling features as well. This can really help with the interior design of an RV, helping it feel more expensive and open.
Plus, you can find a variety of different layouts depending on the popularity of the RV model. For example, the Tiffin Wayfarer has up to 6 different layout options, despite it only being on a 25 foot long chassis. This is a fantastic thing to note when it comes time for you to make your final RV purchase. An RV layout always makes or breaks the RV, though it can be difficult to know what sort of layout you need without trying it out first!
Tiffin RV Reviews: Price Point and Budget Friendliness
There haven't been many customer reviews that mention the price point and budget friendliness of Tiffin, but that is likely because Tiffin is at the higher end in terms of RV budgets. They offer a variety of rigs, though all of them could be considered luxury. This tends to mean that they are not a great option for those of you shopping around for a budget-friendly RV.
Not only are Tiffin RVs furnished and designed with luxurious budgets in mind, they are also all motorhomes rather than towable rigs. This shouldn't affect the overall quality of your RV, but motor coaches are always more expensive than travel trailers or fifth wheels, given the complicated mechanics involved.
However, the fact that there are no real reviews regarding the budget friendliness of Tiffin likely means that this is good news. It is important to note that these rigs average anywhere from $100,000 to $400,000 depending on the model and standard features you choose. Many RV customers cannot afford this level of quality, though the ones that can don't seem to mention the fact that they aren't getting what they paid for.
All in all, while Tiffin is not necessarily a budget-friendly brand, the price that you pay for a Tiffin is worth it to many different RV customers. Not only do Tiffin RVs have a fantastic resale value, they also are built to last and take their price points into consideration. While most new RV owners dread paying more than their RV is worth, most Tiffin customers feel content with what they receive based on their budget.
Tiffin RV Reviews: Boondocking and Off-Grid Capabilities
One of the things that many RVers seek in this day and age is the ability to boondock or otherwise camp off-grid. This essentially means that an RV needs to be manufactured with larger holding tanks, solar capabilities or generators, as well as potentially the option for driving on rough or rugged terrain.
The good news is, Tiffin offers solar panels, on-board diesel generators, as well as a variety of other boondocking features that the modern RV owner seeks. However, the majority of these features do not come standard and will need to be added after the initial purchase price. This may not be something that you are interested in, though it is exciting to hear that Tiffin can add these features after the fact.
One of Tiffin's motorhomes has been completely redone with boondocking in mind. It has at least two powerful house batteries for boondocking, an on-board generator, solar panels, as well as induction and electronic based cooking elements. This simply means that you don't have to worry about propane while on the road, and all of your fuel and electricity needs are handled by your solar panels and generators.
Given the fact that Tiffin makes a few smaller Class A motorhomes that are ideal for driving in a variety of road conditions, having the option to boondock in these rigs is fantastic. Many Class A motor coaches do not work in a dry camping or boondocking environments, given that their facilities are just so large that many RV trips require hookups. This isn't the case for all of Tiffin's RVs, though you may have to outfit your rig for boondocking after the initial purchase price.
On the flip side, some negative reviews mention the fact that many off-grid utilities and boondocking perks are included standard for a variety of luxury rigs. Given the high purchase price of any Tiffin model, some customers expect there to be a certain level of exclusivity or extra inclusions in the initial purchase price. However, having the option for solar panels rather than including them standard may be something that more RV owners are interested in.
Top Rated Tiffin RVs
Now that we have addressed all of the positive and negative reviews associated with Tiffin, let's take a look at some of their top rated RVs so that you can get a better understanding of the products that they offer. We will look closely at their top Class A motorhome, their Class B camper van that is upcoming, and finally their most popular Class C. We will also talk about their second most popular Class A motorhome as well. Let's get started!
Tiffin Class A: Open Road Allegro
Given the fact that the Open Road Allegro is the same model that Tiffin began their RV journey with, it is only fair that this be the top-rated Class A motorhome that we discuss first. There are many different versions of the Allegro, but the Open Road Allegro is considered to be the modern version of the motorhome that started it all back in the seventies!
Featuring luxurious design, innovative technologies, quality construction, and a powerful Ford 7.3L V8 engine, the Open Road provides you with everything you could want—while still remaining affordable. There are five unique and comfortable floor plans for you to choose from, and you can sleep anywhere from 2 to 7 people, depending.
Many customers consider this motorhome to be Tiffin's flagship Class A. Because of that, you can outfit it in a variety of exterior and interior design options. In fact, a variety of things on board this rig are customizable, including how many solar panels you have, the amount of bunk beds and Theater seating that you have, and whether or not you want washer and dryer capabilities.
The interior design on this Class A is extremely attractive and comfortable. You can outfit the interior in a variety of different shades and colors. The kitchen has a full oven and stove combination, while the living room has an electric fireplace for a number of the models. Depending on the length and floor plan that you choose, you should have no trouble bringing the whole family along!
One of Tiffin's more affordable Class As

Beautiful and comfortable interior

Available in a variety of lengths and floor plans

Gas engine rather than diesel
Tiffin Class B: Cahaba
Many customers await the release of the Cahaba, Tiffin's take on the extremely popular Class B camper van. There isn't much that has been released about this particular model of RV, though it still has a lot to offer based on sketches and proposed features. Let's talk about some of those now.
Built on a coveted Mercedes-Benz diesel power and chassis, the Cahaba is fuel efficient and capable of tackling just about any road conditions that you can imagine. It is only 19 feet in length, making it easy to maneuver and drive through state parks, national parks, and perfect for traveling in inclement weather situations.
While there aren't very many listed floor plans, and everything is subject to change given the fact that Tiffin is still finalizing this particular model, the interior of the Cahaba is relatively simple. However, it is still outfitted with a complete wet bass as well as a cozy and efficient kitchen.
This is the RV for those of you who enjoy boondocking and getting off grid. It comes equipped with 3 solar panels, a rear bike rack and spare tire rack, as well as an abundance of rooftop LEDs to light your way. You don't have to worry about the time of day that you travel with a rig like this. Plus, you have four wheel drive for tackling any type of terrain.
What's the caps? Currently, Tiffin has not released the price of this particular Class B camper van. However, the majority of Class B's cost more than Class C rigs in particular, so keep an eye on this one and assume that the price point will be a pretty penny.
Capable and compact camper van

Ready for any off-grid situations

Likely built with timeless interior design

Who knows how much it will cost
Tiffin Class C: Wayfarer
If I was looking to upgrade my travel trailer and purchased a Class C, I would be extremely tempted by the Tiffin Wayfarer. This compact RV is built on a 25 foot frame, but it still offers five distinct and unique floor plans. Plus, all of these are built on a reliable and easy to maintain Mercedes-Benz chassis so that you can hit the road and style. Let's discuss this rig in more detail now.
One of the best things about this rig is the fact that it has so much storage, you likely won't know what to do with all of it. In fact, this Class C is one of our top picks on our list of the best Class C rigs for a family of five. Not only do you have enough beds to sleep everyone in, you also have plenty of storage so no one has to sacrifice a thing.
The interior design of the Wayfarer is cozy and classy. Not only do you have a full residential refrigerator, you also have a queen size Murphy bed, or a king sized convertible bed, depending on the layout that you choose. There is also a loft area above the driver's compartment so that you can sleep an additional person.
You can also outfit this particular rig with everything you need to boondock or go off-grid. You can get solar panels, onboard generators, as well as additional house batteries to power your adventures. This Class C also has an on demand hot water heater and a 5000 pound hitch capacity for bringing along all of your toys.
All in all, the Wayfarer is a great Class C for just about any small family or fewer. The question is: how much are you willing to pay for it?
Many floor plans means many options

Easy to outfit for boondocking

Ample storage as well as high towing capacity

May be too expensive for the average budget
Honorable Mention: Phaeton
There's one more Tiffin RV that we should discuss, based on customer reviews and popularity. The Phaeton is a class-a rig that ranges from 37 feet all the way to 45 feet, and it offers a whopping seven floor plans to choose from. All of these different floor plans have a high level of luxury as well as custom features that you would not expect in an RV.
One of the reasons why this RV is so popular is that, the moment you walk inside, it feels like home. The interior design and luxurious features truly shine in this context, and it feels as if Tiffin has thought of everything. In fact, Tiffin advertises this rig as such, and they anticipate you finding more and more features to enjoy as you live and play in it.
This is one of the few Tiffin rigs that you can get outfitted with electricity only rather than propane and electricity. You can also have solar panels and additional batteries installed as non-standard features. Depending on your budget, you can truly make the Phaeton exactly what you want. However, it may not come at a price point that is feasible.
No matter your budget, I truly encourage you to check out the Phaeton for its incredible interior design as well as its thoughtful storage solutions. The number of layouts that you can explore with this rig are also impressive! It truly feels as if Tiffin has put their heart and soul into their rigs, especially when you tour the Phaeton.
Amazing and luxurious features throughout

Ranges in length and floor plans so you can find what you want

Full of tech and off-grid possibilities

Extremely high price point to get these features
Final Thoughts
Finding a reliable RV brand that you can purchase decade after decade is truly something that matters to Tiffin, despite their recent partnerships or changes. However, now that you know what customers have to say about this particular RV brand, you can make an informed decision on your own. I encourage you to check out all of our other RV brand name reviews so that you can continue educating yourself about what RVs impress customers, and which ones may fall flat!