Sushi Nakazawa was one of the most difficult reservations to get for me on this trip.  The restaurant is immensely popular, and for good reason.  Chef Daisuke Nakazawa was an apprentice of sushi master, Jiro Ono, whom you may remember from the documentary Jiro Dreams of Sushi.  So along with Le Bernardin, Sushi Nakazawa was the restaurant I booked as soon as the booking window opened.  And luckily, I snagged one of the last spots available while we were in New York.
Ambiance, Service, and Dress Code
Dinner at Sushi Nakazawa happened on Day 2 of our Big Apple adventure.  Nakazawa-san himself isn't there on weekends, and we couldn't get seats at the coveted sushi bar, but that's ok.  We arrived at the unassuming restaurant in the West Village on foot.  I almost walked right past the restaurant thanks to how low-key it is.  But once inside we were warmly greeted by the hosts staff.  After gathering the pertinent information, they took our coats and invited us to sit in the lounge while our table was prepped.
Once our table was ready, we were very graciously lead into the sleek dining room.  Service throughout was very nice.  Waitstaff were genuinely friendly and enthusiastic, but by no means was service stuff.  The website, I should note, says the restaurant recommends jackets for men, which I wore.  And I was probably the only guy with a jacket on in there, so no, it's not necessary.
The Food
After being seated, we were offered the drink menu and omakase menu for that night.  And aside from drinks, there really aren't any options at Nakazawa.  All diners receive the same 20-piece omakase menu at $120/person in the dining room or $150/person at the sushi bar.  The actual menu changes seasonally, so your menu may differ from ours.  Drinks?  We simply ordered the Asa no Yume Tamaryokucha, which is a green tea from Nagasaki, Japan, grown specifically for the restaurant.  The price?  $30, which ended up being good for 3-ish cups of each for the both of us.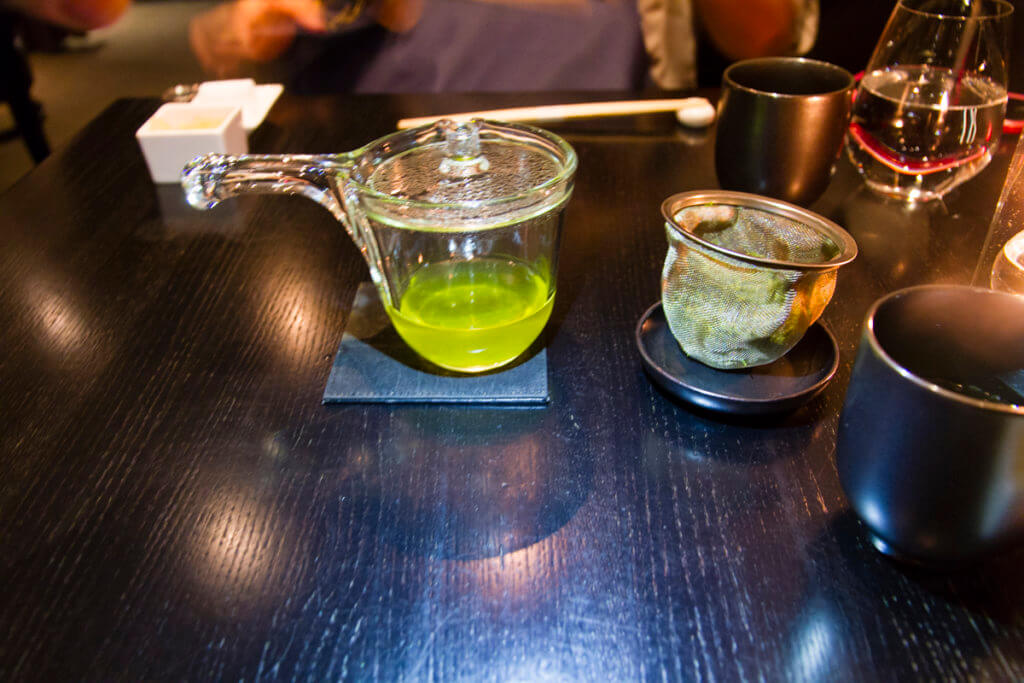 After receiving our tea, the waitstaff stopped by with a tray of the dishes they'd be using during our meal that night, including sudachi, fresh wasabi, yuzu, etc. and even fresh white truffle!  The truffle was an optional upgrade, which we took.  After this, our first set of sushi came out.  This set was all salmon, and included:  Chum Salmon, Hay-Smoked Sockeye Salmon, Soy Marinated King Salmon (right to left).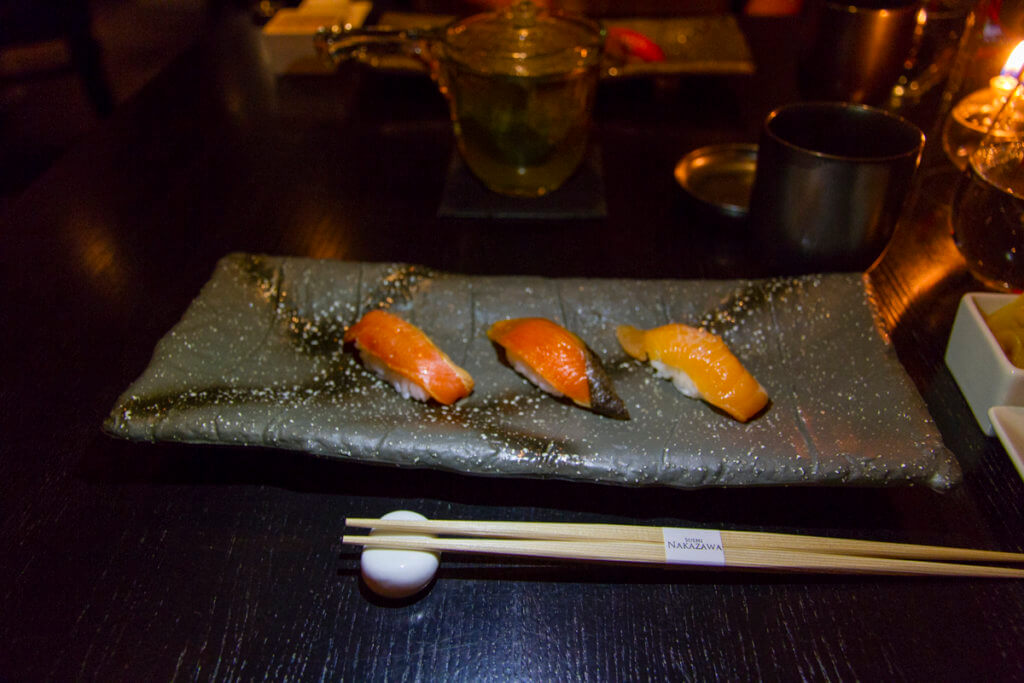 The hay-smoking is a trick he learned from Jiro Ono.  All pieces were great, being true representations of salmon.  The hay-smoked piece had a very light smoked flavor.
Next up was a set of four different pieces:  Scallop, Big Fin Reef Squid, Japanese Sea Bass, and Black Gnomefish.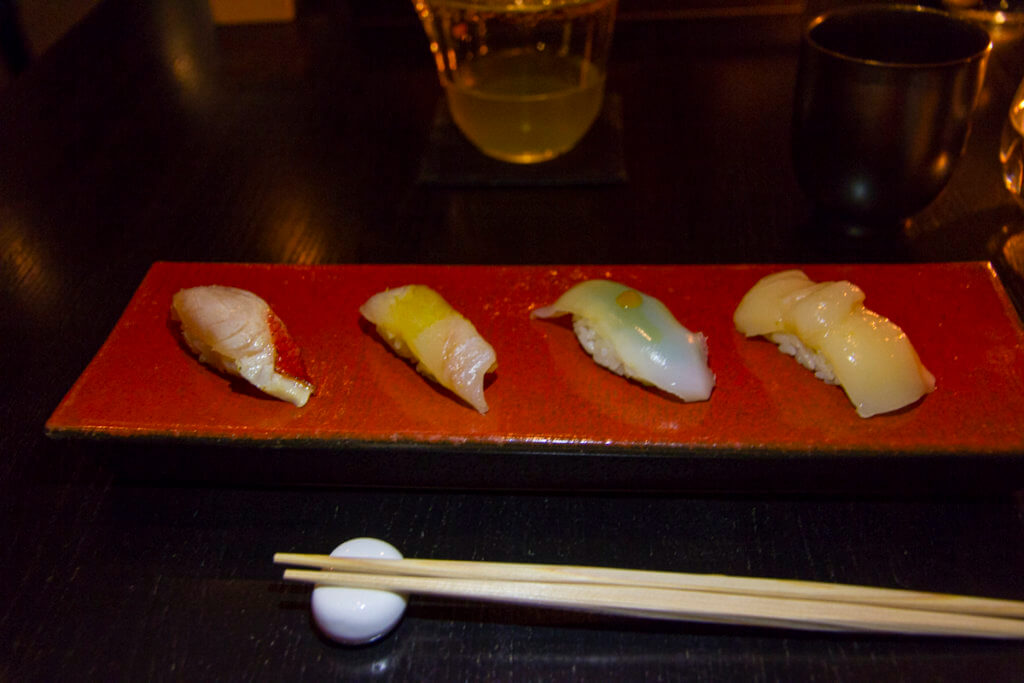 What can I say, every piece was perfect.  Great texture and temperature!  The squid was particularly good, with a buttery texture, and the scallop was very sweet.
Our third set included Spanish Mackerel, Horse Mackerel, Ama Ebi, Snow Crab (with the crab's miso).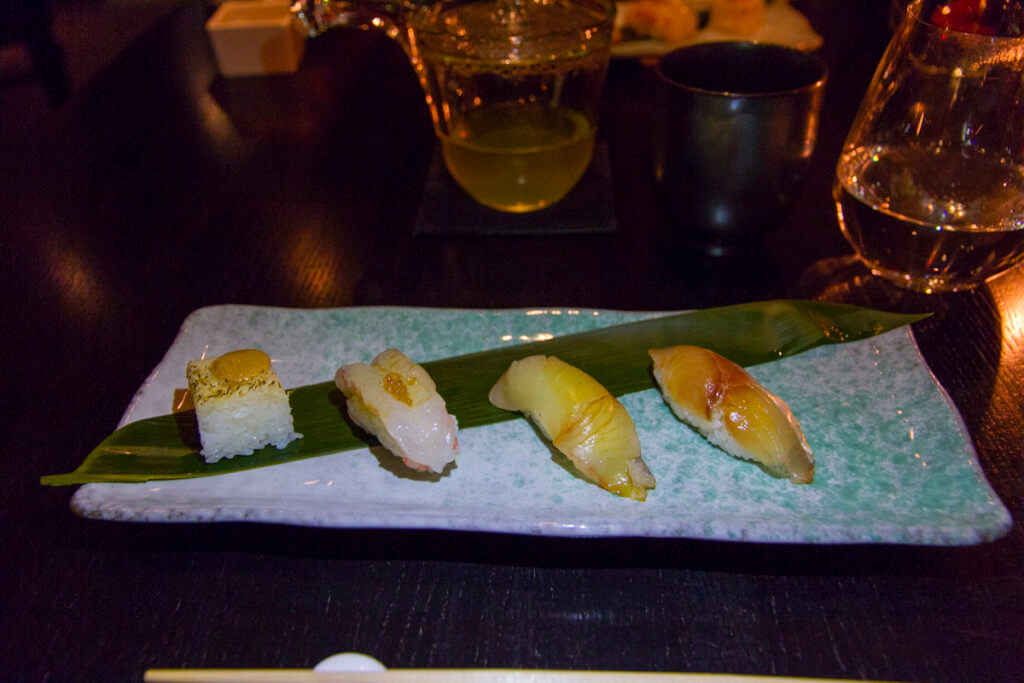 The snow crab was lightly torched and full of flavor, while the ama ebi had the best texture I'd ever had for raw shrimp.  The two mackerels were nicely balances and not too oil or fish, as can be the case.
Set four was the tuna set, featuring:  lean tuna, lean bluefin tuna, medium fatty bluefin tuna, fatty bluefin tuna.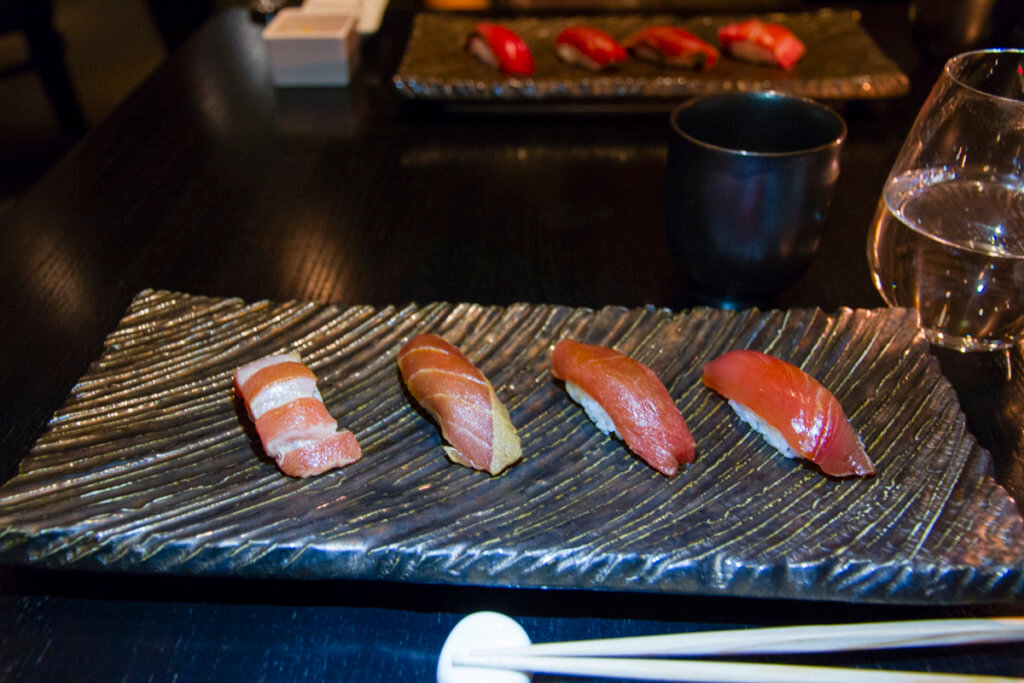 The tuna was pretty much what you'd expect, only better somehow.  I've had a lot of tuna in Hawaii and Japan, and all of these were the best of each cut I've ever had.  Period.
Nearing the end, set 5 was just two pieces: uni with fresh white truffle and ikura.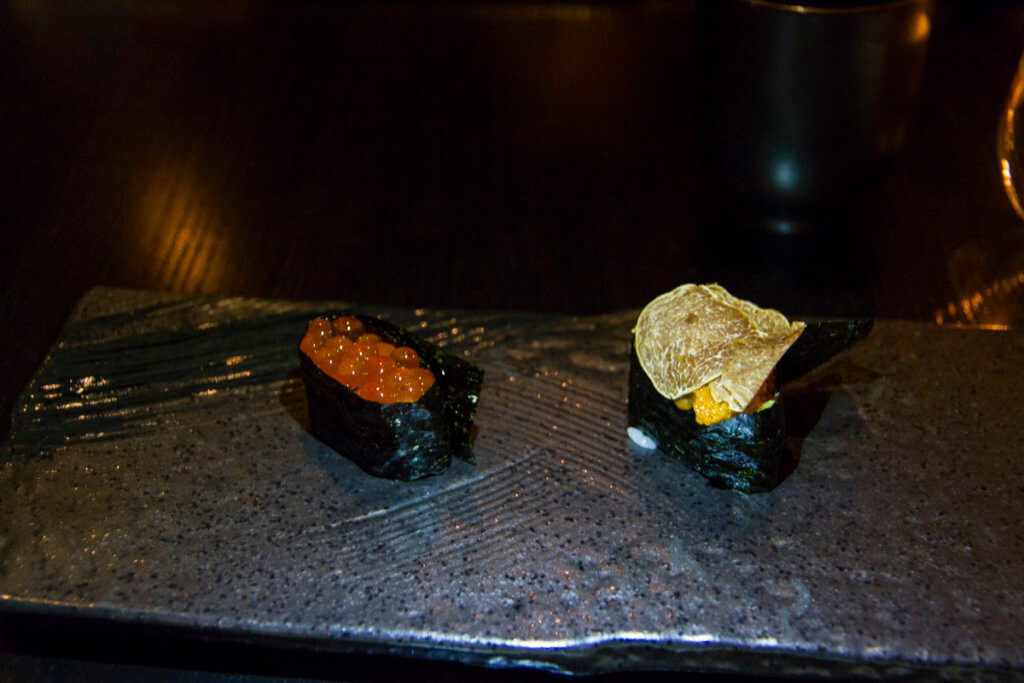 The wife truffle and uni complement each other nicely, though the truffle flavor was fairly light.  The ikura, unsurprisingly, was among the best I've ever had.  The only one so far that could even remotely compare came from Sushi ii in Honolulu.
Piece number 18 was the only roll of the meal.  We were offered a couple of different options which I don't remember, but I opted for the chuu toro (medium fat bluefin tuna) hand roll.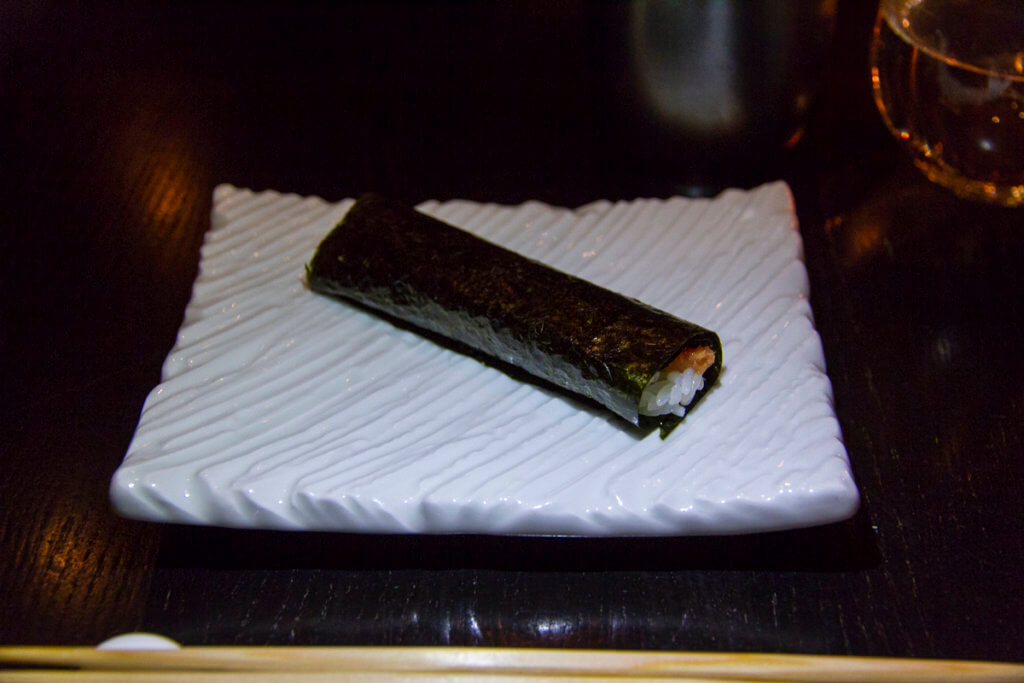 This hand roll was far different from any others I've had, which is to say much better in quality.  And like all other pieces that preceded it, the hand roll was perfectly seasoned.
Set 7, consisting of our 19th and 20th pieces consisted of the anago and tamago.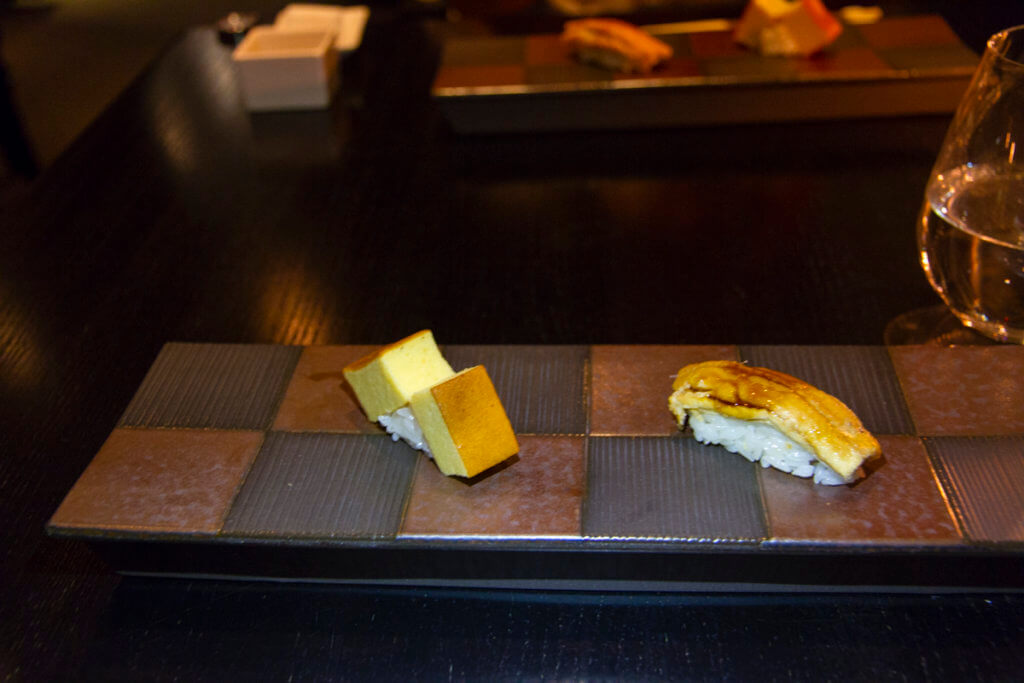 The anago was simply the best eel I've ever had.  Period.  Nothing compares to fresh eel, and I'm telling you now, most of the unagi and anago we eat at sushi restaurants are pre-cooked.  And of course, the tamago, for which Chef Nakazawa finally made an acceptable one in Jiro Dreams of Sushi, was sublime.
The eighth and final dish overall was a small scoop of lychee sorbet.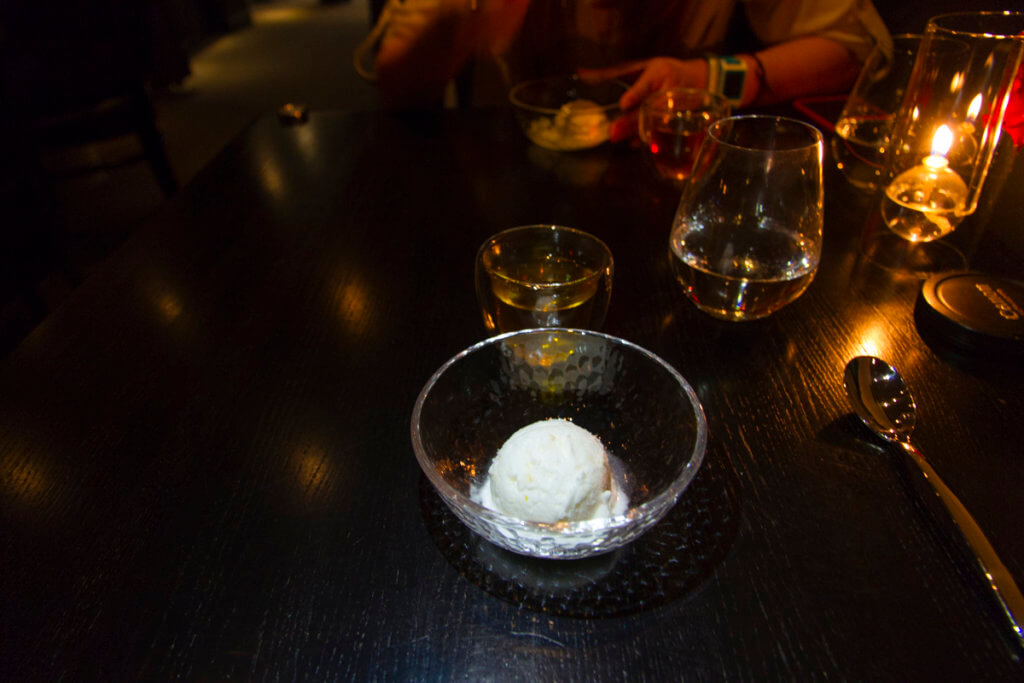 It tasted pretty much what I expected it to, which was good.  The sorbet wasn't too sweet, but had a nice level of flavor.  It did not, however, taste like fresh lychee, which is understandable.  Lychee has a really short season, so most of what you find outside of areas that grow it will be preserved.
Final Thoughts
Sushi Nakazawa was, by far, one of the best sushi dining experience we've ever had.  Everything was perfect, as you'd expect.  The rice and fish were always perfectly season, held at the perfect temperature, and had the perfect texture.  No shoyu or wasabi at the table, as you shouldn't be using those anyway.  What is at the table is the best gari I've ever had, and a little, propped up moist cloth to wipe your fingers.  Why do you need to wipe your fingers?  Because traditional sushi is eaten with your fingers, not chopsticks, which is what I did.  And yes, the whole piece goes into your mouth at once.
At $12o or $150/person, the omakase menu at Nakazawa is pretty pricey, but you know what, we both thought the price was very reasonable.  New York, I know, is filled with fantastic sushi spots, but I'd highly recommend Nakazawa.  We both really want to go back… Though we'd like to try some other spots around The City too.
A Big Apple Holiday Adventure
Review: Sushi Nakazawa