On our fifth day in The City, we spent the first half of the day down at the World Trade Center.  From there, however, we decided to head back uptown to grab a bite to eat and use another CityPass pass.  No, we didn't go to someplace fancy for lunch like we did on Day 2.  Instead, we searched out some New York utility pizza a bunch of friends had mentioned to us: Artichoke Pizza.
Artichoke Basille's Pizza
From the World Trade Center, we headed over to the Fulton Station and headed uptown.  The location we ended up at is the one at 111 Macdougal St., right next to Minetta Tavern.  It was actually a tease to walk right past Minetta Tavern, as I wanted to try the legendary Black Label Burger, but I'll have to save it for next time.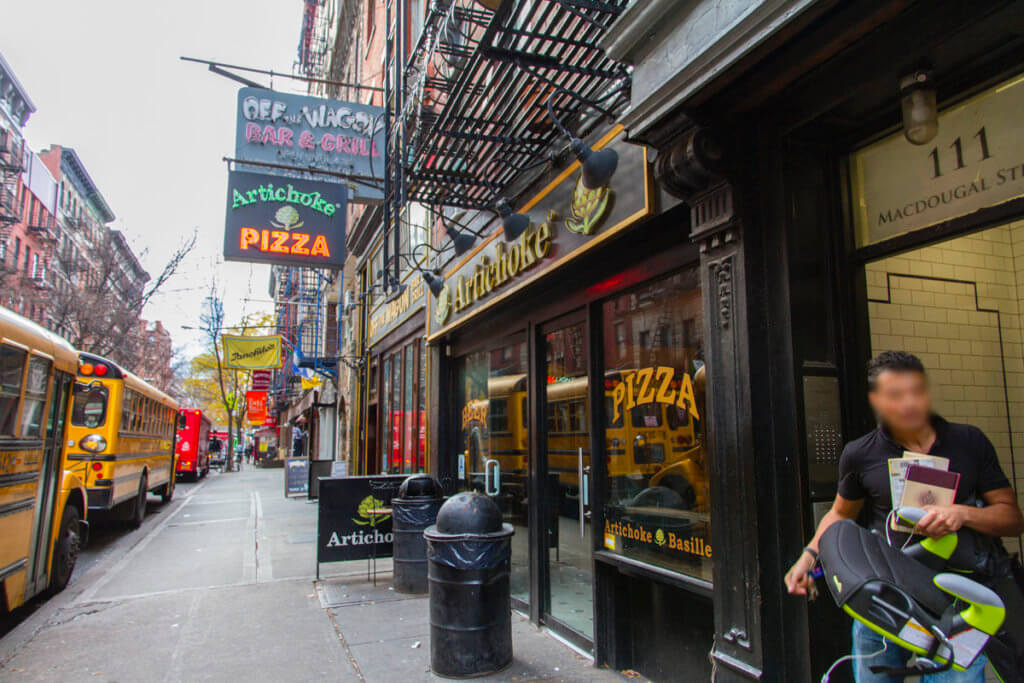 This location, unlike many of the others, is more of a take-out place.  Seating inside is available, but is extremely limited.  And the whole experience is very basic, as expected.  What you will get here is a great size of pizza at an incredible value.  We spent a total of $16.50 for two massive slices of pizza and two bottles of water!
With a name like Artichoke Pizza, you kind of have to try the name-sake slice, right?  And that's what Mrs. Island Miler did.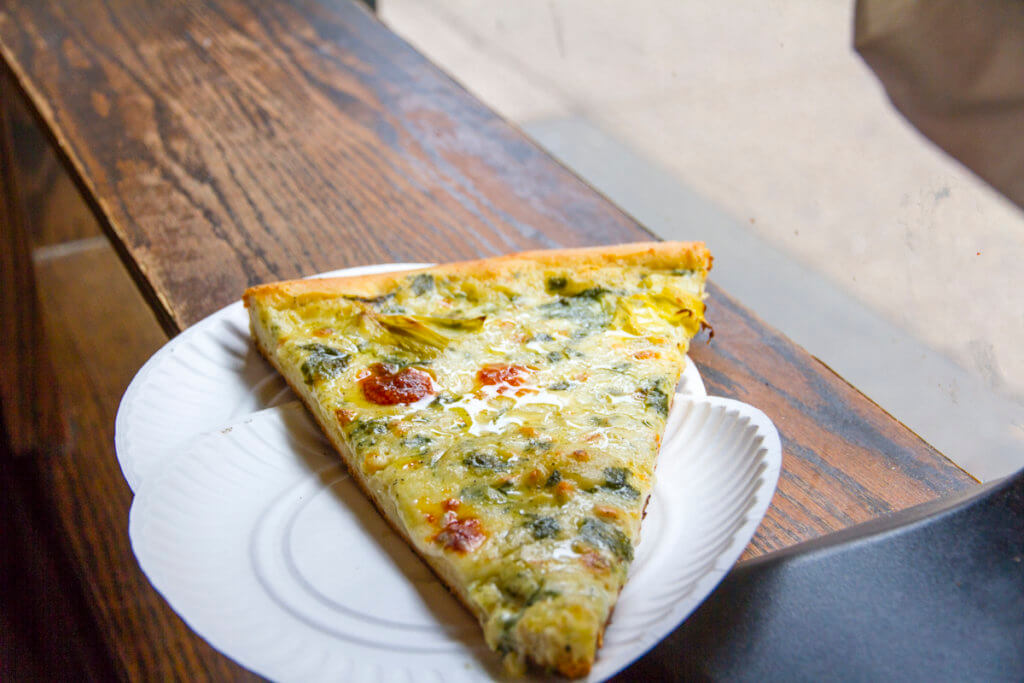 Think spinach artichoke dip on a pizza, only better!  Is a nice, crisp + chewy crust, topped with mozzarella, spinach, and artichoke hearts.  That's it.  No sauce, no nonsense.  It was delicious, but I like my red sauce, so I ordered a classic Margherita pizza.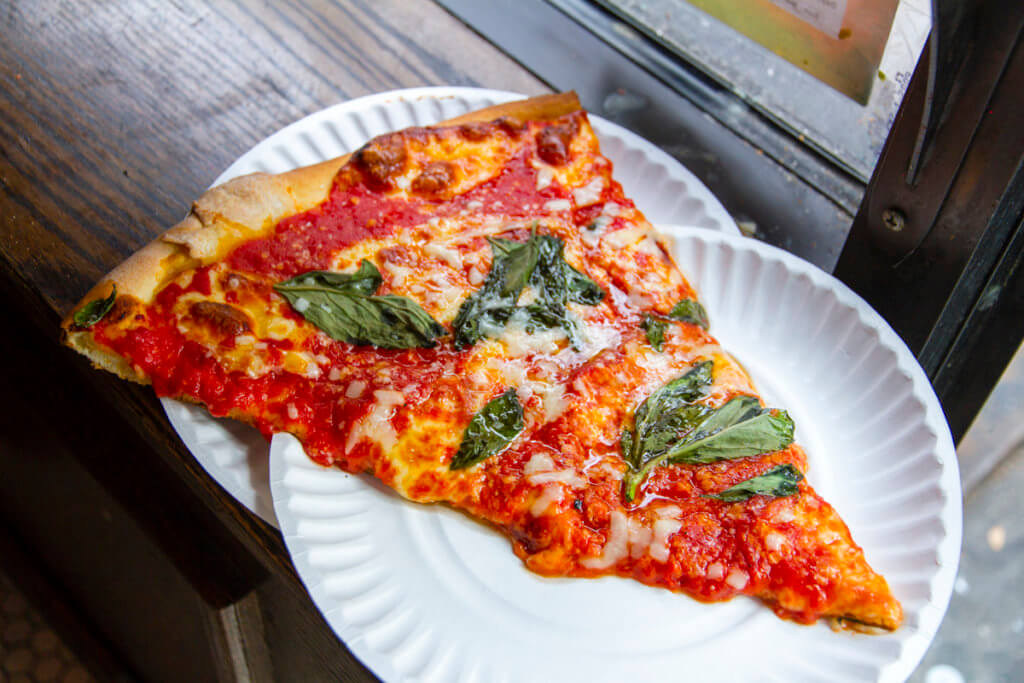 Lots of sauce, a little cheese, and some fresh basil.  That's it.  This pie is perfect.
It's easy to see why people love this place.  The pizza slices, as you can see, are HUGE.  But they aren't overly heavy either.  And with the easy-to-love pricing, Artichoke Pizza is definitely a place I can recommend and would return to.  Fancy pizza this is not, but it is so good!
American Museum of Natural History
From lunch, we hopped on another subway and headed further uptown.  Our next destination would be the American Museum of Natural History.  It is another CityPass option, which is why we decided to visit the museum.  But as others have pointed out in my previous post, there is no set admission price for the museum.  CityPass markets it as a $35 value, when in-fact, that amount is a recommended donation.  Oh well…
When we arrived, we headed to the nearest ticket counter to redeem our CityPass passes.  The employee at the counter couldn't be more indifferent or rude.  She didn't explain a thing, and was irritated when I couldn't immediately answer which IMAX movie we wanted to see (included with CityPass).  Problem is, we didn't know what there was and what time they were at.  So I ended up choosing the Dark Universe show featuring Neil deGrasse Tyson.
Dark Universe
Dark Universe was being played in the AMNH's planetarium.  To get there you have to go up an elevator, take a photo, and corralled into an empty room.  There's no formal line or anything, so once showtime nears, everyone just rushes the front.  Understandably, then, getting into the planetarium is kind of a cluster…
The show itself was pretty interesting; I mean I like Neil deGrasse Tyson anyway, so take my opinion for what it's worth.  The wife, however, didn't care for the show.  Space isn't her thing, and she wanted to see the polar bear movie instead.  Lucky we didn't choose that one, though, as the next showing for it wasn't till 4:30 pm.
The Museum
Having been to the Smithsonian the previous day, we weren't really in a museum going mood.  We also found AMNH confusing to navigate around, so we got kind of frustrated and board.  While we didn't see everything (I wanted to see the dinosaur fossils), I wasn't all that impressed.  The National Museum of Natural History is better in my opinion, but that's not really a fair comparison.
Final Thoughts
We eventually headed to the metro station in the Museum's lower level and headed back to the Renaissance New York Midtown to rest up before heading to a show later that evening.
Out of the two places in this post, I had the lowest expectations for Artichoke Pizza.  But you know what?  I really liked the place.  Unfortunately, the opposite was true for the American Museum of Natural History.  I would, however check it out again with better planning, and without the CityPass pass…
A BIG APPLE HOLIDAY ADVENTURE
Big Apple: Artichoke Pizza and American Museum of Natural History