For those of you that don't know him, Ivan Orkin isn't your usual ramen master.  A "Jewish kid from Long Island," Ivan is a graduate of the Culinary Institute of America.  He learned how to make, and became famous for his Jewish influenced ramen in Japan.  Fast forward a few years, and a couple Tokyo ramen shops later, Ivan returned to New York and opened his first U.S. shop, the Ivan Ramen Slurp Shop in Hell's Kitchen.  This was followed soon after by the flagship Ivan Ramen New York on the Lower East side, which is where we chose to get dinner on our 3rd day in the Big Apple.
We kind of decided last minute to dine at Ivan Ramen, so I quickly made an OpenTable reservation, and we headed out.  From the Renaissance New York Midtown, we walked over to the 34th & Herald metro station and jumped on a downtown bound F/M train.  The restaurant is a short 5-10 minute walk from the Essex St. station.
Service
The restaurant itself is just 50 seats, and it does feel a bit cramped.  The staff, however, works with what they've got and does a good job.  Everyone we interacted with from the hosts to the waitstaff were genuinely friendly and even had a good sense of humor.  Service itself was a little slow, but not enough to be bothersome.  We were there during peak dinner hours too, so I think speed of service was more than acceptable.
Food
The main draw at Ivan Ramen is, well, the ramen.  But it's worth checking out their other dishes too.  To start, we got a couple of awesome (soft) drinks:  the yuzu lemonade and the Ivan Palmer.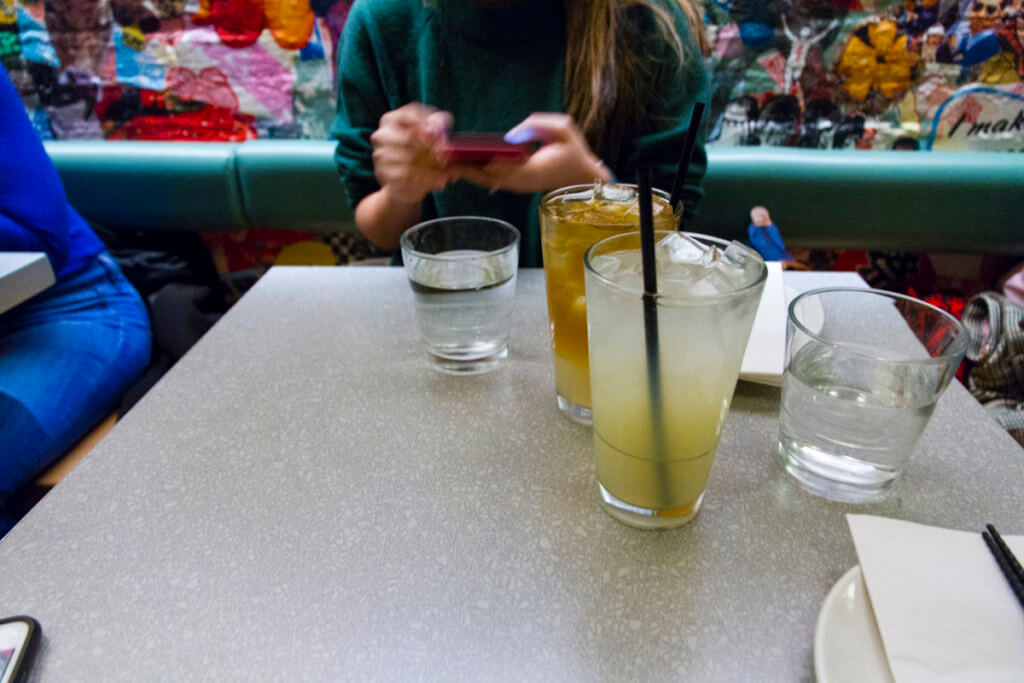 Unlike many yuzu drinks I've had, even in Japan, Ivan Ramen's Yuzu Lemonade tasted strongly of yuzu.  The Ivan Palmer, on the other hand, was an interesting mix of hojicha (roasted green tea) with yuzu lemonade.  Both were refreshing and delicious!
For my appetizer, I stuck with a yuzu theme and ordered the King Trumpet Noodles.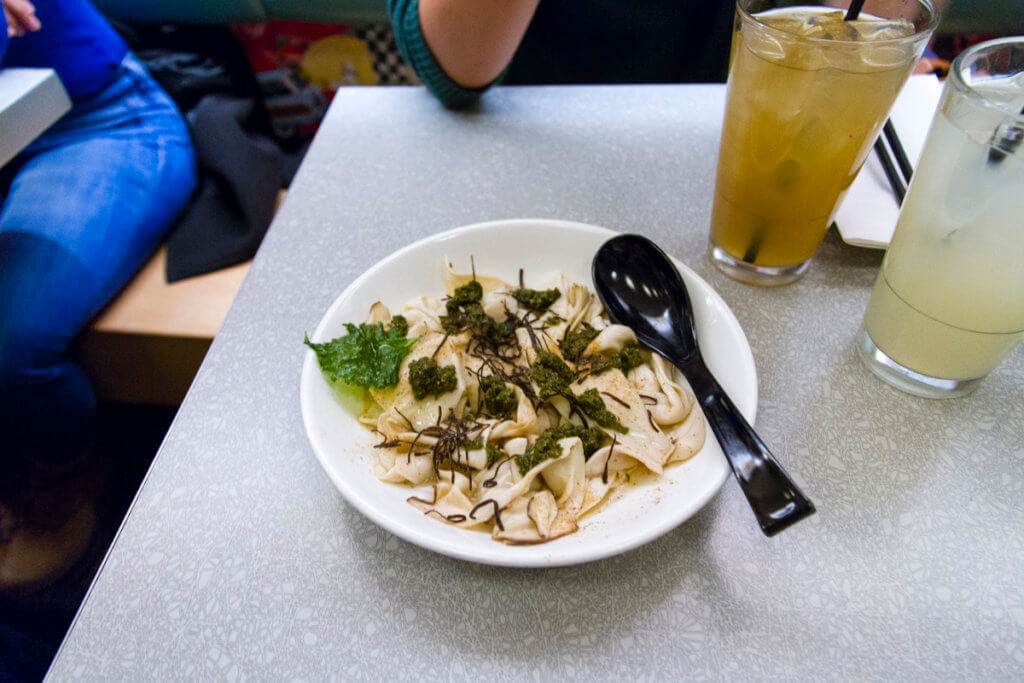 These "noodles" are simply shaved king, or oyster, mushrooms in yuzu dashi with shiso salsa verde.  This was a pleasingly light and refreshing dish I'd totally order again.  The mushrooms themselves had a great, crisp, chewy texture.
The wife went with something a little heavier and ordered the Chicken Wings.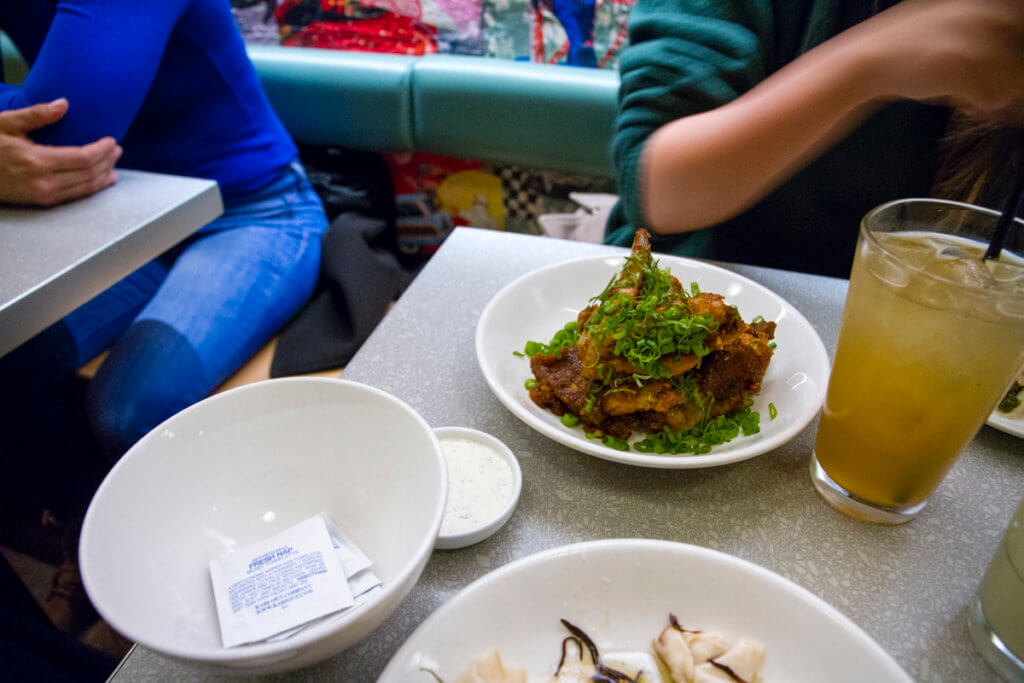 These crispy, messy wings are deep fried and coated in a toasted garlic caramel, togarashi, and accompanied by a shiso ranch dip. Salty, spicy, sweet, offset by the cool, creamy dip.  Thank goodness they provide some wet wipes too!
Unsurprisingly, we both got a ramen.  Me?  I went with Ivan classic:  Shoyu Ramen.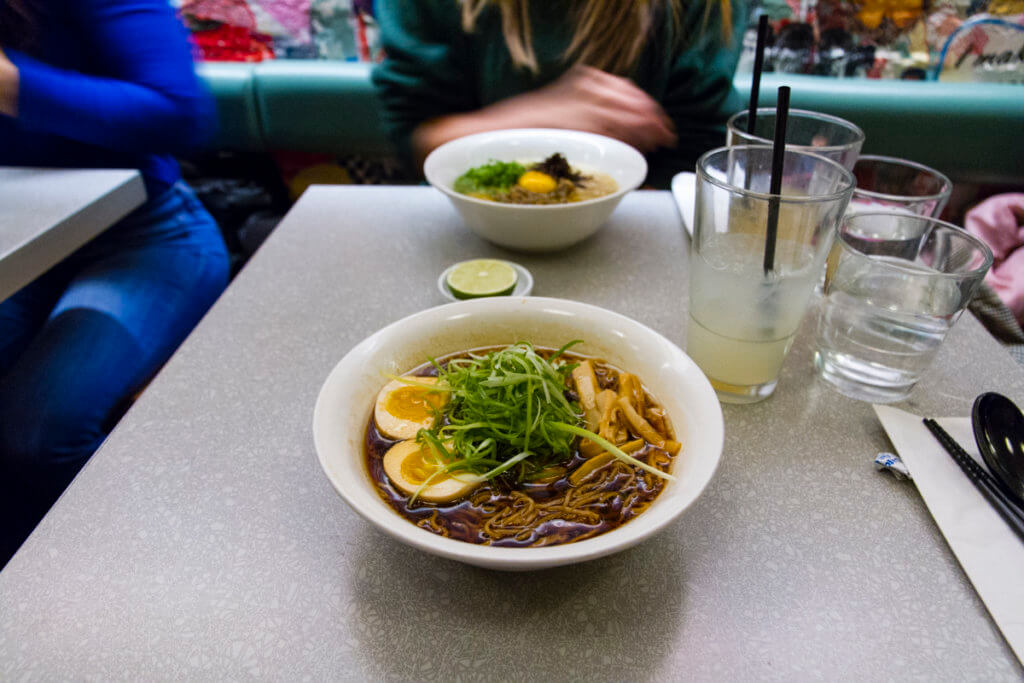 Ivan uses a chicken based broth for his Shoyu Ramen.  At the time of our visit, the bowl included pork belly, soft egg, bamboo shoots, and Ivan's signature rye noodles.  A lot of reviews complain about the broth being too salty, but you know what?  it's supposed to be.  You don't necessarily drink it on it's own in Japan.  Instead, you'd just slurp noodles, with the broth providing flavor.  And if you do just that here, you'll get all the flavor, and it won't be too salty.  I thought it was good.
For her ramen, the wife went with the Chicken Paitan.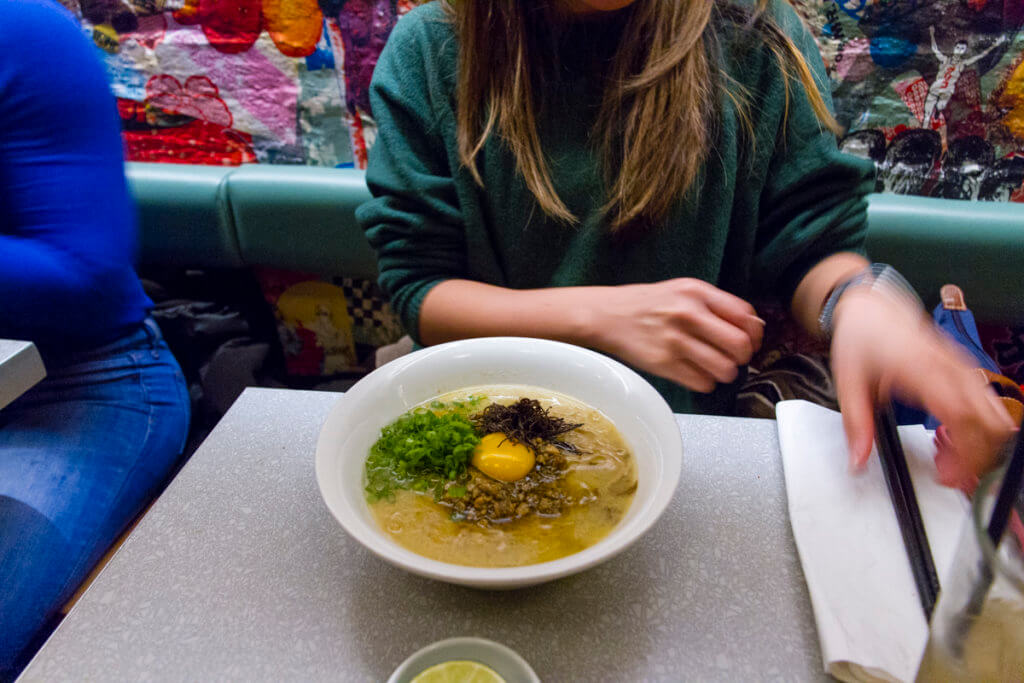 Paitan is a rich type of broth, and this one was no exception.  The bowl included minced chicken, and egg yolk, and shio kombu.  I didn't try any of her ramen, but the wife was very pleased with her order.
Final Thoughts
I was a little apprehensive going into Ivan Ramen New York, even though I knew it was some place I wanted to try.  Yelp reviews were fairly mixed, but I thought the ramen was good.  The noodles were a little softer than I would have liked, but not enough to be a deal killer.  Prices are a little high, but for the most part, I thought it was worth it.
A Big Apple Holiday Adventure
Review: Ivan Ramen New York