In 2013, we visited our first Eataly in Rome. We loved dining and shopping at that location. So, since we were right next to one while staying at the Aria Resort, we decided to check out Eataly Las Vegas.
Opening in December 2018, Eataly Las Vegas is one of the Monticello d'Alba-based chain's newest U.S. locations. I wanted to visit during my 2019 Las Vegas trip, but a nasty bout of food poisoning prevented me from doing so. So, this past trip ended up being my first opportunity to visit the Italian grocer's Sin City location.
Eataly Las Vegas Location
In Las Vegas, Eataly is in a casino. Specifically, you'll find Eataly at the Park MGM. This was convenient for us because we could walk from the Aria Resort. In fact, there's an indoor walkway to the Park MGM near Aria's self-parking garage. This is also where you'll find the tram station shared by the two resorts. So, yeah. Definitely walk here, and don't try to take the tram from Crystals – it's a waste of time!
It's worth noting that Eataly Las Vegas is more of a food hall than anything else. This makes sense since it's inside a casino. But, if you were coming here hoping to snag some great Italian groceries, you'll be sorely disappointed. They do have some grocery items, but it's a small selection of shelf-stable items only.
Shopping at Eataly Las Vegas
Our primary shopping goal for Eataly Las Vegas was to snag some Venchi chocolates. The Mrs. and I both enjoy Venchi's classic combination of premium chocolates and hazelnut but hadn't really had any since our trip to Europe eight years ago. Luckily, this outpost of Eataly didn't disappoint, as it features a large selection of Venchi's chocolates. You'll find this area on the lower level next to the street entrance.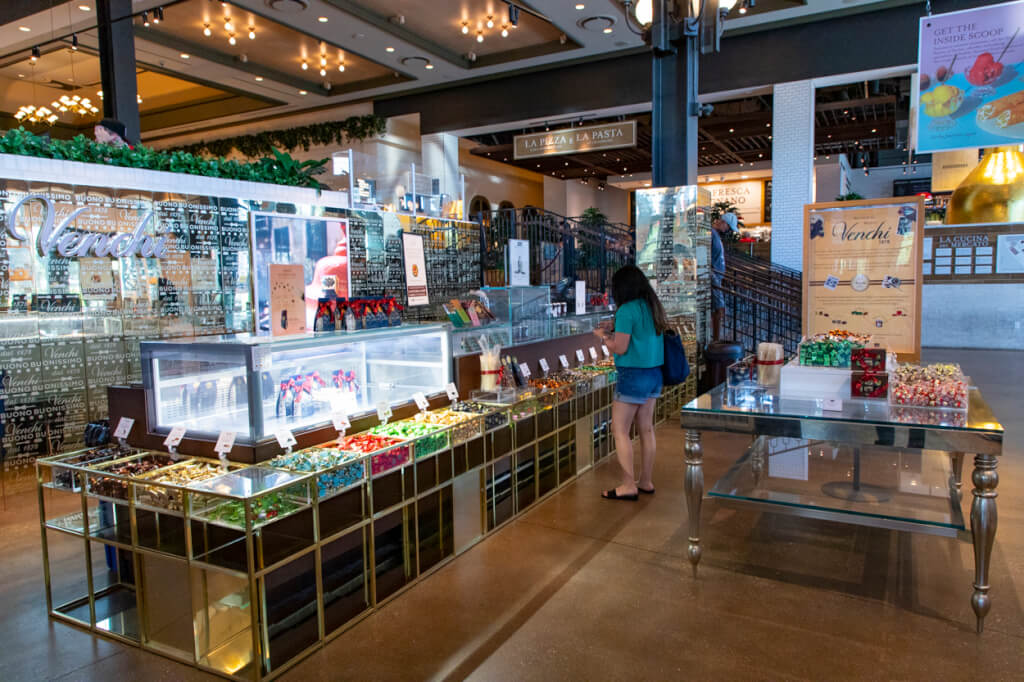 Next to the Venchi display is what amounts to the grocery section of Eataly Las Vegas. As you can see, there isn't much here. As I said earlier, there isn't much here. It's primarily snacks, pantry items, wines, and totes. There's a small chilled section, but nothing like you'd find at their other stores. The focus here is, obviously, hotel guests and not residents.
Eataly Las Vegas Food Hall
Virtually the entire place is a food hall. In fact, grocery purchases are made at the pastry and coffee shop rather than at a dedicated checkout stand. That said, Eataly's upper level, which takes up the majority of its space, is dedicated entirely to a mix of take-out stalls, bars, and sit-down restaurants.
La Pizza e La Pasta
While we were visiting, we decided to check out La Pizza e La Pasta. I primarily wanted to try this place because of their authentic Napoli pizza. Of course, fresh pasta is always a great excuse to try a place too. Unfortunately, things weren't all that great. For one, the service was not so great, there was zero social distancing (there was, at best, one or two feet between most tables), and the food was pretty mediocre.
To start, we shared a salad of Buratta cheese, peaches, and arugula. Given that we were still in peach season, I wasn't expecting syrupy preserved peaches. But that's precisely what we got. They were also quite stingy with the arugula, added only a tiny drop of olive oil, and didn't provide near enough salt. It's a good concept that was poorly executed.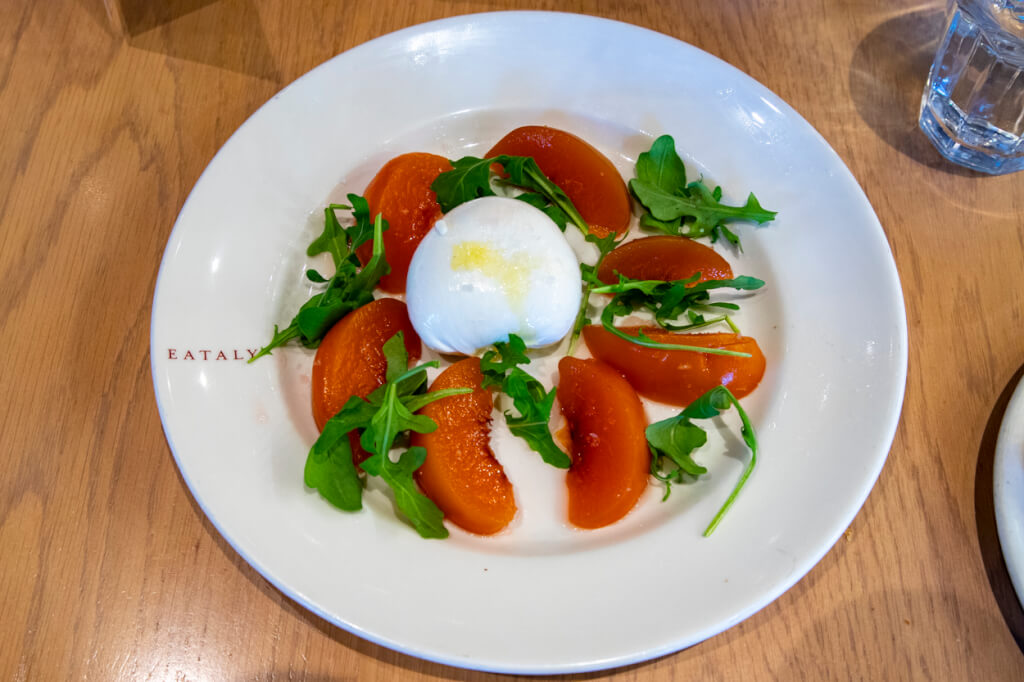 For her main dish, Mrs. Island Miler got the Vesuvio Con Ragu Di Maiale. Basically it's, a dry pasta dish made with volcano-shaped pasta, pork sausage, broccoli rabe, chili flakes, and anchovy breadcrumbs. Now, I know pasta isn't supposed to be served swimming in sauce. But this pasta was quite dry. What's more, there wasn't a ton of flavor outside of the broccoli rabe. Mrs. Island Miler was sorely disappointed.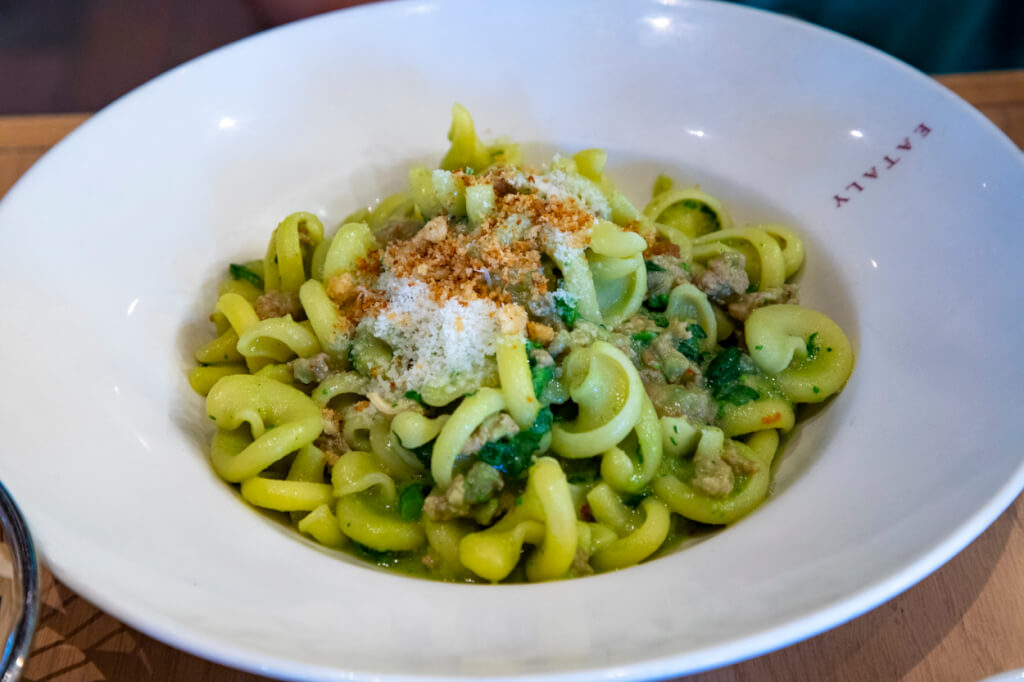 For my main, I went wight the Margherita Pizza. The menu states that they use San Marzano tomatoes, buffalo mozzarella, fresh basil, and extra virgin olive oil. So, um, there were two pieces of basil on the whole pizza. What's more, the buffalo mozzarella lacked the richness you'd expect, while the sauce was rather weak. This was a mediocre pizza overall, falling far short of the similarly priced offering at Pizza Rock.
Final Thoughts
Overall, Eataly Las Vegas was a big disappointment for Mrs. Island Miler and I. The sit-down restaurant was extremely mediocre, while the shopping was extremely limited. While we may drop by again to try some of the stalls and buy more Venchi, visiting definitely isn't a priority for us anymore. In fact, we'll likely never return to the restaurant again. There are far better options in Vegas. Heck, there are better options for pizza and pasta for us back home too!
Vegas + Irvine Trip Report