On our third night in Vegas, our entire family had dinner at Sakana All-You-Can-Eat Sushi. Not only is the sushi all you can eat, but it's also a really inexpensive spot that's popular with both locals and visitors alike.
Typically, I tend to stay away from all-you-can-eat restaurants. Not only can I not eat that much, but I'd rather pay for quality over quantity. But, I can appreciate that some prefer the opposite. That said, I'd never heard of Sakana before and went in without looking into the place at all.
Sakana All-You-Can-Eat Sushi – Location
The Las Vegas Strip is a notoriously expensive place to eat. Typically, when you find all-you-can-eat places along the strip, they come in the form of over-the-top buffets. Cheaper places, though, are all off the Strip. In this case, Sakana is in a strip mall near the University of Nevada Las Vegas. That's not all that far, though we did encounter a bit of traffic getting out there.
It's worth noting, by the way, that Sakana doesn't accept reservations. What's more, they impose a ninety-minute time limit that begins the minute you sit down. So, if you plan on visiting, plan accordingly. Oh, and, they charge you extra for whatever sushi you order and don't finish.
All-you-can-eat is $21 at lunch and $26 at dinner, though ala carte options are available too.
Service at Sakana
What kind of service do you expect from an all-you-can-eat place? Not great, right? That's certainly the case here. Our server was friendly enough. However, he wasn't proactive and often went missing for large amounts of time. Sure, the place is crazy busy and he was running around a lot. But, I definitely felt that the strategy here was to limit how much you can order by making servers less available. That's not our server's fault, but it's irritating.
As far as the atmosphere goes, it's cramped and noisy. They play music quite loud here so, naturally, everyone else is trying to talk over it. That didn't bother me all that much, but its' something to keep in mind.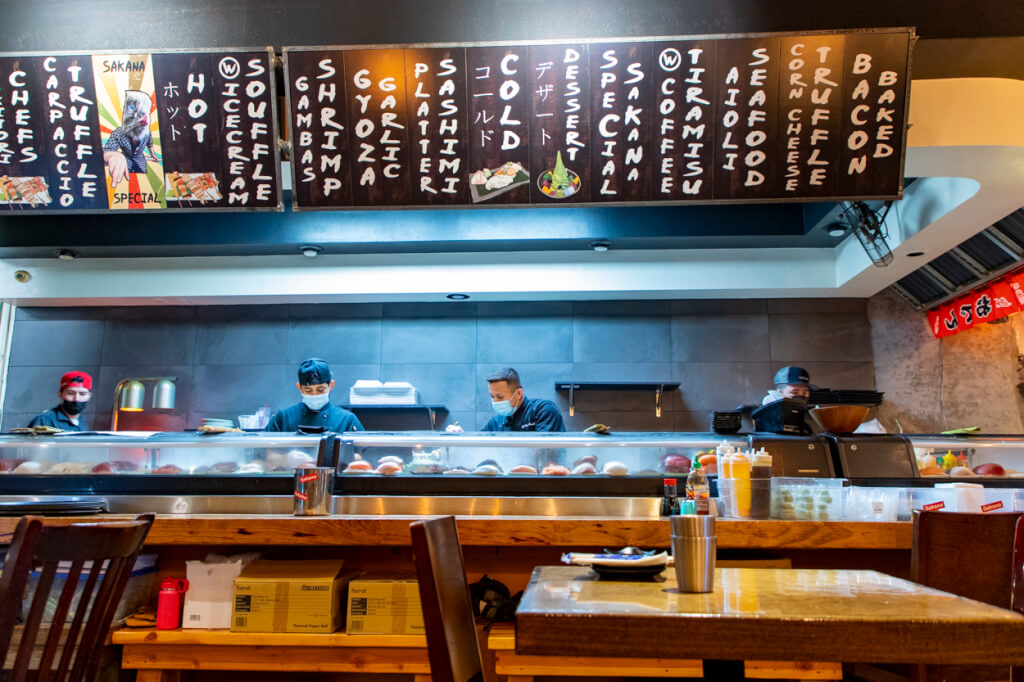 Sakana's Sushi
So how's the food? Not good. Well, at least in my opinion. I ended up ordering two rolls, though I can't remember what they were. Not that it matters since most of the rolls we ordered were heavy and tasted strongly of mayonnaise. The sauces were often cloyingly sweet and gloppy too. But, if items weren't smothered in mayo or sugar, they were often seasoned with lemon, which I find odd. This leads me to believe that Sakana doesn't cater to people that actually like sushi – at least not authentic sushi. A lot of what goes onto the sushi covers the actual flavor of the fish, which itself is pretty substandard. The rice also leaves much to be desired as it's on the mushier side and doesn't seem like much care is put into it.
Sakana All-You-Can-Eat Sushi
I think my entire family agreed that Sakana isn't someplace we'd return to. You can tell the restaurant is set up to try to make as much as they can off of you (not surprising), while the quality isn't good (also not surprising). What bothered me the most how was how heavy and monotonous everything is. Sure, they have a large selection of stuff, but what's the point?
At the end of the day, I like Sakana even less than Genki Sushi in Hawaii. And that's pretty bad.
Vegas + Irvine Trip Report