Last updated on June 23rd, 2023 at 01:11 pm

All of our reviews are based on exhaustive research, industry experience and whenever possible, hands-on testing. When you make a purchase using one of our chosen links we'll receive a small percentage of the proceeds. This supports the site and keeps Jeffsetter running. You can read more here.
Finding a good RV bathroom is harder than you think, for multiple reasons. The layouts are often cramped, the amenities can be sparse, and there's never enough hot water.
If you're in the market for a Class C RV but are looking for the best of the best bathrooms to go along with it, this is a good place to start. I've compiled a great list of rigs for you to consider, all with bathrooms to write home about!
But what else should you consider before you make your final purchase?
Let's take a look.
What Are Class C Bathrooms Like?
If you're brand new to your RV buying journey, you may be wondering what a Class C RV even is, and why it might benefit you, let alone what the bathrooms might be like.
There are many different varieties of rigs on the market: travel trailers, fifth wheels, Class A, B, and C motorhomes… And all of them have their own pluses and minuses when it comes to a bathroom. Where do you even begin!?
Thankfully, a Class C RV is easy enough to understand, and is known as being a very versatile type of rig! Class C RVs are the in-between size motorcoach, Class A being the largest and Class B being more campervan sized. Class Cs have a couple of other great perks to them besides their length!
While Class C RVs range in length from 20-40 feet, these motorhomes are often built on a sturdy and maneuverable truck or van chassis. While my example length of these rigs may seem like a huge range, it's the above-the-cab bunk that ultimately determines the class of this motorhome.
Because these rigs have such flexibility and popularity among campers, you will find a wide variety of bathrooms in Class Cs. There are full wet baths, full dry baths, and layouts where the showers are in a separate area entirely. There are pros and cons to every option, and we'll go over them in a little bit.
Class C RVs are very popular options for campers, usually allowing enough space for everyone to feel comfortable without the added stress of towing or driving a buslike Class A rig around. They are just the right size for most of the population and cheaper than many other rigs including the smaller Class B's! As an added bonus, the bathrooms are usually great too!
What Are The Pros And Cons Of Class C RV Bathrooms?
We've already mentioned a few of the pros surrounding a Class C RV. But what about their bathrooms? Let's check out some more positives as well as some potential negatives before we get to our comprehensive list of Class C bathrooms!
Pro: Ideal-Sized Bathrooms
As I've already mentioned, Class Cs can really be the perfect-sized rig for a great number of campers. This extends to the bathrooms, as they are an important part of any Class C. Given the huge length range, there's no doubt that you can find a bathroom that's the right size for you!
Con: The Bathroom Layouts Aren't Exciting
This could be considered a con for a lot of RVs, but I do find that Class Cs often fall under the spell of a very basic bathroom layout. I can't fault the designers very much since they all have the same basic footprint to work with, but I wish that Class Cs could wow me as some travel trailer designs can!
Pro: Most Class C RVs Have Bathrooms
While this is obviously the reason you're here (and some bathrooms are better than others!), the great news about Class Cs is that the majority of layouts account for a bathroom. Living full-time on the road, I know I couldn't deal without having a bathroom, so this is good news around, especially if you've looked at smaller travel trailers and been disappointed!
Con: Most Class C Bathrooms Are Wet Baths
You may be hoping for a proper dry bath in your Class C, but typically there just isn't enough space to separate everything. Wet baths are common in Class C rigs, and may not be your first choice when it comes to an RV bathroom.
Pro: There Are Separate Shower Layout Options
If you're hoping to hit the road with family or friends it can be hard for everyone to get ready in the mornings. Having a separate shower layout option is great so you can have a sink and toilet free while others can crack on and shower without interfering!
What Are Good Brands Of Class C RV Bathrooms?
While there are more brands of RVs now than ever before, it's important to know what names have been better received. If brand loyalty or certain names are important to you before making your final decision, here are some of the well-received makers of Class C RVs, and some of the brands that have stand-out bathrooms!
Forest River
Forest River is well regarded in the RV world and has been for decades. They make a great variety of rigs, from fifth wheels to Class Cs, so definitely keep them on your shortlist! They have many layouts and locations for their Class C bathrooms too, which is a great perk.
Winnebago
Who hasn't heard of Winnebago? Known for its affordability and overall customer service, Winnebago keeps wowing RVers with its innovations, usually for a good price. Their bathrooms generally try to keep families and larger groups in mind, affording more privacy.
Jayco
Much like Forest River, Jayco has been talked about among RVers for some time. This brand seems to often focus on durability, advertising special sturdy RV frames. They use a lot of custom woodworking that extends to their bathroom counters!
Coachmen
Coachmen is another classic RV brand with a focus on family-friendly layouts. They use their space wisely more often than not and are a well-known brand. While their bathrooms may be simple, they have many dry bath options.
Thor
You may not have heard of Thor brand motorhomes yet, but they are popular! Known for being budget-friendly like Winnebago, Thor is proving to be another reliable brand in the RV world. They are great for families, especially their bathroom layouts!
What Should I Consider In A Class C RV Bathroom?
I know there's been an awful lot to consider already, but what more should you consider in a Class C RV, and particularly a Class C RV bathroom, before you make your final purchase? Here are some helpful tips and mentions for you before you check out our list of rigs!
Length Of Your Class C = More Bathroom Space
While all Class Cs are built on a truck or van chassis, length is an important consideration for you while you're shopping around for a good Class C bathroom. The length of your Class C makes a difference in your overall bathroom space and layout, and you may not want to drive around something too big for too long.
The main thing for you to consider when it comes to length in Class Cs is the same thing you have to consider for any longer rig: where are you planning on taking it? Many campgrounds and campsites have length limits; some RV parks do too.
If you're planning on hitting the road with few plans, I always think it's smart to be on the side of caution when it comes to the length of your rig. The last thing you need is to pull into a campground that can't accommodate the length of your Class C! However, most locations can handle 20-30 foot rigs.
If you're more concerned about having enough interior space, especially in your Class C bathroom, don't worry about the overall length of your rig. Go for what layout suits you best. However, just know you may not fit everywhere, and maneuvering in cities or towns is always tougher the longer your rig is!
Floor Plans And Bathroom Placement
While Class C layouts and floor plans aren't reinventing the RV wheel here, your overall floor plan should be a huge consideration for you. Are you looking for a Class C for full timing, or are you looking for a family-friendly rig with multiple bed options?
Your floor plan will affect the bathroom placement in your rig. For example, some Class Cs put the bathroom inside the one and only bedroom, which means your kids could be entering your room at night while you sleep to use the bathroom. However, some floor plans have two doors leading into the bathroom, so this is something to keep an eye out for.
There are also bathroom floor plan locations at the back of some Class Cs, while other floor plans have the bathrooms along the side of the rig. Some bathrooms may be a step up, which could mean trouble for any older RV guests. This is something to consider in terms of accessibility.
It may be tough to determine your needs right away, so I always recommend touring many different options if you're able. At the very least, look at a rig's various floor plans on the company's website so you can see all of the possibilities. They even have 360-degree video tours now so you can get a true feel for what every corner of the RV is like!
Obviously, you'll be looking for a rig with a bathroom in the floor plan, but there are other factors to keep an eye out for. Storage solutions, additional beds, seating arrangements, and kitchen layout are all important, especially if you're looking to spend a significant amount of time on the road. Think about what your priorities are, and you'll no doubt find something that works for you!
Budget
It goes without saying, but choosing a rig that fits your budget is important – living on the road full-time still has costs involved! It's easier than you think to go over budget while you're shopping for a rig, usually due to adding on non-standard features. Class Cs are a very popular rig these days due to their versatility and ease of driving.
However, this has caused a bit of a rise in the cost of Class Cs, and the range is pretty wide depending on what you're looking for. Class Cs can cost between $60,000 to upwards of $300,000! There are a lot of factors to consider before making your final purchase, but most Class C owners end up spending an average of $150,000.
Most of the time, your overall rig budget will not affect your Class C bathroom all that much. Most bathrooms come with fairly standard features, so I would focus on budgeting for other RV upgrades!
Towing Ability & Overall Weight
While Class C rigs are great because you don't have to tow them like travel trailers, you may have the desire to tow a regular car with your Class C. Depending on the model, many Class C rigs can tow the average small car, and potentially more!
While it often requires an additional purchase of a specialized hitch, most Class C RVs can tow your car so you don't have to worry about driving your rig everywhere while you're camping. It's something to consider, especially if you would like to leave your rig at camp and see the sights in a more maneuverable vehicle.
The only thing to keep in mind is how heavy your conventional car is, and what the towing capacity is on the Class C you're considering. You never want to tow something heavier than your Class C RVs towing capacity, but thankfully these numbers are readily available from your rig's manufacturer.
Your Class C bathroom shouldn't affect your towing ability in any way, though keep in mind the overall weight of your rig should you choose to travel with full water tanks!
Fuel Type
While this may not be a factor for you right away (and of course does not affect your bathroom choice), fuel type is a big consideration for many RVers, especially full-timers. Class C RVs are built with either a gas or diesel fuel system, and the two fuel types are hotly debated. While the interiors and features on these two types of rigs don't vary much, the fuel efficiency will.
Diesel Class Cs are usually preferred by full-timers because of their long-term fuel efficiency and overall lower cost. Diesel rigs are pricier up front more often than not, but because of this they usually have more luxury features. You may enjoy the bathrooms more on diesel rigs because of this.
Gas rigs are more common, and they'll do the trick, especially if you don't plan on using your RV regularly. The price point is usually more reasonable, but there's no way these gas guzzlers will be cheaper in the long term. Definitely, an important consideration for you to make!
Standard Features vs Upgrades
As I've already mentioned, the basic, listed cost of a Class C is not usually what you will end up paying when you drive it off of the lot. Upgrades are all the rage when you're RV shopping, and things such as solar capabilities, heated water tanks, nicer interiors, and much more don't usually come standard.
In terms of Class C bathrooms, I have mentioned that most will not have applicable upgrades. However, choosing a rig with on-demand hot water may be an available upgrade some RVers consider a necessity.
Other bathroom upgrades could include a vent fan able to assist with moisture in your bathroom, as well as bathroom skylights, full dry baths, and even heated floors. You'll want to check with your rig's manufacturer on most of these upgrades, as they are not always readily available.
While many people are satisfied with Class C standard features, you may want to make a list of non-standard features you're hoping for and try to determine what this might cost with a dealership. Of course, every make and model has different standard features, so your final cost and choices will vary. But it's an important consideration no matter what!
The Best Class C RV Bathrooms
Feeling confident in what you're hoping for when it comes to a new Class C RV? Fantastic! We've got a list of winners for you, chosen based on their awesome bathrooms, plus much more. Do you know your wants, your needs, and your budget? Great! Let's jump right in.
Taking our best overall spot is the Coachmen Prism Select 2023 24CBS, a wonderful Class C rig to check out, and you'll soon see why. Built on a classic Mercedes Sprinter Van chassis, this rig is ready to hit the road with lane and brake assist technology. What else makes this rig great? Let's read on, and you may consider this best overall Class C for your own camping trips!
The Prism is a luxurious, easy-to-drive, multi-use touring vehicle that provides unique styling and amenities which is important for me as not all RVs are pleasing to the eye! From the interior's thermofoil countertops and versatile interior storage to the exterior's industry-leading storage space, this is a Class C RV ready to take on adventures.
The large sliding windows are a standout feature in my eyes, as nothing is better than letting a fresh breeze circulate through the RV first thing in the morning. With a full-size bed for comfortable sleeping, an overhead bunk, and a cozy dinette area, this Coachmen is fit to carry a few RVers on board, ideal for when the kids want to come along too!
There are four different floorplans available with the Prism Select, but I've chosen to focus on the 24CBS as it is a relatively simple layout that still packs a punch. Now, the part you've all been waiting for – what's the bathroom like in this Coachmen rig?
Well, for starters, it's pretty sizeable, which from experience, I can tell you is a rare thing with RV bathrooms! The spacious bathroom includes an enclosed shower, toilet, and sink, but what I REALLY admire about this bathroom, is the fact that the sink and mirror are tucked away from the toilet and shower, so everything can be used without interfering with one another.
It's features like this that make the Coachmen Prism ideal for couples, or even small families traveling on the road as the rig is roomy so no one will be on top of one another! The main bedroom has a privacy curtain able to be drawn when it's time to hit the sack, which is nice to see as lots of RVs lack privacy. I love to cook in my rig, so I'm always on the lookout for rigs with awesome kitchen spaces, and this RV doesn't disappoint!
With a large fridge, intimate dinette, stovetop, conventional oven, and substantial sink, this rig is perfect for both recreational purposes and full-time living. I like to think of myself as a bit of an RV chef, so ideally, I would like a bit more countertop space! However, there is an insert for the sink which instantly creates another section of prep area to make things easier.
Overall, this Class C RV doesn't really miss a mark. There's cruise control for long journeys, optional stabilizers and leveling jacks, an AC system, and built-in day and night shades, all in a 24′ 11″ RV.
Check out more features of the Coachmen Prism Select 2023 24CBS by clicking here.
Space isn't an issue with the Forester Classic by Forest River, and the 2861DS floorplan is the option I'll be focussing on today. As I mentioned earlier, Class C RVs can vary quite a lot in size, and this rig is a beasty Class C, with a total exterior length of 30′ 9″. As I like going off-grid and parking in remote spots in the wilderness, I think the overall length is a bit too big for me! However, this rig is an ideal fit for small families or couples and confident drivers who can handle the substantial size of this RV.
The Forester Classic 2861DS is built on a Ford chassis with aluminum laminated sidewalls, SuperLite composite substrate, block foam insulation, and a fiberglass roof. All of these features enhance the overall durability of this rig, and since RVs are quite an investment, I want a camper to last for a long time! The impressive exterior features continue with a convenient slide-out awning, outdoor shower, and an external kitchen.
When I'm camping in my RV, I like to spend as much time as possible immersed in nature, so having exterior features like these help with this significantly. The tinted sliding windows throughout are also a game-changer in my eyes. Although seeing magnificent views when out on the road is awesome, I do like the option of closing everything down, having some privacy, and getting cozy with the 30,000 BTU furnace on!
But what about the bathroom in this big Class C RV? Well, for starters, the shower is separate from the toilet and sink. This isn't a common find across all the different types of RVs and means the shower can be used without stopping people use the toilet or sink. This is brilliant for those not traveling solo, as a queue for the loo isn't my idea of a relaxing start to the day!
While there are perks to every individual floor plan option, all of the Forester Classic Class Cs come with a 12-month warranty as well as a chassis warranty from Forest River. Solar is an option on all of the models, as well as digital antennas. Some can even come with a generator, both for gas or diesel, which may appeal to those hoping to camp off-grid!
Explore more of the Forester Classic by Forest River, and the 2861DS floorplan by clicking here.
Shopping for a Class C can feel daunting, especially when on a budget, but there are more pocket-friendly options out there. if your budget is at the front of your mind. Helpful as ever, the Winnebago company has made a more budget-friendly Class C rig called the Spirit, and it's full of outstanding features and floor plans!
With a Ford chassis and included hitch, the Spirit is ready for all the adventures I can think of. I like that this rig is supported by a Winnebago warranty as it means there's someone I can call if something goes wrong with the rig not long after it's purchased. The Spirit includes a 12-month/15,000-mile basic limited warranty, a 36-month/36,000-mile limited warranty on the structure, and 10-year limited parts and labor warranty on the roof skin.
With six floorplans to choose from, Winnebago's industry-leading innovation meets RV creativity in this Class C model. Inside, there's plenty of space for the whole family and gear so there's no need to cut down on belongings. Select from three Winnebago Design Studio-inspired transitional décor options for a contemporary or cozy cabin look that's a bit closer to my desired style.
Ideal for families of all shapes and sizes, each of the Spirit's six available floorplans includes a rear bedroom, cab-over bunk, bunk beds (31H), and sofa/bed (NA 22M, 22R) – so there's a configuration to fit every RVer's needs. What was once considered above and beyond now comes standard: I can enjoy a second coach battery, 1,000W inverter, powered patio awning, radio/rearview monitor system, and more.
For the most part, the bathroom situation in the Spirit is the same, except for the 31K which has a separate shower and toilet. The slideout in the bedroom helps create a substantial amount of space for a generous bathroom that's kitted out with a shower, toilet, and sink. There's a decent amount of floor space in the bathroom which I love, as nothing frustrates me more than feeling cramped in the shower!
The only downside of this rig for me is that all of the Winnebago Spirit floorplans only have a 6-gallon hot water heater and a fairly low BTU A/C unit. However, this is arguably one of the reasons this rig is more of a budget-friendly option than some of the other Class Cs on our list, with prices starting at $139,912.
Take a look at the available floorplans and more from the Winnebago Spirit by clicking here.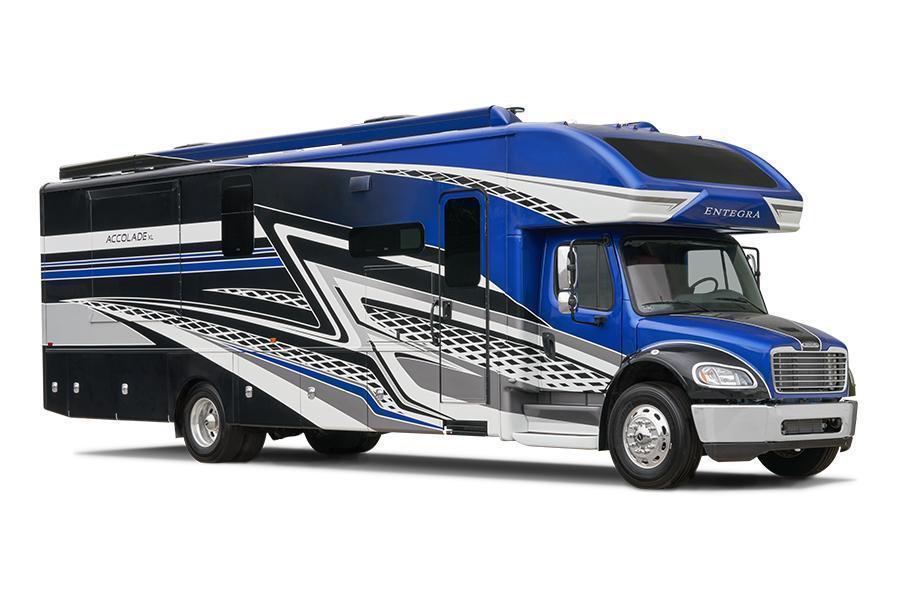 The most recent addition to the Entegra Coach Class C lineup, the Accolade XL is full of luxurious and innovative standard features. This rig is perfect for full-timers able to handle driving around a larger rig, as it has an overall exterior length of 39′ 4″! However, I think the extra space is worth it, and I know my partner and I would feel like we were in a castle when I compare the Accolade XL to our small travel trailer!
Built on a Freightliner S2RV chassis, the Accolade XL Super C is equipped with the E-Z Drive Premier package providing a superior ride and handling experience travelers have come to expect from Entegra Coach. Among other impressive features, the 2024 Accolade XL has TuffShell vacuum-bond laminated sidewalls, a fiberglass roof, and a vacuum-bonded laminated floor. All of these components give me the peace of mind that this rig is built to last and is worth the substantial investment.
Complete with an Onan 8,000W diesel generator, an Aqua-Hot 250D hydronic water and heating system, a winterization drain system, and a dual 15,000 BTU AC unit, this rig is fit for full-timers traveling through a variety of climates! Entegra doesn't skimp on their warranties either; this rig comes with a 2-year standard limited warranty as well as a 3-year structural warranty which goes to show how well-built this rig is.
Unlike some of the other rigs on our list that have multiple floorplans available, the Accolade XL only has three options. This means there are fewer options to tailor for exactly what each RVer needs, but since the Accolade is brimming with luxury, high-end features, and components, I can't imagine wanting anything more! Each Accolade floorplan includes a spacious bathroom with a large shower, sink, and toilet, as shown in the detailed walk-through video below:
For families, however, I would recommend the 37K option as the bedroom has a sizable en-suite with a full shower, toilet, and sink. Opposite the reclining sofa and neighboring the kitchen is another bathroom! The second bathroom only contains a toilet and sink, but having an additional restroom on board is a game-changer and means zero queues throughout the day for the toilet, no matter how many people are on vacation!
While this rig is indeed as pricey as it sounds, it's a great option for living full-time on the road. The layout is ideal for full-time living, complete with wardrobes, a pantry, and more so you won't be missing home comforts one bit as this RV already has them all!
Explore more from the 2024 Accolade XL by clicking here.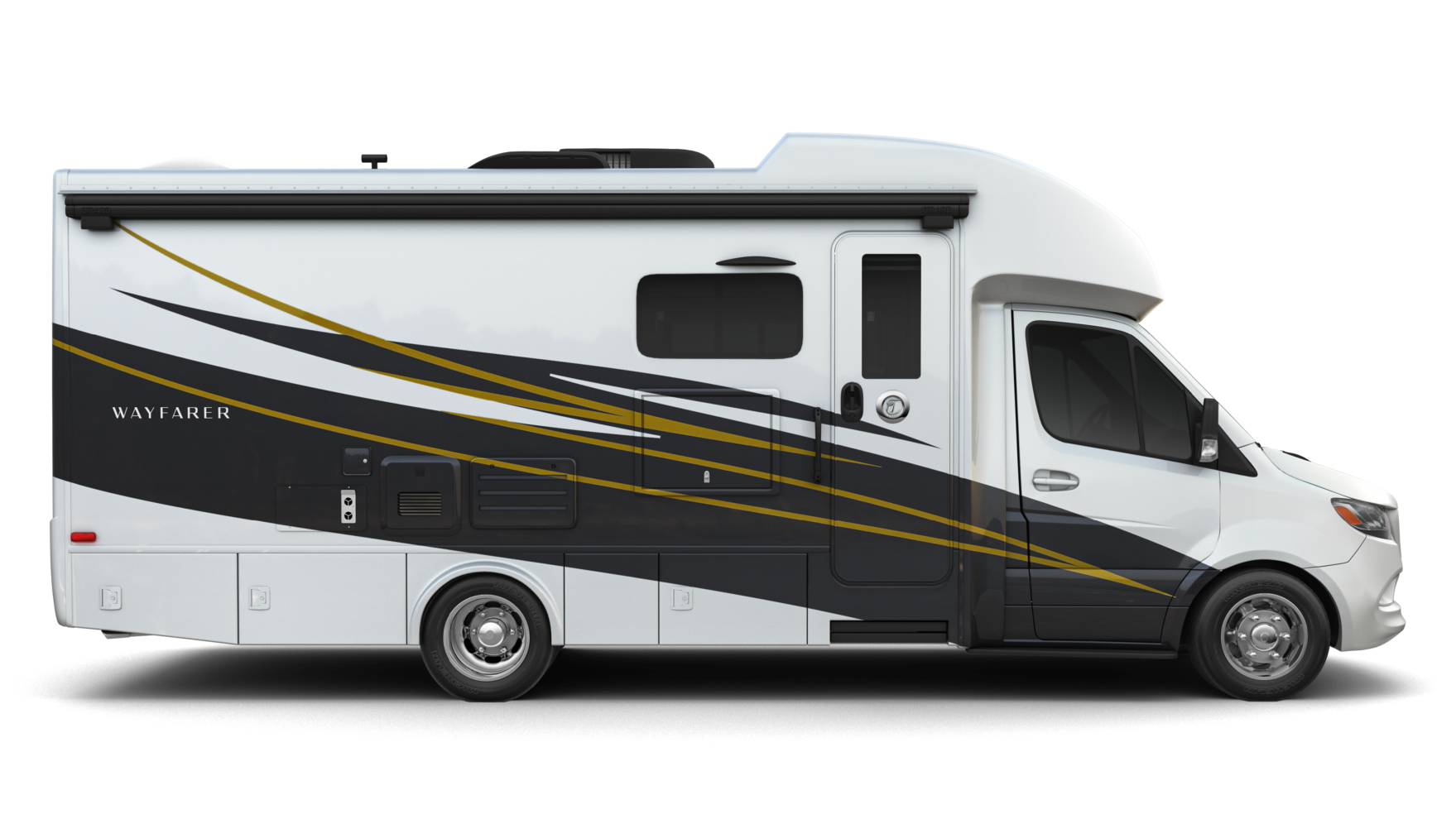 There are countless benefits to owning an RV that has a separate shower from the sink and toilet, and the Tiffin Wayfarer is a great place to start. Not all floorplans have a separate bathroom layout, but the 25TW has a sizeable enclosed shower opposite a toilet and sink. This means ultimate privacy, but also allows for both areas to be used at the same time without any hassle – this is what my partner and I need!
Built on the infamous Mercedes Benz 3500XD cutaway chassis and boasting a 3L, 188 BHP engine, I trust this RV to power me around the country whilst remaining tasteful and luxurious. I like that I'm safe with this chassis; as it has attention assist, high beam assist, a hydraulic leveling system, and SumoSprings ride assist. Sometimes, driving substantial-sized rigs can be a bit nerve-wracking, but these features help to keep things running smoothly on the road.
The all-new Wayfarer offers more of everything I want in a Class C, along with the elegant styling and amenities synonymous with Tiffin. Designed inside and out with every RVer's needs in mind, it features a spacious interior, industry-standard safety features, and high-performance handling with the Mercedes-Benz chassis. Plus, the Wayfarer's standout style gets a striking boost, thanks to its all-new redesigned look that I feel separates it from the 'standard RV aesthetic'.
An instant hot water heater is just the beginning of the great features of this rig. This Wayfarer has 4 available interior decor options, handcrafted wood cabinetry, and solid countertops in both the kitchen and bathroom. It's features like these that can really transform an RV interior, making it feel warm and cozy. Along with an exterior patio light, there's a powered awning with LED lights and built-in speakers, so I can get the family around and have a get-together outside!
A unique offer from Tiffin is the sheer volume of decor options available, along with exterior paint which could save you money in the future as you won't have to paint your own rig. While this rig does indeed feel and look luxurious, it won't break the bank from the off, although the many additional options may quickly pile up and spill over budget!
Overall, this rig is a fan favorite, especially as a diesel-powered Class C option, and the separate bathrooms are sure to keep squabbles to a minimum and luxury to the max!
Learn more about the Wayfarer Tiffin by clicking here.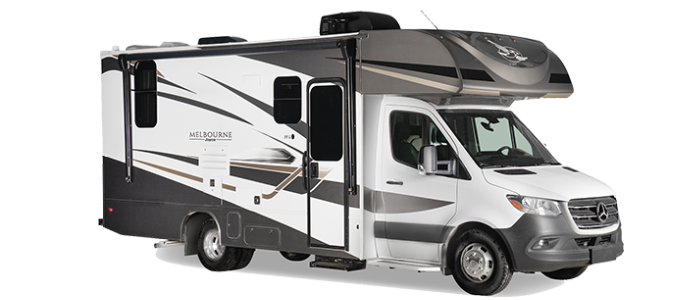 If the Tiffin diesel option was an enticing one, the 2023 Jayco Melbourne 24L might be an even better diesel pick. Power, sophistication, comfort, and functionality are top priorities in this smaller Class C diesel motorhome that's ideal for couples or small families. The ever-popular Mercedes Benz chassis accompanies the style and comfort of Jayco's interior on this rig, and the floorplans make this rig versatile for many families, although there are only 3 options.
Jayco boasts an overhead bunk with a 750-pound weight capacity, making it one of the highest in the industry. Something I love about the 24L floorplan is the fact I'm able to fully walk around the queen bed! You may be wondering why I'm so excited by this, but space is very limited in my compact trailer, and changing the bed sheets is a nightmare. But thankfully this isn't an issue with this rig!
Jayco has been a huge name in the RV world for a long time, and I believe it's for a good reason. They build their RVs to handle every adventure, which is why they can offer an industry-leading 2-year limited warranty plus a 3-year structural warranty. Their dedicated production team includes Amish craftsmen who build with well-honed woodworking skills passed down for generations. They make sure to take the extra steps to build high-quality products that are durable and use the most advanced construction techniques.
Well-built both inside and out, the standard features on this rig just keep coming. With keyless entry, heated holding tanks, frameless windows, and a power skylight in the living room, Jayco provides ample high-quality standard features with the Melbourne. I like the large wardrobes so all of my clothes can have a designated space, and there's a dreamy skylight in the shower, as well as an additional vent fan for moisture protection.
The bathroom isn't the biggest on the market, but it's enough to fit a shower, toilet, and sink, although there might be a bit of a wait first thing in the morning! What else can be said about this versatile and affordable diesel rig? It comes at a fair price and includes valuable features for both the weekend warrior and the full-timer, such as solar prep.
Safety is paramount for me in various aspects of my life, including my RV. Therefore, I appreciate the thought from Jayco of installing seatbelts on all of the appointed seating areas through the rig. This is ideal for when the whole family is on board, but can also come in handy to strap down additional equipment or kit.
Get to know the 2023 Jayco Melbourne 24L better by clicking here.
I don't like putting appearance on the back burner with RVs, and I like the rig I travel in to represent some of my personality and style! That's why the Wonder Travel Van from Leisure wins our 'most stylish' category. A game-changer from the chassis up, this all-new Class C is packed with smart space solutions combing superior design with innovative functionality, giving me the freedom to go wherever my wanders may take me whilst I crunch miles on the road.
A powerful 3.5-L EcoBoost V6 gas engine and Leisure's first-ever offering of optional intelligent all-wheel-drive open up new possibilities to Wonder drivers. Features such as advanced driver-assist technology, auto start-stop, and electric power-assisted steering make driving the Wonder a pleasure.
The new Ford Transit also includes many notable safety features, including Forward Collision Warning, Pre-Collision Assist with Automatic Emergency Braking, Post-Collison Braking, Lane-Keeping System, Side Wind Stabilization, and much more so I can feel assured I'm safe and secure on the road. While there are a few floor plans available from Leisure, I like the Murphy bed layout, which allows for much more space and a classy interior design.
Entertainment on the open road just reached a new level, with oversized chairs that switch from dinette to TV mode so my partner and I can enjoy shows and movies on the hidden 40″ LED TV, soundbar, and subwoofer. At night, we can curl up with a good book or gaze at the stars above through the landscape transom window above the 65″ × 75″ Murphy bed.
The Wonder's stylish interior is matched by its sleek exterior body featuring contoured sidewalls, a fiberglass flex roof, and aerodynamic, integrated front and rear fiberglass caps. It's also available in eight stunning exterior colors which I enjoy as I get to choose the color scheme that matches me best. From high-end Ultraleather upholstery to fine fabrics, the Wonder is finished both inside and out with the highest quality materials. With a variety of décor options available, I love that I'm able to customize the Wonder RV to suit my unique style.
This rig is a convenient 24′ 9″ long, packing an awful lot of good into a small footprint. This Class C RV is one of the smaller options on our list, and this does show with the bathroom space. Unlike the very roomy bathroom space in the Entegra, the bathroom in the Wonder is a bit on the cramped side. The shower, toilet, and sink are all in the same room, with the toilet tucked away in the corner which may not be the most comfortable location!
You can check out more of the Wonder Travel Van from Leisure Vans by clicking here.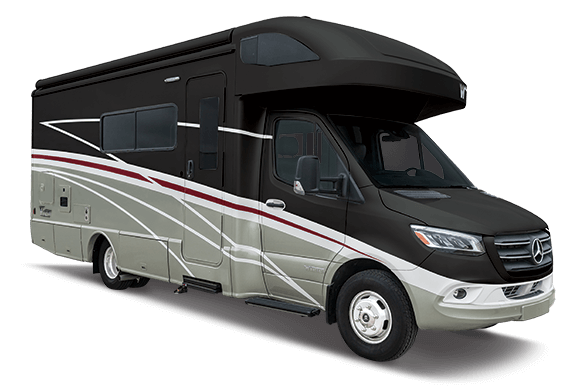 My partner and I live together full-time in our RV with our rescue dog, and although we don't need as much space as families, we don't want to compromise on comfort and style. That's why I've added The Winnebago View 24D to our list, as it's a rig well-suited for a traveling pair on the road! Showcasing boundless freedom combined with upscale comfort, the View is designed to create memories to last a lifetime. With luxurious details and features throughout, the View's industry-leading amenities promise an unparalleled Class C experience.
This diesel-powered Mercedes-Benz Sprinter chassis includes advanced safety features like active brake assist, lane keeping assist, and the MBUX touchscreen infotainment system with an interactive voice interface, navigation, Wi-Fi hotspot, and more. Enhanced features like these prove to me that Winnebago is putting its safety foot forward with its RVs, producing rigs with a perfect blend of functionality and security.
I'm also fond of the fine touches such as the available theater seating and optional entertainment package, plus the innovative LP and induction cooktop, eye-catching curved cabinets, and soft close galley drawers, as it makes me feel like I'm in an apartment, not an RV! The sprung-cushion dinette and sofa seats transform the interior into an upscale living experience that's cozy and comfortable no matter the weather.
Cross-coach storage holds larger items, while the above-bed Anything Keeper storage stows necessities. Roof port wiring access simplifies accessory wiring; available hydraulic jacks with automatic controls ease set-up; and the wide running board with pet loop keeps Fido close by. Although it's typically just my partner and me on board, sometimes we have friends and family visit, and we need somewhere for them to stay over.
Well, the View has this covered with premium thermal and acoustic insulation in their sleeper cab, able to keep my mum nice and snug, even in winter. The off-grid capability of the Winnebago View also caught my eye, as I adore driving away from the city, and into a rugged spot in the trees. The industry-leading holding tanks, standard 200W solar, Group 31 batteries (or available lithium smart batteries), and 2,000W inverter all work to extend a nature escape.
The bathroom in this rig also doesn't disappoint. The View measures a modest 25′ 6″, yet it's able to fit a sizable bathroom, equipped with a large shower, a sink, and a toilet, along with useful wardrobe space ideal for storing towels and additional bedding. The skylight allows moisture to escape, helping prevent mold growth, and there's a useful sliding door for optimum privacy.
All of this is of course backed by the Winnebago name and fantastic warranty: the View includes a 12-month/15,000-mile basic limited warranty, a 36-month/36,000-mile limited warranty on the structure, and a 10-year limited parts and labor warranty on the roof skin. So I'm confident this rig is built to last and can handle many RVing adventures in the future.
Take a look at more features in the Winnebago View 24D by clicking here.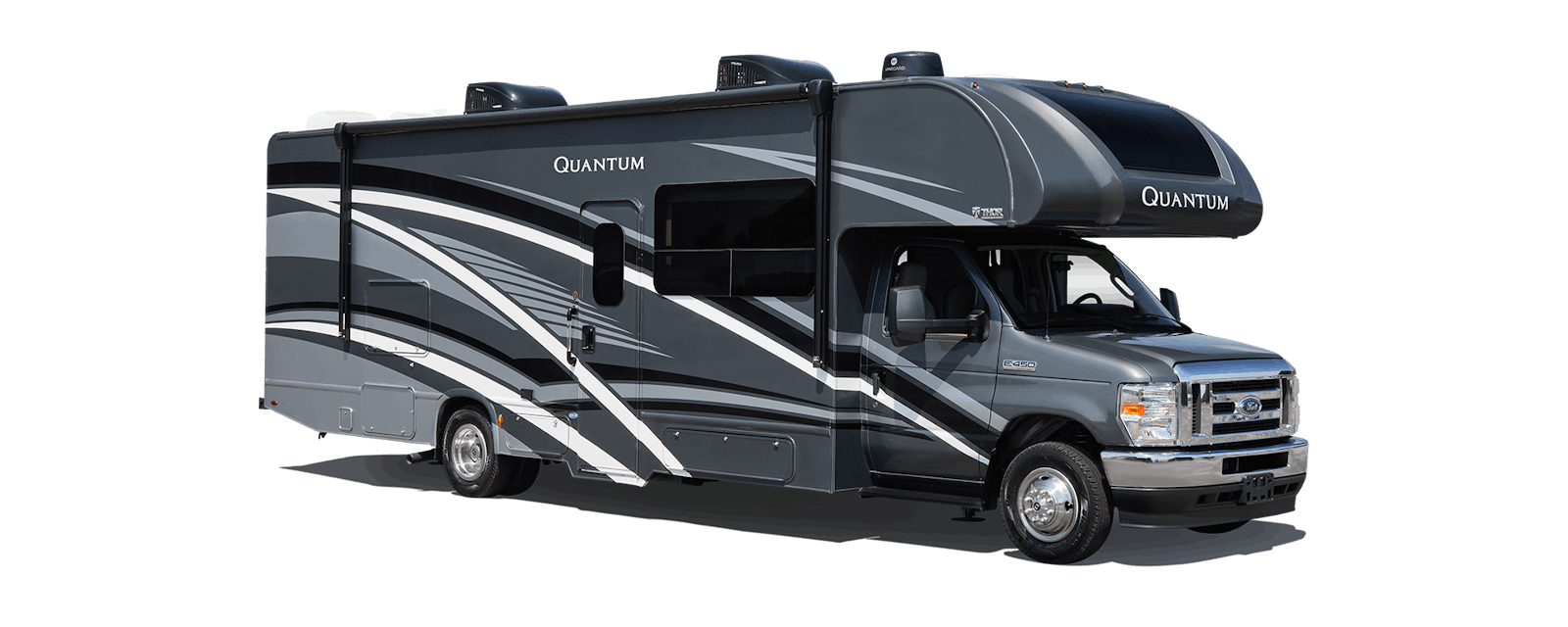 From the blueprint to the real-world thing, the Thor Quantum (specifically the LF31) was built with families and loved ones in mind, and not just solely because of its bunkhouse-style ability to sleep 7. Yep, I'm not joking – seven people! What else makes this rig great besides the space? A whole lot.
A popular choice among families looking to live out their dreams, Quantum comes standard on a Ford E-Series chassis with an optional Chevrolet chassis on select floor plans. This Class C RV has enough power to tow on the 8,000-pound trailer hitch, so it might be able to tow a small car or similar. The 32′ 8″ Quantum motorhome offers the SmoothTECH ride enhancement which is a game-changer in my eyes.
I tend to spend a considerable amount of time upfront in my rig, traveling across the country, so I need a comfy rig! This system is trusted by ambulances for a careful, smooth ride, so I feel at peace in this Class C camper, as it promises to keep things smooth. Traveling on the highway pavement or taking a turn down a dirt path, Quantum is easy to maneuver too. Unique Quantum floor plans ensure finding the right fit for your family, though the LF31 has fantastic bunk beds for the kiddos.
The versatility and living amenities make this Class C motorhome suitable for full-time living or weekend travel. Bunk beds and washer and dryer prep are perfect for families and are available on select floor plans, so I think it's well worth exploring all of the available options with the View. Thor Quantums are homes-on-wheels with seating and sleeping options, a fully-equipped kitchen, and a bathroom, packed into a relatively modest-sized RV.
One item everyone wants in a Class C motorhome is bathroom space and Quantum has it. The bathroom includes a shower with a skylight, sink, medicine cabinet, countertop space, and a porcelain foot flush toilet for a bit of added luxury on the road. There's even a place to hang my towel and robe! The bathroom isn't the only well-appointed space: depending on the floor plan, Quantum has a queen-size or king-size bed with a power charging center for electronics.
Select models with bunks have tablet holders with charging ports which is awesome for pre-bed reading. The cab-over sleeping area has cup holders and a telescoping bunk ladder for ease of access. I honestly believe this Class C RV is perfect for families of all sizes and will have everyone sleeping soundly!
I'm also a big fan of the exterior, as there's a MEGA-Storage compartment on select floor plans and standard roto cast storage compartments, so I can keep doggy gear like our ramp, and additional equipment away from the interior space.
Find out more about the Thor Quantum LF31 by clicking here.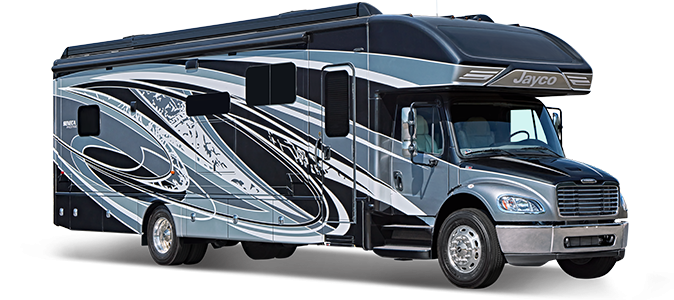 I couldn't leave this 2024 Seneca Prestige 37K by Jayco off our list as it simply has everything I could imagine in a Super Class C RV! For starters, this is an attractive motor, and there are three different paint options so I can choose the color I like best. It's not the cheapest RV on our list, in fact, it may well be the most expensive, but one look at the interior and it's clear to see why.
Before I jump into the interior, though, it's worth exploring the driveability of this rig. It's large, measuring just under 40′, which may be too hefty for some, but it's matched with an advanced ride and handling experience, front and rear suspension, and a 6.7L 360HP diesel engine able to power RVers to pretty much any destination which is what I want to hear!
The impressive features continue with several interior design options, bunk ratings of 750 lbs, and seatbelts in all seating locations, so everyone can get strapped in and stay safe while on the move. Jayco has been in the game for a long time, and it shows with the Seneca. With the ability to sleep up to six individuals thanks to the king bed, bunk, and reclining sofa, my friends and family won't want to return back home after a few nights boondocking in this rig!
The bathroom options in this Class C RV are innovative and functional. Adjoining the bedroom is a large bathroom, one of the largest I've seen in a Class C RV! The shower measures 30″ by 36″ so I don't need to worry about banging and crashing around trying to squeeze into a tiny RV shower space! There's a large sink with additional space on either side, a medicine cabinet, and a toilet.
Guests won't have to interrupt my sleep to get to the main bathroom as there's an enclosed toilet and sink opposite the reclining sofa. Nothing is more frustrating for me than disrupted sleep, so having an additional bathroom space is fantastic! It's difficult to find something to critique with the 2024 Seneca 37K, but I guess it would be even better if the price was a bit lower and the kitchen a little bigger.
The stovetop is a two-burner, which isn't the most convenient when I'm cooking for a large group, but the oven definitely makes things easier and means there are no limits to the recipes I can conquer!
See more from the 2024 Seneca Prestige 37K by Jayco by clicking here.
RVing without a bathroom is a no-go for me. I love spending time out in the wilderness but I want some home comforts on board such as an internal shower, toilet, and sink. The 2023 Renegade RV Valencia 38RB is one of four floorplans of the Renegade, but it's the only layout boasting not one, but two bathrooms!
When family and friends come to visit my partner and me in our RV, it can be a nightmare to share the bathroom with additional people, but this isn't an issue with this Class C. In the 38RB, there's a large bedroom to the rear with a king-size bed, ample storage space, AC, TV, and an adjoining full bathroom. The sizeable corner shower has an above skylight for letting out moisture, and there's also a toilet, sink, and a couple of handy storage areas, ideal for towels, spare bedding, medications, and cosmetics.
The second bathroom is surprisingly roomy and has a toilet with a large corner sink which is perfect for guests staying over. Speaking of guests, there's the ability to sleep 8 people in this rig! Two can fit comfortably in the king bed and another two in the soft-touch sofa that converts into a queen-size bed. Another four visitors can sleep soundly between the bunk and dinette which transforms into yet another sleeping space!
This Renegade RV Valencia is a rig showcasing the very best of innovative design, luxury, and functionality which is exactly what I want from a motorhome. The top-quality maple cabinets, soft furnishings, solid countertops, and stainless steel components give the interior of this RV a sleek aesthetic. I also find the vinyl flooring throughout a great addition as it's easy to clean, even if our dog runs inside with muddy paws or the kiddos spill juice during breakfast!
I always prioritize spending as much time outside in nature as possible, but since I travel year-round, this means facing the joys and challenges various weather conditions bring. The Valencia is equipped with a Girard GG lateral arm electric awning with LED lights which is ideal shade during summer and a shelter for light rain in the winter. There are alternatives to RV awnings, but nothing beats the convenience of having a fixed shelter, ready to be used whenever.
Find out more information about the 2023 Renegade RV Valencia 38RB by clicking here.
Conclusion
Choosing a Class C RV with a good layout and excellent bathroom may be easier than you think. With this comprehensive list of rigs, there's no doubt one is perfect for you and your family. All that's left to do is hit the road!