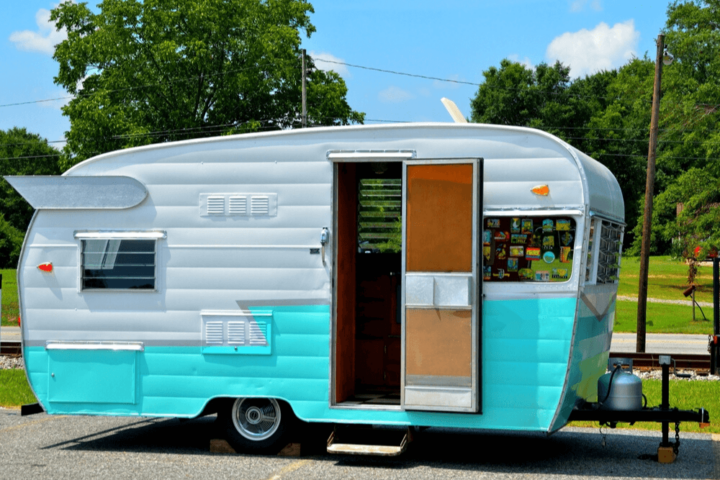 All of our reviews are based on exhaustive research, industry experience and whenever possible, hands-on testing. When you make a purchase using one of our chosen links we'll get a small percentage of the proceeds. This supports the site and keeps Jeffsetter running. You can read more here.
If you are in the market for a travel trailer and don't know where to start, then you've come to the right place. A travel trailer is a great option if you are interested in having added comfort and amenities while you camp. It can be really hard to figure out what to buy though because there are so many options on the market.
The term travel trailer seems to encompass so many different things. They come in different styles and sizes, it's hard to narrow down what is going to be ideal for you.
So, how do you choose the ideal travel trailer Size for you?
The ideal travel trailer size for you will depend on your unique travel situation. Generally, a travel trailer should be under 27 feet in length in order to access more parks and campgrounds. That being said they can come as small as 8 feet long to over 40 feet long and any size in between.
This article will explore all the different sizes available, why size matters and should be taken into your consideration, and how to pick the perfect travel trailer for you.
What Is A Travel Trailer?
Travel trailers are the most common type of RV found on the road. They are also known as bumper pulls and are hitched to your vehicle and towed to campgrounds or parks. They offer sleeping accommodations and usually have at least some type of kitchen. Some people might even choose to live in their travel trailer full-time!
The trailer itself is usually equipped with a living space and amenities. These amenities will differ depending on the exact model you have but usually include sleeping quarters and kitchen space. The larger the model, the more amenities it will likely have. They are great options if you enjoy camping or travel and do not want to have to pay for accommodations.
Travel trailers come in many different shapes and sizes, each with its own set of amenities and qualifications. Because there are so many options on the market, it can be hard to narrow them down to find what's best for you and your needs. We will help make sense of all the different options out there and give you a method to figure out which one is ideal for your situation.
Why Does The Size Of My Travel Trailer Matter?
You might wonder why the size of your travel trailer even matters – you just want the one with the most amenities anyways, right?
Not necessarily. There are a few factors to consider when it comes to the size of the travel trailer that will work best for you. The most amenities might mean the largest and you may not have the space to store that or the capabilities to tow it.
If you tend to go the opposite way and want the most simple one on the market, you may end up stepping on the toes of your partner or your children which won't lead to an ideal vacation for anyone.
The size travel trailer you pick matters for a lot of reasons, let's explore some of them together.
Reason 1: Towing Capacity
You need to ensure that the vehicle you drive has the towing capacity necessary to actually move the trailer from point A to point B. The weight and length of your travel trailer will affect how it moves behind the tow vehicle.
In addition to making sure that it's physically possible to tow, you should make sure that you are comfortable towing it. If you've never towed anything behind your vehicle before, it will take a bit of getting used to and maybe even some practice. The larger the trailer, the more adjustments you will need to make to how you normally drive.
Reason 2: Storage
Ensuring that you have the space to properly store your travel trailer is a must. It's not a small investment to make, and maintenance of your travel trailer is of the utmost importance to get the most bang for your buck over time.
Measure your storage space before making the commitment to a new trailer.
Reason 3: Park Access
Plenty of RV parks and campgrounds will have size restrictions and won't allow you to stay there if your travel trailer is too large. This can become a hassle while traveling and make it difficult for you to find a place to stay.
Before you purchase a travel trailer, do a bit of research about the places you want to stay and visit. That way you can find the campsites in those areas and see what sizes they do and don't allow.
If you want to avoid drama on a road trip, I recommend double-checking these specifications every time you go on a trip so that you don't end up with nowhere to park your travel trailer for the night.
Reason 4: Road Safety
We've all passed signs that notate the maximum height allowed when driving underneath a bridge, overpass, or inside of a garage. Making sure that you are familiar with the size of your travel trailer is necessary to keep from damaging it or the overpass if you don't fit underneath when trying to pass through. Not only is that an embarrassing situation, but it can also be a costly one as well.
Don't forget that weight limits might also apply to your travel trailer depending on the situation!
Reason 5: National Parks
If you are purchasing a travel trailer with the intent of seeing the National Parks, then you should keep the length at or under 25 feet. Most National Parks have a limit to what they allow in their parks which is between 25 and 30 feet in total length.
You will also be likely navigating through roads that are unpaved, narrow, and hard to maneuver through. If the National Parks are on your bucket list, then I would make sure to keep all of this in mind before making your decision.
What Are The Different Travel Trailer Sizes Available?
There are plenty of travel trailers on the market and all of them are designed to suit different campers needs. There are micro trailers for the ultimate minimalist and luxury fifth-wheelers for the large family on the road. Each one is going to offer different amenities and has pros or cons depending on what you're looking for.
Travel Trailer Size Chart
Below is a chart detailing the basic different sizes of travel trailers and how many people can sleep in them. There are ones on the market that are smaller than the chart shows, so we will also explain the different sizes on the market.
| | | |
| --- | --- | --- |
| Length | Weight | Sleeps |
| 15-20 Feet | Less than 3500 lbs | 2 – 4 |
| 20-25 Feet | 3500 – 6000 lbs | 4 – 6 |
| 25-30 Feet | 6000 – 8000 lbs | 6 – 8 |
| 30-35 Feet | 8000 – 10000 lbs | 8 – 10 |
| 35+ Feet | More than 10000 lbs | 10+ |
Large Travel Trailers
Large travel trailers are going to be at least 26 feet in length, up to about 40 feet long.
These trailers are typically designed with long-term camping in mind. If you are in need of a temporary home while camping, this is the best option because it gives you the most space to move around and live comfortably. This is also a good option if you're traveling as a family because there are more options for sleeping accommodations.
Large travel trailers can typically only be towed by trucks that have a high towing capacity because of their size.
Mid-Size Travel Trailers
Mid-size travel trailers are going to run between 21 and 25 feet long. They are smaller than a full-size trailer, but not as tiny as their small and micro counterparts.
These offer a good amount of space for sleeping and moving around. This can suit a smaller family or a couple, but make sure you don't mind being in tight quarters together before getting on the road!
These trailers can usually be towed by a larger vehicle like a van or a truck.
Small Travel Trailers
Small travel trailers are between 13 and 20 feet in length. They are going to offer some space for sleeping, a small kitchenette, and possibly a small area for dining, but it depends on the configuration you are looking at.
These travel trailers can definitely work for a couple but might feel a bit cramped if you add anyone else into the mix.
They can be towed by trucks and even some cars, but you double-check the specifications just in case.
Micro Travel Trailers
Another option on the market for the solo traveler or the ultimate minimalist is the micro or mini travel trailer. These are going to be the smallest options on the market and are usually between 10 and 13 feet long.
These can be used for cargo, recreation, or accommodation depending on the style. Some have a small kitchenette or outdoor kitchen, bunk beds, and other basic amenities. What amenities your micro travel trailer has really depends on the model you are looking at.
These can be towed by smaller vehicles like SUVs and cars, which can make them a good option if all you own is a car and not something heavier-duty designed to pull a larger trailer around.
What Is The Average Length Of A Travel Trailer?
The average length of a travel trailer is somewhere between 20 and 28 feet long. This makes sense based on everything we've stated about travel trailers so far.
The average size of a travel trailer offers maneuverability and makes it easier to travel since a trailer that size will be accepted at National Parks, RV parks, and campgrounds, while still giving enough space and amenities to feel comfortable and maybe even luxurious inside.
The most popular size of a travel trailer is 23 to 27 feet long, which is right in line with the average.
What Is The Ideal Length Of A Travel Trailer?
There isn't an exact ideal length of a travel trailer, because the ideal really depends on the person traveling with it.
I would hesitate to say that there is a "best" or "ideal" size of travel trailer that you should be looking for but there are plenty of ways to figure out what your ideal is.
How Long Is Too Long?
The average and most popular length for a travel trailer is there for a reason.
Personally, I think a travel trailer that is longer than 27 feet can limit your overall travel experience. Longer than that, and you won't get into a lot of U.S. State Parks and it can be difficult to plan trips because of this. It can also become a strain on your vehicle to tow something much longer than that.
Are There Length Restrictions?
There are length restrictions in some states in the U.S. These are usually found on the DOT (Department of Transportation) website for that particular state. Keep in mind that these measurements do not include the towing vehicle.
Alabama

Maximum length of 53 feet.

Colorado

Maximum length of 45 feet.

Florida

Maximum length of 40 feet.

Arizona

Maximum length of 40 feet.

Connecticut

Maximum length of 53 feet.

Georgia

Maximum length of 53 feet.
How Do You Measure A Travel Trailer?
Measuring a travel trailer isn't rocket science, but you want to make sure that it's done correctly. We've already gone over a few reasons why it's important to know what size your trailer is such as making sure it will fit into storage and not hitting overpasses while driving underneath them.
Make sure to measure your travel trailer while it's hooked up to the tow vehicle for more accurate numbers.
To accurately measure the height of your travel trailer it needs to be parked on a flat surface and you will need to have a tape measure long enough to reach the highest point. You will want to measure to the highest point from the ground. Make sure that your tape measure is straight and perpendicular to the ground for an accurate result.
To measure the width of your travel trailer, make sure all extensions are retracted and accessories are in their normal travel-ready positions. Look for the widest point of the trailer and measure across. The maximum width for a travel trailer is 8 feet 6 inches, having a trailer larger than that can result in tickets, fines, and penalties.
To measure the length of your travel trailer it should be parked on a level parking spot. Identify the front and rearmost points of your travel trailer and use a tape measure to measure the distance between the two. Keep your measuring tool as straight as possible to get the most accurate numbers possible.
The video below showcases a few tips and tricks to measure your travel trailer.
Is The Hitch Included In the Dimensions?
Not usually! If the hitch is included in the dimensions, it will likely be noted or specified for you. If it's not specified then you can assume the hitch is not included in the dimensions of your travel trailer.
What Is The Maximum Height Of A Travel Trailer?
In the United States, there is a specified maximum height limit for any travel trailer. That height is 13 feet and 6 inches or 162 inches.
What Are The Most Popular Travel Trailers?
When you start looking into which travel trailer will be best for you, you will come across a handful of popular ones in your research. Popular things do tend to be popular for a reason, especially in respect to a product like an RV or travel trailer where buyers tend to do extensive research before making their purchases. Here we explore some of those popular options and what the pros and cons might be for each.
Teardrop Trailers
These trailers got their name due to their distinctive teardrop shape and are easily recognizable on the road. They tend to be popular because of their design, which is both minimal and stylish. These models usually have all the basic amenities you want while being on the smaller side. They tend to be 8 to 10 feet in length, which also makes them very easy to tow and maneuver.
Pros
A great option for people who want that true camping experience
Affordable because they are easy to maintain and have low insurance costs
Lightweight so they are easy to tow around
Cons
Very minimal living and floor space (not a great option for more than 2 people)
Not designed with extreme weather in mind, so not useable all year round depending on where you live
A-Frame Trailers
A-frame trailers fold up flat, similar to pop-up trailers. When these trailers are set up they have a triangular shape, hence the name, A-frame. They have decent height due to their shape, but are still smaller in length coming in anywhere between 12 and 18 feet long depending on the exact model.
Pros
It's easy and quick to set them up
They are lightweight, so they can be easy to tow and maneuver
They are well equipped for all different weather, even colder temperatures
Cons
They can be too tall for some places due to their height
They aren't designed to accommodate a large number of people
They have limited options for customization
Standard Travel Trailers
A standard travel trailer is probably the image that pops into your mind when you read "travel trailer." These are towed behind a vehicle and offer living space and accommodations inside.
They can be anywhere from 10 to 35 feet in length and can weigh anywhere from 2,000 pounds to 10,000 pounds. This means they are truly customizable to your needs. They are a very popular choice because of this.
Pros
A wide range of options for amenities; full-sized kitchens, bedrooms, and bathrooms depending on the size you are looking for.
Will offer enough storage and space for both convenience and comfort
Cons
It will require a heavy-duty tow vehicle to tow due to weight restrictions
Depending on the size you might have limitations on where you can park and stay
Fifth-Wheel Trailers
As the name suggests, a fifth-wheel trailer is designed to be towed by a fifth-wheel hitch. It is different from a standard travel trailer because it attaches to the bed of the tow vehicle and not just the rear hitch.
These tend to be on the larger side, coming in at lengths ranging from 22 feet to 45 feet. They tend to be the most luxurious options on the market with the largest number of amenities. They will usually have air conditioning, slide-outs for even more space, and generators.
Pros
A luxurious way to travel with lots of amenities and features
A large amount of space for many people to be comfortably
Cons
Can only be towed by a sturdy pick-up truck or another heavy-duty towing vehicle
The size makes it hard to maneuver
The size can also affect where you are able to take your trailer and stay
Toy Hauler Trailers
These can also be called sport utility trailers. They are designed to have a built-in cargo area meant to haul "toys" like motorcycles, jet skis, or other large outdoor equipment.
In addition to this cargo area, they will also have a living space, though the size will be smaller because of the cargo area. Toy hauler trailers will usually come in between 20 and 40 feet long.
Pros
They offer versatility and are a great option if outdoor recreation is your thing
They also offer customization for your needs and amenities
Cons
Their larger size can make them more difficult to tow and you need a larger tow vehicle
The living space is smaller due to the cargo space taking up a large chunk of it
So, What Size Travel Trailer Should I Get?
Hopefully, after everything you've read, you have a pretty clear idea of what travel trailer is going to be the best for you to buy. There is a lot of information out there, and it can be hard to sift through all of it.
At the end of the day, the "best" travel trailer for you is going to be the one that will suit your travel needs. To make sure that you go with the right option, make sure to consider each point I've outlined below.
Length Of Travel
How long do you want to travel for?
Typically, the longer you intend to be on the road, the bigger the space you'll want. You don't have to go all out and get the largest trailer on the market, but make sure you get a trailer that is actually going to be comfortable for you and whoever you are traveling with to live and sleep in.
Storage Space
There are two questions to ask when thinking about storage space.
How much do you want to bring?
If you are not a light packer, then don't get a trailer that doesn't have enough space for all of your belongings.
How much space do you have to store your travel trailer?
If you have a large lot of land, an extra large garage, or a long driveway, you might not need to consider the space your travel trailer will take up when not in use. Most people do need to take that into consideration because you don't want your trailer to be hanging into the street or unprotected during the off-season.
It Can Get Crowded
How many people are you traveling with?
It might be even more important to ask yourself how much you like the people you're traveling with because regardless of the size of the trailer you get, it's going to be smaller than a house and may feel cramped from time to time.
If you are traveling alone or with your partner, you do have more options and can go a lot smaller which has its benefits.
Vehicle Tow Capacity
Can your vehicle tow the travel trailer?
Unless you want to buy a new vehicle at the same time as you purchase a new travel trailer, you should make sure that your vehicle has enough power to tow the trailer you're interested in. Many travel trailers require heavy-duty vehicles to tow them, so be careful if you have a sedan.
Parking Plans
Where do you want to take your travel trailer?
As we mentioned earlier on in this article, a lot of state, and national parks have limits on the length of trailers they allow inside. This can also go for run-of-the-mill RV parks and campgrounds. If you want to visit these places, you don't want to get a travel trailer longer than 27 feet.
Mobility
How well can you maneuver the travel trailer?
Some of this depends on skill and some on where you plan on driving. If you are going to be on dirt and unpaved roads that are narrow with lots of twists and turns, a larger trailer is going to be inherently more difficult to maneuver around.
Cost
What Can You Afford?
This is an important question to consider before making any large purchase. Be realistic about your budget and understand that the larger the trailer, the more expensive it will be. Also keep in mind that if the trailer, even a smaller one, is highly customized or has a lot of amenities packed into it, the cost will be higher.
Conclusion
There are plenty of travel trailers on the market and the perfect one for you will be determined by what your travel needs are.
Sizes will vary, but each one will offer some amenities and give you the opportunity to get out into the great wide world for some adventure. The only rule of thumb I recommend going by is keeping your travel trailer under 27 feet long so that you have access to more parks and campsites. Otherwise, there are tons of different styles and types to pick from and each can be customized to suit your exact needs.