All of our reviews are based on exhaustive research, industry experience and whenever possible, hands-on testing. When you make a purchase using one of our chosen links we'll a small percentage of the proceeds. This supports the site and keeps Jeffsetter running. You can read more here.
Did you know that you can find the best Class C RV for towing a boat? While it depends on the weight of your boat, there are Class Cs that can handle the weight of these extra vessels- if you can believe it.
Many RVers have trouble ensuring all of their toys come with them while they hit the road on a camping trip. Whether it's an issue of storage space, towing capacity, or limitations to the type of RV they have, many times you have to leave things home.
Thankfully, with all of the Class C rigs on this list, you should have no trouble bringing along your speed boat, family, and have storage room to spare! But first, you may be wondering what you should consider before making your final purchase.
Let's take a look.
What to Consider in a Class C RV for Towing a Boat
While there are many different types of boats out there, you may be wanting to camp with a larger pontoon or speed boat- the type of boat that can't fit inside of a toy hauler.
If you are shopping for a Class C RV specifically and are hoping to have enough horsepower to tow your boat behind you, there are some considerations you should think about before making your final purchase. Let's go over some of those top categories now.
Towing Capacity
The number one consideration when you are shopping for the best Class C RV for towing a boat? How much can a Class C tow, and what are the various capacities involved when it comes time to pack up and hit the road?
There are many different weights that you need to understand before you leave on your next big camping trip. Not only do you need to understand your RV's towing capacity (how much it can tow behind it), you need to understand the overall weight limits of your rig once it's packed.
For example, if you wish to tow your boat and boondock, you will need to fill your various Class C tanks, storage compartments, and then add passengers. Your RV's towing capacity will depend on how much weight exists inside of the RV itself.
The weight of your cargo doesn't include the weight of your boat- your towing capacity will be affected by how much cargo and passengers are onboard your Class C RV. There will be a few math problems that you will have to solve before you hit the road!
Once you know how much your boat weighs and how much your cargo and passengers will weigh (an average is good enough), you will have some idea of the towing capacity you will need while shopping for a Class C RV for towing a boat.
Keep in mind that a pontoon boat is going to weigh significantly less than a larger speed boat. Depending on the type of boat you are towing, you may need to get a rig with a much bigger engine than you were expecting!
Hitch Type
While shopping for a Class C RV, you will also need to be shopping for the right type of hitch to tow your boat. Towing should always be taken seriously, as loading your RV or boat wrong can result in uneven weight distribution and dangerous driving conditions.
However, it is more than possible to tow a boat with your Class C, and your RV manufacturer should be aware of the different types of hitches available for a Class C rig. You will need to know the type of receiver you need for your boat so that it can be properly hooked up.
Many Class Cs come with a hitch already installed, but you may have to do some shopping for yourself if you purchase a Class C without a hitch. This can be complicated, but it is a simpler process with the help of an RV manufacturer and knowing your various weights.
Knowing the weight of your boat is key to much of your RV shopping- I recommend weighing your boat before you begin browsing, or do reach out to your boat's manufacturer and ask them how much your boat weighs, if possible.
Amount of Campers
Before you purchase any RV, you should have a good idea of the average amount of people you plan on travelling with. RVs are versatile and capable of making many sleeping arrangements in small spaces- a family of five can travel in a Class C, even!
However, you may be hoping for a more spacious rig if you are planning on travelling with many people. The amount of campers you plan on travelling with will also directly affect your weight capacity and towing capacity.
While Class Cs are some of the most versatile rigs on the market today, the amount of passengers coming along for the ride is something to consider. You may wish to contemplate bringing along a passenger vehicle and having a second driver lead the way or follow behind.
Doing this can ensure that your towing weight is lowered as well as giving you the option to have a car while you camp instead of just your Class C. But more on that later!
Layouts and Floor Plans
The most important part of shopping for any type of RV? The floor plan and layout options available for you. You may have specific needs in mind that not every RV can fill: bunk beds, a spacious and luxurious bathroom, a master bedroom suite.
These features exist in RVs, even the smallest Class Cs. However, a layout that suits your needs can make or break your RV purchase in the end. The amount of people you are hoping to travel with comes into question again- you'll want a layout that works for everyone.
While the floor plan won't affect your Class C RV's ability to tow a boat, it will absolutely affect your time indoors. Camping is all about getting outside and enjoying yourself, but having a functional layout when it comes time to retire for the night is key.
Overall Length with a Boat
While owning the biggest and best Class C may seem like a good idea (especially if you are planning on travelling with a lot of people), you may find that your overall length matters- especially if you are towing a boat!
Many campgrounds have length limits to their RV sites. You may not be able to camp everywhere if your rig is long and you have a boat adding to the overall length as well.
Some campgrounds will have separate boat parking so that you can unhitch your boat and fit into your RV site. But this will not always be the case. You may have even more trouble fitting a passenger vehicle at your site along with your boat and rig.
Plus, the longer the RV, the trickier it gets to drive. While Class Cs are loaded with safety features, it gets complicated if you are towing as well. You may want to practice towing your rig if it is long and cumbersome.
Gas or Diesel
There are a lot of RVer opinions regarding the choice between a gas or diesel motorhome. Depending on the size of your boat, you may not have much of a choice in the matter (diesel rigs always have a higher towing capacity).
However, there are perks and drawbacks to either rig, especially if you don't own an especially heavy boat. Many RVers prefer a diesel motorhome over a gas one, given the longevity and higher quality materials involved in these rigs.
However, gas rigs have a much cheaper upfront cost, while diesel rigs are usually much more expensive to begin with. While the fuel costs over time will be less, a gas rig will definitely save you on an RV loan.
Again, many gas Class C motor coaches can't tow anything that is particularly heavy- 3,000 pounds is an average, and you should rarely come close to your max towing capacity. Diesel may be what you have to choose, but that doesn't make it a bad choice! Just an expensive one!
Passenger Vehicle Needs
If you are towing a boat with your Class C RV, then you obviously can't tow your passenger vehicle as well. If you are hoping to have your regular car with you while you are camping, I don't blame you. It makes going to the store much easier, and you can leave your RV hooked up.
However, if you don't have a second driver travelling with you, there is no possible way for you to drive your Class C, tow your boat, and have a passenger car with you. This is something to consider if you are a single person, or an adult travelling with kids.
Having a passenger vehicle is a wonderful idea while you are camping- it can make the process much smoother, and it may be wise for when it comes time to launch your boat. If your regular car or truck can be taken to the docks instead of your motorhome, that's great!
Budget
Finally, knowing your budget before shopping for the best Class C RV for towing a boat is always a good idea. Many Class Cs are expensive these days, though not nearly as much as some Class B's.
However, if you are shopping for a large rig or a diesel motorhome, you may want to expect to pay a pretty penny. Having a realistic budget and financing option is always a good idea, no matter what rig you end up going with!
Good Brands of Class C RVs for Towing a Boat
Curious what some reliable brands might be for towing a boat? Here are some of my top picks these days, and these brands are great to keep an eye out for, whether you are planning on buying or perhaps even renting an RV!
Thor
Known for being budget friendly like Winnebago, Thor is proving to be another reliable brand in the RV world. Plus their Super C diesel engines make for a luxurious RV; they only have two diesel engine models, but they are both winners, and capable of towing a boat.
Jayco
Jayco RVs have been talked about among RVers for some time. This brand seems to often focus on durability, advertising special sturdy RV frames. Their diesel engines are top-notch and usually affordable, with four different models to choose from- all ready to tow.
Newmar
Newmar is a luxury rig manufacturer with a focus on motorhomes over travel trailers. They only offer Super Cs instead of smaller Class Cs, but these large diesel beauties can definitely tow your boat with enough style and amenities to spare.
Entegra Coach
If your budget isn't at the top of your list of concerns, an Entegra coach may be a good fit for you. With rock-solid construction and a ride that's as smooth and quiet as it is invigorating and well-appointed, Entegra makes quality diesel Class Cs that are ready for your boat!
The Best Class C RV for Towing a Boat
Ready to shop for a Class C RV that can tow your boat so that you can hit the road? Let's take a look at some of the best ones on the market today! And, for those of you that are adventurous campers, feel free to check out some Class C RVs that are perfect for boondocking.
Best Overall:

Dynamax Isata 5
The Isata 5 Series Class C Motorhome from Dynamax pairs luxury living with a powerful Cummins diesel engine and best in class towing. You no longer have to choose who or what gets left behind. That's why it gets the best overall spot on this boat towing list!
As a division of Forest River, Dynamax offers a comprehensive and useful 2 year warranty on all of their rigs. Plus this chassis has four wheel drive, active brake assist, a quad view camera system, and a 10,000 pound towing capacity.
The Isata 5 is really quite luxurious inside. With blackout roller shades, shaker style cabinetry, a living room sound bar, and soft close drawer assist, the entire family will notice the amenities. And the outside is just as nice too! There's a motion activated retractable awning, LED patio lights, and an optional exterior entertainment system.
While there are only four available floor plans, you will notice the amenities and upgraded interior, especially compared to other Class Cs you may have looked at in the past. It's definitely worth checking out, especially with such a large towing capacity!
Largest Towing Capacity:

Newmar Super Star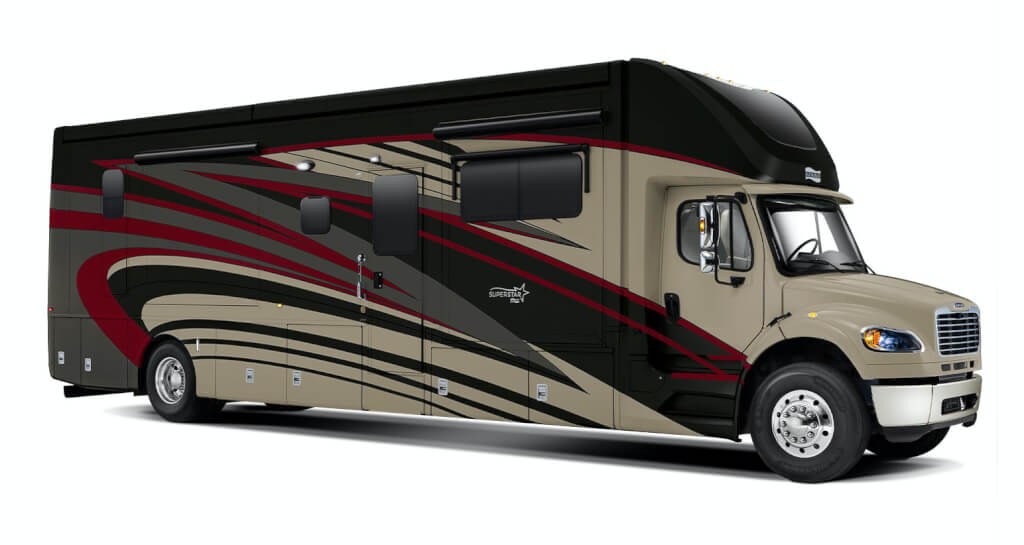 If you think that your boat is too heavy to be towed by any RV, then the Newmar Super Star may surprise you. This beast has a 20,000 pound flat towing capacity. Yes, the price tag is a bit shocking, but you will be getting what you pay for on this one. Let's check it out.
The 2022 Super Star is a shining example of Newmar engineering and innovation, sitting atop the Super C chassis. The industry-exclusive full air-ride cab means an incredibly smooth ride, and a wide wheelbase on their 40-foot models makes for even better ride quality.
The Super Star Class C motorhome is available in four distinctive floor plans, three of which are new for 2022. All floor plans come with a full-wall slideout and feature hardwood fascia. When extended, it adds ample square footage to an already spacious cabin.
What else will wow you about this rig? The Super Star's galley offers appointments and amenities fit for any five-star chef. A stainless steel Whirlpool refrigerator, flush mount induction cooktop, and a stainless steel convection microwave are all standard.
Not only are the standard features fantastic, but the optional add on features are too. There are far too many to list; this Super Star really is a star! And it's built on a durable chassis with a fiberglass roof, as well as a powerful diesel engine to boot. You can tow any boat for sure!
Best for Boondocking:

Entegra Coach Accolade

If you're looking for a beast to boondock in, the Entegra Coach Accolade isn't just beautiful; it's huge. This is a rig for any sized family, any group arrangement. And with 4 versatile floor plan options, you should have plenty of decisions to make on this fancy rig!
The towing capacity on this rig is 12,000 pounds- that should be enough for even the beefiest boat. And you're going to tow it all in style. While the Accolade isn't budget friendly, it is a powerhouse. You and the whole family will get where you need to go with a boat, no problem.
This super C is built on a nearly 40 foot frame, so you can anticipate plenty of storage solutions and reliable RV engineering on this beauty. Not only does it have a lot of tempting nonstandard features, it has a surprisingly long list of included perks too.
Get heated floors, an onboard diesel generator, solar prep, a satellite dish, and on demand hot water, all standard. But the list doesn't stop there. You can also expect to have control over your entire rig through an onboard integrated touchpad, or even an app that you can use remotely.
Entegra is a luxury brand name, and they offer a comprehensive and competitive warranty for their rigs, including the super C Accolade. They back their chassis, construction, and interior with a two year warranty, and have customer service members readily available.
While the Accolade may be a bit large and more difficult to drive than other rigs on this list, it is one to remember should you be shopping for an oversized Class C. It has a lot to offer, and you can rest assured that the resale on this rig will most likely be high!
Most Durable:

Jayco Seneca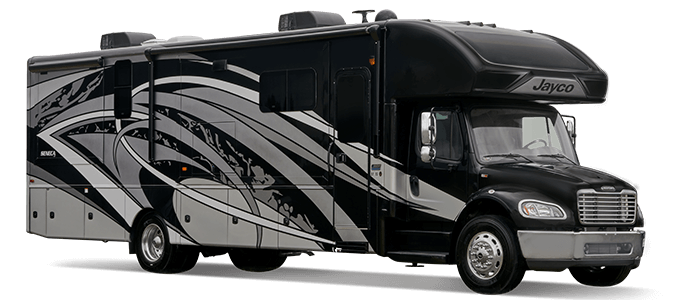 One of my favorite RV brands, the Jayco Seneca Super C is ready for towing. This rig has Jayco's reliable and sturdy build to back it up. With four floor plans, all on a nearly 40 foot rig, you'll no doubt feel safe, secure, and comfortable- no matter your plans.
This diesel engine is a beast, with a 100 gallon fuel tank (which is way above the average fuel tank size) and one piece fiberglass exterior construction. This makes all Jayco RVs excellent resale rigs, should you ever look at selling it in the future. It has an 83 gallon propane tank capacity as well as an onboard generator.
The interior is just as luxurious as the materials used for construction, as every floor plan includes an electric fireplace and much more. You can choose floor plans that suit a full timer couple, or a floor plan with bunk beds so that you can bring the kiddos too.
There are ample storage solutions, including a large master bedroom wardrobe and shelving system. This rig has lockable pass through exterior storage, as well as an outdoor entertainment system. Plus it has on demand hot water and wifi capabilities, all standard.
All of Jayco's diesel engine Class Cs include a computer-balanced driveshaft, rear air suspension, heavy-duty rear stabilizer bar, full air brakes, and a 12,000 pound hitch for any boat- the sky's the limit with this rig!
Jayco is a great brand, aware of what any RVers love to see in a rig. This beast can tow your boat with enough sleeping arrangements inside too. The Seneca is the perfect example of what RVers are looking for!
Best for Large Groups:

Thor Magnitude

Looking for a large and reliable diesel Class C that will fit the whole family or a large group? Check out the Thor Magnitude, starting at 32 feet in length. There are 5 floor plan options to explore, and every single one of them may work for a large family, sleeping up to 8 people!
The heavy-duty Magnitude is a Ford F-550 or F600, depending on the floor plan, with a V-8 engine rumbling under the hood. The four wheel drive platform is the ultimate way to get away from the crowds and enjoy time with loved ones.
Bring along your boat and hook it up to the 10,000 or 12,000-pound hitch. This should be ample weight for large speed boats so that you can bring even the biggest boat along with you on your next family camping adventure.
The Magnitude Class C diesel RV has residential vinyl flooring that covers the entire coach, a must-have for pet parents or busy families. Satin-finish cabinetry with nickel-finish hardware gives your home-on-wheels a chic and modern look.
The living area allows the whole family to gather on every floor plan. And, once you're off the beaten path, the Magnitude takes care of every need. The large roto-cast storage compartments safely store camping must-haves. The exterior kitchen is perfect for those sunny days.
Thor offers comprehensive warranty options, and a robust owner's club, with RVing information exclusively for Thor RV owners. This luxurious rig may cost a pretty penny, but it ensures that the entire family can vacation, boat, or travel in comfort and style.
Final Thoughts
Finding a Class C RV for towing a boat may take some research, but it is possible. There are many larger Class C rigs available on the market today, and these can tow even the heaviest boat. You can feel the freedom and adventure of RVing and boating, all in one!