The last hotel of the three we stayed in while touring the PNW with my grandparents was the Seattle Airport Marriott. And it fit our needs perfectly.
Following our time out at the Wooden Shoe Tulip Festival, I took the family to the Woodburn Outlets before heading back to our hotel to pack. After all, the next morning, we'd be jumping back into our Silvercar and making the trek back to Seattle. But, since Hawaiian only flies out in the morning, we'd be spending one more night in Seattle. And, to let us wake up a little later, I booked our final night in the PNW at the Seattle Airport Marriott.
Seattle Airport Marriott Arrival
We left the Residence Inn Portland Downtown Pearl District a little before 9 am. We made good time driving back north and arrived at the hotel a little after 11 am. Parking here is $28/night for self-parking and $34/night for valet. The self-parking lot encircles the hotel, meaning you could potentially walk a bit to get to the nearest entrance.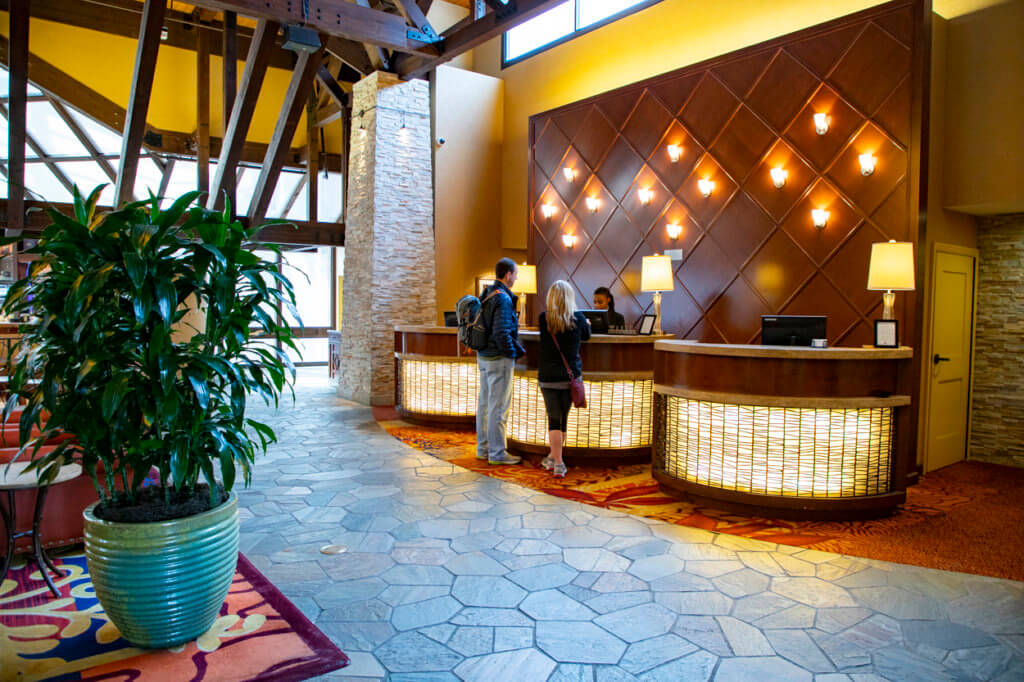 To check-in, I parked in the main driveway. And though it was prime checkout time, I was able to see a front desk representative really quickly. Even better? Our rooms were ready already, and we were near the Concierge Lounge.
It's worth noting that the Seattle Airport Marriott got some significant work done around the time we were there. The pool got taken out, and the rooms got a nice modernization. But, the seemingly log cabin-inspired lobby hasn't changed.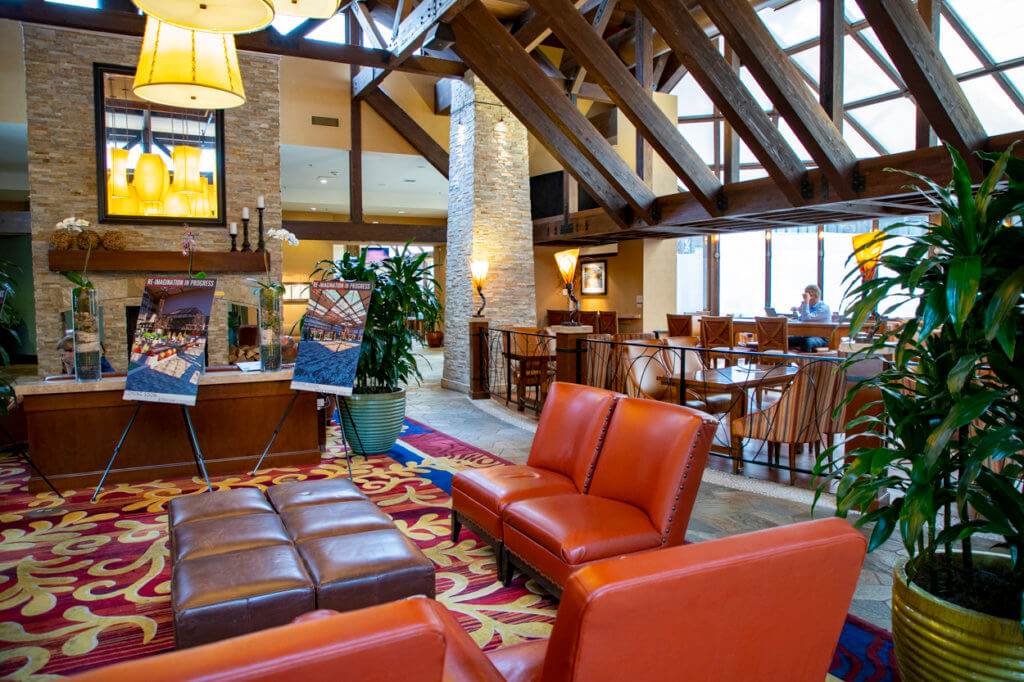 Rooms
For this particular stay, I booked two standard 2 queen rooms. After all, why would you pay extra to have a view of an atrium (construction area at the time)? The rooms, by the way, aren't particularly big, but are of a decent size.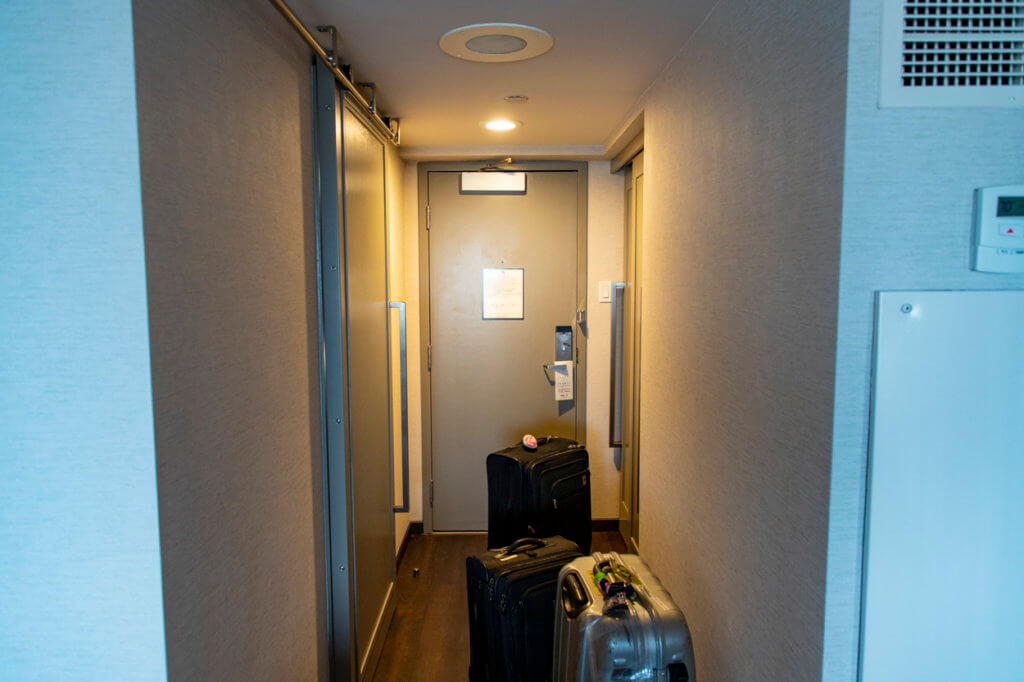 To help maximize the space in the room, the bathroom door is a barn door-style one. That theme continues on the inside, with a glassed-in shower that features a glass sliding door. And, immediately next to that is the toilet and a single vanity sink.
Directly across from the bathroom is the closet. Nothing out of the ordinary here – just your standard Marriott closet with a robe. If I recall correctly, there wasn't a safe in the closet, but I could be wrong.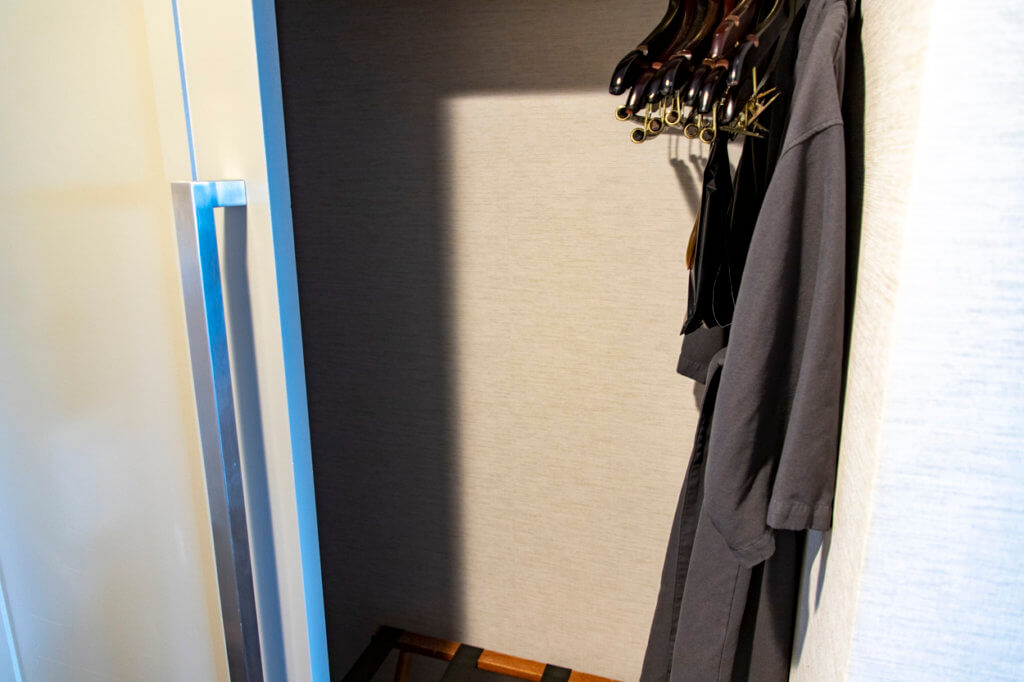 As for the rest of the rooms, there are no surprises there. Our room had, as expected, two beds separated by a nightstand with a decorative light fixture.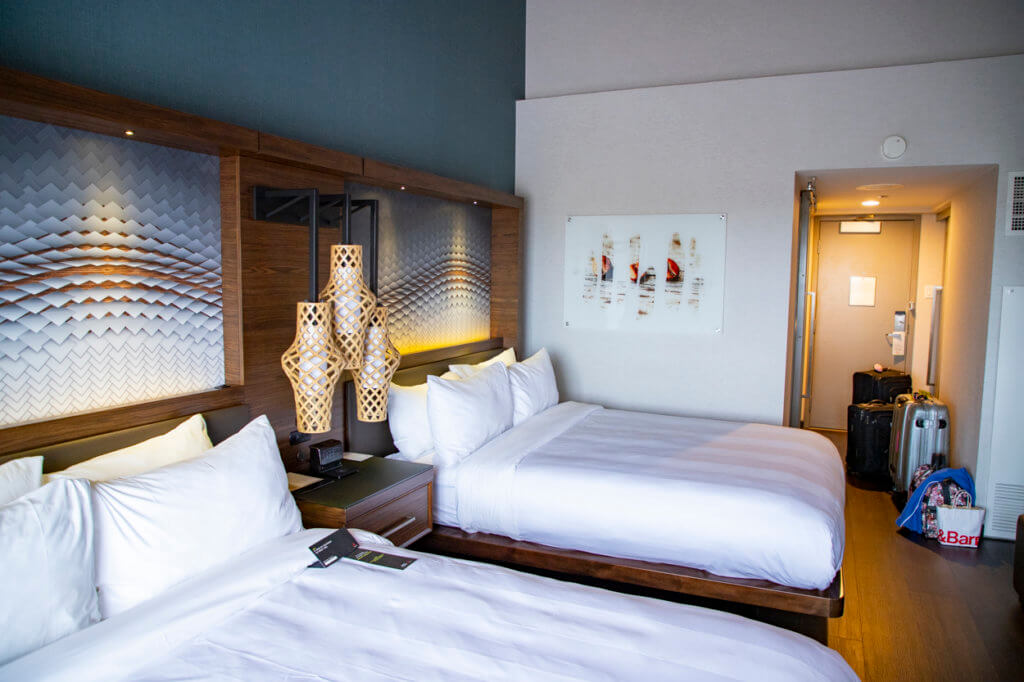 On the nightstand, there is a radio/alarm clock with a built-in inductive charging pad AND Lightning Cables. There are also two standard power outlets and a USB port built-into the integrated headboard.
Across from the bed is a baggage stand, a mirror, a small dresser (3 drawers), a minifridge, a coffeemaker, a large HDTV, and a desk with a chair.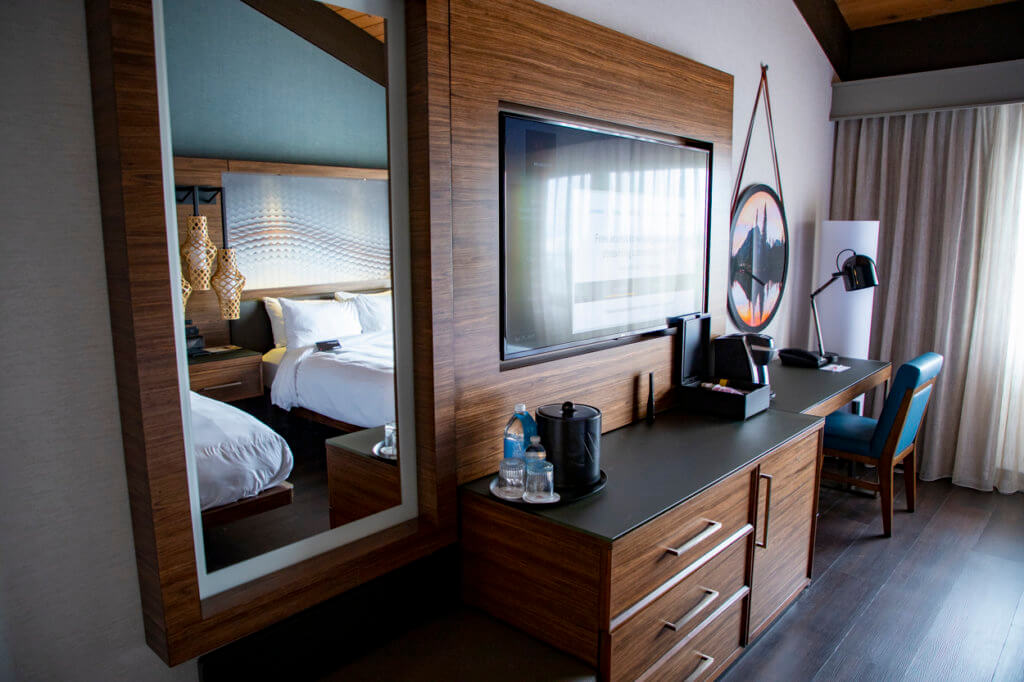 Unlike most many hotels, the Seattle Airport Marriott does have a nice, plush chair at its in-room desks. Further, the rooms only phone is here on the desk. Interestingly, there is a large floor lamp right next to the desk, and with a small lamp right next to it on the desk.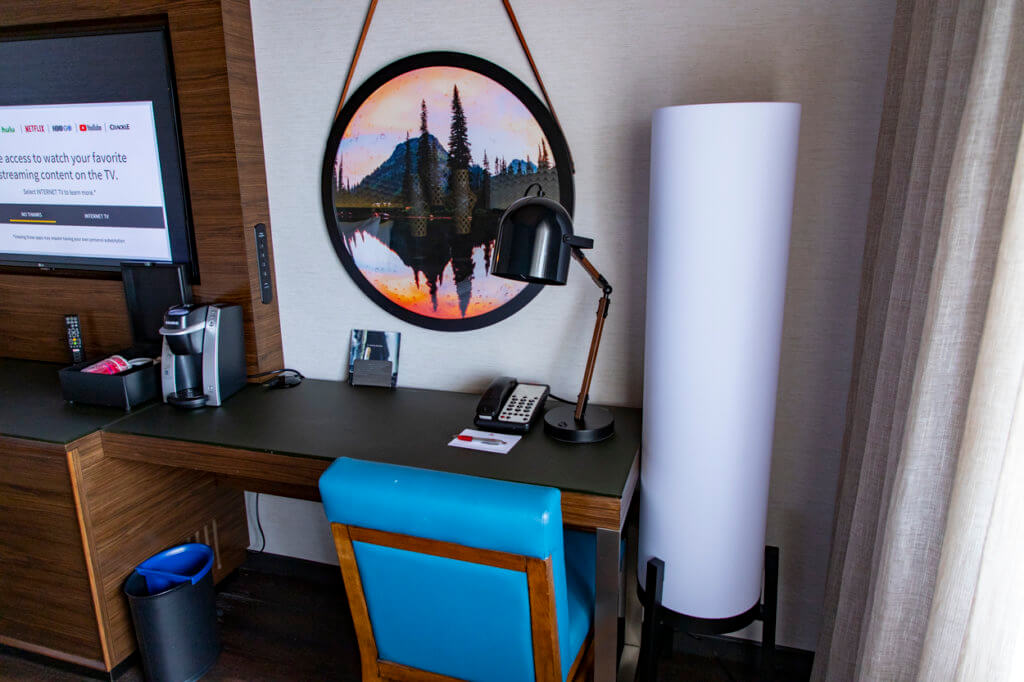 The HVAC, by the way, worked well and was unobtrusive. Exterior noise also wasn't an issue for us. Water pressure, on the other hand, was decent, while the temperature is good.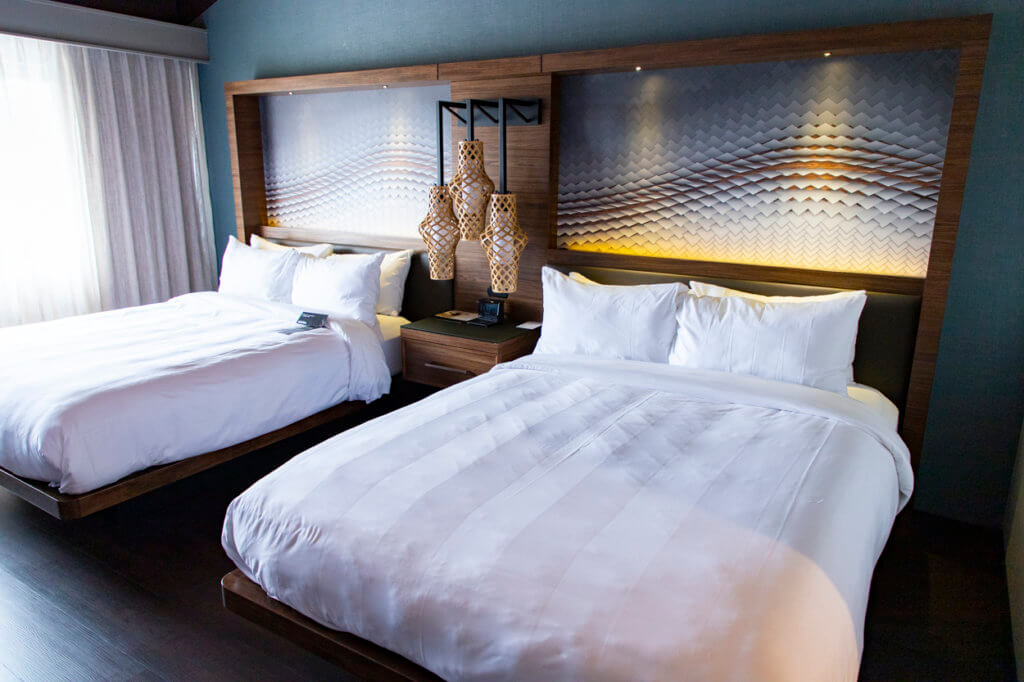 View
Though the pool atrium view rooms are the "premium view" rooms, I'm glad we didn't get assigned one of those. Instead, we got a view of SEATAC – sort of. Too bad the view is largely obstructed and was mostly taken up by the roof of the hotel. On a clear day, though, we might have been able to see Mount Rainier in the distance.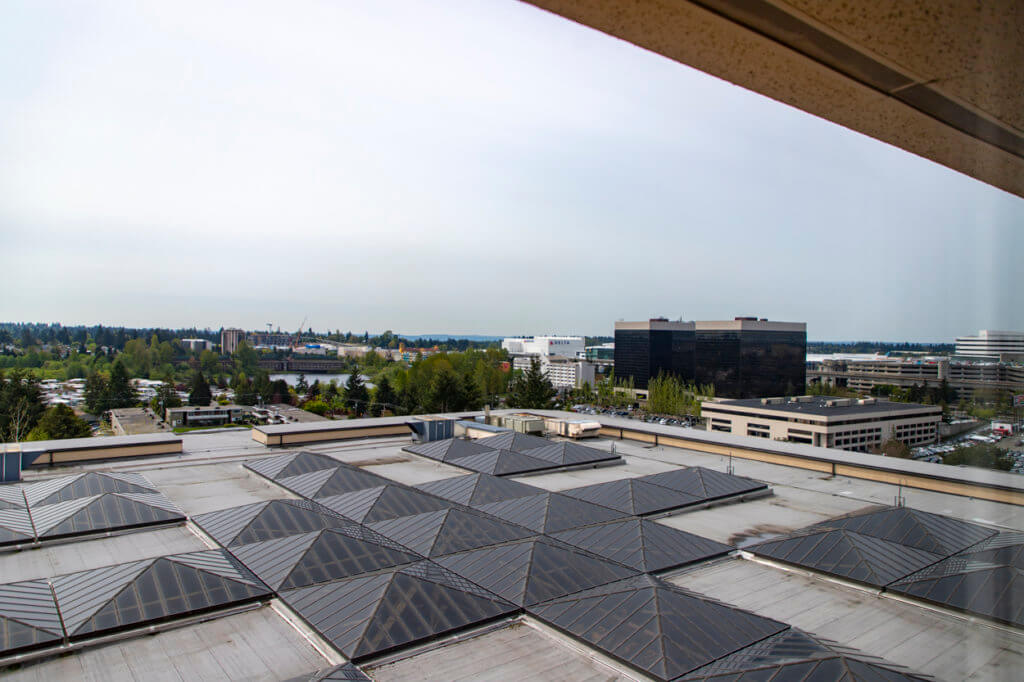 Concierge Lounge
The Seattle Airport Marriott's Concierge Lounge is on the hotel's 8th floor, which isn't the top floor of the property. But, it is open seven days a week! In fact, the lounge is available all day, every day except for Fridays. The full schedule is as follows:
Sat-Sun: 7:00 am to 10:30 pm

Breakfast: 7:00 am to 10:30 am
Hors D'oeuvres: 5:30 pm to 7:30 pm
Desserts: 7:30 to 10:30 pm

Mon-Thurs: 6:00 am to 10:30 pm

Breakfast: 6:00 am to 9:30 am
Hors D'oeuvres: 5:30 pm to 7:30 pm
Desserts: 7:30 to 10:30 pm

Fridays: 6:00 am to 1:00 pm

Breakfast: 6:00 am to 9:30 am
Despite our limited time at the Seattle Airport Marriott, we actually ended up grabbing two meals at the lounge. The first, naturally, was dinner. Yeah, they don't technically serve dinner, but the hors d'oeuvres spread includes hot items and is big enough to make for a light dinner.
Breakfast features a similarly large spread with both hot and cold items, though much of it is the standard Concierge Lounge fare.
Seattle Airport Marriott, Final Thoughts
Given its location close to Seatac, the Seattle Airport Marriott is a wonderful place to stay before your flight. Especially given Seattle's typically terrible traffic. Plus, they have a Concierge Lounge that's open seven days a week along with modern, comfortable rooms. So, I'd totally stay here again if I have an EARLY flight out of Seatac again. Just, you know, don't pay extra for a "view room" because there really aren't any.
Touring the PNW with My Grandparents