Last updated on September 2nd, 2023 at 08:50 pm
When most people think of Napa Valley, they think of vineyards and wine tastings. Heck, there's a train that'll take you on a tasting journey throughout the valley. But being the olive oil lover that I am, I just had to try the olive oil tasting at Long Meadow Ranch.
Long Meadow Ranch is a biodynamic ranch and vineyard in Napa Valley. It is comprised of several different sites throughout the Valley, but its main center is in St. Helena. To be honest, I wasn't actually planning on visiting the Ranch when I was planning this trip. However, we were driving around in the area and saw a sign advertising olive oil tastings. Intrigued, we pulled into their parking lot and strolled in to see what's up. And let me tell you, I'm so glad we did.
Farmstead Olive Oil Tasting
After walking around a bit, we found our way to the Long Meadow Ranch Farmstead Tasting Room and General Store. Here, we were greeted by a friendly, knowledgeable, passionate guy named Ryan. He invited us to pull up a seat, went over what was involved in the olive oil tasting at Long Meadow Ranch, and gave us some background about the oils themselves.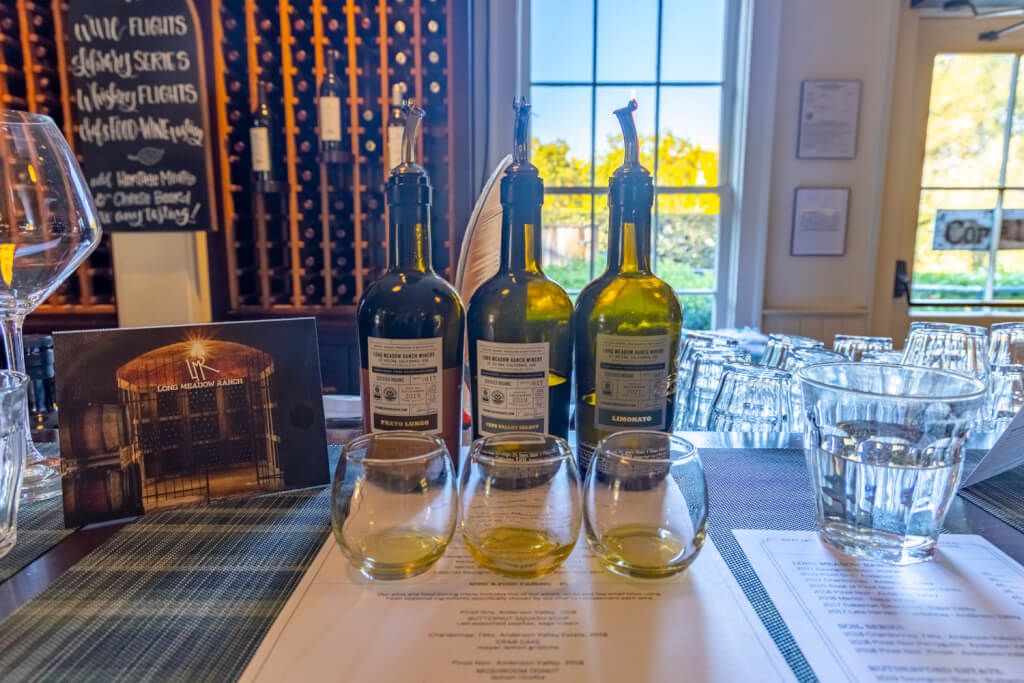 As you can see in the above photo, there are three olive oils here. The first on the left is the Prato Lunco, which is the original olive oil here at Long Meadow Ranch. In fact, they only got into olive oil making because the owners found a dormant orchard that was planted back in the 1800s. These old trees were genetically tested and were found to be Piccholine, but had mutated over the centuries. That's incredible! And these trees do produce a fairly unique oil – it's buttery and mild. There isn't that typical olive oil punch here, and that's because of the subdued polyphenols.
Next up in our olive oil tasting at Long Meadow Ranch was the Napa Valley Select. This oil comes from olives harvested from much younger trees, meaning they have more vibrant polyphenols. That results in a more robust, grassy, lightly bitter flavor and scratchy sensation in your throat. In fact, we learned that fresher olive oils will have more of these polyphenols in them. So if you have an olive oil that makes your throat scratchy/makes you cough, then you have a fresh or high polyphenol olive oil.
The last oil we tried in our olive oil tasting at Long Meadow Ranch is the Limonato. Now, when I saw the bottle, I figured this was a typical lemon-infused olive oil with lemon essential oils added. But no. This oil is made by pressing the olives and lemon peels together. This results in a unique olive oil that balances the flavor of the olives with a nice, round citrus flavor that complements it rather than overbears it. Yum!
To finish things off with our olive oil tasting at Long Meadow Ranch, we were offered a sample of their signature red wine vinegar. Made with the Ranch's own cabernet sauvignon, this isn't your typical red wine vinegar. The flavors are far more full-bodied than the thin, almost pink stuff you find at the grocery store. It was a revelation!
Tasting Technique
It's interesting to note that during an olive oil tasting at Long Meadow Ranch, you're shown how tastings are done by California's official grading board. That involves using the glasses you see above, cupping the top of said glasses with your hand, and swirling it around in your other hand to warm the oil slightly. Then, you smell the oil to analyze the aroma, followed by taking a sip and swirling it around your palate. Once you've coated your palate in the oil, you draw in air through your mouth to really get a full taste of the oils. For those of you that have experience doing so, you'll notice that this last step is very similar to wine tasting.
Olive Oil Tasting at Long Meadow Ranch, Final Thoughts
If you enjoy good quality olive oil, I highly recommend experiencing the olive oil tasting at Long Meadow Ranch. This is also an excellent example of an activity non-drinkers can enjoy in Napa Valley. While wine is what the region is known for, there's so much more to it than that. That said, stay tuned for my next post, as I take you along on my first wine tasting experience.
Living It Up in California
Olive Oil Tasting at Long Meadow Ranch