Last updated on September 2nd, 2023 at 08:52 pm
After checking into the Alila Napa Valley and settling in, it was time to head to dinner. On this night, I chose Press Napa Valley as our dining destination. And, boy, this was one of the best eating experiences of our whole trip.
These trips to California Wine Country and San Francisco are always difficult when it comes to dining. There are so many great places to try that choosing becomes quite the challenge – especially when you you're trying to not spend too much money 😉. Yup, no Three Michelin Star restaurants like The French Laundry this time around, but that's ok. That allowed us to "discover" gems like Press Napa Valley.
Press Napa Valley Location
If you've never been, know that Napa Valley is a big area. While many places list themselves as being in the Valley, there are many towns spread throughout it. For example, The French Laundry is in Yountville, while our hotel and Press Napa Valley are both in St. Helena. Conveniently, the restaurant is right on St. Helena Highway, with a large parking lot out front. For us, it was a quick 10-minute drive from our hotel.
Ambiance & Service at Press Napa Valley
From the moment I made my reservation, the staff at Press Napa Valley was outstanding. You see, when I made my original booking via Tock, I accidentally booked an outdoor table rather than a dining room one. Given that you have to pay a non-refundable fee for your reservation, I couldn't change our table type on my own. A quick call cleared that up, and the staff was very gracious about my mishap.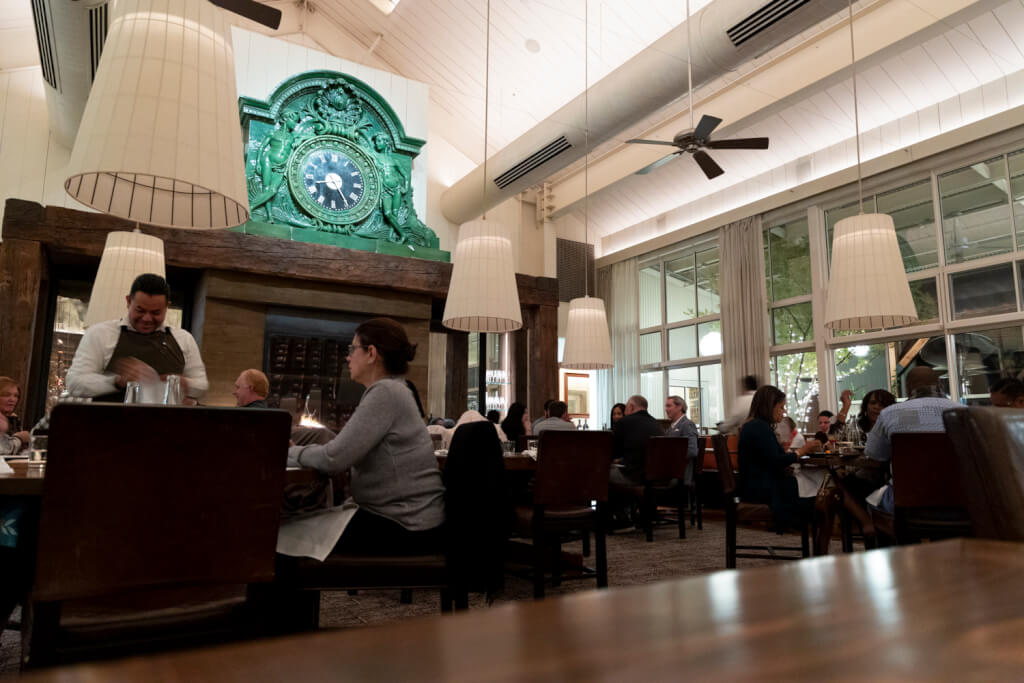 Things got even better during our dinner. Every single person working at Press Napa Valley was genuinely friendly, warm, knowledgeable, and attentive. Impressively, they always kept our glasses full and cleared dishes immediately, but they never hovered! Our server was a complete gem. On top of being absolutely incredible at her job, she was always had an interesting story to tell us when she stopped by our table, and it was always related to something we had discussed or what Mrs. Island Miler and I were doing on this trip.
The restaurant itself is quite large and was a bit lively. Not enough to be bothersome, but this isn't going to be a serene experience. What I did find interesting and rather enjoyed was the fact that they sat Mrs. Island Miler and me next to each other – not across from one another as would typically be the case.
Menu
The menu at Press Napa Valley, as is often the case in the area, changes seasonally. Being that our visit was in November, we had a fall-driven menu. Luckily, that meant the menu was full of mushrooms and fresh truffles. It's worth noting that you can order the prix fixe menu or go ala carte. We went ala carte, though our server coursed things out in a way that made sense and even recommended ordering certain dishes as half-size so we could try more of the menu.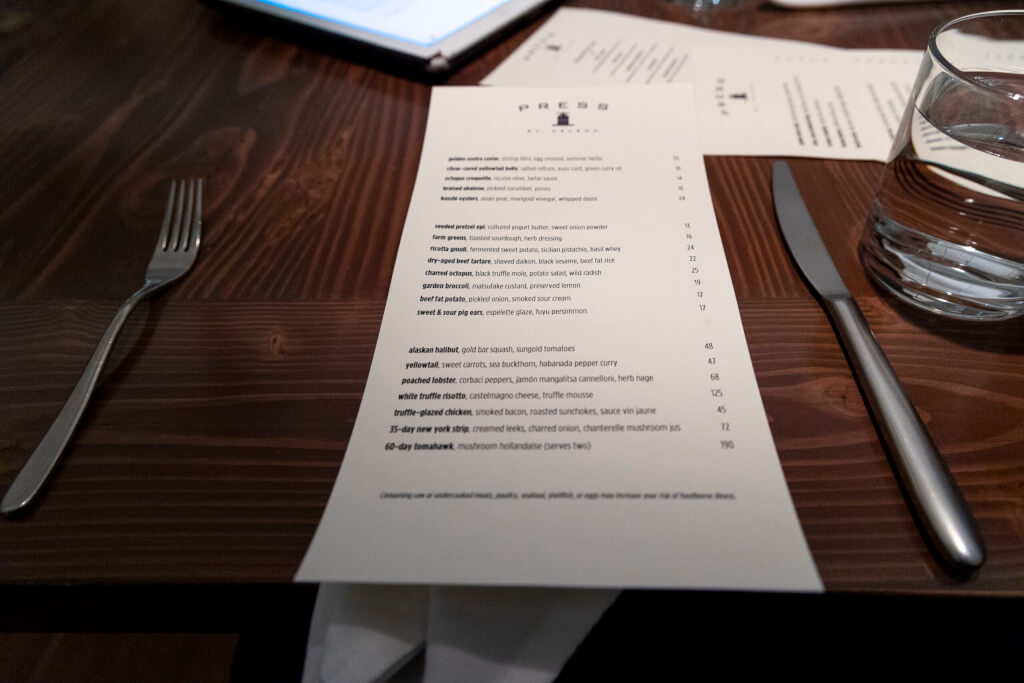 What We Ordered
To kick our night at Press Napa Valley off, we ordered a couple of drinks. I went with the Damage Control cocktail, which was composed of mandarin orange vodka, St. Germain, yuzu, and ginger beer, had a deliciously assertive mandarin orange-yuzu flavor to it. Mrs. Island Miler went with the Push Pop mocktail, which is reminiscent of an Orange Bang at Zippy's, and I mean that in the best way possible.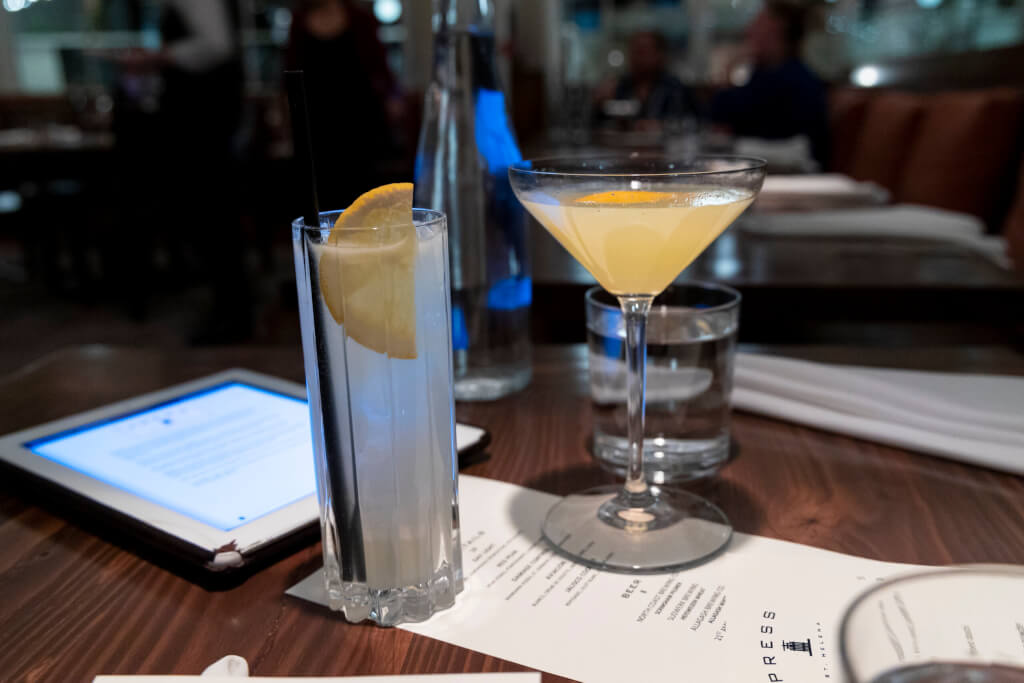 To kick things off, we ordered several small bites, which landed on our table all at once. These included Kusshi Oysters, Citrus-Cured Yellowtail Belly, Braised Abalone, and Charred Octopus.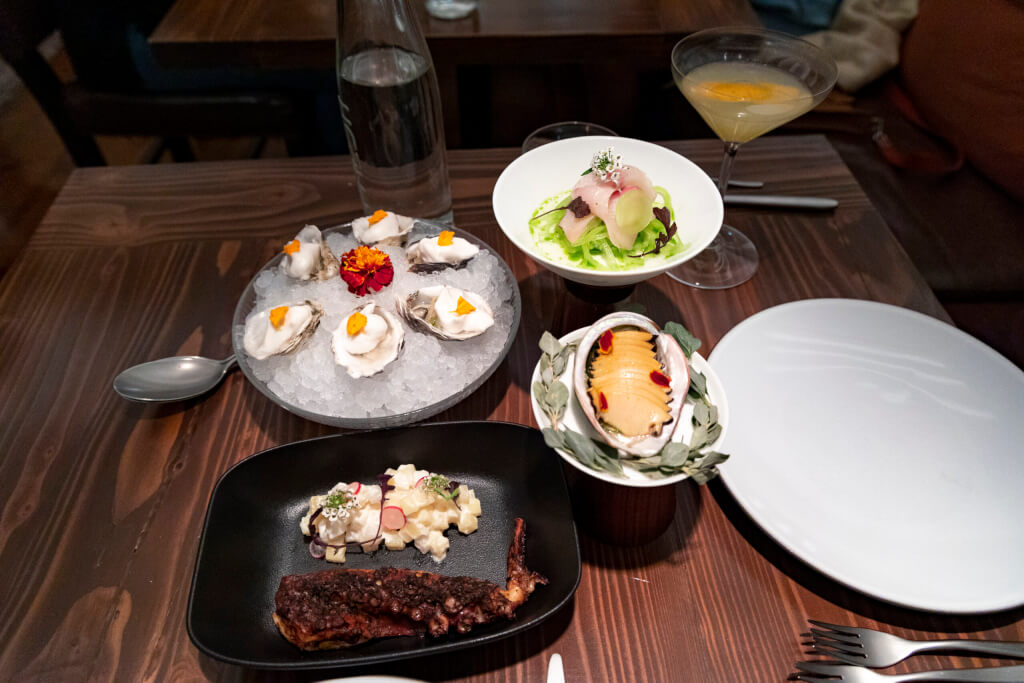 The Citrus-Cured Yellowtail Belly with salted celtuce, yuzu curd, and green curry oil. This was an excellent first bite, featuring clean, meaty fish with sweet-tart, savory flavors and a slight kick. Of course, the celtuce added a lovely, light crunch and another layer of freshness to the dish.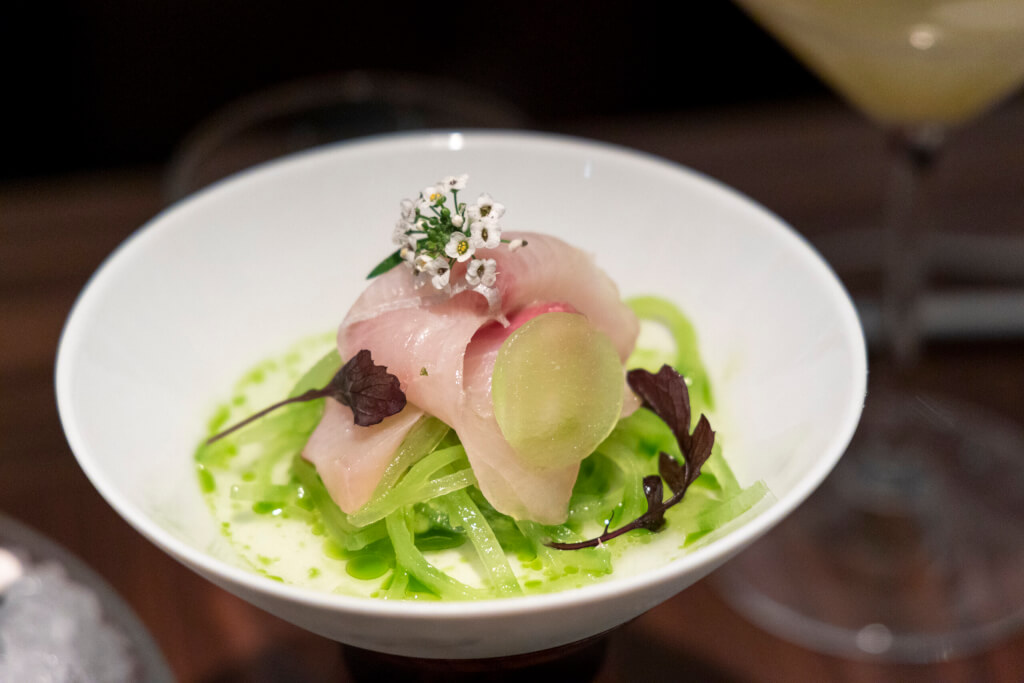 The Braised Abalone with pickled cucumber and ponzu was probably the least successful dish at Press Napa Valley, in my opinion. Don't get me wrong, it was good, but, for me, the abalone was a bit too soft. The pickled cucumber was very reminiscent of Japanese namasu, with a bit of sweetness to it.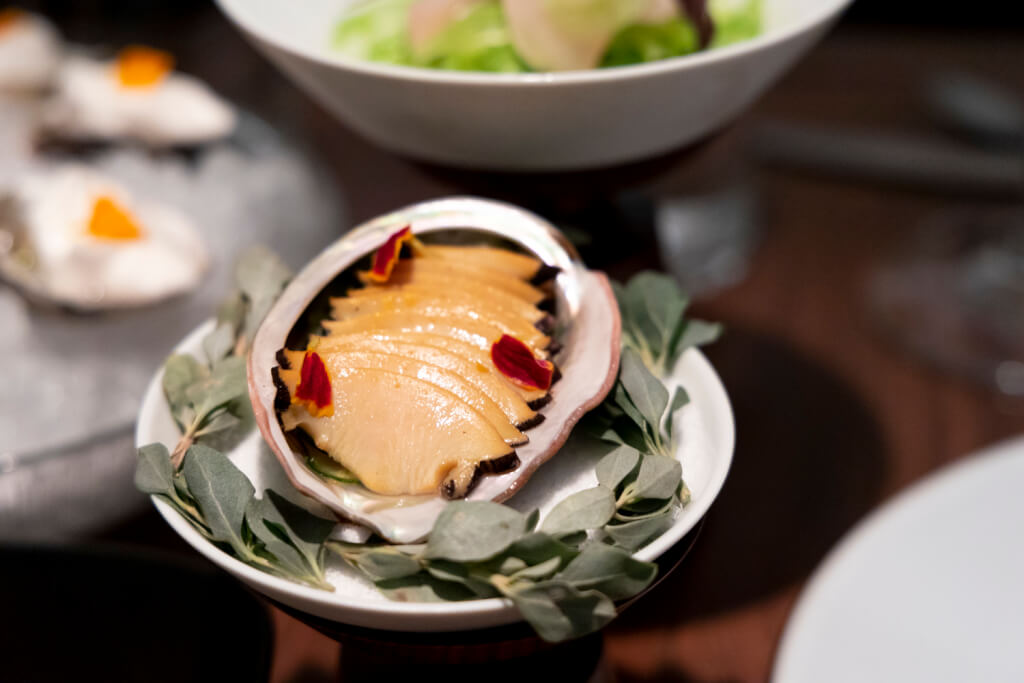 The Charred Octopus came with a black truffle mole, potato salad, and wild radish. This was incredible, as the octopus itself was incredibly tender yet meaty. The char on it was just right, helping to enhance the flavor of the dish. Naturally, there was a smokey, chili quality to the dish, with just a hint of truffle. The potato salad was a nice, cool counter to the warm, lightly spicy octopus.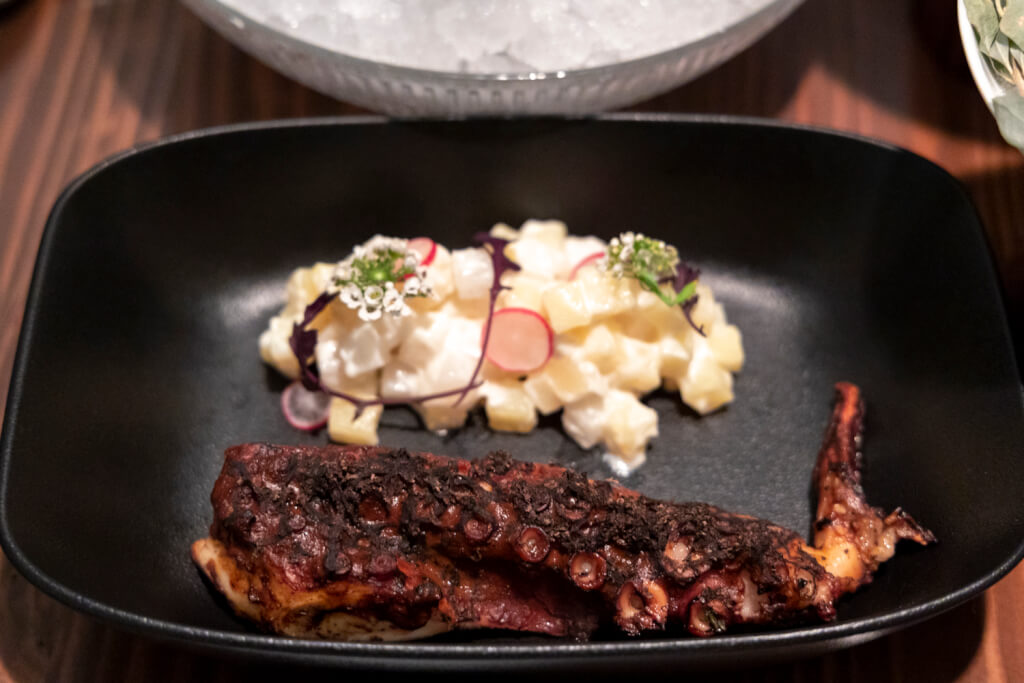 The Kusshi oysters came topped with Asian pear, marigold vinegar, and whipped dashi. And let me tell you, the Kusshi oysters and Press Napa Valley were probably the best I've ever had. The fresh, firm, sweet, meaty oysters paired marvelously with the accompaniments, which provided a sweet-tart-savory quality to the dish. And rather than covering up the flavor of the oyster, the toppings enhanced and balanced it. So good!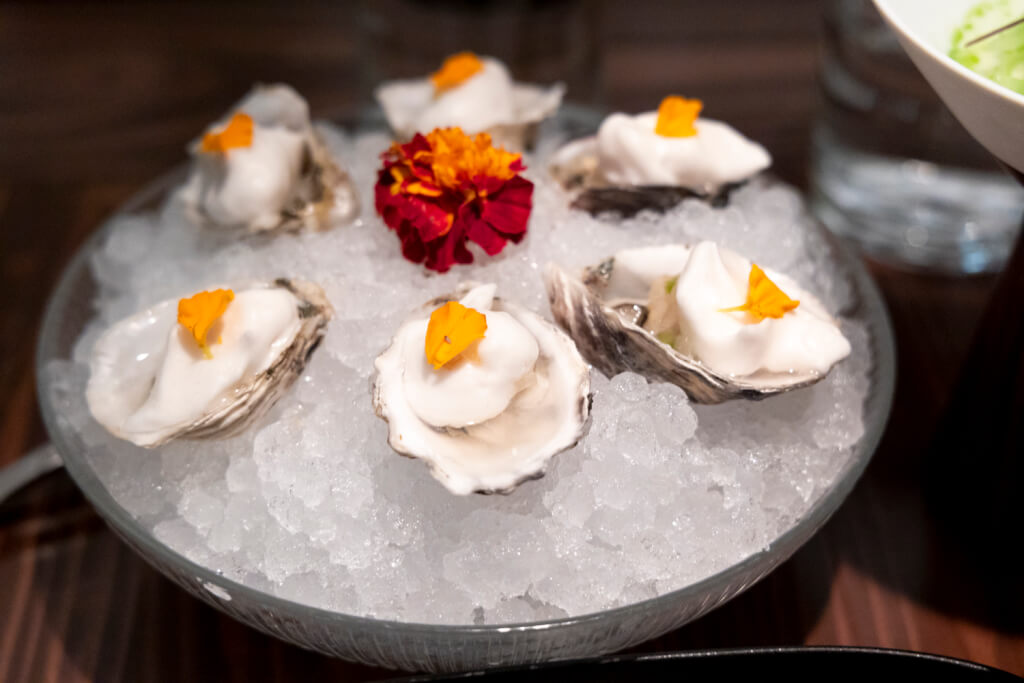 The next dish to land on our table was the Sweet & Sour Pig Ears, which is something that came highly recommended by our server. We've had pig ears before in the form of Mimigas at Momosan Waikiki. But these were next level! Here, crispy pig ears come coated in a sweet-sour-spicy Espelette-inflected glaze with slivers of fuyu persimmon. While a bit spicy for me, this dish is addictive!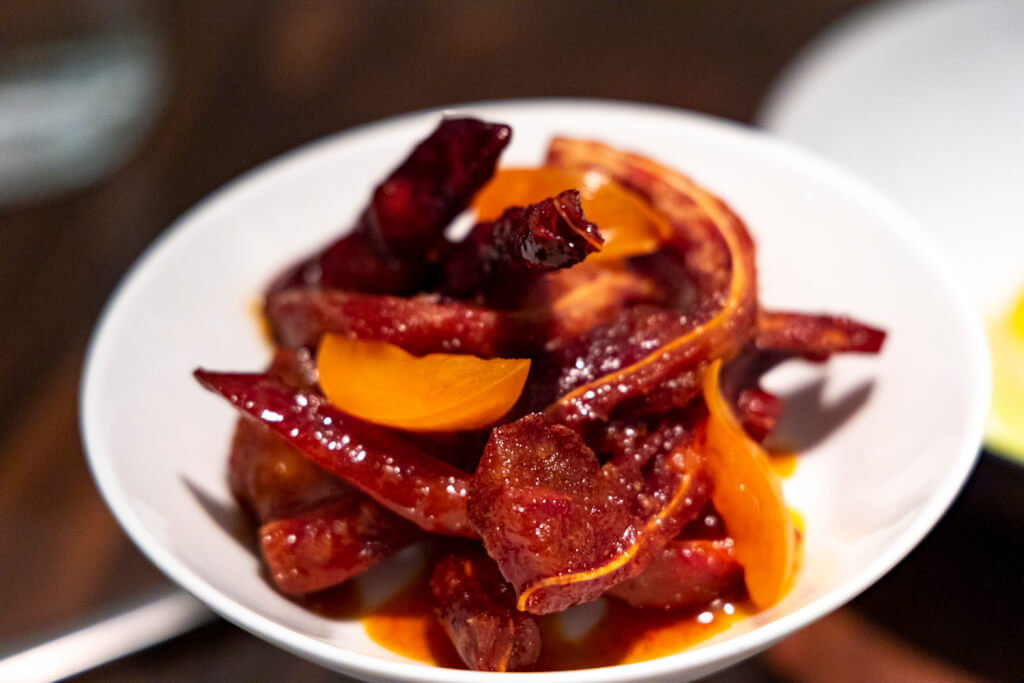 Our next dish was another that we ordered at the urging of our server – the Ricotta gnudi. Here, it comes paired with fermented sweet potato, Sicilian pistachio, and basil whey. As promised, these morsels were pillowy soft, and melted in your mouth. It was rich yet well-balanced. Mrs. Island Miler isn't much of a cheese person, but she loved this dish!
As we entered the back half of our meal at Press Napa Valley, it was time for our bread course. Naturally, we had to try the restaurant's signature Seeded Pretzel Epi, with a cultured yogurt butter with sweet onion powder. The bread came out pipping hot and featured a slightly crisp exterior with a delightfully soft and chewy interior. Tearing the segments and slathering them with that rich, mildly tart, and oniony butter was fantastic!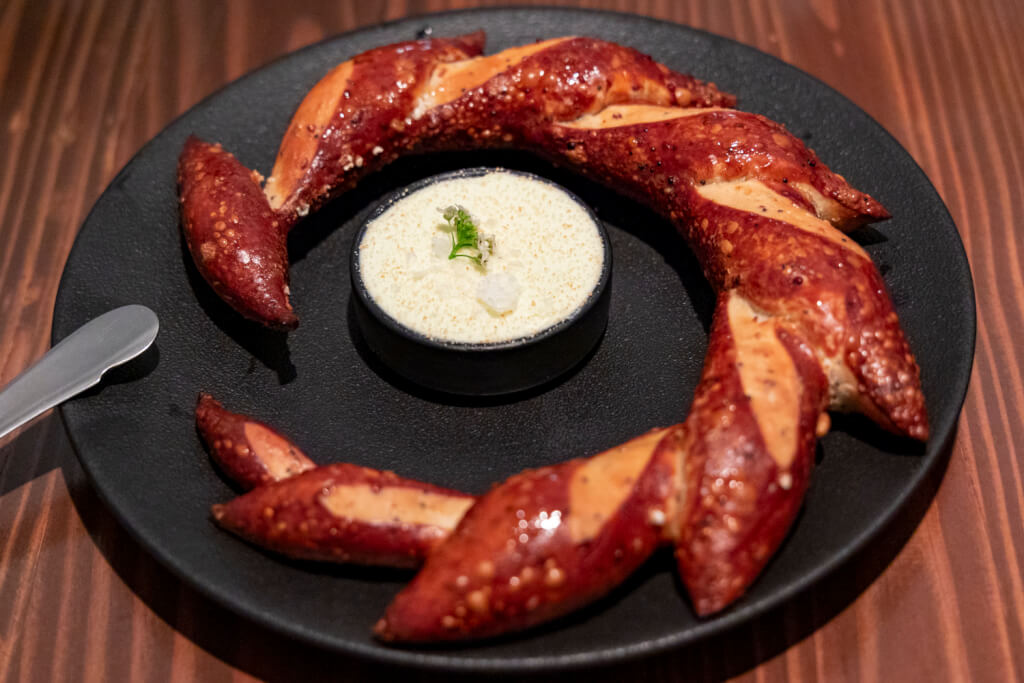 For our main course, we went with Truffle-Glazed Chicken, a half order of the White Truffle Risotto, and Charred Broccoli. First up, let's talk about the Truffle-Glazed Chicken. I'm not going to lie. When the dish landed, I was concerned that it was breast meat. But that concern was unfounded. These slabs of chicken breast were surprisingly tender and juicy! They had a hint of black truffle and came in an intensely delicious, broasty sauce.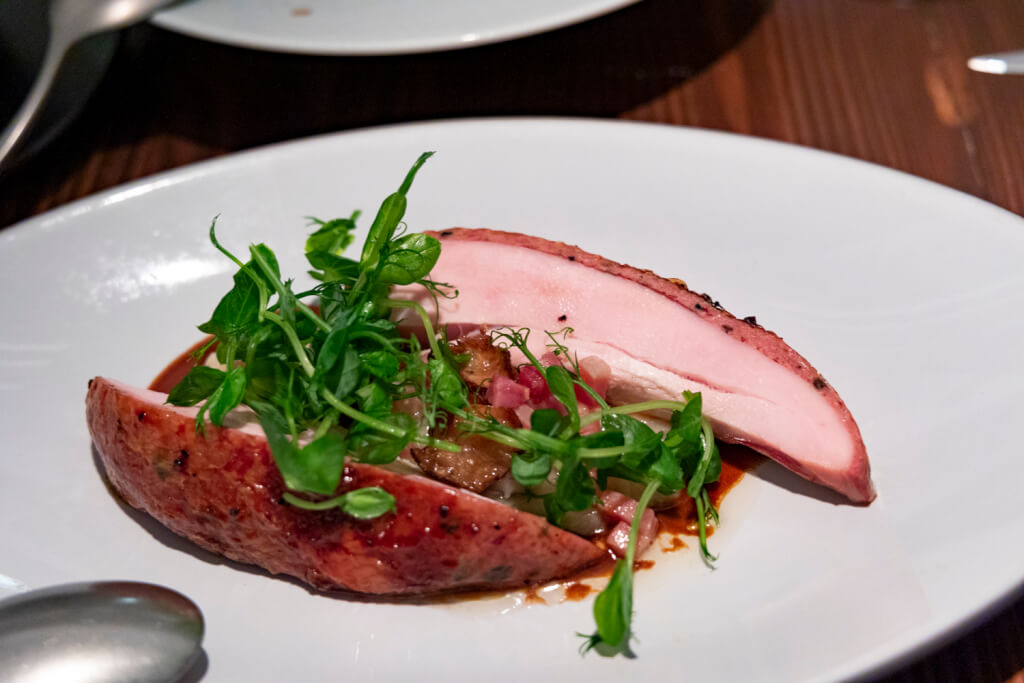 The White Truffle Risotto really hit you in the face with the aromas and flavors of fresh, seasonal white truffles! It was indulgently rich and creamy, with a nice al dente bite from the rice. Sublime.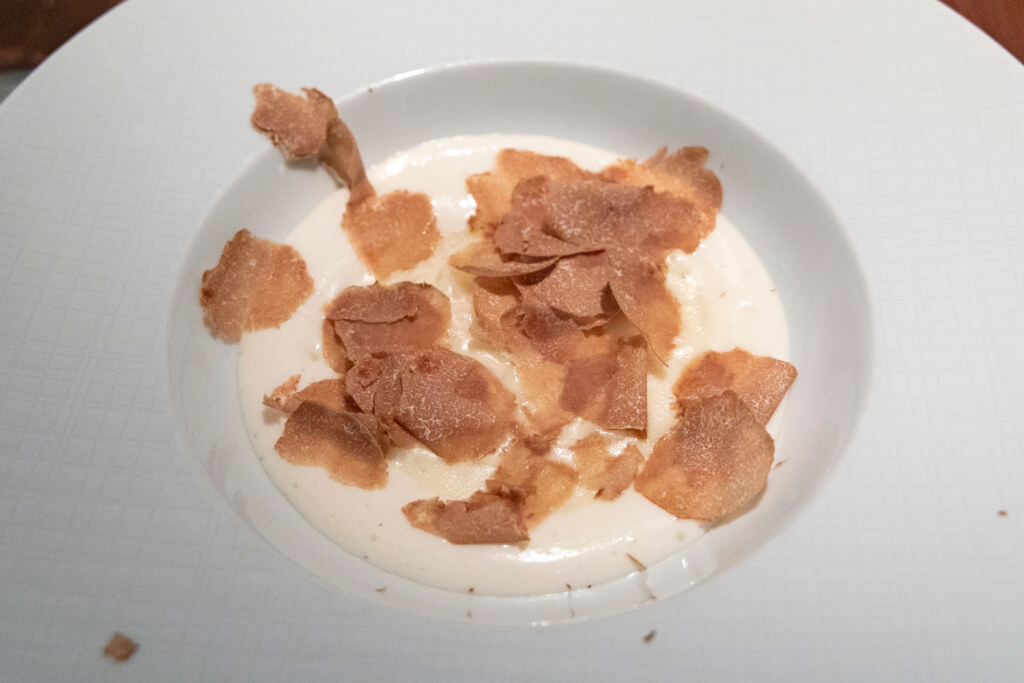 The Charred Broccoli helped to bring balance to our main course. The broccoli was, indeed, nicely charred, which is the best way to eat broccoli, in my opinion. However, this dish isn't just broccoli. It came atop a luxurious Matsutake custard and a couple of slices of Matsutake on top. It was delicious! Mrs. Island Miler even liked this dish, and she doesn't like broccoli.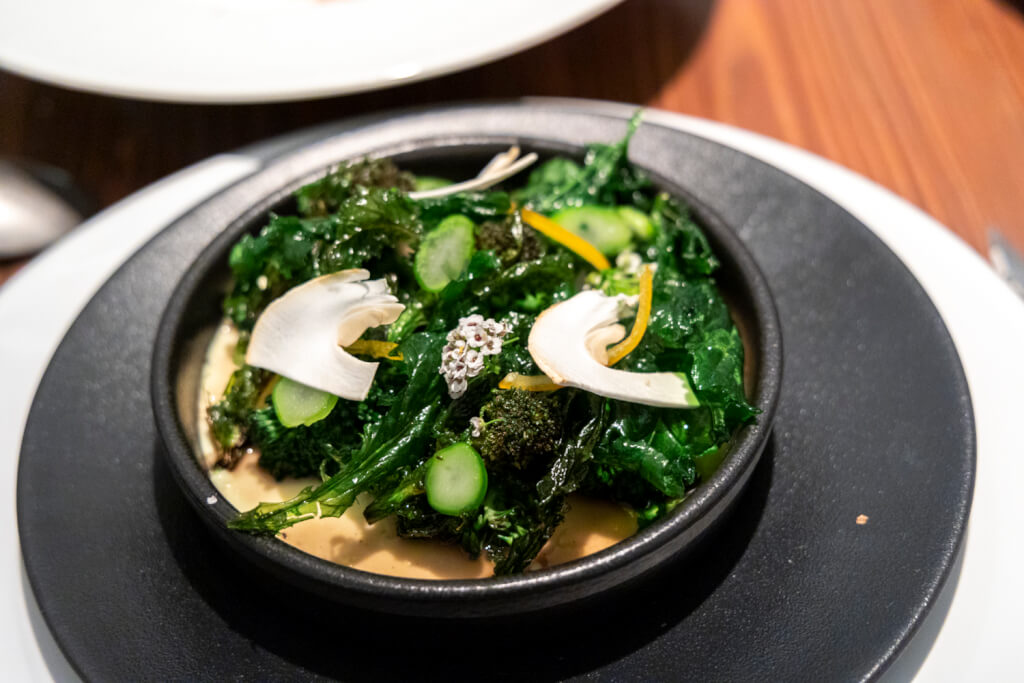 Dessert at Press Napa Valley was, like the rest of our dinner, an event. Mrs. Island Miler went with the Brown Butter Maple Cremeux, which is a quintissential fall dessert. Here, a green apple sorbet paired with pain d'epices and mulled cider. The flavor was dominated by fall spices and apple, just what Mrs. Island Miler was hoping for.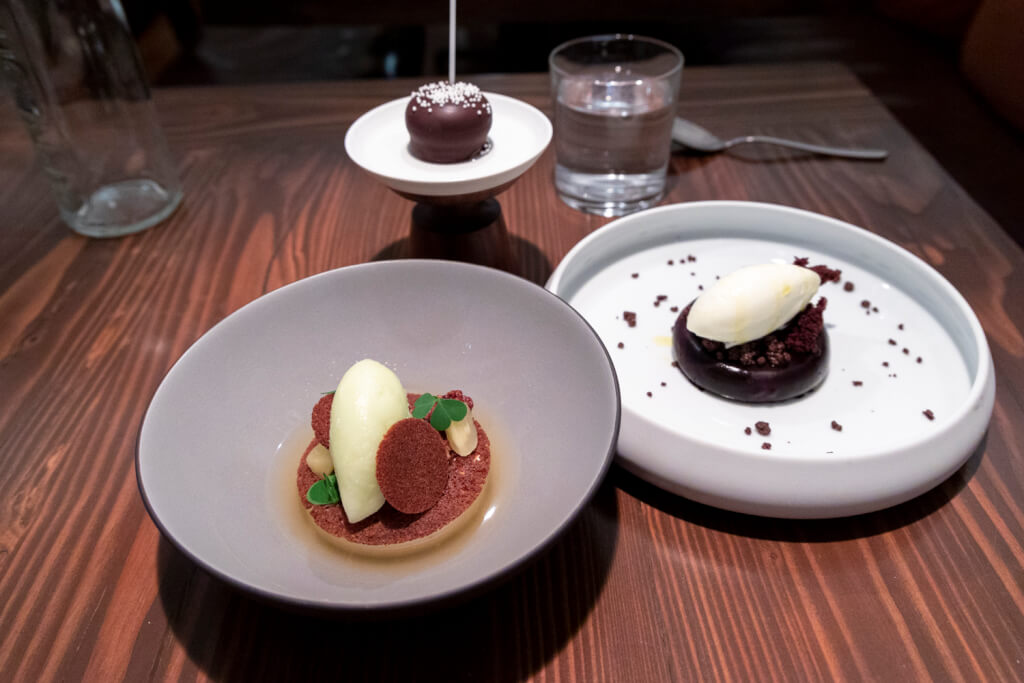 Me? I went with the Jivara Chocolate Creme, which was a bit of a gamble for me. Why? Because it combines an orange-cocoa crumble, olive oil sorbet, and a chocolate sponge cake. Typically, I hate chocolate and orange, but this was quite good! The orange flavor was very light, allowing the rich, creamy, mildly sweet chocolate to shine through. The crumble provided a lovely crunch to the overall dish, too.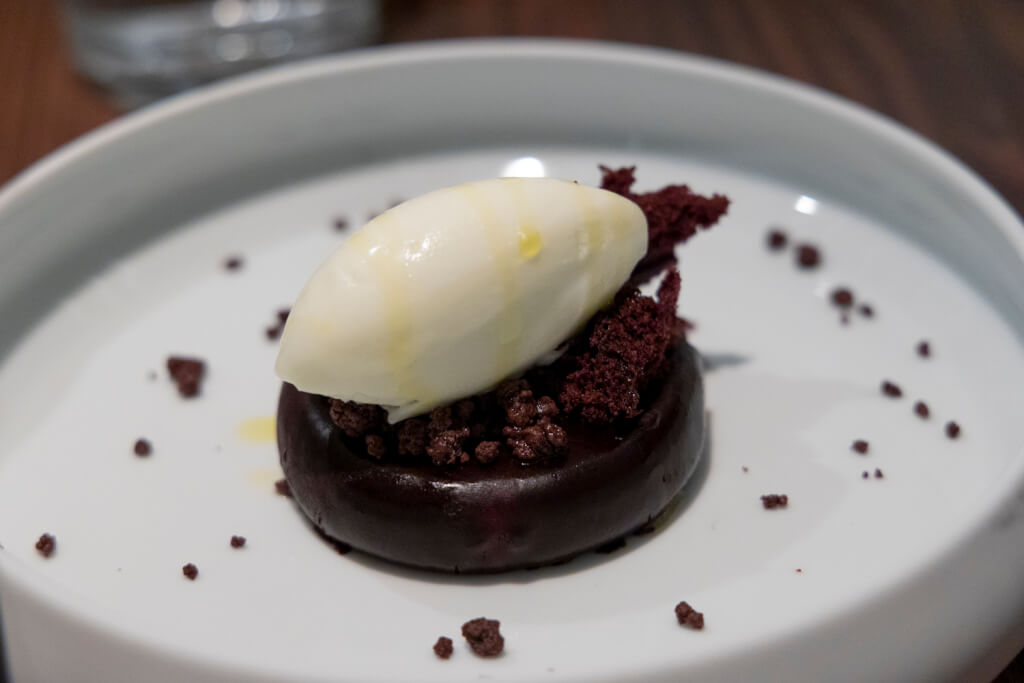 As you can see in the above photo, Mrs. Island Miler was offered a free birthday cake during our visit. She enjoyed it a lot!
Press Napa Valley, Final Thoughts
As I'm sure you're able to tell, Mrs. Island Miler and I both loved our meal at Press Napa Valley. The food, service, and atmosphere, were all fantastic. This is, truly, one of the best restaurants we've been to anywhere. That's probably why they're always booked solid and why the restaurant recently picked up its first Michelin Star. Yes, that gives them the same star rating as Auberge Carmel, but the experiences couldn't be more different. However, both are equally good in their own way and I wouldn't hesitate to return to either. In fact, Press Napa Valle is now m go-to restaurant in the area.
Living It Up in California