Last updated on September 2nd, 2023 at 08:54 pm
As you'll recall from my intro post, the whole reason I booked our Living it Up in California adventure is because I was able to secure award nights at the Alila Napa Valley. That stay was in the middle of our trip and is where we headed after checking out of the Hyatt Carmel Highlands.
On our final morning in Big Sur, we took things at a leisurely pace. There's no sense in rushing, as I didn't want to arrive in Napa so early that we'd have to wait hours for our room. So after our final breakfast at the Pacific's Edge, we returned to our room to finish packing and enjoy the scenery one last time.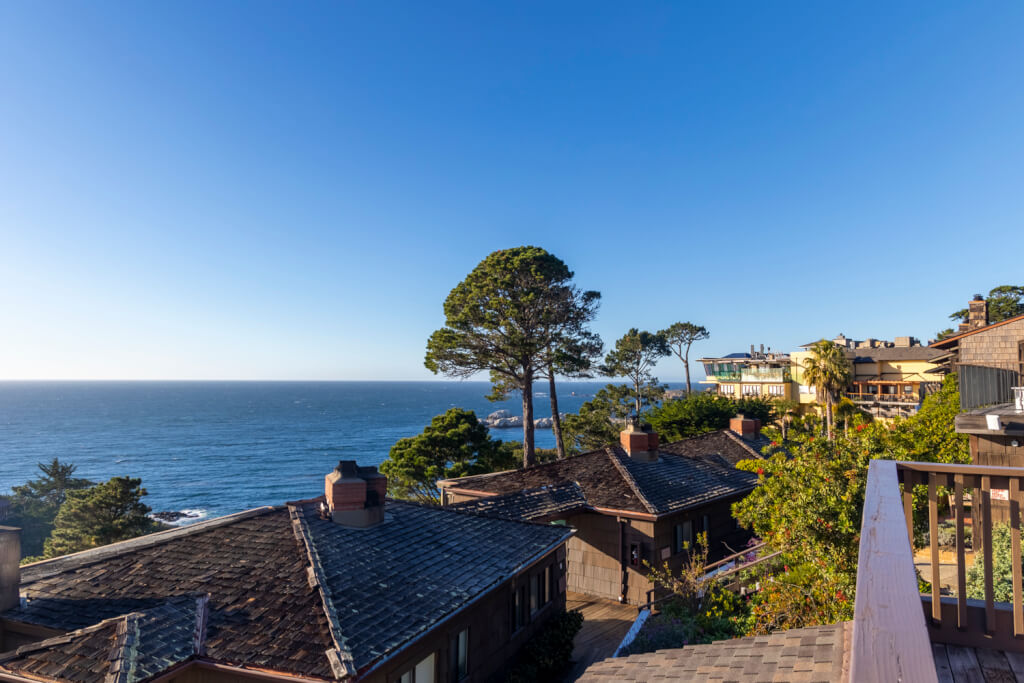 Getting to Alila Napa Valley
When I booked our hotels, I didn't think to check the distances between them. All I knew was that we wanted to go to Big Sur and Napa. Well, it turns out that the Alila Napa Valley and Hyatt Carmel Highlands are roughly 180 miles apart using the fastest route. But I wanted to avoid tolls and enjoy a bit more scenery during the drive, so I routed us on US 101 and over the Golden Gate Bridge. That extended the drive to 197 miles, which took roughly four hours because of the traffic in San Francisco, and because we made a pit stop.
Our pit stop was at the H. Dana Bowers Rest Area & Vista Point, which gave us the opportunity to relieve ourselves (the restrooms here are disgusting), stretch our legs, and take in the views of the Golden Gate Bridge and San Francisco skyline. Unfortunately, the angle of the bridge isn't as good as it was from the nude beach, and the angle of the sun wasn't so great for photography. But, oh well.
A Note on This Review
Now, I must say, not a lot of things have changed from when this property was the Los Alcobas Napa Valley to now as the Alila Napa Valley, so I'm going to keep this review a little more light. If you want the in-depth version, head over to my old review of the Los Alcobas.
Alila Napa Valley Arrival Experience
During our stay, this was identical to how things were during the Los Alcobas days. You pull up to the Acacia House restaurant, where the valet will greet you. From there, you walk over to the tiny front desk on the side of the main building. However, during our stay, the Alila Napa Valley was under construction. The associate at the front desk informed us that they were creating a new, more convenient arrival experience. Looking at the property's website, this ought to be done now.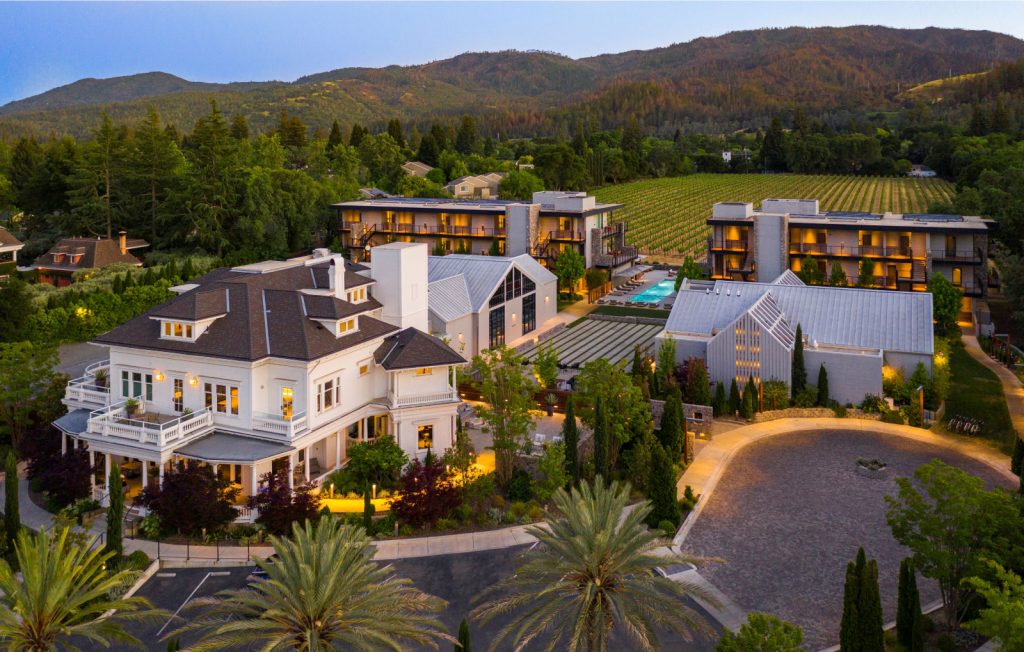 That said, the associate that checked us in was marvelous! She was so warm, welcoming, and genuinely friendly. She thanked me graciously for my mid-tier Explorist status, explained the construction to us, and offered us an upgrade because of my status and the work. Though we arrived at 2:50 pm – over an hour before check-in time, our room was ready.
After a bit of chitchatting, we headed to our room. We were offered an escort, but having been here before, we politely declined.
Our Alila Napa Valley Room
Initially, I booked us into an estate-view room – at the time of booking, it was the only type available for award stays. But during check-in, we were upgraded by not one but two categories to an upper-floor vineyard view room!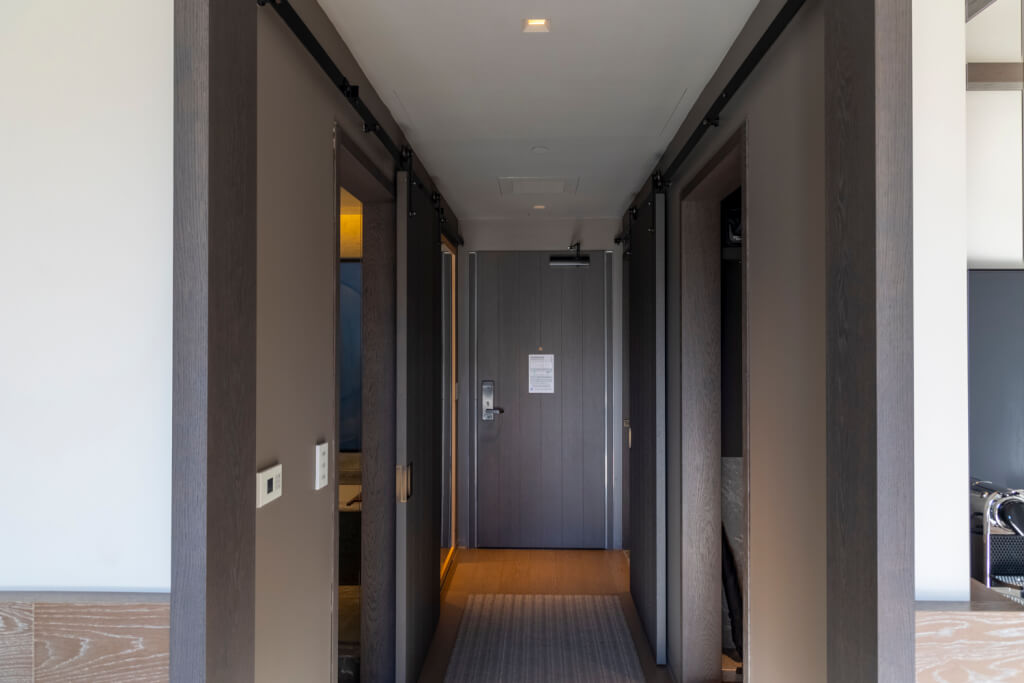 Inside the room, things were virtually identical to the way they were in pre-Alila Napa Valley days. We have a private area outside in front of our room, and upon entering, you're flanked by the main bathroom on the right and the water closet on the left.
The bathroom had no changes in it, except for some Alila branding and Votary toiletries in place of Los Alcobas' Naturopathica toiletries. I was a little disappointed that they don't provide a bar of Napa Soap Company soap anymore, but that isn't a big deal.
It was the same story in the water closet, except that there were plant cuttings in there this time.
Down the hall is the same storage alcove, which was great to have, given how many bags we were traveling with!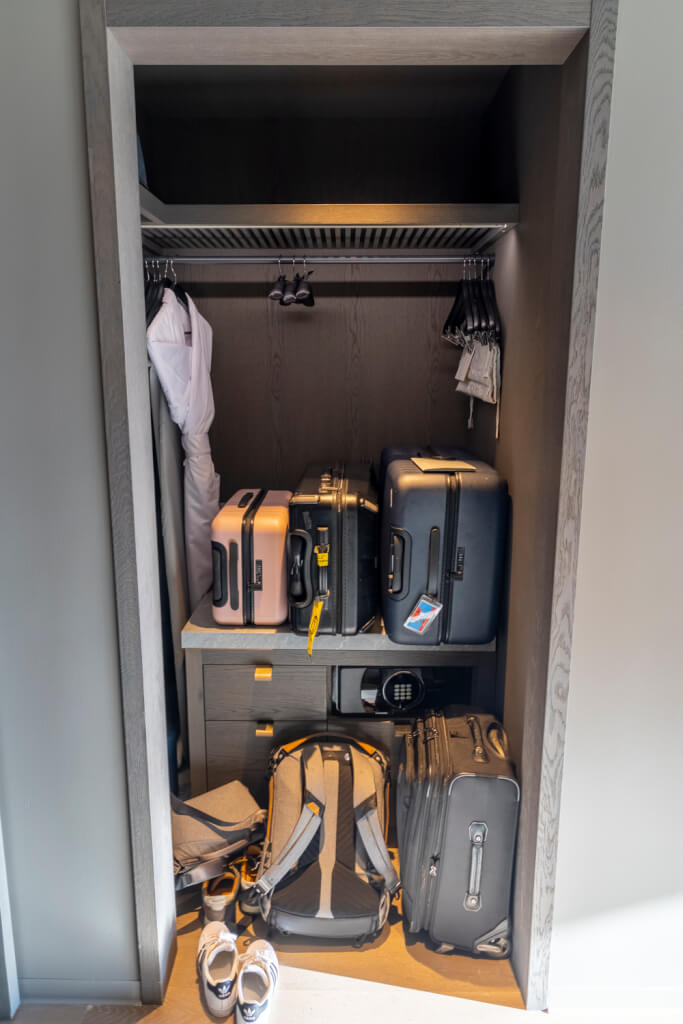 Naturally, the rest of the room was still virtually identical. And that's a good thing! The one major difference is the fact that they installed automatic roller shades, which is convenient, but the motor is very loud! Oh, and, there was a snake plant in our room, too.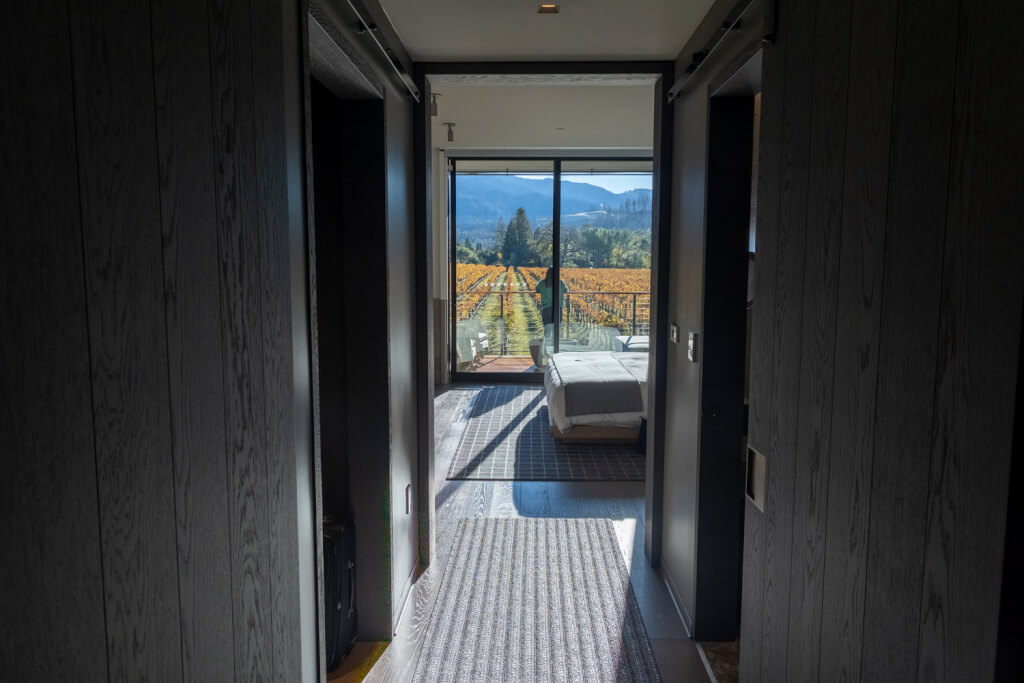 As was the case during our last visit, you could control the entire room with a tablet. This includes being able to order room service, make spa reservations, and more! More often, though, it was easier to control the lights and whatnot with the capacitive touch control panels.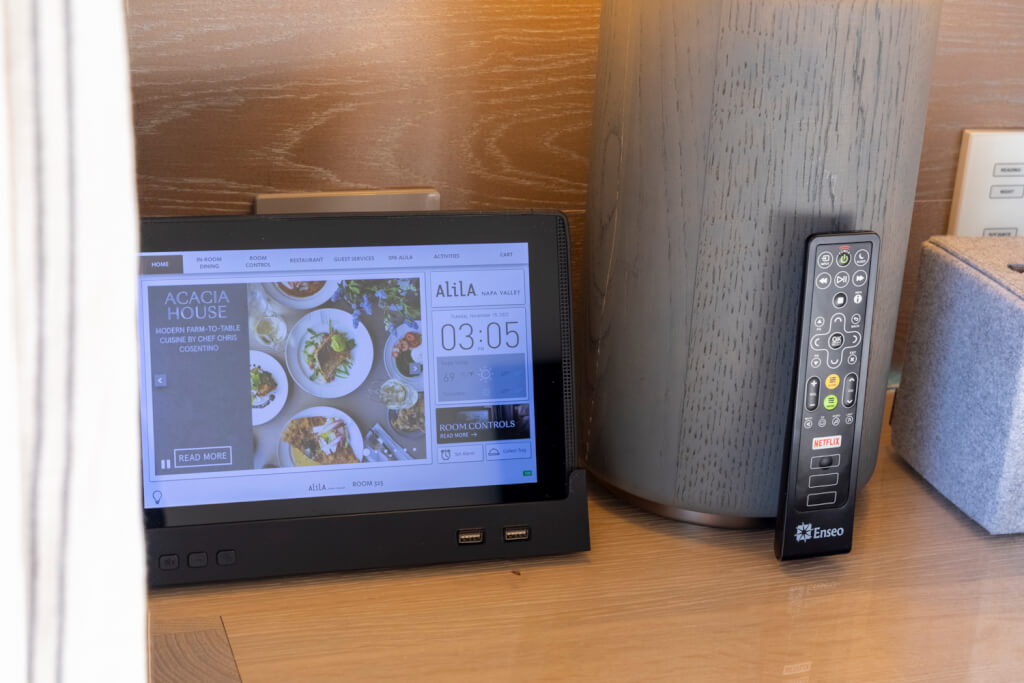 The mini-bar area got a bit of an upgrade, adding a Nespresso machine to the Breville electric water kettle that was there last time, while they also provide two bottles of filtered water per day.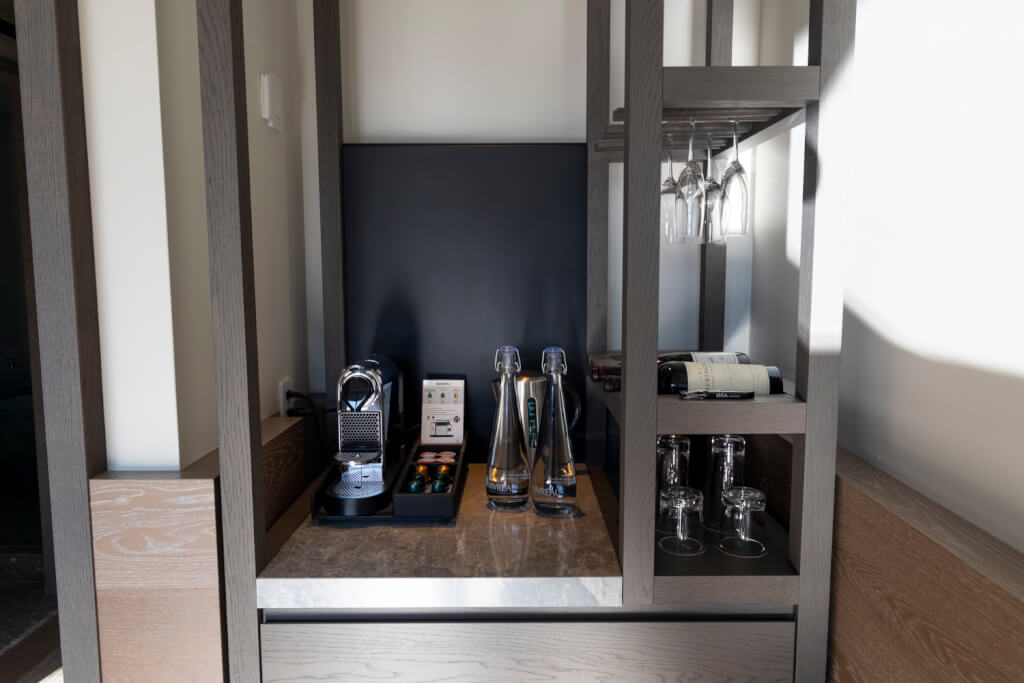 Inside the bar area, the mix of items has changed pretty significantly. Now, Alila Napa Valley features more local products, including my favorite Clif Family products and Schramsberg Blanc de Noir! Of course, all of these items come at a price, and it's still cheaper for you to go out and buy these things on your own. But if you're feeling lazy and are down to splurge, it's nice to see these upgraded options.
Alila Napa Valley Vineyard View Room View
As the name suggests, our room at Alila Napa Valley features expansive views of a portion of Beringer's vineyards. This has not changed one bit, and it is still one of the best views you can enjoy in the area!
Interesting, out here is still where you'll see Los Alcobas branding. Specifically, the end caps on the furniture still reflect the old branding.
Of course, the fire pit remains and operates in the same way. This is, by far, my favorite feature, and we spent a fair amount of time enjoying the views and the warmth of the fire.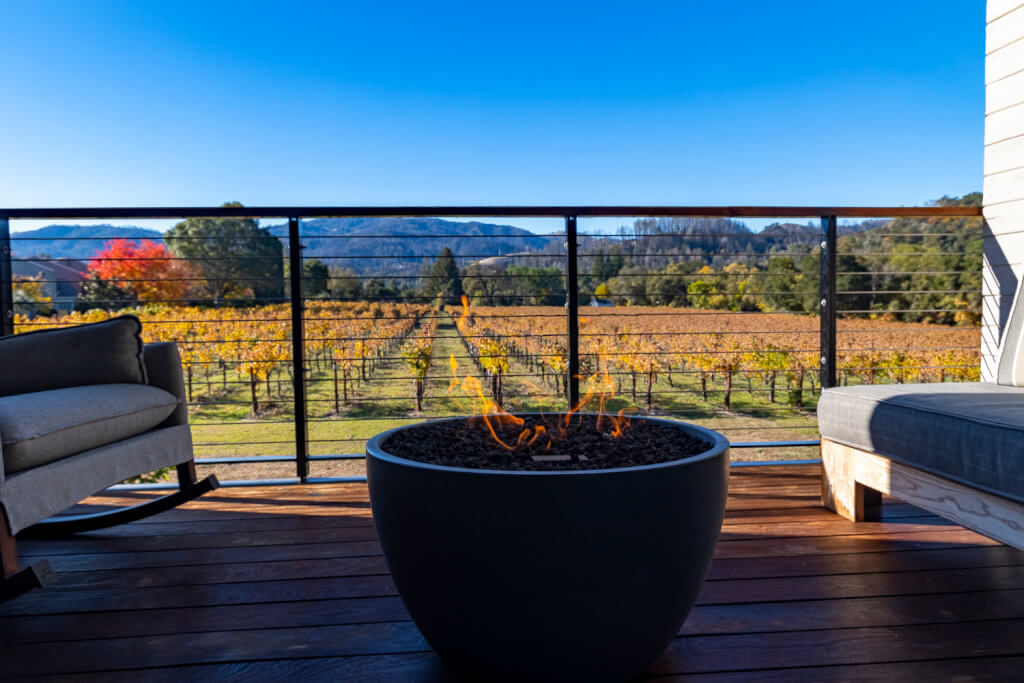 Interestingly, this time around, we saw more wildlife than last time. There was nothing truly interesting, but the hummingbirds were still around, along with a large squirrel and a quail.
Alila Napa Valley Housekeeping + Turndown Service
I don't typically accept daily housekeeping – what's the point? But at a place like Alila Napa Valley, you really ought to. This isn't the same housekeeping you'd experience at typical hotels. They actually clean EVERYTHING and neatly organize your personal toiletries, of which we have A LOT. They even tied up my electric toothbrush charging wire, plugged it back in, and put the toothbrush back on the charger.
They did the same in the rest of the room, but this time for my laptop and our device charging wires. They even left branded glass cleaners for our glasses and my laptop!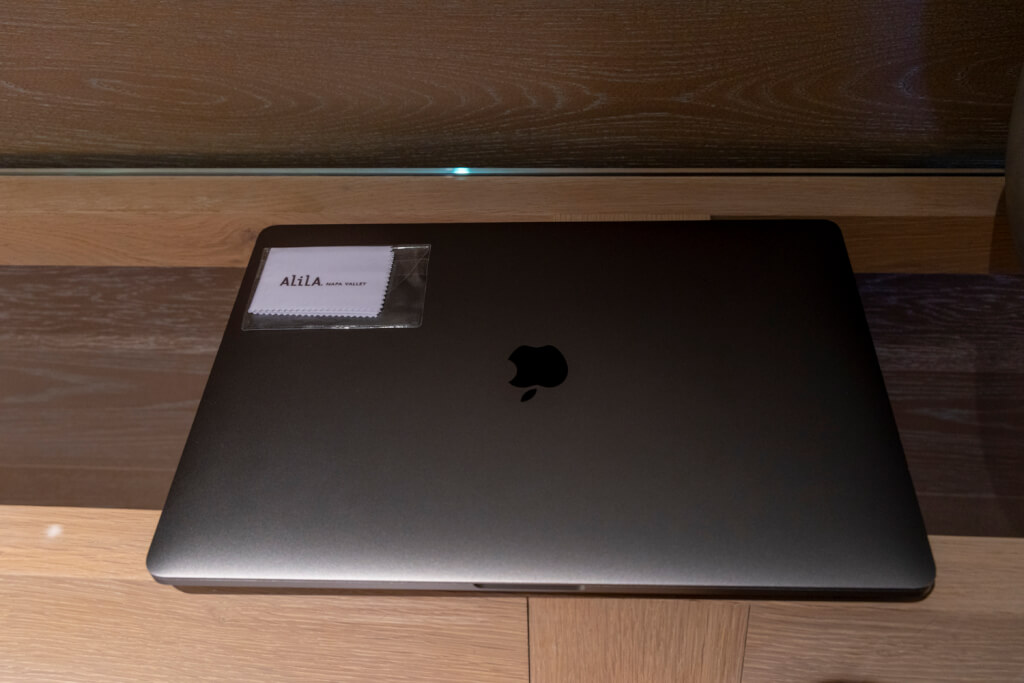 During turndown service, they left a different treat each night, including a box of macaroons from Madeleine's Macaroons one night and a box of Kollar Chocolate's bonbons on the other. Talk about high-quality, pricey treats!
They did also put a glass and a bottle of water on each nightstand each night.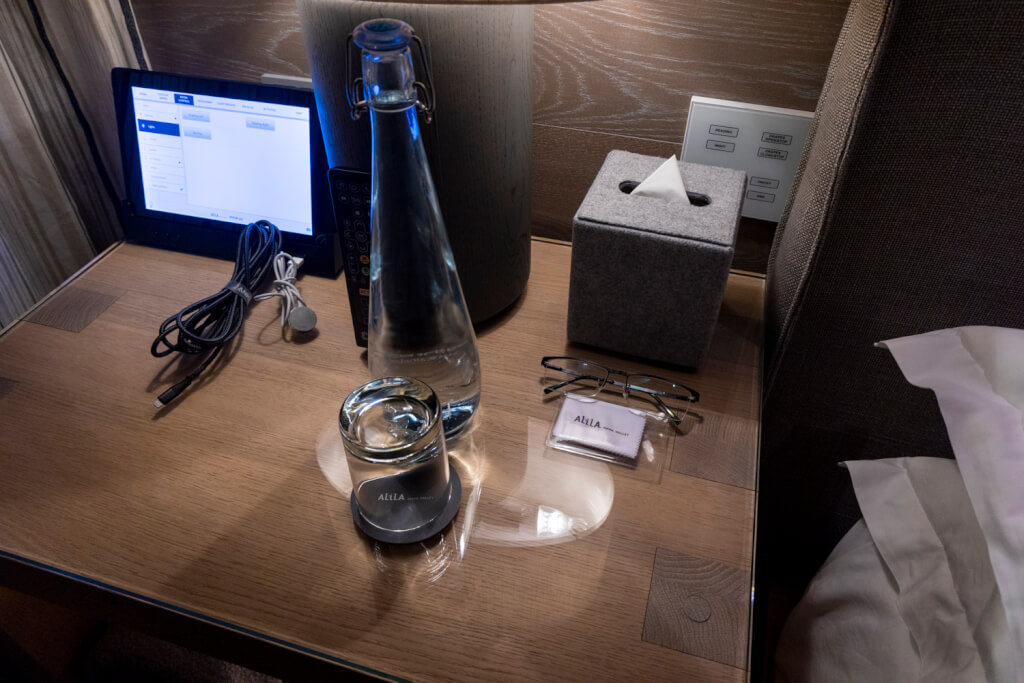 Alila Napa Valley Room Service
While we didn't dine at Acacia House this time, we did indulge in room service for breakfast on our final morning. Unfortunately, the menu seems a bit smaller than it was before. That said, we ordered the Herb Tonic and Yogurt Parfait again and decided to give the Healthy Elvis Banana & Almond Toast, along with the Croissant Bread Pudding French Toast.
The parfait was, as always, super tasty – a fantastic blend of creamy, local yogurt, sweet/savory homemade granola, and sweet/tart fruits and berries. I will say the addition of pistachios to the granola was a bit odd. The toast and French toast were quite good, too, but I wish the French toast had more mascarpone – it was a bit dry without it.
Alila Napa Valley, Final Thoughts
As you can see, for the most part, there isn't much difference between the old Los Alcobas Napa Valley and the new Alila Napa Valley. And that's a good thing! All the things we loved about our first stay here were still true during our most recent one. Of course, that's why this property is so popular. It's in a marvelous setting, the hotel itself is fantastic, and the service is incredible! However, its diminutive size is also why it's so difficult to get award stays here. So if you're wanting to stay here, plan as far in advance as possible, be flexible with your dates, and be prepared to give up A LOT of World of Hyatt points.
Living It Up in California