Our last night in Portland meant one, final meal with our friends.  They didn't tell us where they were taking us, said it was a surprise.  The wife and I almost through we were being shanghaied because we they were driving erratically around some seedy looking areas!  But eventually we arrived at Le Bistro Montage and Pix Patisserie, for dessert of course.
Located in Southeast Portland under and underpass, Le Bistro Montage is kind of a divey restaurant, but with white table cloth lined tables.  Service is average, being just attentive enough, thought not all that friendly.  The food is decidedly creole, a first for us, and fulfilled my request for all dining experiences to be uniquely Portland/PNW and not something we could get at home.
To start, we decided to place an order for two appetizers.  First up were the Crawfish Hushpuppies.
These savory, deep-fried corn battered morsels contained a mixture of peppers, onions, and crawfish, and was served with garlic aioli and remoulade.  It was ok, not my favorite thing, but not terrible either.
The appetizer I did like, though, was the Gator Bites.
These tasty little morsels were Cajun-seared alligator tail with cocktail sauce, horseradish cream, lemon, and honey wheat bread.  First time trying gator, and it was nothing all that different really.  There wasn't a ton of flavor in the meat itself, but it did have a nice, firm, slightly chewy texture.  Not dry at all.
Myself, my friend, and I all ordered something similar, but one of our friends ordered something different for her entree, the Jambalaya.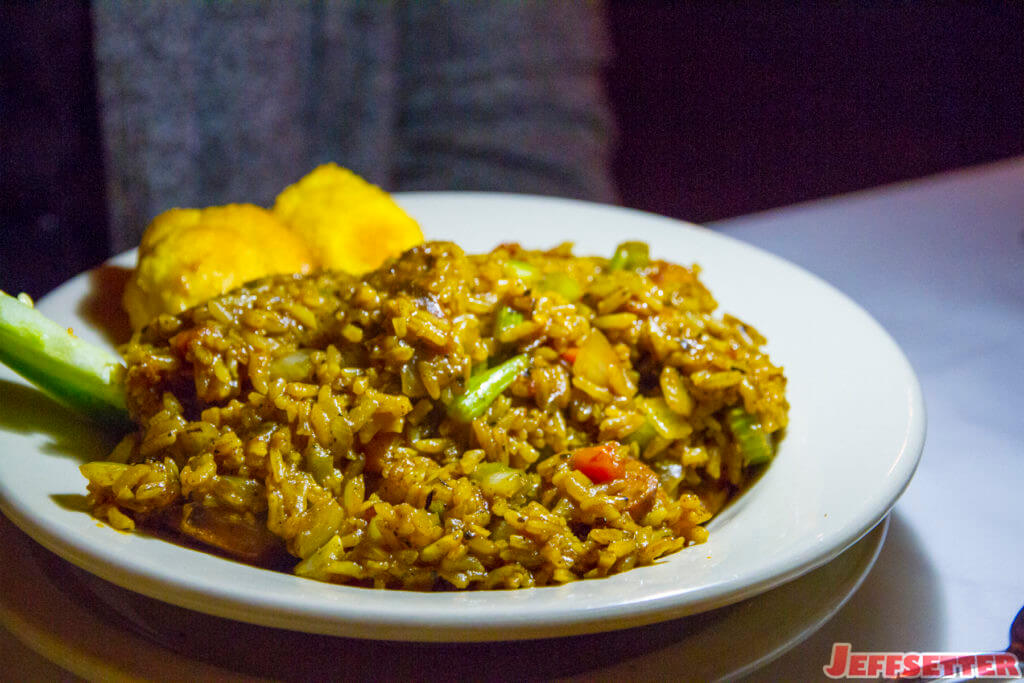 I had a little taste of this.  The jambalaya was very tasty, but boy was it spicy!
The rest of us ordered Le Bistro Montage's macaroni dishes.  Both the my buddy and the wife got SPLOD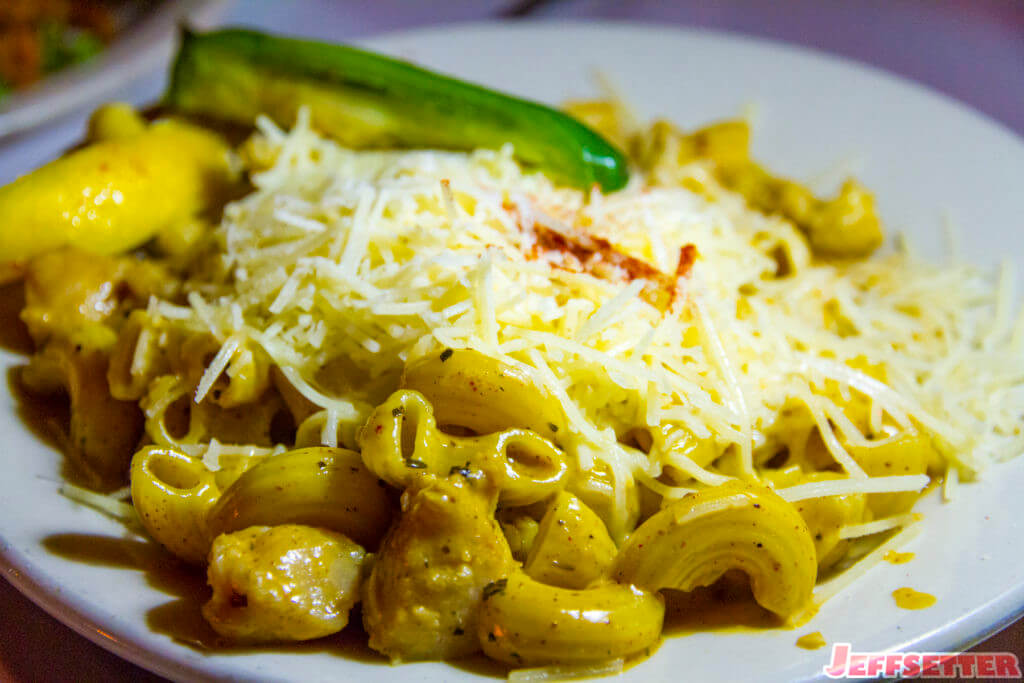 The SPLOD is a combination of the Spicy and Old, so it's macaroni coated in a heavy cream + garlic reduction and a Cajun gravy + jalapeño, topped with parmesan.  The wife got her with gator, while my buddy chose to get his with Spam.
I'm not much for spicy, so I went with the Green Basil Mac.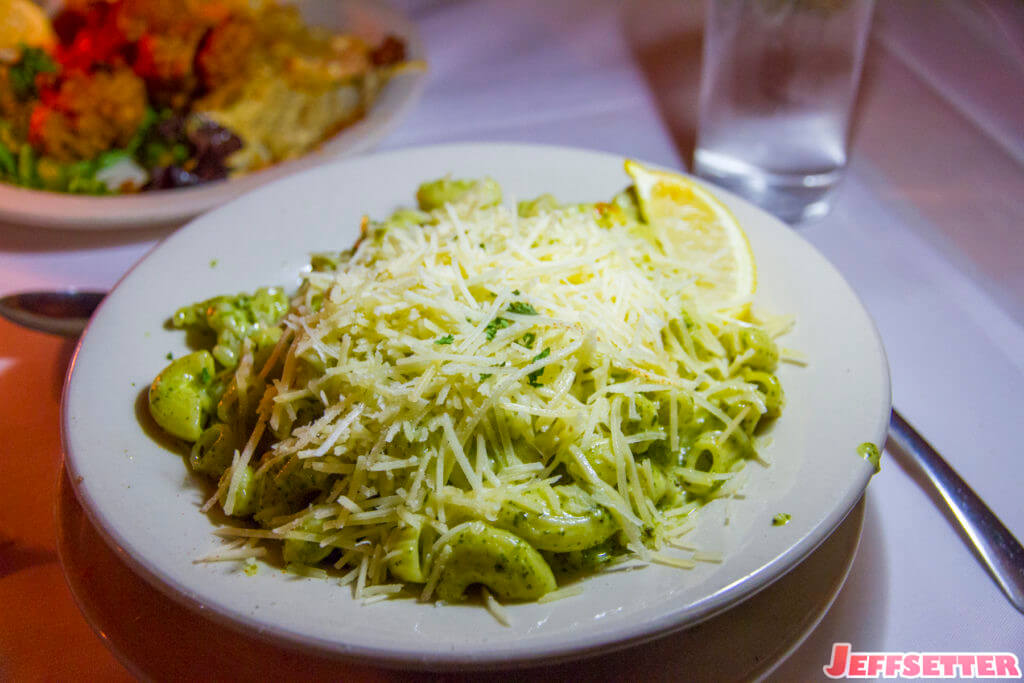 This macaroni dish was coated in basil pesto, heavy cream, and parmesan.  I chose to have mine with gator, and unlike the Gator Bites, the gator in this dish was, I hate to say it, like eating fishy chicken.  Not good.  As for the macaroni, it was pretty bland and way too heavy.  I only ate half before I started feeling sick, way too much heavy cream!
Le Bistro Montage does keep things old school with your leftovers, providing foil sculptures for you to take home your food.
Instead of having dessert at the restaurants, our friends told us that they had another surprise place they'd like to take us to.  So we drove off deeper into Southeast Portland to what looked like a house.  As it turns out this was Pix Patisserie.  The place has a pastry case from which you order food, and beverages are ordered from your table, including an incredible list of wines.  Lot's of great stuff really!
I wasn't feeling a dessert, but the girls were, so one of our friends and my wife ordered the Tiki Tiki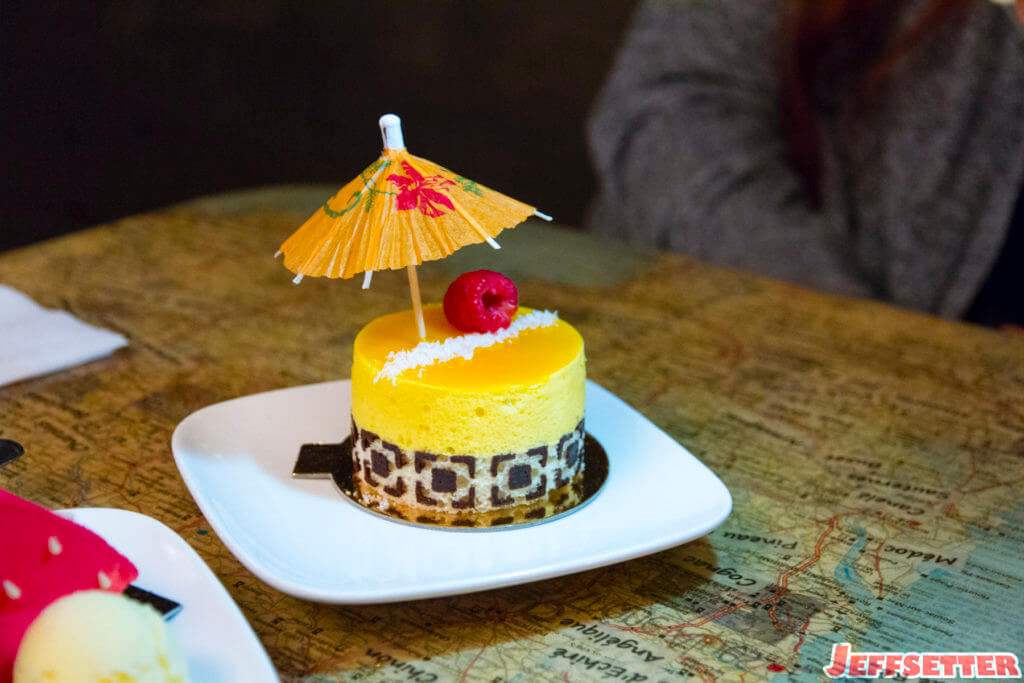 and the Le Fraiser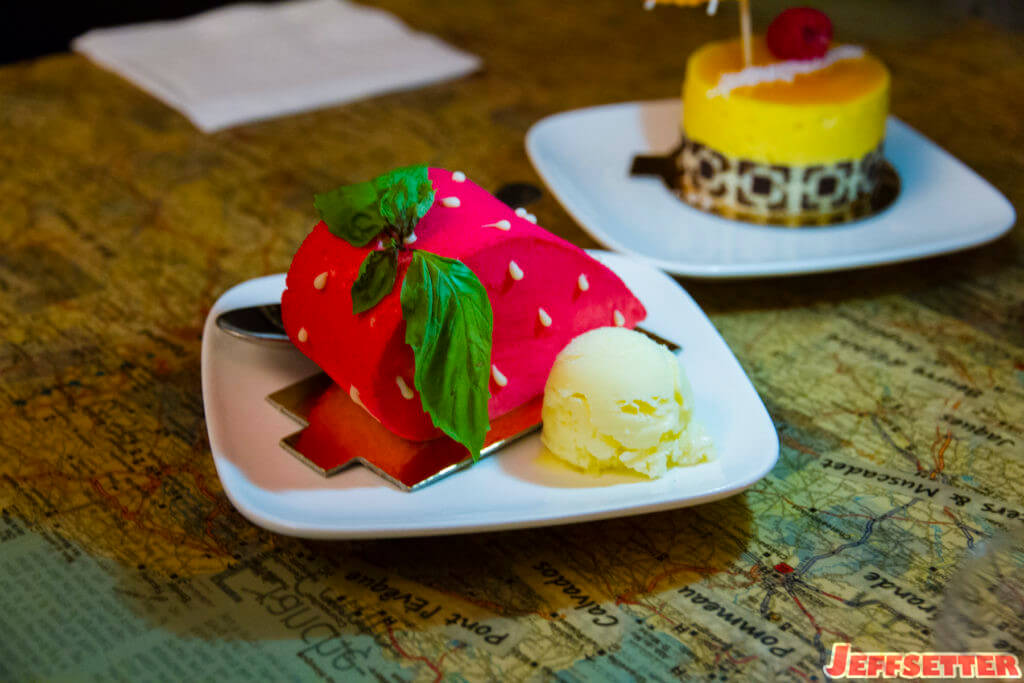 The Tiki Tiki is comprised of Mango/passion fruit mousse with coconut meringue and almond cake décor, while the Le Fraiser is a lemon and cream cheese mousses with Viridian Farms strawberries and candied lemon disguised as a strawberry.  Both desserts were as delicious as they were beautiful.  This is someplace we'll definitely be back to!
Our PNW Adventure
Review:  Le Bistro Montage and Pix Patisserie