Last updated on May 28th, 2018 at 07:56 pm
In September 2015, we took a 21 day New Zealand Road Trip. Many of you may have seen some of our posts of individual stops on the trip. This post shares our itinerary and a summary of our trip.
This is going to be a long read, so grab some coffee or a beer.
New Zealand Road Trip – Itinerary
We started our New Zealand adventure in Auckland. We spent about a week three days in the city and five days on Waiheke Island. After that, we flew down to Queenstown, picked up our car, and started on our 21 day New Zealand Road Trip. The days in the graphic below are were we stayed.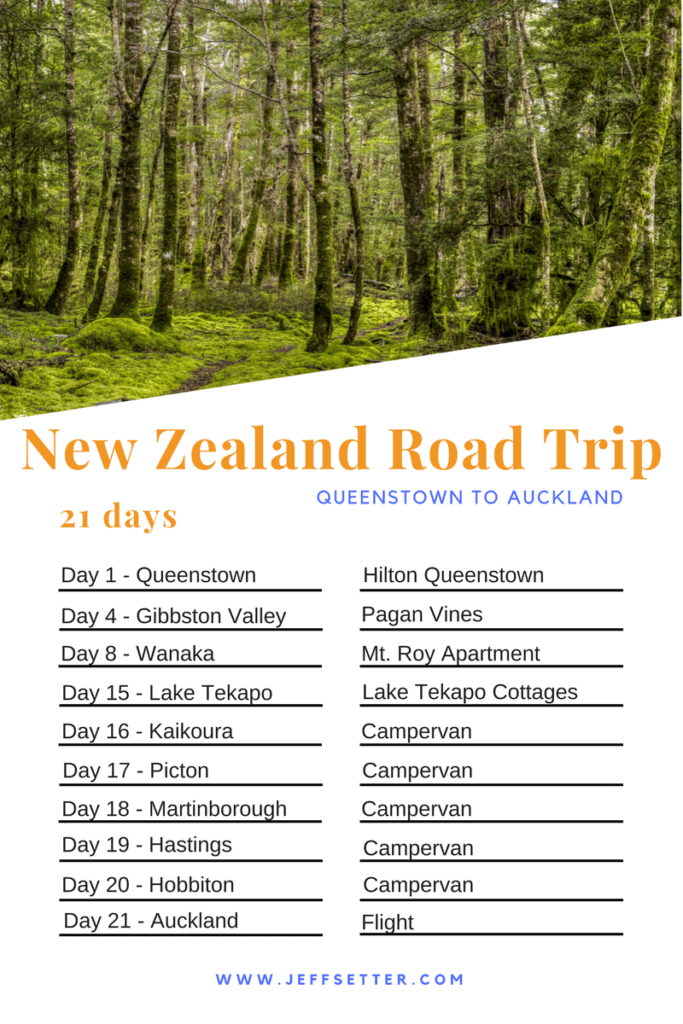 I cannot say enough about New Zealand. If you have the time, then an extended visit is well worth the effort.
You can keep reading this post to learn a little about our planning and a summary of our trip.
Our Adventure Map provides more details about each city we visited, including reviews, recommendations, and photos. Mr. J even has a couple of drone videos.
Planning
On a previous trip to New Zealand, we spent some time on the South Island. Based on that trip, we decided to spend most of our time on the South Island.
We chose Queenstown (and Gibbston Valley) as a starting point and central base for day trips around the area. You can read our post about getting to Queenstown here.
Here are some of the day trips we did while staying in the Queenstown area: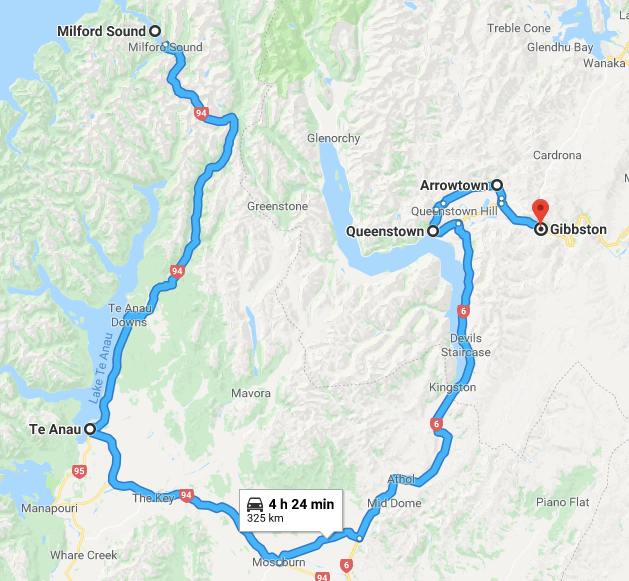 Mr. J needed to get some work done, so this is why we chose an extended stay in Wanaka. I think a day or two is good here unless you are a hiker or skier. Of course, the lake would be fun during the summer.
With some help from our family friend Richard at Tanken Tours based in Queenstown.
His knowledge and specialized tours (photography, heli-skiing, trekking) are amazing. Richard is fluent in Japanese, so Tanken Tours caters to Japanese clientele. If you are fluent in Japanese and heading to New Zealand, then I suggest booking a unique tour with Tanken Tours.
We mapped out our itinerary to include Cardrona, Wanaka, Te Anu, Lake Tekapo, Kaikoura, Hawke's Bay and Hobbiton.
If this is your first time to New Zealand's South Island, then I highly suggest putting the Milford Sound and one of the glaciers (Fox or Franz Joseph) on your list. We considered going back to this area as a day trip from Queenstown or Wanaka, but the weather did not cooperate.
Fun Fact: Richard is part of the team that started Zenkuro, New Zealand's only sake brewery.
To read about flight or rental car specifics read our Queenstown Getting there and Around post or visit our Adventure Map.
Here is our final driving route:
South Island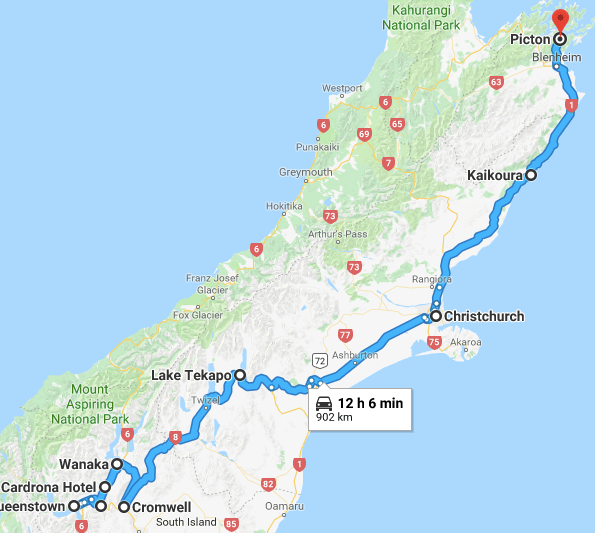 In Picton, we (with our campervan) grabbed the ferry to Wellington.
North Island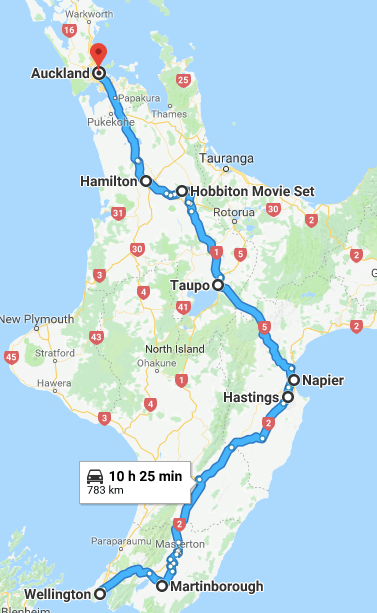 Accommodation Guide
We stayed in a variety of places and types of accommodations from a private Vineyard to a campervan. You can read our reviews by city on our Adventure Map.
Vacation Rentals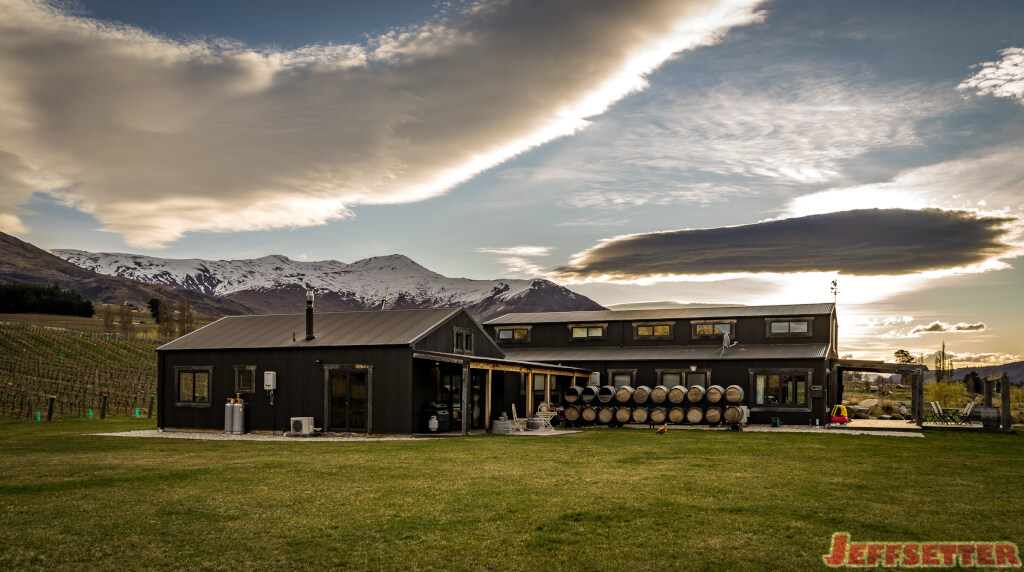 My favorite stay was the Pagan Vines just outside of Queenstown. I loved the location outside of the town bustle.
This 2 bedroom guest house can easily accommodate a family of four. Note: You will need a car for this location.
Our other vacation rental – Mt Roy Apartment in Wanaka.
Hotels
I loved the Hilton Queenstown. It's a beautiful property but secluded on the other side of the lake from town.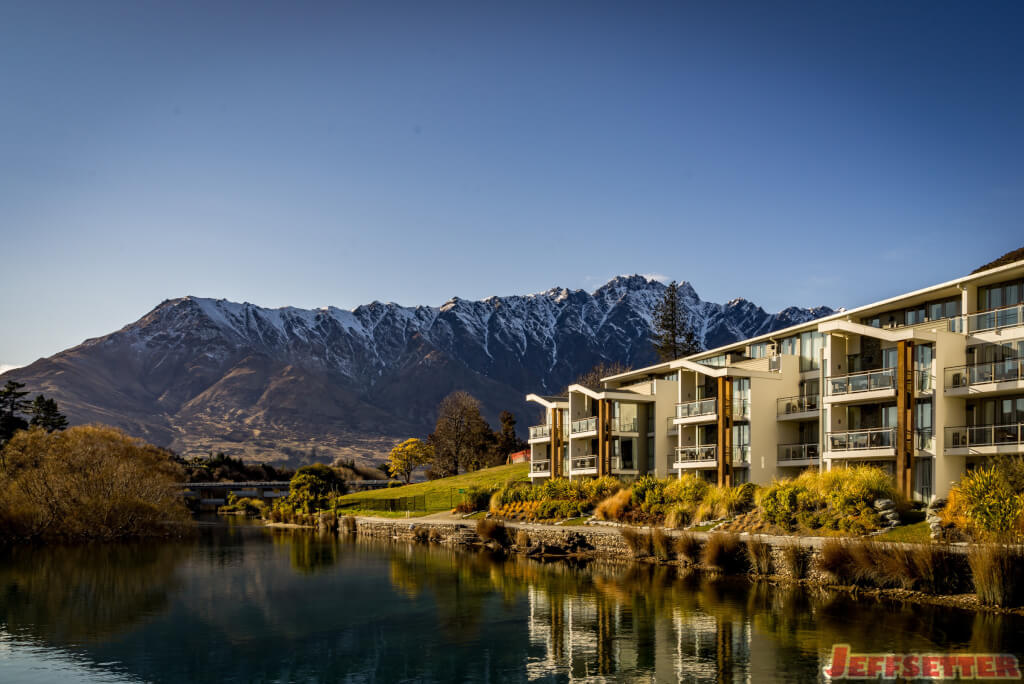 Our other hotel on the road trip was Lake Tekapo Cottages. This property is rustic but very close to the Church on the lake where you can go for star gazing. The property is clean, reasonably priced and the location is great.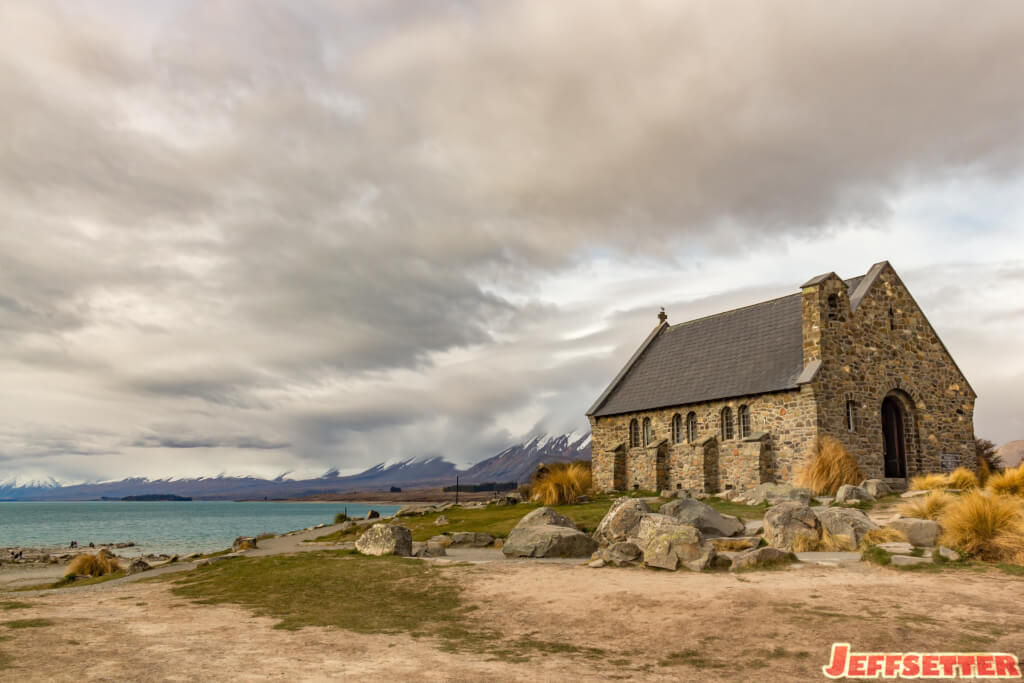 Remember this "rustic" point when visiting New Zealand. Much of New Zealand's appeal is nature and remote locations (glaciers, forests). You will find a large number of highly rated hotels are more on the rustic and eco-friendly side, meaning minimal amenities.
Of course, you can find luxury 5-star hotels, but it may be challenging and these properties book-up well in advance.
Campervan
Our most unique stay was our campervan. The van itself was standard, but the freedom to chose your own adventure is what makes this experience unique for everyone.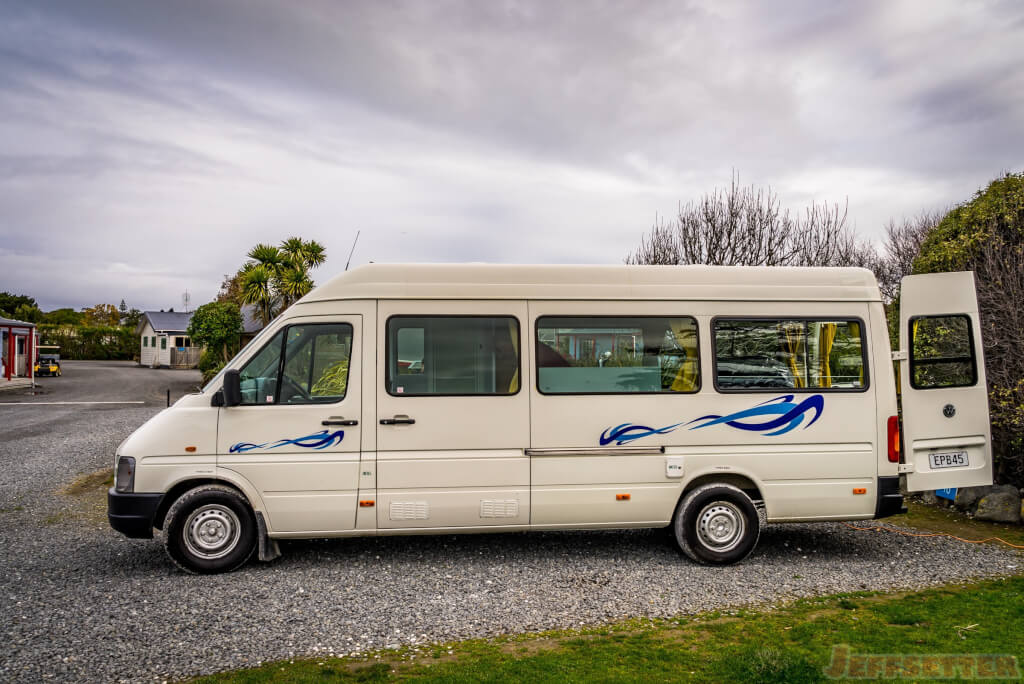 We stayed at Top 10 Holiday Parks because I didn't want to cook in the campervan and have everything smell like the back of a restaurant.  The value of the membership really depends on how many stays you will have, and if they have any promotions. We bought the membership because the internet was not included in the rate at the time stayed, so the value was there for us.
You can "freedom camp" in New Zealand – aka stay on public land for free. However, this is only in certain areas, and there are many exceptions (typically a posted sign that says no camping). We seemed to find every location with a posted "no camping sign." Given that we are not hardcore campers, we did not look into just parking on the side of the road for the night. Here are a couple of resources for freedom camping:
Dining Guide
We enjoyed a few restaurants during our New Zealand road trip. Most of the time we utilized our accommodations with kitchens to prepare our own meals.
See our detailed posts for dining in Auckland and Waiheke.
Our camper van posts, also have dining recommendations if we tried a restaurant on our drive to Auckland.
Here are a few other restaurants, by city, we tried that are not detailed in any other post.
Queenstown
 Wanka
Edgewater Resort – This resort was close to our vacation rental. We stopped here after a long walk along the lake path. We sat outside and had a glass of wine. Peaceful, nice view of the lake and perfect to catch some sun on the patio.
The Spice Room – if you like Indian food, then this is a great spot to try in town
Lake Bar – this is exactly what the name implies a bar by the lake. We stopped in for some afternoon beers. Love that NZ cider.
 Lake Tekapo
Mackenzie's Cafe Bar Grill – we had a happy hour dinner aka appetizers (nachos and meat skewers). If you have never tried a stone grill, then you should at some point (that is, if you are a carnivore). Basically, you get a super hot stone and you cook your choice of meat on the stone. We tried one in New Caledonia.
Cromwell
Souvlaki & Kebab Grill – as you can see I loved my kebab. If you like kebab's, then this place is a great treat after a long drive.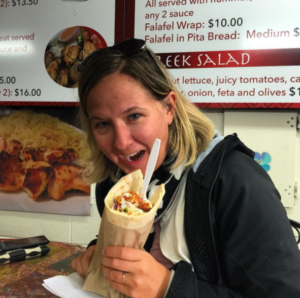 Activities Guide
New Zealand offers a wide range of activities from trekking to wine to skiing to beaches. Almost everyone can find something to do.

Our post on Queenstown – [Things to Do] provides suggestions for trekking (e.g., Kepler Track) and day trips (e.g., Milford Sound).
Of course, wine is very near and dear to our hearts and bellies. Here is a list of the wine regions that are along this New Zealand Road Trip route.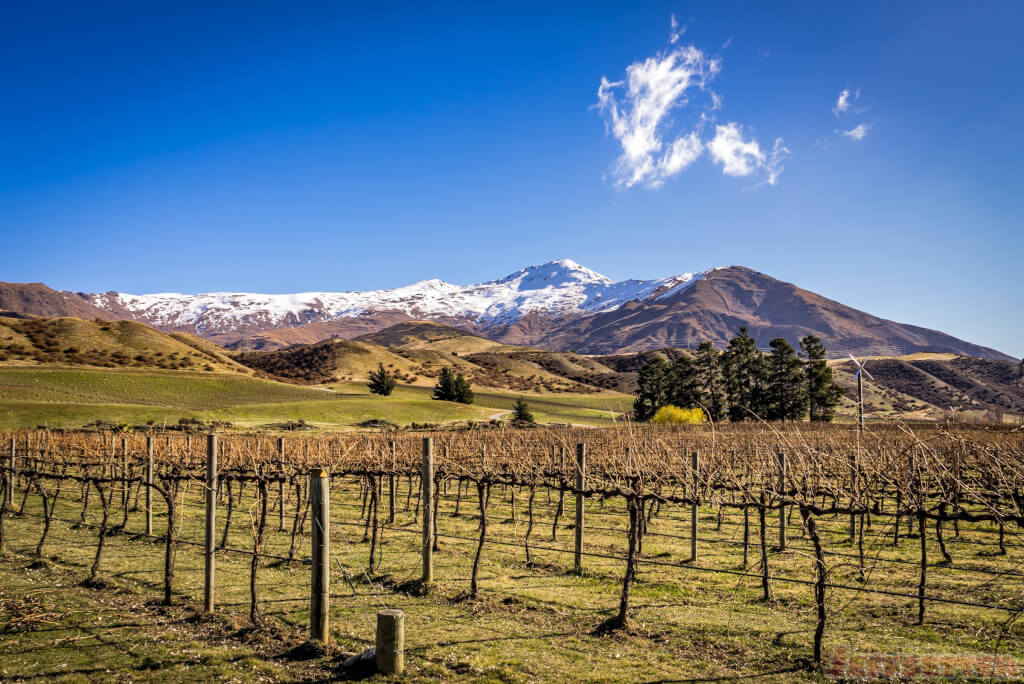 Wine Regions:
Marlborough – we did not stop at any wineries in this region
Waiheke Island (although we did this pre-road trip)
For a complete list of wineries, visit Wines of NZ.
I suggest looking at our travel map of New Zealand. On the New Zealand map, you can look for activities by city. We are continually updating these pages as we catch up on our blog posts.
We hope this helps with your planning. As always, feel free to Contact Us if you have any questions or need some help with your next adventure.