Last updated on September 2nd, 2023 at 08:49 pm
The last time we were in Napa Valley, we didn't do any wine tastings at all. This time, though, I made doing at least one a priority. Being that we both enjoy The French Laundry's Modicum sparkling wine, I decided to book us a wine tasting at Schramsberg Vineyard.
As I'm sure you all know, Napa Valley is home to an enormous variety of different vineyards making different styles of wines and offering different types of experiences. The Island Miler household isn't one of avid wine drinkers, but we do enjoy the sparkling wines of Schramsberg Vineyards. For those that don't know, Schramsberg is one of the oldest vineyards in Napa Valley and is a premier producer of sparkling wines. In fact, I'd say that Schramsberg's wines can rival those made in Reims, France.
That's why I chose to book a wine tasting at Schramsberg. Though I won't lie, I was still a little apprehensive. Would the experience be an overly formal one? Would we be out of place?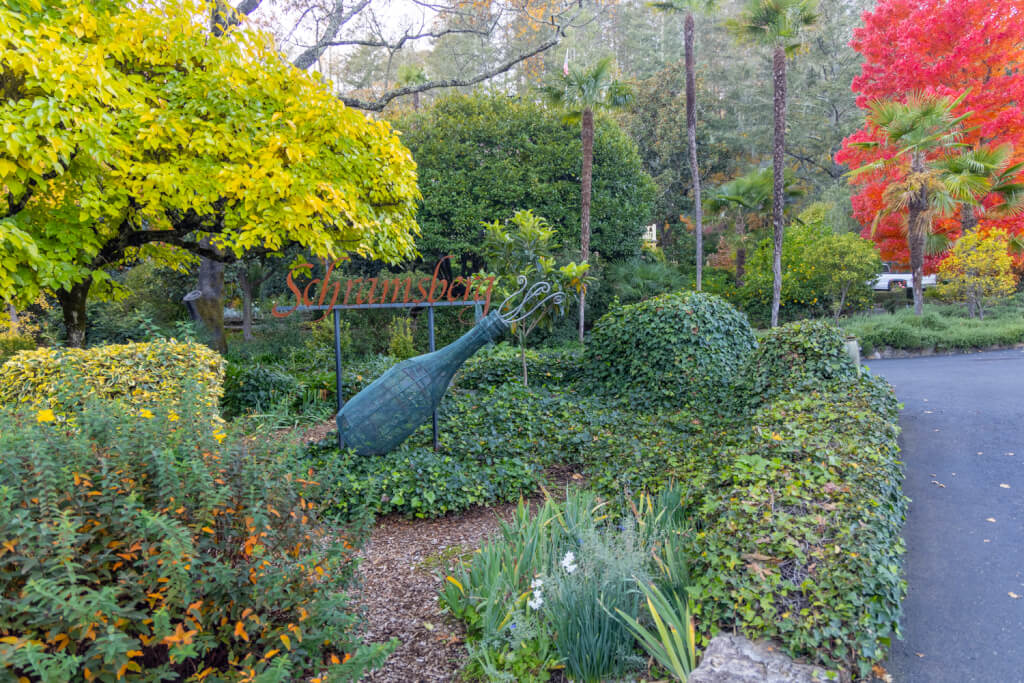 Booking a Wine Tasting at Schramsberg
Booking a wine tasting at Schramsberg is simple. All you need to do is head over to Schramsberg's website and select the type of experience you'd like. Their standard tasting and tour packages include the following:
Sparkling only
Sparkline and Red Wines (Davie's Vineyards)
Reserve Wines and Cheese Tasting
Private tours are available, while you can schedule tastings only (no tour) between May and October. It's worth noting that sparkling-only tastings are free for Wine Club members, while they receive discounts on everything else.
Once you pick your experience, you then need to pick your date and time. Just be aware that if you need to cancel, you must do so more than 24 hours before your scheduled tour time, or you'll be charged for the full tour price. You also need to ensure that you arrive on time, as arriving more than five minutes after your start time will cause you to be excluded from your tour with no refund.
Schramsberg Vineyard Location
Unlike most of the famous vineyards in Napa Valley, Schramsberg Vineyard is located between St. Helena and Calistoga. It's worth noting that while the vineyard is right off St. Helena Highway, you need to drive up a 3/4-mile, single-lane road to get from the highway to the vineyard. Parking is also at a premium at the vineyard, so be sure to arrive with ample time to not only drive up the road but to find parking and walk to the guest center before your reservation time. I'd say plan on arriving at least fifteen minutes early. We almost didn't make it.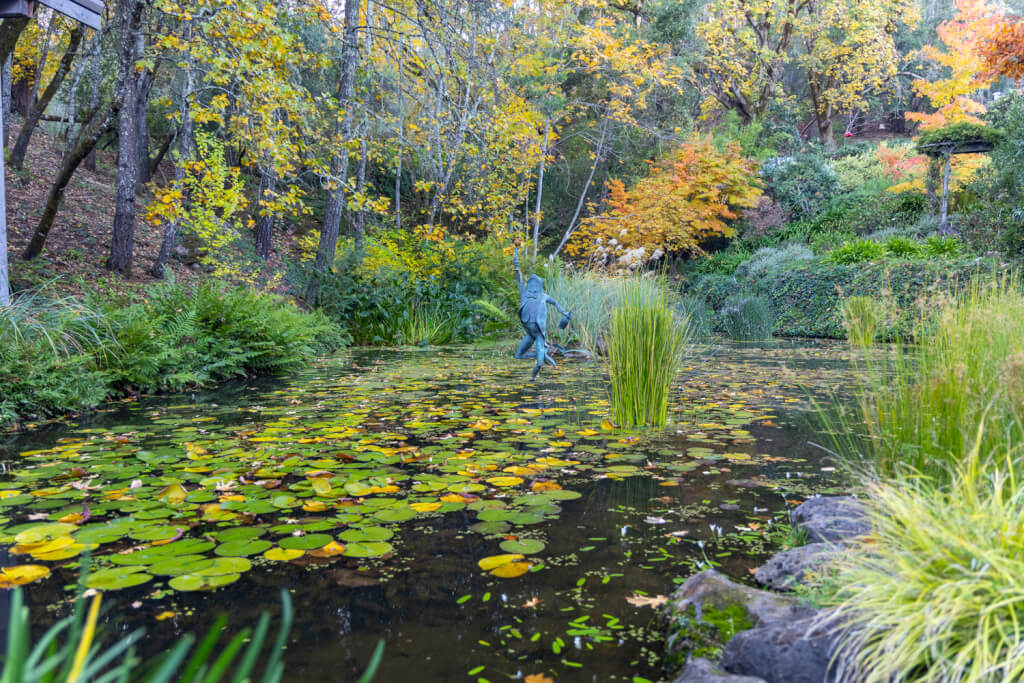 Wine Tasting at Schramsberg
Once we checked in out front, we almost immediately got started. Our guide for the day was a long-time employee named Jesus. He was AMAZING. He's incredibly knowledgeable, passionate (he's also a winemaker at Schramsberg), and entertaining. To start off, Jesus went over the history of the vineyard using historical photos on the wall of the lobby area. Then, we headed into the cellars to go over the wine-making process.
These are one of (if not the only) hand-carved cellars in all of Napa. There is NO ventilation in the cellars, but that's ok. All the cobweb-like growth on the ceiling of the cellars produces oxygen, making the air in there quite fresh for what it is. It's also a bit cool in there, which is by design, so be sure to bring a jacket if you get cold easily. That said, walking around down there gets a little nerve-wracking. The bottles of wine on the wall are held there by nothing more than a bottle cap.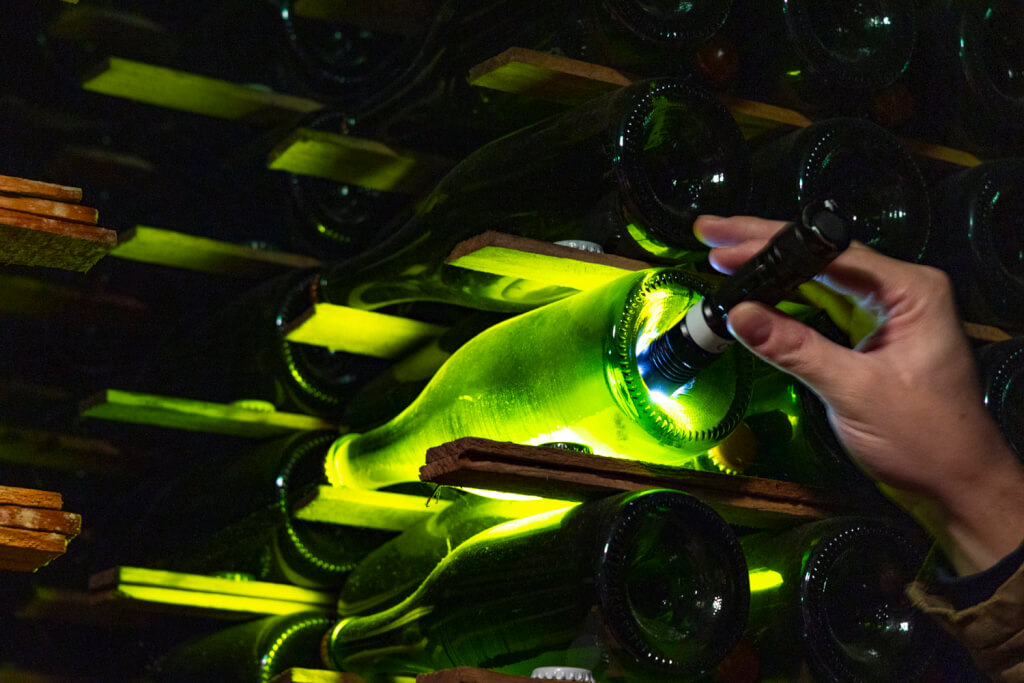 Crazy, right? And you're constantly walking past rows and rows of these bottles, likely worth far more than most of us will earn in our lifetimes.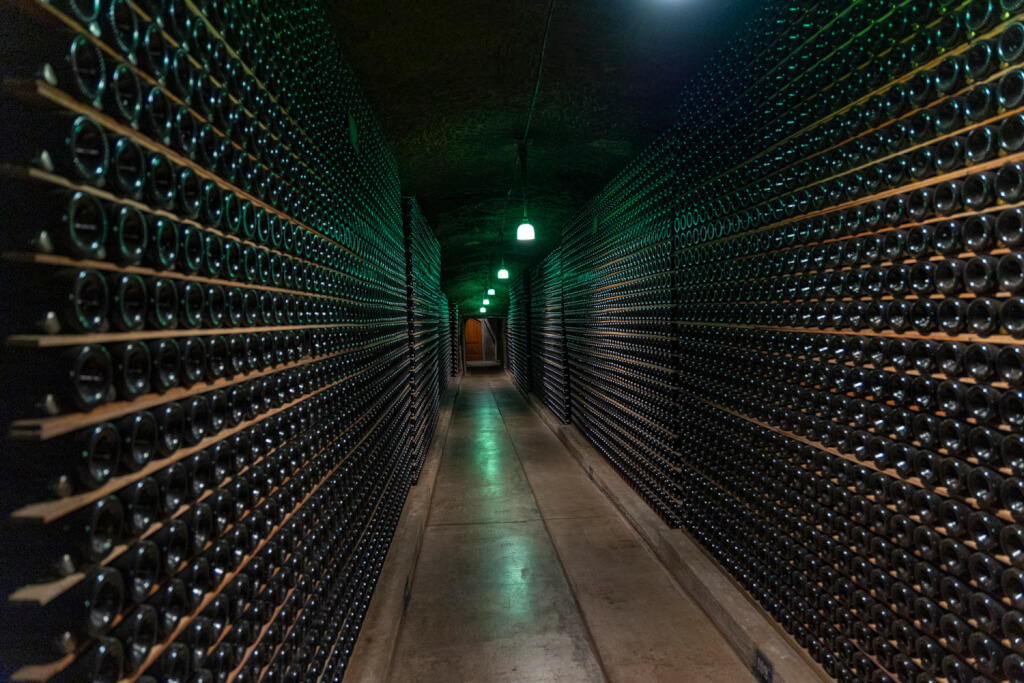 Eventually, you reach a more open area where your guide talks about the riddling and finishing processes. Interestingly, during our tour, employees in a different part of the cellar were riddling the bottles, and not long after Jesus told us about how they sometimes explode, he pointed out the sound of one spontaneously exploding off in the distance.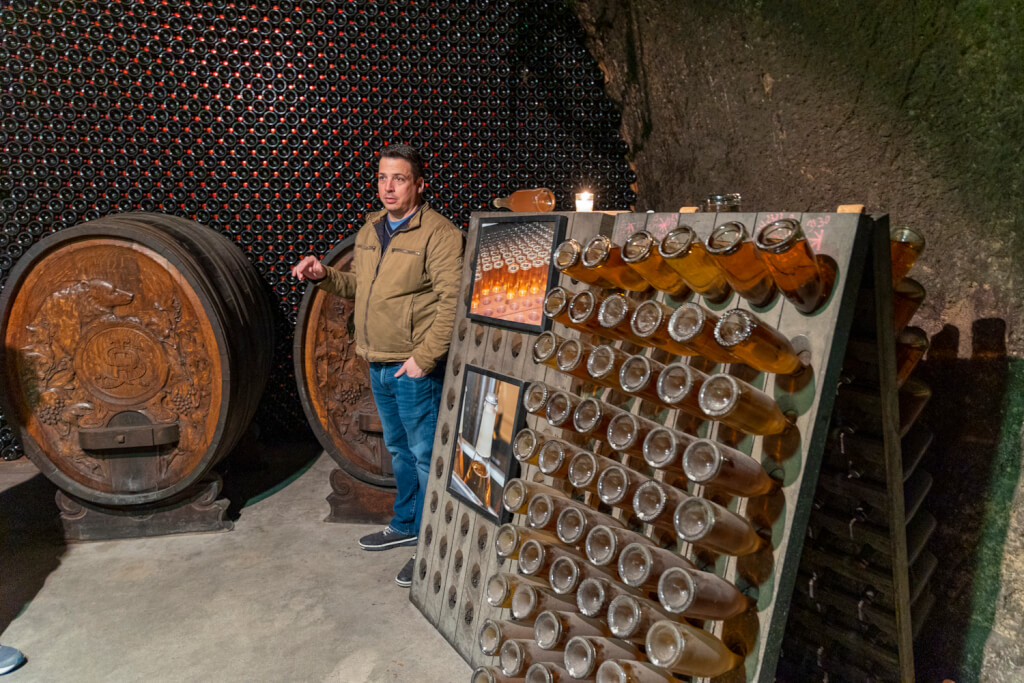 At the end of the tour comes the part everyone was waiting for – wine tasting at Schramsberg. Here, you're led to a different portion of the cellar with a table and several wines on ice. As I understand, the five wine types offered during the tasting can vary. During our visit, we got to sample their standard Brut Rose and Blanc de Noirs, along with their higher-end J. Schrams 2012 Blanc de Noirs, 2013 Blanc de Blanc, and 2010 Blanc de Blanc.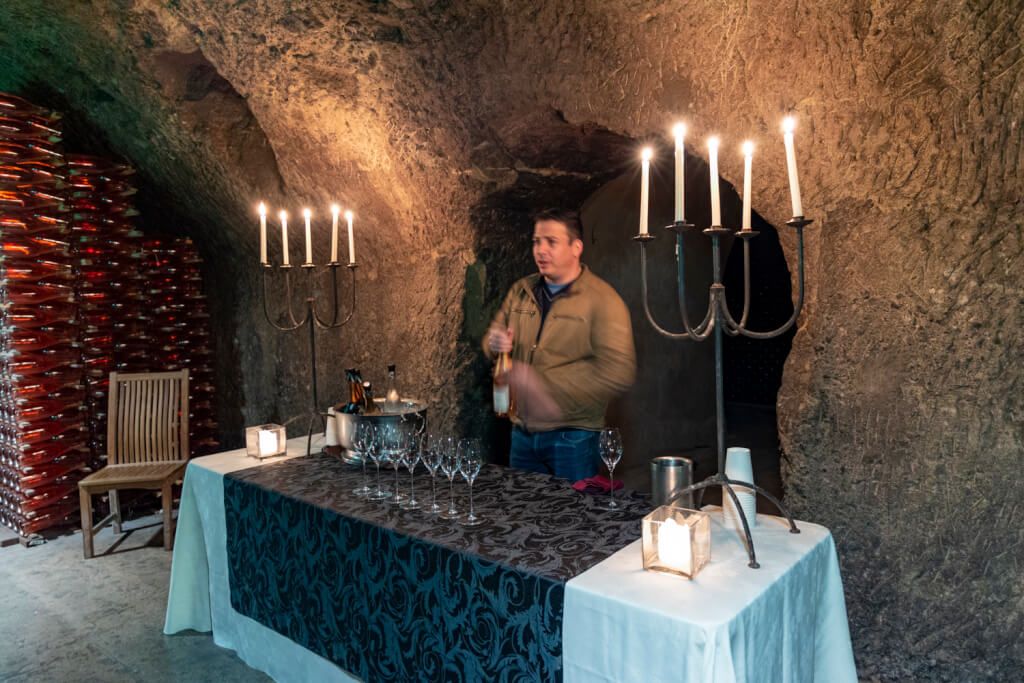 First up was the Brut Rose, which Jesus likes to call his "porch pounder" wine, and it's easy to see why. This fruity, vibrant wine is filled with berry and stone fruit aromas, hints of brioche, and cirtus, making it perfect to enjoy chilled on a warm summer evening, with brunch, or any time, really.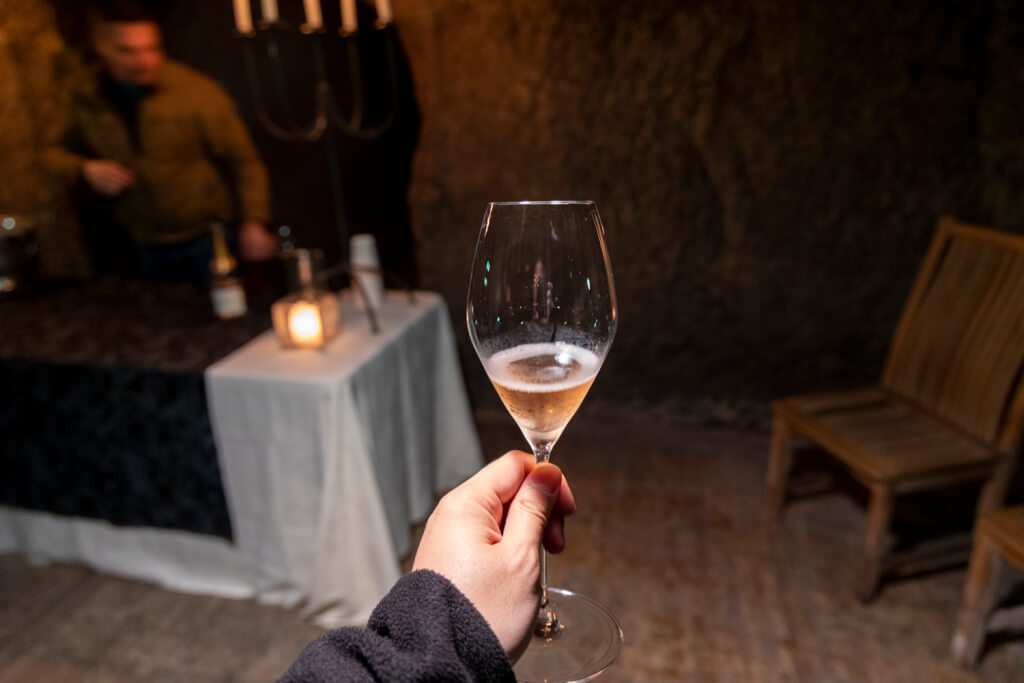 Next up was the Blanc de Noirs, which has a bit more of a classic profile to it. That means it has dominant flavors of apple and pear, along with hints of tropical fruits and berries. This is another vibrant, juicy, refreshing sparkler.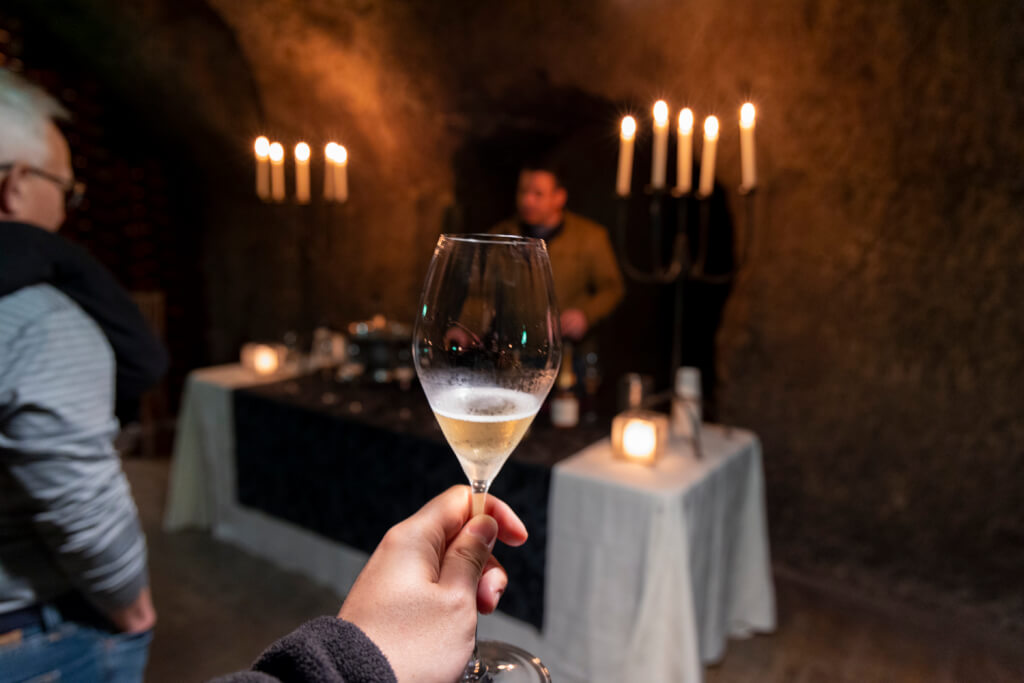 Our third wine was the 2012 J. Schrams Blan de Noir. This was an interesting contrast compared to the previous one, as the additional years of aging made quite a difference. While similar to the younger, standard Schramsberg line, the flavors were deeper and richer. The toastiness of this wine was also more pronounced and had an additional caramelized quality to it. Delicious!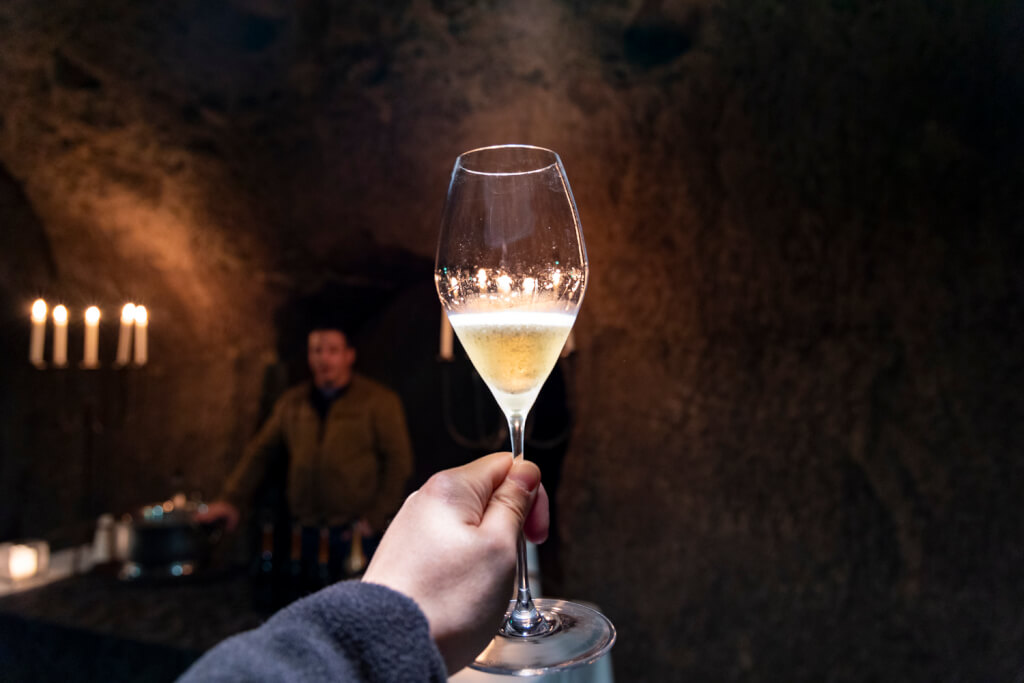 The fourth wine in our wine tasting at Schramsberg was the 2013 J. Schrams Blanc de Blanc. Like the prior wine, this one is similar to Schramsberg's standard Blanc de Blanc, with prominent flavors of fall fruits, lemon, and baked goods. However, also like the prior wine, this one has a deeper, richer flavor, with nuances of sweet, dried pineapple, ginger, and marzipan. Sounds sweet, right? Nope. This is a wonderfully balanced wine.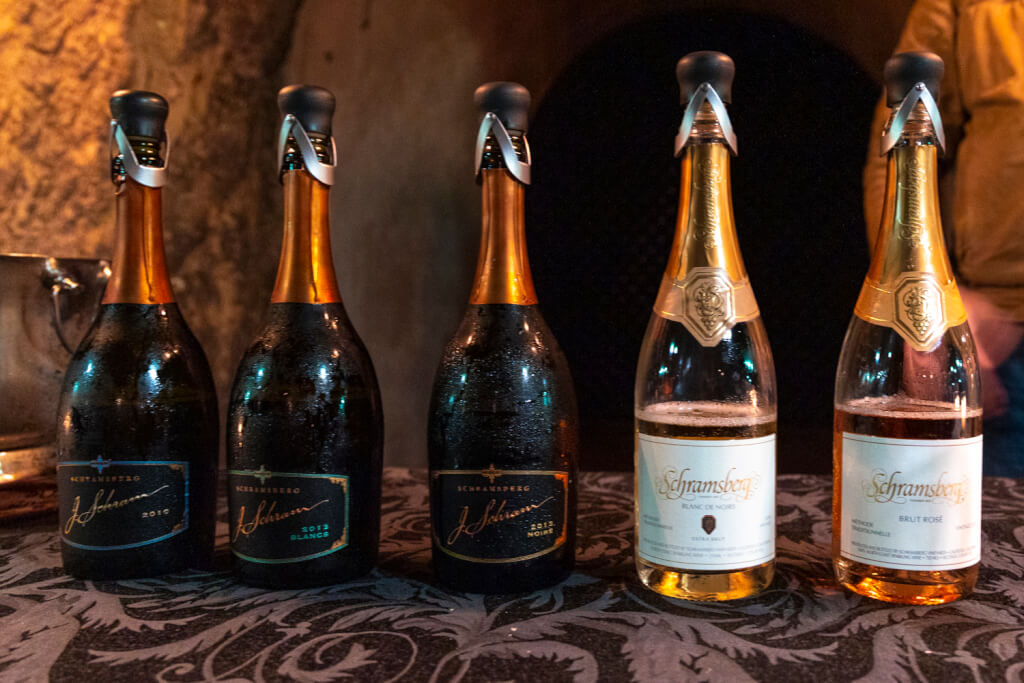 Our final wine of the day was an incredible 2010 J. Schrams Blanc de Blanc. The difference in age compared to the one before was just three years, but the flavor profile was night and day. Again, this wine was deeper and richer than the previous one. The dominant flavor remains fall fruit, but it comes more in the form of an apple tart with honey and Tallegio cheese. The acidity at this age is more muted, while the flavor is more mouth-coating. However, like the other wines, the pastry flavors don't make it sweet – it remains balanced.
Wine Tasting at Schramsberg, Final Thoughts
I'm glad we finally got around to doing the stereotypical thing to do in Napa, and I am even more happy that we chose to do our wine tasting at Schramsberg Vineyard. It was an outstanding experience that was fun and enlightening! Mrs. Island Miler even had a great time, and she barely drinks! I should mention, though, that there is no spit bucket at this tasting – you drink everything. They do have non-alcoholic options available, too, but you have to request this ahead of time.
At any rate, I highly recommend the wine tasting at Schramsberg Vineyard. Not only are their wines excellent – better than some sparklers I've had from Champagne – but it's also a fantastic experience. The fact that more people don't go befuddles me. Yet,
Living It Up in California
Wine Tasting at Schramsberg