Last updated on September 6th, 2016 at 04:49 am
After our first night at the Seattle Marriott Waterfront we arose EARLY on our second day in SEAtown to head out of town for a Day Trip to Vancouver.  We left the hotel around 7am to get to the border as early as possible, and did arrive around 2.5 hours later.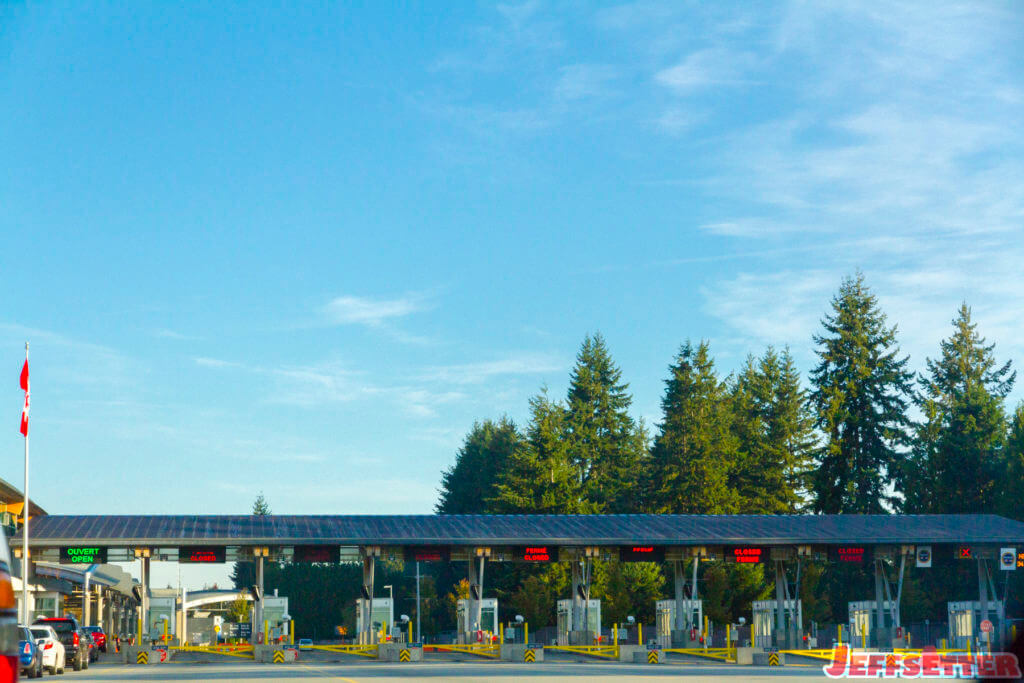 When we arrived, only a single lane was open at the border, but the line wasn't long and we were through within about 10 minutes or so.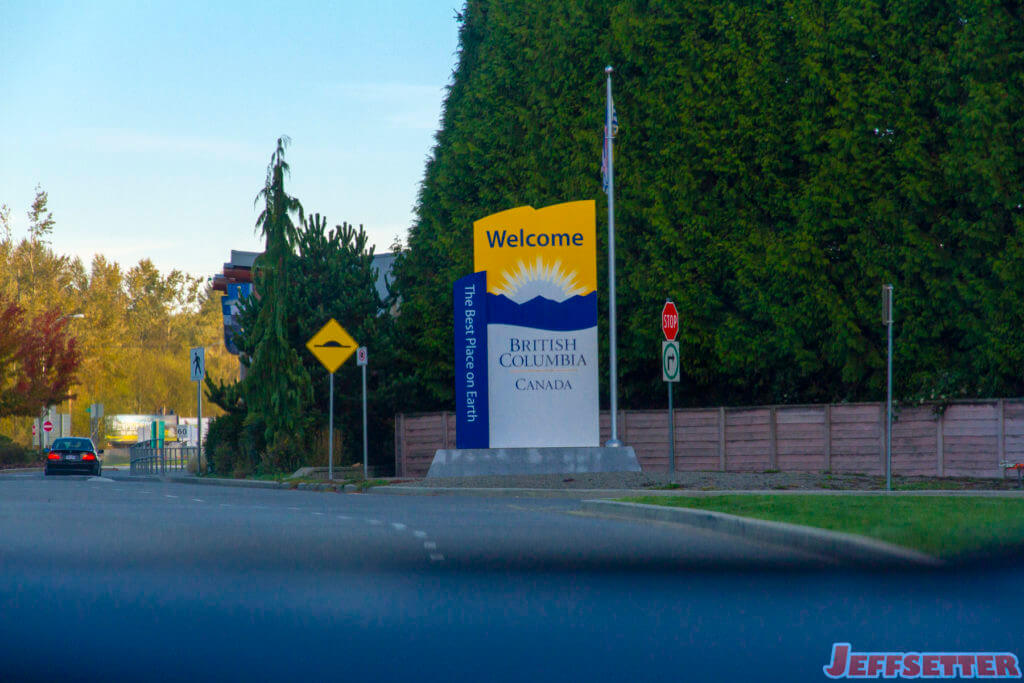 I love British Columbia, but I'm not sure it's the best place on Earth ?
Now, I didn't really have any plans for our day trip to Canada.  All I knew is it would be nice to go, especially since the last and only time the wife and I had been to Vancouver was 12.5 years ago on a school trip.  So, without plans heading in, we decided to retrace some of our steps.  So for our first stop, we headed to Stanley Park.  Traffic was a little heavy, but we reached the park at around 10:30 a.m.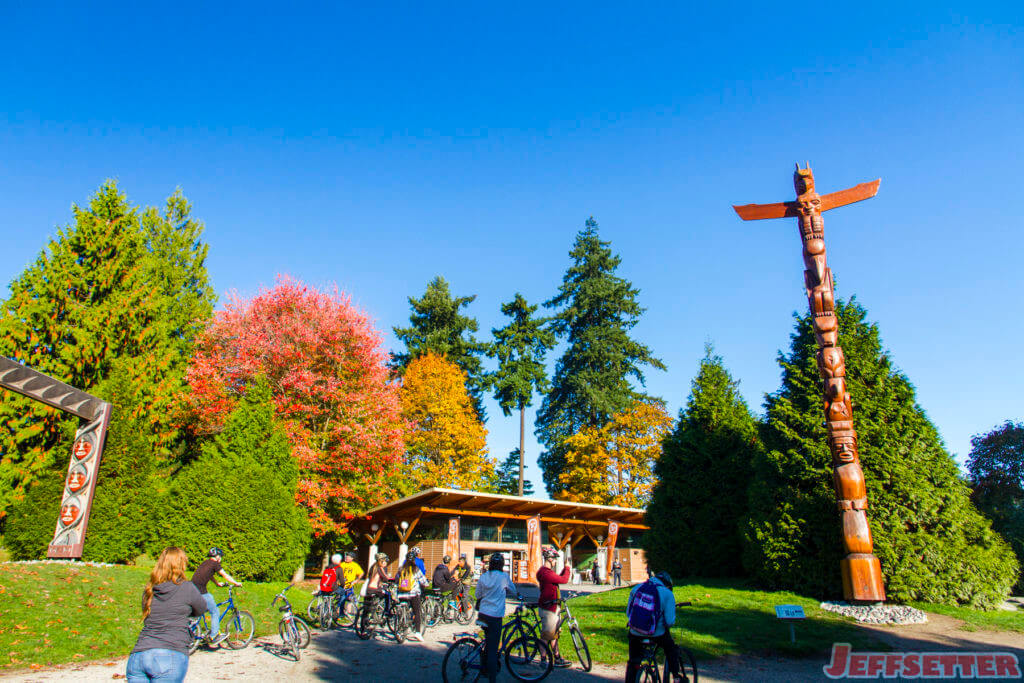 We came here primarily to recreate a picture we took in front of the famous totem poles over a decade ago.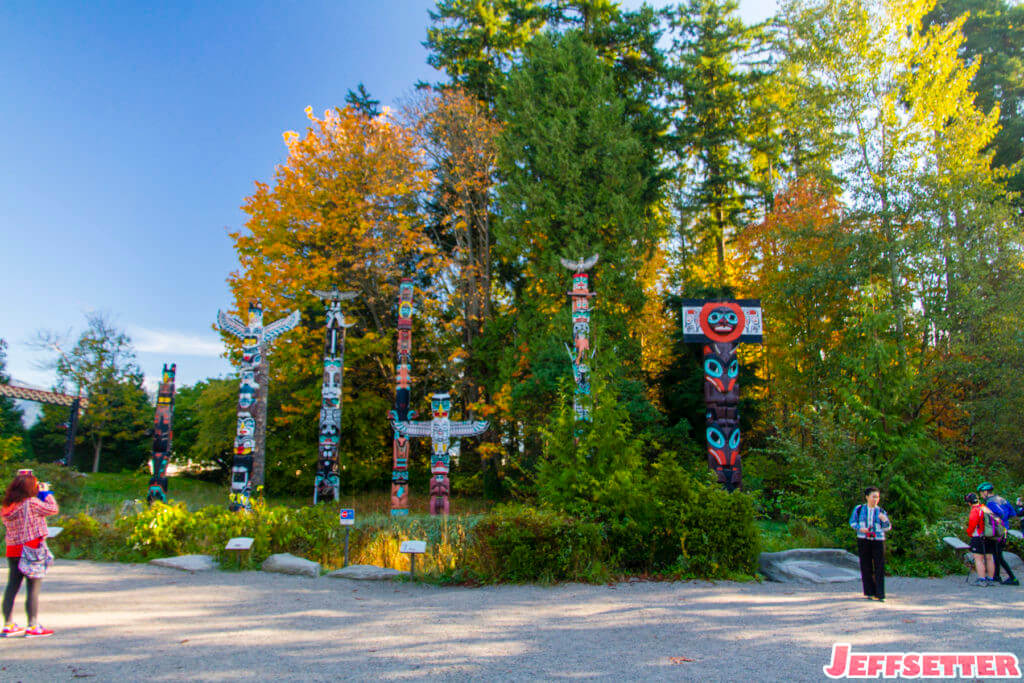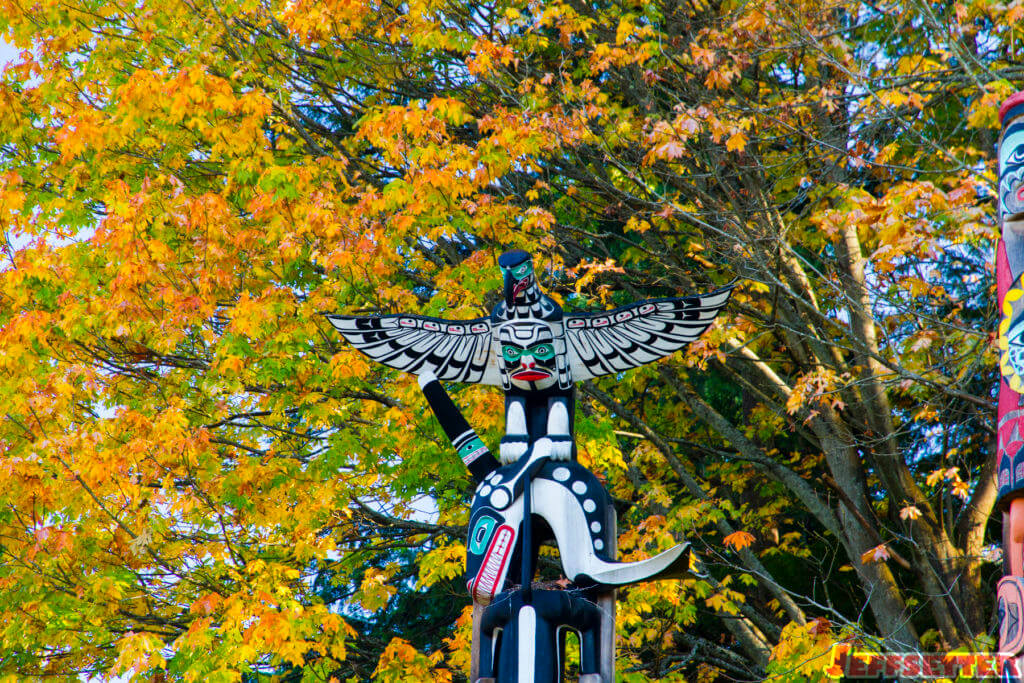 After snapping a couple of photos of and with the totem poles, we walked around the immediate area of the park.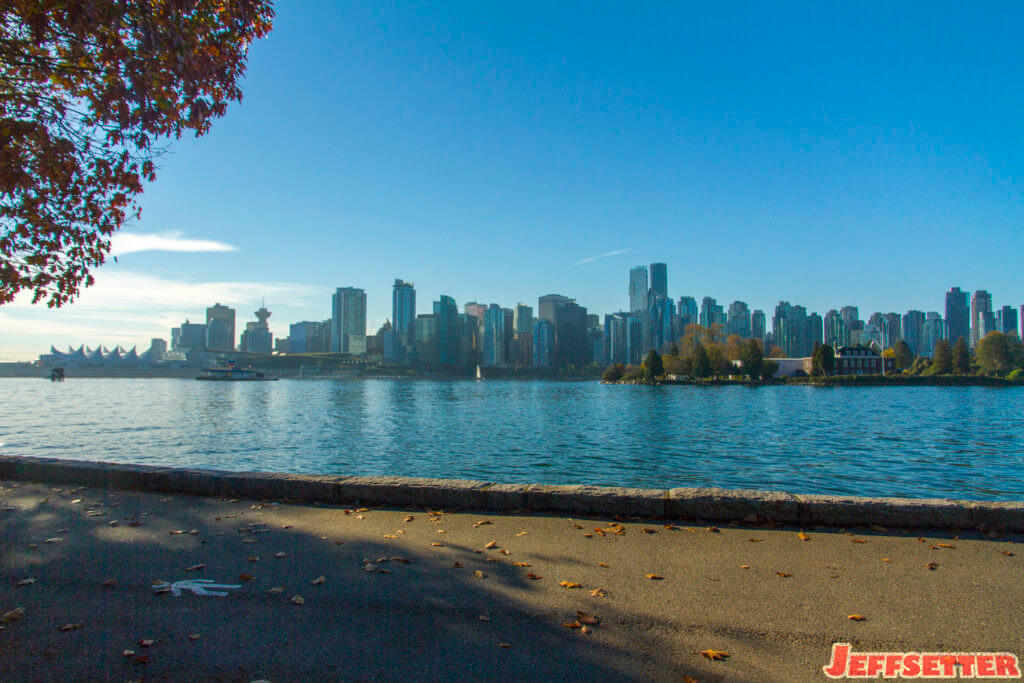 The park is a great vantage point for viewing downtown Vancouver, and had some fantastic turning leaves as well.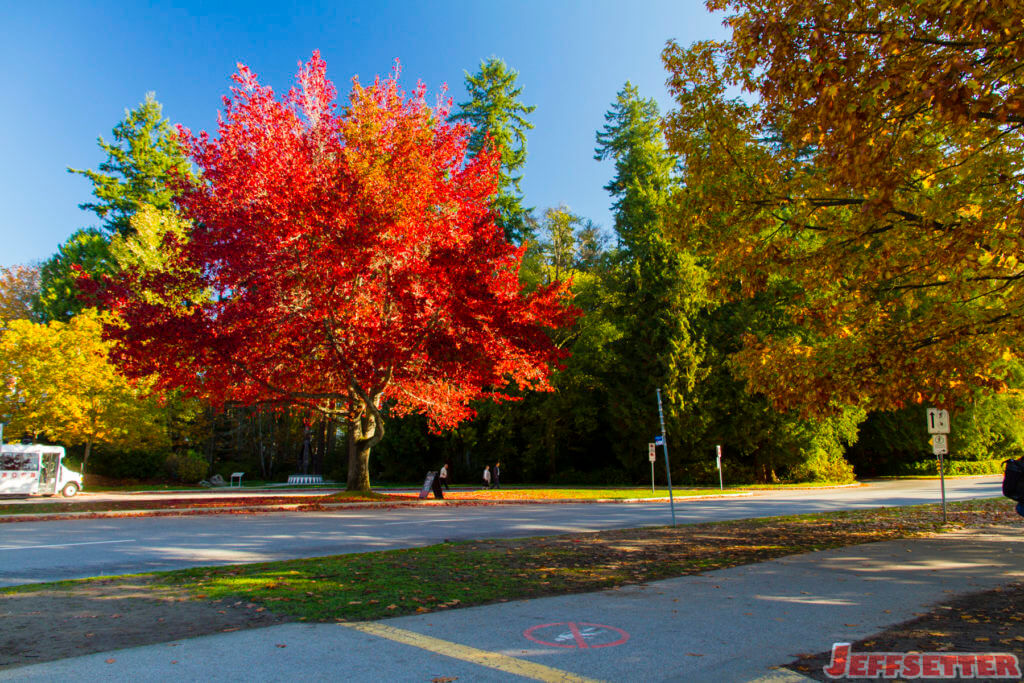 There was a flock of Canadian Geese running around the park too.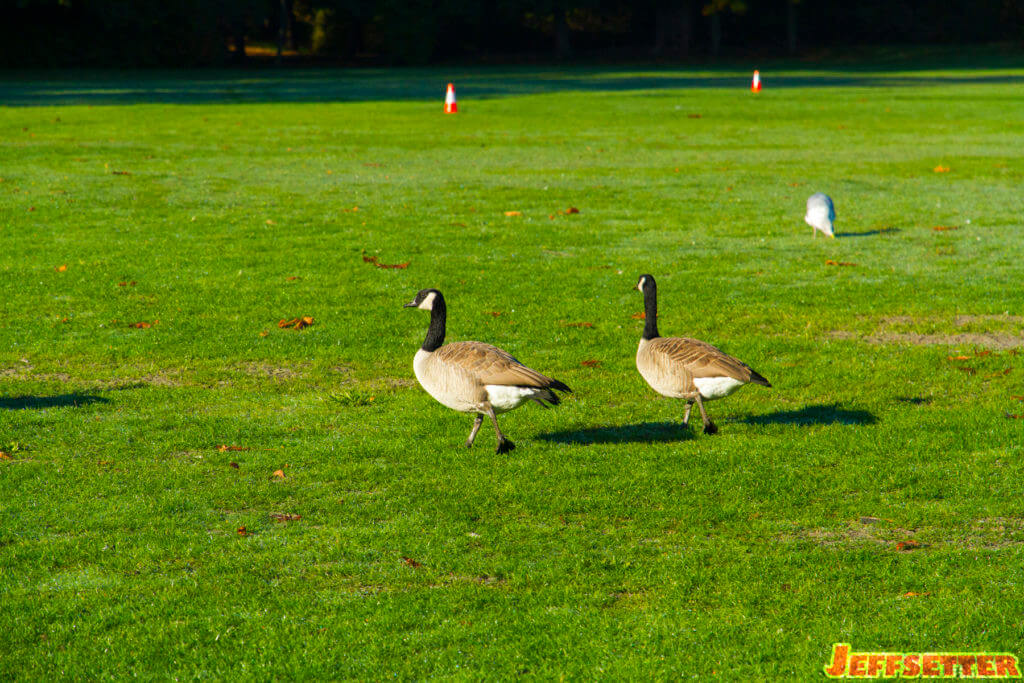 Fun fact: Hawaii's Nene Geese (the endangered endemic goose that is our State Bird) is largely believed to be descendants of wayward Canadian Geese that likely found their way to Hawaii after being blown off course during their migration.
After looking around a bit, we headed to the gift shop to get some gifts to bring back home and some corny, but funny, t-shirts for ourselves.  Luckily, not only does the gift shop accept credit cards, but so does the parking meters throughout the park.  You see, we embarked on this journey without Canadian dollars, so we had to rely solely on credit cards.
With lunchtime approaching, we started getting hungry.  Not wanting to fill-up since we had an early dinner reservation, we settled on checking out Nero Belgian Waffle Bar, a short 10 minute drive from Stanley Park.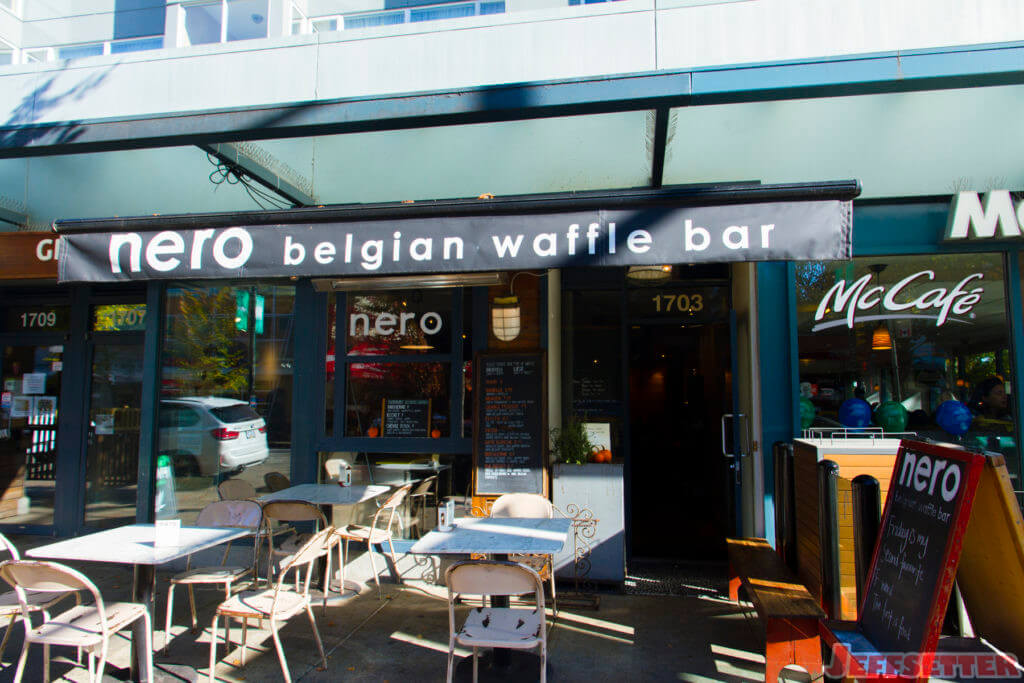 The place has no parking, so we parked at a public lot nearby.  The cafe itself is the common quick service layout with orders being placed at the register, and the food being served directly to you.  Flatware and water are all self-serve.  For our ordered, we settled on one savory and one sweet.  The wife selected the Chevre Doux. Goat cheese, caramelized pine nuts, greens, raspberries.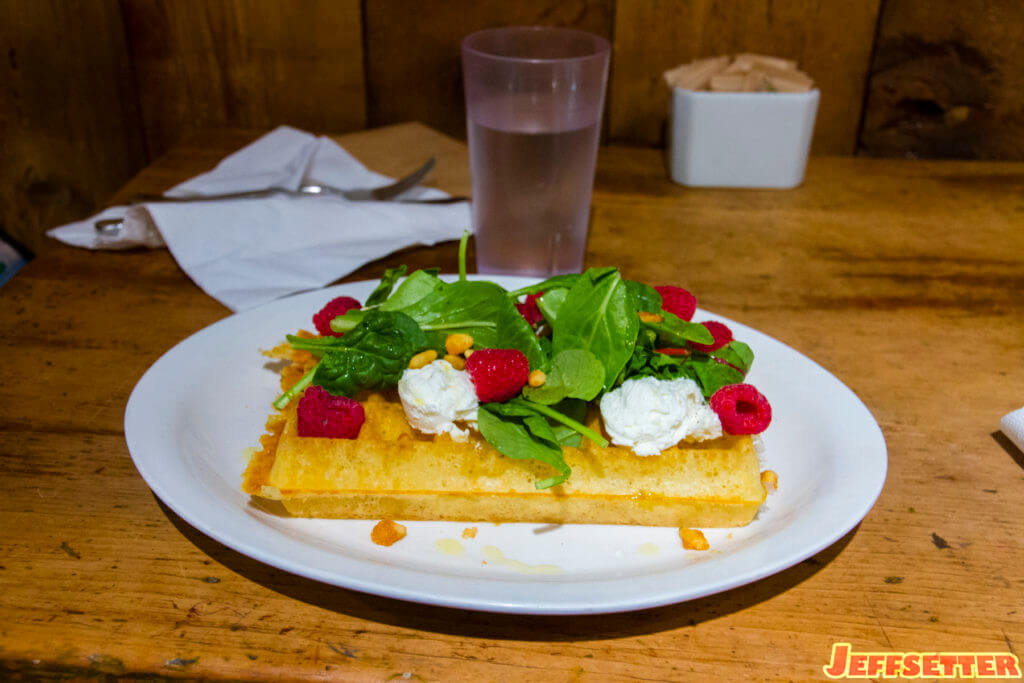 I ordered the Fruity. "All the fruit we could find & real whipped cream"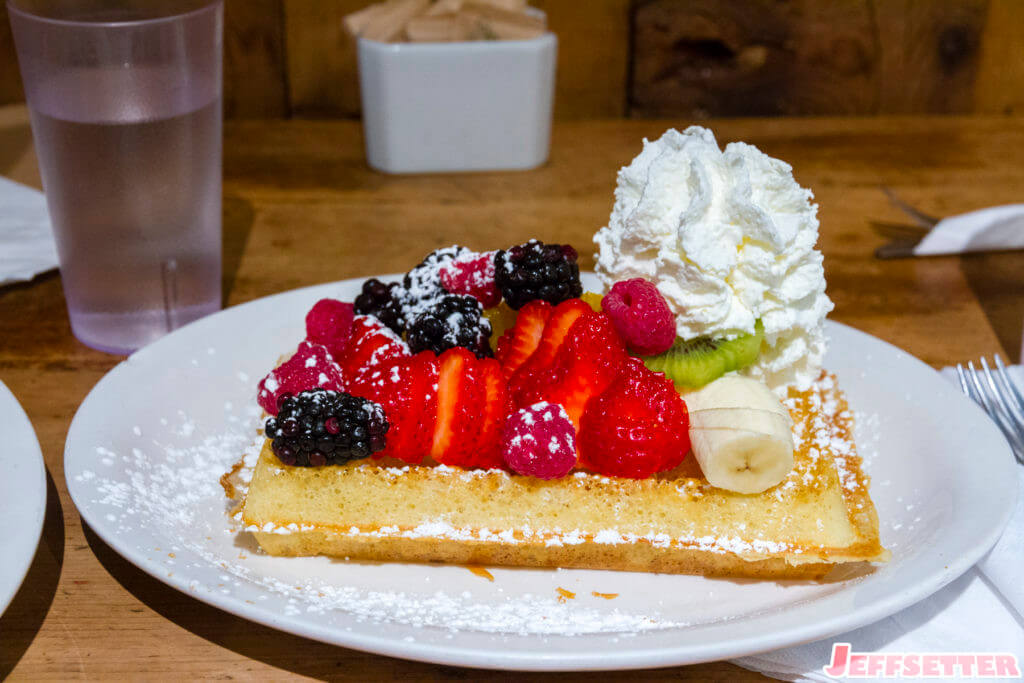 The wife's savory waffle was the clear winner of the two.  My waffle was just ok, nothing special at all.
After finishing our "lunch" we decided to head out of the city again and to Capilano Suspension Bridge.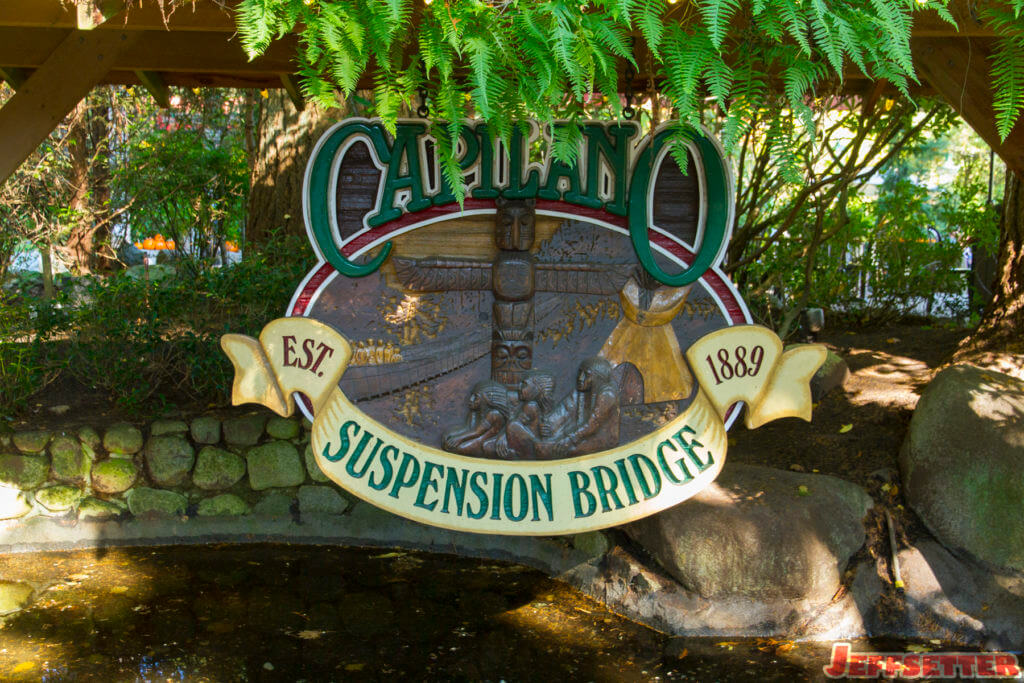 The actual "park" is across the street from the parking lot, with parking running $5.00 for 4 hours.  Admission is about $40 Canadian for adults, so it isn't cheap at all.  The ticket agents were extremely unfriendly too, while the lines, while short, moved very slowly.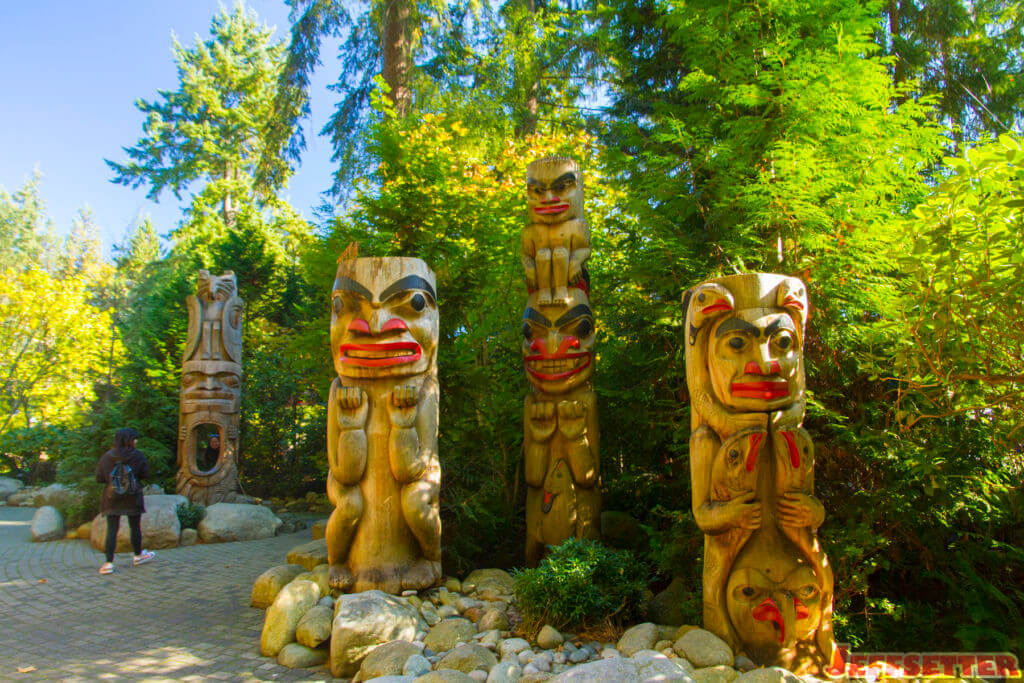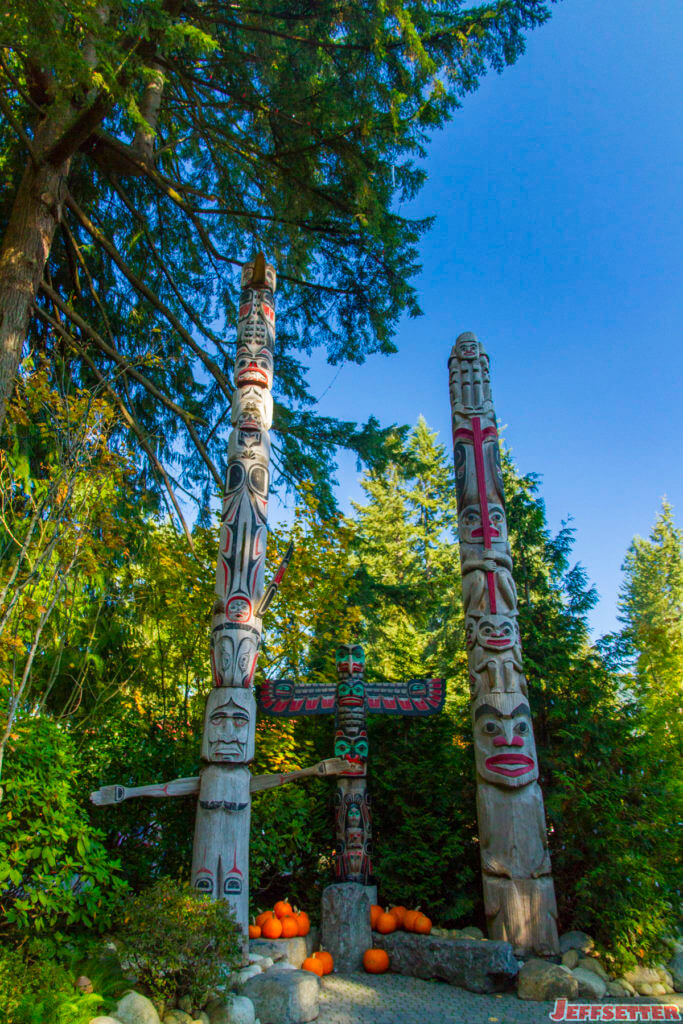 Once inside you're greeted by, you guessed it, some totem poles.  Navigating from this point was a little confusing, but we eventually found our way to the suspension bridge.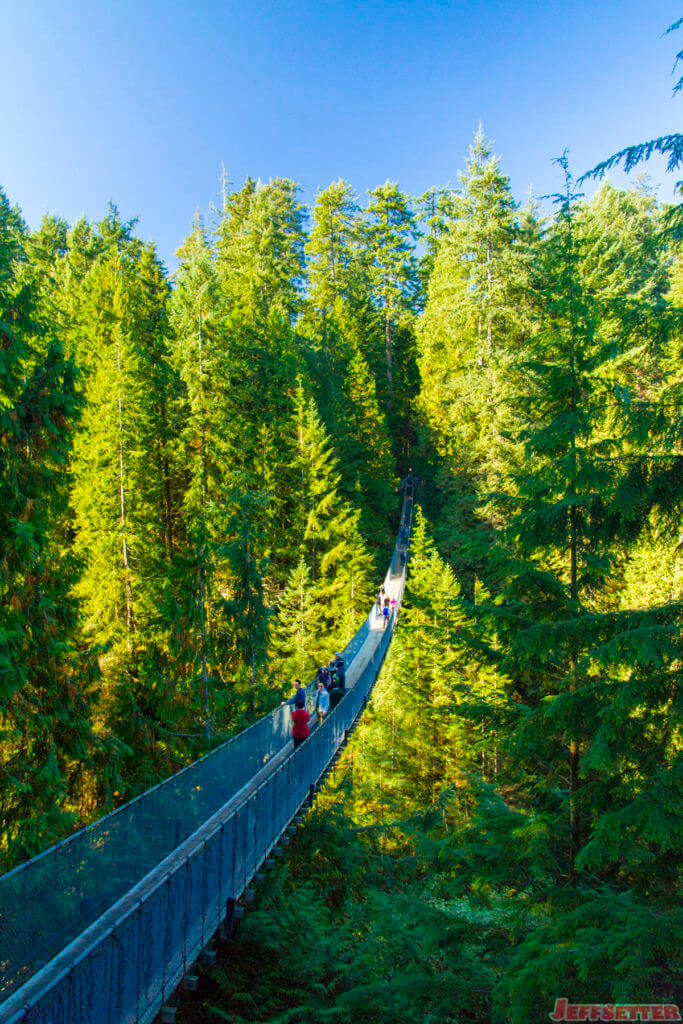 If you've never been the bridge does sway a bit as people walk across it, and inevitably someone will try to jump on the bridge, at which point some guy will come onto a loud speaker to ask the person to stop.  On the other side of the bridge you'll find a wilderness environment with squirrels, trout, a variety of trees, and the Treetops Adventure.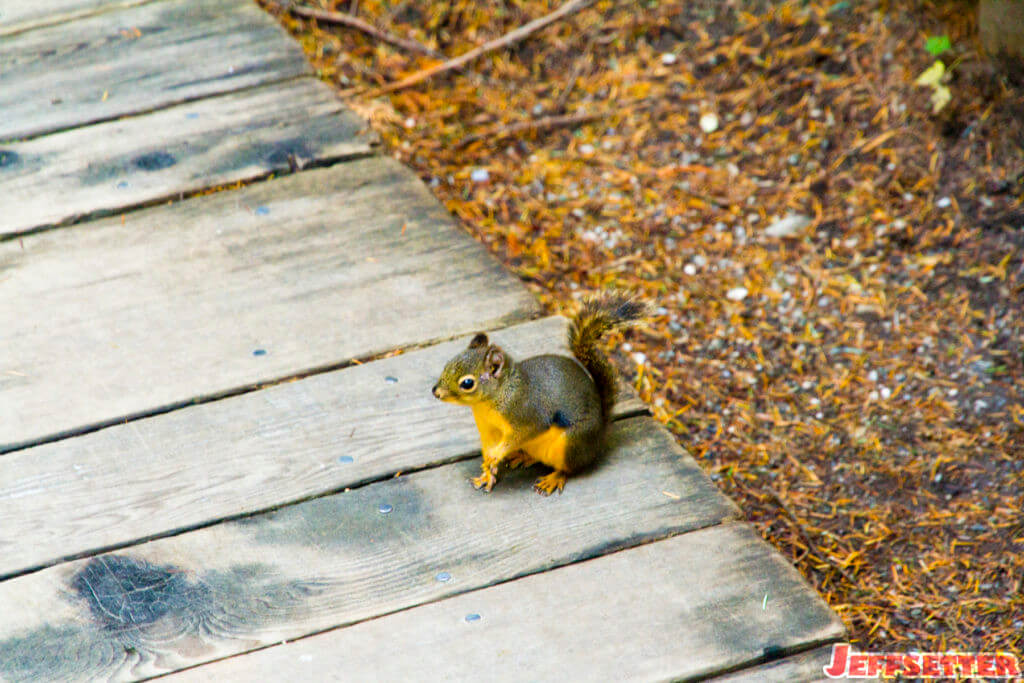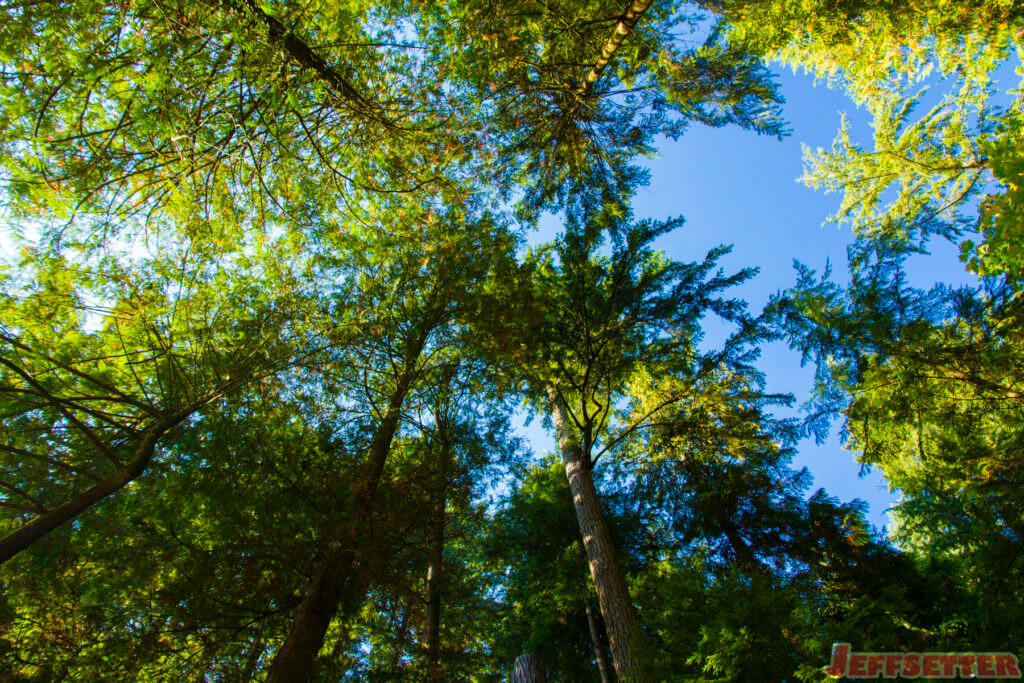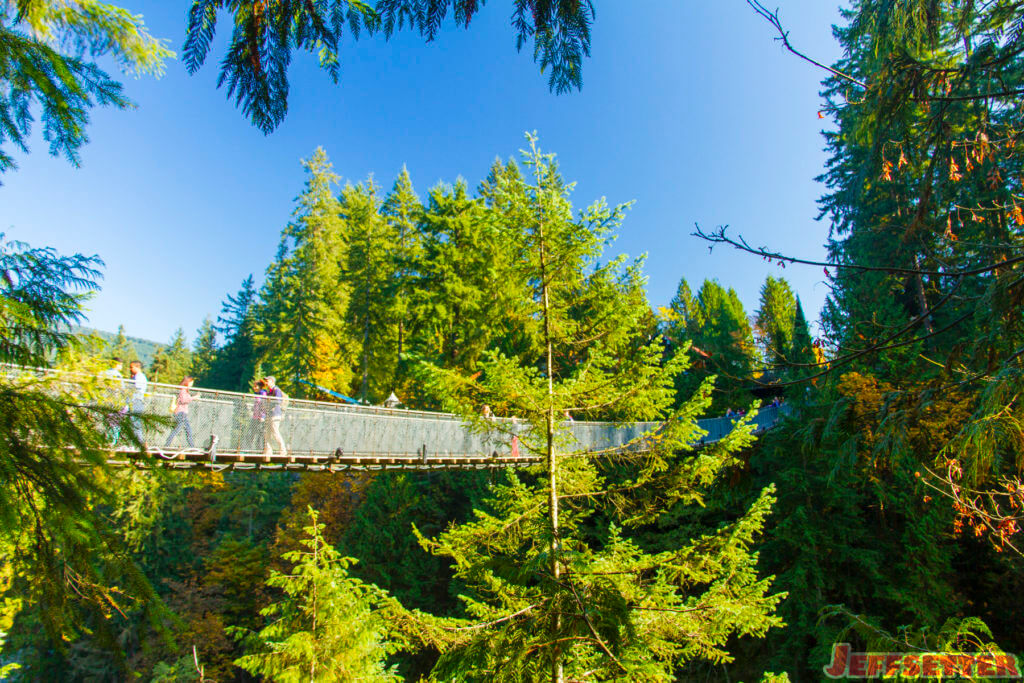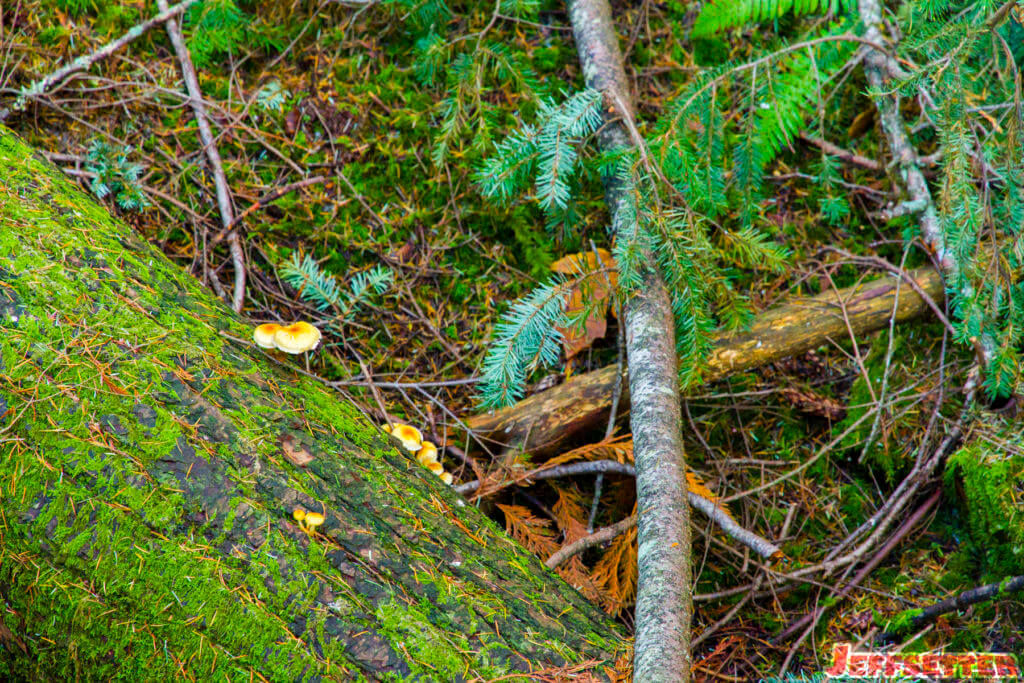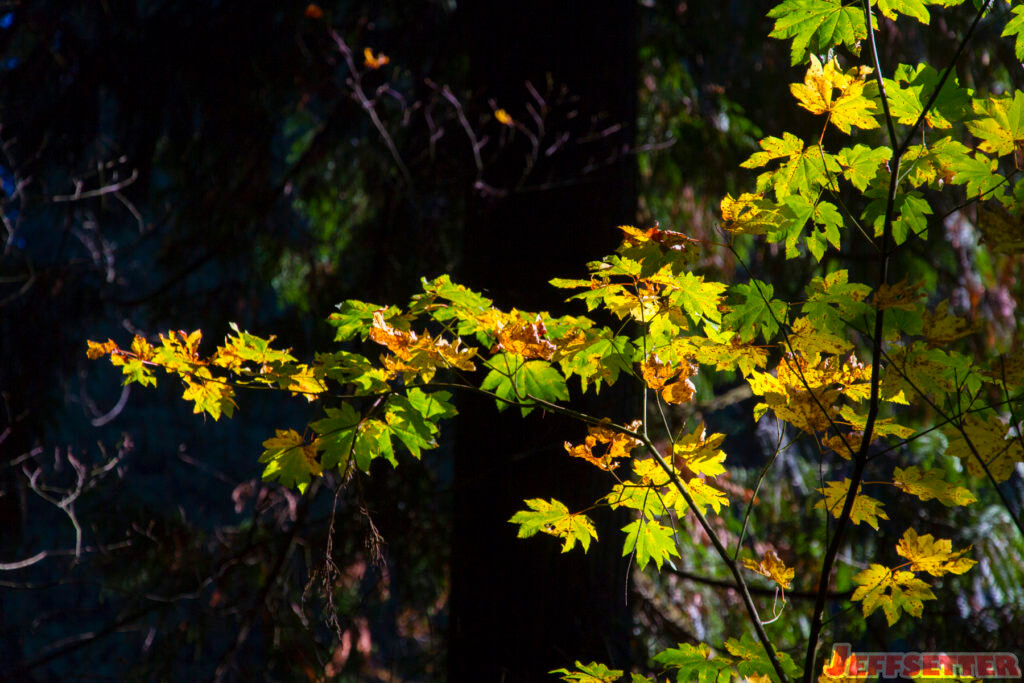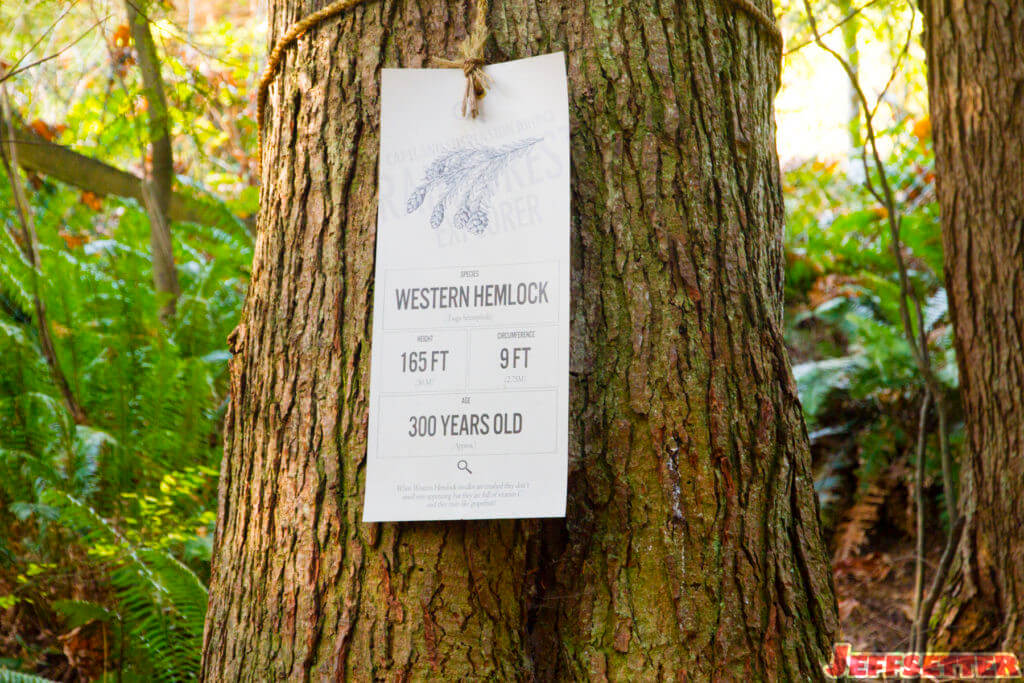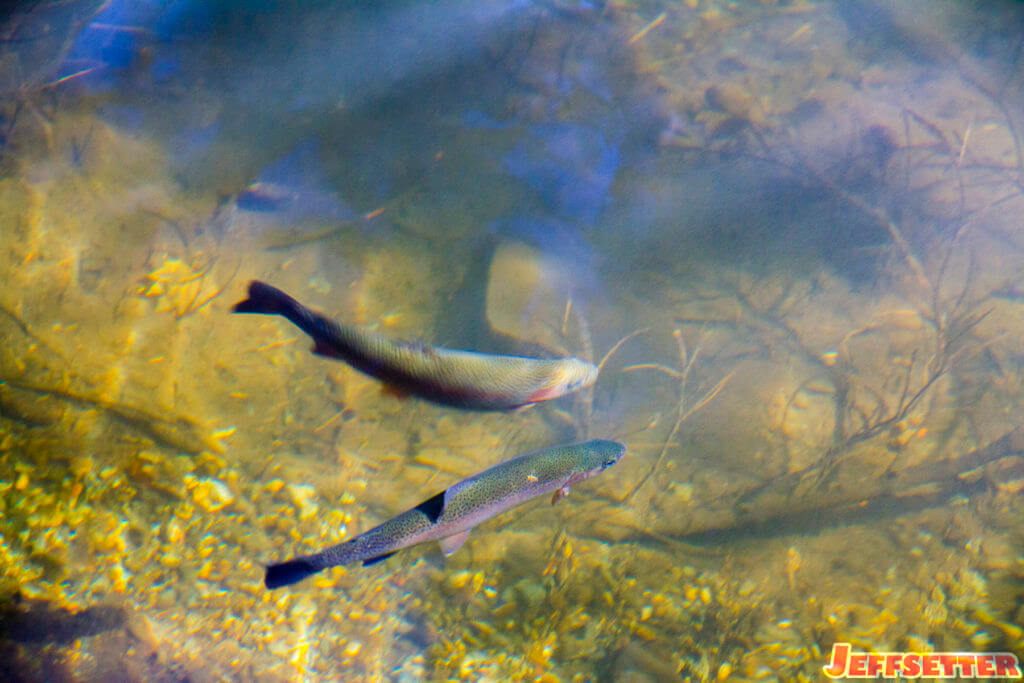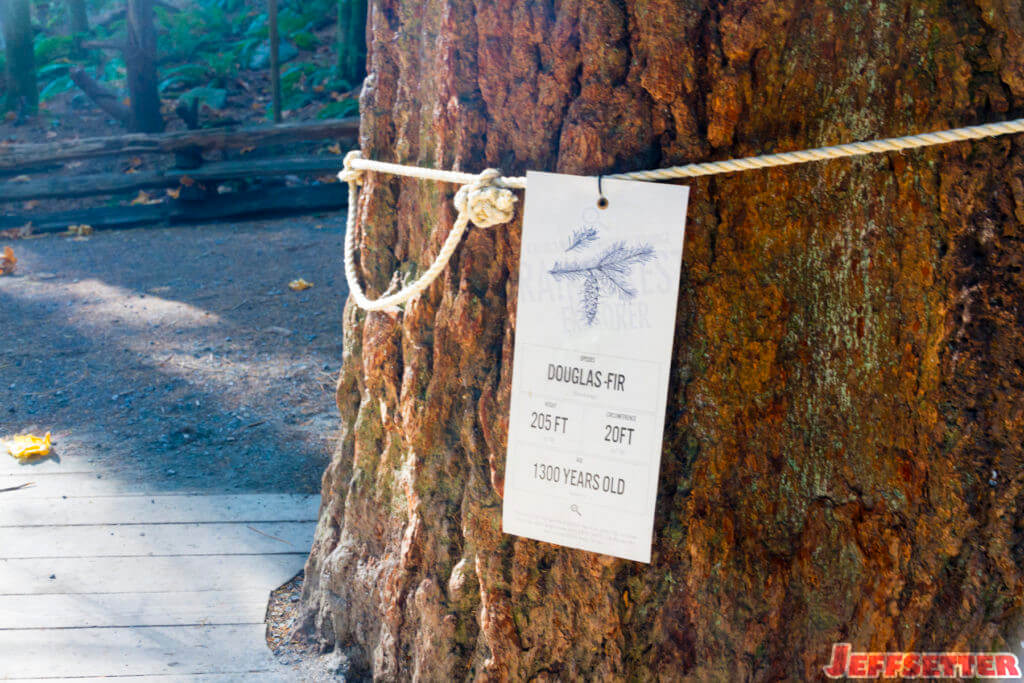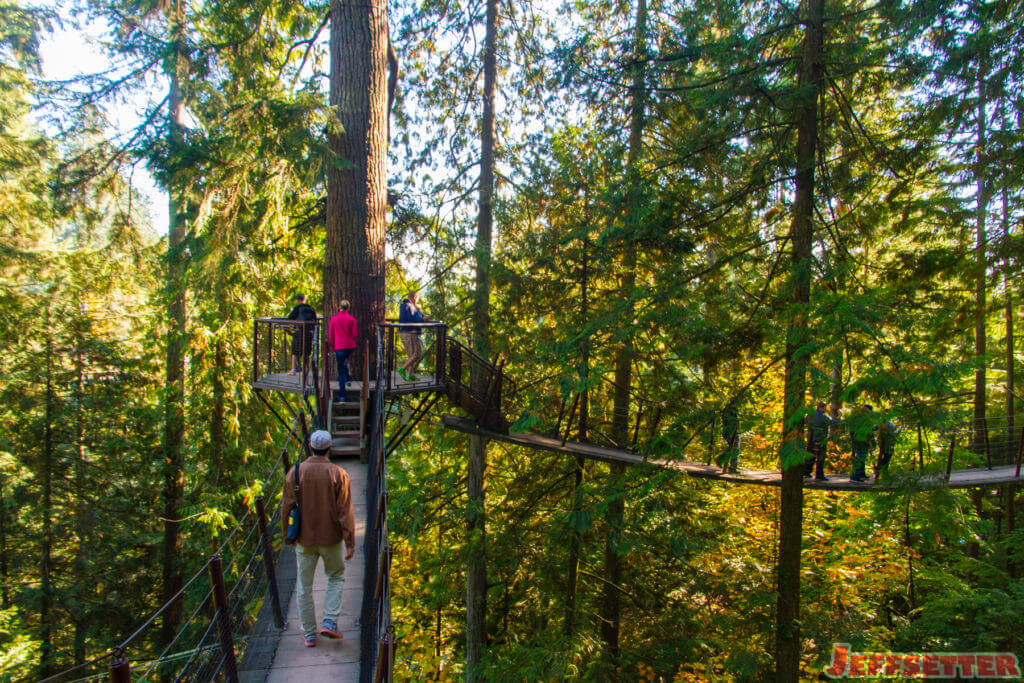 The Treetops Adventure was, blah, and was congested with my "favorite" type of tourists that have no class or manners.  Let's just say there was a lot of shoving and what not.  Heck, the constantly cut in the restroom lines too.  Anyway, while the scenery was nice, it did get rather boring.  It's great for nature photographers, and the smell of Douglas Fir was wonderful, but there honestly wasn't much to do or see.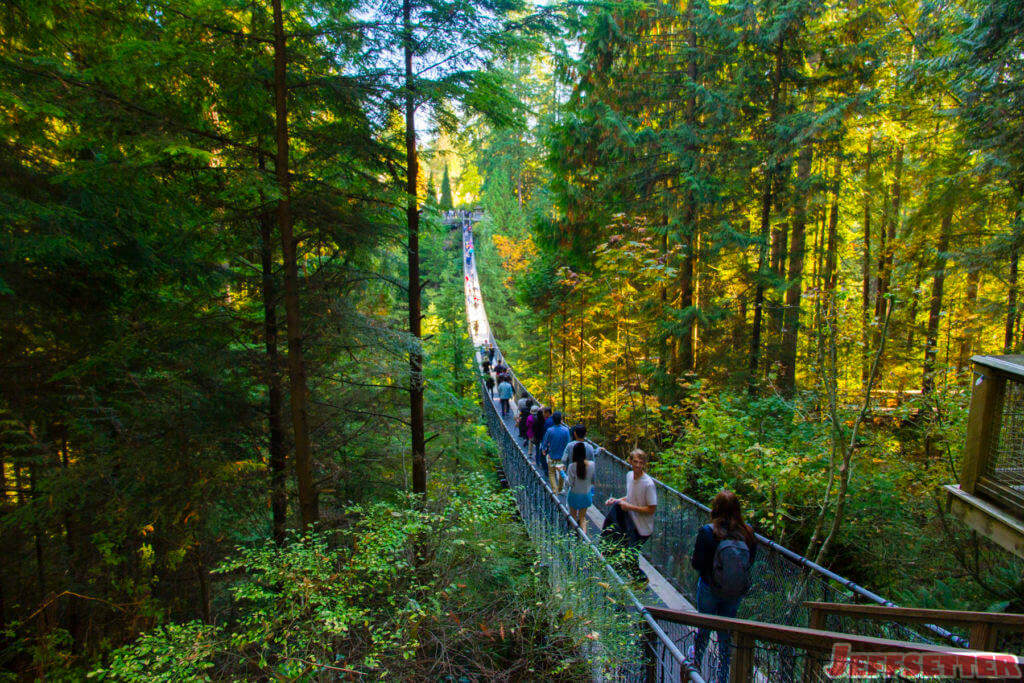 We then headed back towards the other side, once again over the bridge.  The wife and I tried to recreate a photo we took here 12.5years ago, but failed.
Once back on the other side we decided to checkout one of the newest attractions, the Cliffwalk.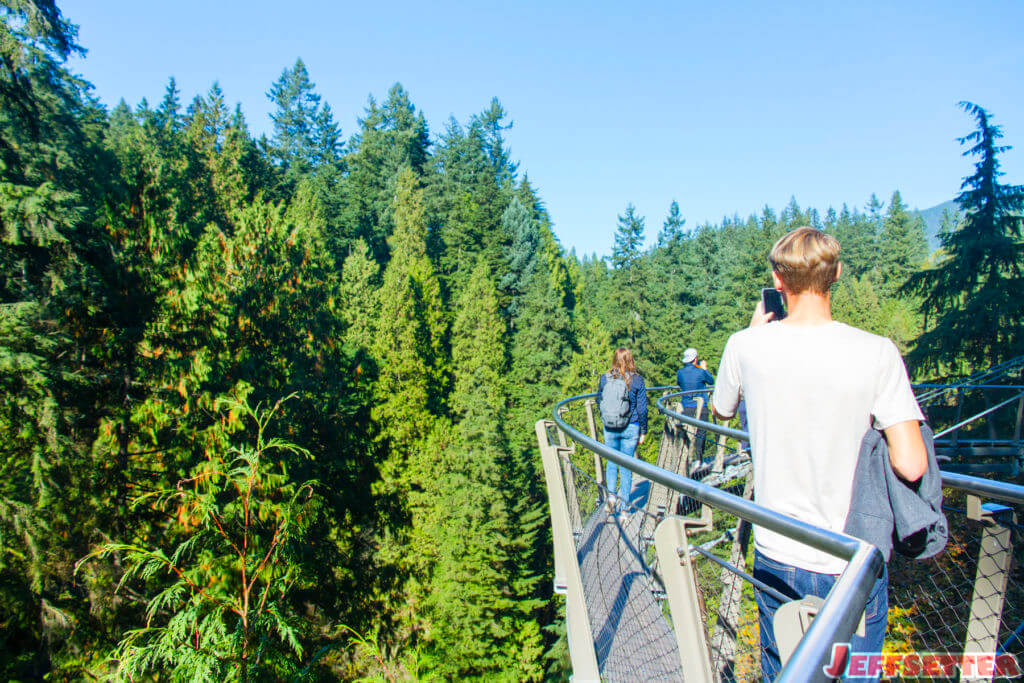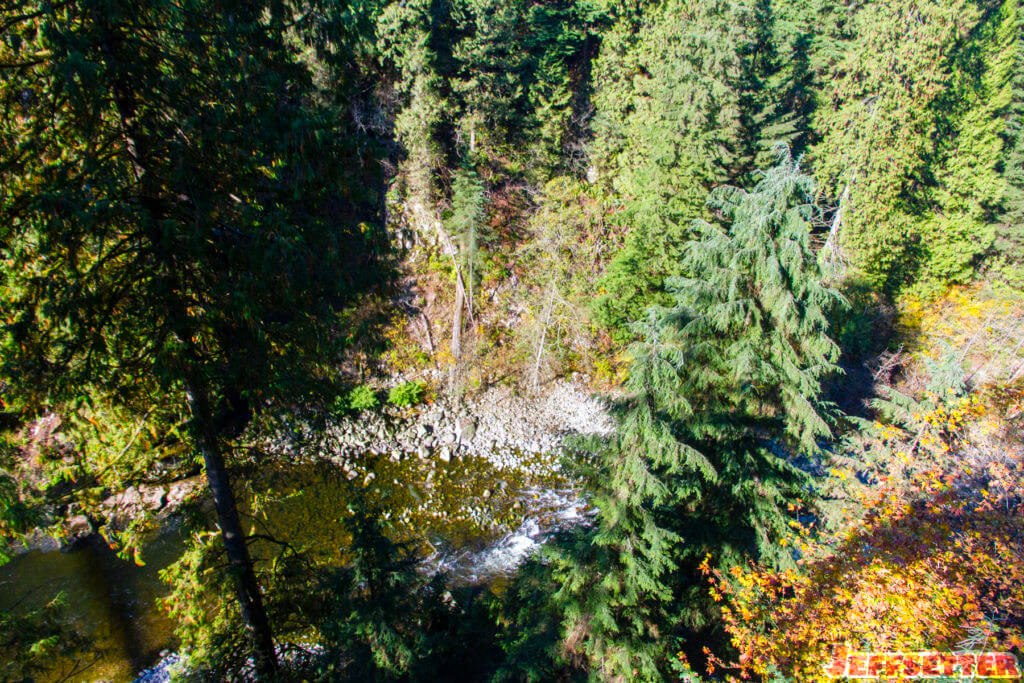 Basically it's a narrow walkway that juts out from the side of the cliff.  The scenery is decent, but what I didn't like was the incredibly congestion on the walk.  Certain people would also try to shove past you, which can get dicey at times.  I also thought that much of the walk would have glass floors, like many of these attractions do now days, but this one did not.  Well, it did in certain areas, but the glass in those areas were frosted rather than clear.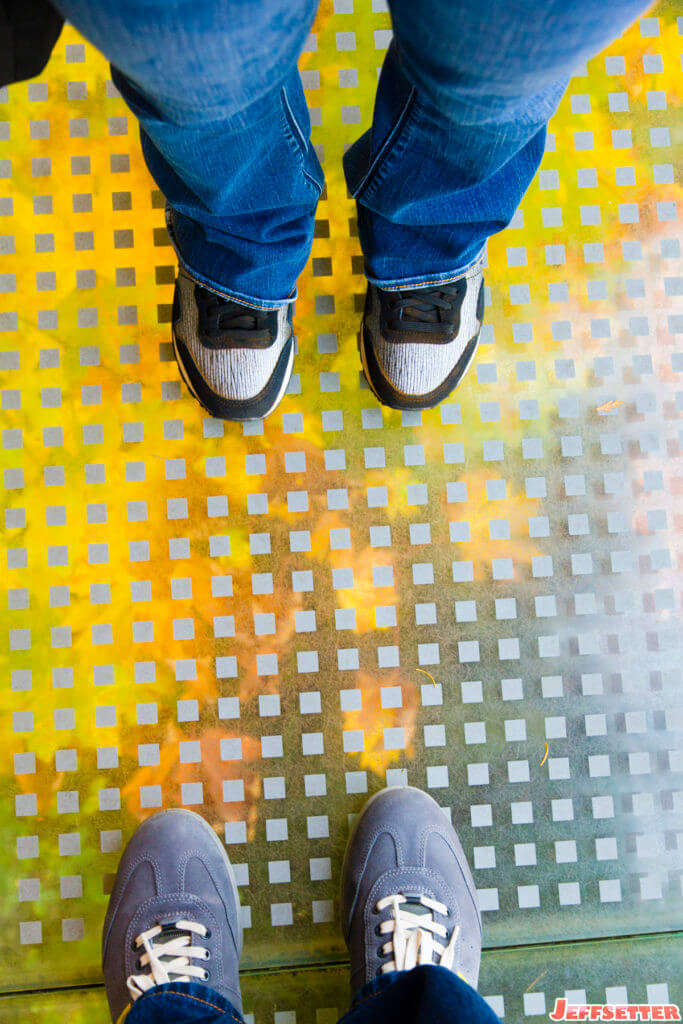 The Cliffwalk mainly provides views of the forest, Capilano River, and a small waterfall.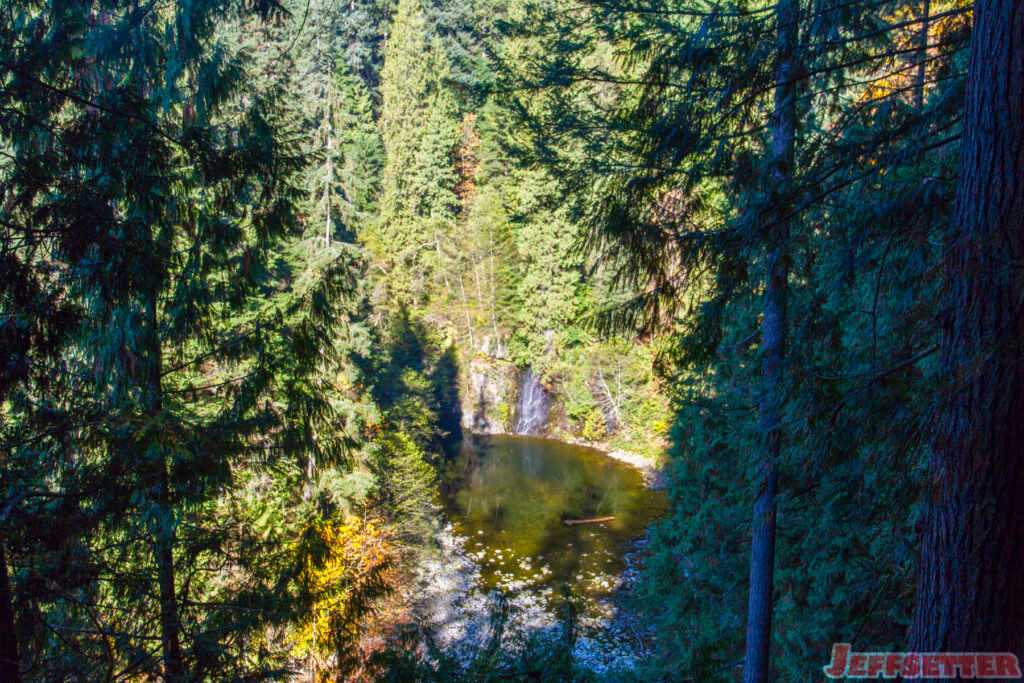 Here's a view of the Cliffwalk from above.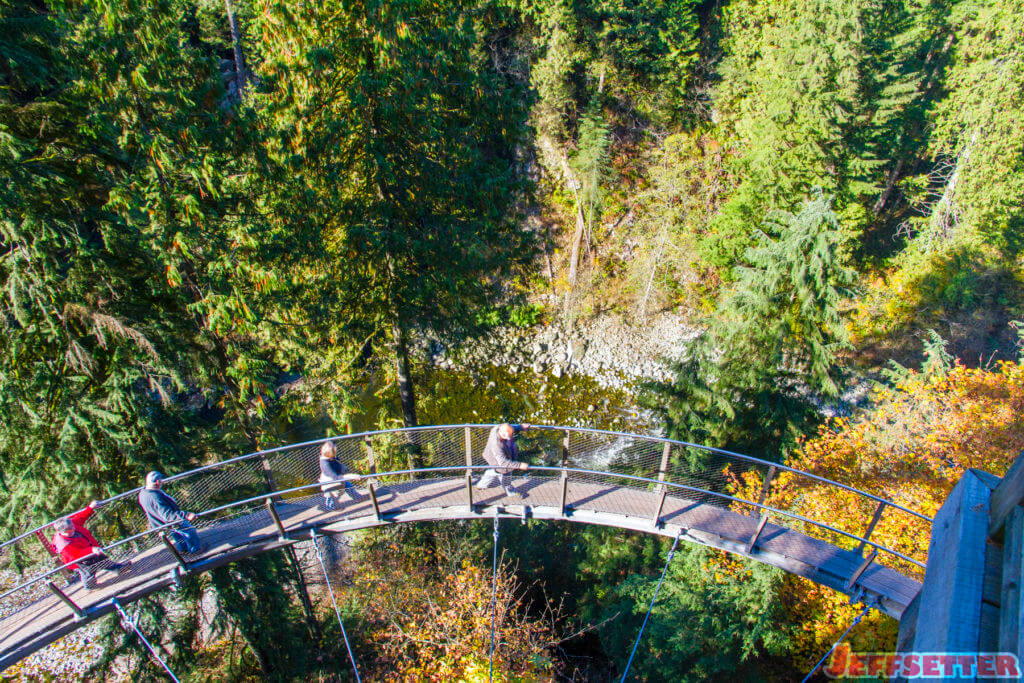 After the Cliffwalk we headed to the gift shop, and after perusing for a bit, headed back to the car to catch afternoon rush hour traffic back into the city.  With a a couple hours left before our dinner reservation, we decided to check out the Granville Island Public Market.  A friend of mine claims it's better than Pike Place Market, and while I'm not ready to make that judgement, Granville Island didn't disappoint!  Parking was difficult to find, but when we found it, we walked around and discovered all sorts of purveyors selling everything from fruits, veggies, meats, fresh seafood, spices, baked goods, and more.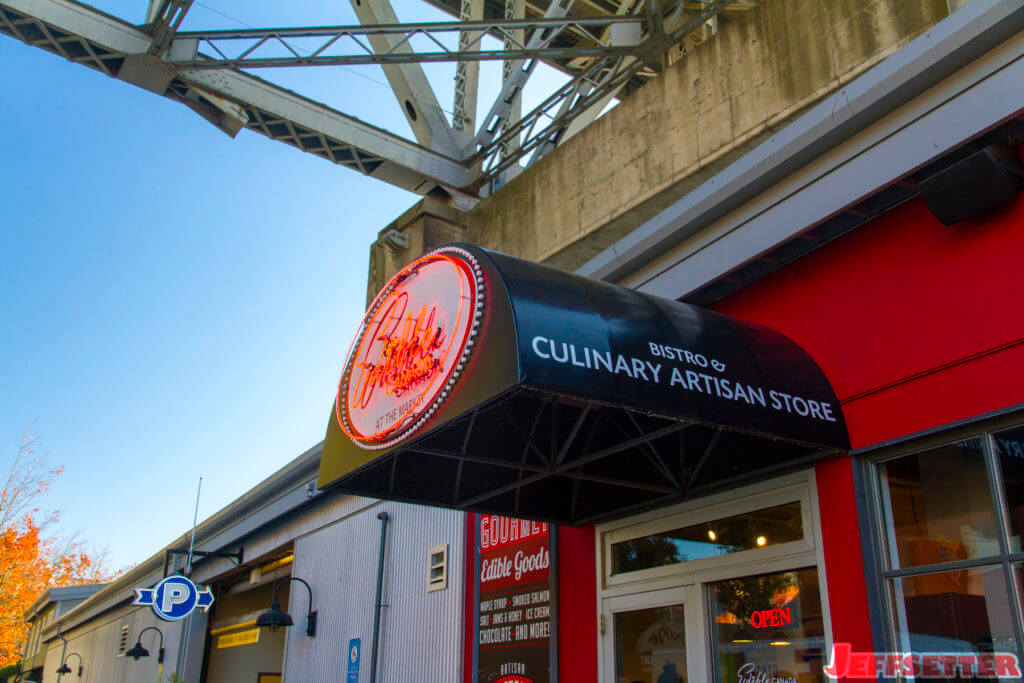 The place seems a bit more food-centric than Pike Place, but really, we didn't have enough time to explore both enough to draw conclusions.  We did find a couple of vendors that we really liked, however, and are dying to go back again one day.  Especially since we can't necessarily just jump online and order stuff too.  So in a furious rush, we did and saw as much as we could, and then headed back to our car for our dinner reservation in Yaletown.
Ok, so we did do a lot of touristy things during our day trip to Vancouver, but like I said, this poorly planned segment of our PNW Adventure ended up being a spur of the moment walk down memory lane for the wife and I.  Would I do it all again?  Probably not.  I found Capilano to be an especially poor value… I can't see spending around $35US/person to walk around in there again.  Maybe I'm jaded?  But I'd definitely explore Stanley Park more, spend more time at Granville Island, and heck do/see many more things next time around.  For instance, we wanted to return to Victoria Island, but didn't have the time this time.  Also wanted to check out Grouse Mountain, but again, no time.
Our PNW Adventure
Day Trip to Vancouver