During our stay at the Grand Wailea, I contemplated returning to Spago or Ka'ana Kitchen. However, I decided to give the Grand's signature restaurant a shot and booked dinner at Humuhumunukunukuapua'a.
Nestled between the Molokini Wing and the pool is the Grand Wailea's signature restaurant – Humuhumunukunukuapua'a. Named after Hawaii's state fish, the restaurant is comprised of a series of thatched huts above a lagoon adorned with bronze statues. Unfortunately, the lagoon is filled with fresh water and is devoid of all aquatic life. However, the setting remains picturesque, especially if you nab a seat with the Pacific visible off in the distance.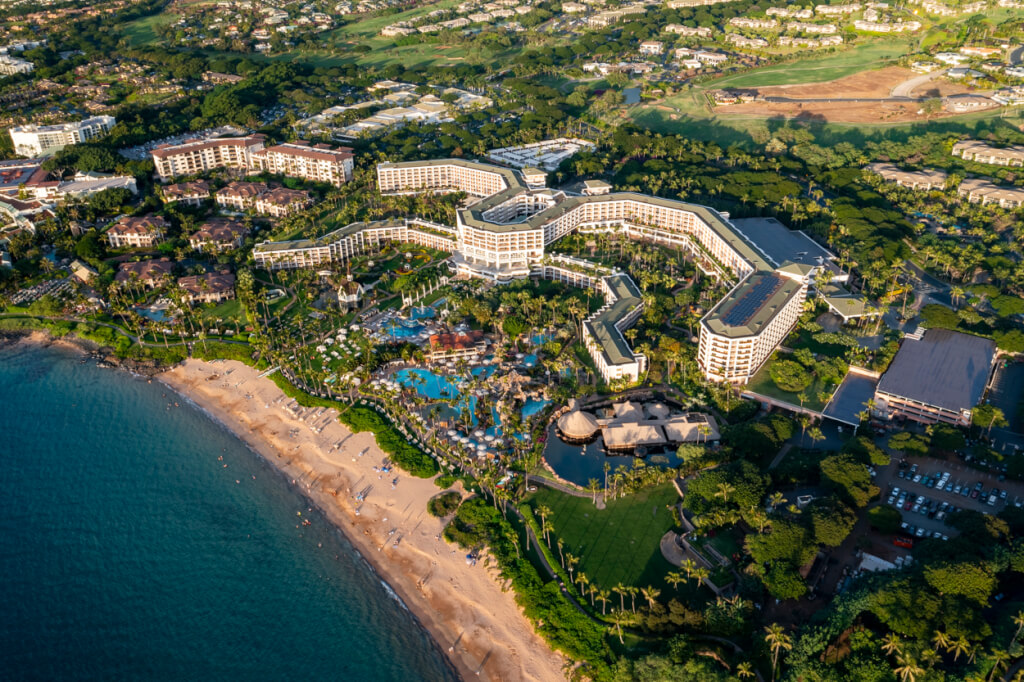 Dinner at Humuhumunukunukuapua'a – Ambiance
The restaurant, henceforth known as HumuHumu, is entirely open air. During November, that translated into a comfortable Hawaiian evening. I'd imagine, however, that summer can get a bit warm. During our visit, though, it was nice. Having the sounds of the ocean off in the distance accompanied by the outstanding vocalist performing that night translated into an elegant, homely kind of feel. It was almost magical.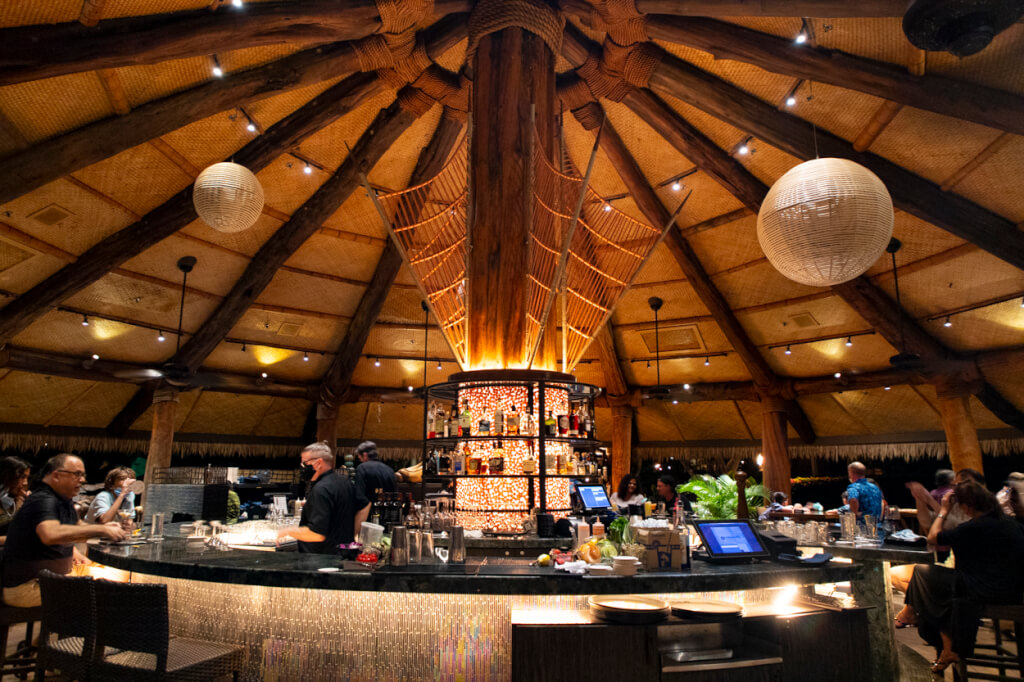 Humuhumunukunukuapua'a Dinner Service
As was the case with all our interactions up to this point, the service at HumuHumu was fantastic. Our server was friendly, polished, and enthusiastic. She didn't miss a single beat even though she was only called back to work about a week before our visit. Needless to say, she was happy to be back, and it showed. That said, our server was never overbearing, nor did she ever hover around. Despite this, our water glasses were always full, and our dishes promptly cleared.
Humuhumunukunukuapua'a Dinner Menu
At the time of our visit, HumuHumu's menu hadn't changed in a while. And I don't think that's a bad thing. The menu at the time was interesting! It's always been a bit short, but it was also fairly unique. That, unfortunately, no longer seems to be the case. Most of what we had is no longer on the menu, which is a shame. I'm not sure how often they'll continue to change the menu. However, at other similar establishments in Hawaii, it's common to change, at least with the seasons.
Drinks
To start the night off, I ordered a Strawberry Guava Mojito. Contrary to what most locals would think, this drink isn't made with the invasive strawberry guava. Rather, it's a mix of white rum, guava puree, strawberry puree, lime, and mint. It's a juicy and refreshing drink that was perfect for what I was feeling at the time. Mrs. Island Miler, on the other hand, ordered the Hawaiian Chili Paloma, which is made of Blanco Tequila, Ruby Red Grapefruit, Lime Juice, Hawaiian Chili Pepper Syrup, Agave, Pinch of Sea Salt, Club Soda. If you like grapefruit and spicy food, this drink is for you. The Paloma packs a punch and really leans on the bitter grapefruit.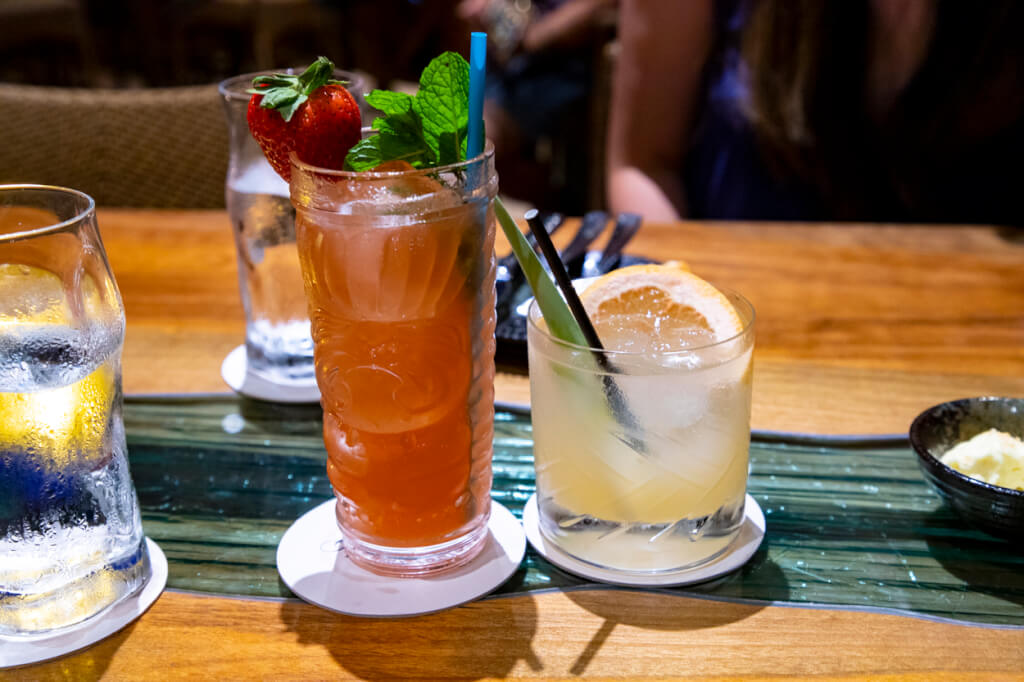 Pan-Seared Diver Scallops
For my starter, I chose the pan-seared scallops. I got two large scallops in my order that were nicely seared. Accompanying them were some crispy potato cakes, a truffle emulsion, fresh peas, and pea tendrils. The vegetables provided some might-needed lightness, as I found the emulsion to be a bit too heavy. Was it made of cheese? That said, the truffle flavor was nicely balanced.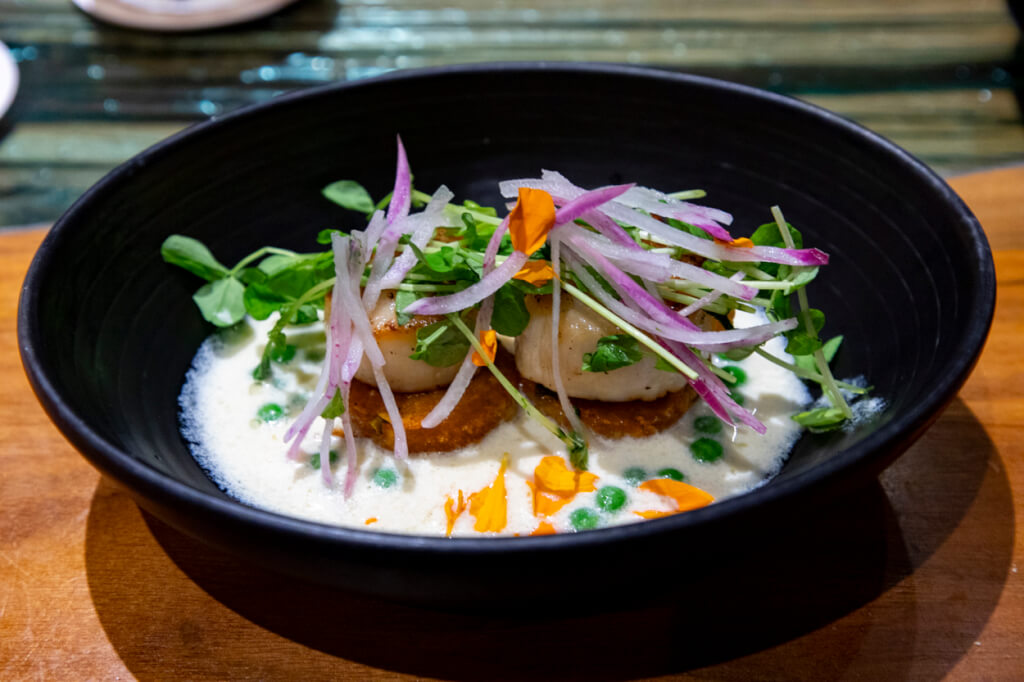 Lemongrass Ahi Traps
For her starter, Mrs. Island Miler got the Lemongrass Ahi Traps. I had a hard time picturing this dish in my head. It turns out, it's literally ahi wrapped in nori, then breaded with a whole spear of lemongrass and flash-fried. To eat the dish, you bite the ahi to remove it from the spear and kind of chew on the lemongrass to release its flavor. It's a tasty dish, though it's a little challenging to eat. The side of ponzu helps to punch up the flavors a bit, while the pickles help to cut the richness.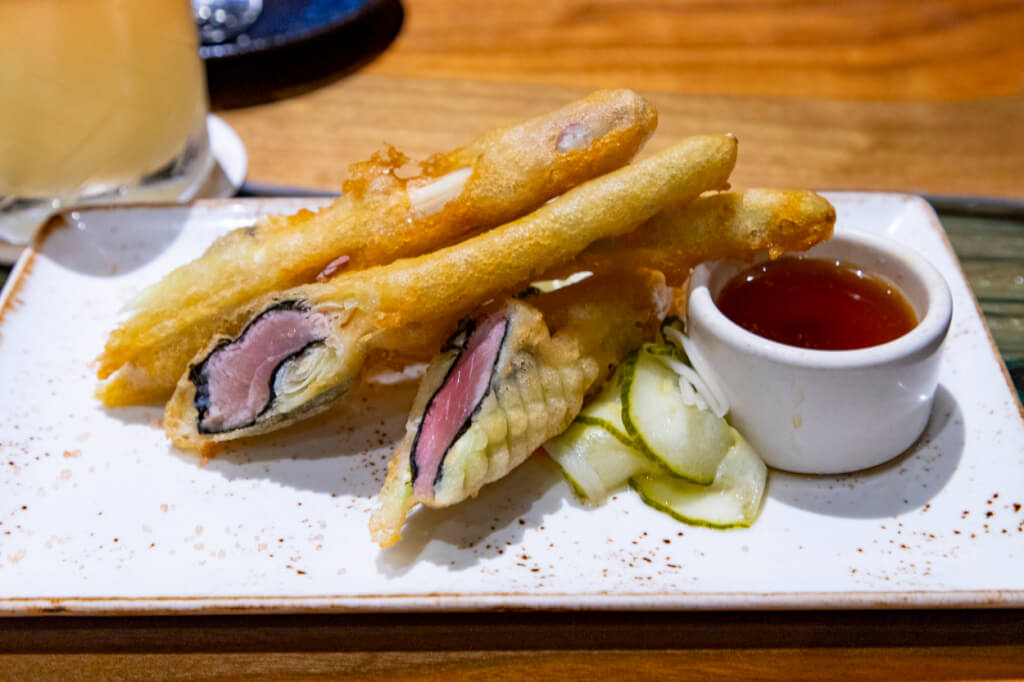 Seared Ahi with Foie Gras
This dish is the whole reason why I wanted to dine at HumuHumu. It's a glorious cacophony of rare-seared ahi, seared foie gras, king oyster mushrooms, snap peas, and pho broth. It doesn't sound like it should work, right? But it does! The heady, herbaceous pho broth almost tricks your brain into thinking that the ahi is steak. The outstanding crust on the ahi only adds to the illusion, while the foie gras adds a luxurious richness to the dish. The sweet, bright, crunchy sugar snap peas cut all of those darker, heavier flavors to bring a nice balance to the whole dish. I'm sorely disappointed that this is no longer on the menu. While I loved the dish in its entirety, I could've sipped that broth all night long. It's that good.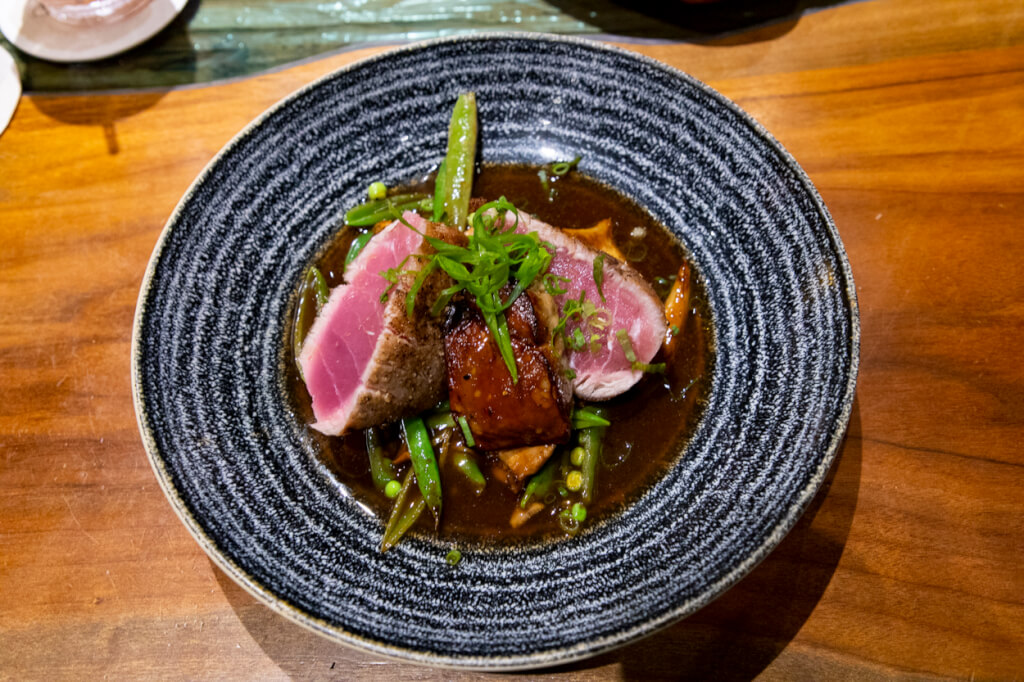 The side of pineapple fried rice I ordered to go with my main, however, wasn't so good. It tastes like some generic breakfast buffet fried rice with pineapple thrown into it. I disliked it so much that I only took a couple of bites. Hard pass.
Crab Crusted Kampachi
Fish? Tropical salsa? Coconut rice? Mrs. Island Miler just had to order this dish. It sounds touristy, I know. But, you know what? It all works. The tangy-sweet salsa helps to balance out the rich, succulent fish and coconut rice. It's good stuff if you're looking for a lighter, more refreshing main.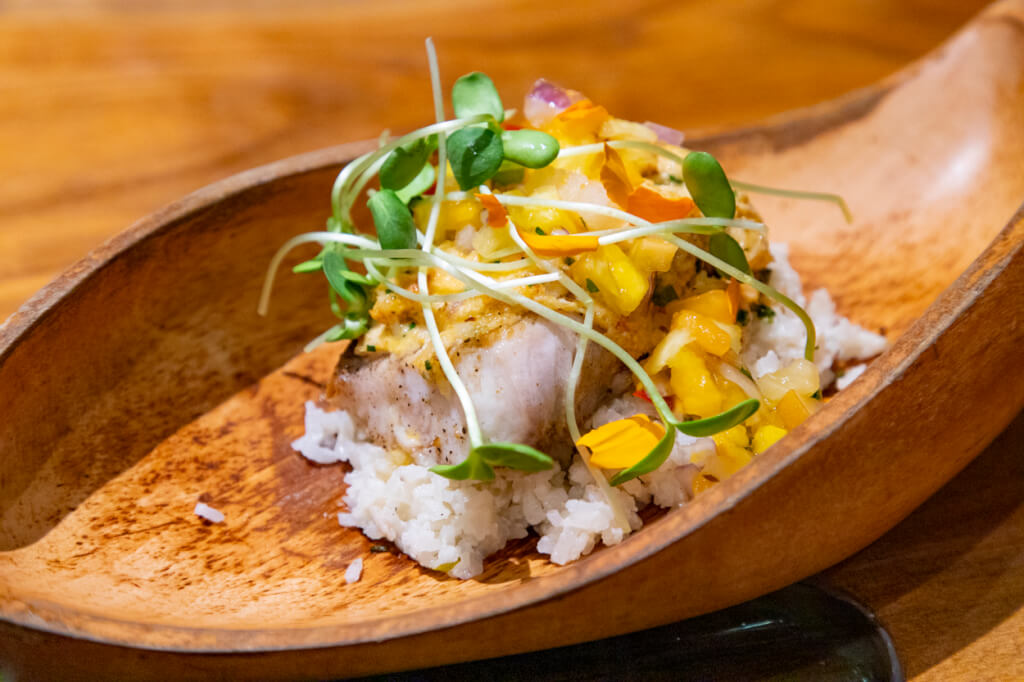 Tropical Vacherin
I wanted a lighter dessert, so I decided to try the Tropical Vacherin. The menu describes the dish as compressed fruit, tropical sorbet, and guava meringue. The dish was tasty enough, with most of it tasting of lilikoi, though the sorbet was coconut. However, I did find it a bit too sugary for me. I was hoping for more of a sweet-tart profile to help cleanse my palate.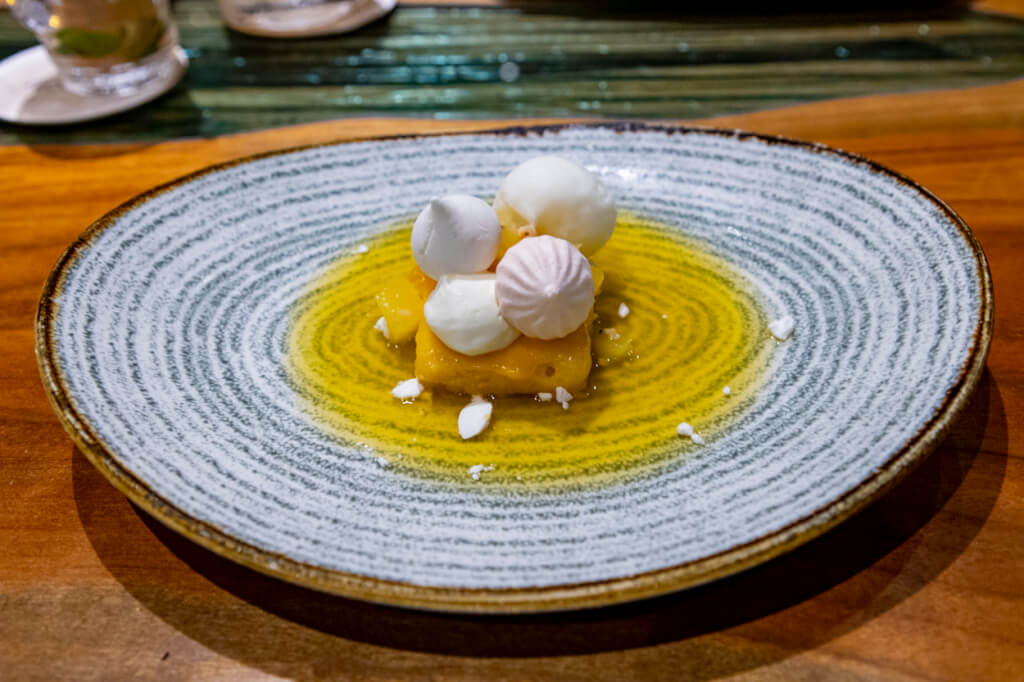 Lilikoi Creme Brulee
Mrs. Island Miler will always go for creme brulee. Doubly so when it's a flavor like lilikoi. This preparation didn't disappoint. I do also like that the custard base is thicker than normal and is topped by a paper-thin layer of glassy sugar. It results in a wonderful feathery crunch mixed with the cool, rich, fruity custard.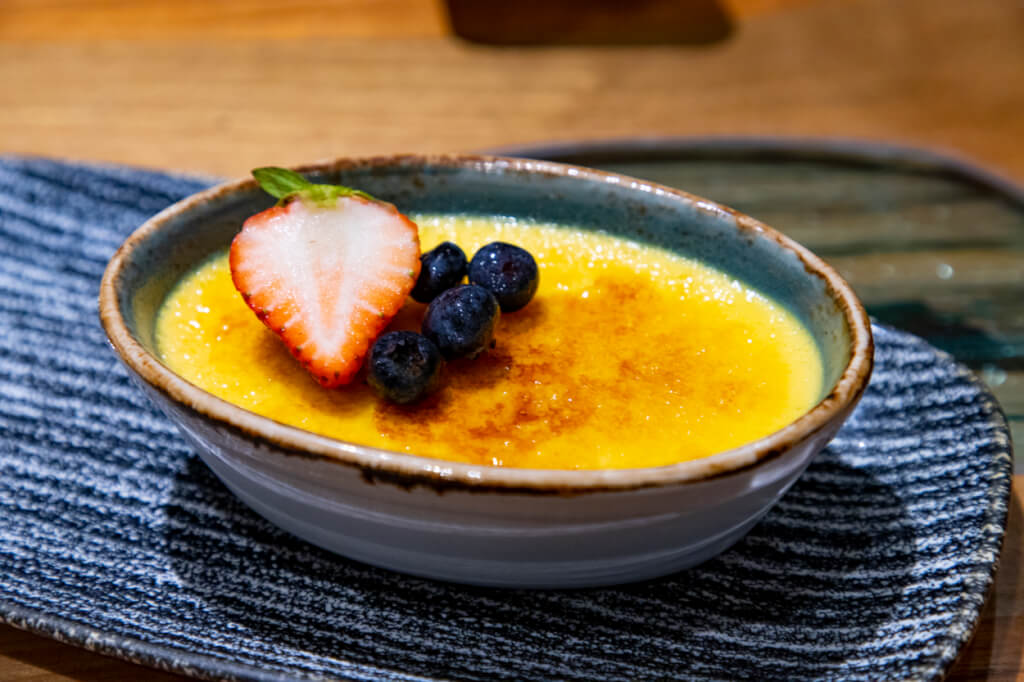 Coincidentally, this dessert further exemplifies the level of service we enjoyed at the Grand Wailea during our stay. You see, your server gushed about the Poha berries that come with this particular dessert. Then, of course, she and Mrs. Island Miler got into a brief discussion about how great the berries are and how difficult they are to find. Seeing that the dish came without the golden berries, though, our server scrounged around the kitchen and presented us with a ramekin full of them. We didn't bring up the issue at all, figuring that the berries just weren't available. But it's the little things like that which makes this place so great, at least to me.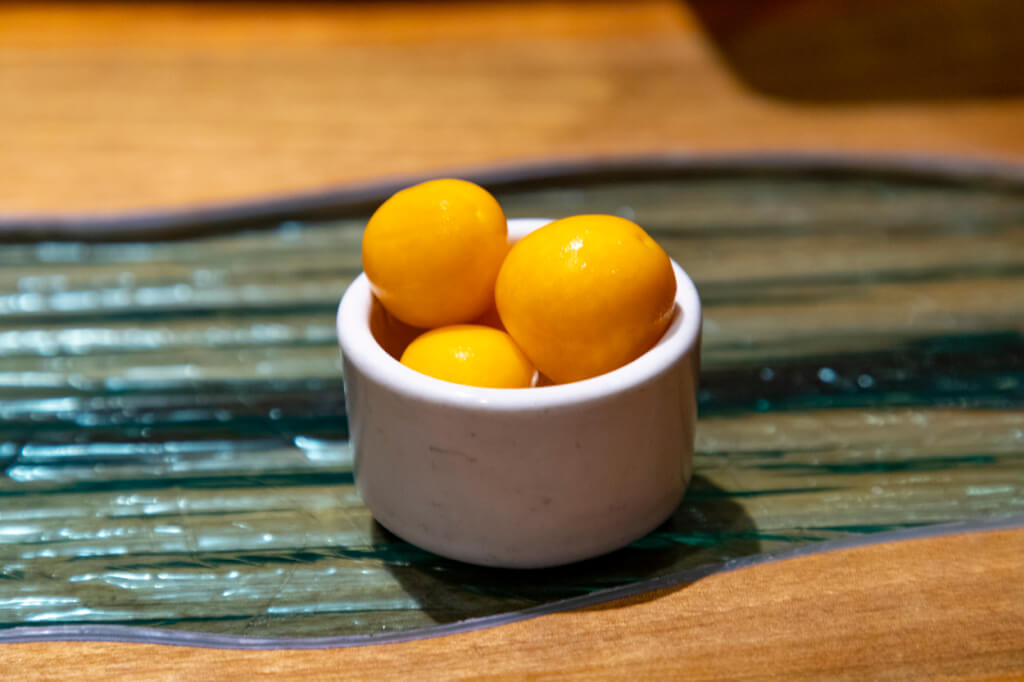 Final Thoughts
Overall, we had a very enjoyable meal. The food, the service, the ambiance, everything was fantastic! Yes, you pay through the nose – this is a luxury resort, after all. But I felt like the experience was worth it. Not to mention that the Hilton Honors Diamond F&B credit helped to offset a good chunk of our dinner too!
Grand Maui Adventure
Dinner at Humuhumunukunukuapua'a